It's cheesy, saucy, carb-filled goodness. It's the Easy Cheesy Pasta Bake! And almost everyone who has eaten at our house for dinner will recognize this guy!
This super comfort food, family-style dish is a go-to when we have people for dinner because it's quick, filling, feeds A LOT, and appeals to everyone.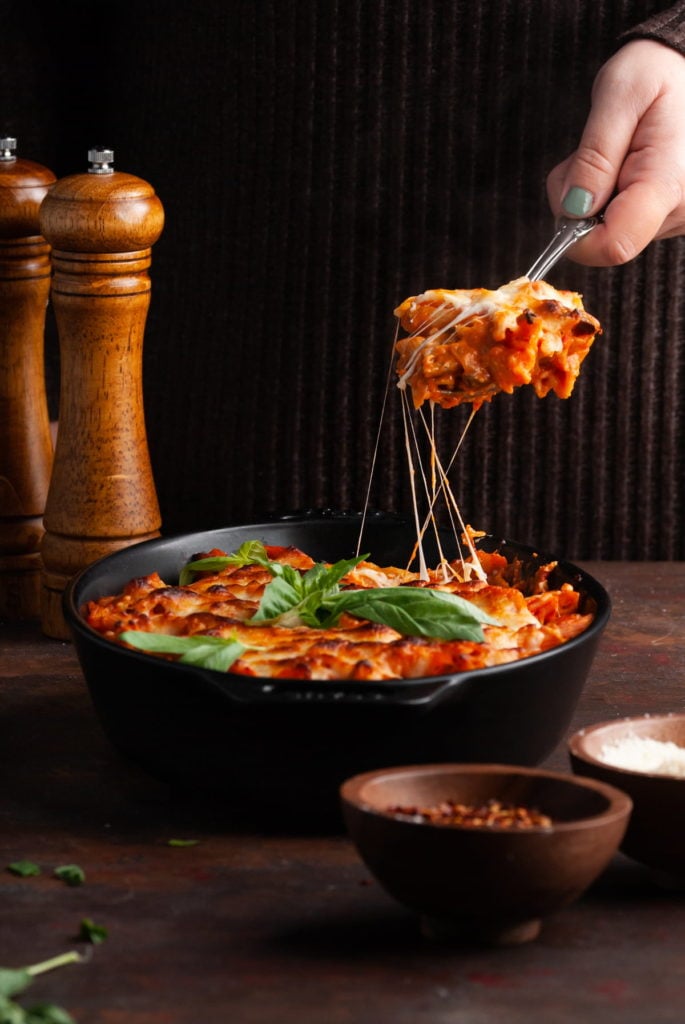 I mean cheesy carbs with red sauce and garlic? What's not to like??
As an environmental scientist, I am constantly looking for versatile recipes that work well with ingredients I already have in my pantry to help me reduce my food waste.
Green tip: Did you know that of the billions of pounds of food wasted annually, it is estimated that 50% of it happens in our homes? It's always best to avoid food waste as much as you can!
You can switch up the veggies in this recipe or the cheese you use— it's always delicious regardless of the variation, so don't be scared to adjust this Easy Cheesy Pasta Bake to your own taste!
This recipe gives you a base recipe to add any extra veggies you have in the fridge to use them up before they go bad!
Easy Cheesy Pasta Bake Ingredients
---
---
Here's everything you need:
Onion. Yellow, white, or Vidalia work best.
Mushrooms. Baby bella, white button, or Cremini.
Olive Oil. To cook the mushrooms and onions in.
Crushed Red Pepper. 1/4 teaspoon goes a long way! If you don't like spice you can omit this or add just a pinch.
Salt & Pepper. To amp up the flavor.
Penne Rigate. Or any short pasta, really.
Marinara Sauce. Or spaghetti sauce. Use your favorite! I usually go for Raos.
Cream Cheese. Plain is best, but you can use a block or whipped. You can also use either full fat, reduced fat, or fat free.
Shredded Italian Cheese Blend. This is usually a blend of low-moisture mozzarella, provolone, asiago, parmesan, and romano.
Shredded Mozzarella Cheese. To get you that cheesy baked top.
Basil. This is optional but highly recommended to add some freshness to your dish.
Easy Cheesy Pasta Bake Tips and Tricks
---
---
Cook Your Pasta Al Dente
Cook your pasta to al dente according to the directions on the box.
It's best to keep it a little bit firm because it will continue to cook in the sauce in the oven.
I usually go for Penne Regate in this Cheesy Pasta Bake because I love how the cheese and sauce sneak into the hollow pasta. Still, you can really use any short pasta you like.
Green tip: Pasta is a great starch option carbon-footprint wise! Manufacturing is a relatively less intensive process than most other starches, and its long shelf-life means you're less likely to waste it!
Short pasta includes, but is not limited to Cavatappi, Fusilli, Rotini, Farfalle, Gemelli, Rigatoni, and Ziti.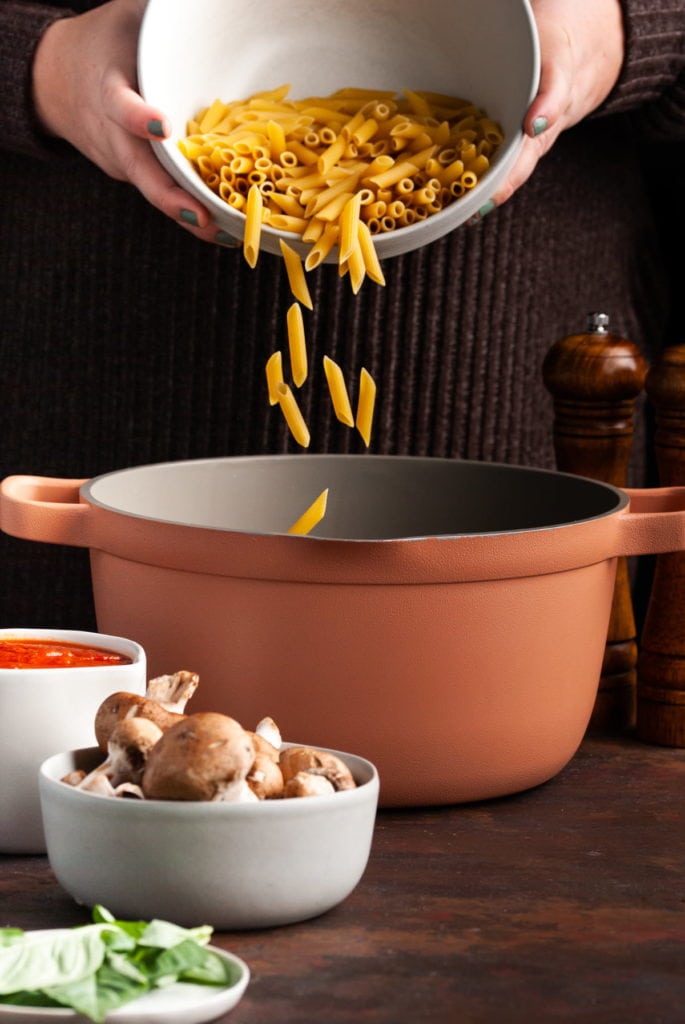 Cook Down Your Mushrooms and Onion First
We want to reduce as much moisture as we can by cooking the mushrooms and onions first and letting them sweat. Add them to your pan with the olive oil and cook until the onion turns translucent and liquid has evaporated from the mushrooms.
You'll also season them at this point with salt and pepper. This process is key to getting a thick and creamy pasta bake.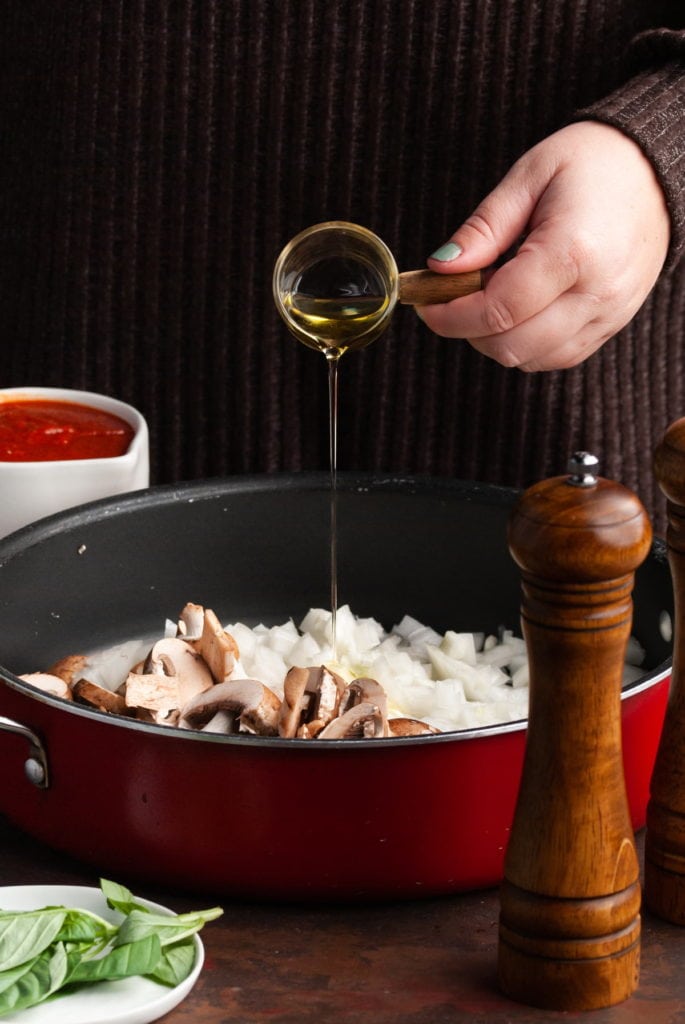 Tailor It To Your Taste
You can opt to add extra veggies. I often add squash or spinach to this dish. It's a great opportunity to clean out your fridge and use up those extra veggies before they go bad!
I love to add crushed red pepper at this point in the process. I just add 1/4 teaspoon and it gives it a subtle amount of heat.
If you're sensitive to spice, try just a pinch, or simply omit it altogether.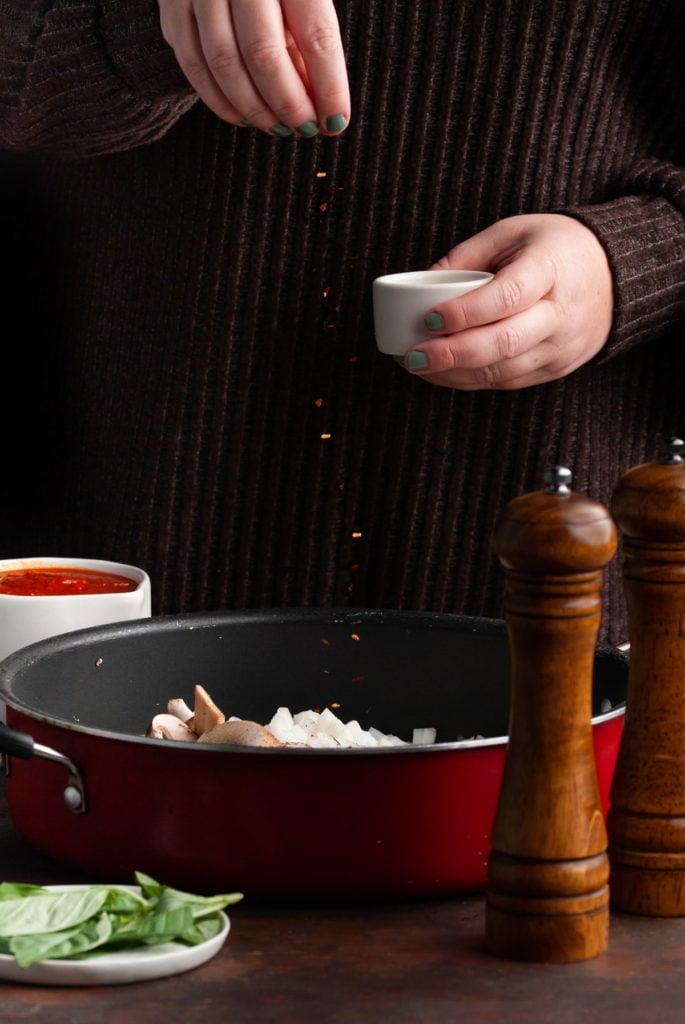 Simmer Your Sauce
Just like with the onions and mushrooms, we want to reduce any excess liquid in your jarred or canned sauce.
This means cooking it off is key. Once your mushrooms and onions are cooked, add the marinara and stir. Make sure to reduce your heat and stir frequently to avoid splatter.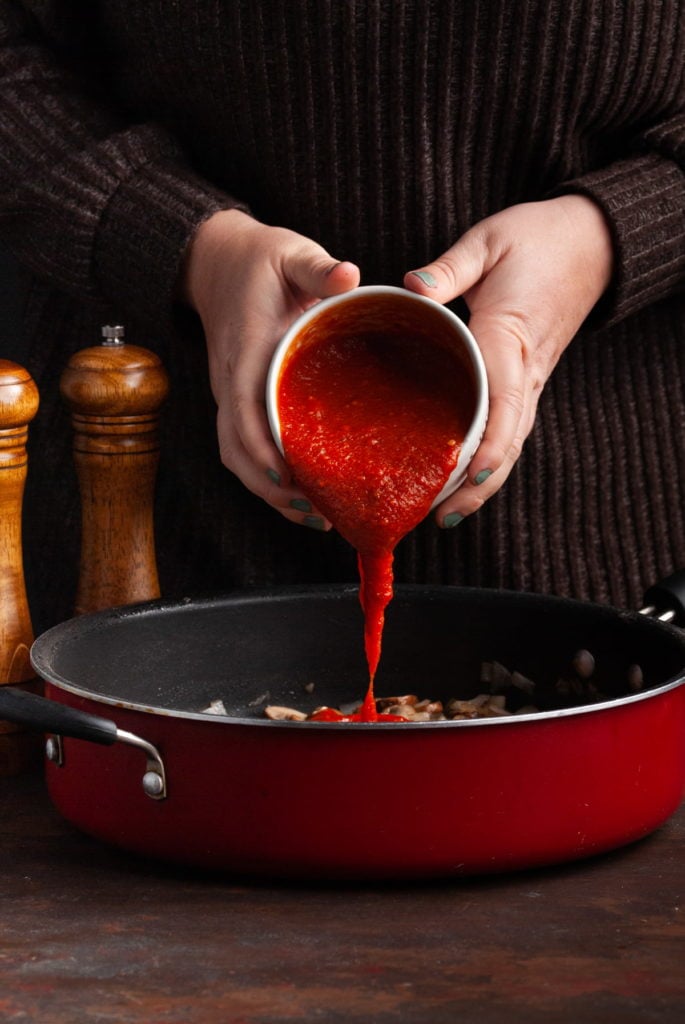 Add You Garlic Later
While you may feel inclined to add your minced garlic when you add your onions and mushrooms, resist the urge and add it last with the shredded Italian blend cheese and cream cheese.
The more you cook garlic, the more mellow the flavor becomes. The garlic will cook for some time in the sauce and then continue to cook in the oven.
To get the most out of your garlic it's best to add it later.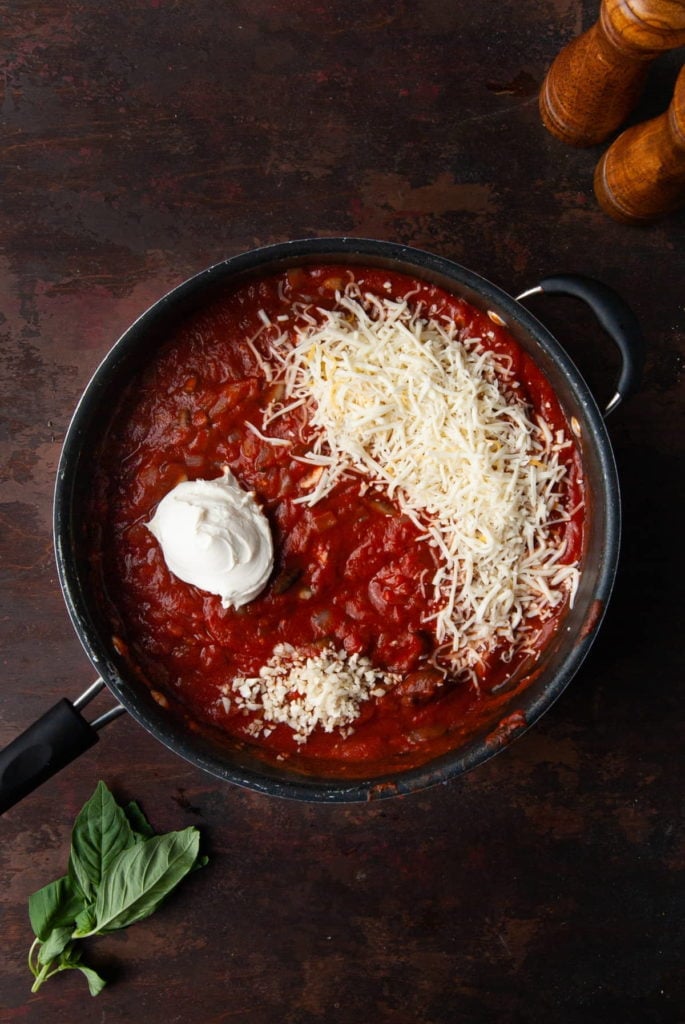 Coat and Transfer
Once your cream cheese, cheese, and garlic are fully integrated into your sauce, add your cooked pasta and stir to coat.
I find it easiest to use a spatula to fold the pasta in. Then, use the spatula to transfer the pasta-coated sauce to your baking dish.
Use your spatula once again to smooth the pasta out, so it is flat and snug in your baking dish.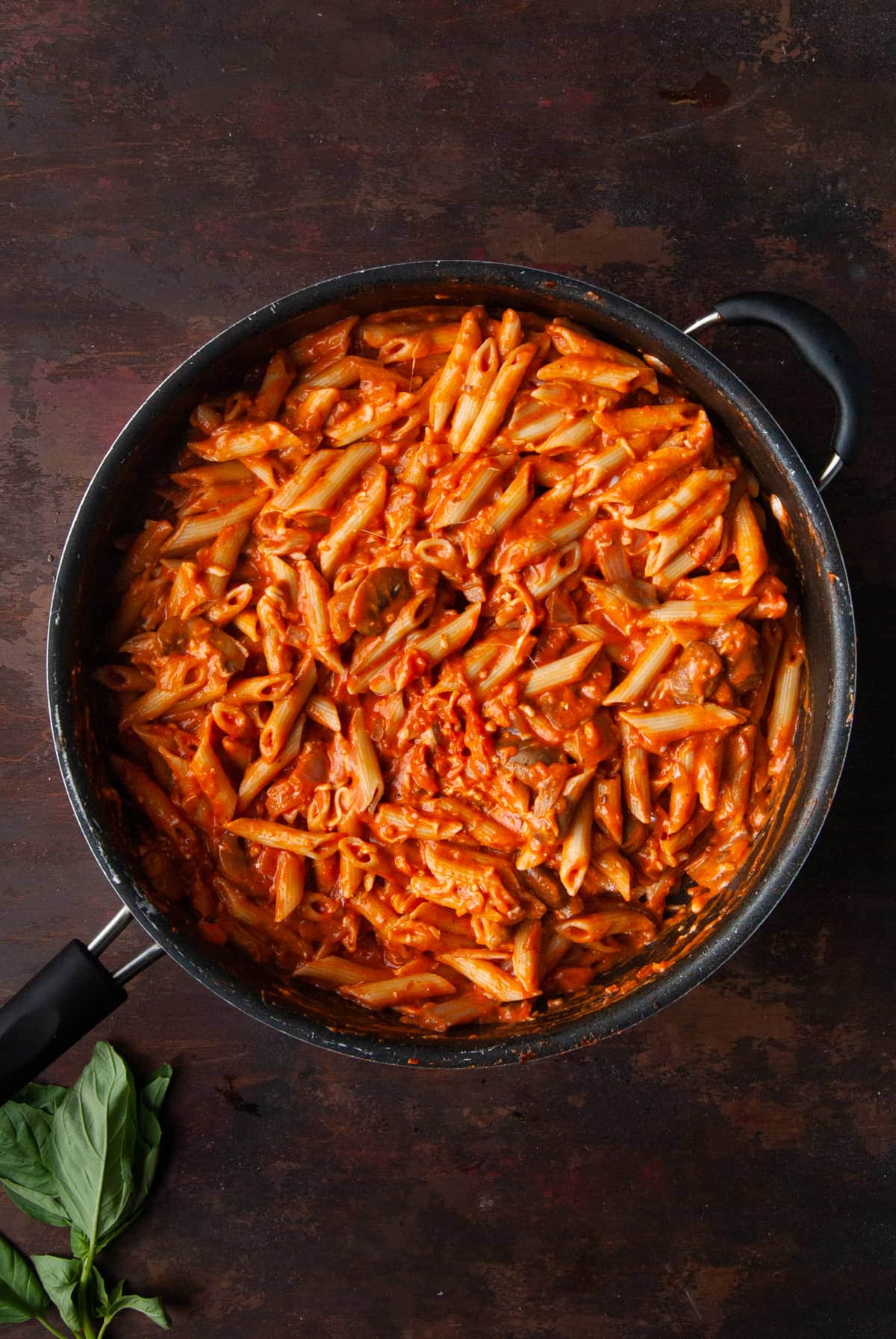 Add a Cheesy Top Layer
Add the mozzarella cheese in a roughly even top layer before baking.
You'll know your pasta bake is ready when it starts to bubble and brown on top, with the mozzarella forming a delicious outer layer of cheesy deliciousness.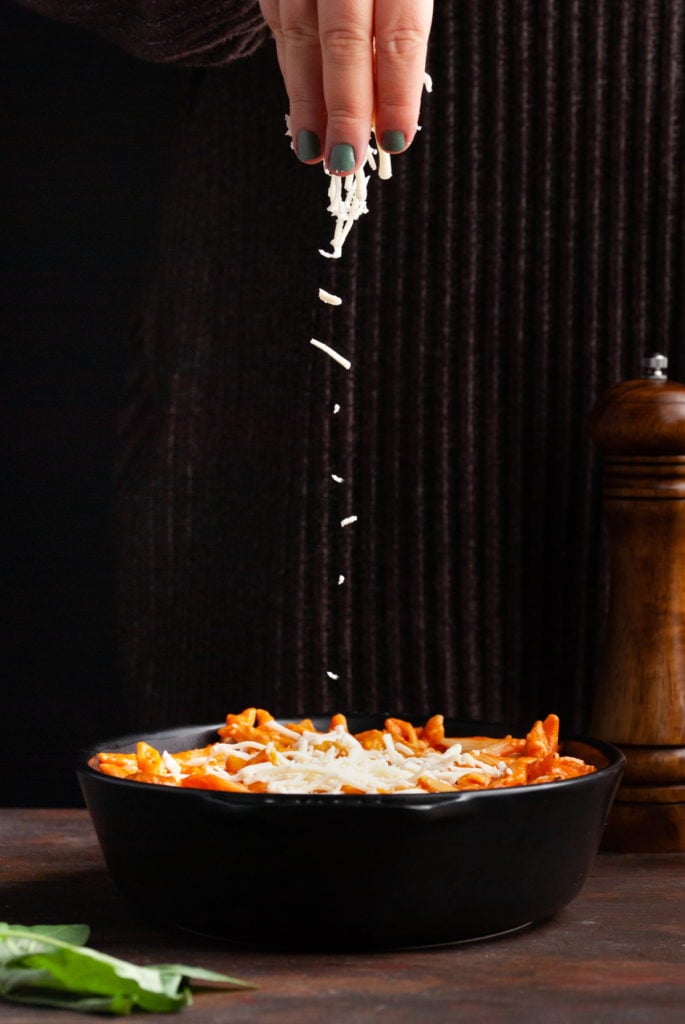 Should You Have Leftovers
Unless you're having 8 for dinner, you WILL have leftovers that you'll definitely want to keep. Store in an airtight container for up to 5 days, or you can freeze it for up to 3 months.
If it's in the fridge, reheating the Easy Cheesy Pasta Bake is as simple as covering it with saran wrap in a microwave-safe dish and heating it up in the microwave. Depending on the serving size and power of your microwave, you will heat for 1-3 minutes.
From the freezer, either thaw out overnight in the refrigerator or microwave for an extra 1-2 minutes. If you have the patience, the best way to reheat it is by baking it in an oven pre-heated to 375°F for 10-15 minutes, or 20-25 if frozen.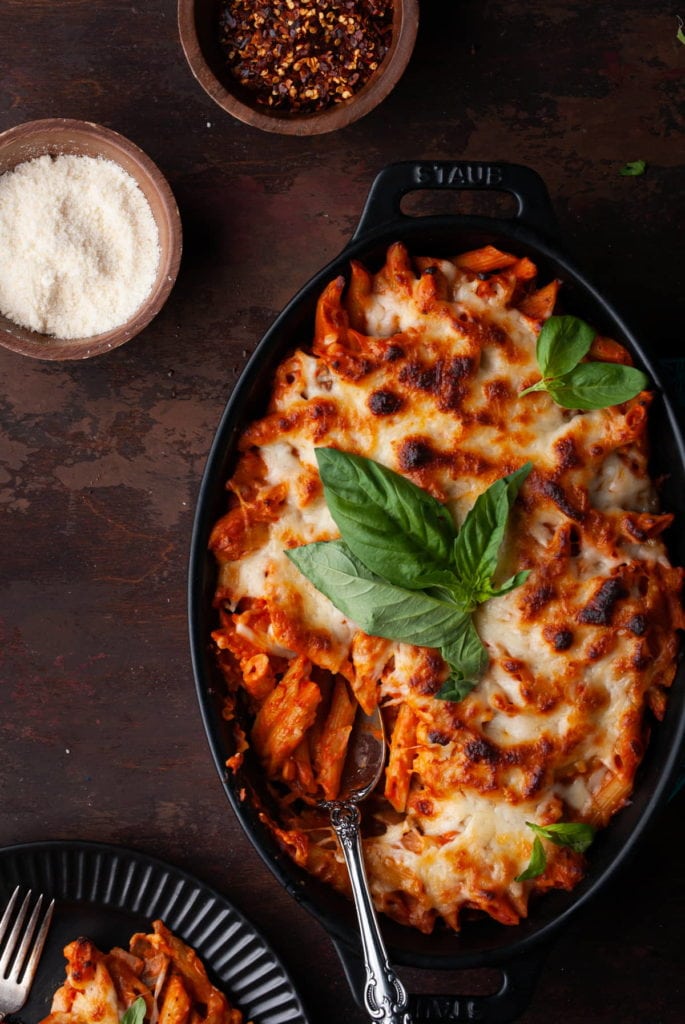 Easy Cheesy Pasta Bake Frequently Asked Questions
---
---
Do you pre-cook pasta for pasta bake?
Most pasta bakes (including this one) instruct you to pre-boil the pasta before baking. You can bake your pasta in the oven from raw by adding extra water to your pasta bake, but it will retain all the excess starch and oftentimes become stodgy.
If a recipe intends for the pasta to be pre-boiled, it's best to stick to the recipe's instructions.
How do you keep pasta from getting hard in pasta bake?
There are two ways to ensure your pasta does not get hard and crunchy while you bake it in the oven. First, during the boiling process, make sure you cook your pasta al dente. This will give it a little leeway to cook more in the oven without getting overcooked.
Secondly, adding a layer of cheese on top of your pasta bake locks in moisture and keeps your pasta enveloped in sauce, avoiding that "hardness".
Sign-up for the Meatless Monday Challenge
Get access to the 4-week-long Meatless Monday Challenge, with accompanying meal plans, grocery shopping lists, and more, sent right to your inbox!
Why You Should Make This Easy Cheesy Pasta Bake
It's in the name. What gets better than easy and cheesy?
You can feed an army with it. Perfect for big family gatherings or dinner parties.
You can eat it for days. It reheats quickly and tastes just as good as leftovers.
It's versatile. Mix up the veggies to put your own little twist on it.
Loving this Easy Cheesy Pasta Bake and want more pasta recipe ideas? Try this Vibrant and Tasty Confetti Orzo and One-Pot Smoked Salmon Pasta.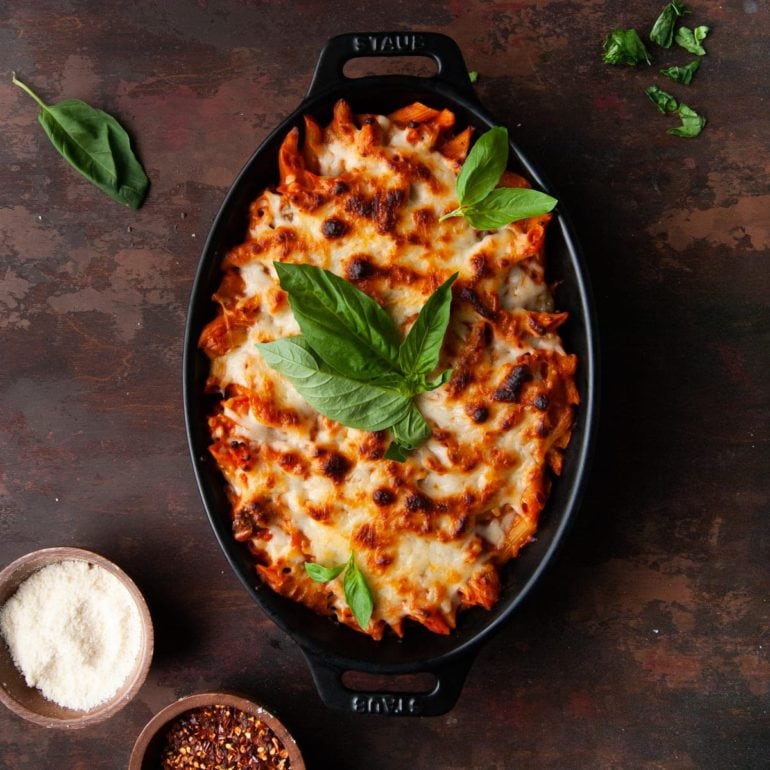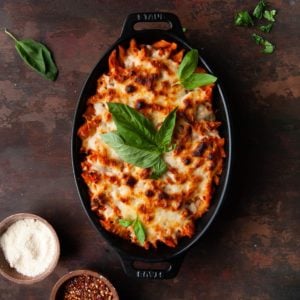 Easy Cheesy Pasta Bake
PRINT
PIN
RATE
This Easy Cheesy Pasta Bake is a family favorite for the ultimate comfort food dish. It's filling, delicious, and oh… did I mention cheesy?
Ingredients
1

large

yellow onion, diced

8

ounces

mushrooms, chopped

2

tablespoons

olive oil

¼

teaspoon

salt

¼

teaspoon

black pepper

¼

teaspoon

crushed red pepper

(optional)

16

ounces

Penne Rigate

24.5

ounces

marinara or spaghetti sauce (24.5 oz = 3 cups)

4

cloves

garlic, minced

4

ounces

cream cheese

8

ounces

Italian shredded cheese blend

4

ounces

shredded mozzarella

1

handful

Fresh basil for garnish
Instructions
Preheat your oven to 375°F and boil about 10 cups of water for your pasta.

Add the mushrooms and onions to a large pan over medium heat with olive oil, salt, pepper, and crushed red pepper (optional). Cook until the mushrooms shrink and the onions turn translucent—about 5 minutes.

Once water is boiling, cook pasta until al dente, according to the directions on the box (usually about 6-10 minutes). Strain and set aside to dry completely.

Add the marinara sauce to the mushrooms and onions to cook off any excess liquid in the sauce. Turn the heat source down to low. and stir frequently to avoid splatter.

Once your sauce thickens, add the cream cheese, shredded Italian blend cheese, and minced garlic and stir over low heat to combine.

Add the cooked pasta to the sauce and remove it from heat. Stir until the pasta is coated.

Transfer the pasta to a 9 x 13-inch glass baking dish. Top with an even, thin layer of mozzarella.

Bake for 25 minutes or until the cheesy top is golden brown. Garnish with fresh basil and enjoy with family and friends, or keep for up to 5 days in the refrigerator.
Pro Tips
You will most likely have leftovers. This actually reheats really well in the microwave if you cover it with saran wrap. It's just as good the next day!
I actually use light cream cheese in this because I've had it both ways and can't tell the difference. This is by no means a low calories dish, but may as well cut where you can!
Sometimes I add more vegetables, too. It's delicious with spinach, broccoli, and peppers. Just cook the extra vegetables with the onion and the mushroom.
Reducing your meat consumption significantly reduces your carbon footprint. Be kind to the planet (as well as your tastebuds!) with more of these delicious meatless pasta meals.
Did you make this recipe?
Let me know by leaving a recipe rating below, or by tagging @marleysmenu on Instagram.