Looking for a delicious way to use up your stale bread? This Vegan Sheet Pan Panzanella is simple, resourceful, and delicious.
Done in just 30 minutes, this easy recipe is one the whole family is sure to enjoy. Between the delicious homemade vinaigrette, crunchy toasted bread, and bursting roasted tomatoes, every single bite is brimming with immense flavor and texture.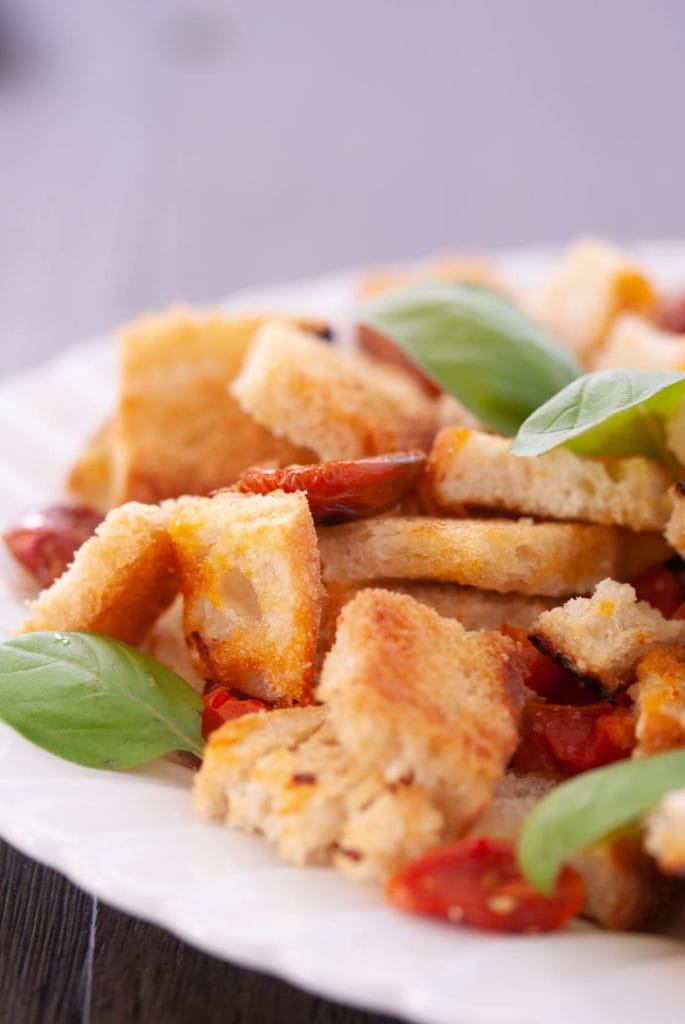 So What Is Panzanella Anyway?
Panzanella is a traditional Italian stale bread salad, usually dressed with oil and vinegar and always topped with fresh basil. Most traditional Panzanella recipes will direct you to soak your stale bread, but I like it extra crunchy, so we are crisping our bread up on a sheet pan before dressing it here.
Since its origin in the 16th century, Panzanella has seen many variations—sometimes soaked, sometimes roasted, and sometimes even grilled Panzanella.
Vegan Sheet Pan Panzanella Tips and Tricks
---
---
Use Mostly Fresh Ingredients
Fresh ingredients like fresh basil instead of dried basil and fresh garlic instead of garlic powder go a long way in this Panzanella.
Here's everything you'll need:
But what may surprise you is that there is one ingredient that doesn't have to be fresh—the bread!
As an environmental scientist, I'm always trying to keep the issue of food waste front of mind. This recipe is designed to bring new life into your stale bread, so not only does that bread not have to be fresh, it's actually encouraged to use stale.
Green tip: Bread is one of the most wasted food products in the U.S. because of our tendency to throw it out as soon as it's stale. Reduce your contribution to food waste by re-vamping your stale bread with this Vegan Panzanella!
You'll Need A Sieve
Aside from your delicious ingredients, you'll need a large mixing bowl, a sieve, and a large baking sheet.
You will be toasting your bread in the oven with your tomatoes. Whatever juice is left in the tomatoes will be soaked up by the bread, reviving it from its staleness before crisping it up.
But most of the tomato juice is used to flavor the vinaigrette which we will use to dress this bread salad before serving.
The best way to remove the juice from the tomatoes for the vinaigrette is to slice the tomatoes in half and add them to a sieve over a large bowl.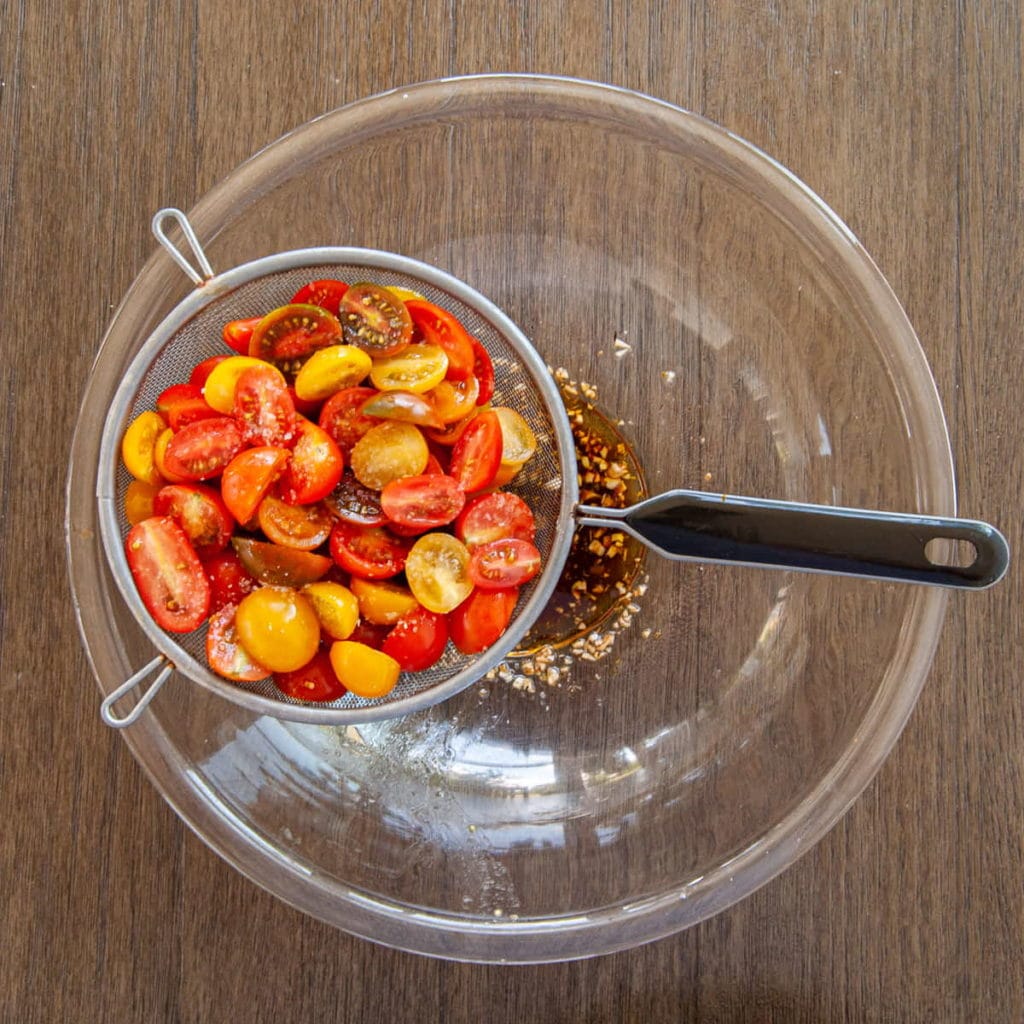 Once your sliced tomatoes are in the sieve, add about 1/2 teaspoon of salt to them. The salt will draw the liquid out. Allow the liquid to drip into the bowl while you prepare the rest of your ingredients.
Before adding the tomatoes to the sheet pan with your bread, you'll use a spatula to push down on the sliced tomatoes, releasing any extra available juice that remains.
Cube Your Bread
My favorite bread to use is Italian or Ciabatta, but sourdough, whole wheat, seeded—really any bread will do.
Cut your stale bread into cubes, and spread it out evenly on the sheet pan with the sliced and dehydrated tomatoes.
You'll drizzle it with olive oil before adding it to your preheated oven to get nice and crispy.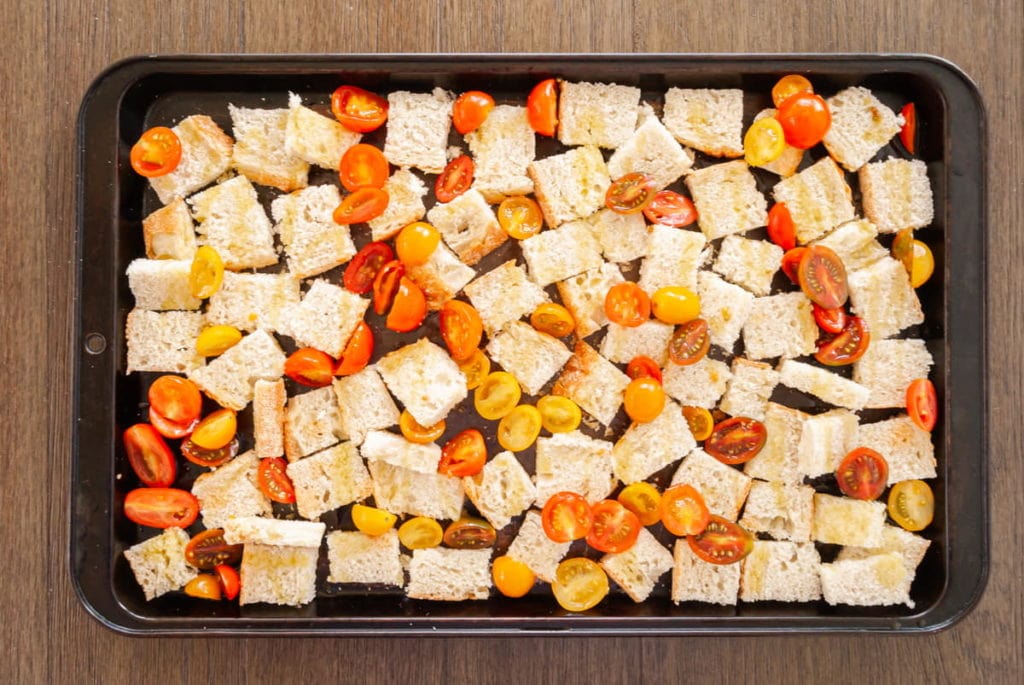 Add The Dressing Just Before Serving
This tomato-infused, balsamic-based dressing is such a delicious addition to this sheet pan Panzanella. It can, however, turn the bread from crisp and crunchy to soggy rather quickly if you add it too soon.
Add the dressing just before serving, to retain that perfect texture.
Green tip: Growing your own herbs is a delicious way to reduce your environmental footprint. Homegrown basil has zero associated food miles, no pesky plastic packaging, and is free from damaging fertilizers and chemicals. Plus, they are just so fresh and flavorful.
Should You Have Leftovers
The dressing is delicious on more than just this Panzanella! If you have extra, keep it in an airtight container in the fridge for up to 7 days.
While leftover Panzanella will be safe to eat for a while covered in the fridge, it does tend to lose its crispiness once dressed. If you don't think you'll finish it all, it's best to only add the dressing to the bread that will be eaten.
You can easily store the bread and dressing separately, re-toast your bread in the oven at 400°F until crispy, then add the dressing.
Why You Should Make This Vegan Panzanella
---
---
It's balanced. The carbs and fresh herbs and tomatoes balance eachother out in both texture and flavor.
It's resourceful. You'll never throw away stale bread again!
It's the perfect starter! Italian dinner night just got so much tastier!
If you're loving this Vegan Sheet Pan Panzanella