Want to level-up your stuffing this year? Look no further then this Everything Bagel Stuffing.
The use of everything bagels and addition of extra everything seasoning kicks your basic stuffing up ten notches by adding a depth of flavor that accompanies any main dish seamleasly. The stuffing will now be a favorite on your Thanksgiving plate instead of just a place-filler!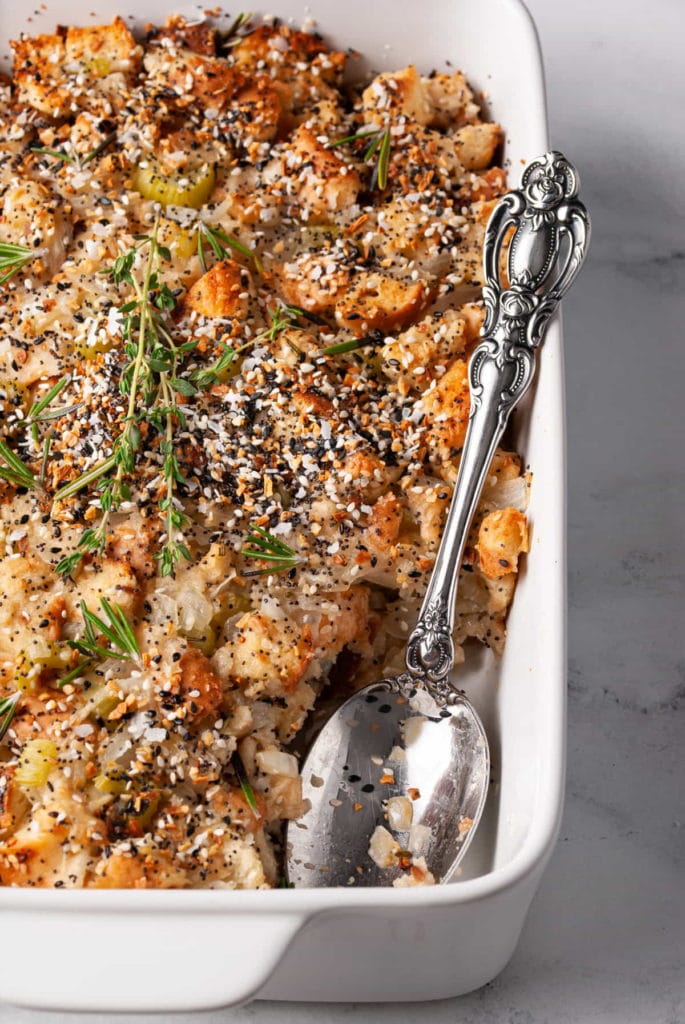 As an environmental scientist, I'm always trying to keep the issue of food waste front of mind. This recipe is designed to bring new life into your stale bread, so not only does that bread not have to be fresh, it's actually encouraged to use stale.
Green tip: Bread is one of the most wasted food products in the U.S. because of our tendency to throw it out as soon as it's stale. Reduce your contribution to food waste by re-vamping your stale bagels with this Everything Bagel Stuffing.
Everything Bagel Stuffing Tips and Tricks
---
---
Gather Your Ingredients
Aside from your day old bagels, you'll just need a couple of fresh ingredients and flavor enhancers to make this stuffing come to life. Here is everything you'll need:
Cube Your Bagels
In order to get the right consistency for your stuffing, you'll want to cut your day-old bagels into cubes. This will allow for the bread to soak up the liquid and form your stuffing casserole.
Use a serrated knife to cut your bagels into cubes about 1 cubic inch or smaller and set the bagel pieces aside for later. Make sure to save any everything seasoning that falls off of your bagels during cutting.
If you have other-flavored bagels that you need to use up, they will absolutely work, too! Just avoid sweet ones like cinnamon raisin or blueberry.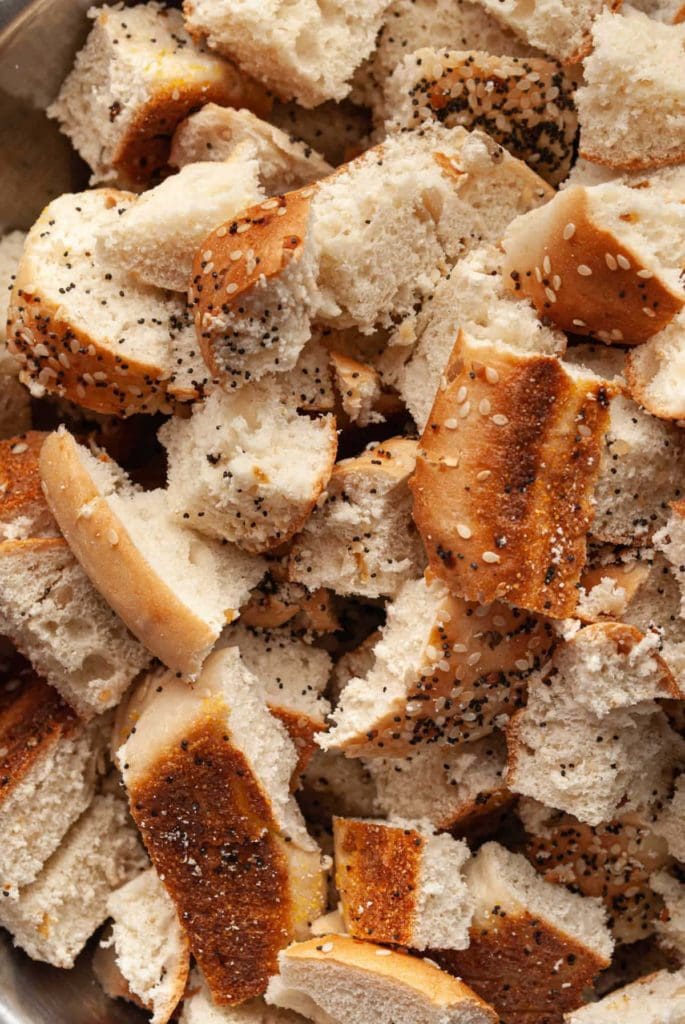 Cook Your Veggies and Herbs First
In a large pot, add 1/4 cup of butter and chopped celery, diced onion, rosemary, and thyme. Cook over medium heat until the onion is translucent and super fragrant.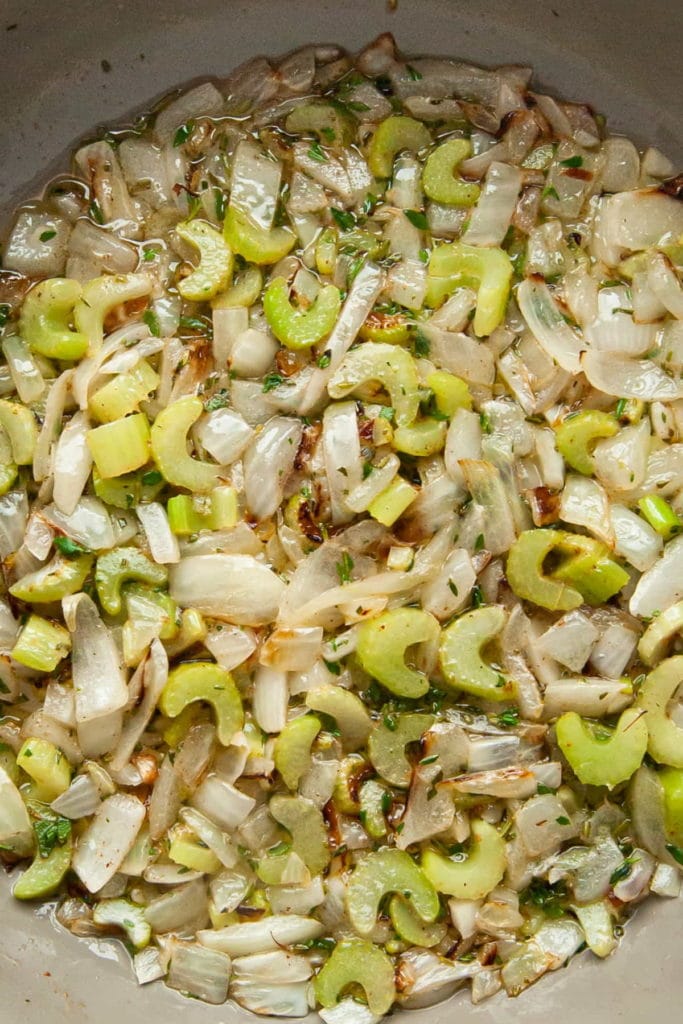 Add Your Broth and the Rest of the Butter Next
Next, add a pinch of salt and pepper, your veggie broth, and the rest of the butter. Turn your heat down and keep your pot over the burner just until the butter melts.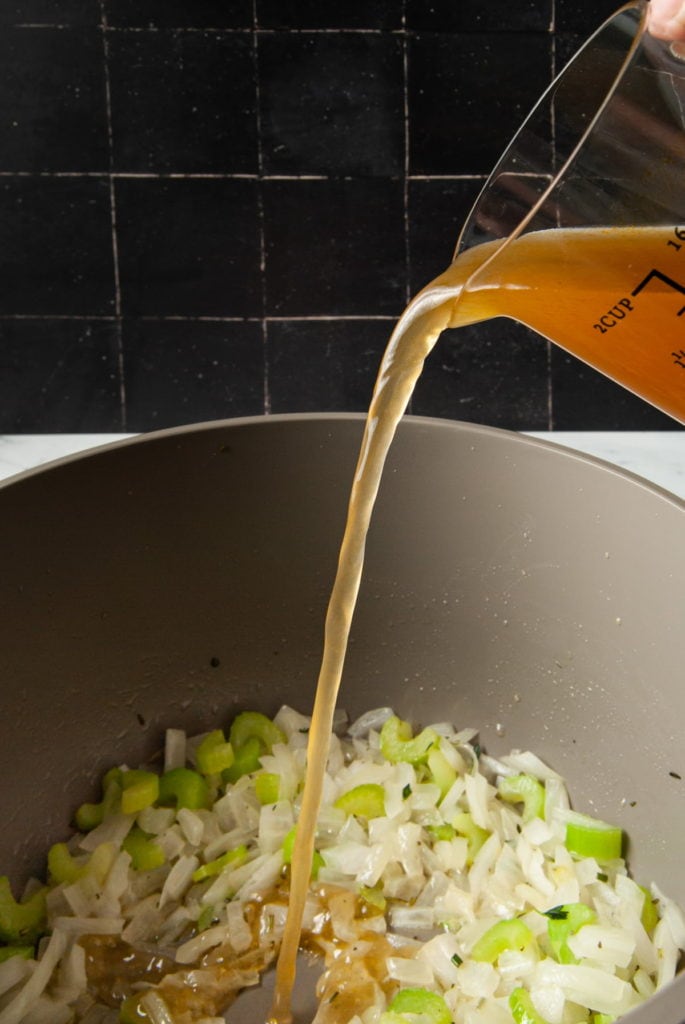 Coat the Bagel Bits
Once your butter is melted, add your cubed bagel to the pot and stir to coat with the buttery liquid, herbs, and vegetables.
Toss until the bagel bits are completely coated before transferring your stuffing to a casserole dish to bake. I recommend using a 10.5″ x 7.5″ oven-safe casserole dish.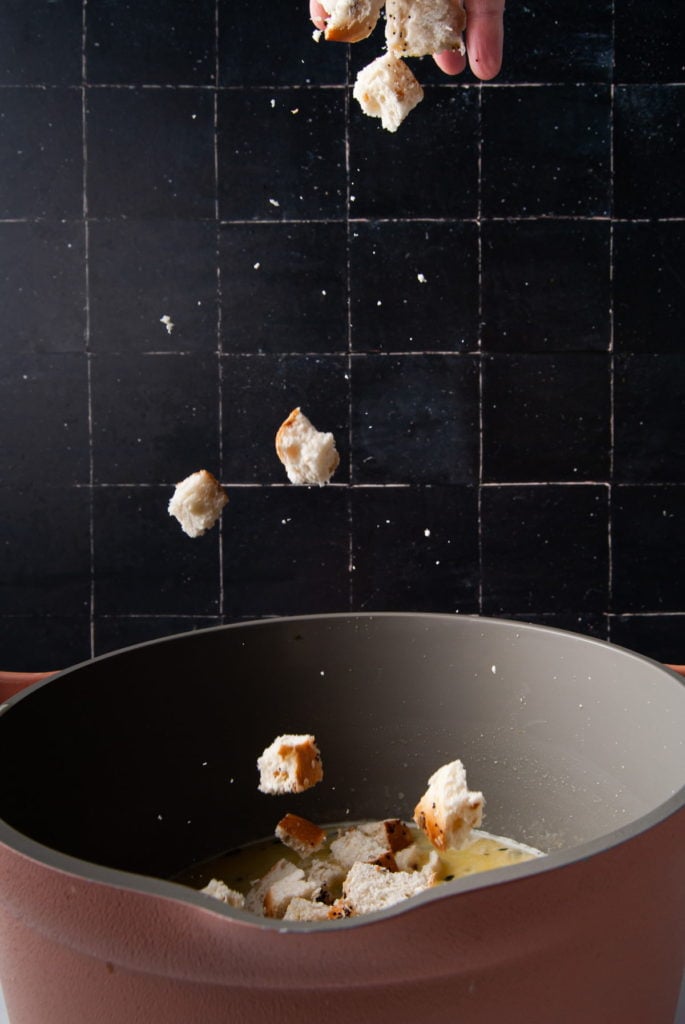 Everything Bagel Seasoning
You can buy bagel seasoning or even make your own (just combine poppy seeds, sesame seeds, and dried onion and garlic).
…Or you can do it the thrifty way.
You know when you bring home your everything bagels and it feels like half the goodness has fallen off and is sitting at the bottom of the bag?
SAVE THOSE CRUMBS. I save them and add them to a little glass jar for recipes like this or my favorite Lox and Schmear Omelet.
Coat the top of your stuffing with this good-as-gold seasoning and then it's ready for the oven!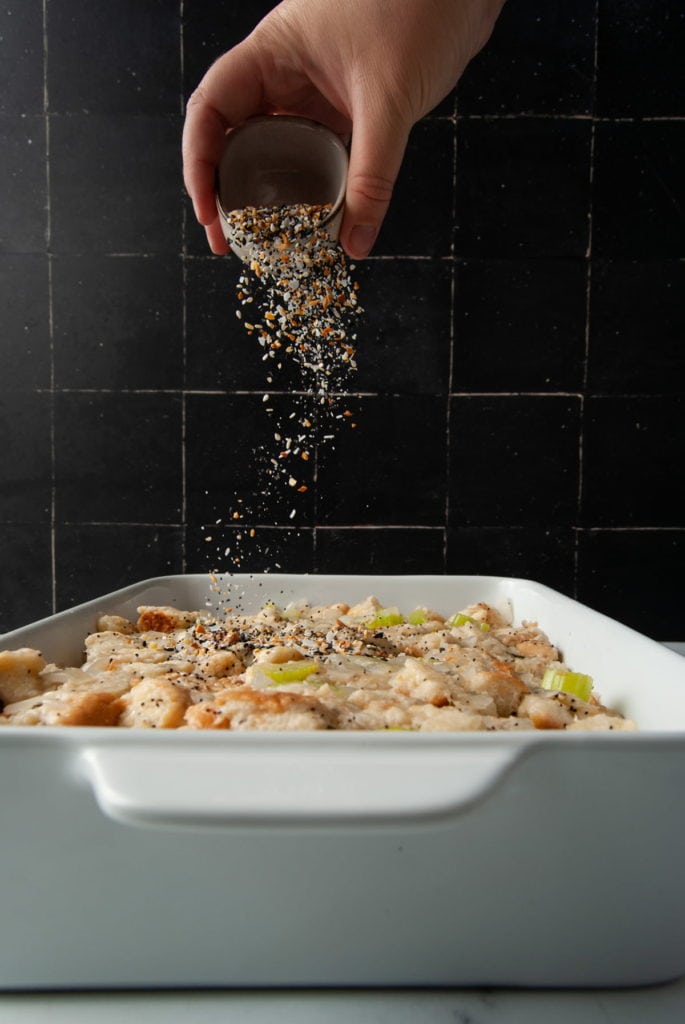 Should You Have Leftovers
This Everything Bagel Stuffing will last up to 5 days in an airtight container in the refrigerator, or up to a month in the freezer.
To reheat, stick it back in the oven at 350°F for about 20 minutes, until completely heated through. From frozen, you will likely need an additional 5 minutes to get it hot.
You can also opt to microwave individual portions. Use a microwave-safe dish, cover it, and microwave on high for 45-seconds to 1 minute, until heated thoroughly.
Green tip: Did you know that of the billions of pounds of food wasted annually, it is estimated that 50% of it happens in our homes? It's always best to avoid food waste as much as you can!
What To Serve Everything Bagel Stuffing With
This Everything Bagel Seasoning is a favorite side for our family Thanksgiving along with other classics like cranberry sauce, green bean casserole, and sweet potato casserole.
But it can also be made year-round alongside this Almond Crusted Salmon, or if you're a meat-eater, this Pork Tenderloin.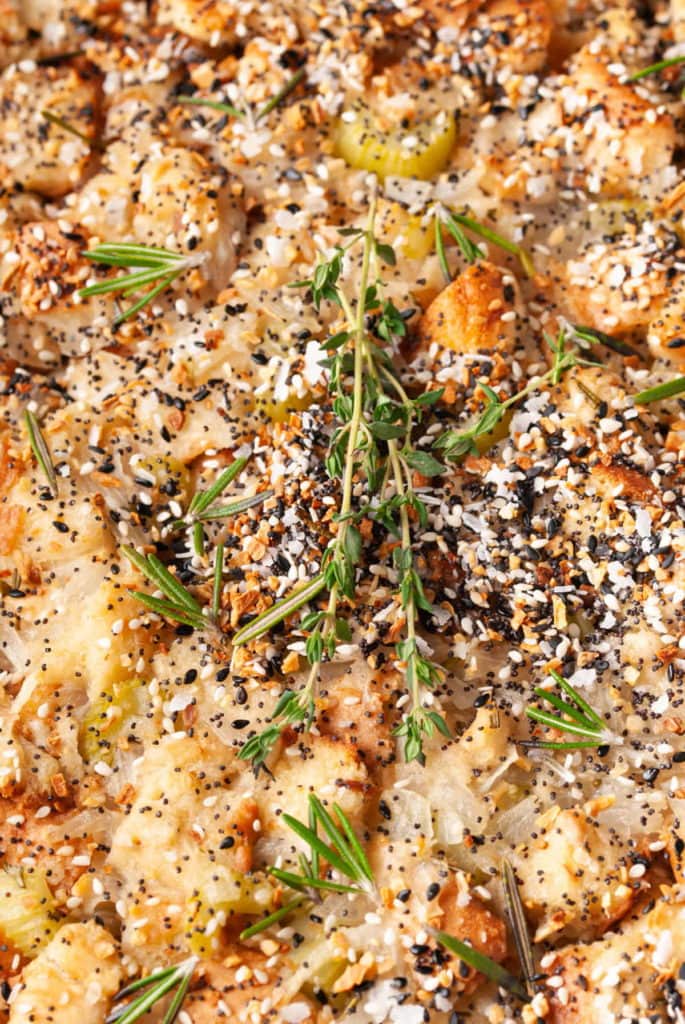 Why You Should Make this Everything Bagel Seasoning
---
---
It's unique! A classic Thanksgiving dish with a twist!
It's resourceful. Don't chuck those day-old bagels! Revamp them by using them in this stuffing.
It packs a punch. The everythign seasoning adds so much flavor to a dish that can otherwise sometimes be underwhelming.
If you're loving this Everything Bagel Stuffing and want more delicious Thanksgiving sides, check out this list of Exciting Thanksgiving recipes.