Looking for a treat to welcome in your favorite season, but exhausted every pumpkin recipe on the internet? This Vegan Apple Cake with Streusel Topping is your new Fall favorite!
It's just so easy to eat. It's moist and fluffy with a crunchy top and highlights the apple so beautifully. I'm not obsessed. YOU'RE obsessed!
AND your kitchen is about to smell like a Fall Harvest without having to buy one of those over-the-top, almost offensive-to-your-nostrils cinnamon brooms.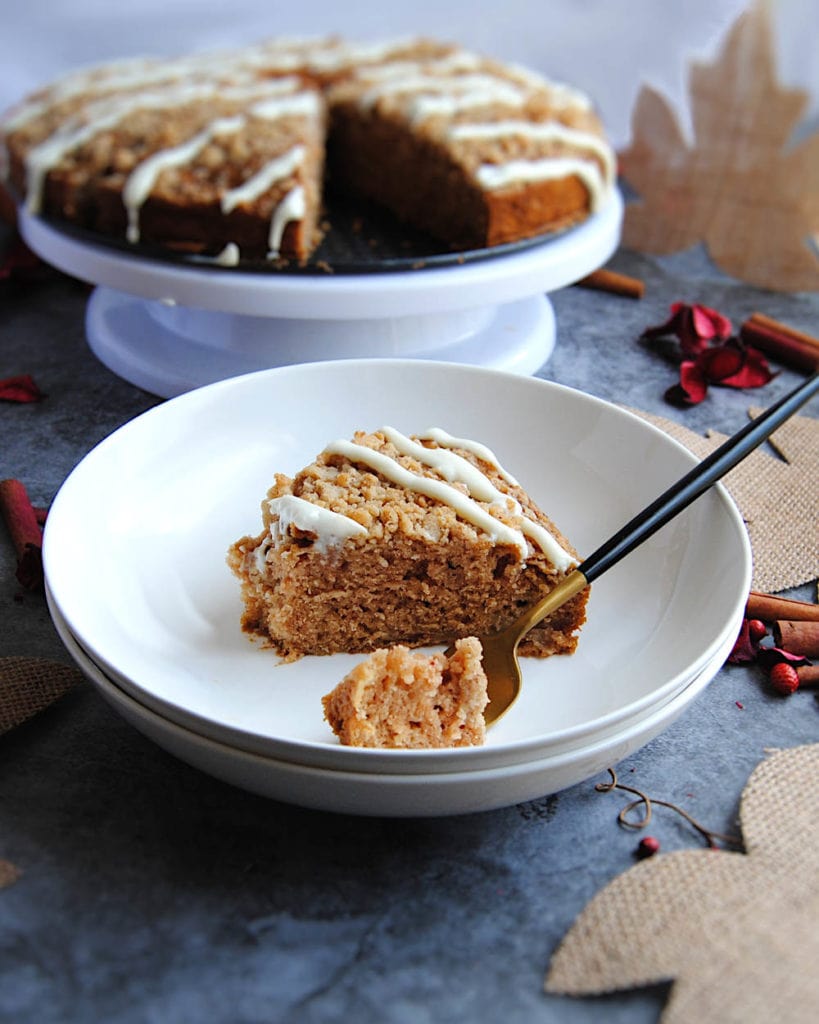 Vegan Apple Cake Tips and Tricks
---
---
Why Vegan Baking?
The mass production of eggs and dairy farming contributes a staggering amount to our overall greenhouse gas emissions and contamination of soil and water. I always buy local, organic eggs and cheese when I can.
And what's more, I save the egg and dairy for when it really counts. I'm talking Eggs Benedict and Cheesy Pasta.
Leaving out the dairy and eggs while baking is a great way to reduce your consumption of eggs and dairy. And it's just as delicious and at times, more nutritious (you all know I can't resist a good rhyme when it presents itself).
Green tip: Industrial dairy production has a huge impact on the environment, especially because of the amount of land it takes to sustain and its high amount of greenhouse gas emissions. Reducing your dairy consumption is one great way to reduce your ecological footprint.
I'll Keep This Short and SWEET
Use sweet apples for this Vegan Apple Cake.
I know, green apples are my favorite, too. But I've tried it both ways and sweeter apples are best! I use Gala.
Get Your Gadgets Ready!
Don't worry, this recipe isn't chock full of fancy baking techniques. In fact, I highly recommend using your hands to mix your streusel—more on that below.
But I do recommend you use a stand or hand mixer to get this batter going. You really want to beat the brown sugar and coconut oil together until it's completely integrated.
Brown sugar is a little bit thicker than granulated sugar and is a little harder to hand whisk into the oil.
You will also need a cheese grater. But I promise that's all!
A cheese grater for cake? Stay with me.
The Moist Maker
Remember that Friends episode where Ross goes crazy because someone was stealing his sandwich at work?
I mean, he's understandably mad. It's the leftover Thanksgiving sandwich with Monica's infamous moist maker—a slice of bread soaked in gravy.
Anyway, this is all to say that this Vegan Apple Cake is so darn good mostly because there is a moist maker at play here.
And it's in the form of shredded apples.
Peel your apples and use a cheese grater to shred them right down to the core.
It's best to do this after the rest of your batter is complete, to keep those apple shreds fresh and to avoid them browning.
Fold the shredded apple right into your batter and then pour it directly into your lined or greased cake pan. The batter is thick enough so that all of the apple doesn't immediately sink to the bottom.
Now set it aside to stop yourself from eating it all before it has a chance to bake. It's time for your streusel!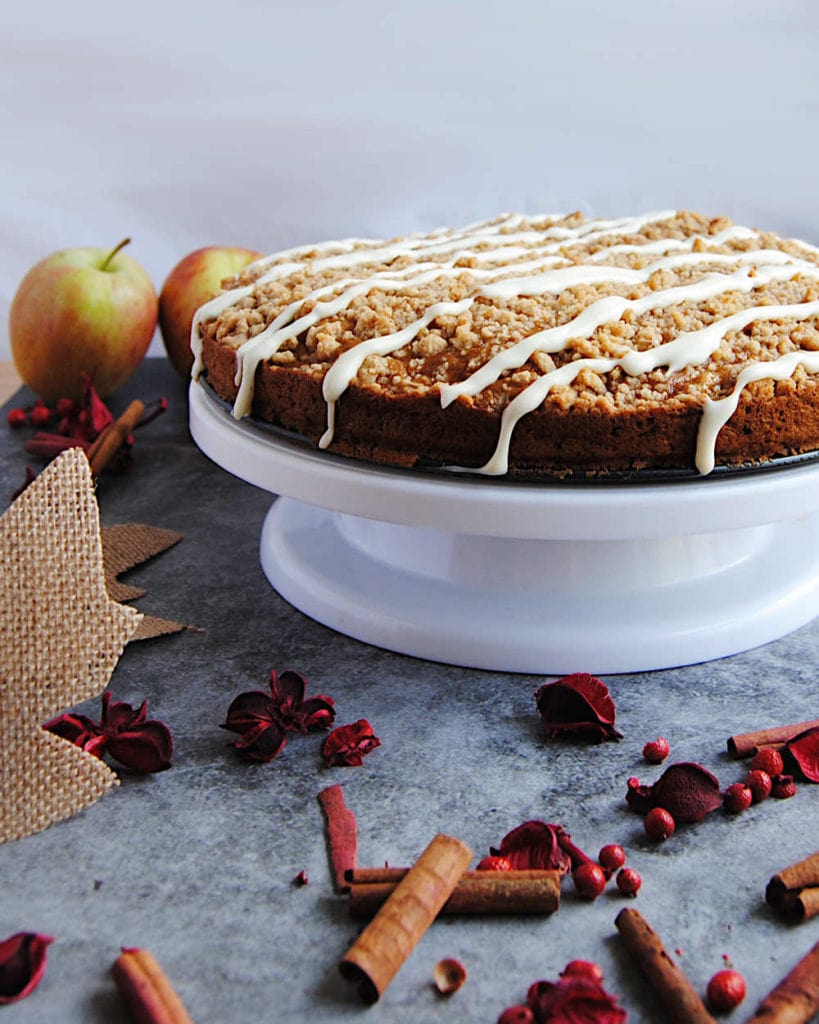 It's Crunch(y top) Time!
The streusel on the top of this cake gives an extra dose of cinnamon and a little crunch to an otherwise moist and fluffy textured cake.
It's actually pretty fun to work with, too. I find it's easy to integrate all the ingredients with your hands.
Melt the butter completely and then let it cool. Wash your paws and then just get in there and work the flour, sugar, and cinnamon into that melted butter.
You should end up with a crumbly texture, somewhere in between sand and play dough. If you feel it's too wet, don't be scared to add more flour!
Take a handful and crumble it on top of your cake until it's coated.
You can use either light or dark brown sugar. Dark brown sugar looks a little more like your classic streusel. It's a beautiful deep brown and tastes more molasses-y.
I used light brown sugar in the cake pictured, just because that is what I had on hand. You can't go wrong either way!
Don't Be An Eager Beaver
This cake will take 25-35 minutes to cook perfectly, depending on your oven and your pan size. I use an 11 inch round pan and mine was perfect right at 30 minutes!
You'll know it's ready because you'll be able to stick a toothpick in with it coming out clean.
BUT. There's a but.
You also want a crunchy top!
When you touch the streusel (be careful not to burn yourself!), it should feel nice and crispy. If it's not, give it just another couple of minutes.
If you love this Vegan Apple Cake with Streusel Topping and are looking for more Fall-inspired recipes? Check out this Drunken Apple Pie with Bourbon Drizzle and these Pumpkin Muffins with Spiced Cream Cheese Frosting.