Can't decide between a refreshing Mojito and spicy-sweet Moscow Mule? This Fiery Ginger Beer Mojito gives you the best of both worlds.
This ginger beer mojito is truly a perfectly balanced cocktail. Spiced and aromatic ginger beer, white rum, cooling mint, and citrusy lime are all you need for this delicious drink.
Think classic mojito, but substitute the sugar and soda water for ginger beer. Simple as that. It gives it a little more fizz and that fiery addition of ginger that gives this drink the power to make you feel like you're on vacation with one sip.
As an environmental scientist, I try hard to keep my ecological footprint low, and one of the best ways to do so is to grow your own veggies, fruits and herbs!
Green tip: Homegrown herbs have zero associated food miles, no pesky plastic packaging, and are free of damaging fertilizers and chemicals. Plus, they are just so fresh and flavorful.
And surplus herbs mean lots of fresh cocktails at my house!
Ginger Beer & White Rum Mojito Ingredients
---
Here's everything you need:
Lime. Using fresh lime is best for this cocktail. For one cocktail, you should only need about 1/2 lime to get all the juice you need.
Mint. Fresh mint leaves are a must in any mojito! I recommend using fresh spearmint rather than peppermint leaves.
White Rum. Dark rum works, too, in a pinch. White rum is preferred because it is a little milder in flavor, allowing the lime, mint, and ginger beer to shine.
Ginger Beer. Use a strong, fiery ginger beer for this recipe! Ginger ale won't lend quite enough flavor.
Ice. This cocktail is best-served ice cold.
How To Make the Perfect Ginger Beer & White Rum Mojito
---
Muddle That Mint
Muddling is key to releasing the oils from your mint, so you can really taste its fresh herbaceousness. Be careful not to over-muddle. Mint can get a little bitter if it's overworked. About 30 seconds should do the trick.
Don't Just Squeeze Your Limes, Let 'Em Hang Out A While
Utilize both the juice and the peel. The peel has oils in it that are dense with flavor—that's why citrus zest is used a lot in cooking. Squeeze your lime juice into your glass and then drop what's left into your drink. This will allow you to optimize that refreshing citrus taste.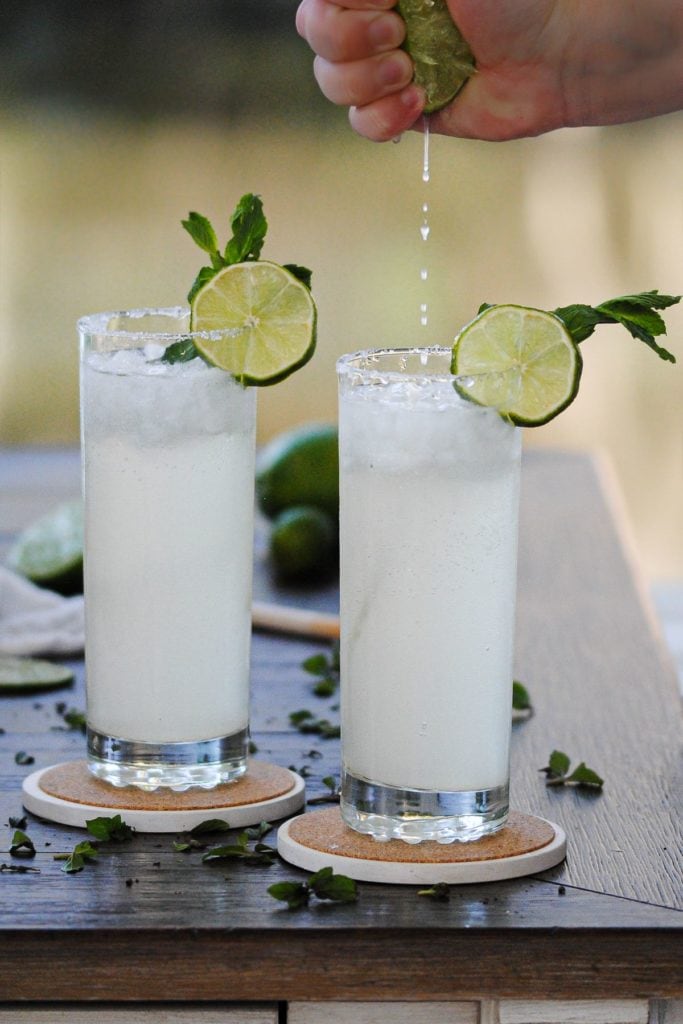 Stirred, Not Shaken
You know how much I love my cocktail shaker, but ginger beer is super carbonated. Using a mixer will not only be a big sticky mess, but it will also make you lose some of those beloved bubbles.
Ginger Beer Mojito Frequently Asked Questions
---
Can I make this Ginger Beer Mojito a Mocktail?
Absolutely. These GBMo's are just as delicious without the rum. Add an extra teaspoon of lime juice instead and you're off and running!
Can I substitute ginger ale for ginger beer?
You certainly can, but you can expect your drink to be a little less fizzy and a little sweeter rather than spiced.
What alcohol mixes with ginger beer?
The most common cocktails with ginger beer include Moscow Mules (vodka) and Dark and Stormy's (dark rum), but ginger beer can be combined with many other spirits, as well!
It's delicious with white rum in this Ginger Beer Mojito and even combines beautifully with both Aperol and gin in this Aperol & Gin Cocktail with Ginger Beer.
What's the difference between a Mojito and a Mule?
The biggest difference between this Ginger Beer Mojito and a Moscow Mule is the type o liquor in it. Mules traditionally have vodka whereas Mojitos traditionally have rum.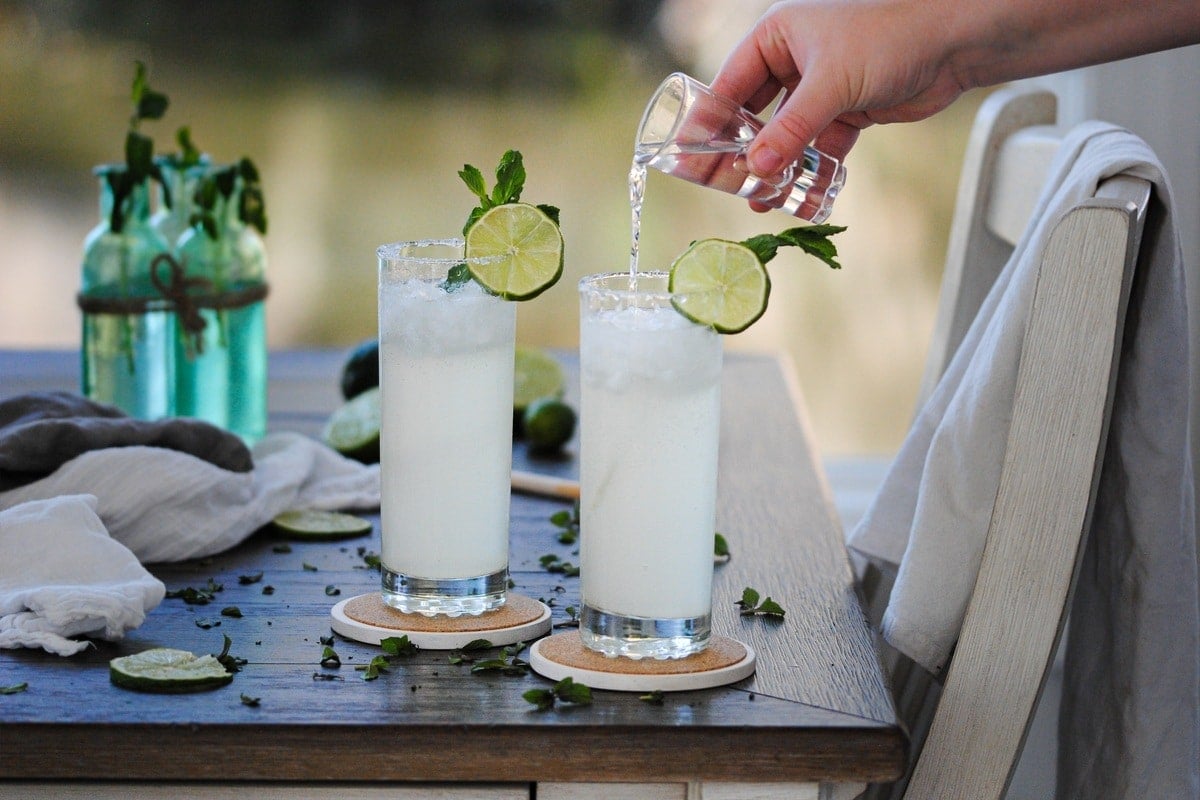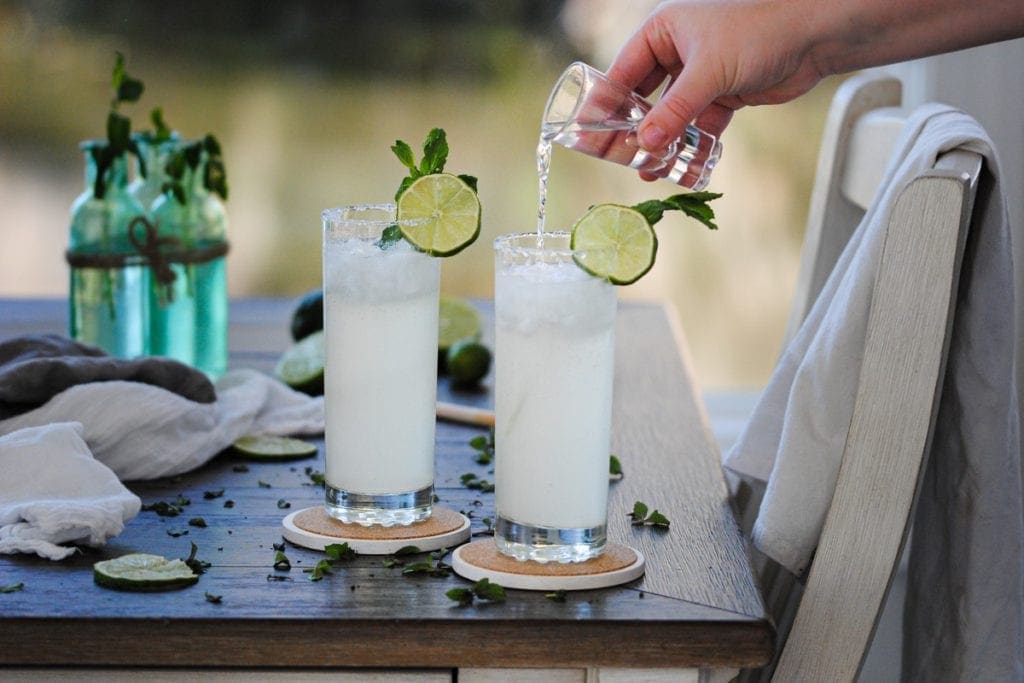 Why You Should Make this Ginger Beer Mojito
---
It's refreshing. Between the fresh mint and the lime juice, this cocktail is so crisp.
It's a mashup. Can't decide between a mule and a mojito? This drink gives you the best of both worlds.
It's bubbly. The ginger beer adds fizz to every sip.
This refreshing Fiery Ginger Beer Mojito is the perfect blend of spicy, citrus, and sweet, and the best way to drink rum! If you want more refreshing cocktail recipes, check out this list of 10+ Mixology Cocktails To Try At Home. Cheers!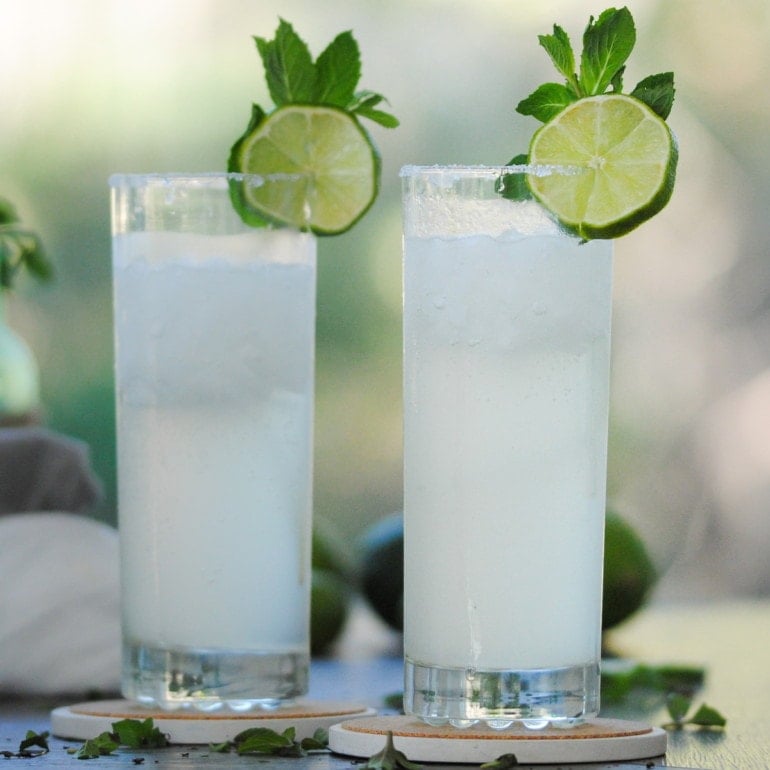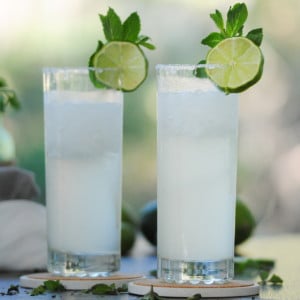 Fiery Ginger Beer and White Rum Mojito
PRINT
PIN
RATE
This ginger beer mojito is a refreshing yet fiery cocktail, featuring just a few ingredients like ginger beer, mint, white rum, and lime. Simple yet delicious!
Ingredients
½

ounce

lime juice

(½ oz lime juice usually = juice from ½ a lime)

5

fresh

mint leaves

(+ more for garnish)

½

cup

ice

3

ounces

white rum

6.8

ounces

ginger beer

(6.8 oz usually = 1 can)
Instructions
Cut your lime in half, squeezing the juice from one half into a highball glass, and setting aside the other half for garnish.

Add about 5 mint leaves into the glass and muddle for about 30 seconds to release the flavor of the mint.

Add ice, rum, and ginger beer and stir.

Garnish with a lime wedge and more mint and serve ice cold!
Pro Tips
It's best not to use a shaker for this cocktail. You won't want to lose the crisp carbonation of the gingerbeer.
I like to really taste the rum, so I add two full jiggers worth of it to each drink, but if you want the rum to be less prevalent, start with one. You can always add more!
1 fluid ounce = 2 tablespoons
Mojitos might just be my favorite cocktail! Original is always classic, but I love them with a twist, too—check out the collection of my best mojito recipes!
Did you make this recipe?
Let me know by leaving a recipe rating below, or by tagging @marleysmenu on Instagram.
The Inspiration Behind this Cocktail
My husband picked up this recipe from two of his great friends and perfected it over the years. He actually made a pitcher for my friends the first time he met them and well, let's just say one sip and he was in.
So this Fiery Ginger Beer Mojito has earned a reputation of guaranteeing you make a good impression on every new person you meet and have the opportunity to mix a drink for. Next time you're bartending to impress, pull out this guy and you'll be sure to succeed.
Cheers!