With fresh ingredients and from-scratch elements, these Fresh Fish Tacos With Pineapple Salsa are over-the-top delicious. And honestly, with all their vibrant colors, they're beautiful to look at, too.
Taco night is a huge ordeal at our house. It's not a 'beans and cheese in a tortilla' situation. It's an 'all out, tons of ingredients, all the apps, plus a margarita' situation.
AND WE LIVE FOR IT.
I'm a huge believer in if it doesn't taste good on its own, it has no place in your taco. So every last fixin' gets love and attention. These Fish Tacos with Pineapple Salsa are no different.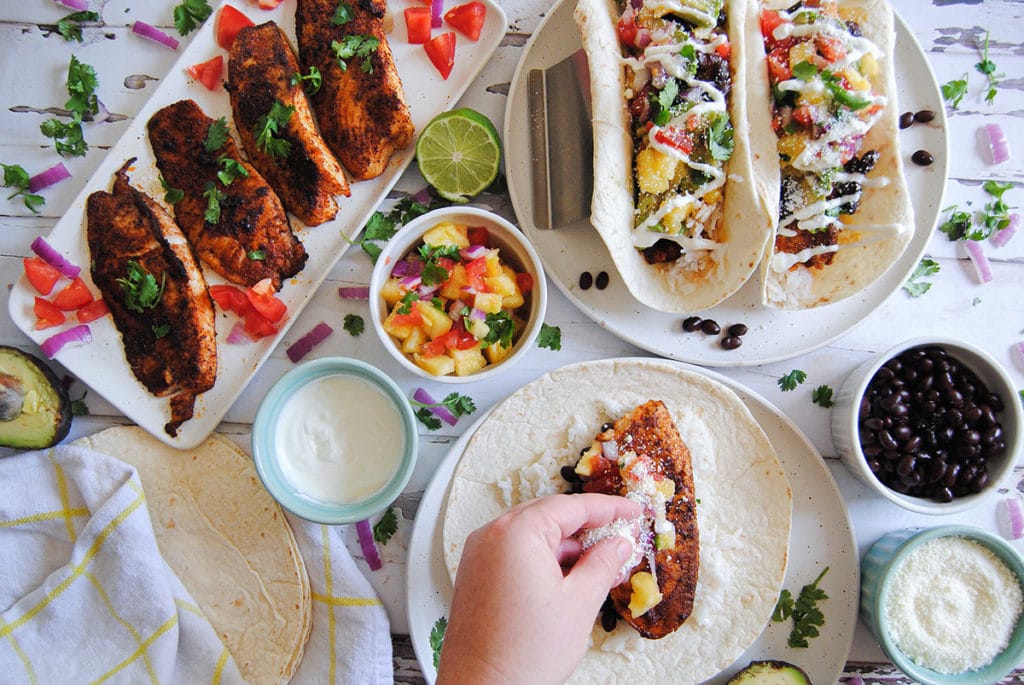 Fish Tacos With Pineapple Salsa Tips and Tricks
To me, achieving a great taco is pretty simple. If the elements taste great on their own, then together, they should create something super special. And while in life I'm generally a big picture kinda gal, when it comes to tacos, attention to detail is key.

Reeling in That Fresh Flavor
I love to make everything from scratch—even down to the tortillas! You can make your own, too, with this Homemade Fluffy Flour Tortillas recipe. And that means—yup, you guessed it! The Pineapple Salsa is from scratch, too. Try my Sweet and Spicy Pineapple Salsa recipe!

But, let's be real, we can't always spend all day in the kitchen, and sometimes ya just want a damn good fish taco without all the hassle. So, if you've got ten minutes to get this fish just right, I would argue you can easily achieve a yummy fish taco at home.
Use a white, mild-flavored fish like tilapia or catfish to get that light and fresh flavor. It's best to go for U.S. Farm-raised catfish. For the most eco-friendly tilapia, check this Seafood Guide.
Green Tip: There are big differences in environmental impact among different fish species and their sources. If you are ever unsure of which fish to buy to source seafood sustainably, refer to this Seafood Guide.
How To Cook Your Fish Just Right
My number one tip for getting your filet nice and crispy is drying it out first. It's as easy as pressing your fish between two paper towels, and it makes a huge difference! It also helps your seasoning stick. You can use any taco seasoning or make your own.
Then, rub both sides of your fish filet with seasoning. Drop some coconut oil into your pan and get it hot over medium heat.
Once your oil is hot, it's time to drop the fish in! Don't you love that sizzling sound? Cover and cook for about 5 minutes before flipping.
You'll know it's ready to flip because it will be super easy to get your spatula underneath it. It essentially becomes unstuck when it's ready!
Go Crazy for Coconut!
Giving your rice a subtle coconut flavor pairs perfectly with that pineapple salsa!
Simply use coconut milk instead of water when you cook your rice and add a touch of coconut oil and pineapple juice to really drive that flavor home. Follow the directions on your rice to learn your rice to coconut water ratio.
Add the coconut oil and pineapple juice at the end, once your rice is already cooked for the best flavor!
Green tip: coconut milk is one of the lowest impact milk choices when it comes to our environmental footprint. Coconut trees use little land, little water, and the production of coconuts requires no deforestation.
Taco Fixin's
Here's the part where you can really make it your own! Outside of the fish, coconut rice, and pineapple salsa, these tortillas are ready for whatever you want to throw at 'em.
Some of my favorite fish taco fixings for these Fish Tacos with Pineapple Salsa include avocado, black beans, crema or sour cream, cotija cheese, fresh lime juice, and avocado.
You may also want to add jalapenos, fresh lime zest, or sub out Manchego or Oaxaca cheese. Whatever you might find on any old taco!
Why You Should Make These Fresh Fish Tacos
---
They're light and fresh. That light and flaky texture of the fish against the coconut rice and refreshing pineapple salsa.
They're both sweet and spicy. The combination will literally tickle your tastebuds.
They're social. Make a batch and put them out for the whole family and friends to have make-your-own taco night.
They're healthful. Protein-packed, all fresh and natural ingredients that boast a variety of vitamins and minerals.
To go all out for Taco night, try this Perfect Creamy Guacamole and Addicting Tex-Mex Queso Blanco to start!
Fish Tacos With Pineapple Salsa
PRINT
PIN
RATE
Fresh fish, creamy avocado, and pineapple salsa piled over coconut rice and topped with cotija cheese make these Fish Tacos with Pineapple Salsa dynamite.
Ingredients
Rice
1

cup

white rice

1 ½

cups

coconut milk

1

tablespoon

pineapple juice

1

teaspoon

coconut oil
Taco Fixin's
1

avocado

½

cup

black beans

½

cup

pineapple salsa

¼

cup

cotija Cheese

1

tablespoon

lime juice

(1 tbsp usually = juice from ½ a lime)

1

handful

of cilantro for garnish

1

tablespoon

crema or sour cream
Instructions
Rice
Bring coconut milk to boil and add dry rice. Reduce to simmer, cover, and cook for 15-20 minutes until liquid is absorbed. Then add the coconut oil and pineapple juice. Mix well and set aside.
Fish
Thoroughly dry fish filets by pressing them in between two paper towels.

Rub the fish with seasoning generously on both sides.

Over medium heat, add coconut oil to your pan to start simmering. Carefully place your fish fillets into the hot oil. Cover and cook for five minutes before flipping.

You will know your fish is ready to flip because it will easily come onto your spatula without sticking to the pan. Once flipped, cover again and cook for another five minutes until you achieve a nice, browned color on both sides.

Remove from pan and set aside for taco assembly.
Taco Assembly
Prep your ingredients by slicing the avocado, prepping pineapple salsa, cutting lime, warming black beans, cooking fish, and grating cotija.

Heat your tortillas in a dry pan or by microwaving between two damp paper towels for about 15 seconds. Add rice to your taco first, and then pile on fish, beans, avocado, and pineapple salsa. Drizzle with Crema, sprinkle on Cotija and finish with fresh lime juice. Garnish with cilantro and serve warm!
Pro Tips
Try these with homemade flour tortillas!
This recipe will probably work with most fish, but my two favorite tried-and-true successes are catfish and tilapia.
You can usually find Mexican Crema and Cotija cheese at the grocery store, but if you have to substitute, sour cream and Parmesan are second best!
Did you make this recipe?
Let me know by leaving a recipe rating below, or by tagging @marleysmenu on Instagram.