Looking for a fresh and vibrant recipe for taco night? These Blackened Fish Tacos with Pineapple Salsa are perfectly balanced between salty, spicy, and sweet, with every last element of each taco holding its own.
The pan-fried fish is easy to whip up and brings warmth, heat, and amazing texture. It's complemented by the subtly sweet and fluffy coconut rice and the fresh, sweet, and citrusy pineapple salsa for a super dynamic bite.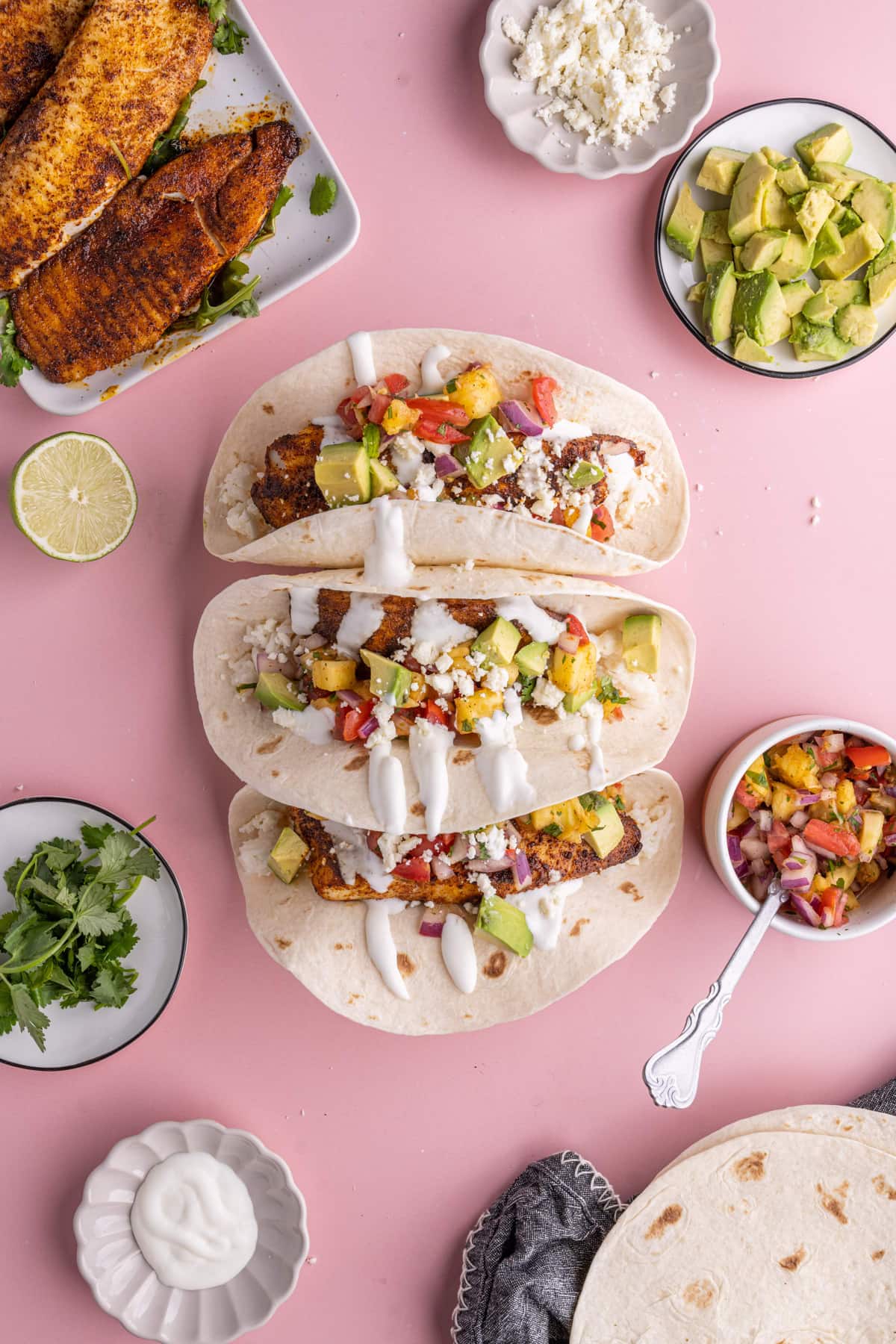 Blackened Fish Tacos with Pineapple Salsa Ingredients
---
Here's everything you need:
White fish. Tilapia and catfish are my favorite in this recipe because they are relatively affordable and easy to find. You can also use cod, haddock, halibut, or grouper.
Taco seasoning. To fully season the fish. You can buy it at the store or make your own taco seasoning.
Flour tortillas. The medium size work great for these! Or if you're up to it, make your own fresh homemade flour tortillas.
Jasmine or Basmati rice. This adds so much texture and heartiness to your taco.
Coconut milk. To cook your rice in to bring flavor, sweetness, and creaminess to your rice.
Coconut oil. To cook your fish in. I like to add a little bit to my rice, too.
Pineapple Salsa or Pico de Gallo. Another element you can choose to buy or make your own pineapple salsa from scratch.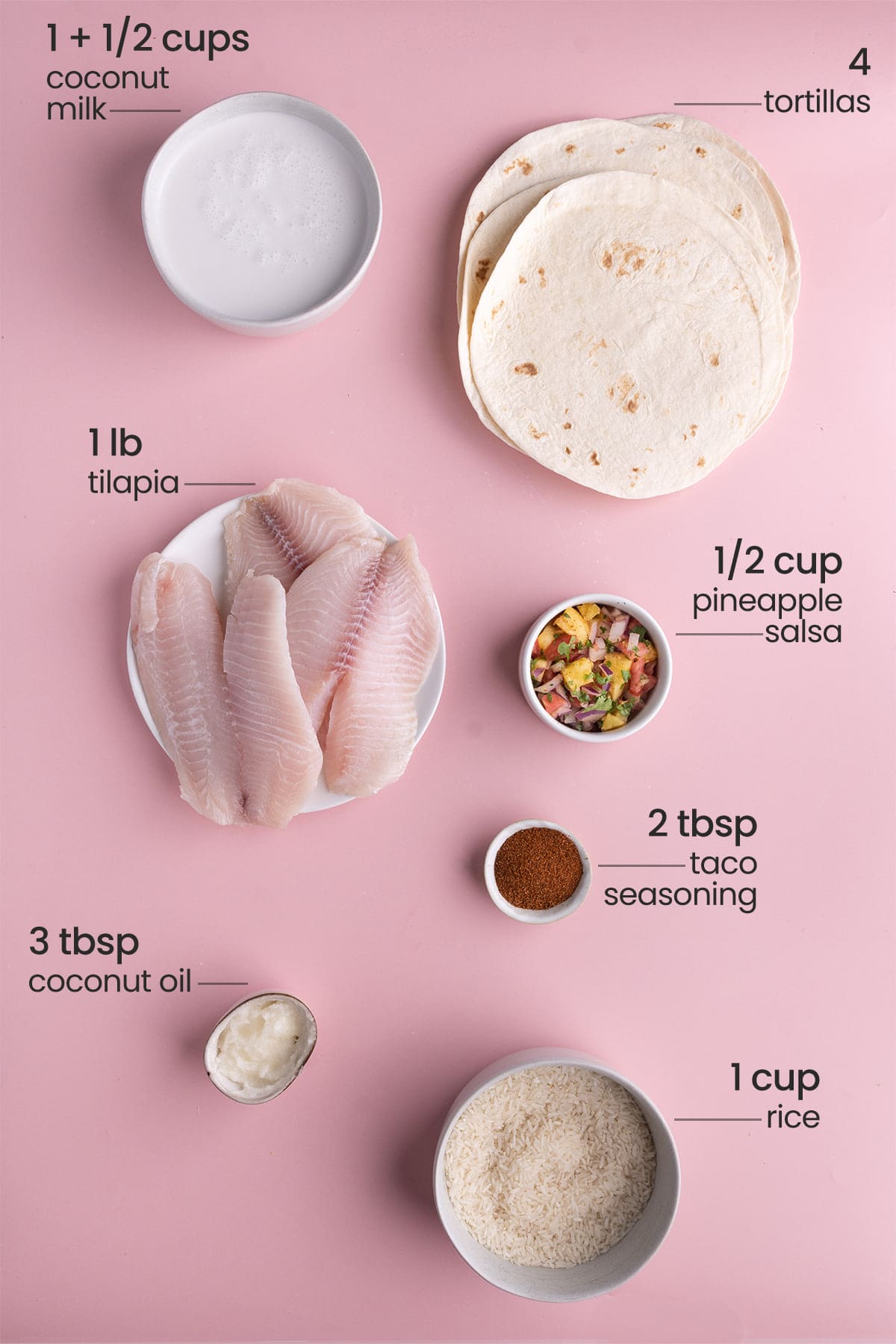 Make these your own with toppings! Here are some of my favorites:
Crema or sour cream. For added coolness to temper the spice of the taco seasoning.
Avocado. For added creaminess and earthiness.
Cotija cheese or queso Fresco. For a little extra salt.
Fresh lime. For a hit of citrus.
Fresh cilantro. For an aromatic and herbaceous finish.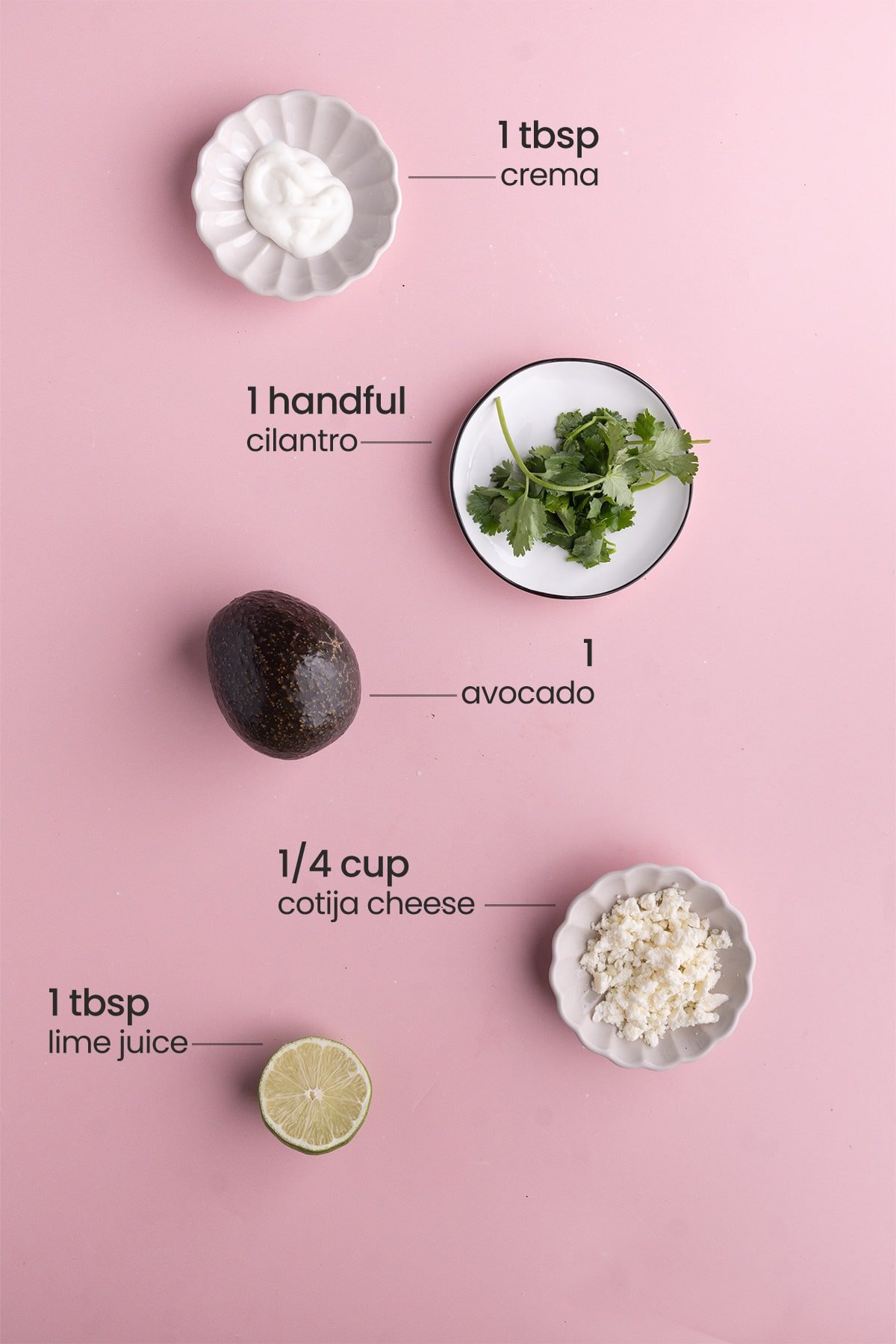 Sustainable Seafood
When choosing your fish for these blackened fish tacos, there are many factors you can consider to ensure you are making an eco-friendly choice.
When it comes to tilapia and catfish, look for domestic fish! Both tilapia and catfish reproduce rather quickly, making them a relatively sustainable seafood choice.
Green tip: Look for Marine Stewardship Council and Friend of the Sea labels on your fish to ensure they were harvested sustainably.
Blackened Fish Tacos Tips and Tricks
---
How to Make Perfect Coconut Rice
To me, achieving a great taco is pretty simple. If the elements taste great on their own, then together, they should create something super special. And while in life I'm generally a big picture kinda gal, when it comes to tacos, attention to detail is key.
So that means, down to the rice, we want every element to hold their own in terms of flavor. Cooking the rice in coconut milk adds both creaminess and subtle sweetness.
Start by rinsing your rice. I usually just use a sieve to run some water over it. Dry it as best you can, but don't worry too much if the rinsed rice retains some extra water. It will still cook beautifully.
Green tip: While rinsing your rice, catch the water in a bowl and use it to water your plants. Starchy water is great for gardening and helps you conserve water.
Add the rinsed rice to a small pot with the full can of coconut milk and a teaspoon of coconut oil. While optional, the coconut oil gives it a more obvious coconut flavor. It also helps the rice to not get too sticky, so I do highly recommend adding it.
That being said, if you don't have coconut oil on hand, you can omit it and still get delicious, flavorful rice.
Bring it all to a boil, cover, and turn the heat all the way down to low. Simmer the coconut rice on low for about 20 minutes, until the liquid is absorbed, and the rice is tender.
Then, fluff the rice with a fork and set aside until you're ready to assemble your tacos.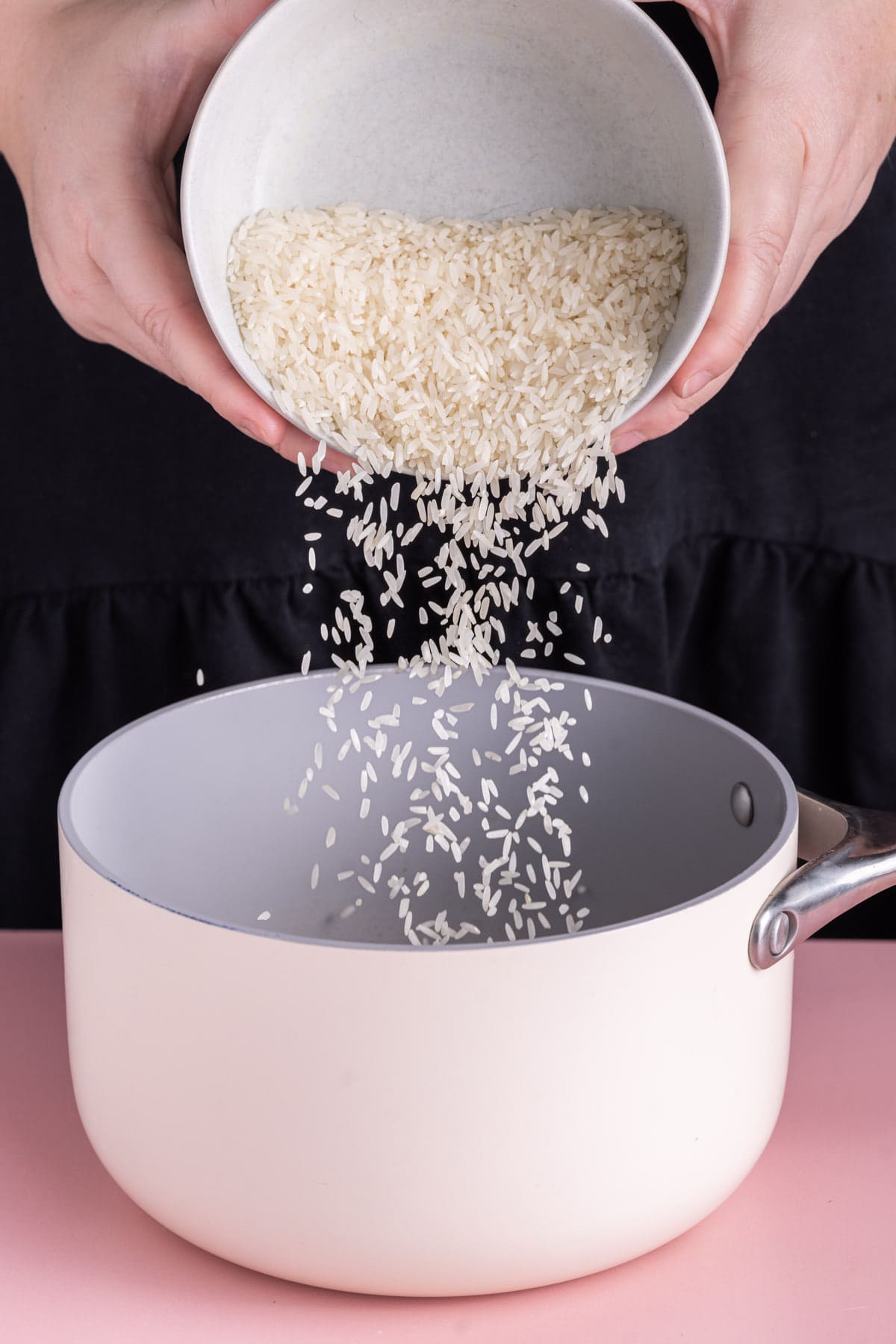 Pat the Fish Dry First
Before you season the fish with the taco seasoning, it's best to remove excess moisture to get the best texture once it's pan-fried.
Use a paper towel to lightly press down on the fish to pat dry. Drying it will avoid a mushy texture and allow it to get a little crispy around the edges.
Green tip: Paper products contribute to deforestation. Consider these bamboo paper towels! Bamboo naturally regenerates every few months, whereas trees cannot regrow once harvested.
Drying the fish also helps the taco seasoning adhere to the fish more easily and evenly, giving you a generous coat of seasoning on the fish.
I usually make this recipe with fresh fish, but you can also easily use frozen! Just allow the fish to thaw overnight in the refrigerator or add it to a plastic or reusable storage bag and submerge the bag in cold water for about 45 minutes to defrost.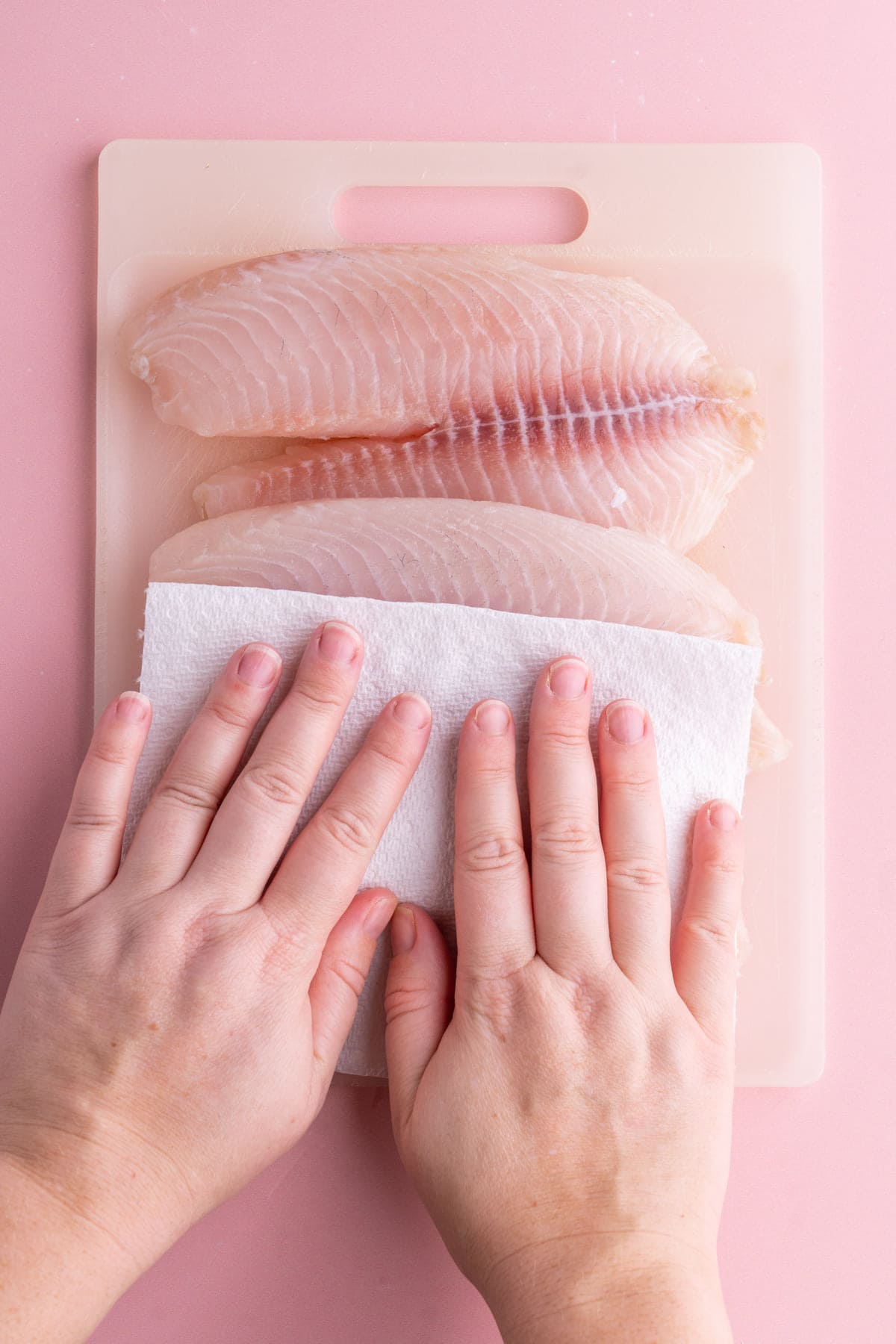 How to Prep Fish for Blackened Fish Tacos
Once you pat the fish dry, you'll be left with a slightly tacky surface that the taco seasoning will readily adhere to. Slice your filets into 6 roughly even pieces.
Add the taco seasoning to a shallow bowl and one at a time, dip the fish into the seasoning, coating it in a thin layer on both sides.
Set the coated fish aside and wash your hands. From here on out you can use kitchen tongs or a spatula to handle the fish.
At this point, add the coconut oil to a cast iron skillet or frying pan over medium heat and allow it to get hot. If you don't have coconut oil, you can use olive oil.
The coconut oil does add a nice flavor and has a higher smoke point than olive oil, meaning its much less likely to burn.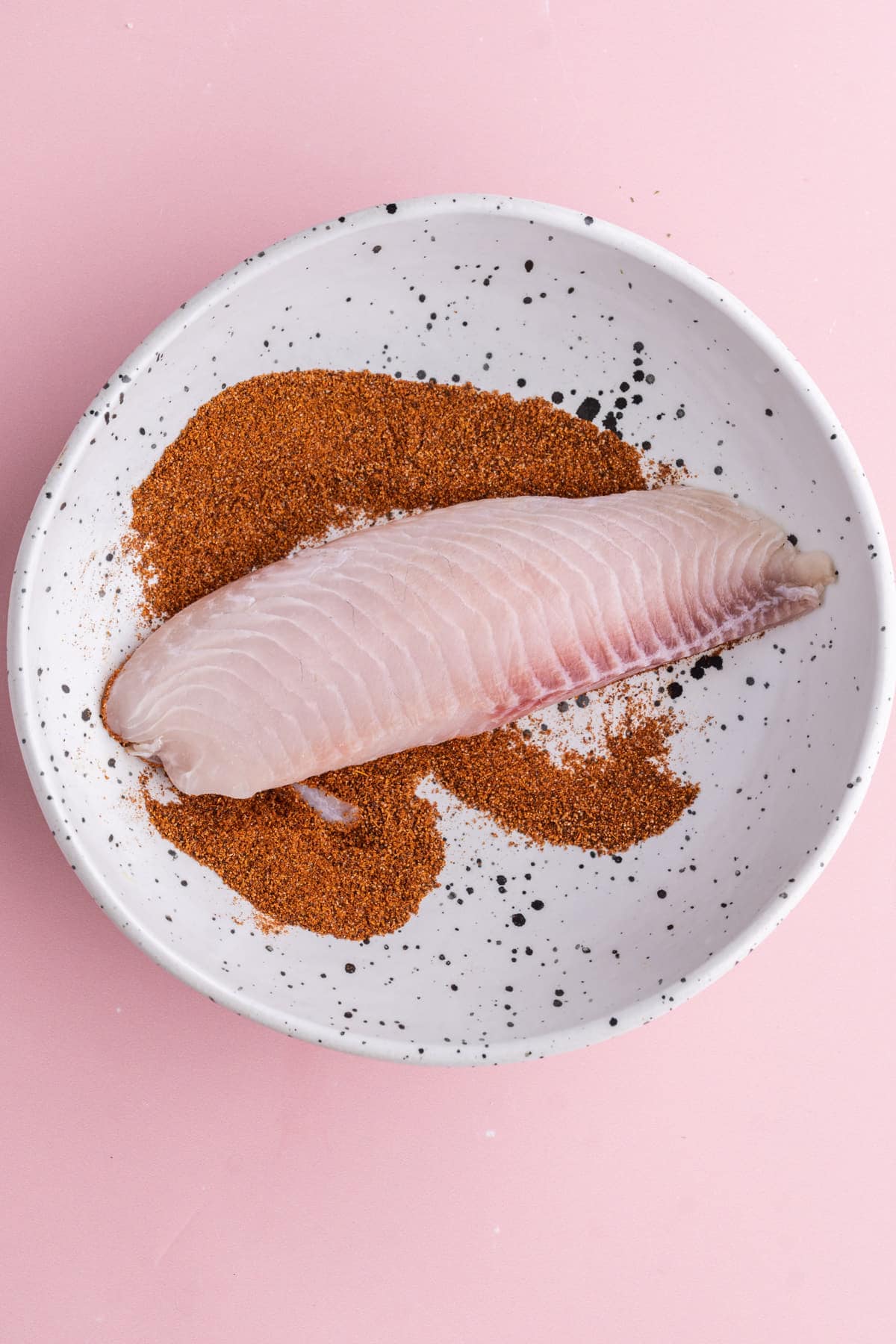 How To Blacken Your Fish Just Right
Once your oil is hot, it's time to drop the fish in! Don't you love that sizzling sound? Cover and cook for about 5 minutes before flipping.
You'll know it's ready to flip because it will be super easy to get your spatula underneath it. It essentially becomes unstuck when the seasoning forms a crisp blackened crust on the fish and is ready to flip!
After flipping, cover the fish again and cook for an additional 5 minutes. The most accurate way to tell if your fish is ready is by using a kitchen thermometer.
Take the temperature in the center and on the thickest part of the cut of the fish. Once it reaches 145°F in both places, your fish is ready!
If you don't have a thermometer, you can do a spot check. The fish will go from almost translucent to completely opaque when it is fully cooked.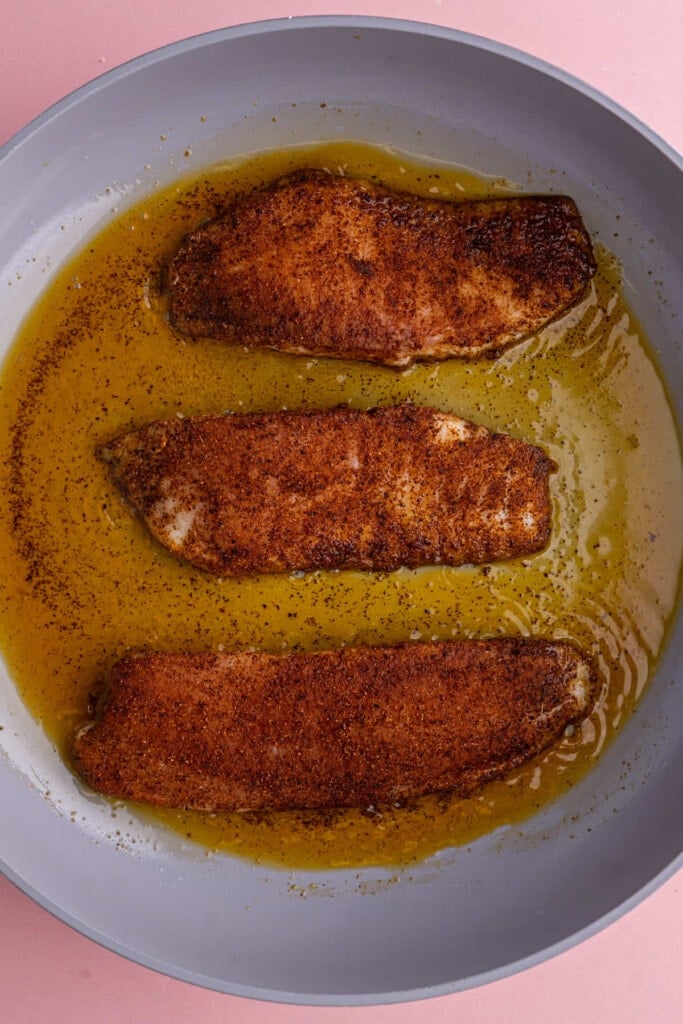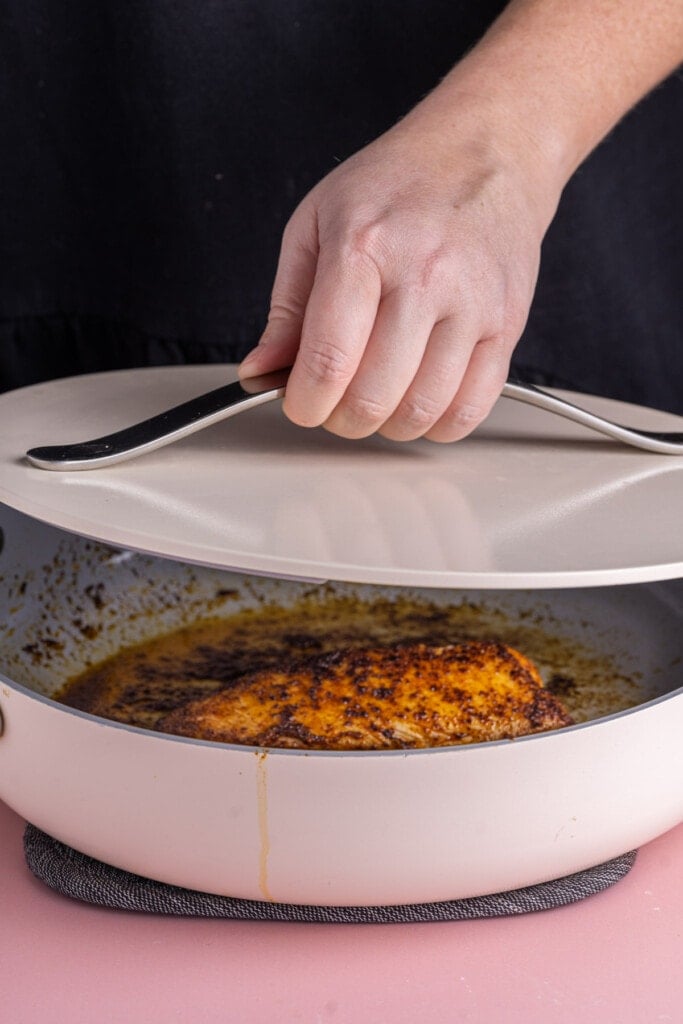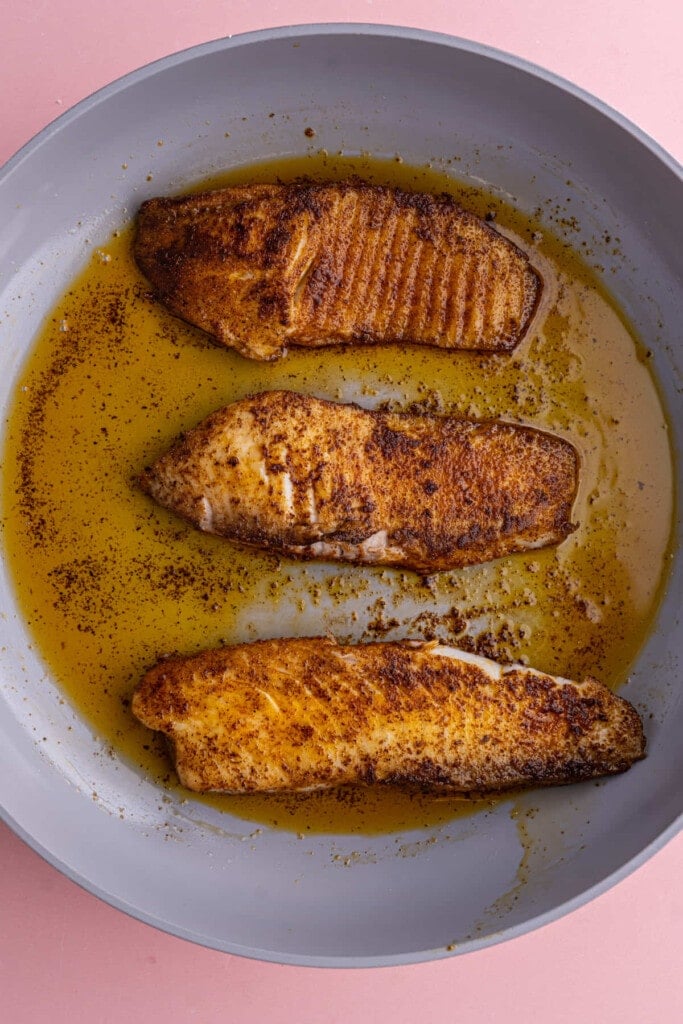 How to Assemble Your Blackened Fish Tacos with Pineapple Salsa
Here's the part where you can really make it your own! Outside of the fish, coconut rice, and pineapple salsa, these tortillas are ready for whatever you want to throw at 'em.
Start with your tortillas. You can heat them up in a dry pan or by microwaving between two damp paper towels for about 15 seconds, or you can serve them at room temperature.
Pile on your coconut rice first. I usually use about 1/4 cup of cooked rice per tortilla but honestly, just do what feels right!
Add the fish next, and the pineapple salsa on top. About 1 heaping tablespoon of pineapple salsa will do!
From there, you can add your toppings to tailor these tacos to your taste.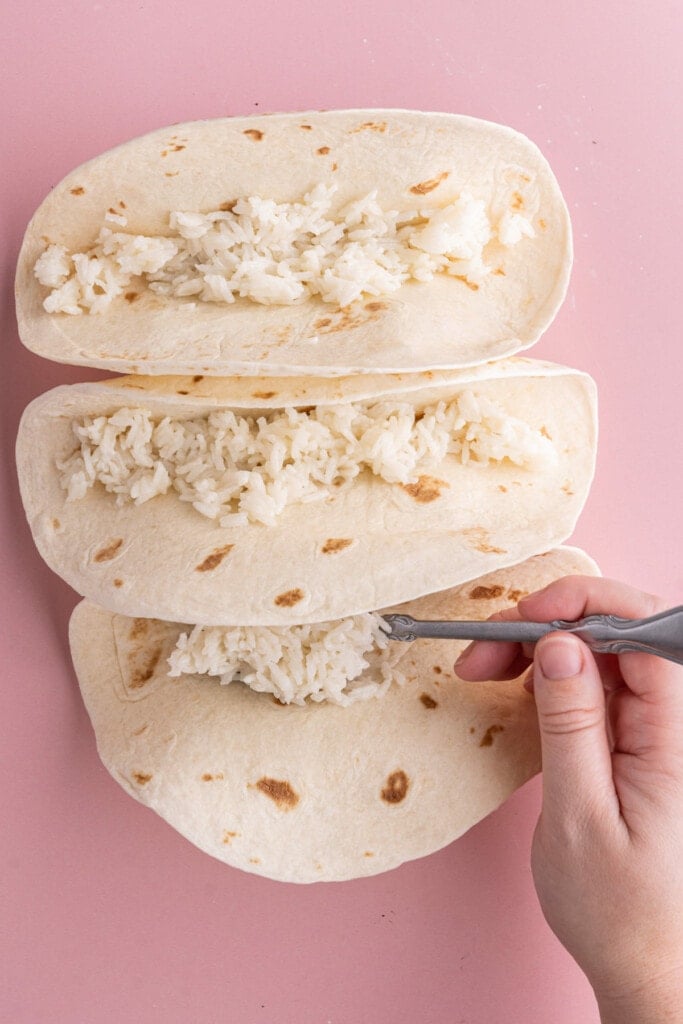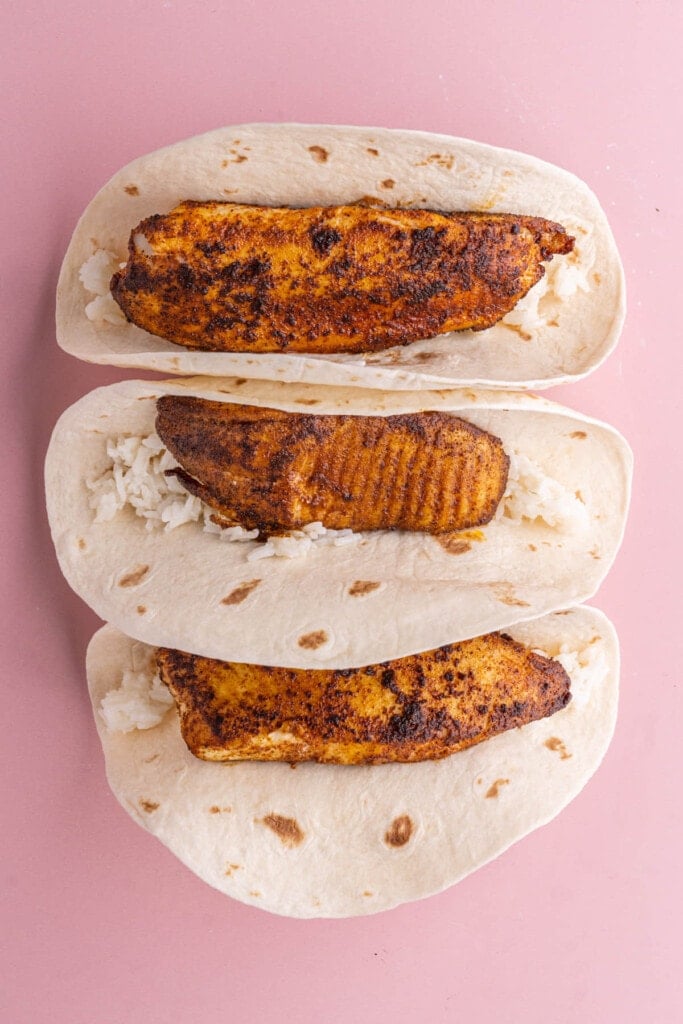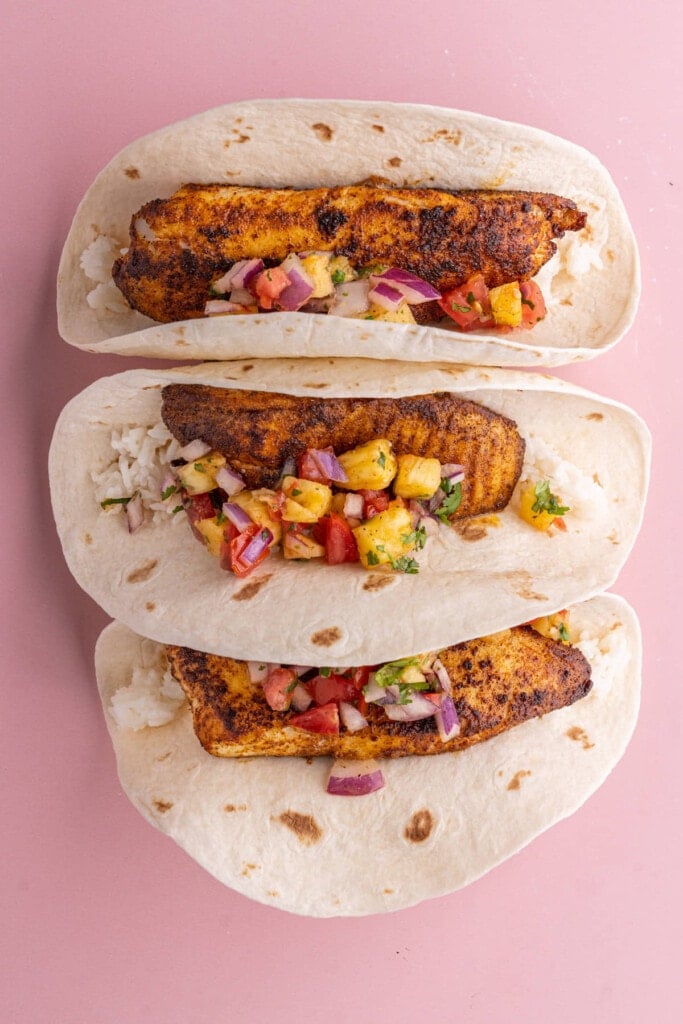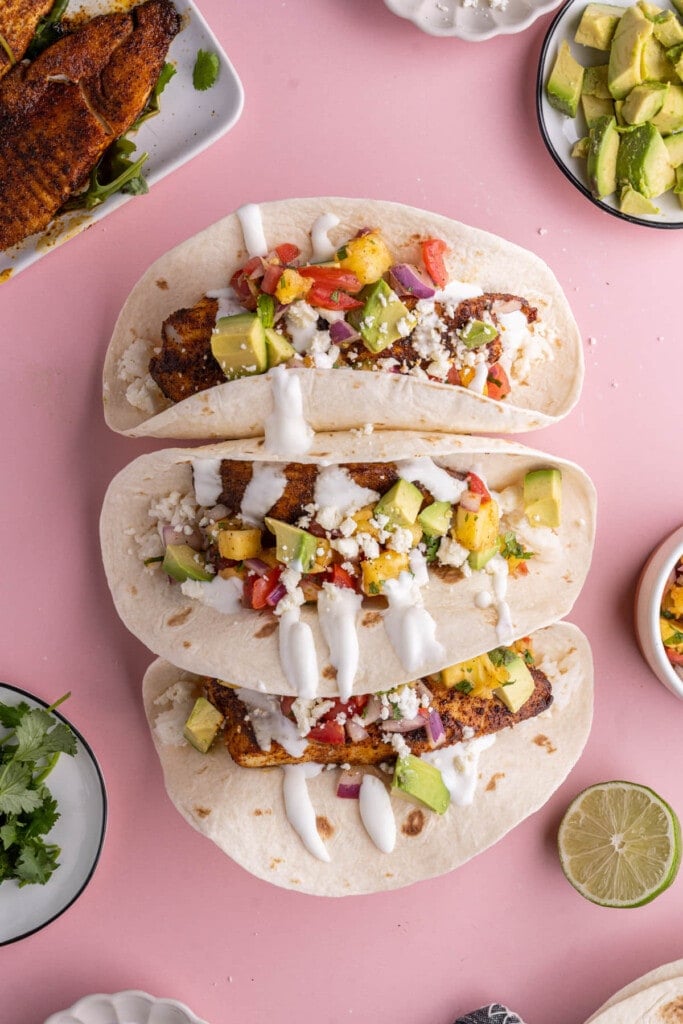 How to Serve Fish Tacos
These blackened fish tacos are hearty and delicious on their own, but if you're looking for appetizers and sides to serve these with, here are some of my favorites:
Tex-Mex Queso Blanco. Creamy and savory, Tex-Mex Queso Blanco is a delectable cheese dip featuring melted white cheese and spices, perfect for dipping tortilla chips or drizzling over nachos.
Tableside Guacamole at Home. Elevate your dining experience by crafting fresh and flavorful guacamole right at your table, combining ripe avocados, zesty lime, tomatoes, cilantro, and onions to your taste preferences.
Grilled Corn on the Cob with Old Bay Seasoning. A summertime delight, grilled corn on the cob is enhanced with the bold and savory flavors of Old Bay Seasoning, adding a deliciously spiced twist to this classic barbecue favorite.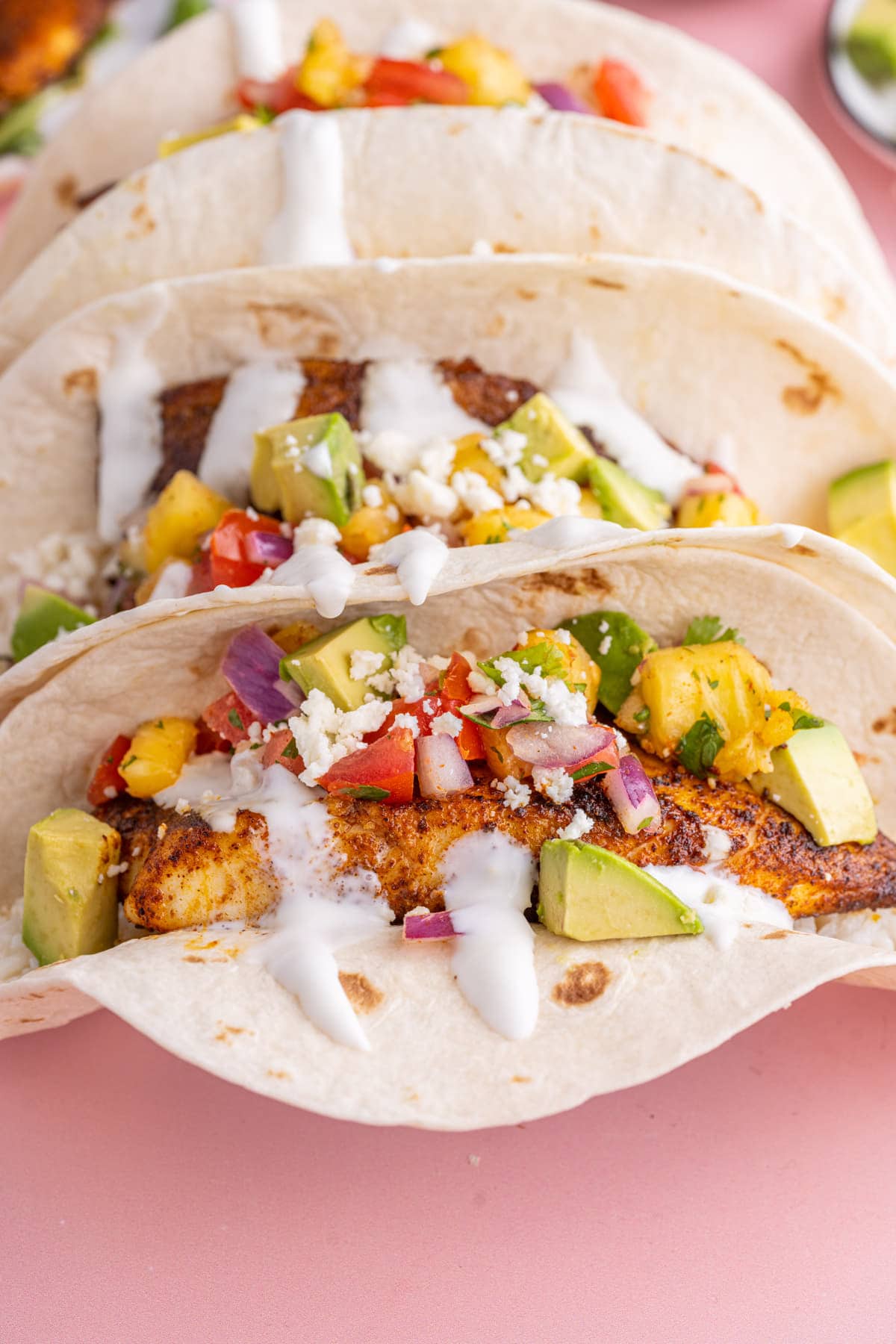 How to Properly Store and Reheat Pineapple Fish Tacos
Leftover blackened fish will last in an airtight container in the refrigerator for 4-5 days. The best way to reheat it is in the oven, at 275°F on a baking sheet for about 10-15 minutes. Make sure the internal temperature reaches 145°F so you know it's safe to consume.
As for the coconut rice, it will last in a sealed container for about 5 days as well. It can be reheated in the microwave on high for about 3 minutes, stirring every minute, until heated thoroughly.
It's best to store these leftovers separately, and then reheat individually and assemble your tacos fresh. However, if you do have already-assembled tacos, you can throw them in the oven whole on a baking sheet and reheat at 275°F for 15-20 minutes.
Green tip: Did you know that of the billions of pounds of food wasted annually, it is estimated that 50% of it happens in our homes? Minimize your contribution to food waste by properly storing, reheating, and enjoying your leftovers.
Why You Should Make These Fresh Blackened Fish Tacos with Pineapple Salsa
---
They're light and fresh. That light and flaky texture of the fish against the coconut rice and refreshing pineapple salsa.
They're both sweet and spicy. The combination will literally tickle your tastebuds.
They're social. Make a batch and put them out for the whole family and friends to have make-your-own taco night.
They're healthful. Protein-packed, all fresh and natural ingredients that boast a variety of vitamins and minerals.
To go all out for Taco night, try this Perfect Creamy Guacamole and Addicting Tex-Mex Queso Blanco to start!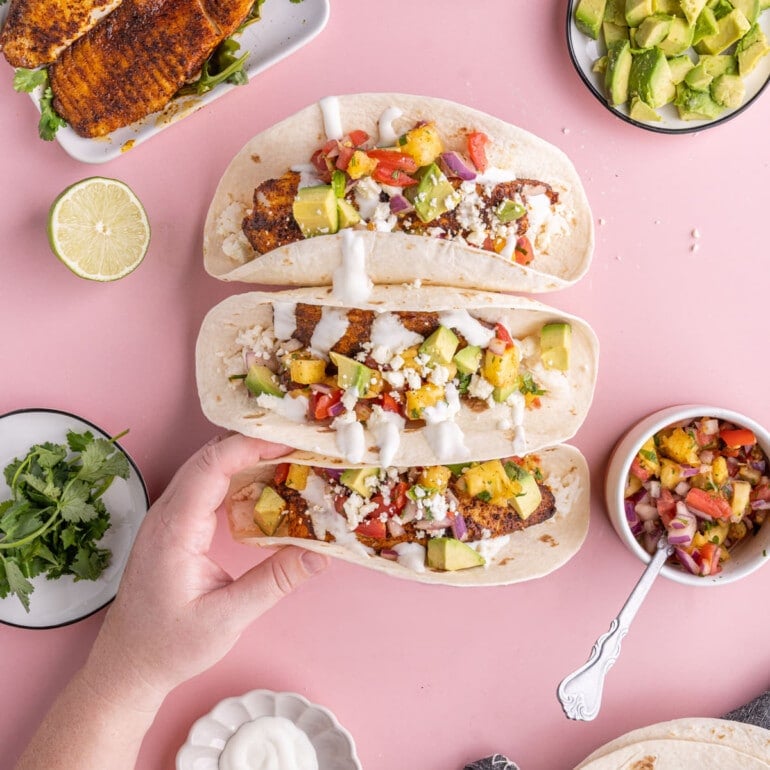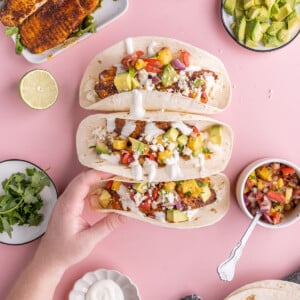 Blackened Tacos with Pineapple Salsa
PRINT
PIN
RATE
Fresh fish, creamy avocado, and pineapple salsa piled over coconut rice and topped with cotija cheese make these Blackened Fish Tacos with Pineapple Salsa dynamite.
Ingredients
Coconut Rice
1

cup

Basmati or Jasmine rice

13.66

ounces

coconut milk

(13.66 ounces = 1 can)

1

tablespoon

coconut oil

(optional)
Taco Fixin's
6

medium

flour tortillas

½

cup

pineapple salsa

1

avocado, sliced

(optional)

¼

cup

cotija Cheese

(optional)

1

tablespoon

lime juice

(optional)

¼

cup

fresh cilantro, chopped

(optional)

1

tablespoon

crema or sour cream

(optional)
Instructions
Coconut Rice
Rinse your rice with cold water (I use a sieve for this) and add it to small pot with the coconut milk and coconut oil (optional) and stir to combine.

Bring to a boil, cover, and turn the heat all the way down to low. Simmer on low for about 20 minutes, until liquid is absorbed, and rice is tender. Fluff with a fork and set aside until you're ready to assemble your tacos.

Optional: You can add salt to taste to your coconut rice. I find the fish and salsa adds enough salt, but it's up to you!
Blackened Fish
Thoroughly dry fish filets by pressing them in between two paper towels, and slice them in half lengthwise, so you are left with 6 pieces of fish.

Rub the fish with seasoning generously on both sides.

Over medium heat, add coconut oil to your pan to start simmering. Carefully place your fish fillets into the hot oil. Cover and cook for five minutes before flipping.

You will know your fish is ready to flip because it will easily come onto your spatula without sticking to the pan.

Once flipped, cover again and cook on the second side for another five minutes until you achieve a nice, browned color on both sides. The internal temperature of the fish should reach 145°F.

Remove from pan and set aside for taco assembly.
Taco Assembly
Heat your tortillas in a dry pan or by microwaving between two damp paper towels for about 15 seconds (optional).

Add a thin layer of coconut rice (I use about 3 tablespoons) to your flour tortillas.

Layer the fish on top of the coconut rice, followed by about 2 tablespoons of pineapple salsa.

Finish with your toppings of choice and enjoy hot!
Pro Tips
Try these with homemade flour tortillas!
This recipe will probably work with most fish, but my two favorite tried-and-true successes are catfish and tilapia.
You can usually find Mexican Crema and Cotija cheese at the grocery store, but if you have to substitute, sour cream and queso fresco are second best!
If you don't have coconut oil, you can omit it from the rice and use olive oil to cook up the fish!
For more fish tacos, check out these Salmon Tacos with Greek Yogurt Sauce.
Did you make this recipe?
Let me know by leaving a recipe rating below, or by tagging @marleysmenu on Instagram.