Looking for a fun and colorful cookie to satisfy your sweet tooth? These Fun Fruity Pebbles Cookies are easy to make and turn out soft and chewy with a sugary cereal crunch every single time!
With under ten ingredients, no resting time, and ready in just 20 minutes, you'll find yourself making these again and again!
As an environmental scientist, I am always trying to find ways to combat food waste, and cereal is one of those things I buy on sale, thinking they'll be a great solution to busy mornings, but then forget about the box in the back of the pantry.
But when you use it as a colorful and crunchy element in a super soft sugar cookie, you better believe no one in my family is letting that go to waste!
Fruity Pebbles Cookies Tips and Tricks
---
You'll Need A Hand Mixer
A hand mixer is the best tool to cream the sugar and butter together for the base of your cookies. It's also the easiest way to combine the rest of the ingredients.
I use this Cuisinart Hand Mixer for almost all of my baking and love it! Aside from your hand mixer, here's what else you'll need: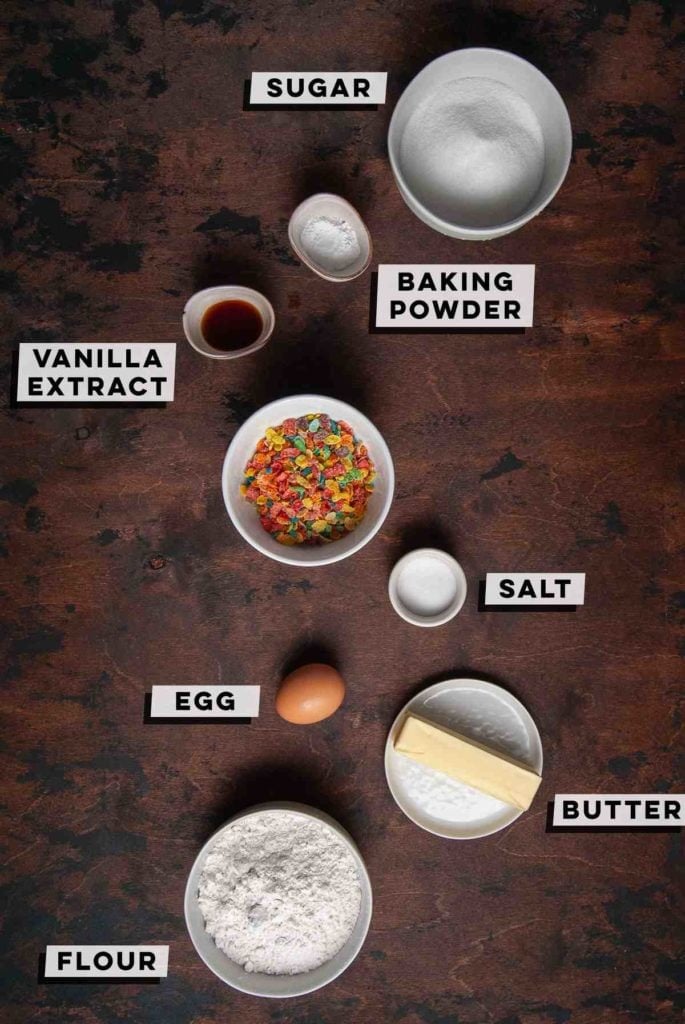 The Secret is in the Softening
The butter you use should be unsalted, so you can control the amount of salt you are adding to your Fruity Pebbles Cookies. You will also want to make sure your butter is nice and soft.
If you take it out of the fridge before you get started, and set it near your oven while it's preheating, that should be plenty of time for it to soften. If you forget to take it out—don't worry! Just microwave it in 15-second intervals until you get the right consistency.
Remember, we are striving for softened, not melted. You'll know your butter is softened when your finger leaves an imprint when you poke it.
Green tip: Look for organic and palm oil-free butter if you can. Buying organic means you are supporting farms that do not use damaging pesticides and fertilizers, and palm oil production is a huge driver behind deforestation.
Combine Your Butter and Sugar First
The key to getting these soft cookies is softened butter and eggs that aren't overbeaten. So, creaming the butter and sugar together first means you can add your egg last, to avoid overbeating.
Green tip: Look for pasture-raised eggs (over free-range or cage-free) to support agriculture that is less reliant on chemicals and fossil fuels.
Use your hand mixer on high to combine the butter and sugar first. Then, use your hand mixer on low to integrate your flour, baking soda, salt, egg, and vanilla extract.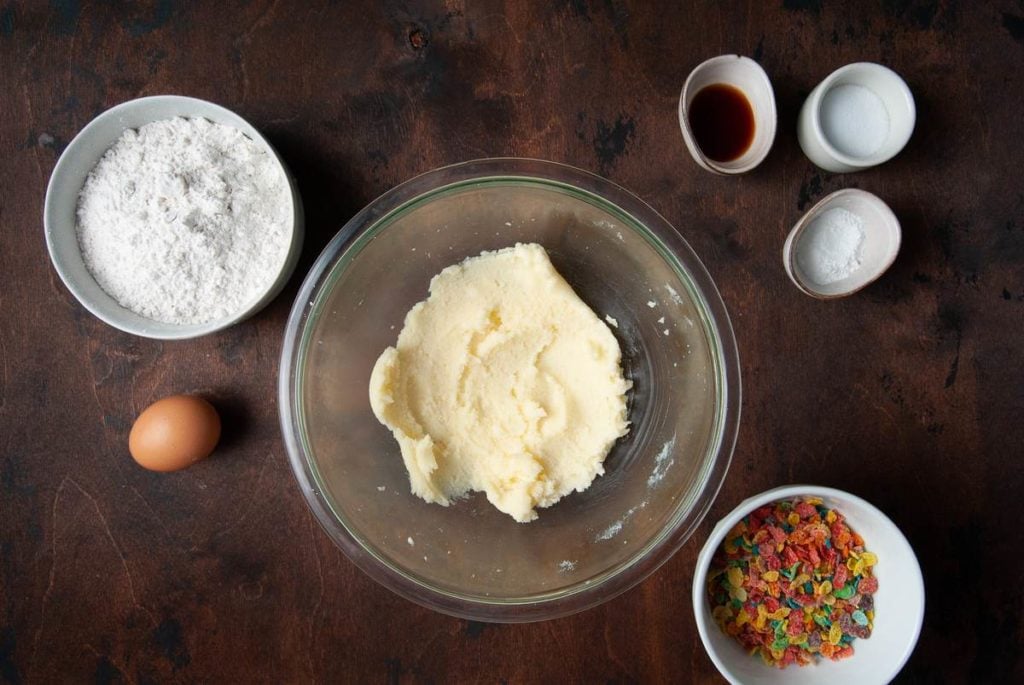 Be Careful Not To Crush It
The Fruity Pebbles add such a great crunch—the perfect contrast to the soft and chewy cookie. The crunch is much more prevalent if the cereal remains whole, so be careful not to crush it!
Use a spatula to fold in about 3/4 cup at the very end. Try not to overmix, just fold a couple of times until it's spread throughout the dough. Save the rest of the Fruity Pebbles to sprinkle on top, to create a crunchy cookie top!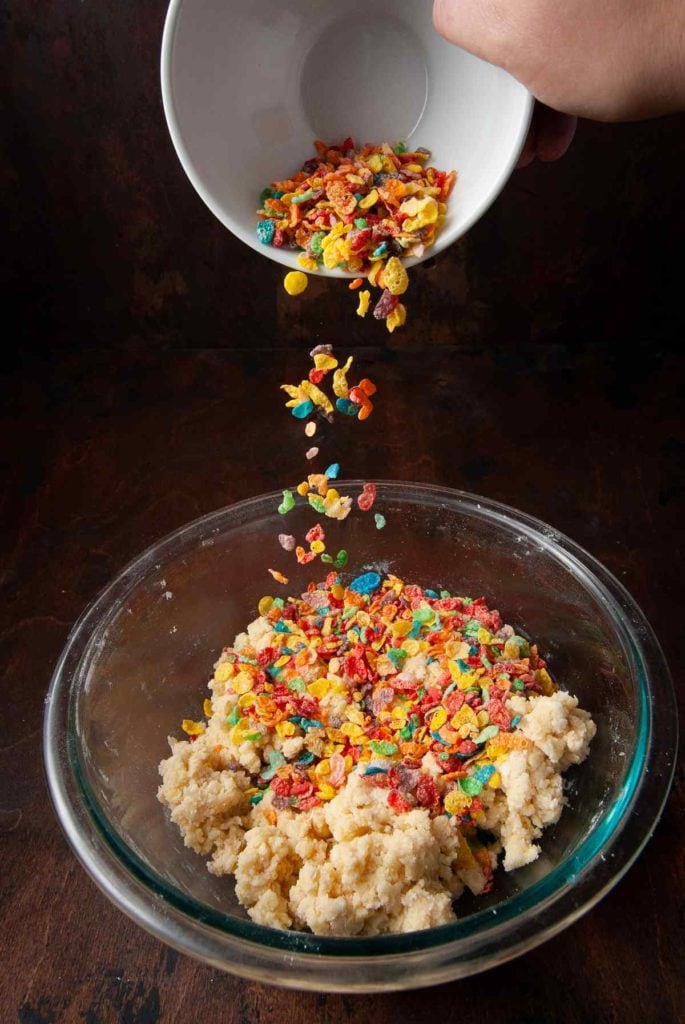 Roll Them Up, Then Push Them Down
This recipe makes enough dough for about 12 cookies. Use a large cookie scoop or heaping tablespoon to separate your dough into twelve cookies.
Use clean hands to roll the cookies into balls, placing them on a large cookie sheet, leaving about 1-2 inches in between each cookie. Then, take a handful of Fruity Pebbles, sprinkle them on top, and push them into the cookie dough.
These cookies will spread a little bit, so you don't want to push them down too flat, but just shape them ever so slightly by pushing the Fruity Pebbles into them.
Freezing The Dough
If you don't want to bake the whole batch, simply bake the number of cookies you want, and freeze the rest. Shape them all, and store the raw cookies you want to save for later in a freezer-safe bag.
You can freeze this dough for up to 3 months and bake them fresh as you want to enjoy them. Just add two minutes to your baking time when you are making them from frozen.
Green tip: Consider these reusable baking mats to reduce your plastic waste! They are nonstick and easy to clean.
Storing Fun Fruity Pebble Cookies
These cookies will last up to two weeks in an airtight container at room temperature.
You can also freeze the cookies that are already baked to make them last longer! They'll stay delicious in the freezer for up to 6 months.
For other fun and colorful sugar cookie recipes, check out these Neapolitan cookies and these Pink Sugar Cookies!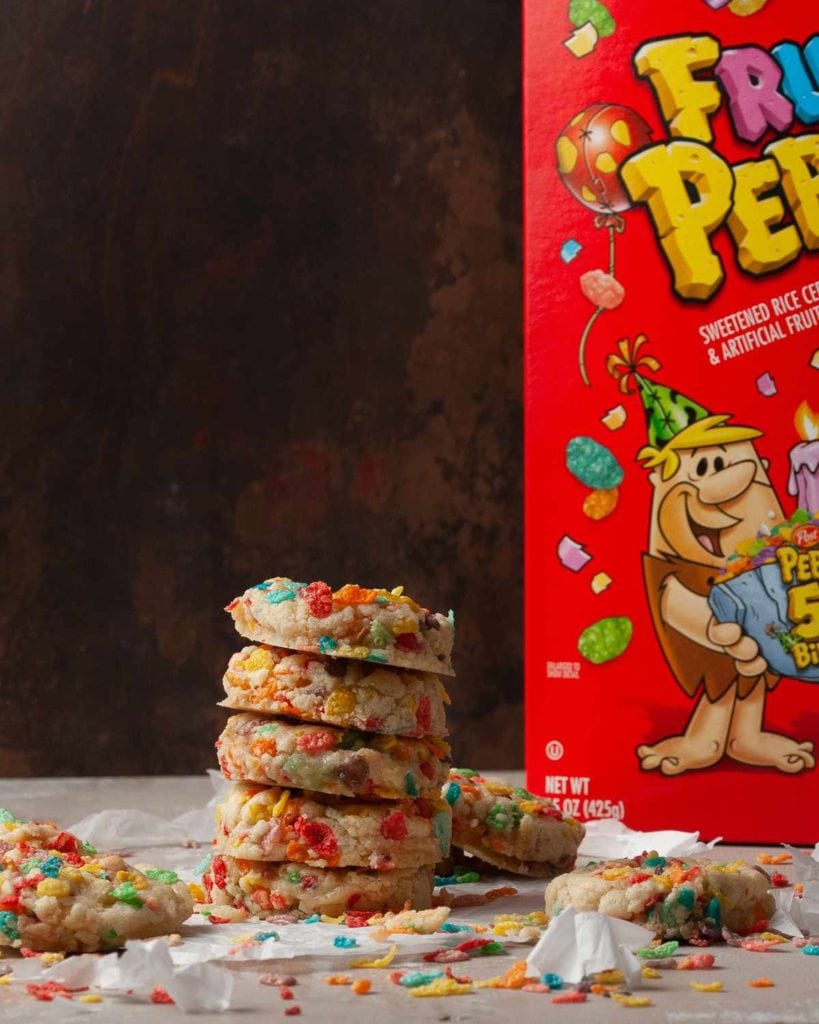 Why You Should Make These Fruity Pebbles Cookies
---
They're fun! The vibrant colors make for such a beautiful rainbow cookie.
They're nostalgic. The taste of your favorite childhood cereal really shines!
The texture! Soft and chewy cookies with a little bit of crunch from that cereal.
If you're loving these Fruity Pebbles Cookies and are looking for more fun ways to elevate your cereal, check out this Cinnamon Toast Crunch Cheesecake and this Captain Crunch French Toast.
Fun Fruity Pebbles Cookies
PRINT
PIN
RATE
These colorful Fruity Pebbles Cookies are soft and chewy with a rainbow crunch, the perfect texture and flavor for a bright and fun bite!
Ingredients
½

cup

unsalted butter, softened

(½ usually = 1 stick)

¾

cup

granulated sugar

1 ½

cup

all-purpose flour

1 ½

teaspoon

baking powder

¼

teaspoon

salt

1

large

egg

2

teaspoon

vanilla extract

1

cup

Fruity Pebbles
Instructions
Preheat oven to 350°F.

Use a hand-mixer on high to combine softened butter and sugar together.

Add flour, baking soda, salt, egg, and vanilla extract and combine with hand-mixer on low, trying not to overmix.

Fold in about ¾ of the Fruity Pebbles with a spatula, being careful not to crush them.

Use a large cookie scoop or tablespoon to divide cookie dough into about 12 cookies, rolling them with clean hands into balls. Place them on a large baking sheet, leaving about 1-2 inches in between each cookie.

Add the remainder of the Fruity Pebbles on top of each cookie and press them down into the dough with your hand so they stick.

Bake for 10-12 minutes and allow to cool before enjoying.
Pro Tips
You can opt to only bake a few at a time and freeze the rest of the dough for later. From frozen, cook for 12-14 minutes.
Cookie monsters are always happy at my house with this delicious selection of my best cookie recipes to choose from! Nom nom nom!
Or maybe you're here for the cereal? If so, I'm sure you'll love this collection of my best recipes using cereal!
Did you make this recipe?
Let me know by leaving a recipe rating below, or by tagging @marleysmenu on Instagram.