Looking for a quick, easy, and flavorful vegetable side dish? This Garlic Parmesan Asparagus uses simple ingredients and a foolproof roasting technique to enhance the natural flavors of your asparagus.
Plus, this cheesy asparagus dish comes together in less than 30 minutes, making this the only nutritious and delicious healthy side recipe you need! It's versatile and works well with any meal.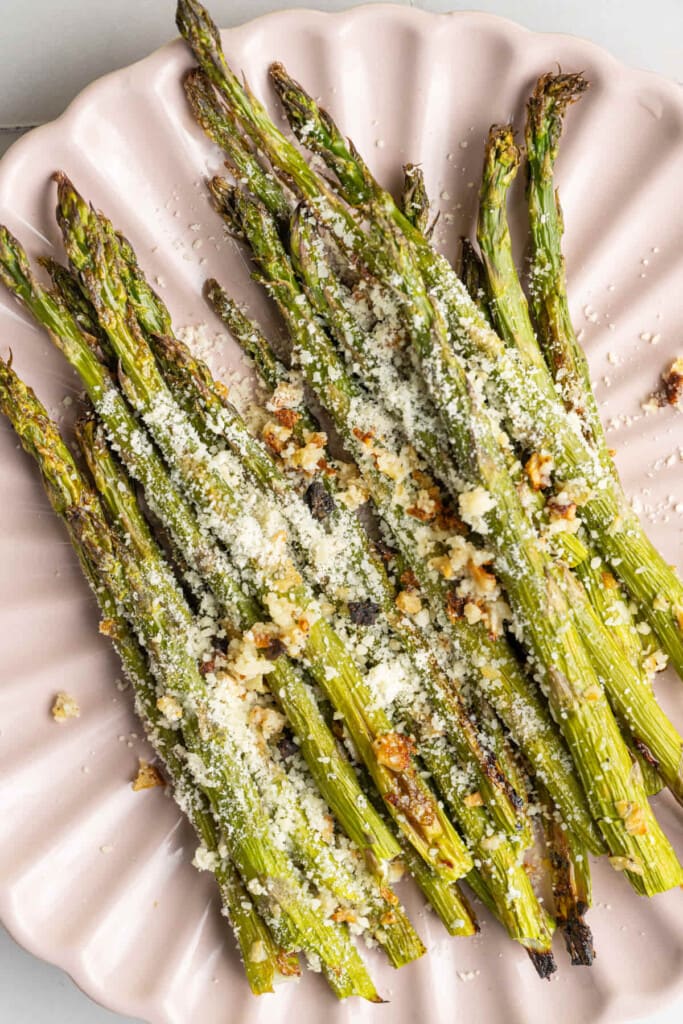 As an environmental scientist, I always try to stick to seasonal eating! It's one of the easiest (and most delicious!) ways to support local farmers and improve your carbon footprint.
Green tip: Seasonal and local foods have less associated transportation costs and fuel emissions. Check when asparagus is in season in your area with this Seasonal Food Guide.
Garlic Parmesan Asparagus Ingredients
---
Here's everything you need:
Asparagus. One bunch of asparagus is usually about 1 pound. If using frozen asparagus, thaw it first by transferring it from the freezer to the refrigerator the night before making this recipe.
Garlic. Freshly mincing your own garlic cloves will give you the best flavor punch of garlic, but for an easier dish you can use 2 teaspoons of pre-minced garlic.
Olive oil. To roast the garlic and asparagus in.
Salt & pepper. To lightly season the asparagus and bring out its natural flavors.
Grated Parmesan cheese. You can buy it grated or grate your own fresh block of Parmesan cheese.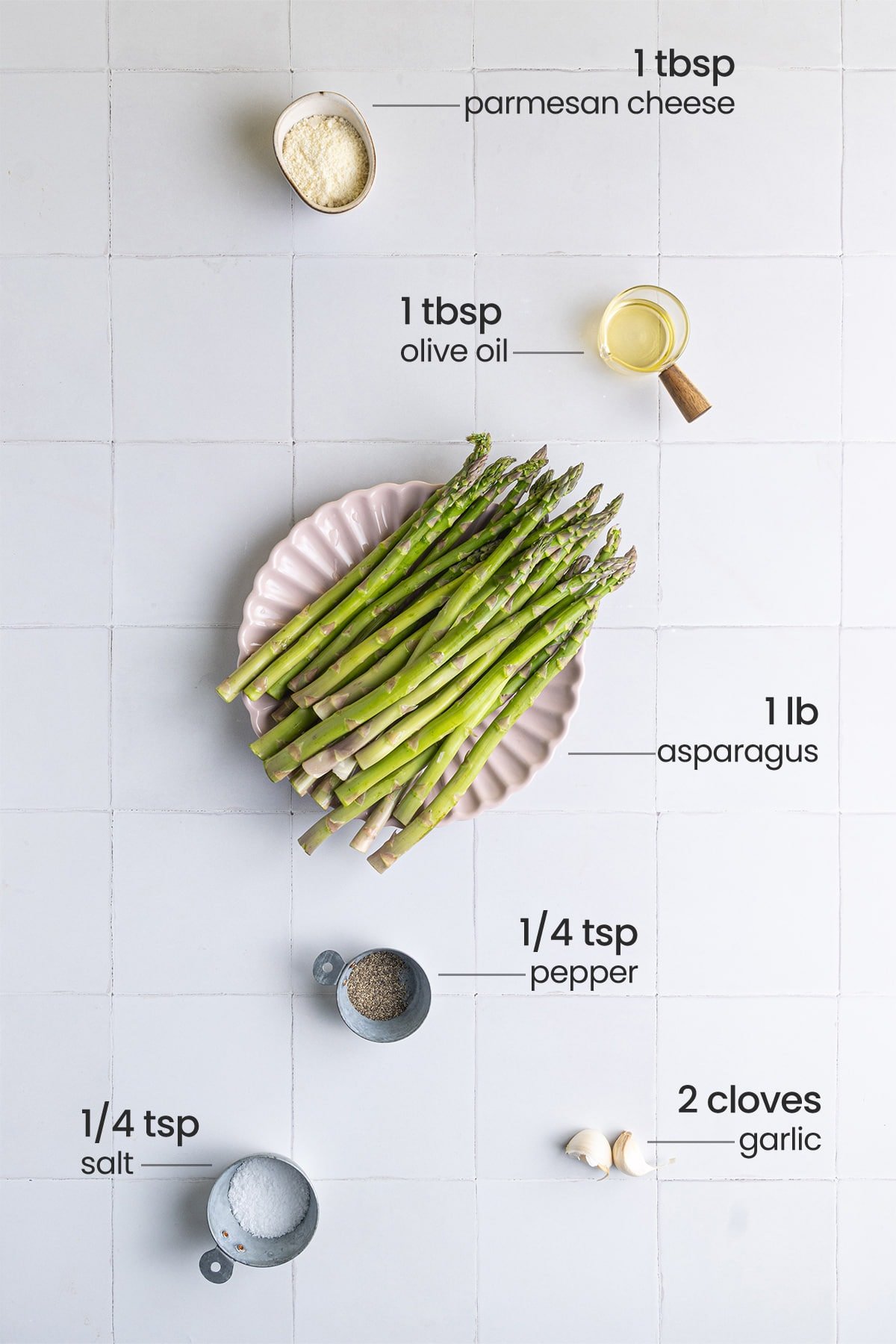 Parmesan Garlic Asparagus Tips and Tricks
---
How to Store Fresh Asparagus
Once you bring fresh asparagus home, you can keep it fresh for up to 7 days if you store it correctly. Then, when you're ready to make this Garlic Parmesan Asparagus, you can grab it to prep it.
Add the asparagus to a glass jar, tips facing up, and fill the glass with about 2-3 inches of water so that the asparagus ends are fully submerged.
Then, place a reusable storage bag on top and store the covered asparagus in the jar in your refrigerator. This preserving technique works equally as well with white asparagus and purple asparagus!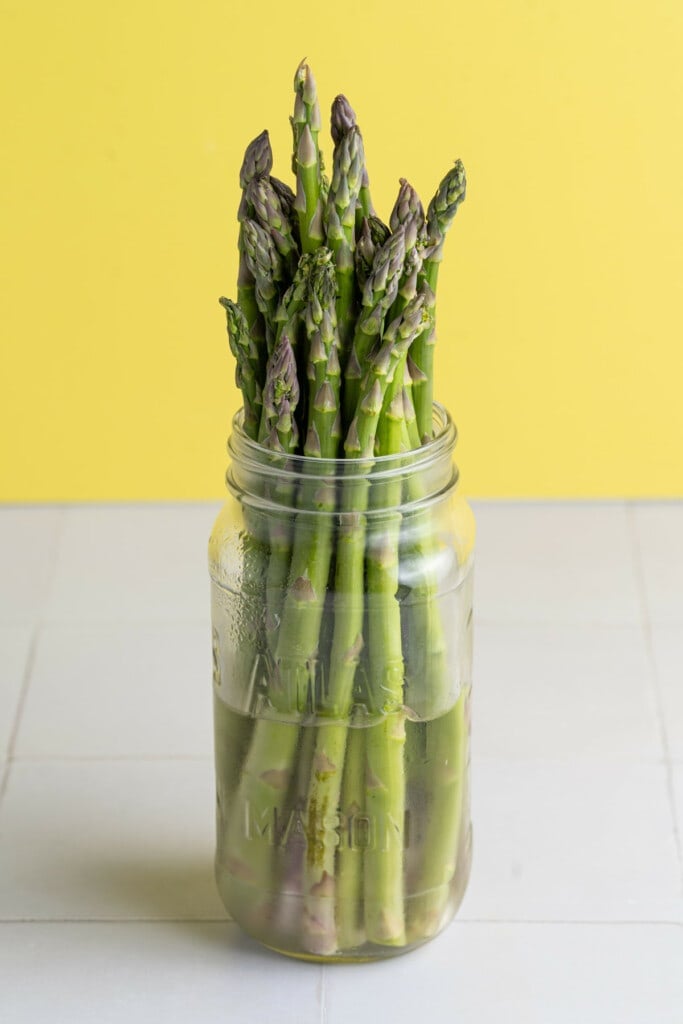 How to Prep Asparagus
Rinse or soak the asparagus to clean it before cooking it. Since asparagus tips have little nooks and crannies, soaking it is a great way to remove any grit or dirt that may be hiding in the tips.
Asparagus is notorious for having tough-to-chew "woody" ends that must be taken off before roasting your asparagus if you want the perfect bite.
Please note, you don't have to throw out those asparagus ends! You can easily compost them or save them in the freezer along with your other vegetable scraps to make your own veggie broth.
The easiest way to remove those tough ends is by snapping them off. Hold the asparagus in your two clean hands and break the pieces into two. The asparagus will automatically break right at the point where the ends start to get woody.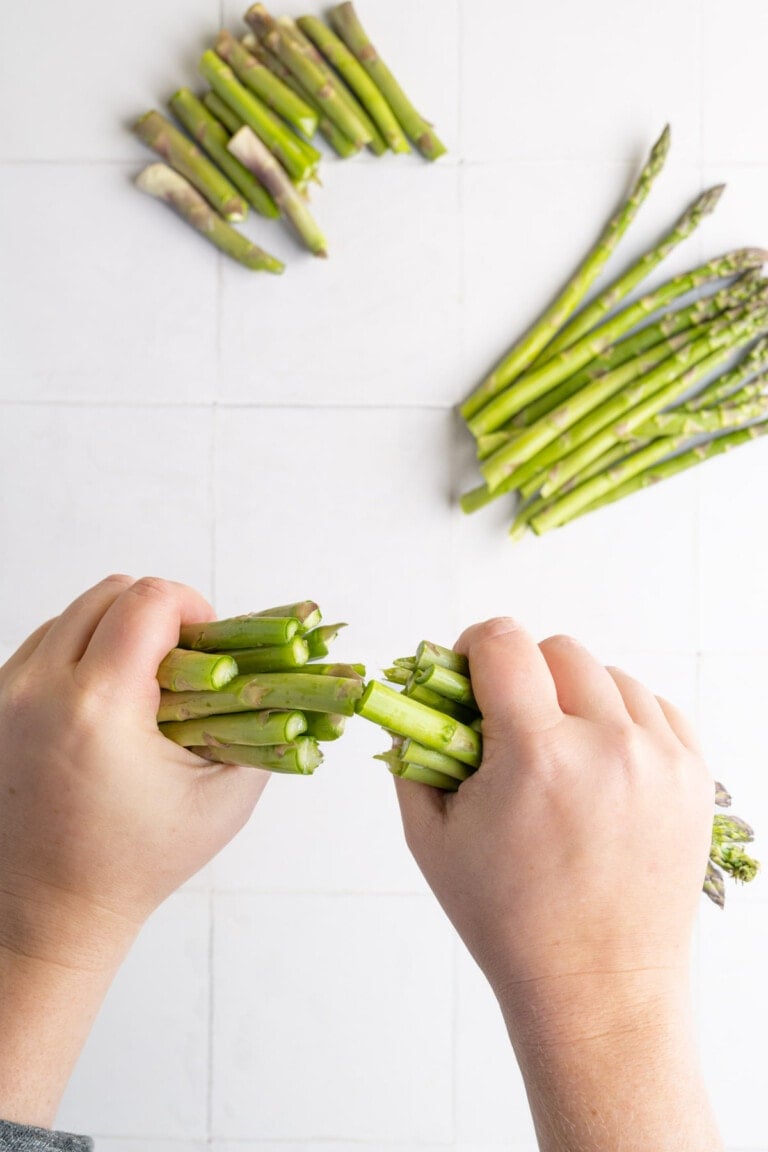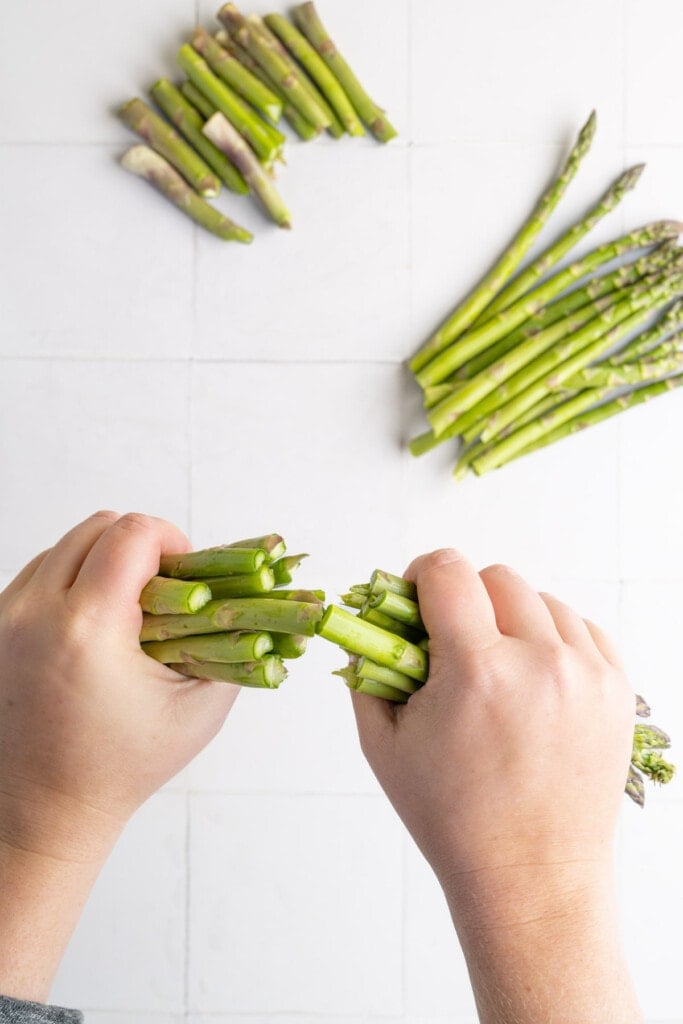 How to Peel and Mince Garlic
The way that I peel the outer layer off my garlic is by crushing it first. I like to lay the garlic cloves flat on my cutting board and use the flat end of my knife to press down on the garlic. You'll hear a distinct crunch when it crushes.
This will crack open the outer layer, making it much easier for you to peel back. Once you've completely peeled your garlic, you can start to mince it.
Chop the garlic with a very sharp knife until it's broken down into tiny pieces. Continue to chop until the garlic is completely minced. Simple as that!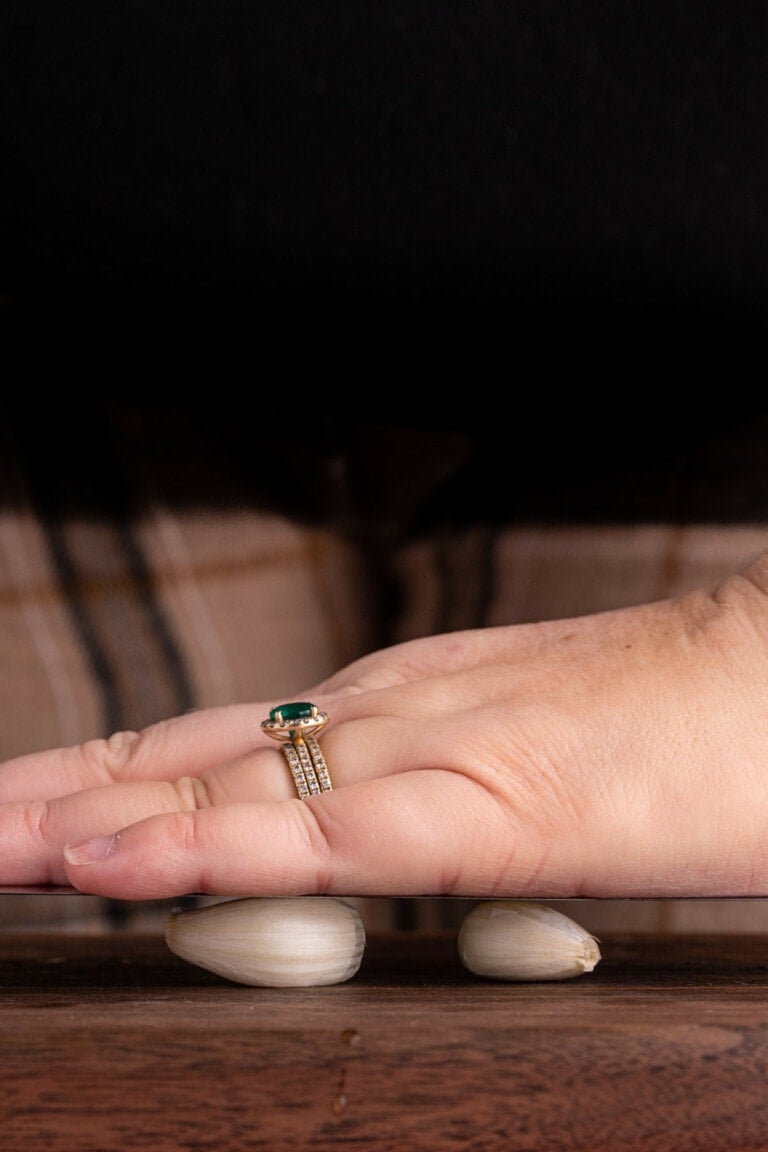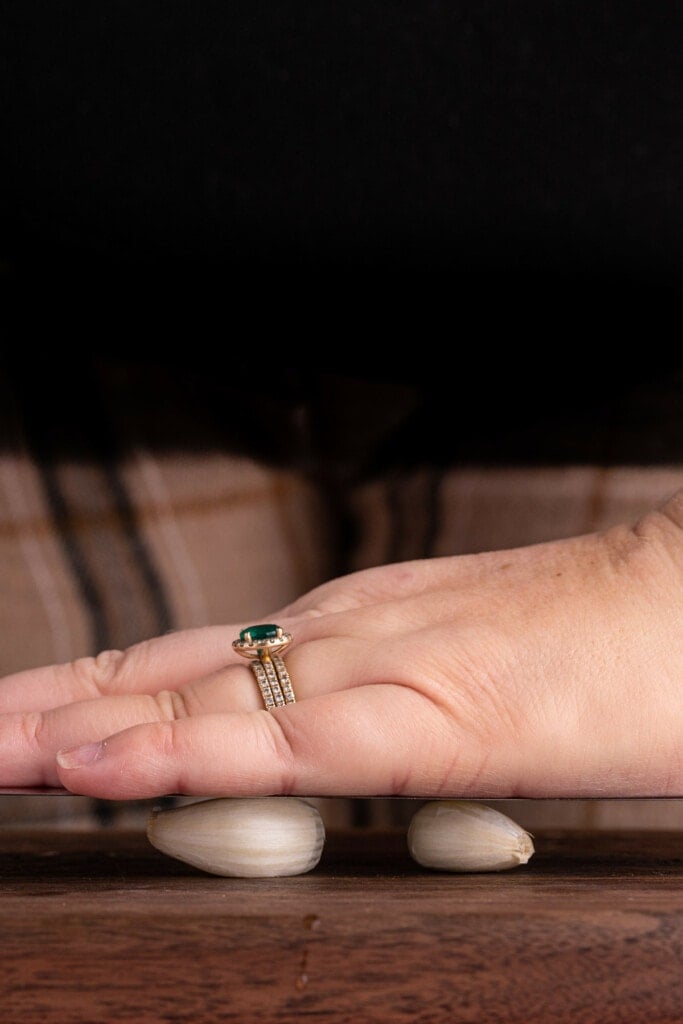 Toss the Asparagus in the Oil, Seasonings, and Garlic
Add the prepped carrots and asparagus to a baking sheet and spread the pieces out in a single layer. For less clean up, you can choose to line your baking tray with aluminum foil before adding the asparagus.
Next, drizzle the extra virgin olive oil on top of the asparagus, followed by the minced garlic, salt, and pepper.
Use clean hands or kitchen tongs to toss the asparagus in the oil, garlic, salt, and pepper. This is the best way to ensure the asparagus is evenly coated.
Then, spread the vegetables out once again, ensuring they are in a single layer and not stacked on top of one another.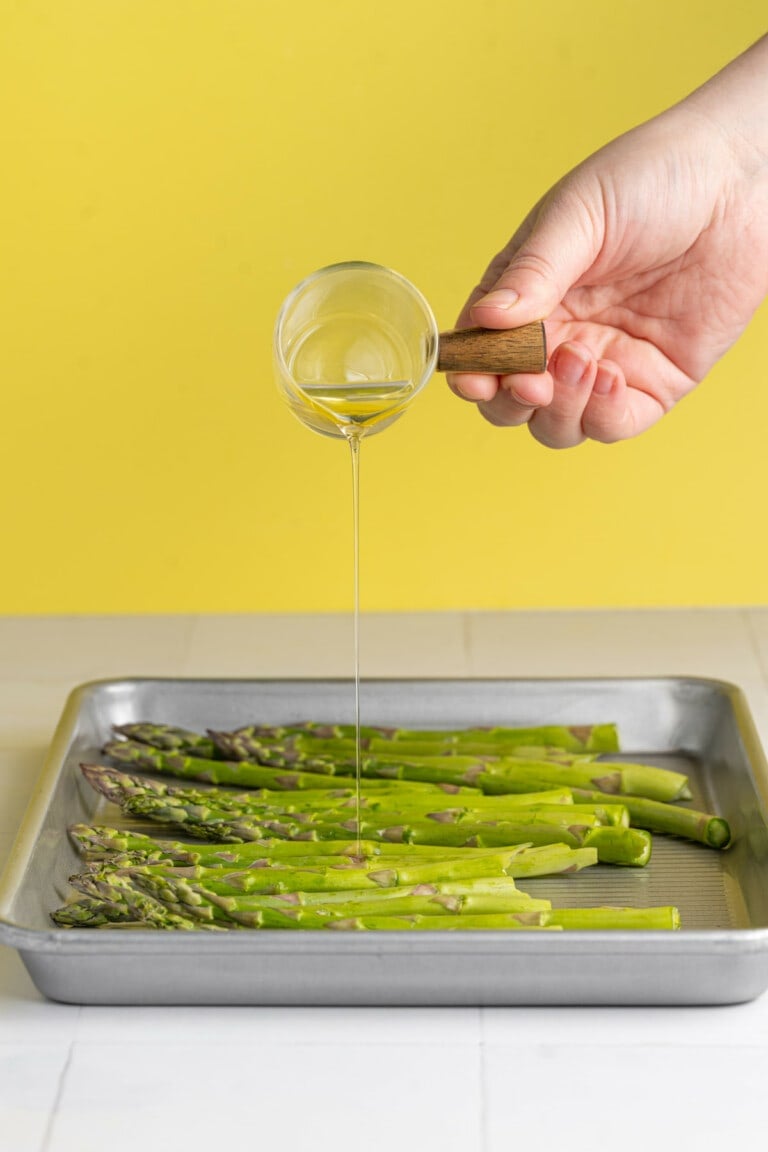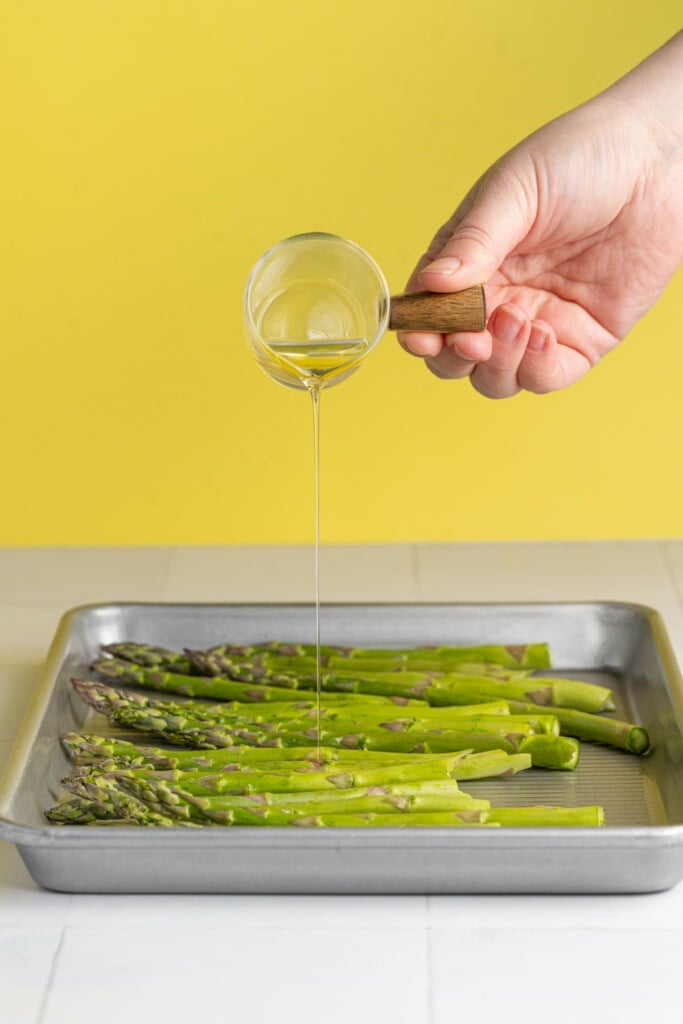 How to Roast Asparagus with Garlic
Roast the olive oil-coated asparagus and garlic at 425°F for 20 minutes until the garlic is nice and crispy and the asparagus tips start to brown.
Green tip: Get to know your oven! Get an idea of how long it takes your oven to preheat. By not pre-heating the oven too early, you can save energy.
Add the Parmesan Last
Once you remove the roasted asparagus from the oven, sprinkle the grated Parmesan cheese on top. Use kitchen tongs or two large forks to toss again, coating the garlicky asparagus in a thin layer of Parmesan cheese.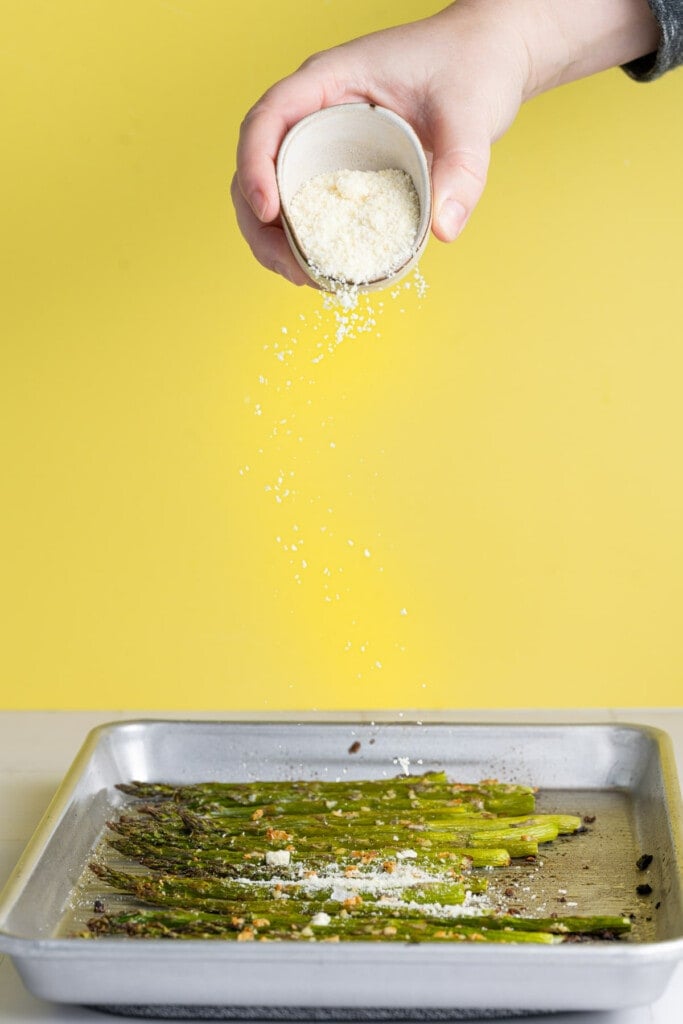 How to Serve Garlic Parmesan Asparagus
This Garlic Parmesan Asparagus is very versatile and makes a great side dish. I love to serve this alongside fish. My favorite fish dishes to serve this easy roasted garlicky asparagus with are: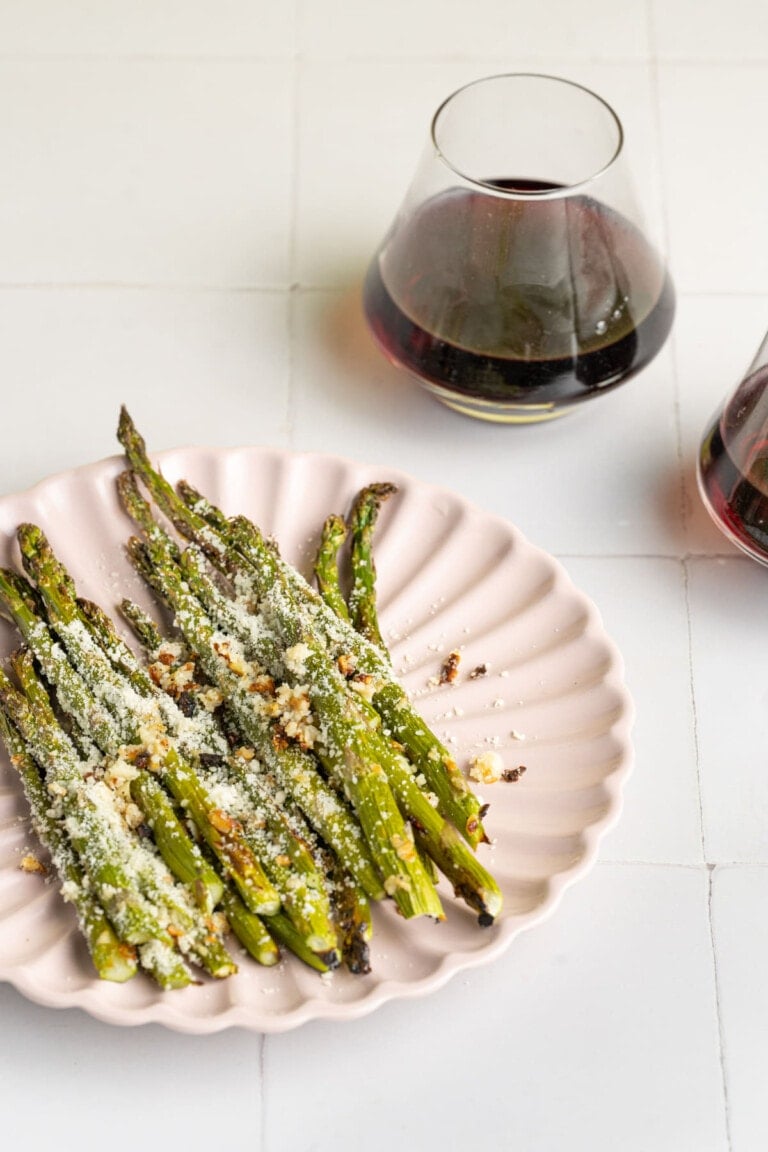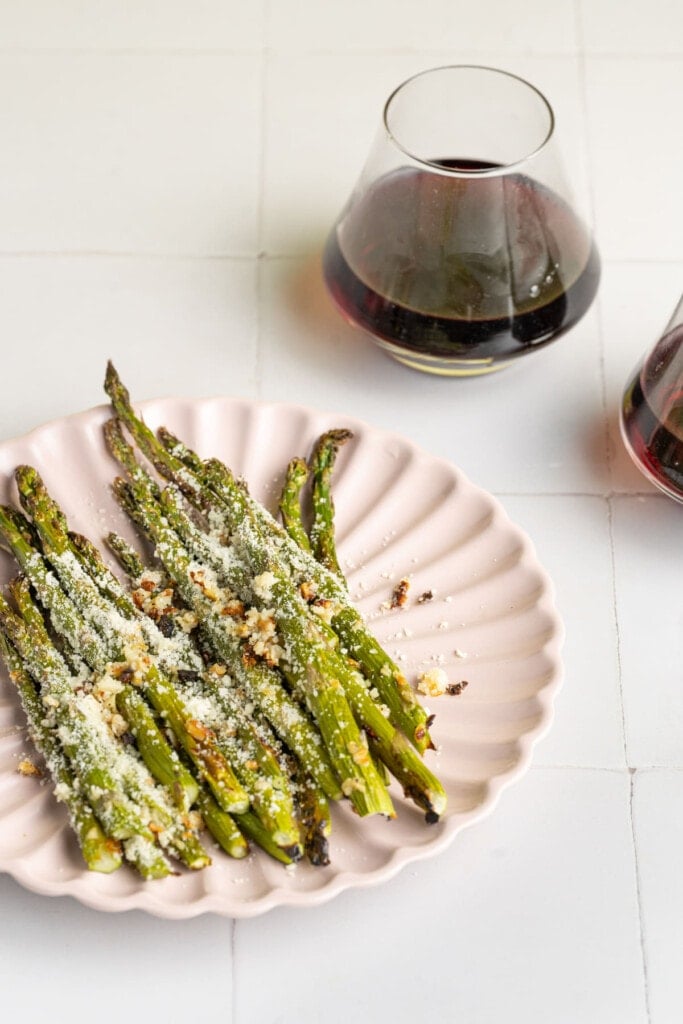 How to Store and Reheat Leftover Asparagus
Store leftovers for 3-5 days in the refrigerator in an airtight container. There are two easy ways to reheat the Garlic Parmesan Asparagus: either over the stove or in the oven.
Add the leftover asparagus back to the pan and cover it with the lid. Heat over medium for about 8-10 minutes, tossing occasionally until heated thoroughly. You may want to add a little fresher Parmesan after its cooked.
To reheat leftover Garlic Parmesan Asparagus in the oven, preheat the oven to 350°F. Then add the asparagus to a baking dish and cover it with aluminum foil before baking for 15-20 minutes until hot.
You can freeze leftover asparagus for 2-3 months. Make sure you allow the asparagus to cool completely first before placing it in the freezer. You can thaw the asparagus before reheating or just add a couple of minutes to the reheating time in the techniques outlined above.
Green tip: Did you know that of the billions of pounds of food wasted annually, it is estimated that 50% of it happens in our homes? Reduce your contribution to food waste by properly storing, reheating, and enjoying leftovers.
Garlic Parmesan Asparagus Frequently Asked Questions
---
What spice goes well with asparagus?
Asparagus takes on a variety of different flavors well. Spices that go well with asparagus include crushed red pepper flakes, garlic powder, onion powder, chili powder, paprika, nutmeg, and turmeric.
As for dried herbs, thyme, basil, parsley, dill, and fennel all taste great on asparagus.
I like to season asparagus with salt and pepper and add garlic and grated Parmesan cheese for a super simple yet effective way to prepare asparagus.
Sign-up for the Meatless Monday Challenge
Get access to the 4-week-long Meatless Monday Challenge, with accompanying meal plans, grocery shopping lists, and more, sent right to your inbox!
Why You Should Make this 20-Minute Garlic Parmesan Asparagus
---
It's simple. This minimalistic recipe is designed to allow the natural flavor of the asparagus to shine.
It's quick. 20 minutes of roasting time tops and super quick prep and clean up.
It's versatile. This asparagus dish ads color, texture, and nutritional value to any main dish.
If you're loving this 25-Minute Garlic Parmesan Asparagus and want more tasty sides, check out these Roasted Honey Gold Potatoes and these Maple Balsamic Brussels Sprouts.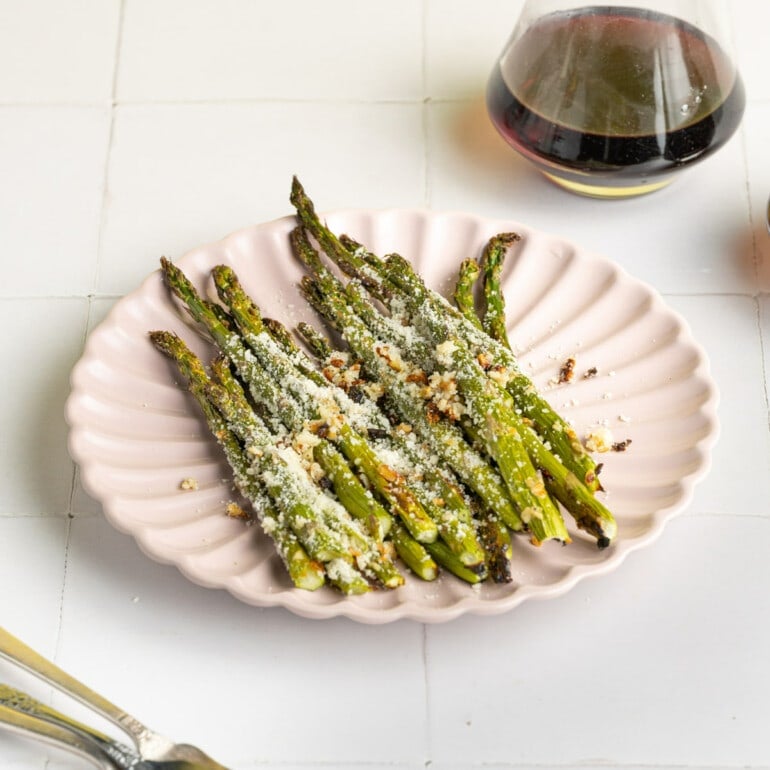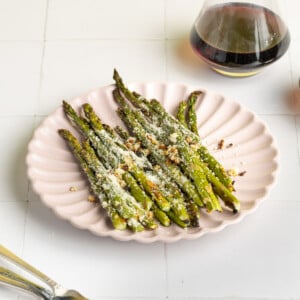 25-Minute Garlic Parmesan Asparagus
PRINT
PIN
RATE
This simple Garlic Parmesan Asparagus recipe requires just six simple ingredients and comes together in about 20 minutes for a healthful and flavorful side dish.
Ingredients
1

pound

asparagus

((1 bunch asparagus = approx 1 pound))

2

cloves

garlic

1

tablespoon

extra virgin olive oil

¼

teaspoon

salt

¼

teaspoon

black pepper

1

tablespoon

grated Parmesan cheese
Instructions
Preheat your oven to 425°F.

Prepare your asparagus by rinsing or soaking your asparagus in water to clean them and snapping off the "woody ends", and peel and mince your garlic.

Spread the asparagus out on a large baking sheet. Add the olive oil, garlic, salt, and pepper and use your hands or kitchen tongs to toss, ensuring the asparagus is evenly coated in the oil, seasonings, and garlic.

Roast for 18-20 minutes until the tips or the asparagus and the garlic start to turn golden brown. Remove from the oven and sprinkle on Parmesan cheese. Enjoy hot!
Did you make this recipe?
Let me know by leaving a recipe rating below, or by tagging @marleysmenu on Instagram.