Looking for a super refreshing cocktail to mix up with your gin? This Gin Mojito is sparkling, citrusy, minty perfection.
A classic mojito uses rum, but swap it out for gin and it adds a distinct flavor of pine, enhancing this cocktails fresh, crisp flavors.
As an environmental scientist, I try hard to keep my ecological footprint low, and one of the best ways to do so is to grow your own veggies, fruits and herbs!
Green tip: Homegrown herbs have zero associated food miles, no pesky plastic packaging, and are free of damaging fertilizers and chemicals. Plus, they are just so fresh and flavorful.
And surplus herbs mean lots of fresh cocktails at my house!
Gin Mojito Tips and Tricks
---
Gather Your Ingredients
I highly recommend using fresh lime and mint for the best flavor.
When it comes to choosing your mint, spearmint and peppermint both work! Peppermint has a much stronger minty flavor than spearmint. This recipe is written with spearmint in mind, so if you do use peppermint, just pull back a little bit, to avoid a taste reminiscent of toothpaste
Here's everything you'll need:
Muddle That Mint
Muddling is key to releasing the oils from your mint, so you can really taste its fresh herbaciousness (that's a word now, go with it). Add the mint to the simple syrup and use a muddler or wooden spoon to press it down into the bottom of the glass.
Be careful not to over-muddle. Mint can get a little bitter if it's overworked. About 30 seconds should do the trick.
Making Your Own Simple Syrup
If you don't have simple syrup at home, you can make your own with sugar and water. You can use brown sugar, granulated sugar, or even coconut sugar.
This recipe works with all three! My preference is granulated for this recipe.
To make a simple syrup, just add equal parts sugar and water to a small pot over high heat and whisk until the sugar is dissolved. Next, transfer it to a heat-safe glass and allow it to cool before using it for your gin mojito.
Green tip: Making your own sauces and syrups is a great way to avoid extra plastic packaging that eventually ends up in landfills or makes its way into the environment and becomes microplastics.
Don't Just Squeeze Your Limes, Let 'Em Hang Out A While
Utilize both the juice and the peel. The peel has oils in it that are dense with flavor—that's why citrus zest is used a lot in cooking. Squeeze your lime juice into your glass and then drop what's left into your drink. This will allow you to optimize that refreshing citrus taste.
You'll need 1 lime total to make one of these Gin Mojitos. Slice it in half first, and use one whole half to get your juice. The other half can be sliced for garnish and to add to your glass.
Choosing Your Gin
Really any gin will work in this cocktail. I love to use London Dry Gin, but it just comes down to your preference.This cocktail is strong, so the taste of the gin will be prevalent—use one you like!
If you want to make this a mocktail, check out this non-alcoholic gin that you can substitute, or make this Virgin Mojito.
Stirred, Not Shaken
You know how much I love my cocktail shaker, but ginger beer is super carbonated. Using a mixer will not only be a big sticky mess, but it will also make you lose some of those beloved bubbles.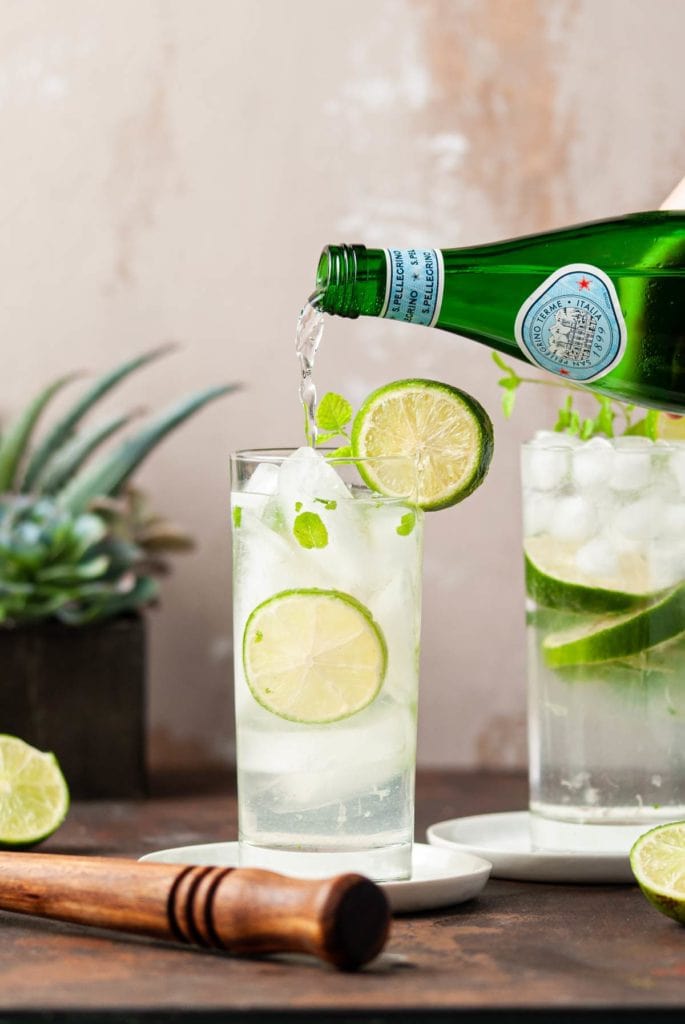 ---
It's refreshing! Thanks to the citrus and fresh herbs.
It's enhanced. A classic mojito + the distinct pine taste of gin.
It's fizzy. That sparkling water brings it home.
If you're loving this Gin Mojito and are looking for other fun cocktails, check out this list of Mixology Cocktails To Try At Home and this round-up of Best Sangria Recipes.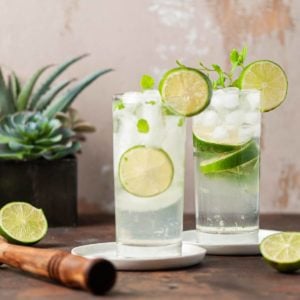 Crisp and Refreshing Gin Mojito
PRINT
PIN
RATE
This Gin Mojito has all the refreshing citrus, mint, and sparkling finish of a classic Mojito, plus the addition of pine from the gin.
Ingredients
5

fresh

mint leaves

1

ounce

simple syrup

(1 oz = 2 tbsp)

½

ounce

lime juice

(½ oz = 1 tbsp)

2

ounces

gin

(2 oz = ¼ cup)

1

cup

ice

2

ounces

sparkling water
Instructions
Add mint and simple syrup to a highball glass and muddle for about 30 seconds.

Add lime juice and gin and stir.

Add ice and top with sparkling water.

Mix again and serve cold.
Pro Tips
Use a fresh lime!
Mojitos might just be my favorite cocktail! Original is always classic, but I love them with a twist, too—check out the collection of my best mojito recipes!
Did you make this recipe?
Let me know by leaving a recipe rating below, or by tagging @marleysmenu on Instagram.