This Gourmet Truffle Mushroom Risotto brings restaurant-quality into your home kitchen by utilizing small ingredients that bring A LOT of flavors.
And it all comes down to two more high-end and powerful ingredients. Both are extremely popular among chefs and foodies alike: truffles and porcini mushrooms.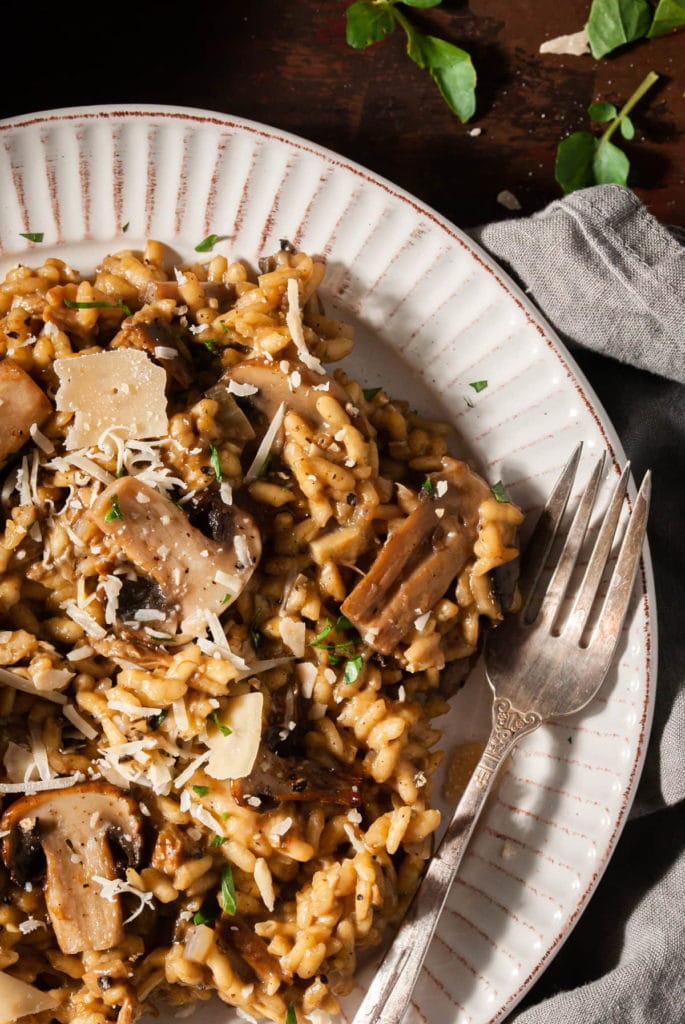 What Makes This Truffle Mushroom Risotto Gourmet?
You guessed it. It's those truffles and porcinis. And the sore arm you'll have after pouring lots of love into it. Outside of those two powerhouse ingredients, here's everything you'll need:
You'll Need An Itsy Bitsy, Teeny Weenie, Flavor-Boosting Dried Porcini
I'm sorry, I know it's now going to be stuck in your head all day, too. I really couldn't help myself.
But it's true!
Just like truffle oil, the flavor of dried porcinis is so strong, that an itsy bitsy teeny weenie bit of them goes a long way. With just 1/2 an ounce of them in this risotto, you'll get that earthy taste we are after for this dish.
Green tip: Mushrooms are not only delicious but considered sustainable food. They have a relatively small environmental footprint as they take little water and energy to grow and emit little CO2. Try buying organic mushrooms if they are accessible to you. Organic farms rely on biodiversity to generate rich soil, avoiding the use of pesticides and fertilizers, which means no toxic runoff.
Since your porcini mushrooms are dried, we will need to rehydrate them first. This just means you'll add them in with the garlic and wine, before the rice.
This will allow the dried mushrooms to absorb the white wine with heat and rehydrate.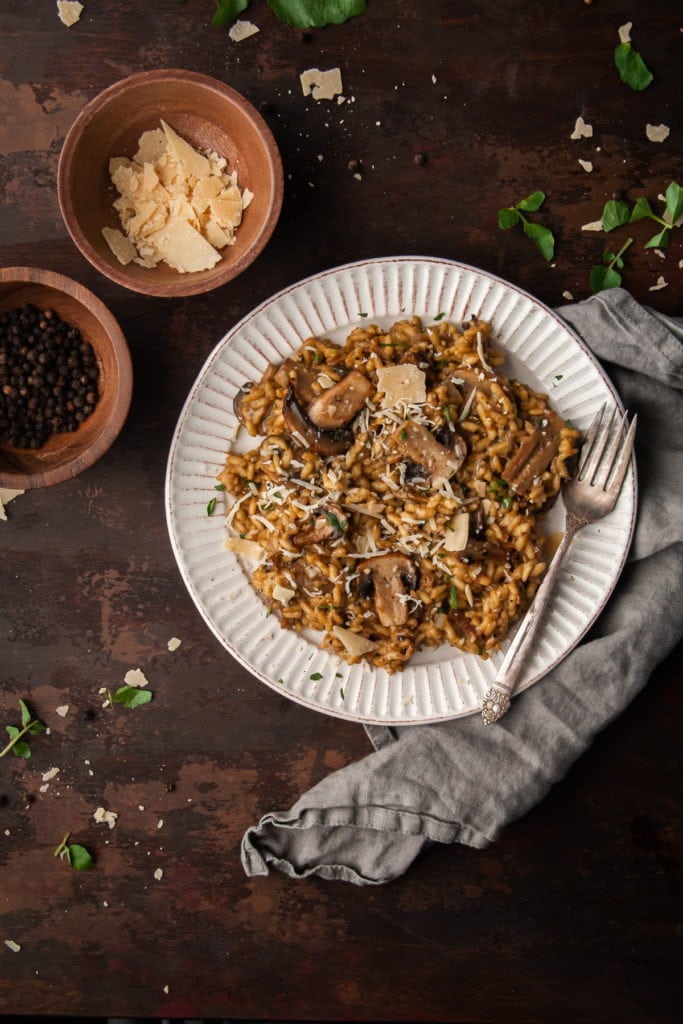 Stir It Up, Little Darling!
Here's the thing about risotto. You just gotta keep stirring.
Strap on your most comfortable shoes. Crank up the music. Pour yourself a drink. Because this isn't a dump it and leave it kind of meal.
It's an enjoy the ride, taste as you go, get a good arm workout from continuous stirring kind of meal.
And it's WORTH. EVERY. SECOND.
You'll be adding your vegetable broth about 1/2 cup at a time, and stirring continuously until it's absorbed. Each time your rice absorbs the liquid, you'll add more broth, until you use up all three cups.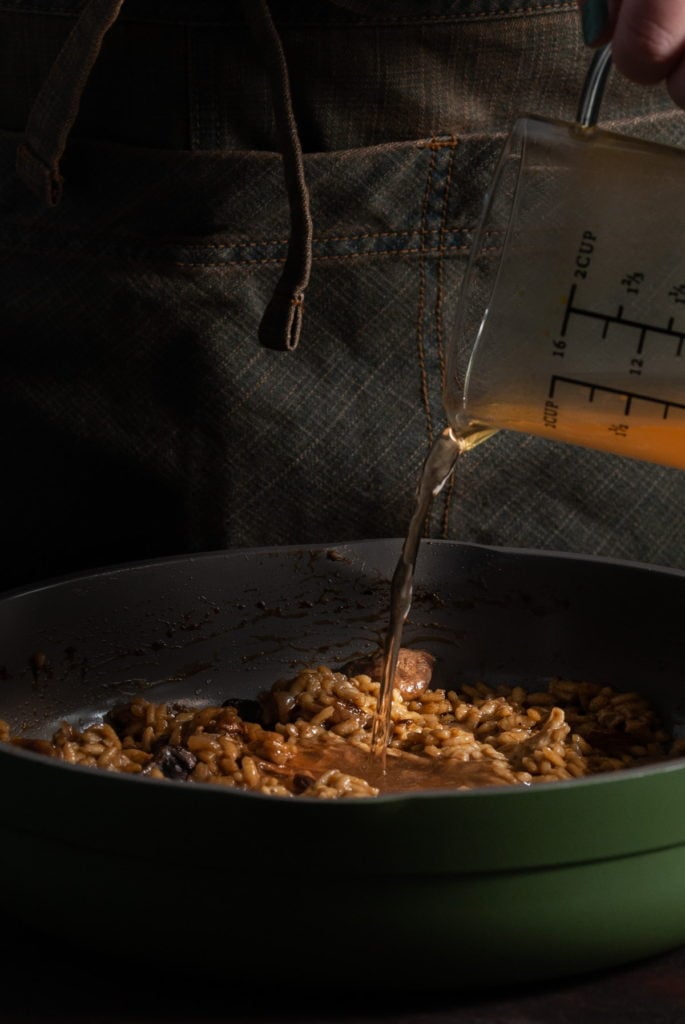 Don't Let This Recipe Truffle Your Feathers
Truffle mushrooms are incredibly expensive and hard to find. They're rare and take a long time to cultivate. But don't fret!
Truffle oil, though still on the pricey side, can generally be found in your local grocery store. It gives you that truffle essence with just a few drops. A tiny $12 bottle lasts me a year (and I make this risotto with truffle oil A LOT).
It's used as a finishing oil, so you won't actually be cooking with it, just drizzling it on top! Heating it too much will make it completely lose its flavor.
In this recipe I recommend you actually add the truffle oil to each serving, to optimize its gourmet flavor.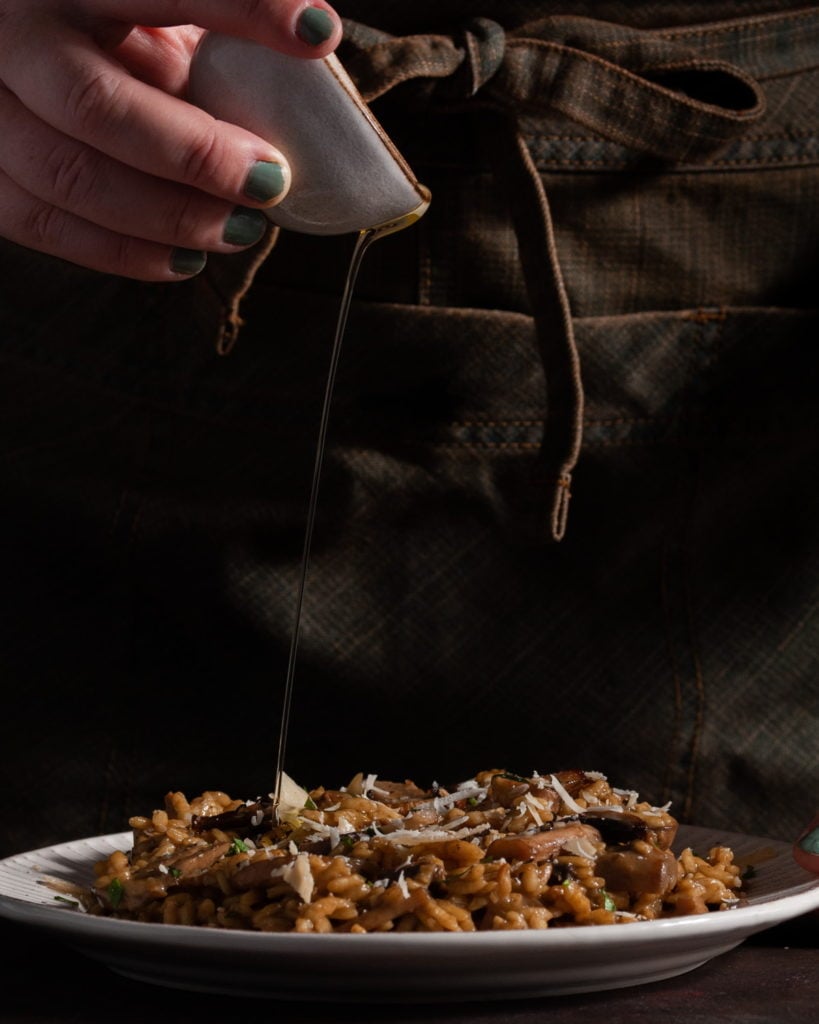 Rice Ready? Remove It!
Remember when I said it's a taste-as-you-go kinda meal? Well, I meant it.
Depending on your heat, the rice may need a little more or a little less liquid to reach the perfect consistency.
In my experience with making this dish over medium heat and continuously stirring, 3 cups of vegetable broth is just right. But you may find that your rice is ready with just under 3 cups.
You may also find that your rice isn't quite ready after 3 cups. In this case, just add a little bit of water (about 1/4 cup at a time) and continue to stir.
Once your rice is perfect, remove your mushroom risotto from the heat before adding your butter, Parmesan, and truffle oil.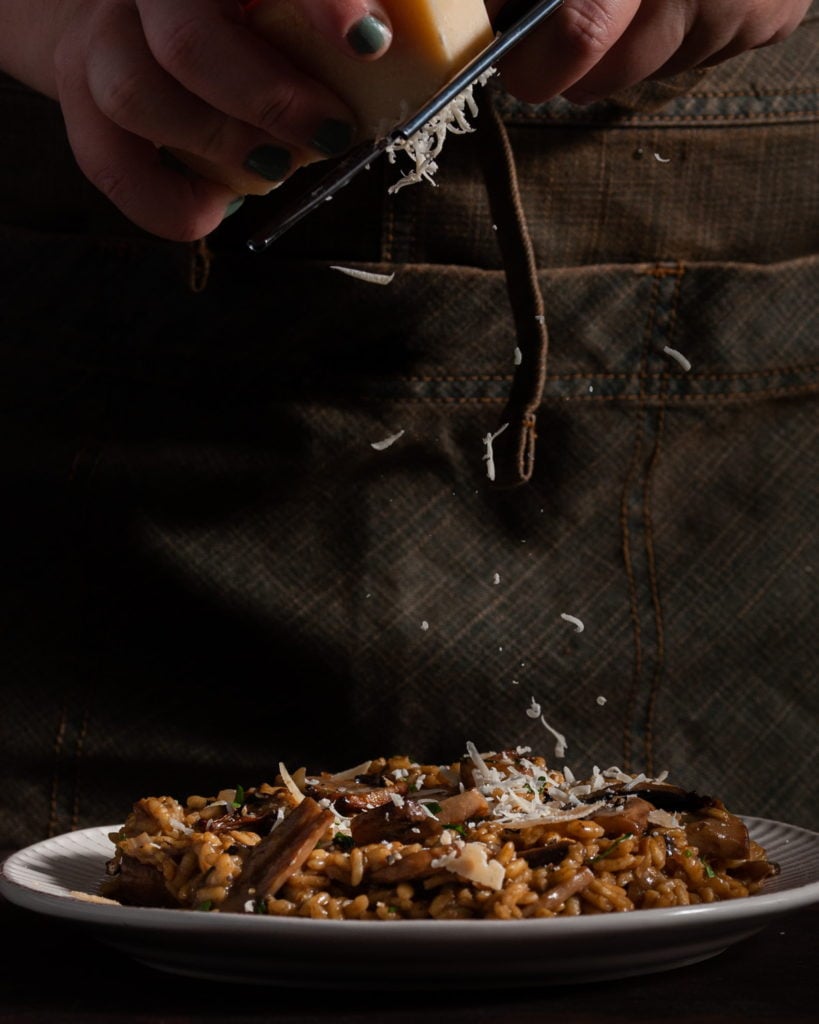 Better with Butter
Let's face it, butter is outrageously delicious. So how do we get that buttery taste with just 2 tablespoons of the stuff?
By adding it last of course!
Adding the butter after removing your risotto from heat gives you a buttery flavor and consistency, without having to add a whole stick.
Green tip: Look for organic and palm oil-free butter if you can. Buying organic means you are supporting farms that do not use damaging pesticides and fertilizers, and palm oil production is a huge driver behind deforestation.
Why You Should Make this Mushroom Risotto with Truffle
---
---
It's gourmet! It's in the name! This recipe uses two gourmet ingredients to give the overall flavor an undeniably delicious finish.
It's a whole experience. This recipe is for when you really want to pour time, love, and care into your meal.
That umami taste. The mushrooms and truffle oil really give this risotto an earthy, savory flavor.
If you're loving this Truffle Mushroom Risotto and want more gourmet dinner ideas, try this Sherry Bow Tie Pasta with Roasted Tomatoes and Creamy Fish and Grits.