Sick of the same old boring Thanksgiving Green Bean Casserole year after year? You don't have to reinvent the wheel to spruce it up. Just add one secret ingredient for an incredible boost of flavor!
Yes, I know. I'm promising a lot. But I am so excited to introduce you to the power of the porcini in this casserole that has quickly become one of my favorite Thanksgiving recipes.
You've heard me rave about it before in my Truffle Mushroom Risotto recipe, and I'm doubling down with my praise.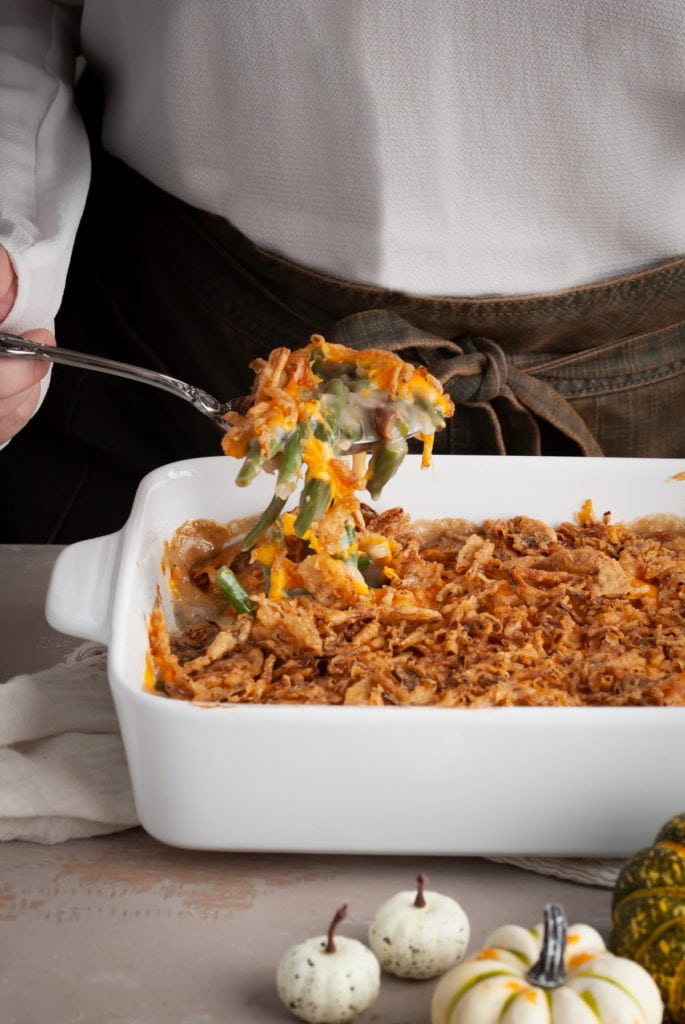 Green Bean Casserole with Secret Ingredient Tips & Tricks
---
So What's All This "Secret Ingredient" Talk About?
Porcini mushrooms are incredibly tasty and lend a nutty, earthy flavor to the dish. The cream of mushroom soup is delicious on it's own, but could use a little boost when competing with other flavors in a casserole like this one.
By using this "secret ingredient" you're just boosting the natural flavors of a classic green bean casserole, bringing it to life!
Because their growing season is short, porcini mushrooms are typically sold dried. Make sure to add them early on in the cooking process so that they have time to rehydrate.
Outside of your porcini mushroom secret ingredient, here's everything you need:
Fresh green beans. Fresh beats canned any day!
Onion. For extra flavor.
Porcini mushrooms. The secret ingredient that infuses tons of umami into this dish.
Garlic. For more flavor.
Olive oil. To cook your veggies in.
Cream of mushroom soup. A staple in any traditional green bean casserole.
Cheddar cheese. A layer of cheese on top of your casserole is always a good idea.
Crispy fried onions. For a crispy crunchy top.
Salt & pepper. To amp up all the flavors.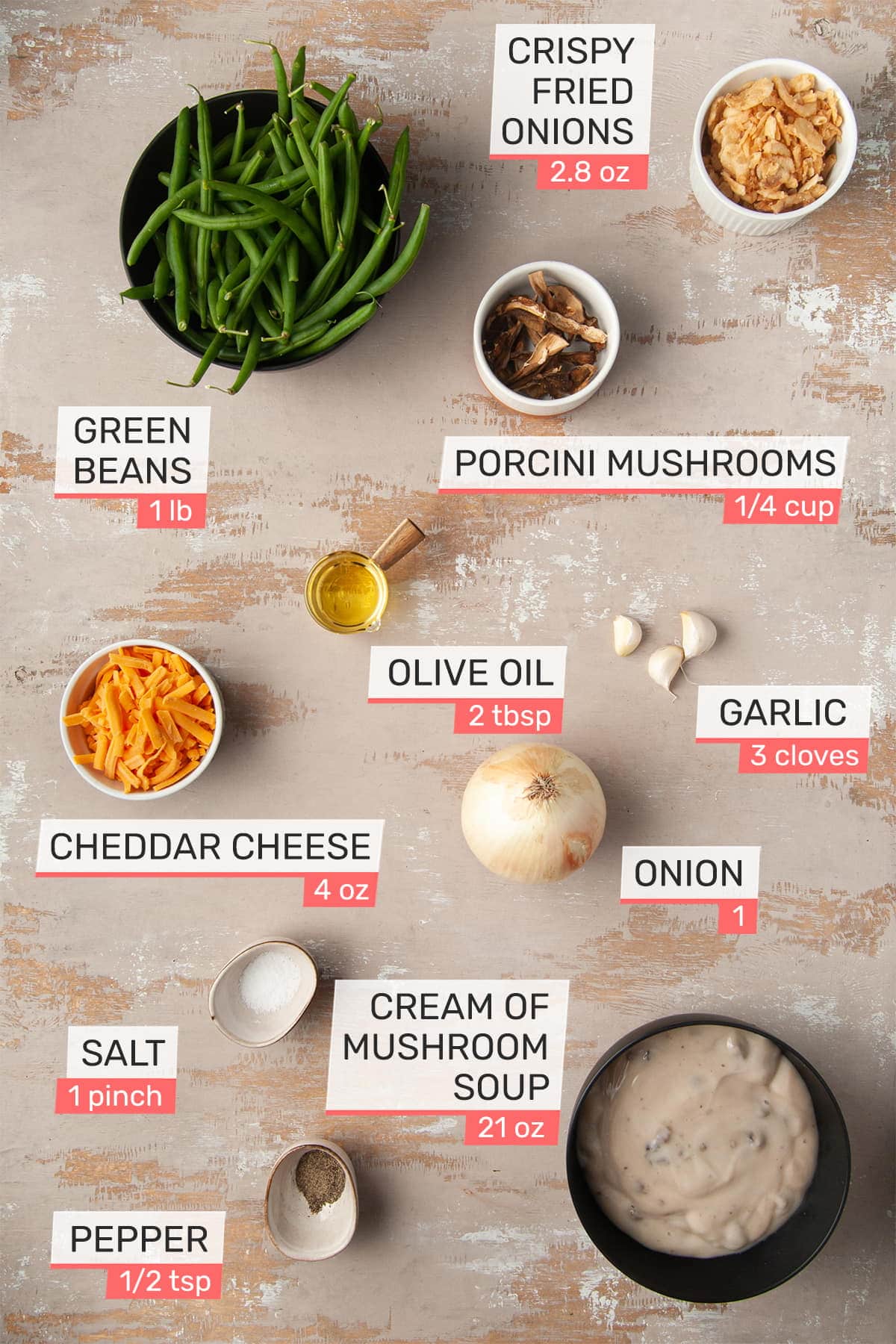 So Fresh And So Green, Green
A lot of green bean casserole recipes call for canned green beans. And I'll admit it—this cuts out the need for boiling and reduces your total cooking time by about 15 whole minutes.
And while I'm all for shortcuts and hacks in the kitchen, the difference in taste is apparent.
Trust me, I've tried this casserole every which way! And taking the time to add that fresh element makes a world of a difference.
Plus, canned green beans often contain extra sodium to preserve them, making it hard to control the amount of salt in your dish.
Green tip: Food preservatives, like pesticides, are harmful to the environment. They contain toxins that are harmful to plants, animals, and soil. Homemade food with all-natural ingredients that allows you to avoid preservatives lowers your ecological footprint.
Nobody Likes A Squeaky Bean
ALWAYS boil your beans first. You need them nice and tender for a luscious casserole.
It's best to cut off the ends and chop your green beans first. Then boil the halved beans in salted water for about 10-15 minutes until they are nice and soft.
Make sure your green beans are completely dry before adding them to your mushroom, onion, and soup mixture. Any extra moisture will negatively affect the texture of your casserole.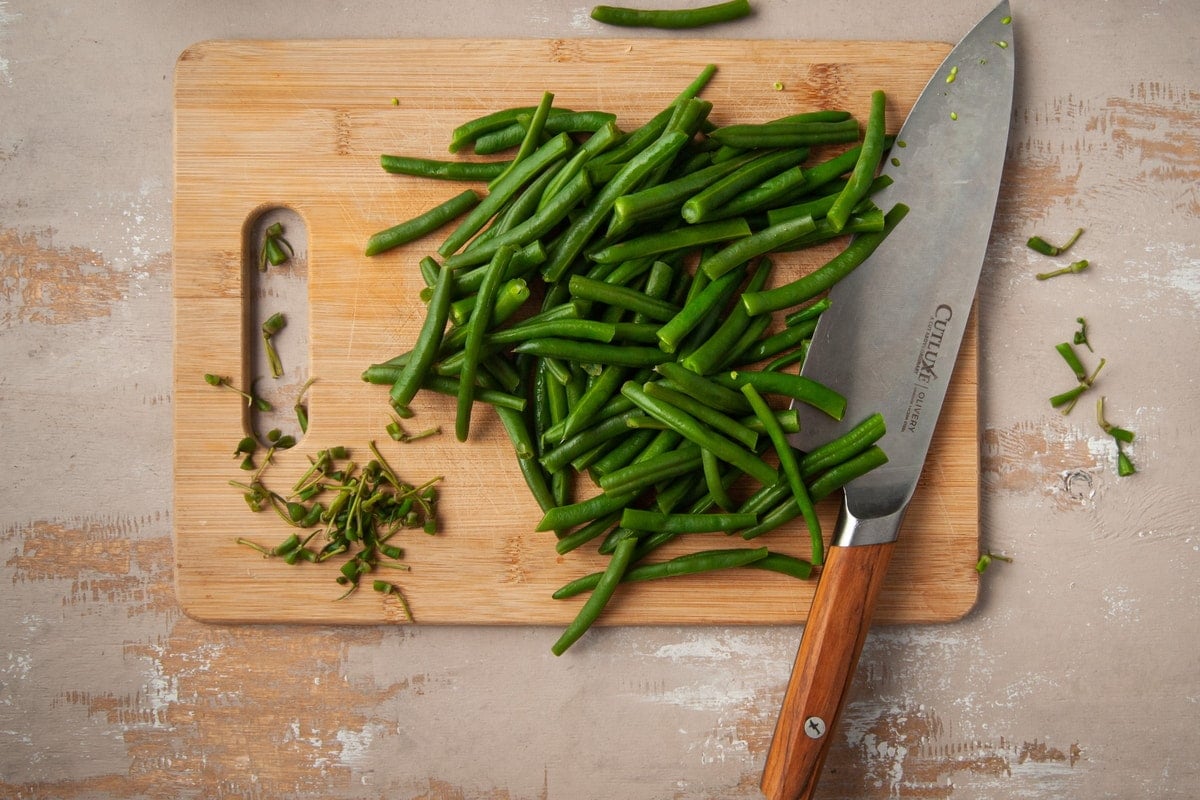 Cook Down Your Veg
Speaking of extra moisture, it's best to avoid it. Cook the onion, garlic, green beans, and porcini mushrooms in olive oil with black pepper and a pinch of salt.
This will season the vegetables, help reduce excess moisture, and start to rehydrate the porcini mushrooms.
Cook over medium heat until the onions are translucent and there is no more liquid left in the pan. It should only take 5-10 minutes.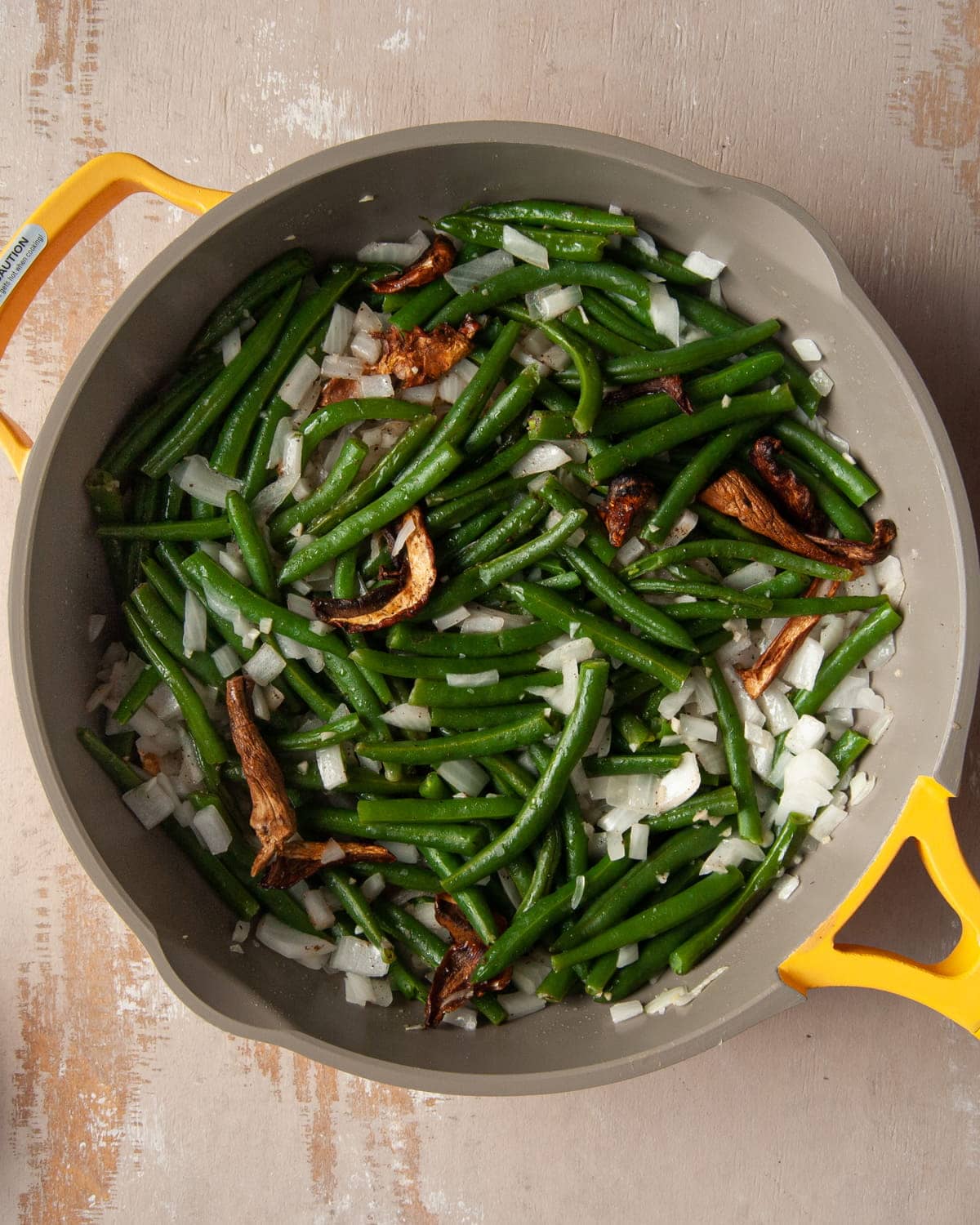 Keep It Classic
I know classic green bean casserole can be a little bland. But the porcini mushrooms, sautéed onions, and black pepper infuse a lot of flavor without straying away from the casserole's classic taste.
Stick to the classic flavors, just crank them up a notch! I'm confident if you follow the measurements in this recipe, you won't be disappointed!
Once your vegetables are ready, add the cream of mushroom soup and stir until coated. Simmer for about 5 more minutes to (you guessed it!) reduce excess moisture.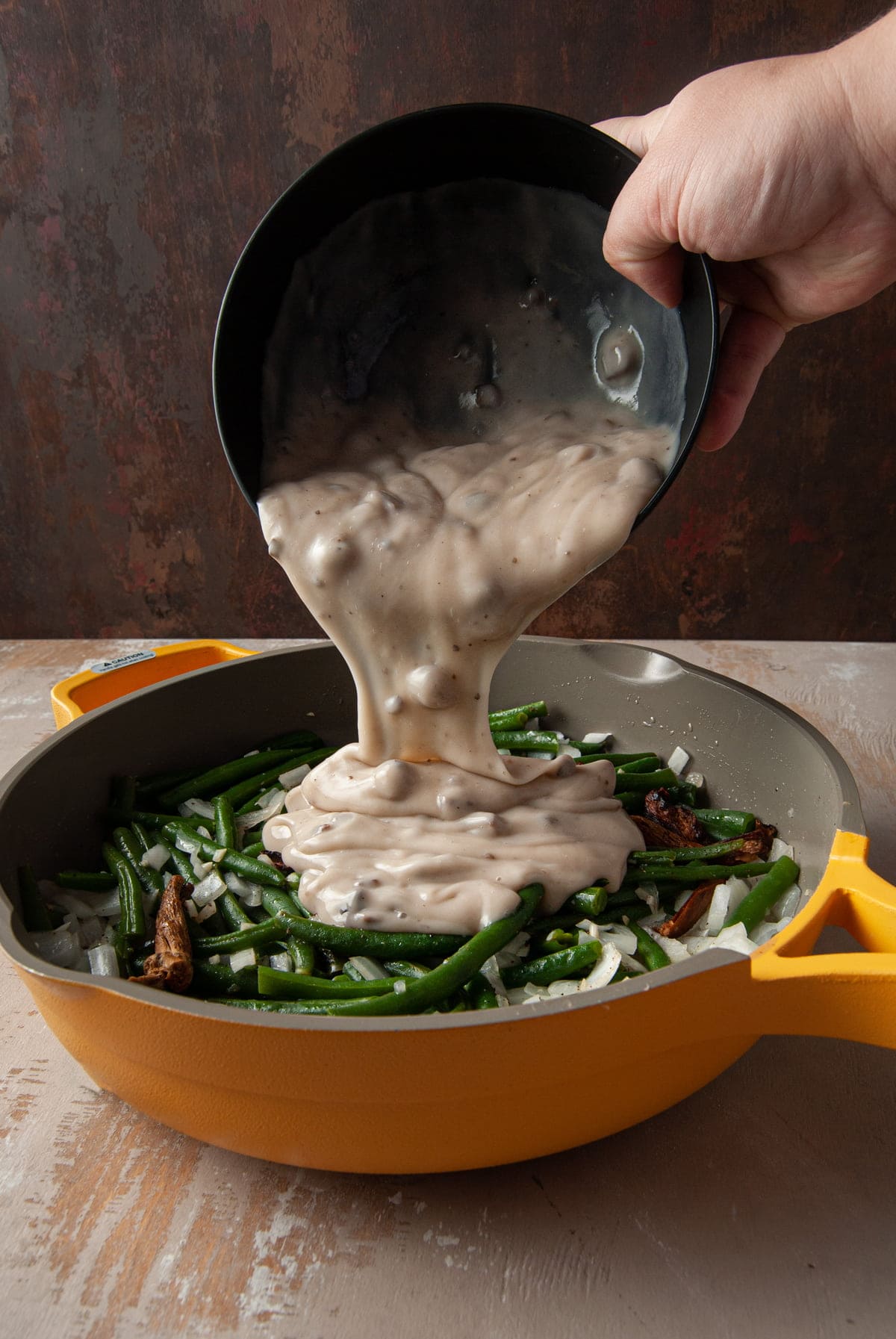 You'll Need A Baking Dish
Once you have your vegetable, spice, and soup mixture cooked and well combined, it's time to transfer it to your baking dish!
I use a 10.5″ x 7.5″ casserole dish and find it's perfect!
A smaller dish will give you a thicker base with fewer toppings, and a larger dish means an overall thinner casserole.
If you're changing up the size of the casserole dish, just watch it in the oven a little more closely. This may change the cooking time a bit.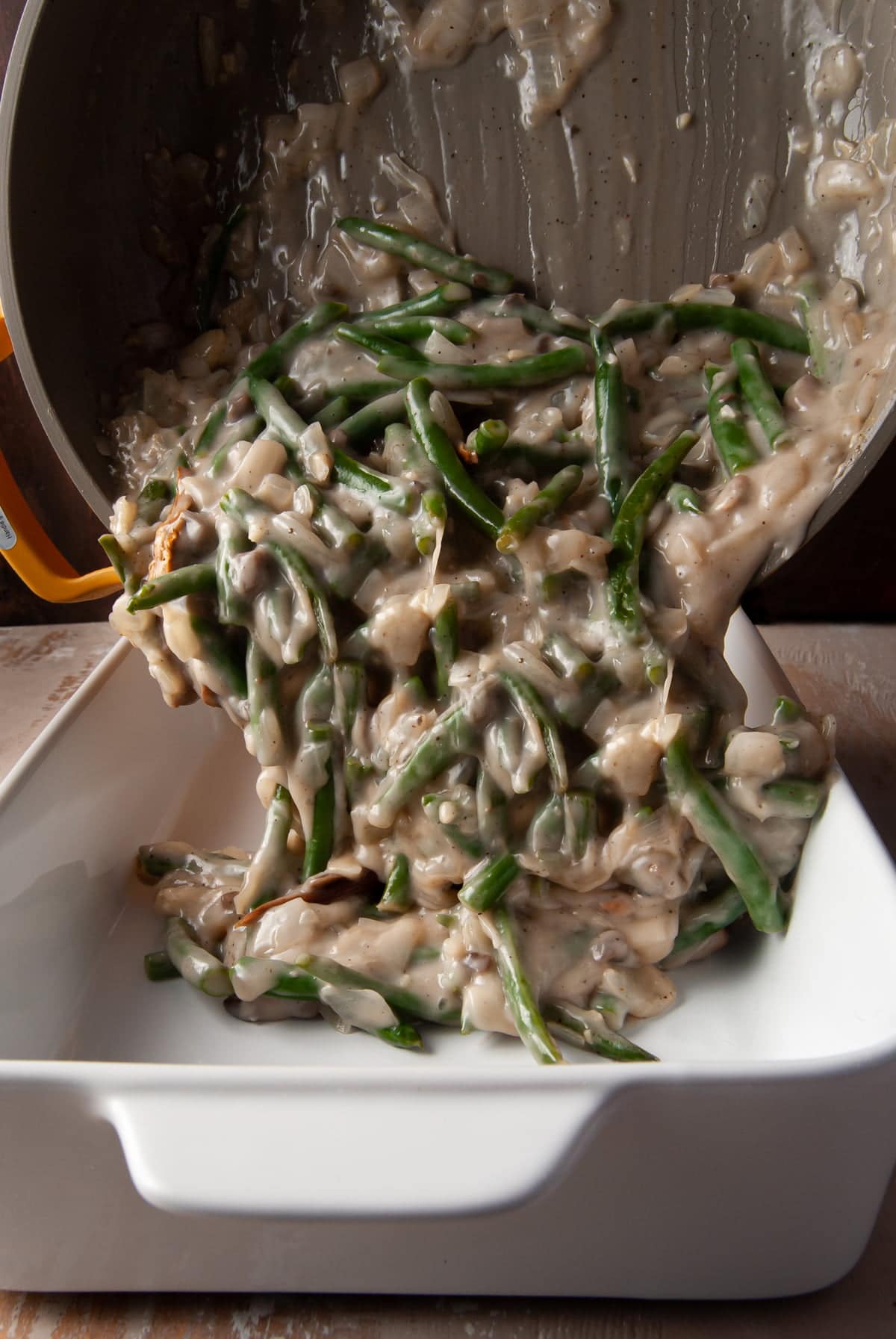 The Cheddar's Not The Big Cheese
While I've been known to use the words "it's never enough cheese" often, the focus of this casserole is the green beans! Don't overdo it with the cheddar here.
You want enough cheese to provide that ooey-gooey texture and a little extra salt, but not enough to detract from the mushroom and green bean focus. A thin layer on top will do the trick.
Sprinkle a thin layer of shredded cheddar cheese on top, leaving some areas where the green bean mixture peeps through.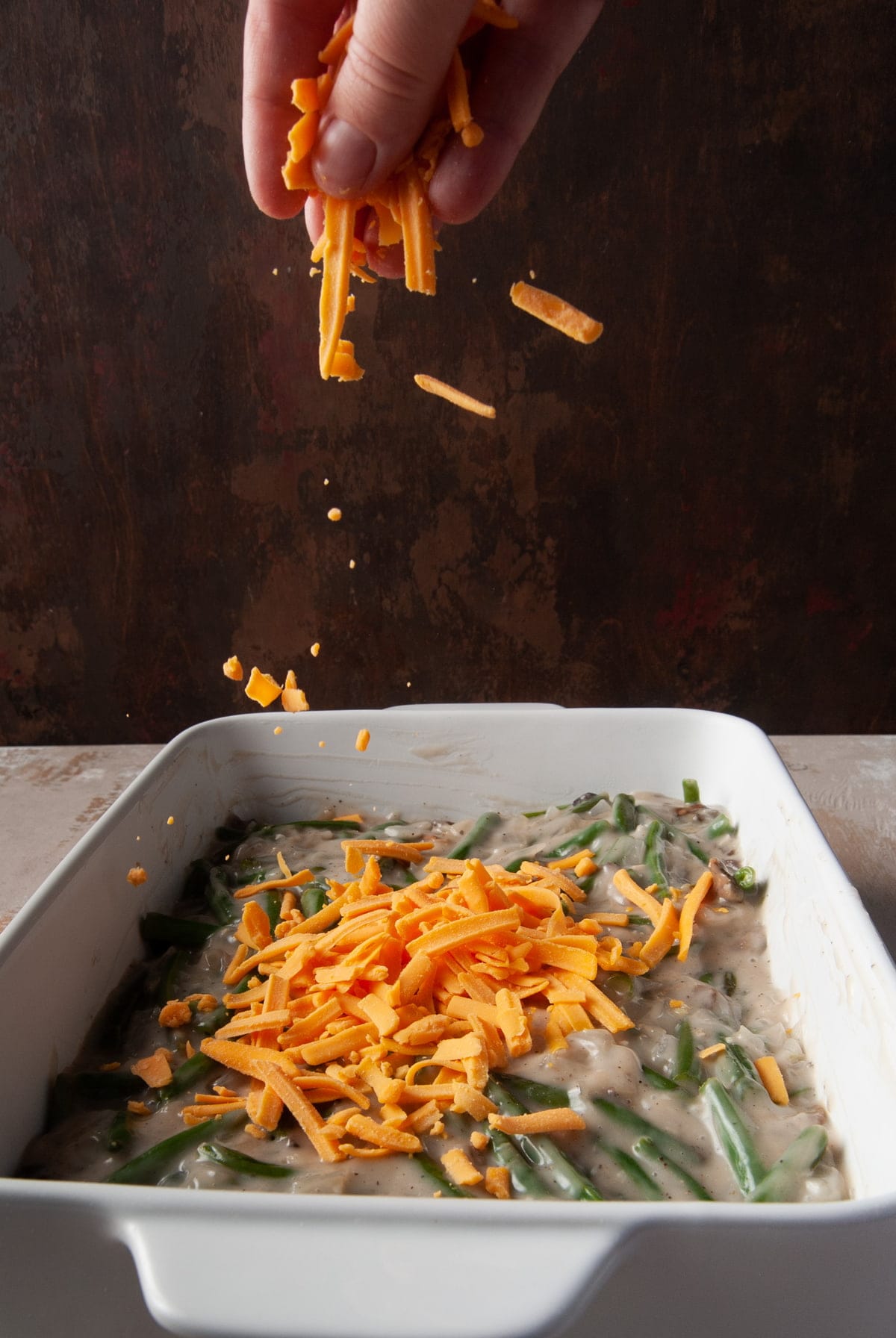 When It Comes To The Crunch…
…there is just nothin' better than those crispy fried onions. To me, you can't call it Thanksgiving without these flavorful little crunchies.
They make the perfect topping for that crispy texture to finish off this creamy, cheesy delight.
You'll know your green bean casserole is done when the crispy fried onion topping is just starting to brown.
Green Bean Casserole Frequently Asked Questions
---
How do you make green bean casserole not runny?
The technique to avoiding a runny casserole in this recipe is pre-cooking the green beans, onions, garlic, and porcini mushrooms to reduce the amount of liquid.
What can I add to green beans for flavor?
Adding porcini mushrooms to green bean casserole is a great way to infuse extra umami and deeper flavor.
Want to sharpen your kitchen skills?
Why You Should Make this Green Bean Casserole With Secret Ingredient
---
It's classic. It's not Thanksgiving without this classic.
It's flavorful. All the classic flavors of a green bean casserole, but the secret ingredient just amps up the flavor.
It's the perfect side dish. There are not many things that you can't serve this with!
If you're loving this Green Bean Casserole with Secret Ingredient and are on the hunt for other Thanksgiving side dish ideas, check out these Garlic and Feta Mashed Potatoes and Sweet and Salty Brussels Sprouts.
Whether you are enjoying this casserole on Thanksgiving, Friendsgiving, or just a random Tuesday night, I am thankful that you are trying my recipe! It's always a good time to say thank you!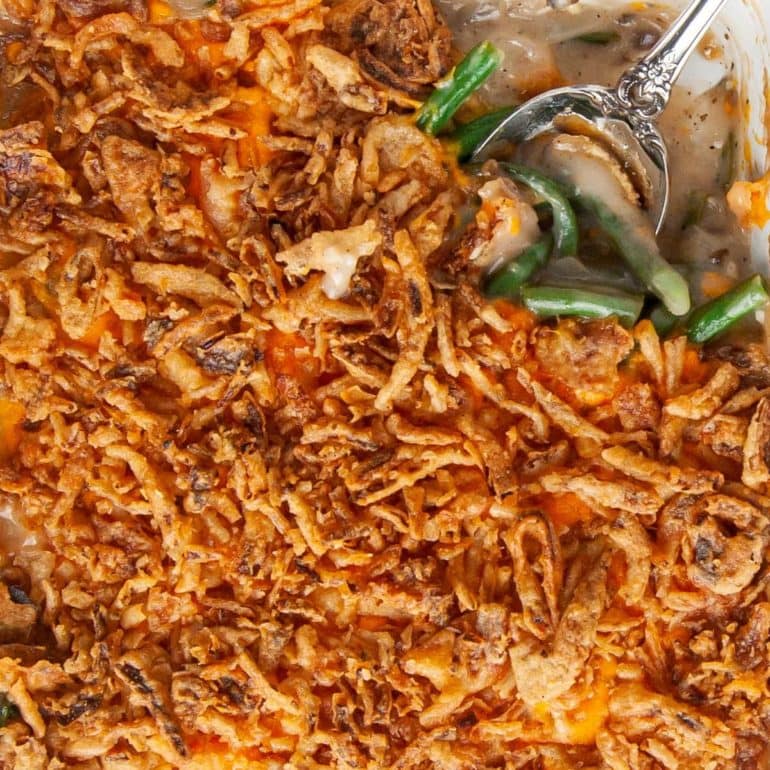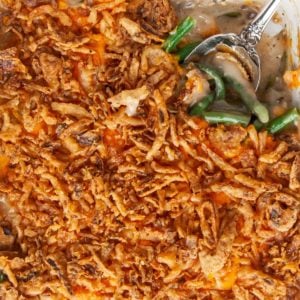 Green Bean Casserole with Secret Ingredient
PRINT
PIN
RATE
This Green Bean Casserole utilizes a secret ingredient to boost the natural flavors of your traditional Thanksgiving favorite for a whole new dinner sides experience.
Ingredients
1

pound

fresh green beans

(halved)

1

large yellow onion

3

cloves

garlic

¼

cup

dried porcini mushrooms

2

tablespoons

olive oil

½

teaspoon

black pepper

1

pinch

of salt

21

ounces

cream of mushroom soup

(21 oz usually = 2 cans)

4

ounces

cheddar cheese

2.8

ounces

crispy fried onions
Instructions
Preheat your oven to 350°F and bring 10 cups of water to a boil in a large pot.

Trim the ends off your fresh green beans and cut them in half. Boil them until tender—about 10-15 minutes.

Dice your onions and mince your garlic.

Once your green beans are tender, strain them and dry them off with a kitchen towel.

Add cooked green beans, onions, garlic, and porcini mushrooms to a frying pan with salt, pepper, and olive oil over medium heat until onions are transparent.

Add cream of mushroom soup and mix well. Simmer on low for about 5 minutes to reduce excess moisture.

Transfer your green bean mixture to a 10.5" x 7.5" oven-safe casserole dish. Top with a thin layer of cheese, and finalize with a layer of crispy fried onions.

Bake for 30-35 minutes until cheese is nice and melted and crispy onions are starting to brown.
Pro Tips
Always, always boil your green beans before adding them to your casserole. Squeaky green beans are not a welcoming bite!
Add your porcini early so they have time to rehydrate.

This dish is a classic holiday recipe. For more like this, check out my comprehensive list of the

best Thanksgiving recipes

.
Did you make this recipe?
Let me know by leaving a recipe rating below, or by tagging @marleysmenu on Instagram.