Looking for a delicious dip that curbs your creamy cheese cravings without all the guilt? This Vegan Spinach Dip is guilt-free, delicious, and healthy for you and the planet!
The perfect balance of saltiness and nuttiness, the creamy texture of this spinach dip will be your bread, chips, or veggies' new best friend.
Vegan Spinach Dip Tips and Tricks
Press That Tofu
I am a HUGE proponent of tofu pressing! To stay fresh, tofu is suspended in liquid and packaged that way. And without pressing the excess liquid out, we are at risk for that dreaded spongy, soggy tofu texture that can make it pretty unappetizing.
They sell fancy tofu presses, and if you're a kitchen gadget person, maybe it's worth it. But I'm an old-fashioned kitchen hack kind of gal, and my tofu pressing style is what we will call thrifty. Mostly because I am certain you have all the necessary tools to pull it off.
Drain your tofu and wrap it in a clean kitchen towel. Place something heavy (I use a book!) on top, and let it sit for about 5 minutes. Thrifty or just downright genius? I'll let you decide!
Get your tofu press going first, so your tofu is ready for you when you are ready for it.
Green tip: Reducing your dairy intake when possible is a great way to reduce your carbon footprint. The production of dairy and all animal products is associated with high greenhouse gas emissions, pollutants, and food waste.
Reduce The Onion and Spinach
Speaking of excess liquid, it's important to get the consistency of this dip right. I can't very well promise you creamy vegan spinach dip and allow you to wind up with a liquidy mess.
So in addition to pressing your tofu, you will sauté your onion and spinach in olive oil to cook off the excess liquid. Dice your onion up and roughly chop your spinach, and throw it in your Dutch Oven with the oil over medium heat.
Allow it to cook while you're throwing the rest of your ingredients into a blender.
Taste Before You Bake
You may want to add a little more salt or pepper. Taste your dip after combining it together in your Dutch Oven before you begin to bake. If you are topping it with Vegan Parmesan style cheese, just keep in mind that it will add a little salt for you.
You can also add a little bit of crushed red pepper or cayenne pepper if you want to add a little heat.
You Have Options for Cookware Here
The easiest way to prepare this is in a Dutch Oven. That way you can use it to cook down your onions and spinach on the stove and then transfer it directly into the oven.
But, if you want to bake it in little individual croquettes, you absolutely can! It's such a fun way to serve it, and great for entertaining (I think it's safe to say double dipping is a thing of the past, but having your own little pot of dip is every foodie's dream).
Just transfer your dip from your Dutch Oven or large pot to your mini croquettes, cover, and bake!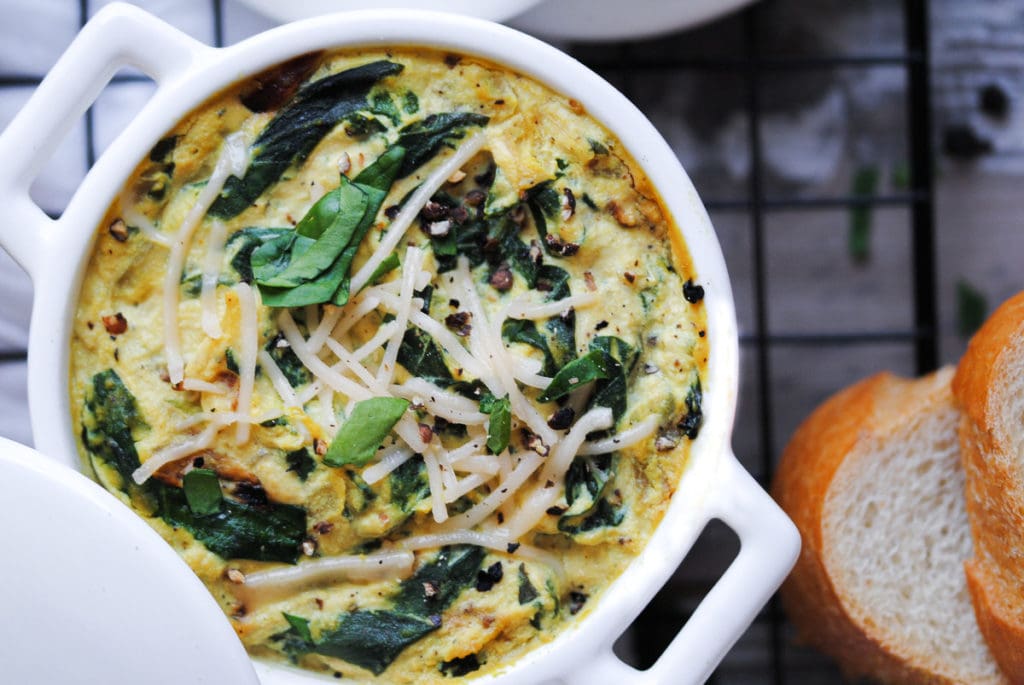 Why You Should Make This Spinach Dip
It's healthy. It's absolutely packed with protein, vitamins, and minerals from the tofu, spinach, and nutritional yeast.
That texture. So silky and creamy.
It's fun. What's better than a dip?
Everyone can enjoy it! Whether you are dairy-free or not, the flavors are rich and delicious.
If you love this Creamy Vegan Spinach Dip and want more delicious dip ideas, check out this Perfect Guacamole and 3-Step Hummus!