Looking for a festive and fruity way to ring in the Halloween season? These Easy Halloween Chocolate Covered Strawberries are delicious, adorable, and fun for the whole family!
With just 3 ingredients and the opportunity for creativity, these spooky little Halloween treats are the best way to celebrate this year!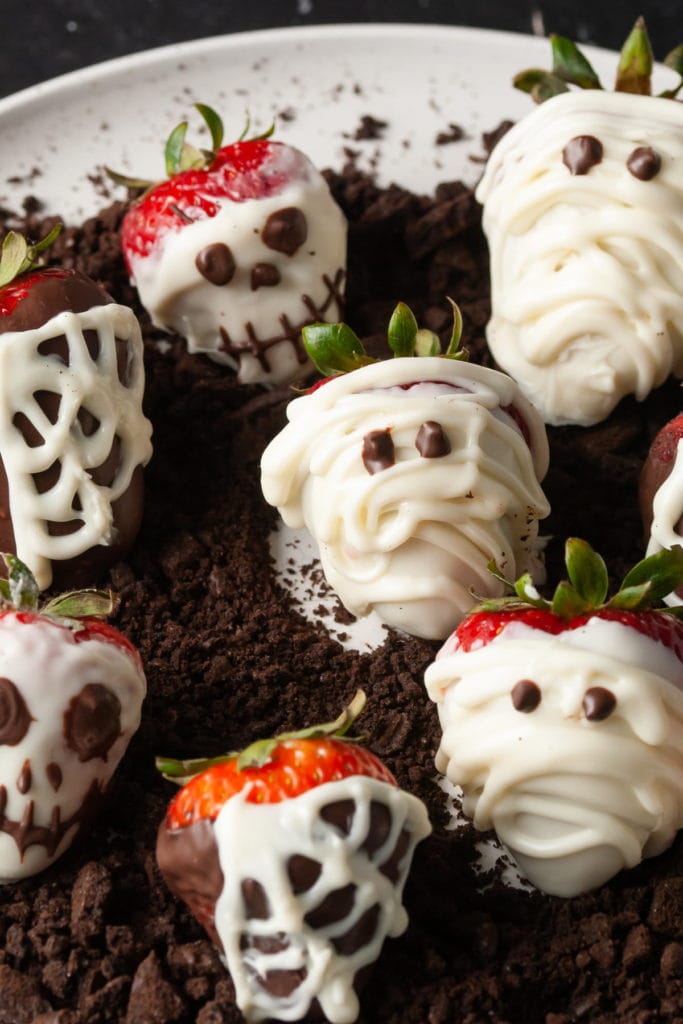 Halloween Chocolate Covered Strawberries Tips & Tricks
---
---
Grab Your Supplies
I find the easiest way to make these fun Halloween designs is with a piping bag and a toothpick.
It's also helpful to line a baking sheet with either parchment paper or a reusable baking mat for the chocolate-covered strawberries to rest on while they set.
Green tip: Consider these reusable baking mats to reduce your waste! They are nonstick and easy to clean.
Outside of that, you only need 3 simple ingredients. Here's everything you need:
Wash Your Strawberries First
Before melting your chocolate and diving headfirst into the decoration, wash your strawberries to make sure they are safe from any chemicals and pesticides.
Or better yet, buy organic if you can!
I usually just rinse my strawberries for about 30 seconds under cool water and then allow them to dry before dipping them in chocolate. You can pat them dry if you're ready to go!
Green tip: Organic farms rely on biodiversity to generate rich soil, avoiding the use of pesticides and fertilizers, which means no toxic runoff that is harmful to nearby ecosystems.
Use Melting Chocolates
Chocolate that is designed to melt without needing to be tempered can usually be found in your local grocery store.
Look for "melting chocolate" or "chocolate wafers". These Ghiraddheli Melting Wafers are my favorite and are what I used for the strawberries pictured.
If you would like to use chocolate chips, it's best to temper them first. For detailed directions on how to temper chocolate, check out my recipe for Bailey's Hot Chocolate Bombs.
Melt and Dip 'Em
Add melting wafers into two separate microwave-safe bowls and heat one at a time. Start with 30 seconds and mix. this may be enough to melt them completely.
If not, continue to heat in 15-second intervals, stirring in between until completely melted.
Since two of our decorations have a white chocolate base, we will be dipping about 2/3 of the strawberries into white chocolate. The remaining third will be dipped in dark chocolate.
Use two fingers to grip the top of the strawberry, right near the leaves. Slowly dip the strawberry into the melted chocolate, rotating to ensure that it's completely coated.
Quick note: the chocolate may still be a little bit hot, so just be careful as you dip.
Line the strawberries up on a reusable baking mat or parchment paper to set.
Prep Your Decorating Station
The greatest thing about melting chocolate is that it sets super quickly. Give the chocolate about 10 minutes to harden around the strawberries before adding your decoration.
This may mean that you have to heat your chocolate again when you are ready to decorate. 15 seconds should do it!
Add the remaining white chocolate to a piping bag with a very small opening and grab a couple of toothpicks to decorate with the dark chocolate.
If you don't have a piping bag, you can easily use a Ziploc bag. Just add your melted white chocolate to the bag and then cut about 1 mm off of one of the corners.
You should be able to easily drizzle the melted chocolate out of that hole.
Making The Mummies
About half of the strawberries you covered in white chocolate will be used to make mummies!
Use the piping bag of melted white chocolate to add the "wraps" around the mummy. Simply drizzle the white chocolate back and forth horizontally, as pictured below:
Allow these lines to set before using a toothpick dipped in dark chocolate to draw on two circular eyes.
Making The Spiderwebs
I use the piping bag to make the spiderwebs as well, but if you find you have better control with a toothpick, that's a great option, too!
Working with the dark chocolate covered strawberries, start by drawing an upsidedown "L" with 2 lines splitting the middle as pictured below:
Next, connect the lines horizontally with 3 curved lines to form a spiderweb, as pictured below:
Making the Skeletons
The remaining white chocolate strawberries will be used to make a skeleton design. Keep the surface smooth, and draw on the eyes, nose, and face with a toothpick dipped in dark chocolate.
The eyes are simple ovals, the nose an upsidedown V, and the mouth a crooked smile with vertical lines running through.
Storing Your Halloween Chocolate Covered Strawberries
Chocolate-covered strawberries last about 24 hours at room temperature and 2-3 days in the refrigerator. They are best enjoyed fresh, and I don't recommend freezing them.
If you don't think you'll eat your whole 16-ounce carton of strawberries, it's best to half the recipe to avoid food waste.
Looking for something to use up extra strawberries? Check this Strawberry Daiquiri Mocktail.
And if you end up melting more chocolate than you need, no worries! Just store the chocolate in an air-tight container in the refrigerator for 2-3 months.
You can melt it again when you are ready to use it.
Why You Should Make Halloween Chocolate Covered Strawberries
---
---
They're festive! The cutest little Halloween touch.
They're easy! 3 ingredients. Enough said.
They're fun! Get the whole family involved—these delicious treats are so fun to decorate!
If you're loving these fun Halloween Chocolate Covered Strawberries and are looking for other festive treats, check out these Salted Chocolate Halloween Cookies and these Vampire Vanilla Donuts.