Looking for a delicious drink to wet your whistle this Halloween? Nothing says Dark & Spooky like an edible fake blood cocktail rim on a Dark & Stormy cocktail!
With just three simple ingredients to make this fresh drink, and a simple sweet and tart edible fake blood rim, you'll be Halloween ready without any stress.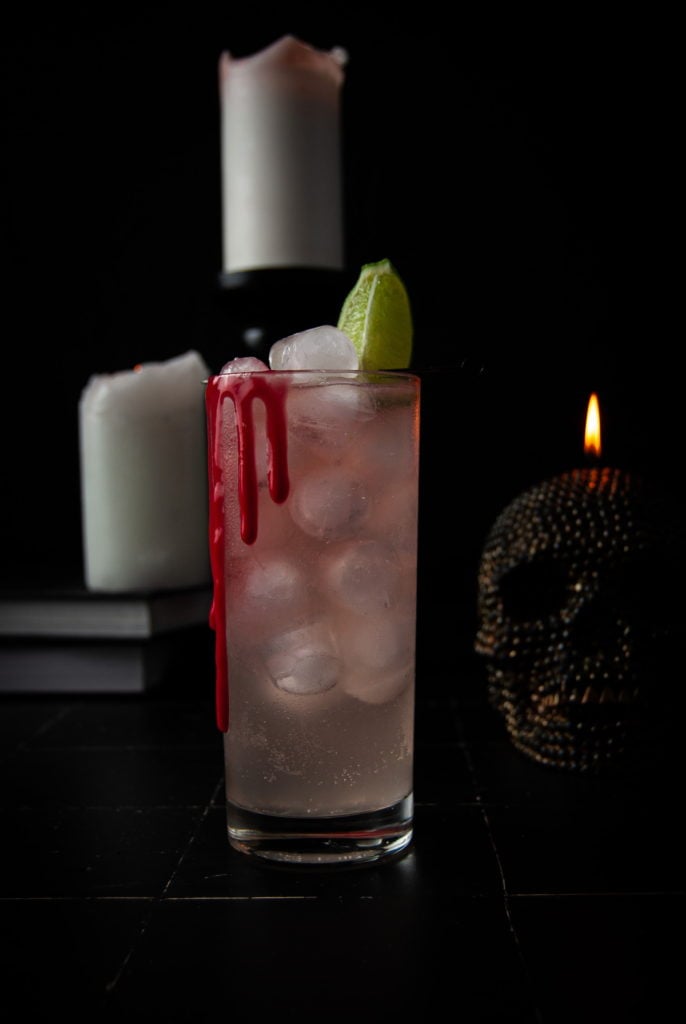 Dark & Spooky Tips and Tricks
---
---
Gather Your Ingredients
Since this Halloween cocktail is made up of only 3 ingredients, you want those ingredients to pack a punch!
I highly recommend using fresh lime for the juice and a fiery ginger beer like Fever-Tree or Bundaberg (I also love this ginger beer in a Ginger Beer Mojito!).
Here's everything you'll need:
Rum. Preferably dark rum, but truly any works in this simple cocktail.
Lime juice. You should get enough lime juice for both the cocktail and the edible fake blood from a total of 2 limes.
Ginger beer. I love Fever Tree or Bundaberg for a fiery ginger beer.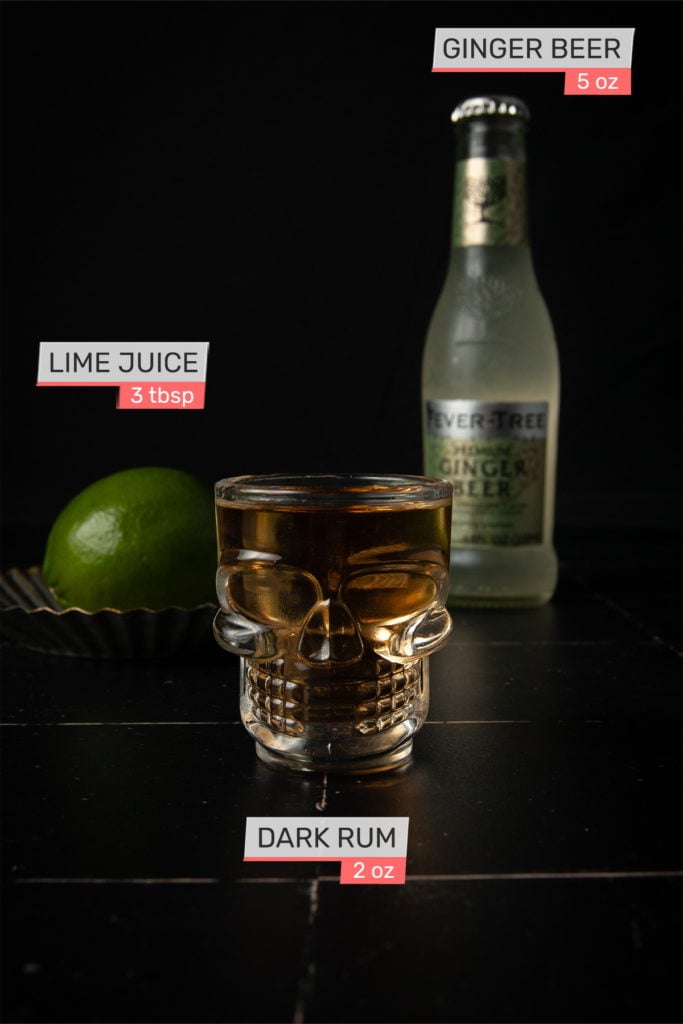 Choosing Your Rum
I love using dark rum in this cocktail because it has a bolder flavor. The difference between dark rum and light rum is that dark rum is aged before it's bottled, giving it a more oaky flavor.
I used Bacardi Gold for this cocktail with great success, but any dark rum will do. I have not tested this recipe with spiced rum.
Edible Fake Blood
---
---
Grab Your Extra Ingredients
Outside of your rum, ginger beer, and lime, if you opt to add an edible fake blood rim, you'll need two extra ingredients.
My favorite thing about this edible fake blood is that it actually tastes delicious, and doesn't require any corn syrup.
Here's what you'll need:
Powdered sugar. Aka icing sugar or confectioners sugar. No corn syrup is needed here, powdered sugar just needs a little bit of liquid to make a sticky glaze.
More lime juice. You guessed it! We use more lime juice as our liquid to make the fake blood come to life without any corn syrup.
Red food coloring. Just enough to get the spooky blood-like coloring.
Use a Hand Mixer or Whisk
You'll want to fully integrate your lime juice, food coloring, and powdered sugar to get a smooth consistency for your edible fake blood. It's easiest to use a hand mixer on low, but you can also opt to use a whisk to avoid lumps.
Mix your lime juice and food coloring first, and slowly add the powdered sugar until you get the right consistency. You're looking for thick, but still runny. Think school glue.
Use a Piping Bag
The easiest way to get your edible fake blood on the rim is with a piping bag. It's best to avoid touching the food coloring directly, to avoid staining your hands.
Slowly squeeze the fake blood out of the piping bag as you move around the outer rim of the glass.
If you don't have piping bags, you can easily use a storage bag. Just seal it and use scissors to cut the very tip of one corner off. Voila! Makeshift piping bag!
Green tip: Reduce your plastic waste by using these Reusable Piping Bags!
You can also opt to use a spoon, you'll just have to be a little more careful!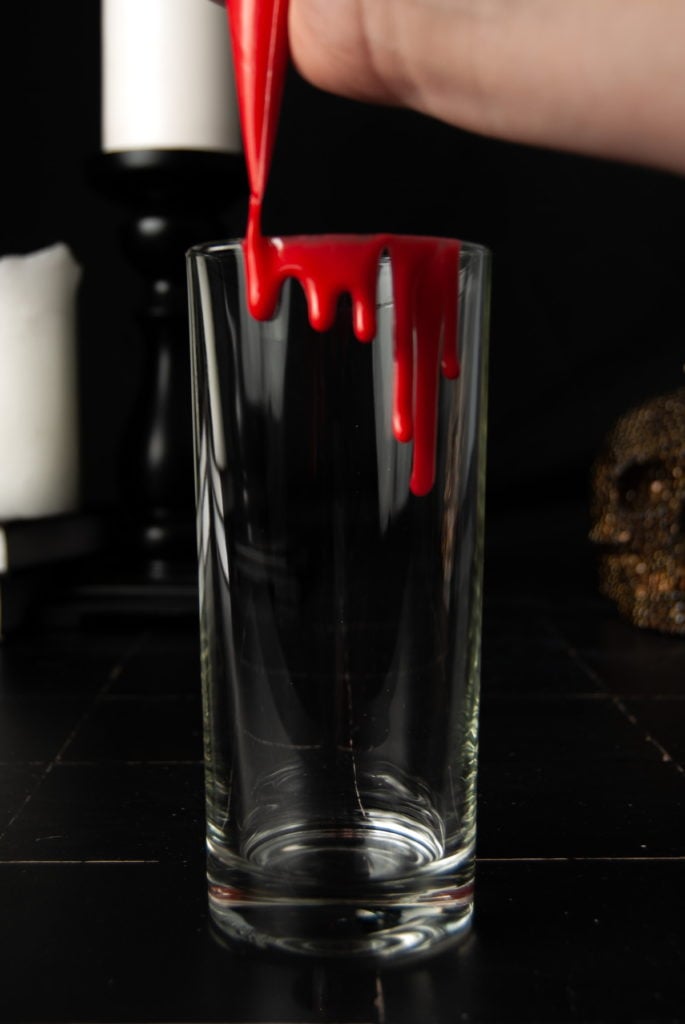 Should You Have Leftover Blood
If you make too much edible fake blood, no worries! Keep it in your piping bag, add a rubber band, piece of tape, or just place the whole bag in a second storage bag to keep it airtight.
Once covered, it can be stored in the refrigerator for 2-3 weeks.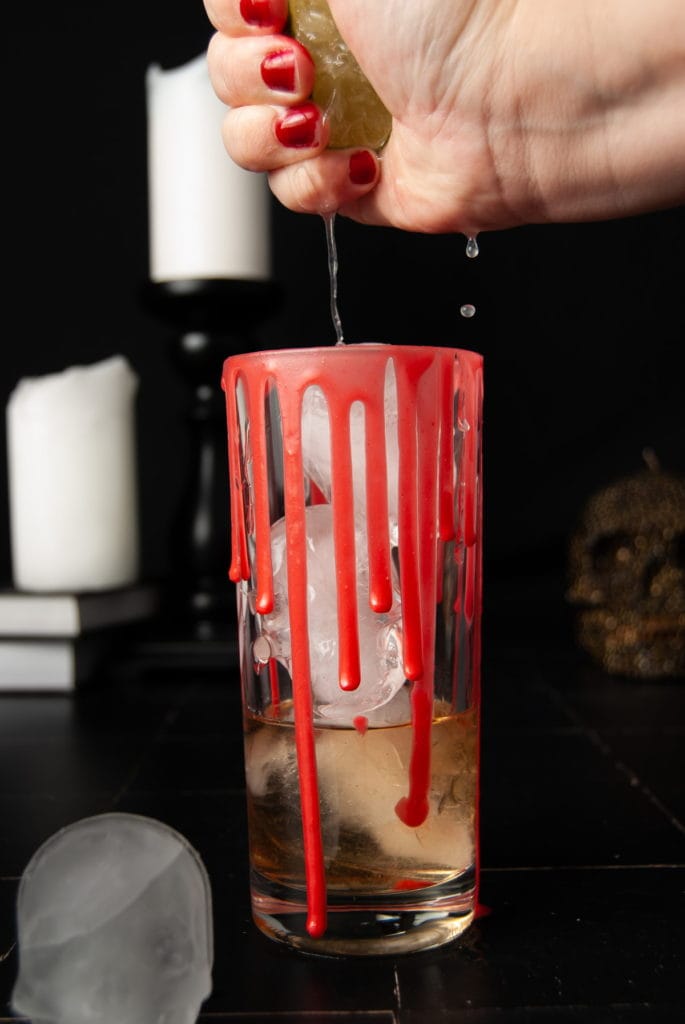 Halloween Cocktail with Edible Fake Blood Frequently Asked Questions
---
---
How do you make fake blood that you can eat?
To make fake blood you can actually eat, make a sticky glaze out of powdered sugar and lime juice, and dye it with red food coloring.
How long does edible fake blood last?
This edible fake blood last for up to three weeks in an airtight container in the refrigerator.
Want to sharpen your kitchen skills?
Why You Should Make This Dark & Spooky
---
---
It's crisp and refreshing. And the ginger beer brings some Fall flavor.
It's simple. Minimal ingredients that you may already have at home!
The edible fake blood. So festive and actually tastes delicious with this cocktail!
If you're loving this Halloween Cocktail with Edible Fake Blood, check out these Halloween Chocolate Covered Strawberries and Fun Salted Chocolate Halloween Cookies.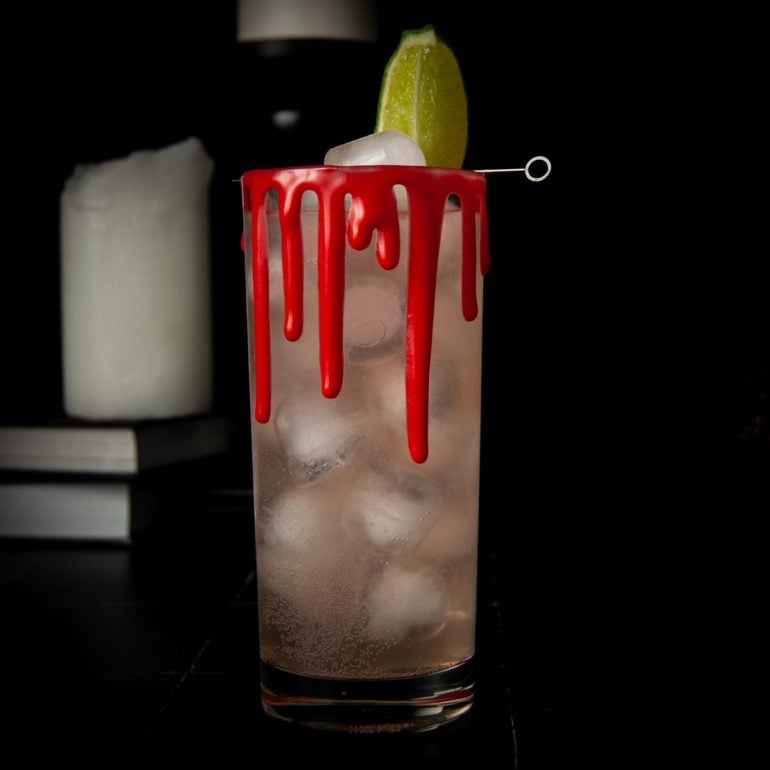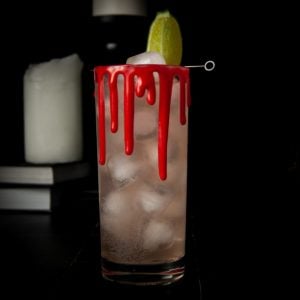 Dark and Spooky: Halloween Cocktail with Edible Fake Blood
PRINT
PIN
RATE
Set the tone for Halloween with the Dark and Spooky—a festive take on a classic Dark and Stormy with an edible fake blood rim (no corn syrup required!).
Ingredients
Edible Fake Blood
1/2

ounce

(1 tablespoon) lime juice

10

drops

red food coloring

1/4

cup

powdered sugar
Dark u0026 Spooky Cocktail
2

ounces

(1/4 cup) rum

1 1/2

ounces

(3 tablespoons) lime juice

5

ounces

(1/2 cup + 1 tablespoon) ginger beer

(optional)

lime wedge for garnish (optional)
Instructions
Edible Fake Blood
In a large mixing bowl, add lime juice and red food coloring and stir to get a deep red liquid.

1 tablespoon at a time, start adding the powdered sugar, with a hand mixer on low or continuously whisking. Continue to add powdered sugar, up to 1/4 cup until you get a thick consistency (think school glue).

Add edible fake blood to a piping bag to give you more control. Use the piping bag to slowly add drops of u0022bloodu0022 to the outer edge of a highball glass.
Dark u0026 Spooky Cocktail
Add ice to your garnished highball glass. Pour over rum and lime juice.

Top with ginger beer and mix. Garnish with a lime wedge (optional) and enjoy cold.
Pro Tips
Use fresh lime rather than lime juice for the freshest taste! You should get all the juice you need for both the cocktail and the edible fake blood from 1 large lime.
If you don't have a piping bag, you can use a storage bag! Just cut the very tip of one corner off to drip the "blood" through.
Did you make this recipe?
Let me know by leaving a recipe rating below, or by tagging @marleysmenu on Instagram.