Looking for a meatless protein option to serve over your favorite rice or noodles? This Sticky Orange Tofu is packed with fresh flavor and fried to crispy golden brown perfection.
Plus, this protein-packed and over the top delicious tofu dinner dish comes together in just about 30 minutes, making it as easy as it is tasty. You'll quickly fall in love with the zesty, salty, sticky sauce's unique flavor!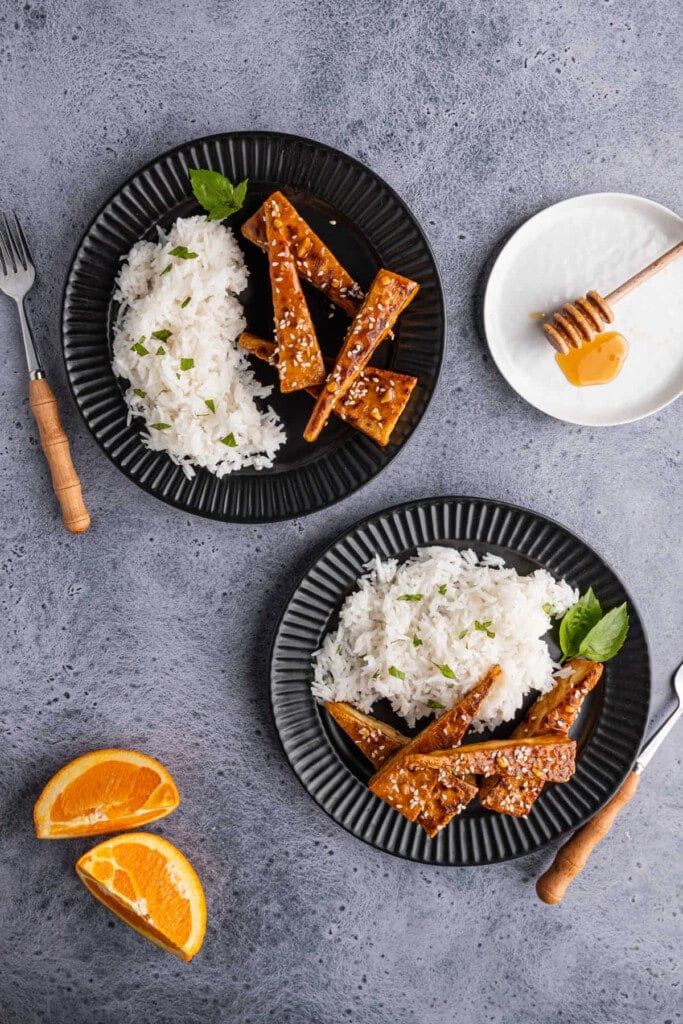 As an environmental scientist, I'm always looking for delicious meat alternatives to help me improve my ecological footprint, and this Sticky Orange Tofu is a great substitute for chicken.
Tofu is a protein-rich food made from condensing soy milk. It's a great addition to any meal because of its ability to take on any flavor.
Green tip: Industrial meat production has a huge impact on the environment, especially because of the amount of land it takes to sustain and its high amount of greenhouse gas emissions. Reducing your meat consumption is one great way to improve your ecological footprint.
Orange Tofu Ingredients
---
Here's everything you need for the crispy tofu:
Extra-firm tofu. Extra-firm tofu most readily gets crispy.
Olive oil. To fry your tofu in.
Cornstarch. To soak up excess moisture from the tofu to help it in the crisping process.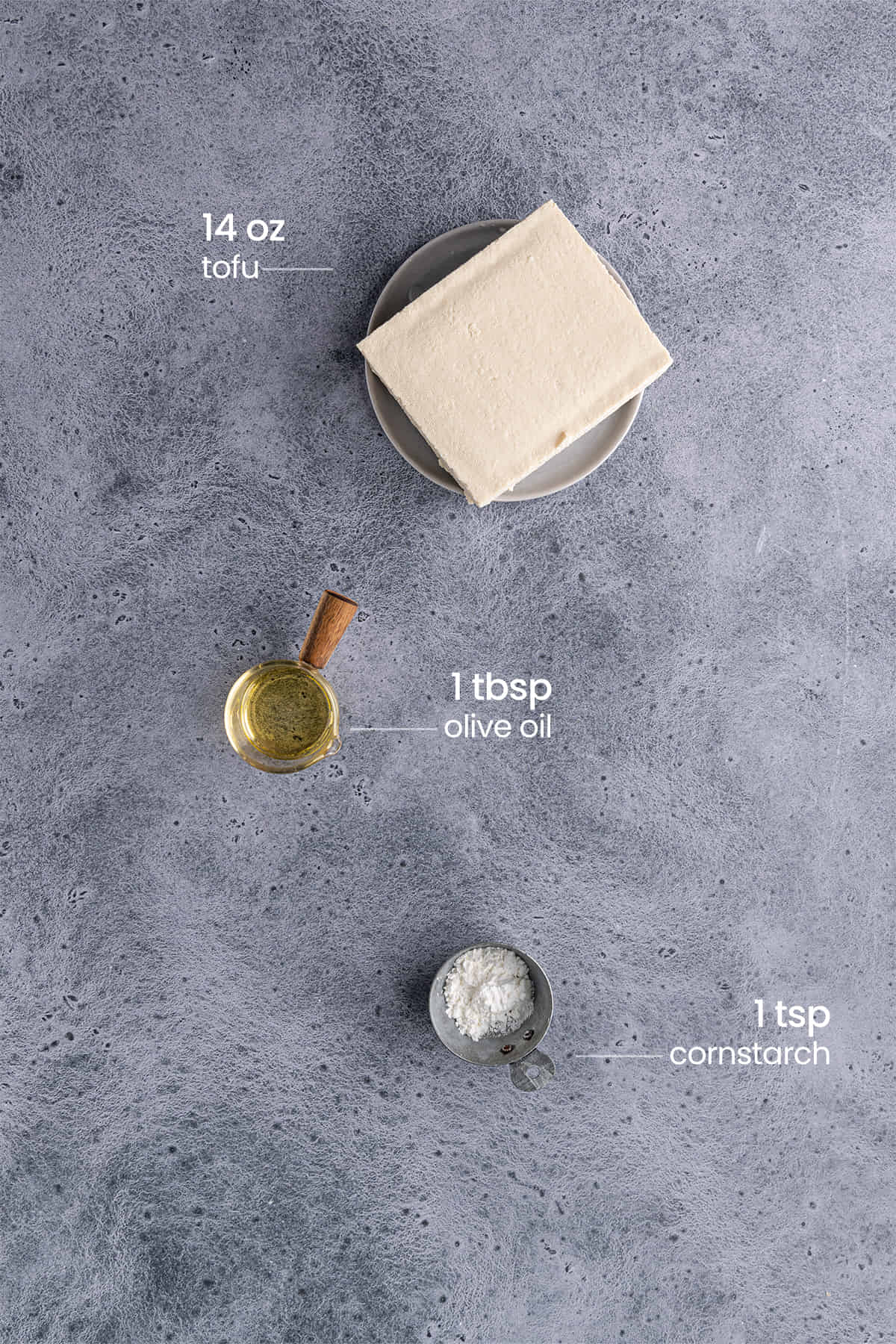 Here's everything you need for the sticky orange sauce:
Cornstarch in water. This makes a slurry that acts as a thickening agent in your sauce.
Garlic. To add an earthy and savory flavor to your sauce.
Juice from an orange. To add a subtly sweet, zesty flavor to your sauce. The star of this dish!
Tamari. Or soy sauce. To add salt and umami.
Rice vinegar. To add acid to your sauce.
Honey. To bring out the natural sweetness of the orange and help to balance all of the other flavors. You can use Agave nectar in its place to make this recipe vegan.
Ground ginger. For a little kick of spice and heat.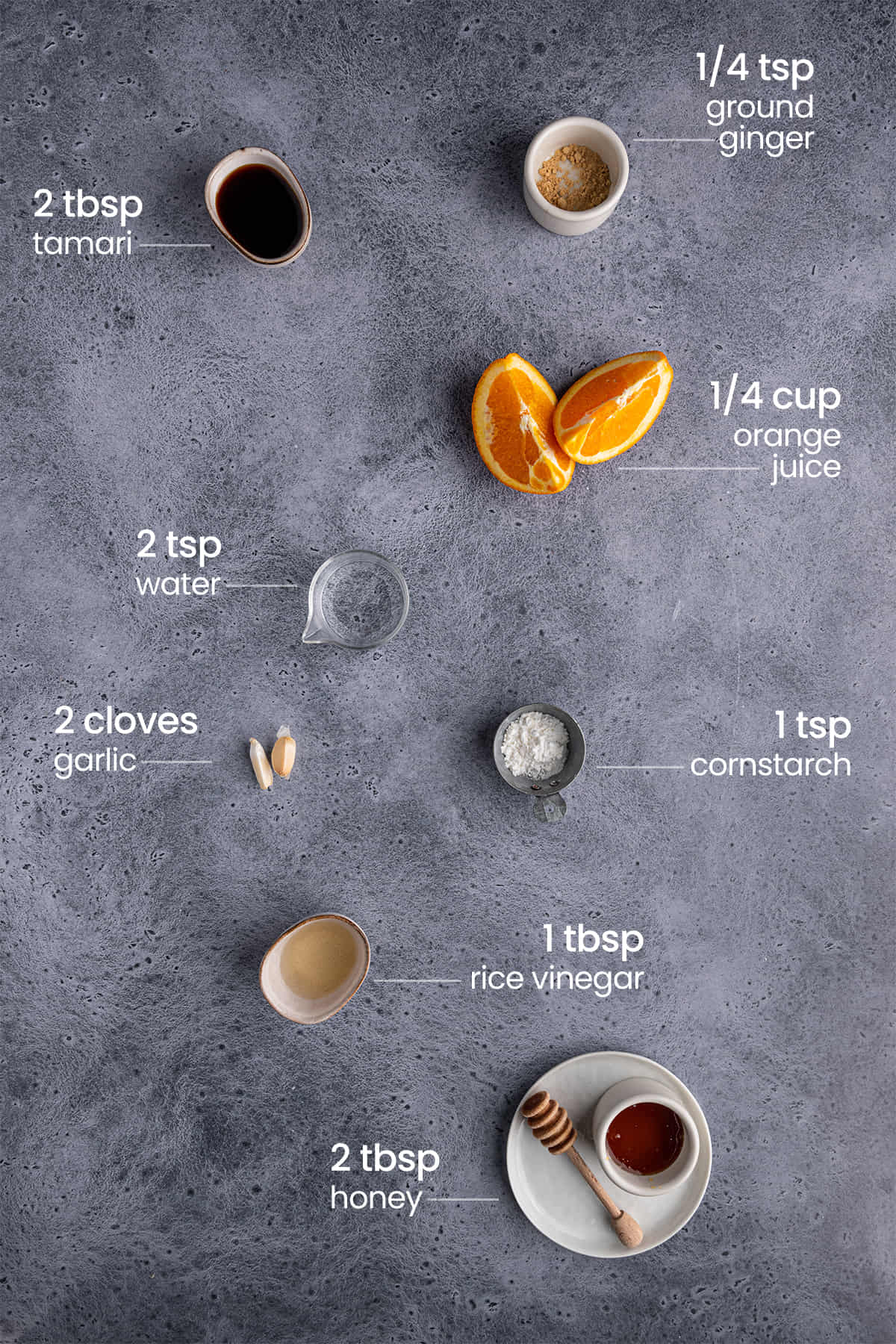 Sticky Orange Tofu Tips and Tricks
---
Not All Tofu Is Created Equal
If you're new to tofu, you may be confused by all the seemingly similar options. Extra-firm is my favorite type for getting a crispy finish. You can also use firm in a pinch, but you may have a little more trouble handling it.
Green tip: Organic farms rely on biodiversity to generate rich soil, avoiding the use of pesticides and fertilizers, which means no toxic runoff. Consider organic tofu for this recipe.
A Good Press
Spongy tofu happens. But don't fear! This tofu pressing method will dry out your tofu enough to avoid that soggy mess.
If you cook tofu often, it might be worth your while to pick up a tofu press.
Not a gadget person (or like to be thrifty like me!)? Drain your tofu and place it between two clean kitchen towels. Choose something heavy to place on top. I usually use a book! Let it sit for at least 5 minutes to allow the towels to absorb the water and dry the tofu out.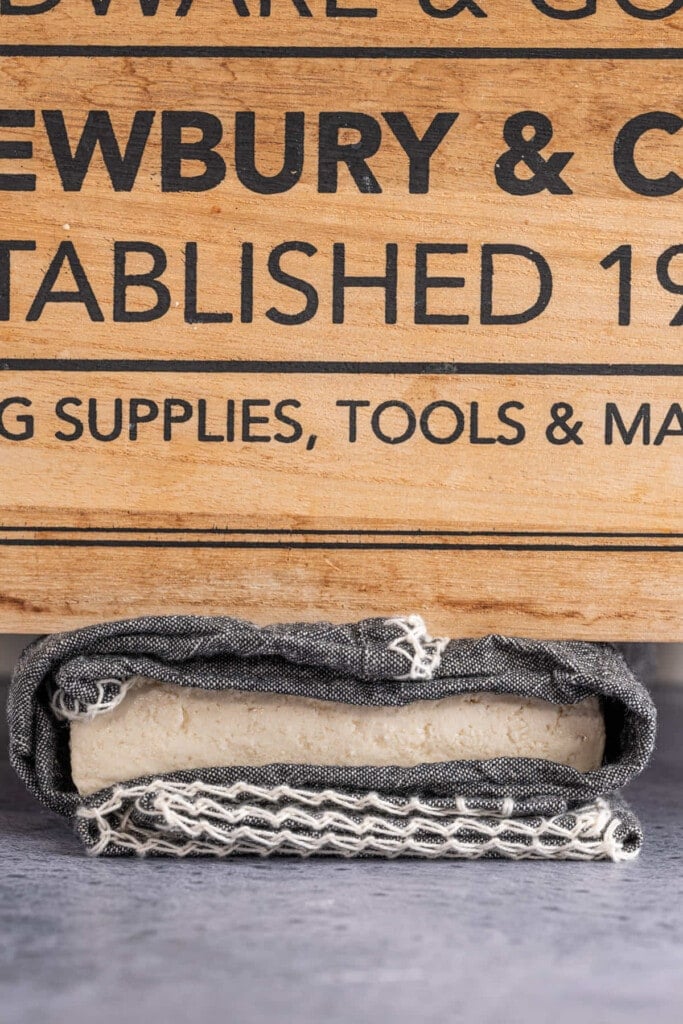 Cut & Coat Your Tofu
Once your tofu is pressed, slice it in half lengthwise, so you're left with two, thinner rectangular pieces of tofu.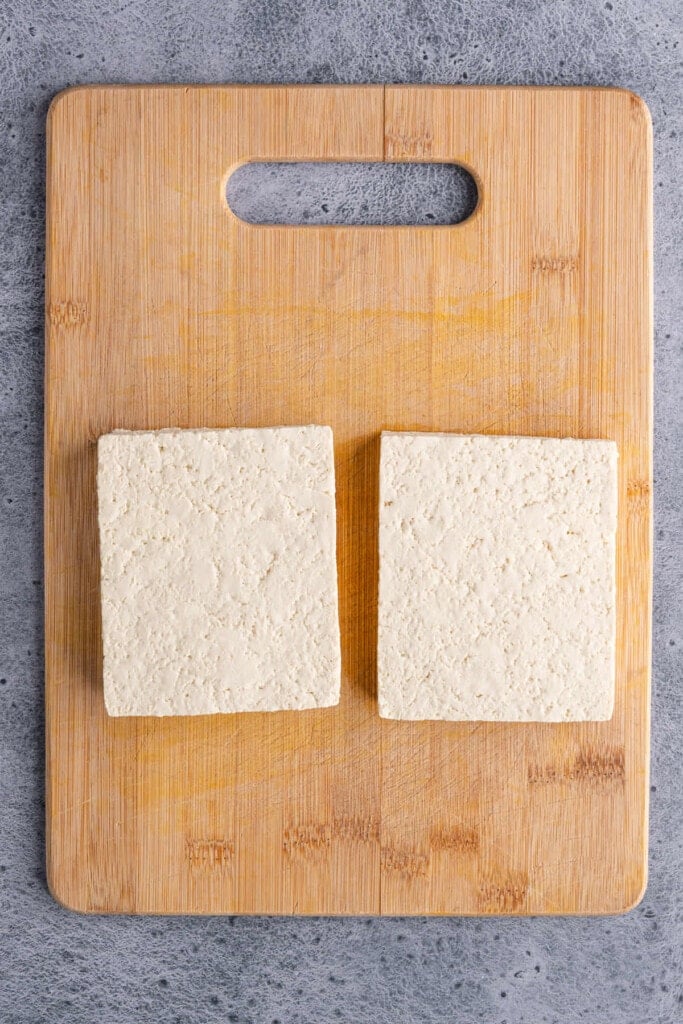 Then, you can slice your tofu into thin, triangular pieces as pictured, or into cubes—whichever you prefer!
However, you slice it, make sure to coat your tofu evenly in olive oil. I like to use a pastry brush to ensure I get every surface coated oil.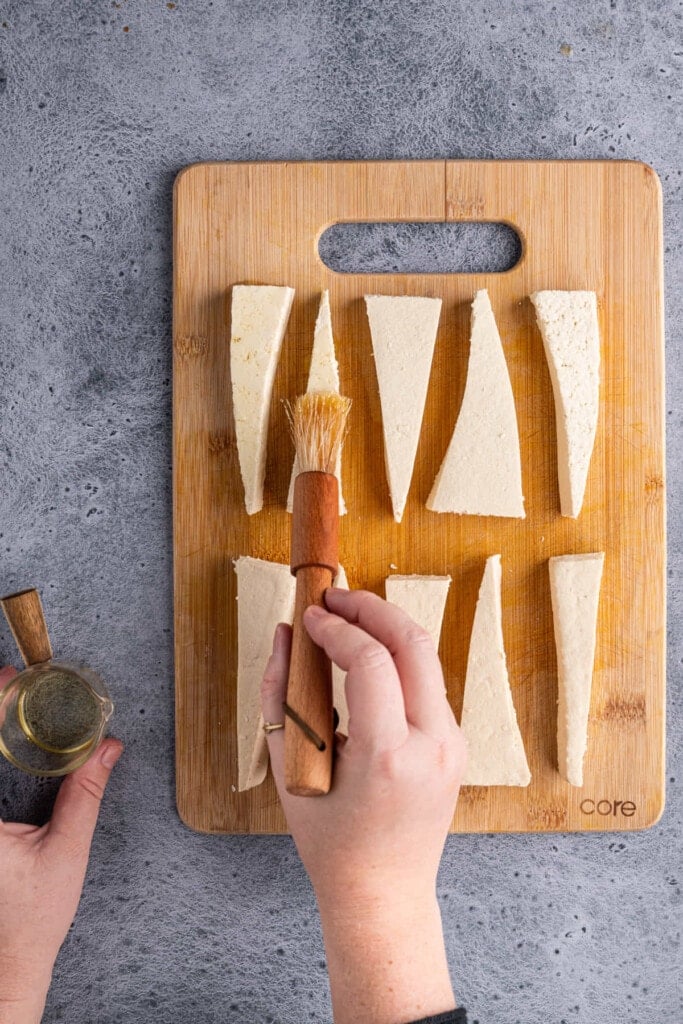 Sprinkle Cornstarch on Top
Once you've coated your tofu in olive oil, sprinkle the cornstarch on top. Though cornstarch has a funny texture and can sometimes be hard to "sprinkle", just do your best to get a small amount of cornstarch on each side of every piece of tofu.
The cornstarch will help to soak up any excess liquid that may not have been pressed out of the tofu, helping you to get that golden brown.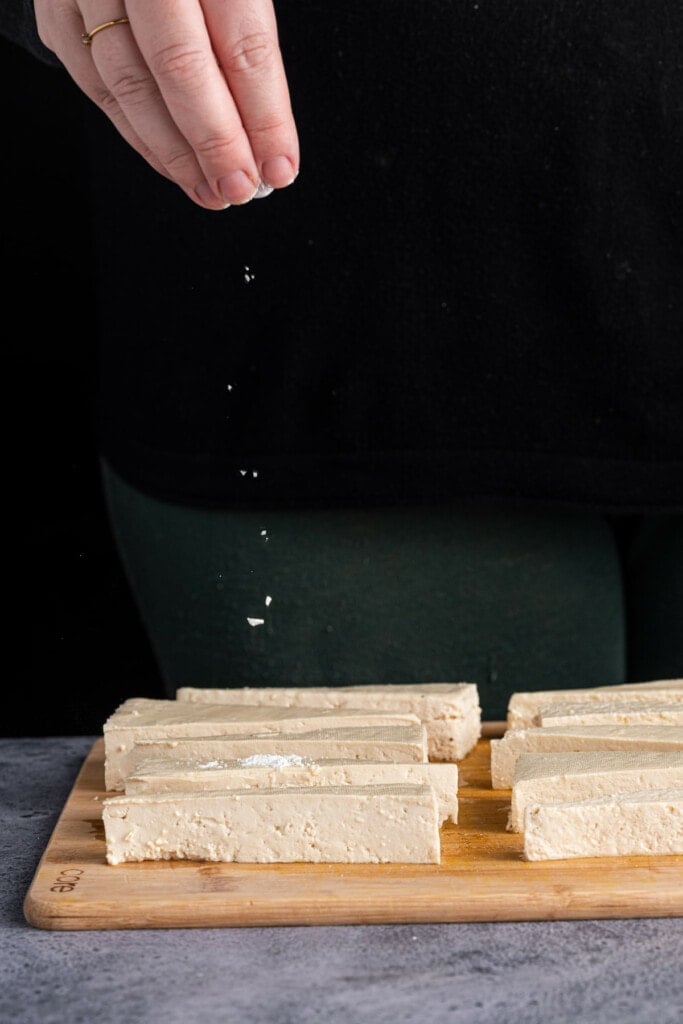 Fry Your Tofu
Get your pan hot over high heat before carefully placing your tofu directly on the pan. No need for any extra oil, the oil and cornstarch coating on the tofu will be enough to get it golden brown.
Fry for about 5 minutes on each side over high heat, until crispy.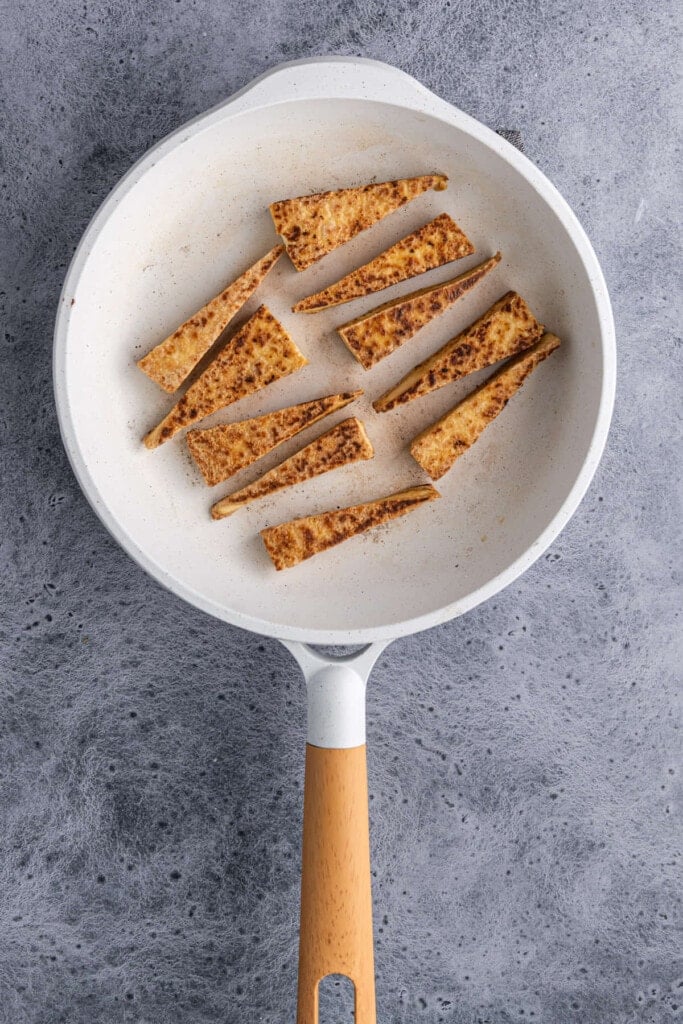 Meanwhile, Make Your Sticky Orange Sauce
---
Make Your Cornstarch Slurry
In order to get that thick and sticky sauce, you'll need a thickener. In this case, we are using a cornstarch "slurry" to get the perfect consistency for our sauce.
Start your sauce by stirring 1 teaspoon of cornstarch into 2 teaspoons of water and set aside for later use.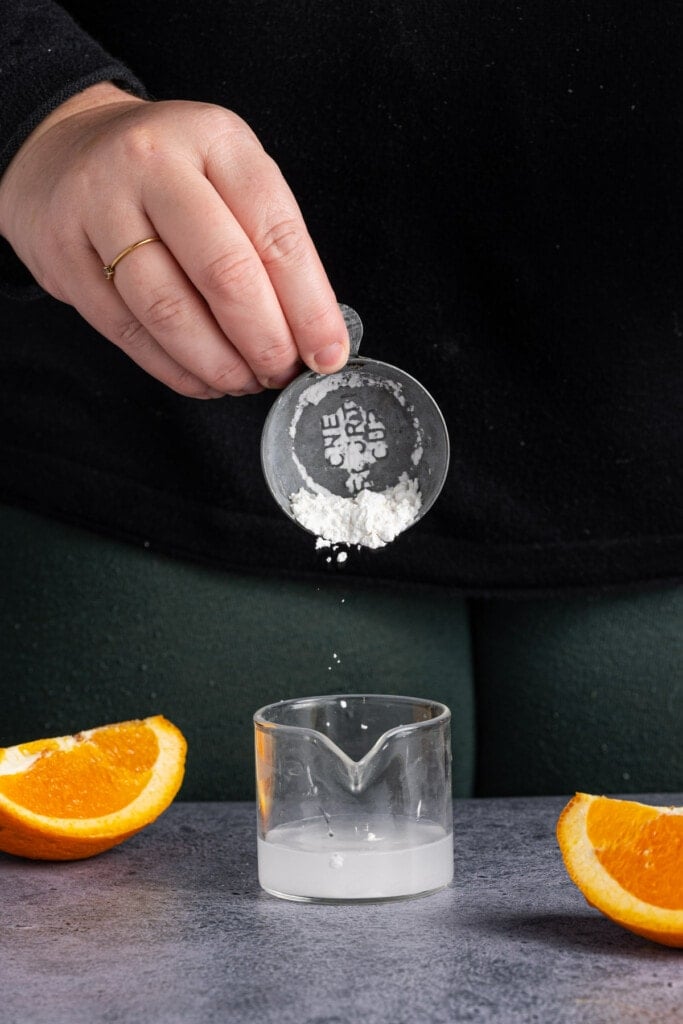 Use a Fresh Orange
This sauce recipe calls for 1/4 cup of orange juice, which is typically the amount of juice you extract from 1/2 of a fresh orange.
Use a freshly squeezed orange rather than buying orange juice. Any additives like sugar and preservatives will change the flavor of the sauce.
Fresh citrus goes a long way in making this zesty and subtly sweet sauce just right.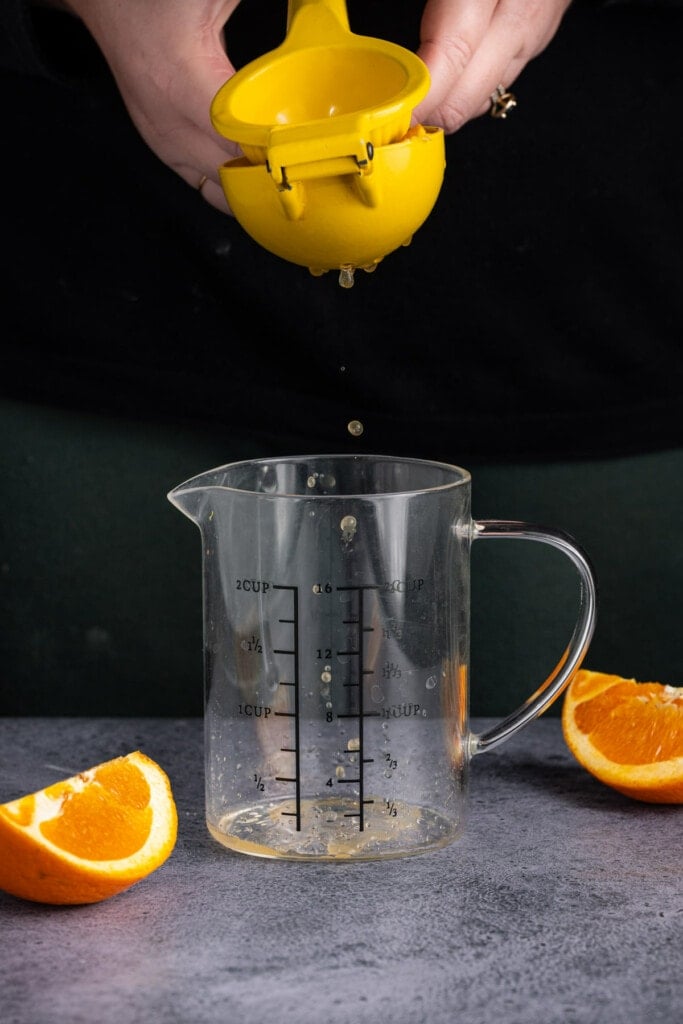 Boil Your Sauce
Bring the garlic, orange juice, Tamari, rice vinegar, honey, and ground ginger to a boil in a small saucepan over medium heat.
Once the sauce starts to boil, add your cornstarch slurry that you made earlier. As you continue to heat, the cornstarch slurry will thicken your sauce.
Continue to stir occasionally, monitoring the consistency of the sauce. Once it's thick and sticky, remove it from heat.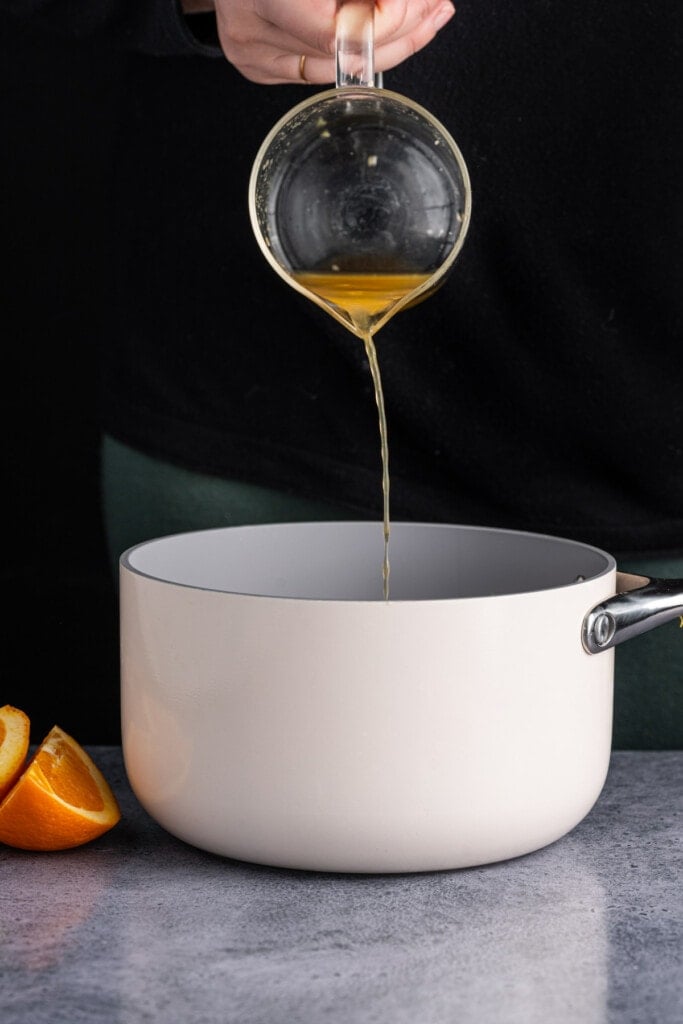 Toss the Tofu in the Sauce
Add your crispy tofu to a large mixing bowl. Pour the sauce over the tofu and toss to coat.
It's best to not add the sauce until you are ready to eat it. The longer the tofu sits in the sauce, the more likely it is to start to get soggy.
So, when you're ready to eat, toss it in the sauce and then serve immediately.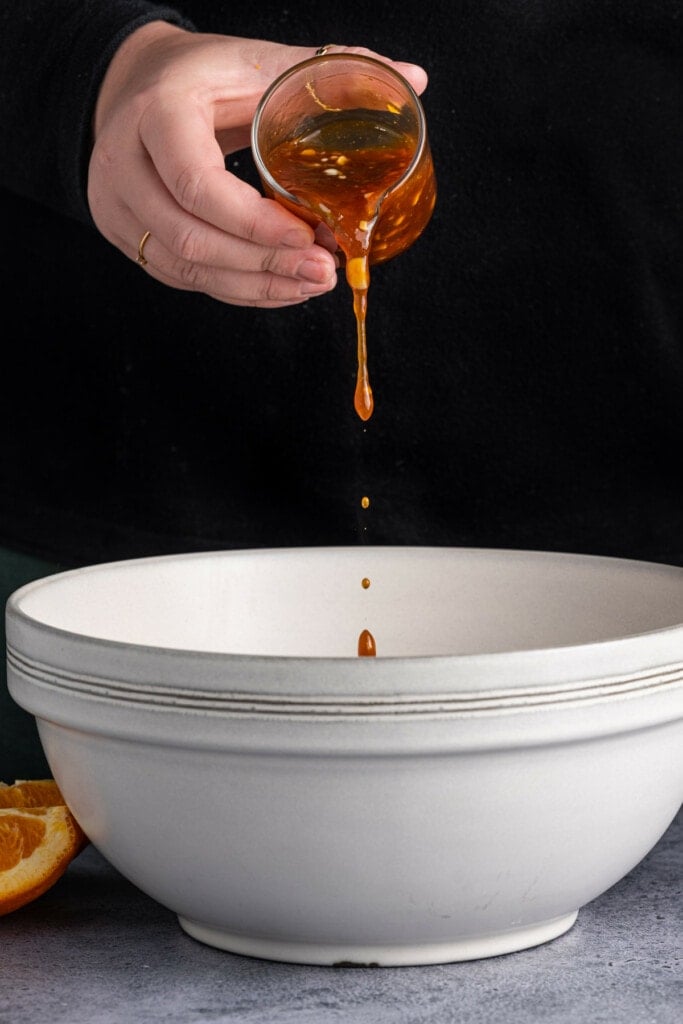 Properly Storing and Reheating Orange Tofu
This Orange Tofu will last up to one week in an airtight container in the refrigerator. You can also opt to freeze it for up to 3 months.
To reheat, preheat your oven to 350°F and place the orange-glazed tofu on a baking sheet lined with parchment paper or a reusable baking mat (use a reusable mat to reduce your waste!) for about 10 minutes or until thoroughly heated.
You can also air fry it at 375°F for 3-5 minutes.
Green tip: Did you know that 50% of food waste happens at home? Reduce your contribution to food waste by properly storing and reheating your leftovers to enjoy!
Serving Your Sticky Orange Tofu
This Sticky Orang Tofu is super flavorful, and pairs really well with white rice or lo mein.
It's also delicious with these Vegetarian Spring Rolls or this Mushroom Fried Rice.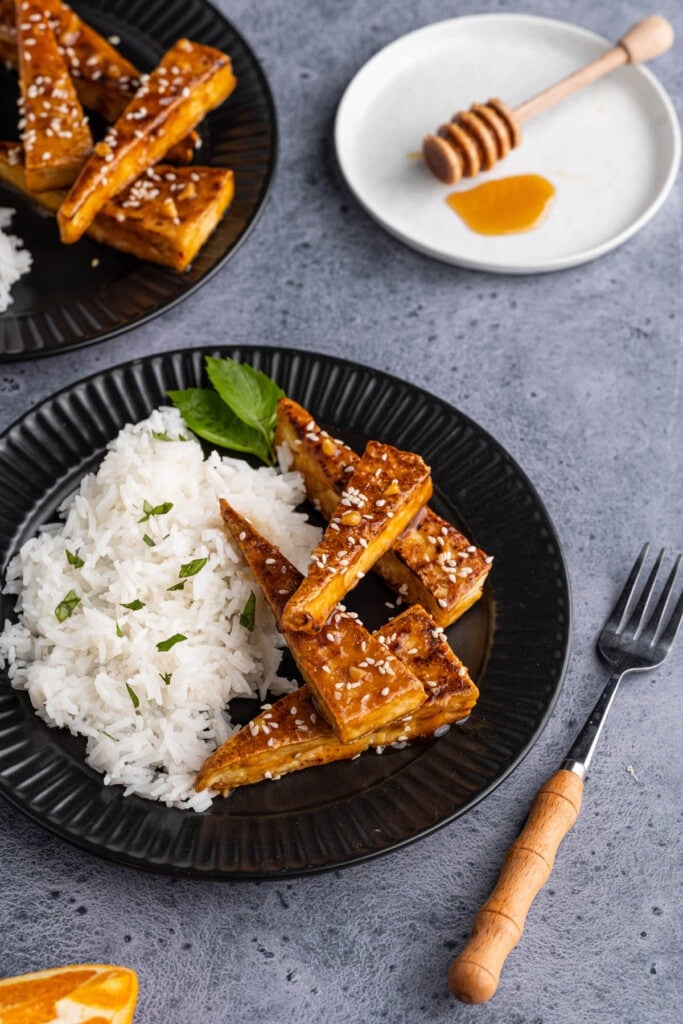 Orange Tofu Frequently Asked Questions
---
What is orange tofu made of?
Orange tofu is made up of crispy orange tofu glazed in a sticky, orange-infused sauce. The sauce typically uses a blend of Tamari or soy sauce, rice vinegar, freshly squeezed orange juice, and a blend of other spices and flavor-enhancers.
How do you know when tofu is cooked?
Tofu is safe to eat raw, so there's nothing to fear in terms of eating undercooked tofu. That being said, tofu tastes best when it's nice and crispy.
You'll know your tofu is cooked when it has a golden-brown and crispy outer layer.
Want to sharpen your kitchen skills?
Why You Should Make This 30-Minute Sticky Orange Tofu
---
It's salty and sweet.

The fresh juice from the orange shines and partners beautifully with the salty Tamari.

It's quick. A thirty-minute meal! Enough said.
It's the perfect introduction to tofu. The most common reasons people don't like tofu are its spongy texture and its boring blandness. With this Sticky Orange Tofu, you'll get none of that!
If you're loving this Sticky Orange Tofu and want more delicious tofu dishes, check out this 5-Ingredient Buffalo Tofu and Crispy BBQ Tofu Sandwich.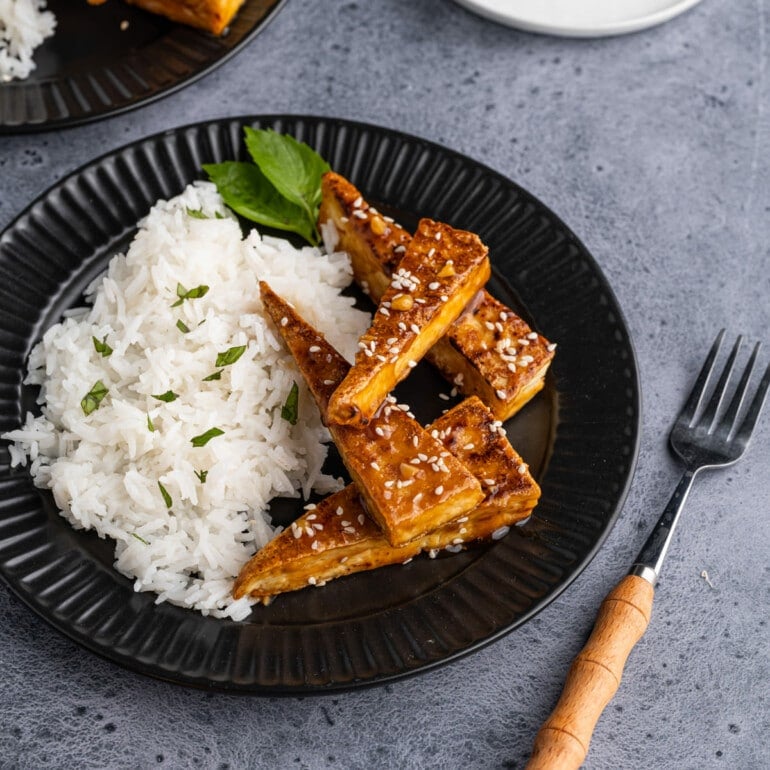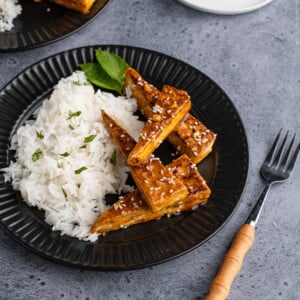 Healthy Sticky Orange Tofu
PRINT
PIN
RATE
This Sticky Orange Tofu is fried to a crispy golden brown and topped with a sweet, sticky sauce, making it the perfect light and nutritious accompaniment to rice or noodles.
Ingredients
Crispy Tofu
14

ounces

extra firm tofu

1

tablespoon

olive oil

1

teaspoon

cornstarch
Sticky Orange Sauce
1

teaspoon

cornstarch

2

teaspoons

water

2

cloves

garlic

¼

cup

fresh-squeezed orange juice

(juice of ½ orange = approx. ¼ cup juice)

2

tablespoons

tamari

(or 1 tablespoon + 1 teaspoon soy sauce)

1

tablespoon

rice vinegar

2

tablespoons

honey

(or agave nectar)

¼

teaspoon

ground ginger

½

teaspoon

sesame seeds for garnish

(optional)
Instructions
Crispy Tofu
Drain and press your tofu. Either use a tofu press or place it between two clean kitchen towels and place something heavy (I use a wooden box!) on top of your tofu and press for at least 5 minutes.

Once most of the liquid is drained from your tofu, cut it in half lengthwise. Then, you can choose to either cube the tofu or cut it into triangles as pictured.

Coat your tofu pieces in olive oil (I like to use a pastry brush for even coating), then sprinkle cornstarch on both sides.

Get a large frying pan hot before carefully placing your tofu flat on the pan to fry. Allow your tofu to cook until golden brown on both sides (about 3-5 minutes on each side).
Sticky Orange Sauce
In the meantime, stir 1 teaspoon of cornstarch into 2 teaspoons of water to form a slurry and set aside.

Dice your garlic and add it to a small saucepan over medium heat with orange juice, tamari, vinegar, honey, and ground ginger. Bring your sauce up to a boil and stir in the cornstarch slurry. Simmer until thickened, stirring occasionally (cornstarch will start to thicken sauce once it reaches 295°F).

When you're ready to serve, add the crispy tofu to a large mixing bowl and pour the sauce overtop. Toss to coat. Garnish with sesame seeds (optional) and serve hot.
Pro Tips
Don't rush your tofu pressing process.
Make sure to get your pan hot before adding your tofu.
Only add your sauce just before serving to make sure you keep your tofu crispy.
Find more delicious meat-free recipes in this collection of my best meatless meals!
For more tofu-based recipes, check out this round-up of my best tofu recipes.
Did you make this recipe?
Let me know by leaving a recipe rating below, or by tagging @marleysmenu on Instagram.