Looking for a quick and healthy breakfast on-the-go? Meal prep for your work week with these little make-ahead Healthy Whole Wheat Mini Veggie Quiches.
How to Make Whole Wheat Mini Veggie Quiches
---
Be Prepared
Warm up that oven, wash, dry, and chop up your veg, and line or grease your muffin tin. After several years of chaos in the kitchen, prep has become my very best friend.
Fork Out the Dough
The foundation of any good quiche is a flaky dough. This recipe has a nice, sturdy and nutritious whole wheat dough base that's been simplified as much as possible.
It's free of butter and sugar and comes together quickly. Whip it up first and press it into a lined or sprayed muffin tin. Lining it is easiest for grab-and-go!
Make sure the water you use is cold. It doesn't have to be freezing, just cold from the tap will do it! Mixing your ingredients with clean hands is the easiest (and let's face it—most fun) way to make your dough come together.
Getting that crispy, flaky crust is best, so we will blind bake these first! That just means we will throw them in the oven with no filling for a quick ten minutes.
Choose Your Veggies
This recipe is awesome for those clean-out-the-fridge days because EVERY veggie is welcome. Yes, cucumbers, peppers, tomatoes, and eggplant, you can all sit with us.
But if your planning on making these pop-in-your-mouth delicacies with an empty fridge and are shopping for veggies, try grabbing produce that's in-season. To find out what's in season near you, check out this Seasonal Food Guide.
Green Tip: Eating seasonally is one of the best (and most delicious) ways to support local and decrease your carbon footprint. Local foods have less associated transportation costs and fuel emissions. Simply put, eating seasonally = less environmental impact.
All Your Eggs in (Six Little) Baskets
Whip up your eggs first, before pouring them on top of your veggies and quick dough. If you're making more than 6, just up your egg count. One per little muffin cup should do it.
What's Better Than Cheddar?
Okay, time for my favorite part! Sprinkle that cheese on top of your dough, veggies, and eggs! A handful per mini quiche will do!
I use cheddar because I love how salty it is. I also find it's just an easy flavor that works with, well, in this cheese-a-holics opinion, any and everything!
But if you have other cheese in the fridge, go for it! I've made these with Mozzarella, Colby, and Monterey Jack, and they've all been successful.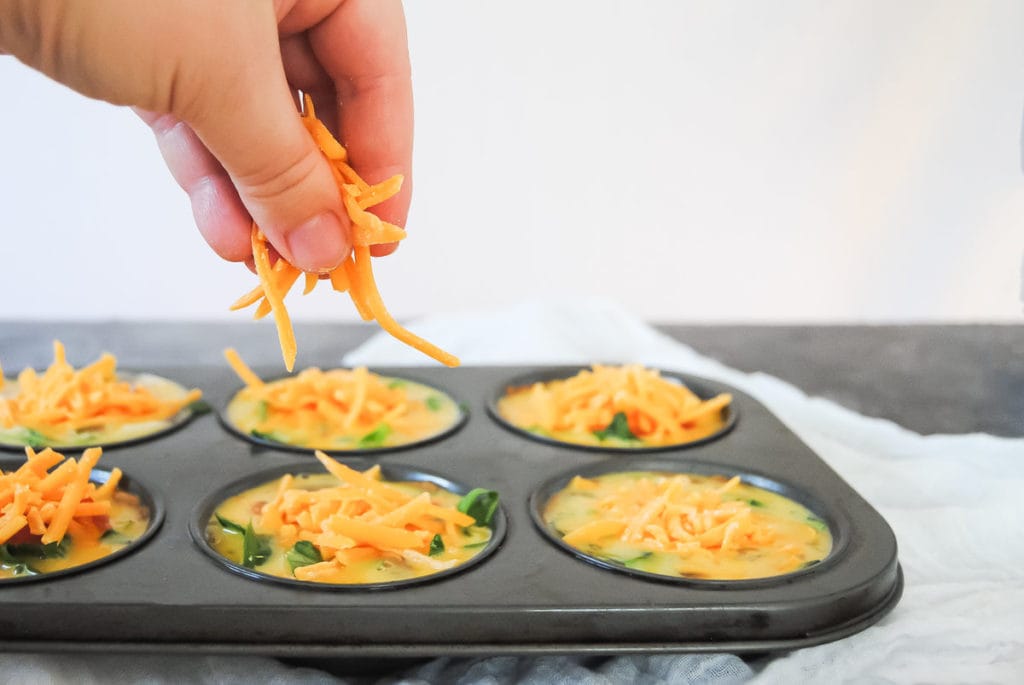 Time For The Oven!
My oven cooks these perfectly at 350 degrees Fahrenheit in just 30 minutes. I know they're ready because if I shake the muffin tin, I get no wobble. Just a bouncy, fragrant mini quiche.
If you're unsure, stick a toothpick in. If it comes out clean, your mini quiches are cooked all the way through!
Reheating these Bad Boys
I've said it several times—these are PERFECT for grab-n-go. So if you made these for meal prep, how do you re-heat them? Only the easiest way EVER. Throw them in the microwave!
These will last for about 5 days in the refrigerator. From there, these should be ready in the microwave on high in just about 30 seconds. Everyone's microwave is different, so just make sure they're warm all the way through.
These quiches will last up to 3 months in the freezer. So if you're reheating them from frozen, they'll usually need about 1.5 – 2 minutes in the microwave. Or better yet, transfer them to the refrigerator the night before to thaw them out. Then, 30 seconds is all you need!
---
Why You Should Make These Whole Wheat Mini Veggie Quiches
---
They make mornings easy. Make 'em Sunday afternoon and heat one up every morning before work (that is, if you can resist eating them all while they're hot n' fresh).
They're healthy. Packed with protein, veggies, and whole grains.
They're versatile. Chuck your favorite seasonal veggies in. You really can't go wrong with this one-size-fits-all recipe!
The cheese. Do I really have to elaborate here? 😂
Loving these Whole Wheat Mini Veggie Quiches and looking for other nutrient-packed breakfast ideas? Check out this list of Avocado Toasts with a twist and these Whole Wheat Pancakes!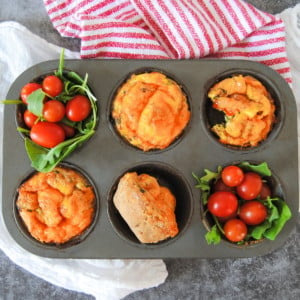 Healthy Whole Wheat Mini Veggie Quiches
PRINT
PIN
RATE
These make-ahead Healthy Whole Wheat Mini Veggie Quiches are the most delicious (and easiest) way to start your day. Grab one on-the-go and put your best foot forward!
Ingredients
¾

cup

whole wheat flour

¼

cup

olive oil

½

teaspoon

salt

¼

cup

cold water

1

cup

chopped vegetables of choice

6

eggs

1

cup

cheddar cheese, shredded

salt and pepper to taste
Instructions
Preheat your oven to 350°F. Wash and cut your veggies and line or grease a large muffin tin.

Add flour, olive oil, 1/2 teaspoon salt, and 1/4 cup cold water to a large mixing bowl and use your hands to work ingredients into a dough.

Using about 1 tablespoon at a time, push the dough into your muffin tin until its evenly spread around the bottom and sides to form a little cup. Repeat until you have all 6 bases formed for your quiches. Blind bake just the dough for 10 minutes.

In a separate medium-sized mixing bowl, whisk eggs with a crack of salt and pepper until smooth.

Remove your dough from the oven, and fill it with your chopped vegetables—be careful! It's hot!

Pour beaten eggs into each dough base on top of the chopped vegetables until filled to the top.

Grab a handful of cheese and sprinkle on top of each mini quiche.

Bake at 350°F for 30 minutes or until a toothpick comes out clean. Enjoy hot and fresh or individually wrap and keep in the fridge for up to 5 days or freezer for up to 3 months. Reheat in the microwave—30 seconds from the refrigerator or 2 minutes if frozen.
Pro Tips
These mini quiches taste great with all kinds of vegetables! The quiches pictured have baby tomatoes and arugula, which are currently in season where I live. Try something seasonal to you, or whatever you have in the fridge!
Lining the muffin tin makes these perfect for grab-and-go.
Did you make this recipe?
Let me know by leaving a recipe rating below, or by tagging @marleysmenu on Instagram.