Looking for a hearty and nutritious meal that's packed with protein and flavor? This vibrant Honey Dijon Salmon Quinoa Bowl is absolutely loaded with flavor between the roasted veggies and salmon and zingy marinade and finishing sauce.
Between all of the nutrient-dense and high protein ingredients, this delectable quinoa bowl will keep you satisfied for hours. Plus, it comes together in just 35 minutes!
In this recipe, you will learn how to make fluffy and extra-flavorful quinoa (using the same technique I use in this Quinoa Breakfast Bowl). You'll also learn how to cube salmon and roast it in the oven with asparagus and red onion, all on one sheet pan!
And the bonus? This recipe includes a Honey Dijon Sauce recipe that you can use over and over for marinading fish and veggies or pouring over salads or other roasted vegetables.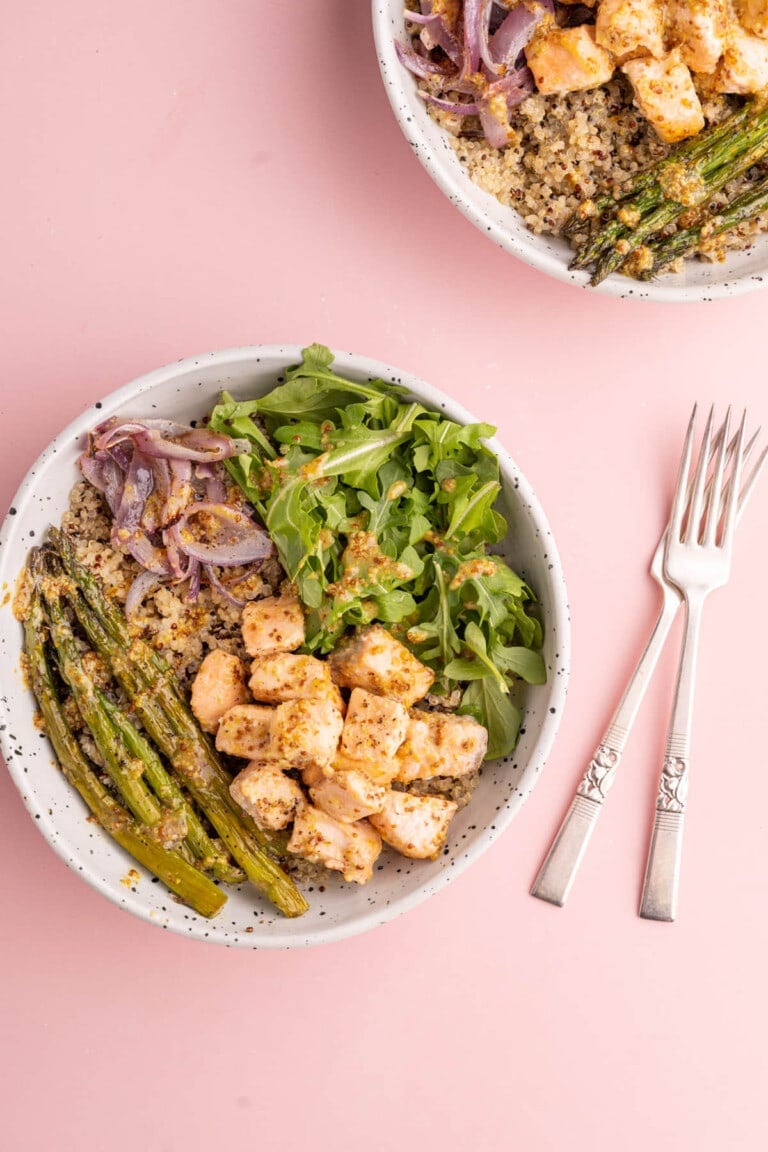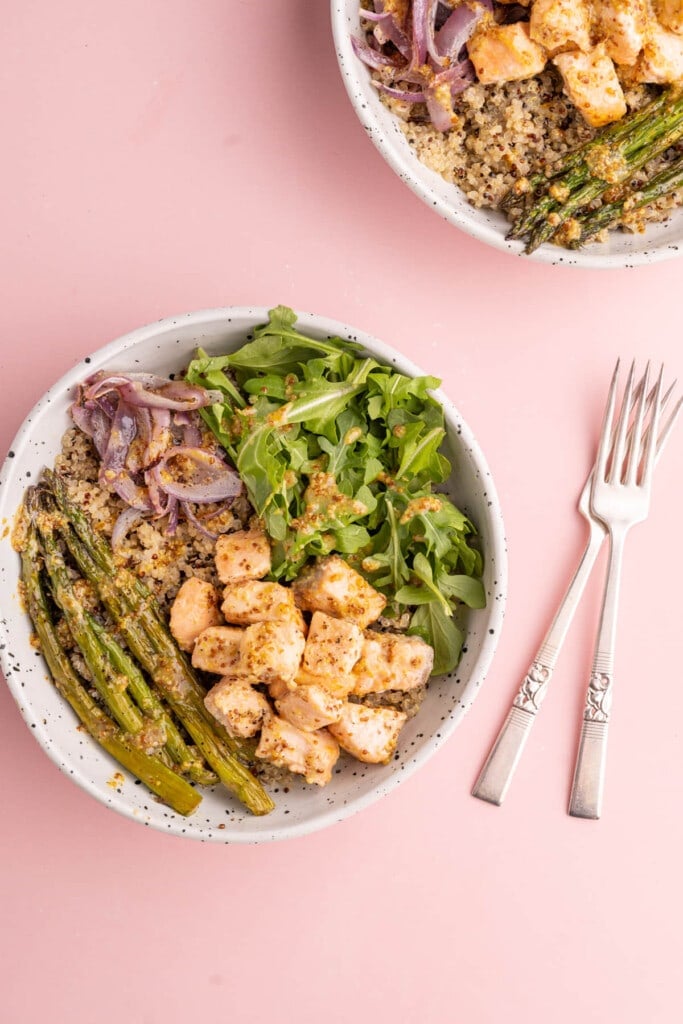 Honey Dijon Salmon Quinoa Bowl Ingredients
---
Here's everything you need:
Quinoa. You can use white, red, black, or tricolor quinoa.
Vegetable broth. To cook the quinoa in to add more flavor. You can opt to cook it in water if you don't have broth or for a lower sodium option.
Salmon. You can buy it skinless, or you can remove the skin. You can use fresh or frozen, but if you're using frozen, make sure it's completely thawed.
Asparagus. One bunch is usually roughly 1 pound or 16 ounces, so you'll only need about 1/2 a bunch. Make sure to snap off the ends.
Red onion. One half of an onion is plenty to make 2 generous servings.
Olive oil, salt, & pepper. To roast the asparagus and onion in.
Honey, Dijon Mustard, and lemon juice. To whip up a delicious honey Dijon sauce that will be used both to dress your bowl and to marinate the salmon in.
Leafy greens. Like arugula, spinach, or spring mix, to add some crisp freshness to your bowl.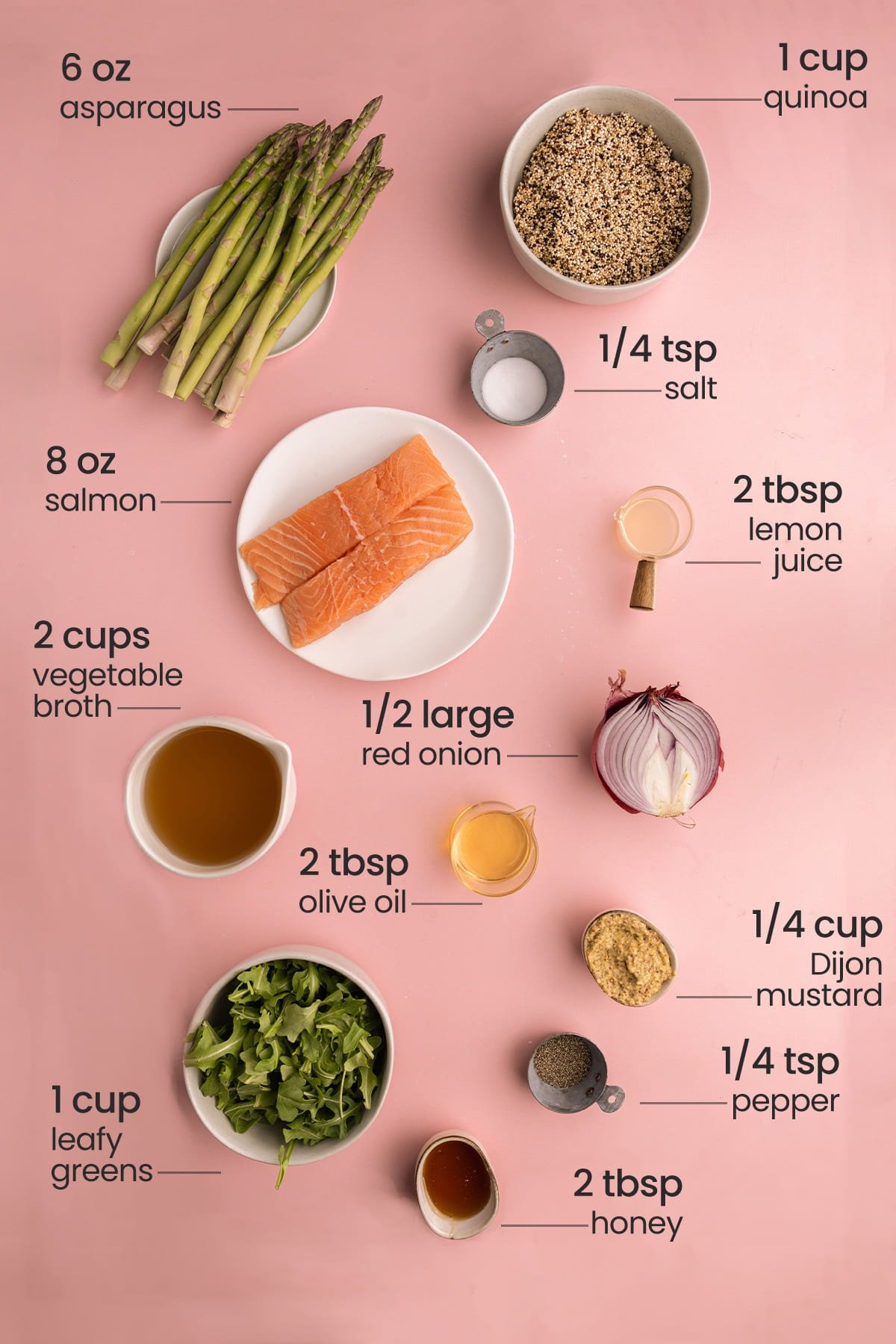 Quinoa Bowl with Salmon Substitutions and Variations
If you would like to replace the salmon with another type of fish, you certainly can. Just note that it may cook at a different rate than the salmon. Understand your ideal internal temperatures for each fish and monitor the temperature of your fish as it cooks.
If you don't have some of the ingredients, or want to switch it up, here are some options for you that can be roasted with the asparagus and red onion or in place of the asparagus and/or red onion:
Chickpeas
Broccoli or broccolini
Cauliflower
Mushrooms
Shallots
Brussels sprouts
Corn
Sustainable Seafood
Unless salmon farming is done with extreme care, it poses several risks to our environment. The antibiotics used by salmon farms can leach into the surrounding environment.
Plus, other wild fish has to be harvested at an excessive rate in order to feed the farmed salmon, leading to the depletion of their populations.
On the other hand, wild-caught salmon poses different, but equally as damaging risks, including overfishing and bycatch. Additionally, there are often issues with access to and availability of wild caught salmon.
So then how do we source salmon sustainably? Well, we have two options: sustainably farmed salmon, or wild-caught Alaskan salmon.
Green tip: Look for Marine Stewardship Council and Friend of the Sea labels on your fish to ensure they were harvested sustainably.
Quinoa Bowl with Salmon Tips and Tricks
---
How to Add Flavor to Your Quinoa
It's always best to rinse your quinoa before cooking it. This will not only clean it, but also rinse off the saponin, a naturally occurring insect repelling chemical, which can give your quinoa a bitter taste. I just use a sieve to run clean water over the quinoa.
Once rinsed, add your quinoa to a medium-sized pot with the vegetable broth. Alternatively, you can opt to cook your quinoa in water, but cooking it in vegetable broth will infuse tons of delicious flavor!
For the fluffiest results, bring the quinoa and veggie broth to a boil. Then, turn the heat all the way down to low and cover your pot. Allow it to simmer for 15 minutes covered.
Next, remove the pot from the heat and allow it to sit for an additional 10 minutes, still covered.
Finally, fluff the cooked quinoa with a fork before serving it. Simply use your fork to gently lift from the bottom of the pot in an upward motion to fluff it.
Green tip: Organic farms rely on biodiversity to generate rich soil, avoiding the use of pesticides and fertilizers, which means no toxic runoff. Consider organic ingredients for this recipe!
How to Prep Asparagus
Before cooking the asparagus, clean it by rinsing or soaking it in water. Since the tips of the asparagus have little nooks and crannies, soaking it is the best way to guarantee you will get all the dirt and grit out.
Asparagus is notorious for having "woody" ends that are very tough to chew. You'll definitely want to break those ends off before roasting the asparagus.
But don't throw out those asparagus ends! You can easily save them in the freezer along with other veggie scraps to make your own vegetable broth or compost them.
The easiest way to remove the ends is by simply snapping them off. Just hold a handful of asparagus with two clean hands and break them into two pieces. The asparagus will naturally snap at the point where the ends start to get woody.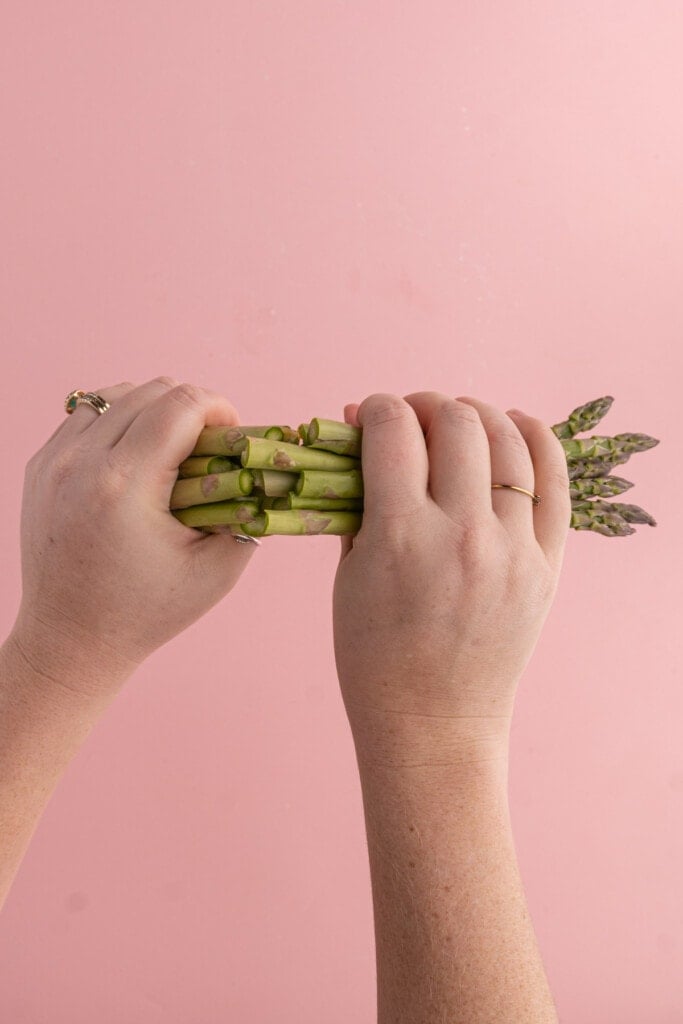 How to Prep a Red Onion
Just one half of a red onion is plenty to make two generous-sized portioned salmon quinoa bowls. Cut your onion in half first. Then, cut off both ends. This should make it easy to peel off the papery outer layer of the onion.
From there, you can lay your onion flat on the chopping board and slice it into thin segments. Once your onion is sliced thin, you can use your hands to pull apart the layers of the onion.
If you find any translucent, paper-thin pieces during this pull-apart process, you can just discard them. They can be composted with the ends and peels of the onion.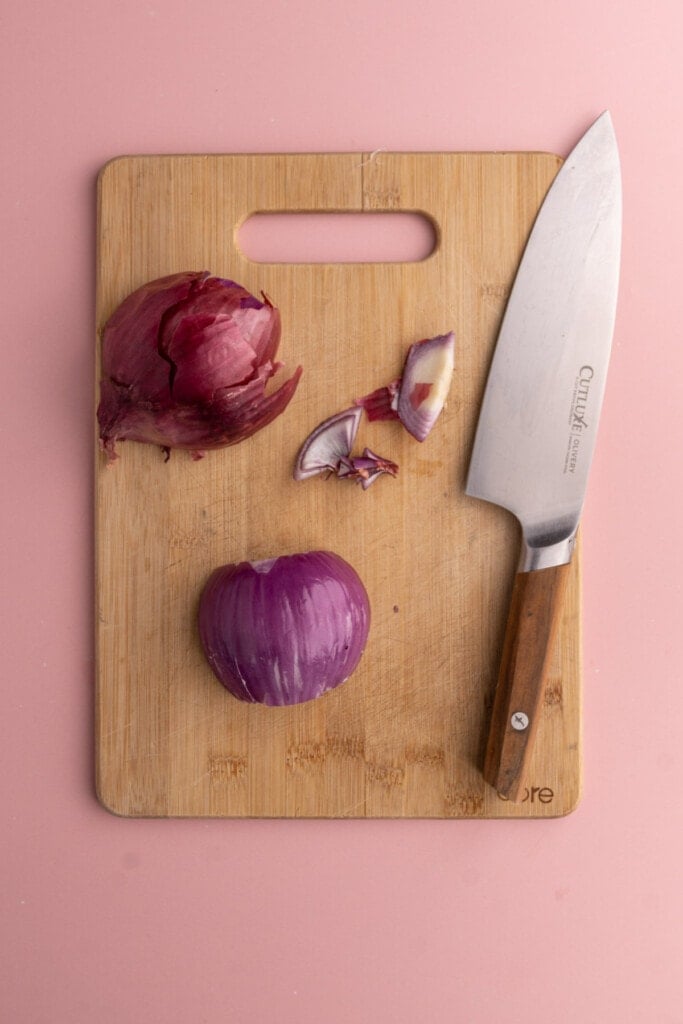 How to Cube Salmon
If your salmon has skin on it, you'll need to remove it! This video on How to Skin a Salmon is very helpful if you're not quite sure how. Next, use a paper towel to pat dry the salmon to absorb any excess moisture.
Green tip: Paper products contribute to deforestation. Consider these bamboo paper towels! Bamboo naturally regenerates every few months, whereas trees cannot regrow once harvested.
Once you are left with the skinless, pat-dried salmon, use a sharp knife to slice it into bite-sized cubes. They should be about 1 cubic inch in size.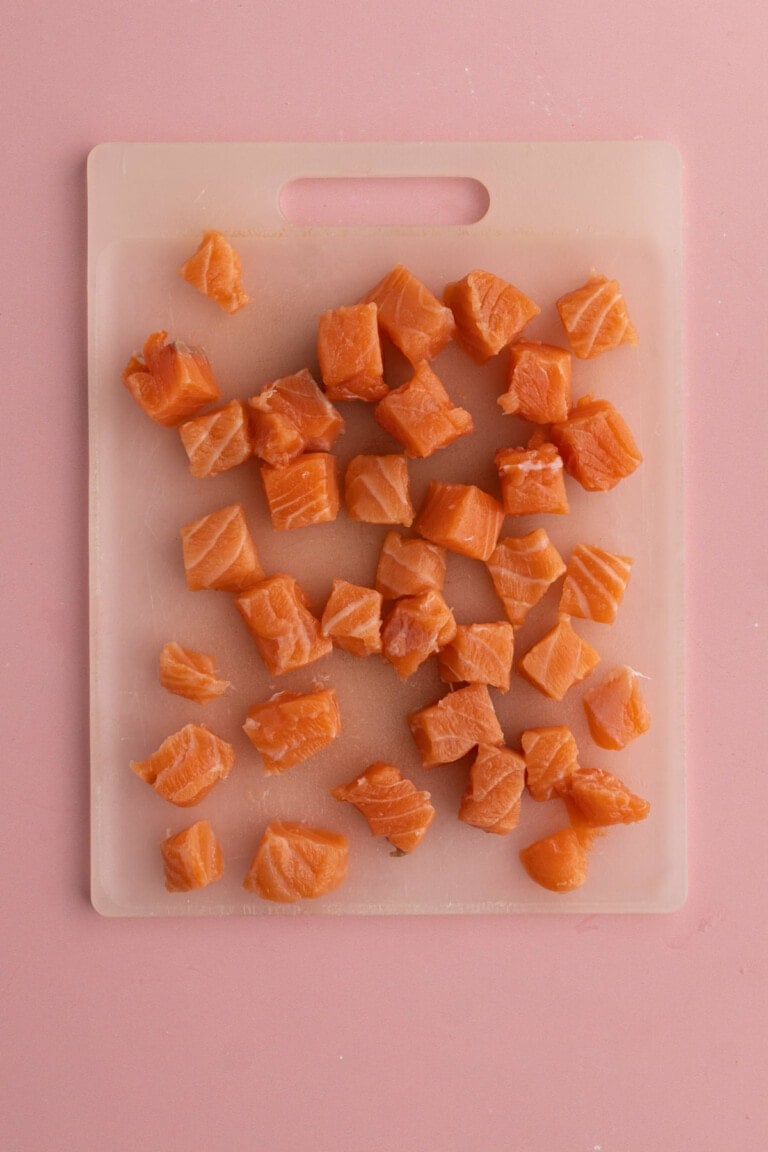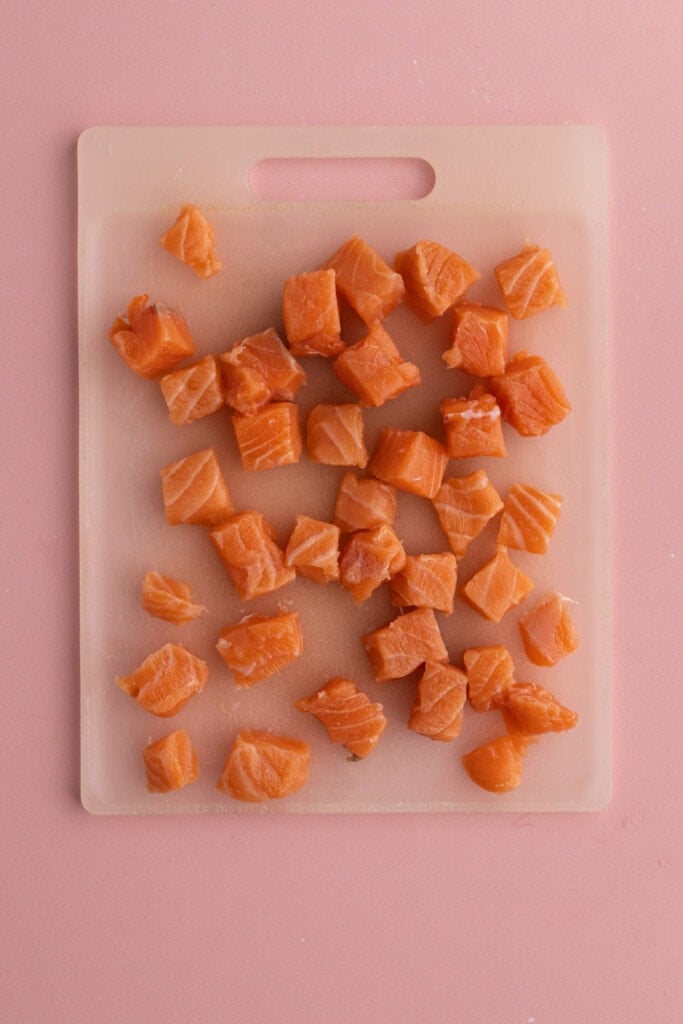 How to Make Honey Dijon Marinade
You will whip up a 3-ingredient honey Dijon sauce that is used both to marinate the salmon and as a finishing sauce to dress your salmon quinoa bowl.
My favorite way to mix it up is by shaking it in a small glass jar with a lid. Alternatively, you can mix it up in a bowl.
Either way, add the Dijon mustard, honey, and lemon juice all together and mix until it's well-combined. It should yield roughly 1/2 cup of honey Dijon sauce.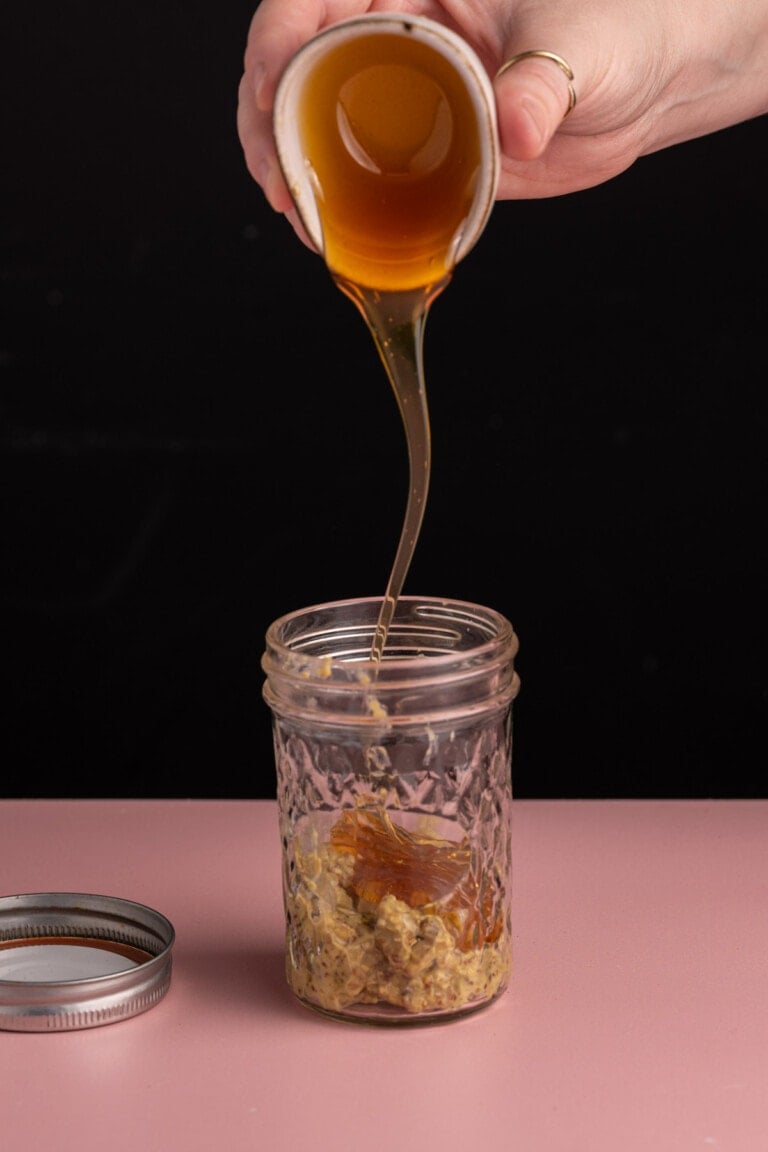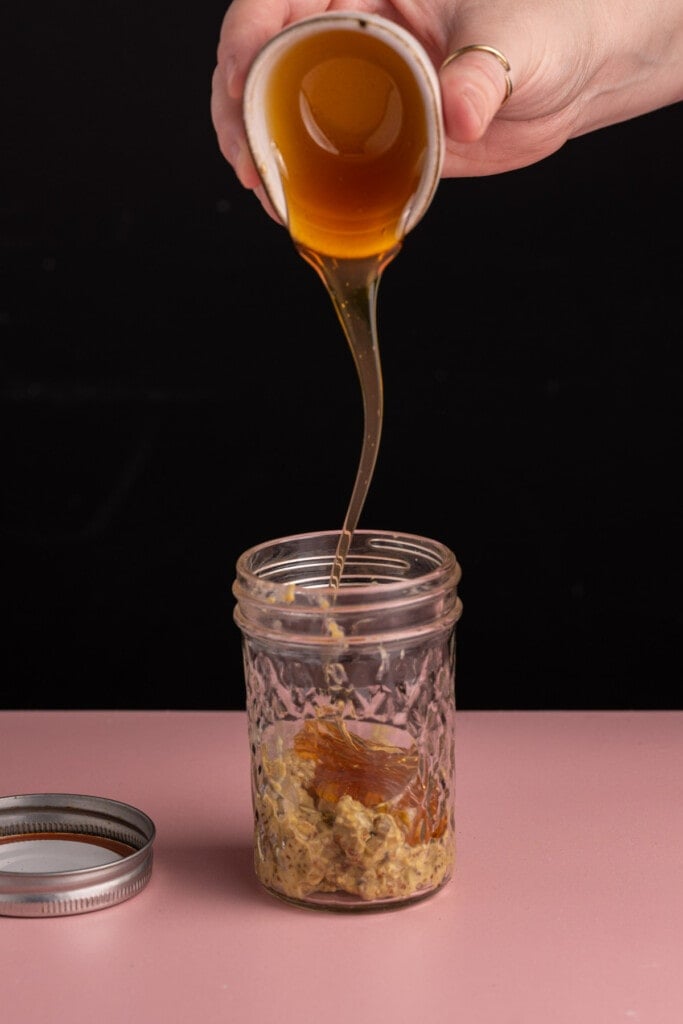 Allow Your Salmon to Marinade
Add your cubed salmon to a bowl and pour roughly half of the honey Dijon sauce (about 1/4 cup) over top. Give it a quick stir to coat all of the salmon and then set it aside.
The salmon will marinate for about 10 minutes while you pre-roast your onion and asparagus.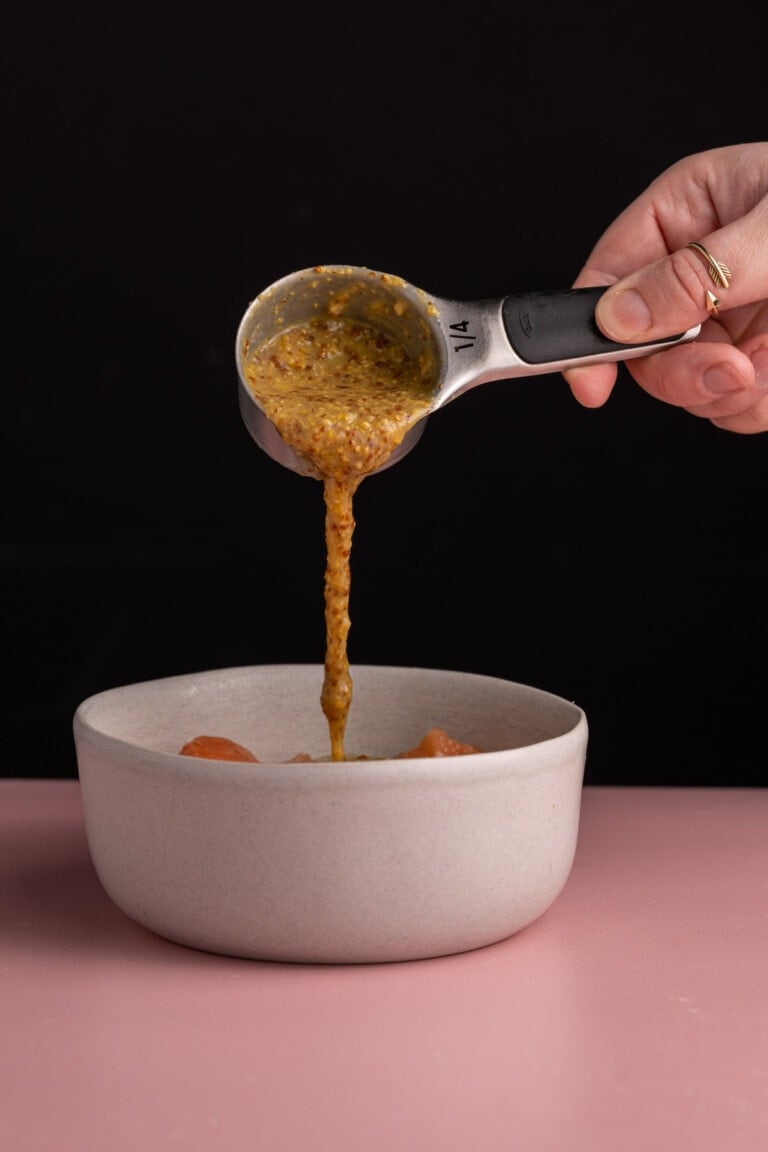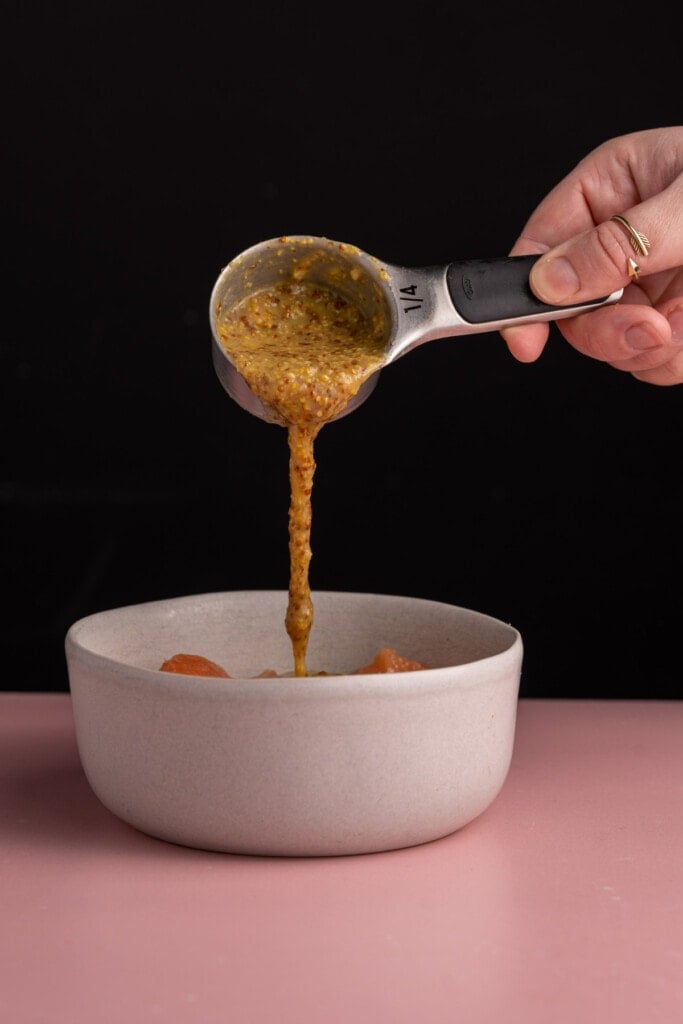 How to Roast Asparagus and Red Onion
Once your asparagus and red onion are prepped, add them to a baking sheet with olive oil, salt, and pepper. Use clean hands or kitchen tongs to toss, coating the vegetables evenly with the oil and seasonings.
Spread the asparagus and red onion out in a single layer on the baking sheet, so that no two pieces are layered over top of one another.
Then, roast them on the top rack of the oven (preheated to 400°F) for 10 minutes.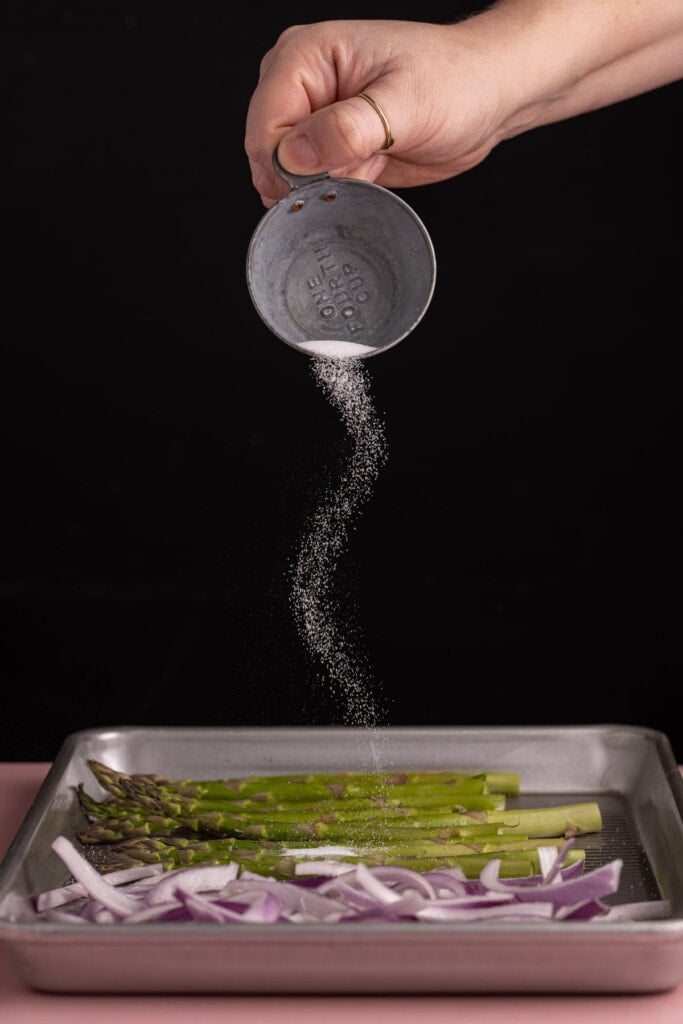 Roasting Cubed Salmon
After 10 minutes, remove the baking sheet from the oven and add the salmon with the marinate. Make sure no two pieces are stacked on top of one another.
Then, put the sheet back in the oven and roast for an additional 7-8 minutes until the salmon is cooked through. The ideal internal temperature of salmon is 125°F.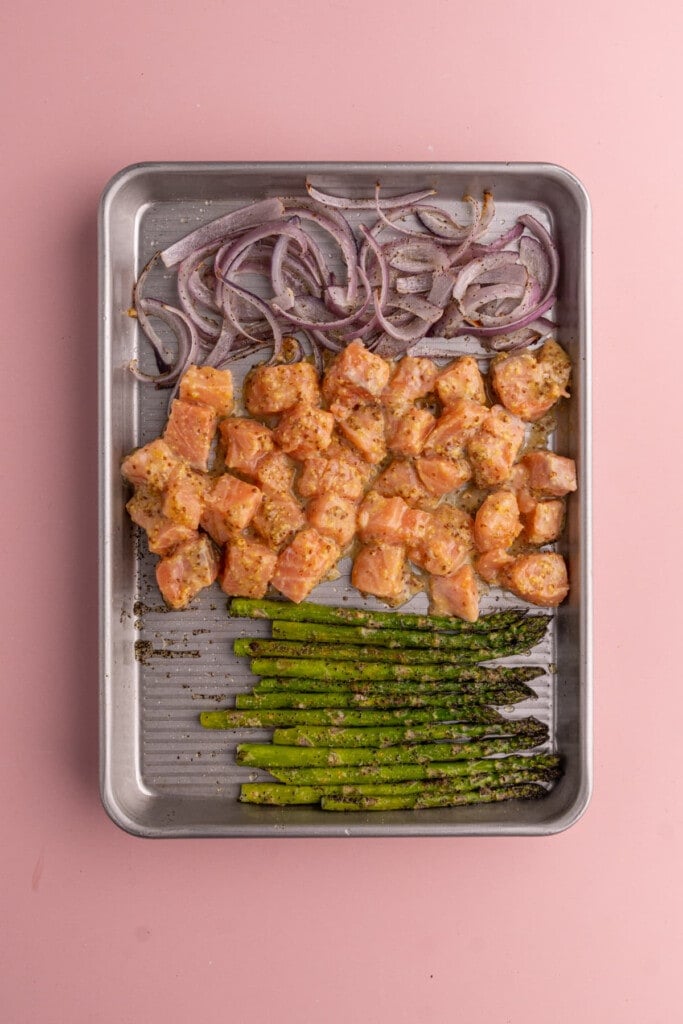 Assemble Your Honey Dijon Salmon Bowl
Next, assemble your Salmon Quinoa Bowls. Start with the quinoa and layer on the fresh greens, roasted red onion, roasted asparagus, and honey Dijon salmon.
Then, finish off your quinoa bowl with the extra sauce.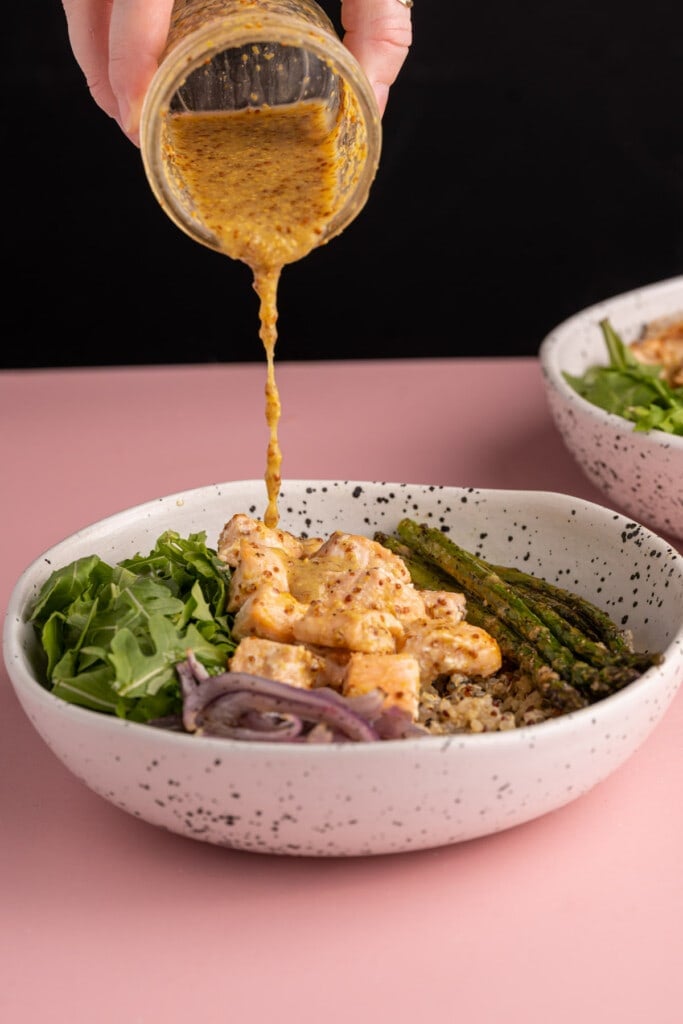 Should You Have Leftovers
If you have leftovers of your assembled salmon quinoa bowl, store it in an airtight container in the refrigerator for up to 5 days. You can enjoy it cold or reheat it in the microwave until thoroughly heated.
If you have leftover elements, you can store them, reheat them, and use them for other dishes.
Leftover roasted asparagus and red onion will last in the refrigerator for 3-5 days in an airtight container. They are best reheated in the oven. Preheat your oven to 350°F and spread them out on a baking tray. No need to add any additional oil or seasoning.
Heat the leftover roasted vegetables in the oven for 10-15 minutes until heated through.
Leftover quinoa can be reheated in the microwave, covered, on high for about 3-4 minutes, until nice and hot. Quinoa itself stays fresh in the refrigerator for about 5 days and can be frozen for up to 6 months.
You can add 1-2 minutes of reheating time for the microwave if the quinoa is frozen, or you can thaw it in the refrigerator overnight before reheating it.
If you have leftover salmon, it will last in an airtight container in the fridge for 3-4 days. Leftover salmon is best reheated in the oven at 275°F. The amount of time will depend on how much salmon you have, but typically anywhere from 8-15 minutes.
Whether you are reheating the salmon in the quinoa bowl or on its own, make sure your leftover salmon is heated thoroughly and reaches an internal temperature of at least 125°F.
Green tip: Did you know that of the billions of pounds of food wasted annually, it is estimated that 50% of it happens in our homes? Properly storing, reheating, and enjoying your leftovers is a great way to limit your contribution to food waste.
Salmon Quinoa Bowl Frequently Asked Questions
---
What goes on quinoa?
Quinoa is a mildly flavored grain, making it very versatile. It pairs well with a variety of different foods. You'll often find quinoa added to chili or working as the base to a bowl like this Honey Dijon Salmon Quinoa Bowl.
Quinoa pairs well with roasted vegetables, all kinds of beans, and is also a great additive to any salad, like in this Quinoa Arugula Salad.
It can also be used to replace rice, for a higher-protein option, in any way you might typically use it.
What do you eat salmon with?
Salmon is a boldy-flavored fish with tons of nutritional value, making it a great protein option for any dish. You can serve salmon with sides like these Sautéed Broccolini and Mushrooms and these Boursin Mashed Potatoes.
You can also serve it over a quinoa bowl with other roasted veggies or in a salmon pasta recipe! It's even delicious in tacos, like in these Salmon Tacos with Greek Yogurt Sauce.
Want to sharpen your kitchen skills?
Why You Should Make this Honey Dijon Salmon Quinoa Bowl
---
It's filling. Its packed with protein and fiber!
It's nutritious. Each element of this dish brings nutritional value in its own right.
It's flavorful. With each ingredient having tons of natural flavor on its own, this quinoa bowl is only elevated by the delicious honey Dijon sauce.
If you're loving this Honey Dijon Salmon Quinoa Bowl and are looking for similar recipes, check out this Sweet Potato Quinoa Bowl with Avocado Crema and Vegan Quinoa Bowl with Buffalo Tempeh.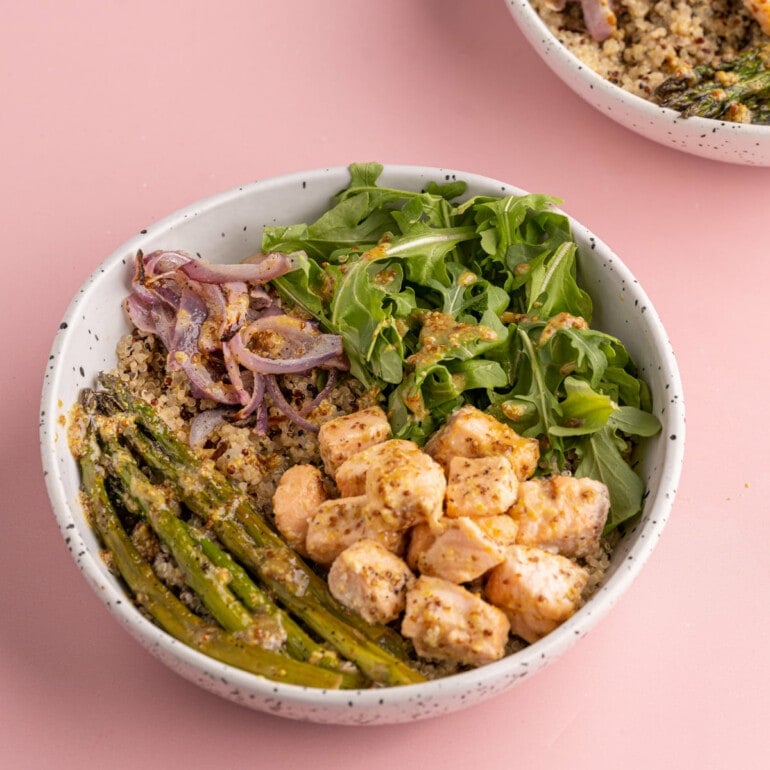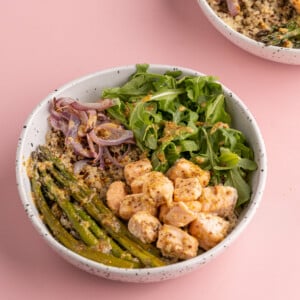 Honey Dijon Salmon Quinoa Bowl
PRINT
PIN
RATE
This hearty and healthful Salmon Quinoa Bowl is bursting with vibrant flavor, especially from the easy honey Dijon sauce.
Ingredients
1

cup

quinoa

2

cups

vegetable broth

8

ounces

salmon

(skinless)

¼

cup

Dijon mustard

2

tablespoons

lemon juice

(1 lemon = approx. 4 tablespoons juice)

2

tablespoons

honey

½

large

red onion

8

ounces

asparagus

(1 bunch asparagus = approx. 16 ounces)

2

tablespoons

olive oil

¼

teaspoon

salt

¼

teaspoon

black pepper

1

cup

leafy greens like spinach, arugula, or spring mix
Instructions
Preheat the oven to 400°F.

Rinse quinoa with clean water in a sieve and add it to a medium pot with the vegetable broth. Bring to a boil, then reduce heat to low and cover. Cook for 15 minutes, then remove from heat and let sit, covered, for an additional 10 minutes.

Removing salmon skin if necessary and pat it dry with a paper towel. Then, slice it into bite-sized cubes, about 1 cubic inch in size and add the cubes to a small bowl.

In a small bowl or jar, mix together Dijon mustard, lemon juice, and honey to make a thick sauce. Pour ¼ cup of the sauce over the cubed salmon and set it aside to marinade. Save the rest of the sauce for later.

Peel and slice the onion and break the "woody" ends off the asparagus. Add the onion and asparagus to a large baking sheet with the olive oil, salt, and pepper. Toss to coat evenly.

Roast the onions and asparagus on the top rack of the oven for 10 minutes, then remove the baking sheet and add the salmon (and sauce that the salmon is marinading in). Make sure everything is spread out in a single layer.

Roast for another 7-8 minutes until the internal temperature of the salmon reaches 125°F.

Assemble your salmon quinoa bowl by serving up the quinoa first, adding the fresh greens, and then the roasted asparagus, onion, and salmon. Finish with the extra sauce and enjoy hot.
Pro Tips
You can opt to cut the asparagus into bite-sized pieces before assembling it for easier eating!
For a lower sodium option, or if you don't have any vegetable broth on hand, you can opt to make your quinoa in water instead. 
This is a great recipe to use leftover quinoa for as well! Just reheat your leftover quinoa (detailed instructions for reheating quinoa in post) and skip step 2.
For more recipes like this, check out this list of Quinoa Bowl Recipes. 
Did you make this recipe?
Let me know by leaving a recipe rating below, or by tagging @marleysmenu on Instagram.