* This article contains affiliate links *
Congratulations!
You're about to embark on the most important journey of your life, and you're making room for a world of change. If you're anything like me, designing the nursery can be really exciting—therapeutic, even.
Completing it made me feel super accomplished and was a turning point in my realization that I am ready to take on the incredible challenge of raising a sweet little boy.
While of course the nursery is a place where your baby will spend a lot of time learning and growing, it's also a room for you. Your goal should be to design a space that makes you feel relaxed and at peace.
You'll especially appreciate this when you have to get up for what seems like the 50th time in the middle of the night, or when you're changing a diaper wondering how something so small could produce something so stinky. Here are my tips to achieve just that:
1. Choose a theme, but don't go overboard!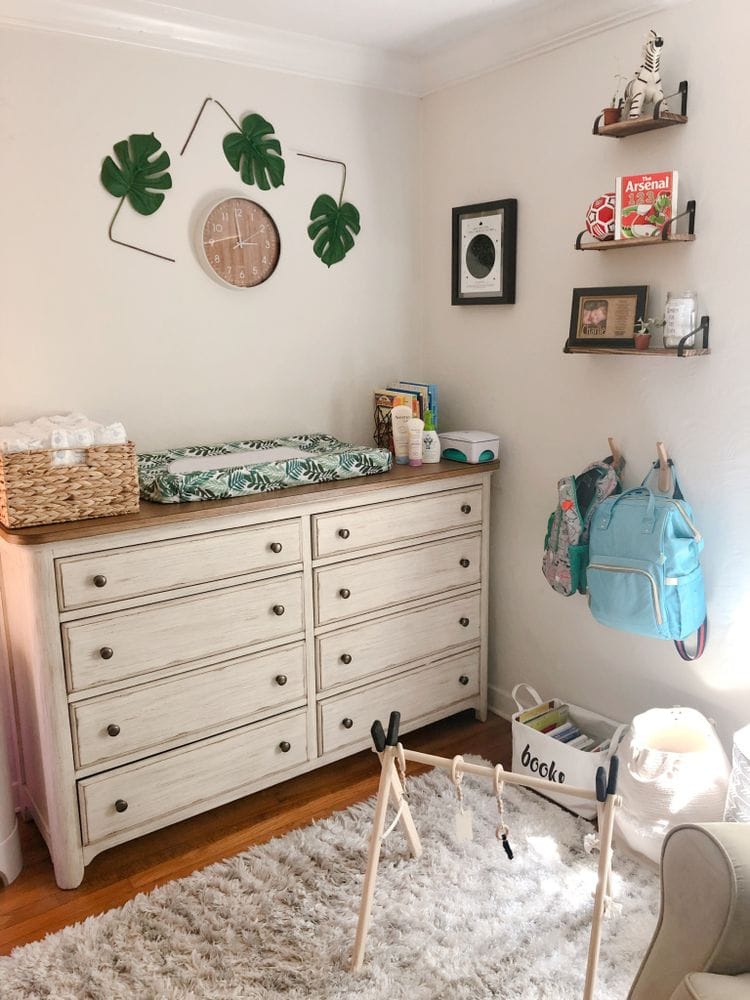 Having a theme can help your design really come together, and can simplify things by giving you a clear direction for choosing furniture and decor. I chose a safari theme and brought it to life with animals, banana leaves, and earth tones.
Remember not to do too much, you still want it to feel like a bedroom.
Some other theme ideas I considered: travel, circus, and seaside. Choose something that means something to you. It'll make the whole project more enjoyable. You deserve a fun project, mama!
2. Choose an accent color that puts you at ease.
Green has always been my favorite color- even my engagement ring is an emerald! It also tied back in to that jungle theme and brought nature inside. I recommend avoiding anything too bright. While hot pinks and neon oranges are super fun for playtime, they may feel too stimulating at night.
I simply used green accents, like this Pouf Ottoman, that comes in an array of beautiful colors. I also opted for a couple of green throws and a green changing table pad cover.
3. Choose a comfortable glider over a wooden rocking chair.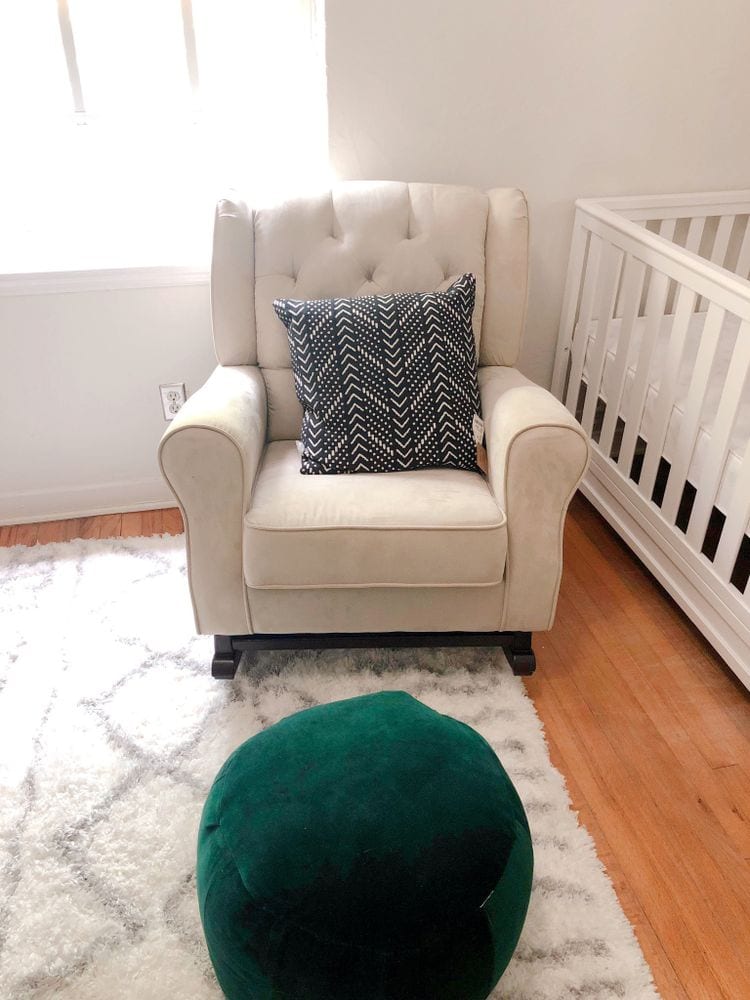 I know, classic rocking chairs are super cute, and you've always pictured your child's nursery with one in it. But trust me on this, you will NOT regret choosing a glider. I get so much use out of it.
I went for this Upholstered Glider and I appreciate the special moments I share with my son in this chair so much. Especially in the very beginning, I always breastfed Charlie in this chair and I welcomed the extra padding and comfort.
4. Invest in a durable piece of furniture.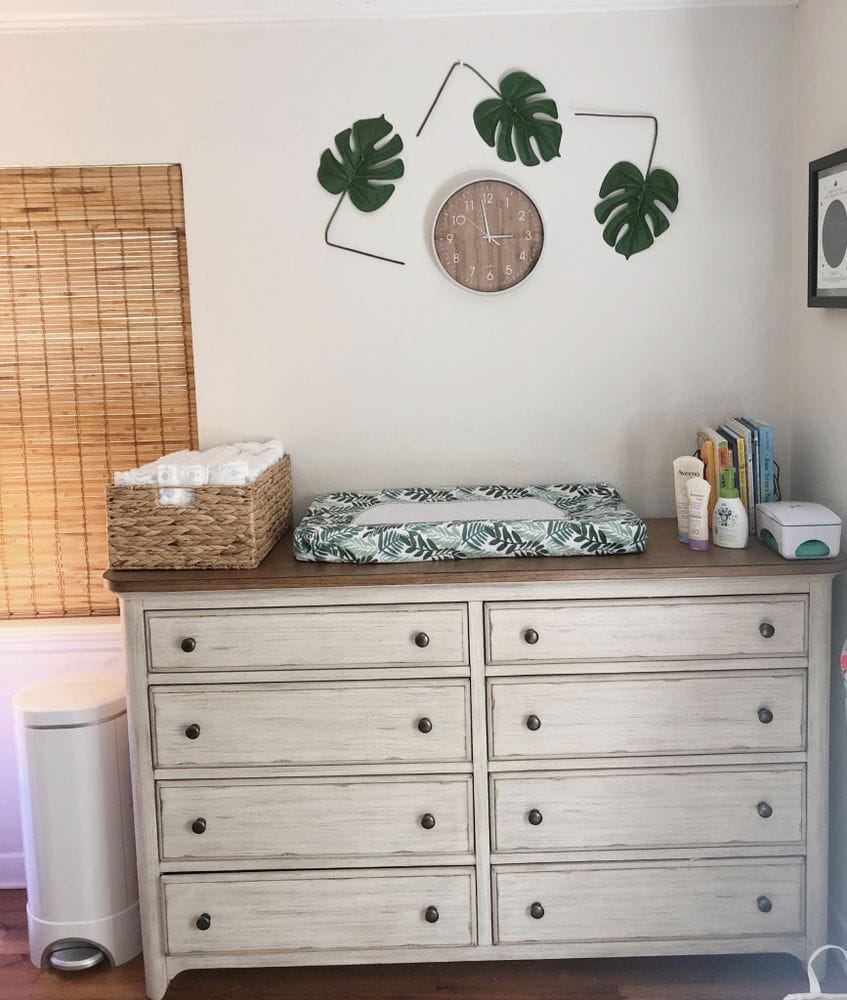 Don't waste your money on a changing table- they can be expensive and are relatively temporary. Instead, consider a well-made set of dresser drawers that will grow with your baby. Not only does it look more classy, but it also provides ample (and in my case much needed) storage, and is a better investment over time. Just make sure the top surface provides enough room for your changing pad to rest on.
5. Add personal touches.
It was important to me that the nursery was a representation of how much my baby would be loved. Not just by my husband and I, but by our entire extended family and friends. When I walk in that room, there are constant reminders of how much support we have.
From the hand-crocheted throw and personalized dream catcher to his cousin's little handprint and the "wishes for baby" from my baby shower, I get an overwhelming sense of joy while I'm in there. I decided to paint a giraffe and zebra for the wall, and my husband made sure his favorite soccer team was represented, as well. The more personal touches you can provide, the cozier the room will feel, and you'll end up saving money on decor.
6. Storage. Lots of storage.
Your baby doesn't take up much space, but he comes with A LOT OF STUFF. Toys, books, clothes, more toys, more books. Bath supplies, bibs, pacifiers, and several extra sets of sheets. Baby monitors, towels, stuffed animals… you get the point. The more storage you have, the more organized you'll set yourself up to be. And storage bins can be cute, too!
I registered for a bunch of decorative baskets. I would also recommend having plenty of space for books. I got so many at my baby shower! I have both bookends and a book basket in Charlie's room.
7. Keep the essentials accessible.
One of those super mom powers you naturally acquire is learning to do EVERYTHING with one hand.
That being said, while struggling to keep your eyes open (and your sanity) during diaper change number 3 in the middle of the night, you want to make your life as easy as possible. At the very least, keep your diapers and your wipes easily accessible.
8. Consider an air purifying plant.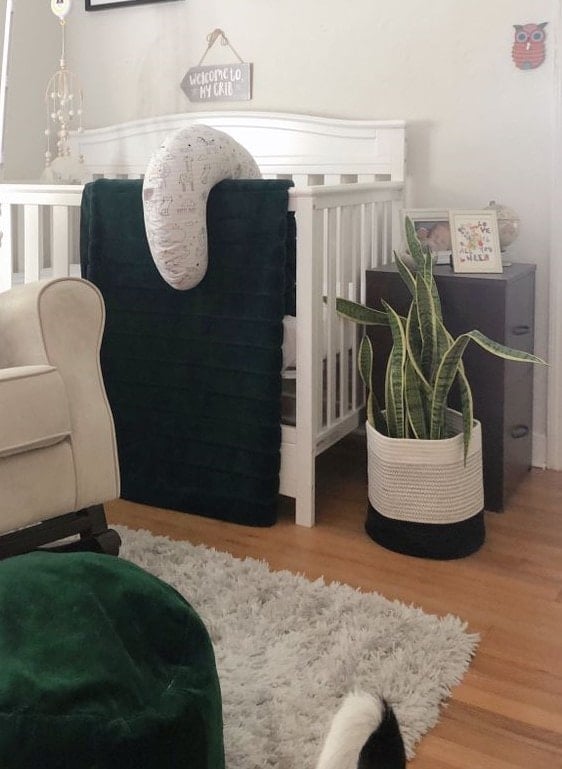 I'm notorious for not being able to keep plants alive. I mean, my dad literally said something about it in my wedding speech- it's that bad. BUT I knew I wanted to have some greenery in the nursery, so I literally typed into google "plants I can ignore" and came up with a snake plant.
Eight months later I am proud to say it is still alive!!! If I can do it, you can too! Snake plants are also natural air purifiers, so save your $250 bucks on a fancy shmancy one and go for this resilient guy!
Just a note: snake plants are harmful to cats and dogs. I have two pups (you can see Lolo's little tail in the picture above!), but luckily, they aren't chewers. If you have a pet that chews on anything and everything, this plant isn't best for your family!
9. Get a cozy rug!
To keep your feet warm at night, but also for crawling. It will happen sooner than you think and it's just a little more comfortable for your little one. They also add character and overall make the space feel warmer.
I chose this shag rug, and Charlie actually loves to feel it in between his sweet little fingers.