Looking for a meatless burger alternative that still gives you the meaty texture of a beef burger? These Jackfruit Burgers are here to save the day!
They're filling, heart-healthy, and have a great bite to them. And even without the grill, the smoky flavor will make you feel like you're at a cookout!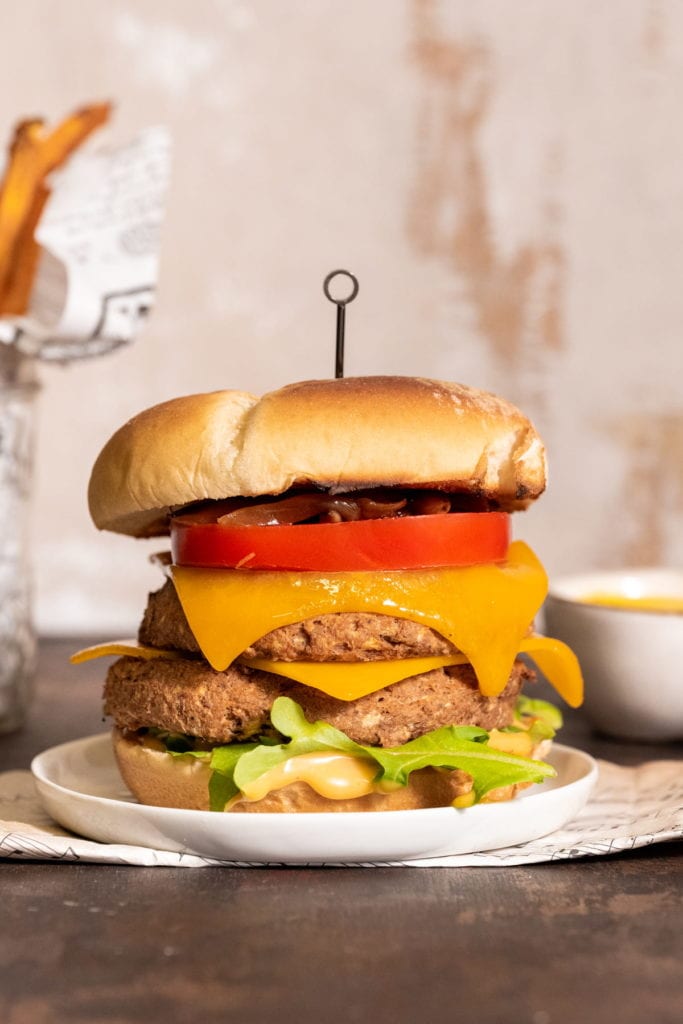 As an environmental scientist, I'm always looking for delicious meat alternatives to help me lower my ecological footprint, and this burger is one I look to often!
Green tip: Industrial meat production has a huge impact on the environment, especially because of the amount of land it takes to sustain and its high amount of greenhouse gas emissions.
Jackfruit Burger Ingredients
---
It's best to make sure you have everything you need before you get going! As for the jackfruit, you can use fresh jackfruit or canned jackfruit. It's easier for me to get my hands on canned jackfruit, so that is what I generally use.
If you are using a whole jackfruit, check here for instructions on how to break it down.
Here's everything else you'll need:
Canned green jackfruit. Or fresh whole young green jackfruit "meat".
Onion. Yellow or sweet onions are preferred, but truly any onion will work.
Flour. I like to use whole wheat but you can also opt for all-purpose.
Garlic. Fresh raw garlic adds a lot of flavor to these patties.
Olive oil. To get the right texture.
Liquid Smoke. I used the Mesquite flavor but you can also opt for Hickory. Use your favorite!
Hot Sauce. Any will do. This just adds a little kick to your meatless burger patty.
Onion Powder. For flavor.
Paprika. For earthiness.
Salt & Pepper. To turn each of these flavors up a notch.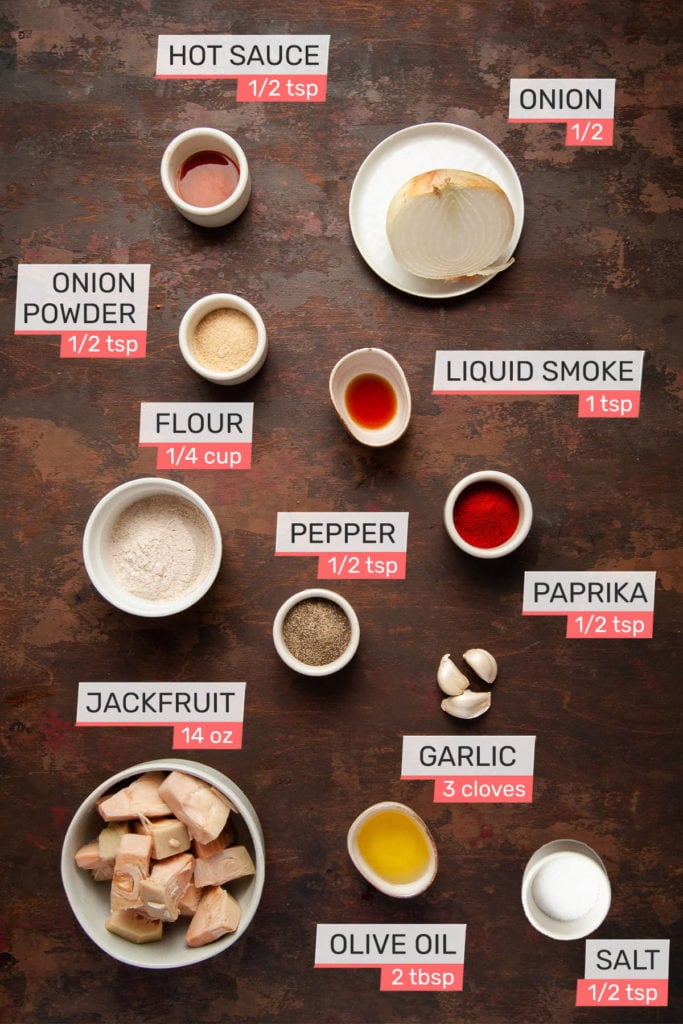 Jackfruit Burgers Tips and Tricks
---
Drain and Rinse Your Canned Jackfruit
If you're buying canned jackfruit, it usually comes in brine. This is great to preserve and flavor it but does give it almost a bitter taste.
Make sure to drain and rinse the jackfruit before heating it on the stove, to start with the most neutral flavor, allowing you to have more control over the final product.
I use a sieve and it works perfectly!
Quick note: I use the same canned jackfruit to make these BBQ Jackfruit Nachos!
Get the Jackfruit Tender
In order to get that perfect meaty texture, it's important to give your jackfruit time to get tender on the stove.
Once you've drained and rinsed it, add it to a large pot with about 10 cups of boiling water. Over high heat, it should take about 25-30 minutes.
You'll know it's ready when you can easily shred it with a fork.
You'll Need a Food Processor or Blender
In addition to your delicious ingredients, you'll also need either a high-powered blender or a food processor, preferably a food processor!
I use this Food Processor for this recipe and a lot of my sauces and vinaigrettes. It works like a charm!
Once your jackfruit is tender, all you have to do is throw all of your ingredients in and blend until smooth.
You'll want to keep some texture on the jackfruit, so just blend until the onion and garlic are broken down.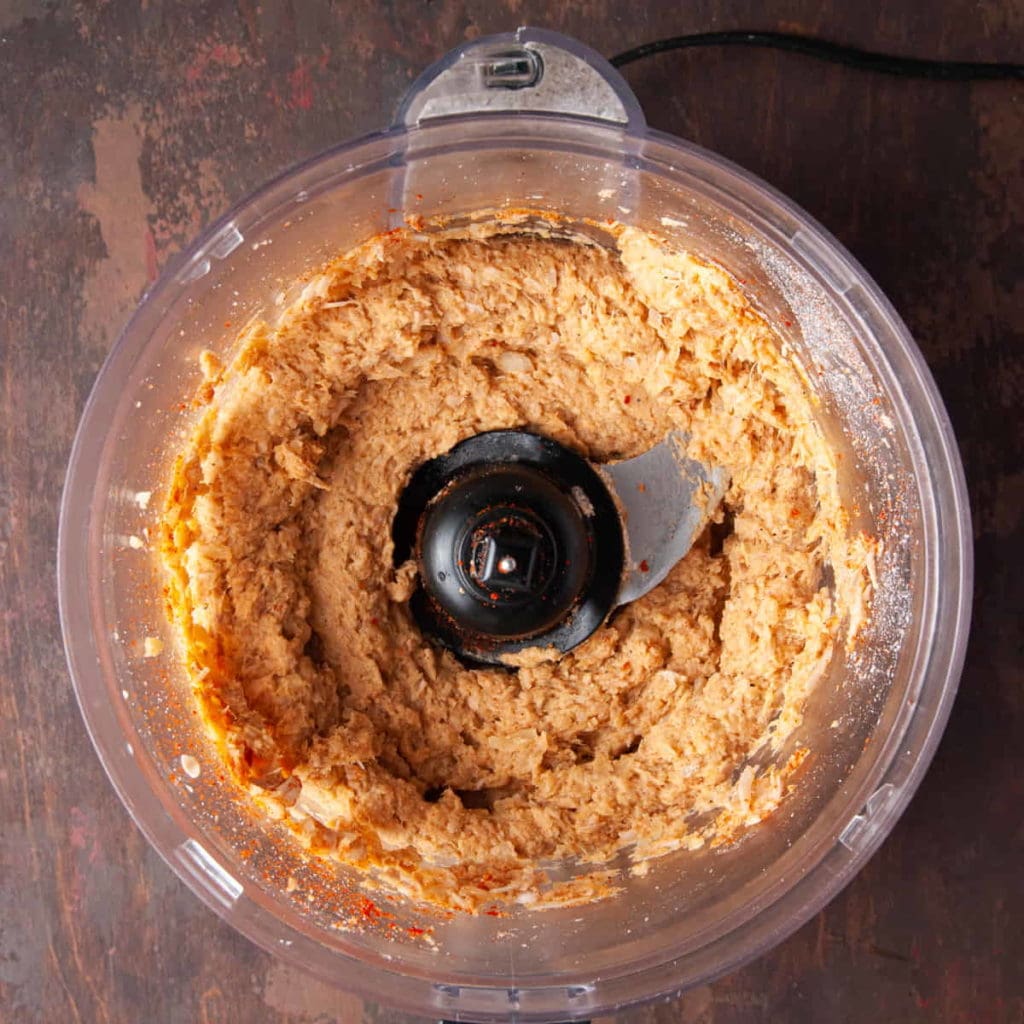 Line Your Baking Sheet
To avoid any sticking, line your baking sheet with parchment paper or a reusable baking mat. No need to grease in this case.
Green tip: Consider these reusable baking mats to reduce your plastic waste! They are nonstick and easy to clean.
Shape Your Meatless Burgers
Once your mixture is ready, it's time to shape it into patties. Bear in mind the mixture may still be hot, so proceed with caution.
Once the mixture is cool enough to handle, use clean, wet hands to shape your jackfruit burger patties.
The mixture should make about 4 nice-sized vegan burgers.
For a more uniform shape, you can use cookie cutters or these pancake molds.
For a more hands-off option, use a cookie or pancake mold. Just scoop the mixture in and use a spoon to flatten the top.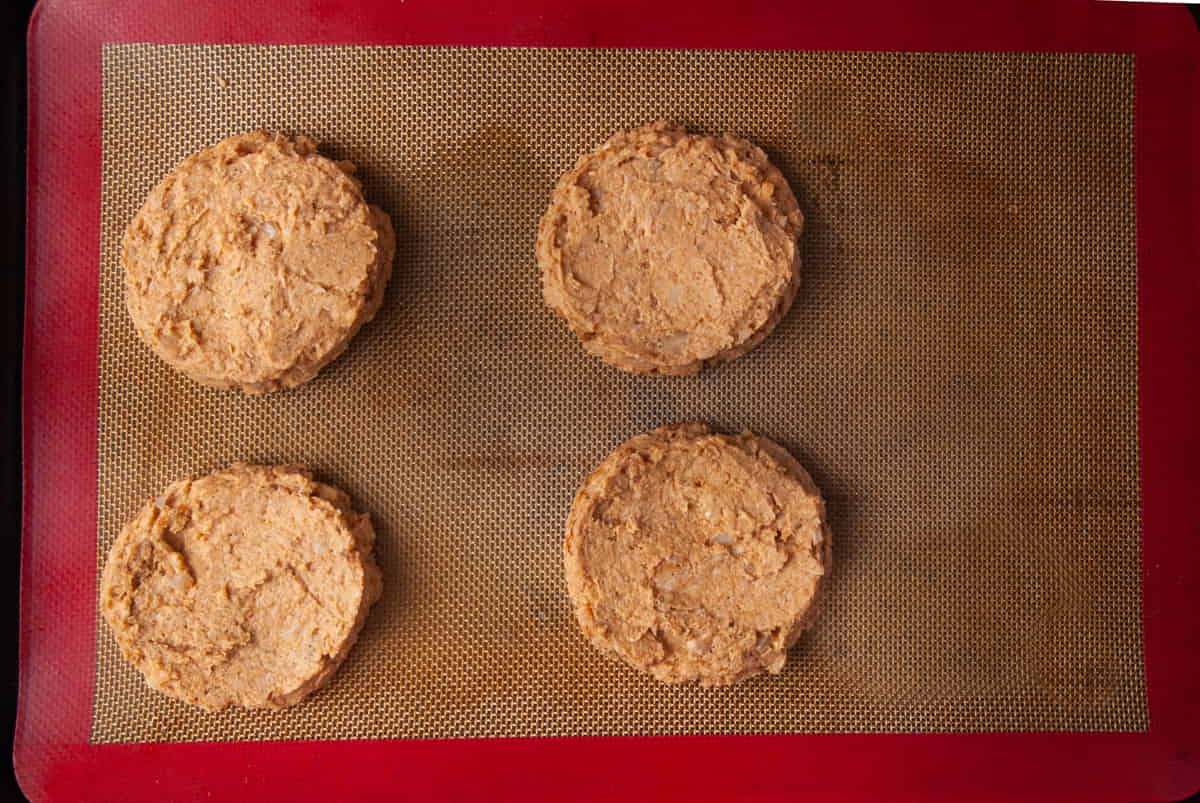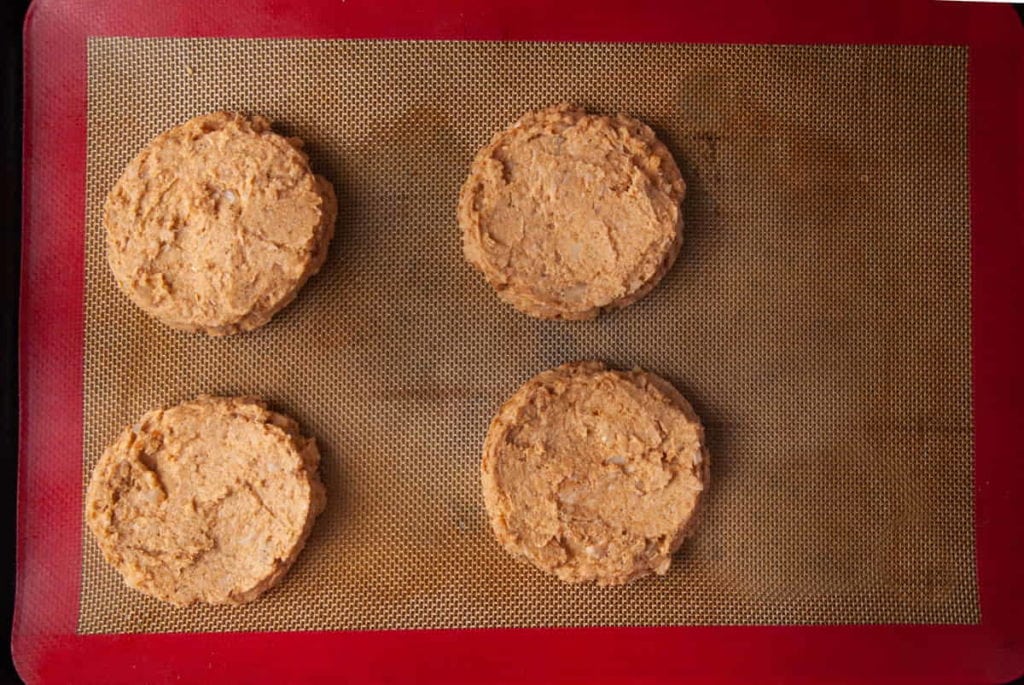 Storing and Reheating Leftover Jackfruit Burgers
This recipe makes 4 meatless burgers, so you may have leftovers. If so, these will last in the refrigerator for up to two weeks and in the freezer for up to 4 months.
Just wrap them individually and store in an airtight container or put them in a freezer-safe bag.
To reheat you have several options. Throw them on the grill, over medium heat in a skillet with olive oil, or back in the oven at 400°F for about 20 minutes.
The heating time will vary if frozen. Just make sure your jackfruit burger is heated thoroughly all the way through.
Green tip: Did you know that of the billions of pounds of food wasted annually, it is estimated that 50% of it happens in our homes? It's always best to avoid food waste as much as you can!
What To Serve Your Jackfruit Burgers With
I've topped mine with (vegan) cheese, arugula, a fresh tomato, and caramelized onion and mushrooms and stuck it in between a fresh bun with homemade vegan "honey" mustard.
Just think of this as a juicy burger—the topping ideas are endless! Whatever floats your boat. Try these Old Bay French Fries or Parmesan Truffle Fries on the side!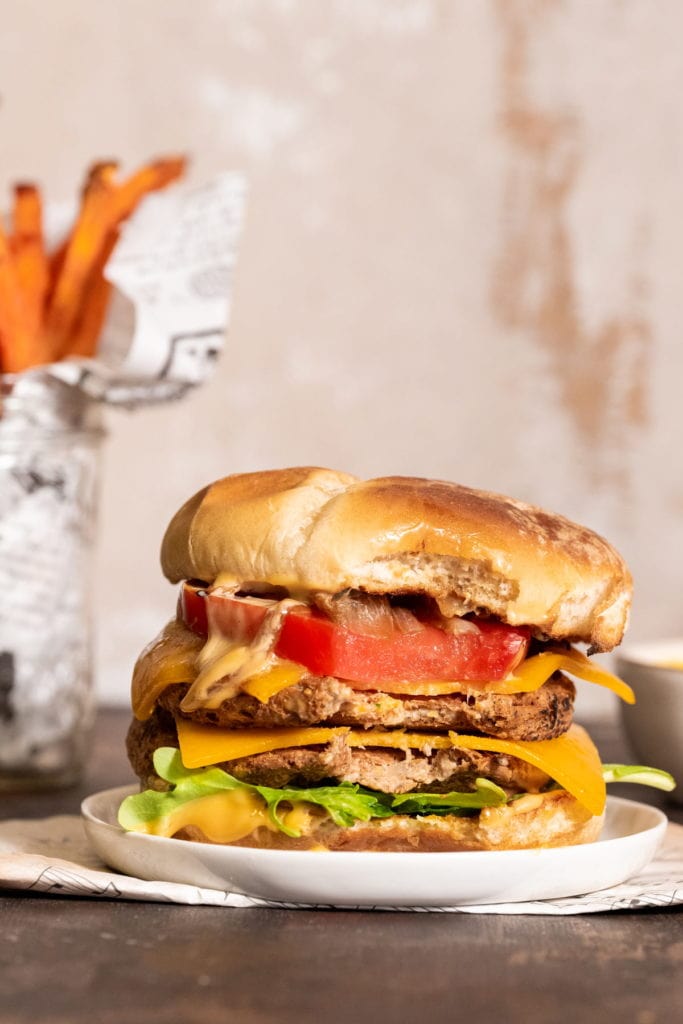 Jackfruit Burger Frequently Asked Questions
---
If Jackfruit meat?
Jackfruit is, as you may have guessed, a fruit. The "meat" in the jackfruit refers to the edible part of the fruit. It is completely plant-based and naturally vegan.
You will often find jackfruit as a substitute for chicken, pork, and beef because it has a "meaty" texture.
How do you make Jackfruit meat?
Once you separate the edible "meat" of the jackfruit from the seeds, core, and outer peel, you can cook it. It's best to boil your jackfruit meat to make it tender.
Then, you can serve it as is or finish it off in the oven, in a frying pan, or on the grill.
Should Jackfruit be cooked?
Ripe jackfruit is often consumed raw, just like any other fruit. It has a subtle sweetness with lends itself perfectly to desserts.
Young green jackfruit is more neutral in flavor and has a tougher texture. It is safe to consume raw but tastes much better cooked until it's tender. Green jackfruit takes on flavor very well and is often found as a meat substitute in vegetarian and vegan dishes.
Want to sharpen your kitchen skills?
Why You Should Make These Jackfruit Burgers
---
The texture. Such a meaty texture but with no meat and no soy.
They're healthy. For both you and the planet!
The complex flavors. Smoky, spicy, flavorful!
If you're loving these Jackfruit Burgers and are looking for other meatless sammies, check out these Black Bean Burgers and this Portobello Mushroom Wraps.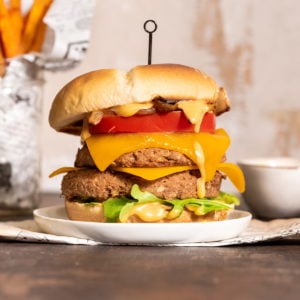 Meaty Meatless Jackfruit Burgers
PRINT
PIN
RATE
This Jackfruit Burgers recipe will leave you speechless at such a meaty burger without any meat or soy! A little smoky, a little spicy, a LOT delicious!
Ingredients
14

ounces

green jackfruit

(14 oz usually = 1 can)

½

large

yellow onion

¼

cup

whole wheat or all-purpose flour

3

cloves

garlic

2

tablespoons

olive oil

1

teaspoon

liquid smoke

½

teaspoon

hot sauce

½

teaspoon

onion powder

½

teaspoon

paprika

½

teaspoon

black pepper

½

teaspoon

salt
Instructions
Bring ten cups of water to a boil in a large pot over high heat.

Drain and rinse the can of jackfruit and add the jackfruit to the boiling water. Boil until tender—about 25-30 minutes uncovered on high. Then, strain and set aside to dry.

Add all ingredients to a food processor and blend on high until the garlic and onion breaks down—about 30-seconds to 1 minute.

Use clean hands or a cookie cutter or pancake mold to shape your mixture into patties and lay them out on your lined baking sheet.

Bake for 20 minutes, then flip the burgers and bake for 5 more minutes.

Serve with your favorite burger toppings and sides!
Pro Tips
Make sure the boiled jackfruit has a chance to dry before adding it to the food processor with the rest of your ingredients. Adding it when it's too wet may result in a sloppy burger!
If you're not a fan of spice, simply omit the hot sauce. And if you're a big fan of spice, add a little extra!
You can use either canned or fresh jackfruit.
Find more delicious meat-free recipes in this collection of my best meatless meals!
Did you make this recipe?
Let me know by leaving a recipe rating below, or by tagging @marleysmenu on Instagram.