Looking to turn up the romance? This Love Potion Cocktail is the perfect way to celebrate Valentine's Day, an anniversary, or any old date night!
With a romantic look and sweet, aromatic taste, this pink cocktail is sure to set the tone.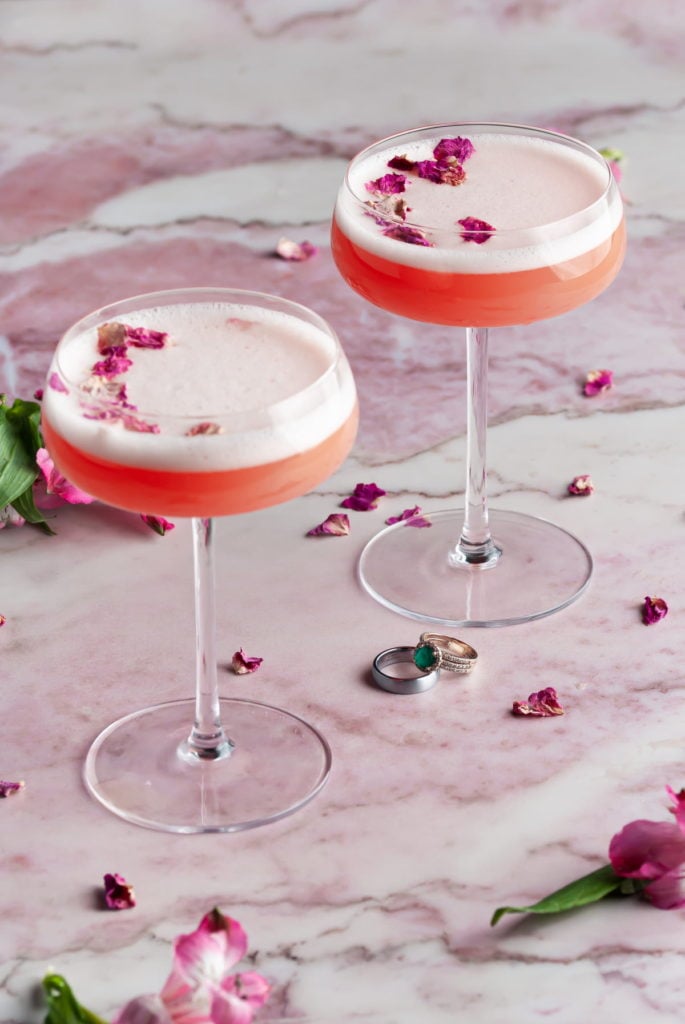 Love Potion Cocktail Tips and Tricks
---
Gather Your Ingredients
This cocktail uses just 4 simple yet effective ingredients plus the option to garnish with edible rose petals.
While the garnish is optional, it's highly recommended for an aromatic finish and floral-infused sip.
Here's everything you'll need:
White Rum. White rum is preferred over dark rum because it has a more mild flavor, allowing the complex flavors of the Aperol and pineapple juice to shine. Dark rum can be used, but it will change the color.
Aperol. Aperol is an Italian bitter aperitif that gets its iconic color primarily from rhubarb.
Pineapple Juice. The pineapple juice should provide enough sweetness to balance out the Aperol.
Egg White. For a velvety texture and that beautiful foam.
Ice. To cool and to get that egg white extra foamy.
Rose Petals. This is optional for garnish but recommended for an additional romantic floral flavor and aroma.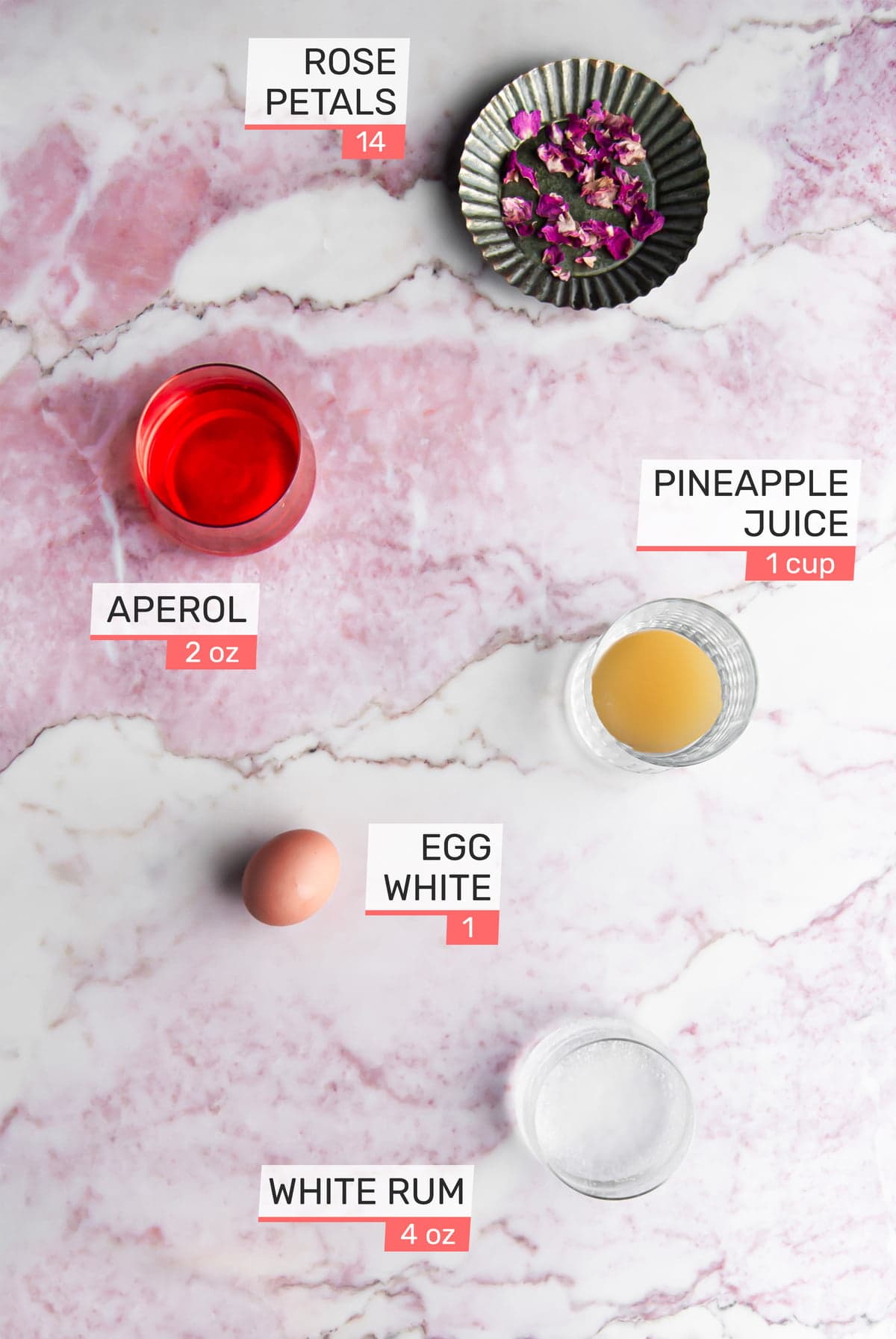 What's With the Egg White?
The egg white in this love potion is definitely optional. Without it, the flavor will still be there, but you'll have a thinner cocktail and won't get that gorgeous foam on top.
Green tip: Look for pasture-raised eggs (over free-range or cage-free) to support agriculture that is less reliant on chemicals and fossil fuels.
Separating the egg white from the yolk can be easily achieved! Just crack your eggshell in half over your cocktail shaker and transfer the egg yolk back and forth between either half of the shell, allowing the egg white to fall into the shaker.
You should now be left with the egg whites in the shaker and the egg yolks in the shell.
But don't toss those yolks! They can be used in these Margarita Cookies, Rosemary Cookies, or even this Smoked Salmon Eggs Benedict.
If you have an allergy or dietary restrictions that prevent you from eating eggs, but you still want the foam, there is a great option for you! Check out this Eggless Cocktail Foamer.
Green tip: Did you know that of the billions of pounds of food wasted annually, it is estimated that 50% of it happens in our homes? It's always best to avoid food waste as much as you can!
Add It All Without Ice First
In order to get that airy foam, just follow a simple two-step process. First, add your egg white, pineapple juice, and white rum to your cocktail shaker without any ice.
This first step is called a "dry shake". It's essential to a tall foam as it activates the proteins in the egg whites!
Shake vigorously until you start to see the foam come together— about 45 seconds.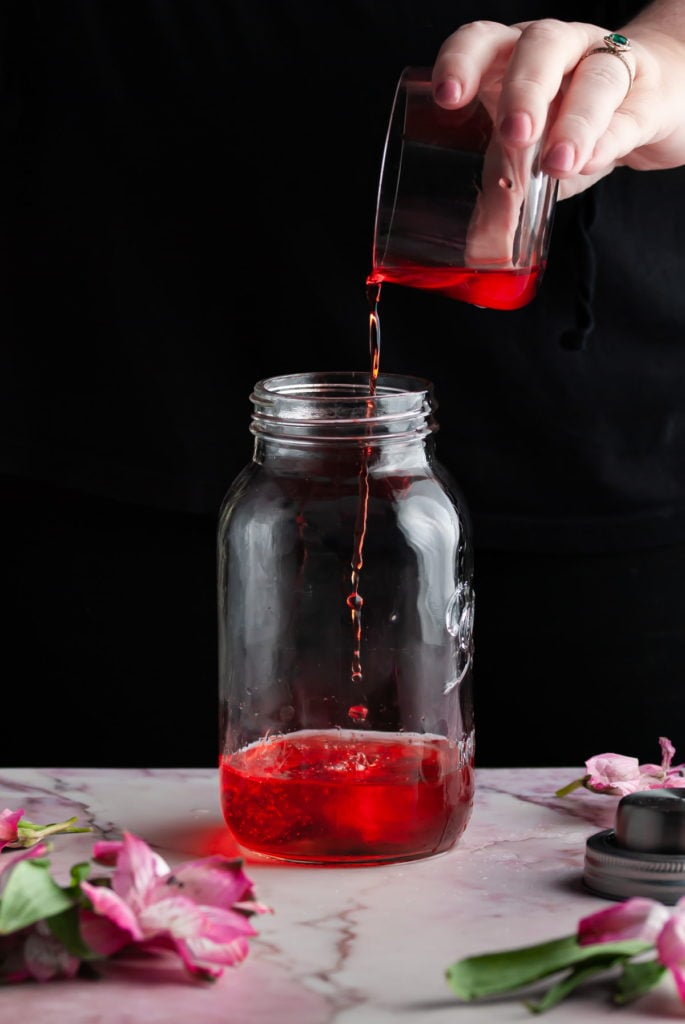 Use 100% Pineapple Juice
You can find super affordable options of 100% pineapple juice (no additives) in cans.
Pure pineapple juice is sweet enough on its own to make adding simple syrup or extra sugar to this drink unnecessary. It's also thick enough to give this Love Potion the right consistency.
If you're using pineapple juice from concentrate with excess water and other additives, you may change the consistency and flavor of this cocktail.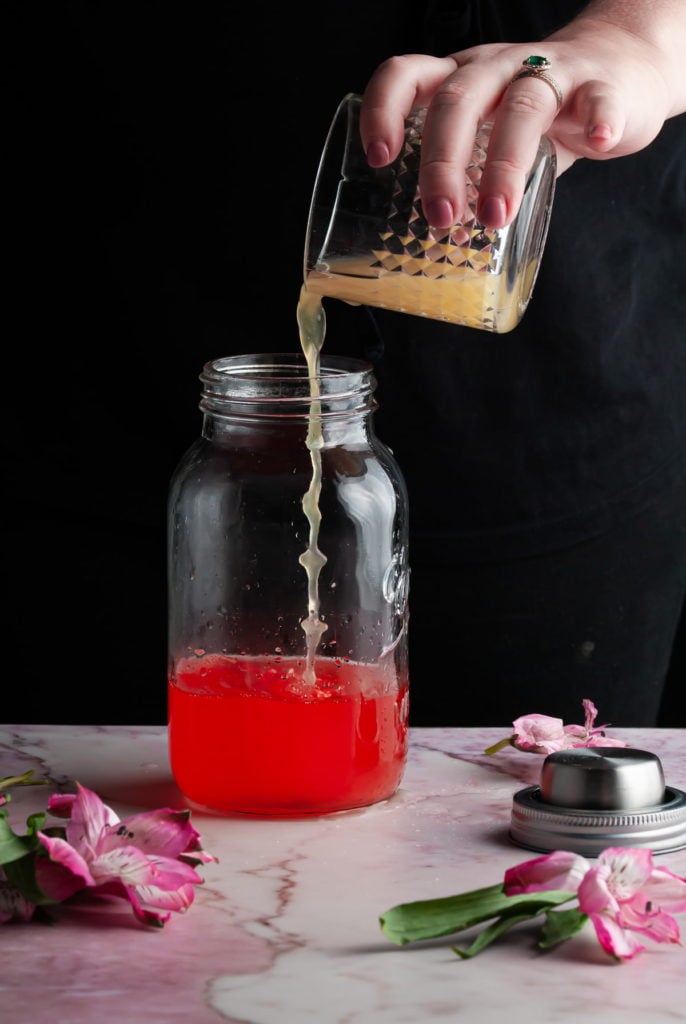 Shake Again with Ice
After your "dry shake", it's time to add ice to your shaker and shake again. This step will make your drink extra cold and crisp.
It also helps aerate the foam, giving it more height. Seal your cocktail shaker and shake for a good extra 30 seconds, or more if you have it in ya!
If you don't have a cocktail shaker, you can always use a mason jar or any other container with a lid. Shaking (rather than stirring) is necessary to get the foam just right.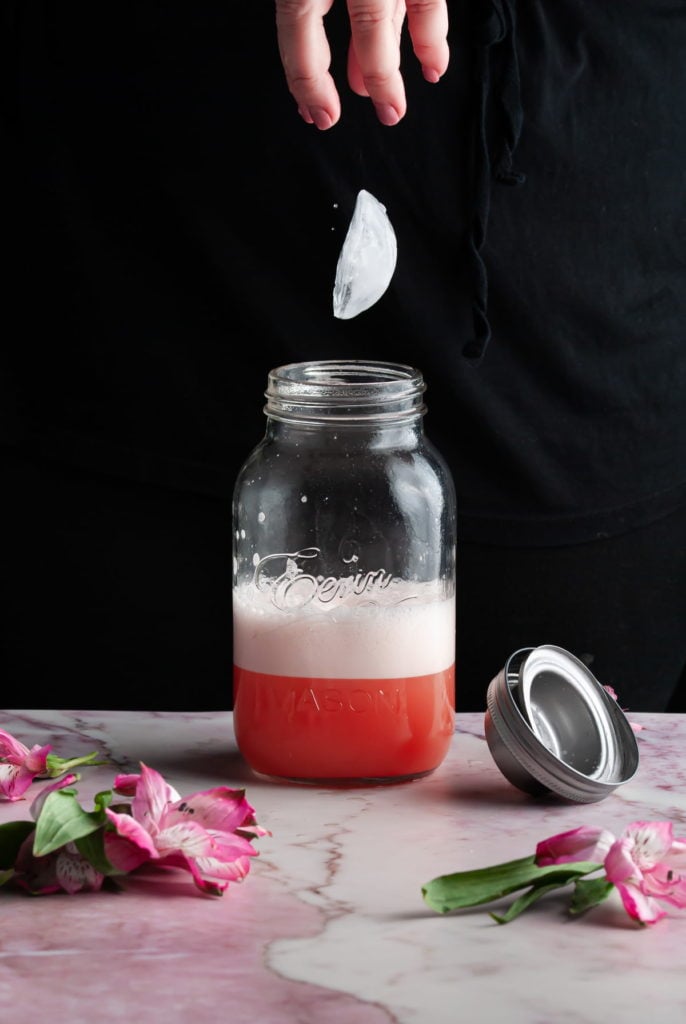 Strain
This step is important in this cocktail. It strains out any leftover globs of egg white that haven't turned into foam.
I like to serve my Love Potion Cocktail in a stemmed glass. It just makes it feel romantic, but that part is up to you! You can choose to serve it over ice to keep it chilled longer.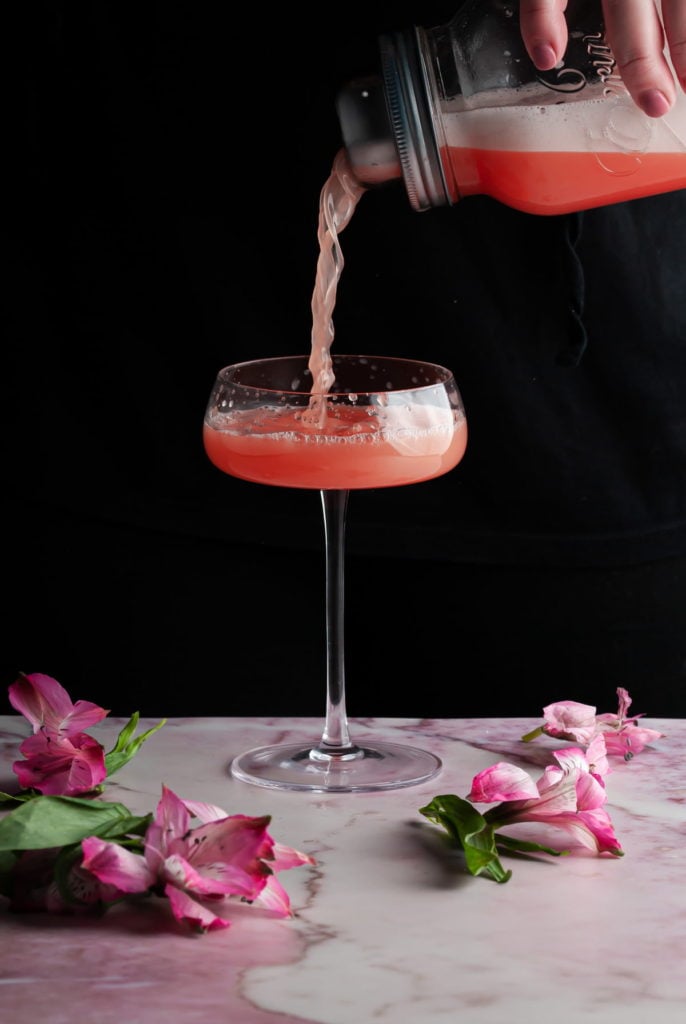 The Finishing Touch
While garnishing with edible rose petals is optional, it is highly recommended. It infuses the drink with a floral flavor, giving it a rosy aromatic finish.
Plus, let's be real, it just looks so pretty! I use these Suncore Foods Rose Petals!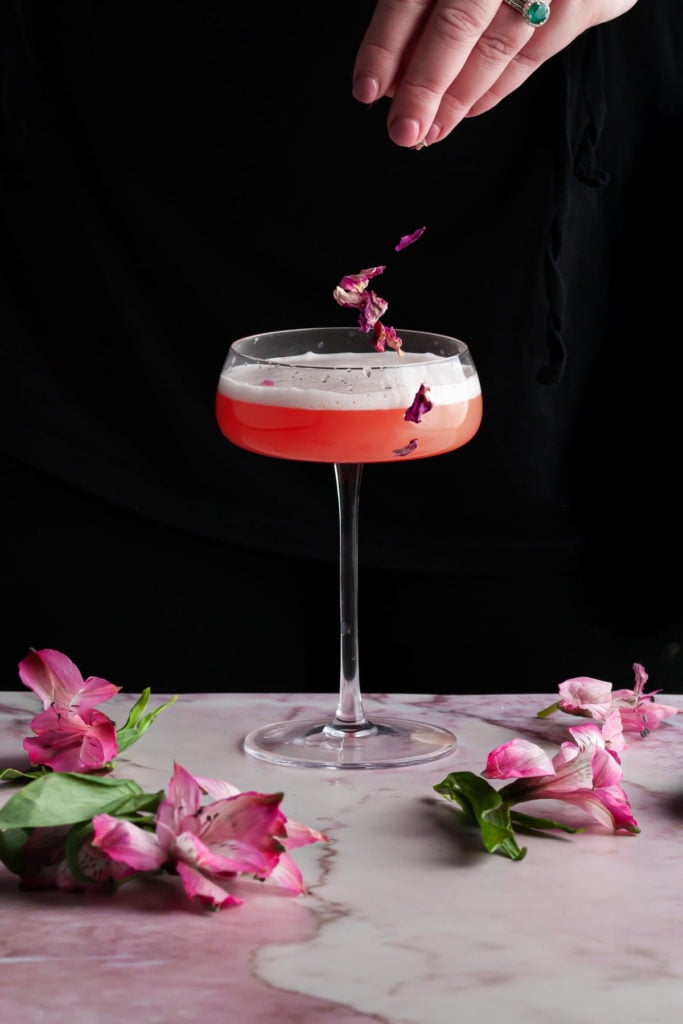 Tested Substitutions
You can leave the egg white out altogether if you are not fussed about the foam. Or, you can opt to add a couple of drops of this Eggless Cocktail Foamer for a similar effect.
If you want some bubbles you can top each drink with club soda or sparkling water.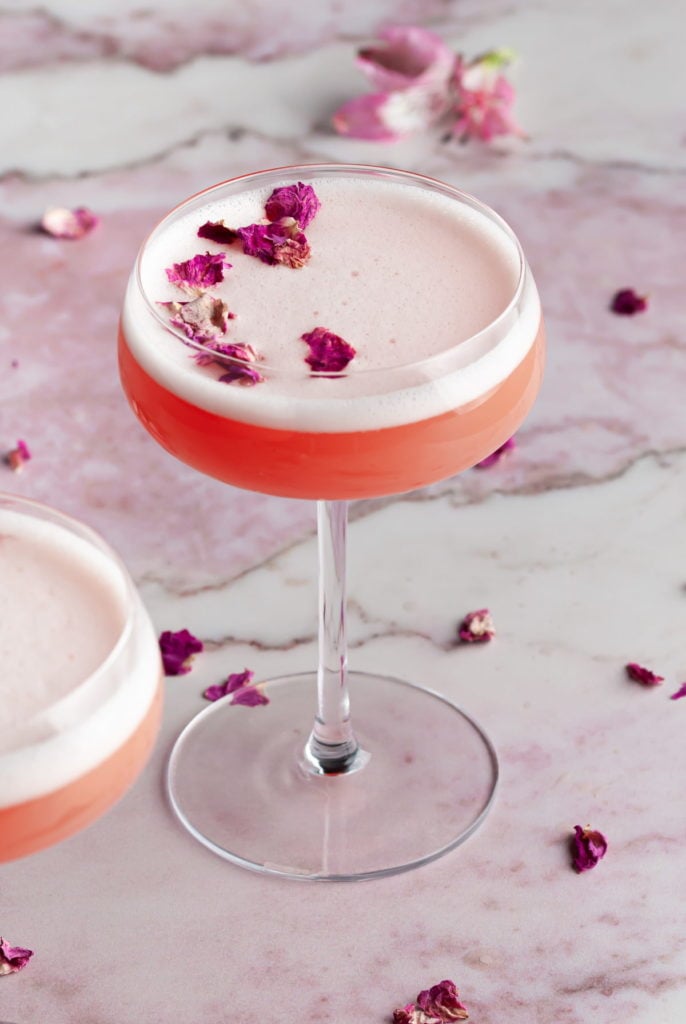 Why You Should Make This Love Potion Cocktail
---
It's romantic. Between the pink color, sweet taste, and dreamy rose petals, this cocktail brings the romance!
It's simple. Minimal ingredients with high impact.
It's just sweet enough. Enough sweetness from the pineapple juice and plenty of vibrance and deep flavor from the Aperol is only enhanced by the rum.
If you're loving this Love Potion Cocktail and are looking for more romantic sips, check out this Aperol Margarita and this Sweet Cherry Martini. And for more Aperol Cocktails, check out this list of Aperol Cocktails You Need to Try.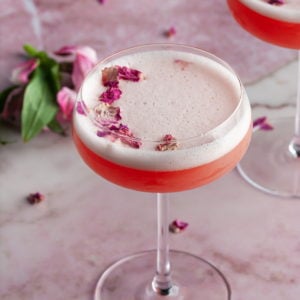 Rum & Aperol Love Potion Cocktail
PRINT
PIN
RATE
Ready to bring the romance for Valentine's Day, an anniversary, or date night? This dreamy, delicious, Love Potion Cocktail is all you need to set the tone.
Ingredients
4

ounces

white rum

2

ounces

Aperol

4

ounces

pineapple juice

1

egg white

(see below for egg-free option!)

½

cup

ice

14

edible rose petals for garnish

(optional)
Instructions
Add rum, Aperol, pineapple juice, and egg white to a large cocktail shaker and vigorously shake until foam starts to appear— about 45 seconds.

Add ice to the cocktail shaker and shake again, until the cocktail is chilled and a thick white foam appears.

Strain contents of the cocktail shaker into two cocktail glasses and garnish with about 6 rose petals. Enjoy cold. Cheers!
Did you make this recipe?
Let me know by leaving a recipe rating below, or by tagging @marleysmenu on Instagram.