Looking for a super fun new way to enjoy your favorite cocktail? Why not in cookie form with these out-of-this-world Margarita Cookies with Tequila Lime Glaze.
Think a buttery and soft shortbread cookie infused with lime, dripping with a sweet and smooth tequila lime glaze.
They're easy, they're quick, they're delicious, and let's face it—they're so much fun!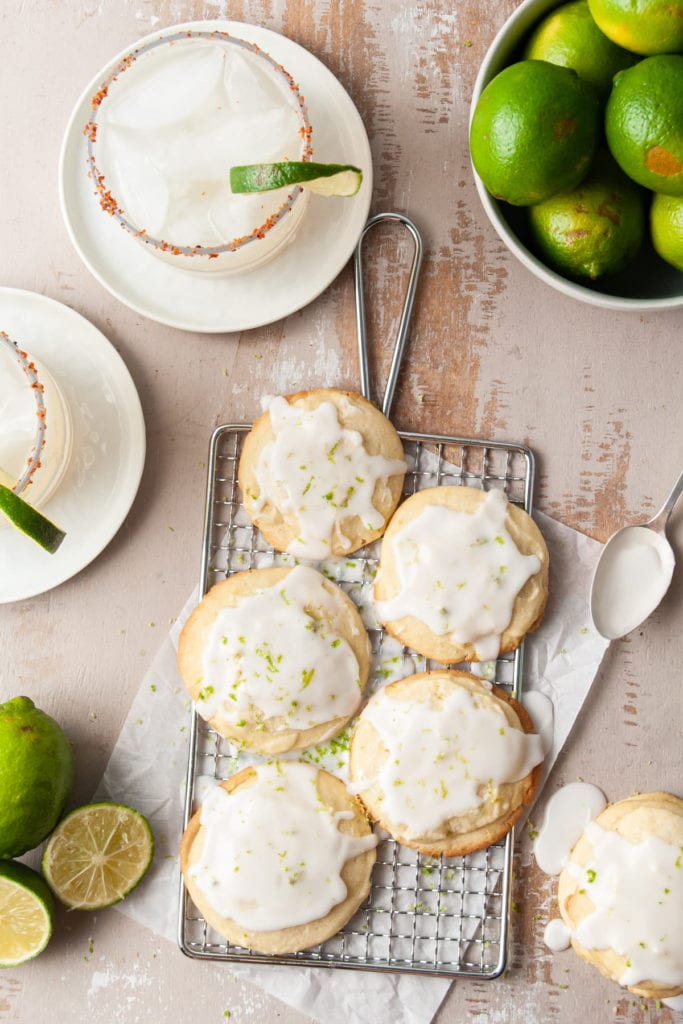 Margarita Cookies Ingredients
---
---
Here's everything you'll need:
Butter. Unsalted and softened.
Powdered sugar. This will go both in your cookies and in the tequila lime glaze.
All-purpose flour. This acts as the base of your cookie dough.
Egg Yolk. Yes, just the yolk! But don't waste the egg whites! Check out this Egg White French Toast.
Salt. To amp up all the other flavors.
Lime. The zest and juice for inside the cookies and more juice for the glaze.
Tequila. You can't very well have a margarita cookie without it. Tequila Blanco is preferred.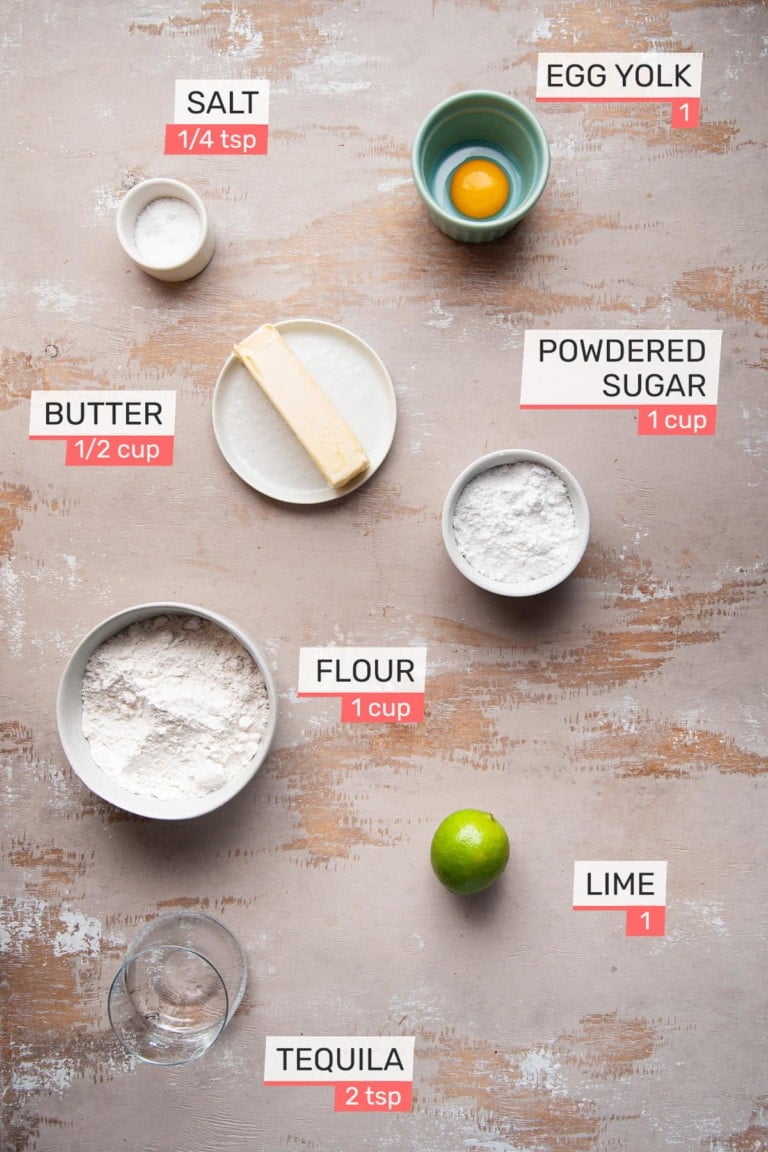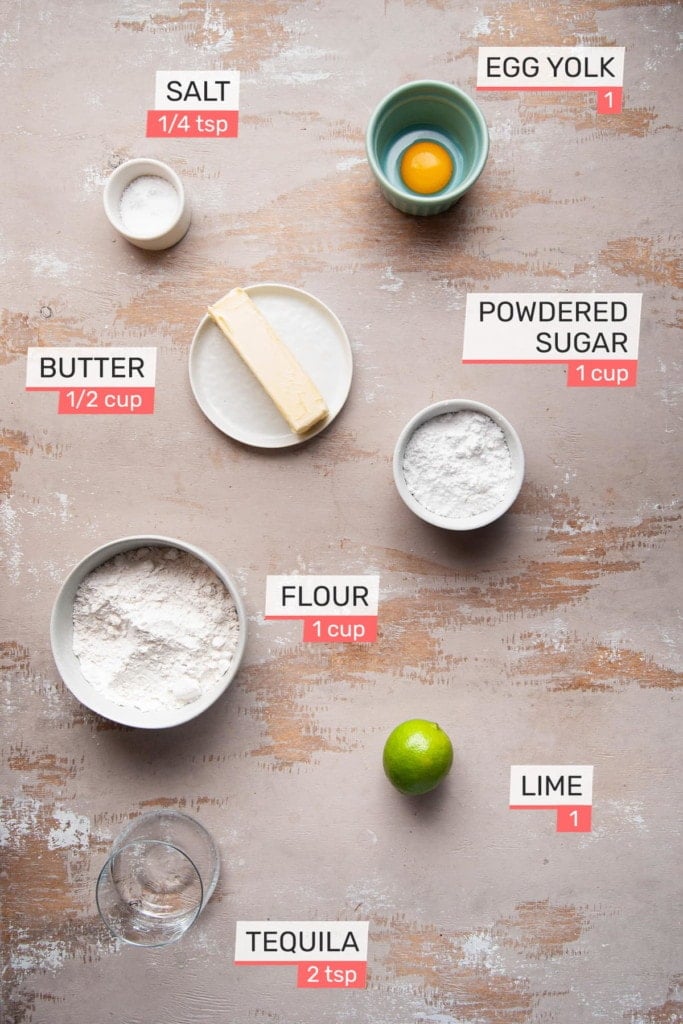 Margarita Cookies Tips and Tricks
---
---
You'll Need A Hand Mixer
A hand mixer is the best tool to cream the sugar and butter together for the base of your cookies. It's also the easiest way to combine the rest of the ingredients and whip up your glaze.
I use this Cuisinart Hand Mixer for almost all of my baking and love it!
The Secret is In the Softening
The butter you use should be unsalted, so you can control the amount of salt you are adding to your cookies. You will also want to make sure your butter is nice and soft.
If you take the butter out of the fridge 15-20 minutes before you get started, that should be plenty of time for it to soften. If you forget to take it out—don't worry! Just microwave it in 15-second intervals until you get the right consistency.
Remember, we are striving for softened, not melted. You'll know your butter is softened when your finger leaves an imprint when you poke it.
Green tip: Look for organic and palm oil-free butter if you can. Buying organic means you are supporting farms that do not use damaging pesticides and fertilizers, and palm oil production is a huge driver behind deforestation.
Cream Your Butter and Sugar Together First
Use a hand mixer to combine your sugar and softened butter together first to form a base for your cookie dough.
This makes for a lighter, more buttery, melt-in-your-mouth cookie dough.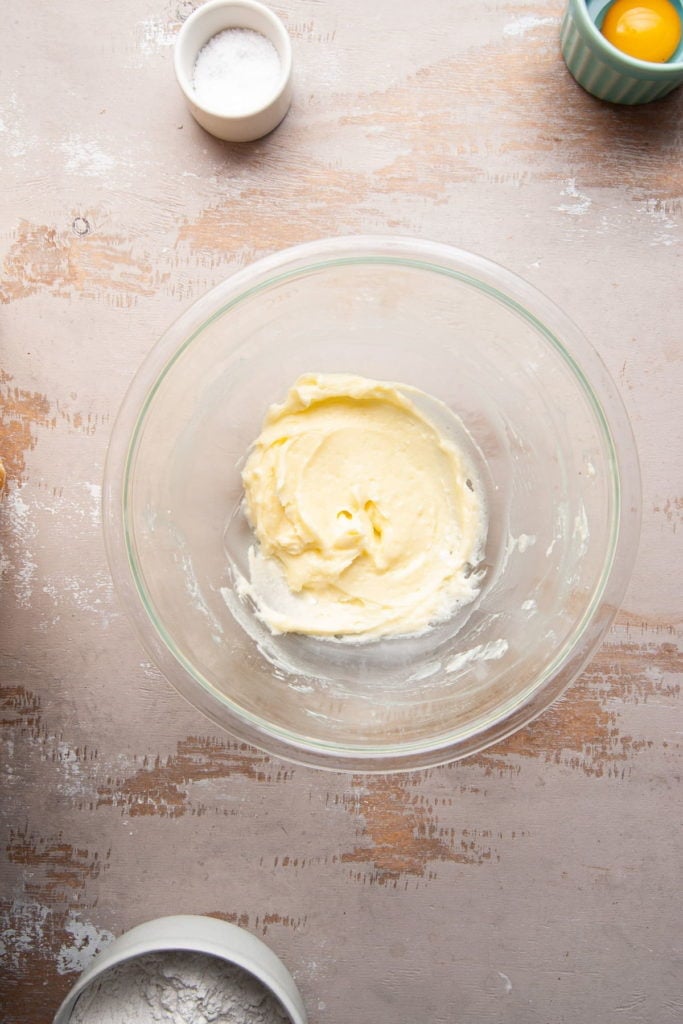 Use Powdered Sugar
Powdered sugar, or confectioners sugar, is aerated. It's already so light and fluffy and is the perfect hack to achieve a melt-in-your-mouth shortbread cookie every time.
While you can substitute granulated sugar for the cookies in this recipe, you will need powdered sugar for the glaze, so I highly recommend using it for both!
If you don't have any on hand, you can easily turn your granulated sugar into powdered sugar by following this recipe.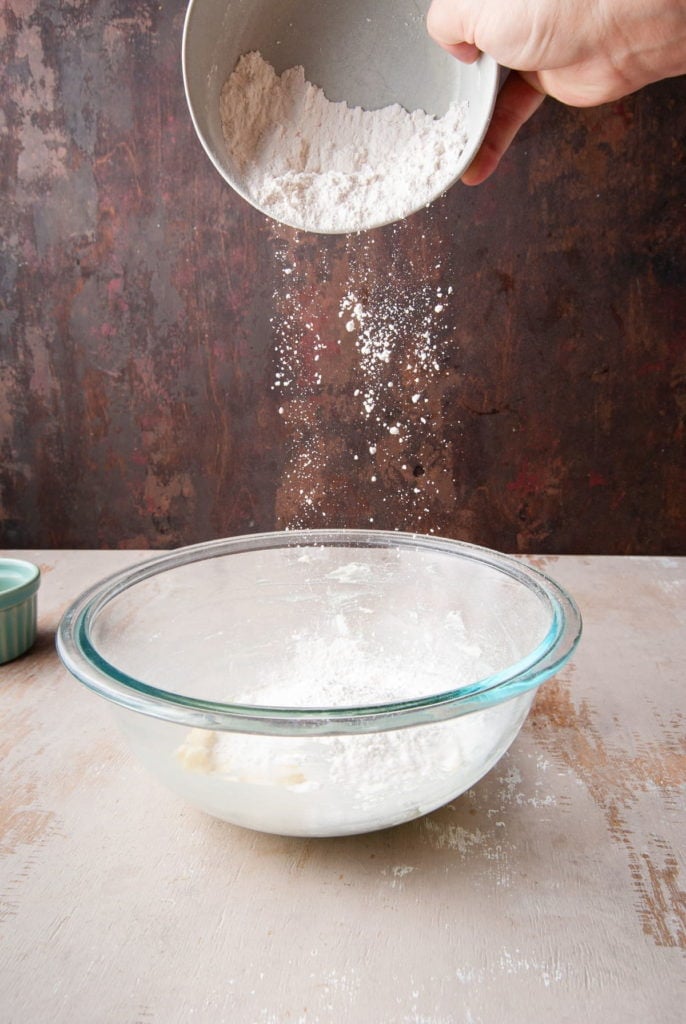 Use Just The Yolk
Utilizing just the yolk of an egg gives us that super buttery texture. Using both the white and the yolk will give your margarita cookies a more crumbly texture.
But don't waste the egg white! Whip up an egg-white omelet or use it to make these Candied Nuts.
Green tip: Did you know that of the billions of pounds of food wasted annually, it is estimated that 50% of it happens in our homes? It's always best to avoid food waste as much as you can!
Separating the egg white from the yolk is easily achieved by cracking your eggshell in half over a bowl and transferring the egg yolk back and forth between either half of the shell, allowing the egg white to fall into the bowl.
You are now left with the egg whites in the bowl and the egg yolks in the shell. And voila! Just like that, your eggs are separated.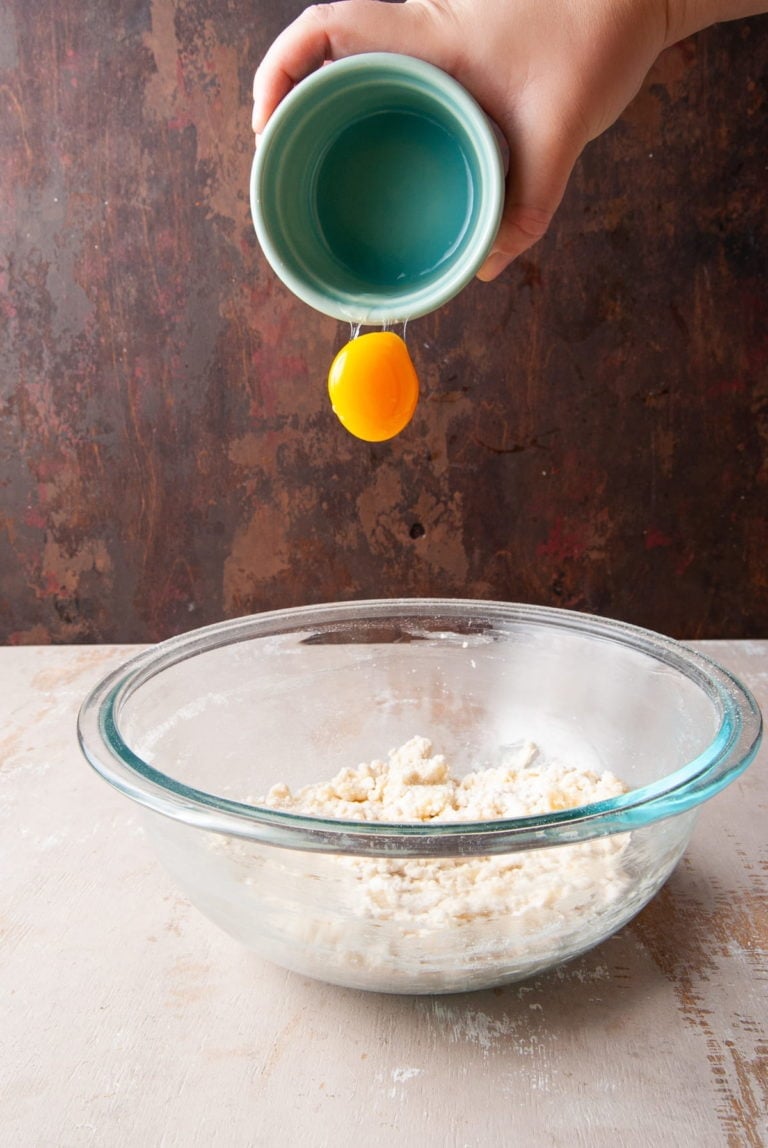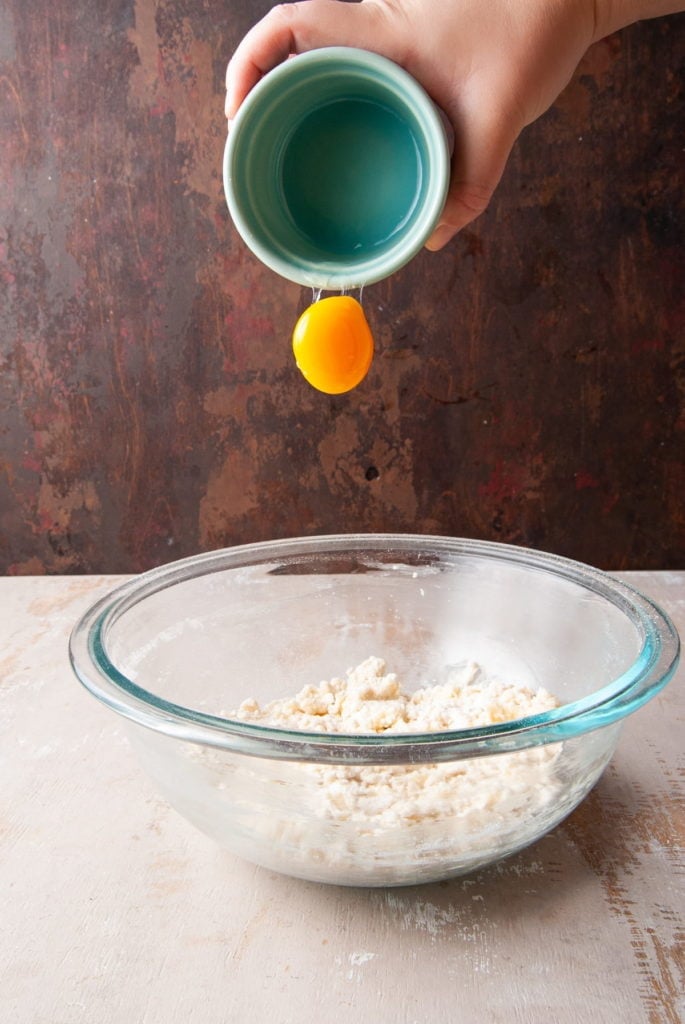 Infuse The Lime Flavor
In order to get enough lime flavor to stand out in the cookies, we will add lime in the form of both zest and juice.
Make sure to rinse the outside of your lime to make sure the zest is clean and safe for consumption.
Inside the cookies, you will add 1 tablespoon of lime juice and 1 tablespoon of lime zest.
You'll also add 1 teaspoon of lime juice to your glaze, and garnish the top of the cookies with more zest.
Still, 1 lime should produce enough juice and zest for these cookies. If you want to play it safe, grab an extra lime. You can always use it to whip up a cocktail or some guacamole!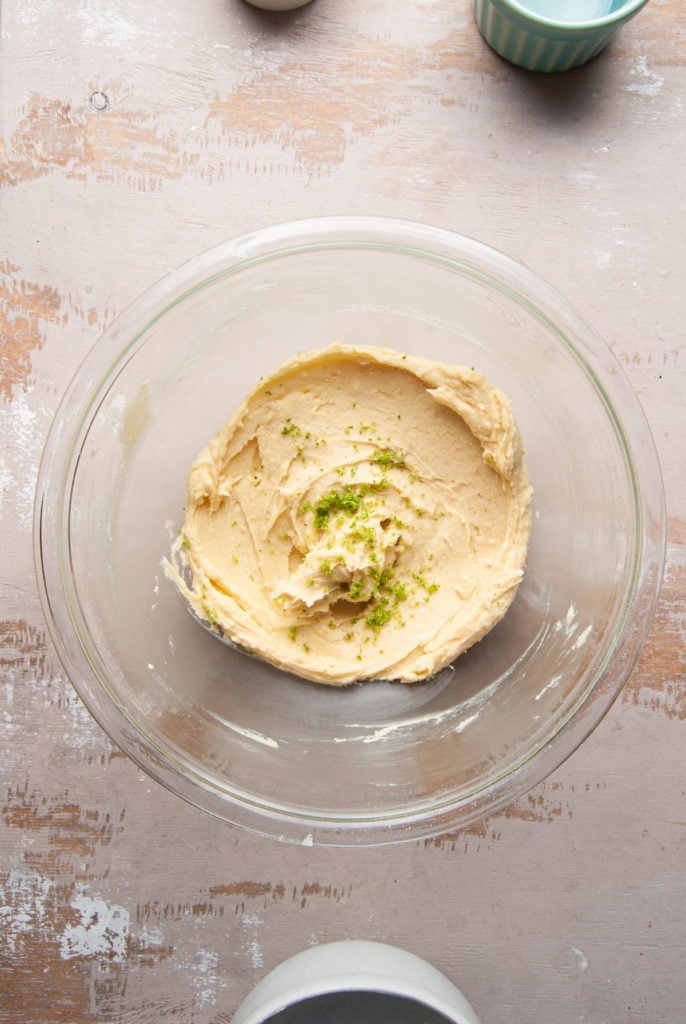 All About That Glaze
Making a successful tequila lime glaze is all about patience and following your instincts. Fill a large mixing bowl with your tequila and 1 teaspoon of lime juice, get your hand mixer going, and start adding the powdered sugar.
Usually, 1/2 cup powdered sugar is just right, but it's better to start with 1/4 cup and continue to add your powdered sugar, with the hand mixer on low, and checking the consistency as you go.
You're aiming for a fragrant glaze that is sticky, smooth, and just thick enough to slowly run off your spoon. A proper glaze for these margarita cookies will almost resemble glue.
Make sure your cookies are nice and cool before adding the glaze, so the hot cookies don't melt the glaze right off.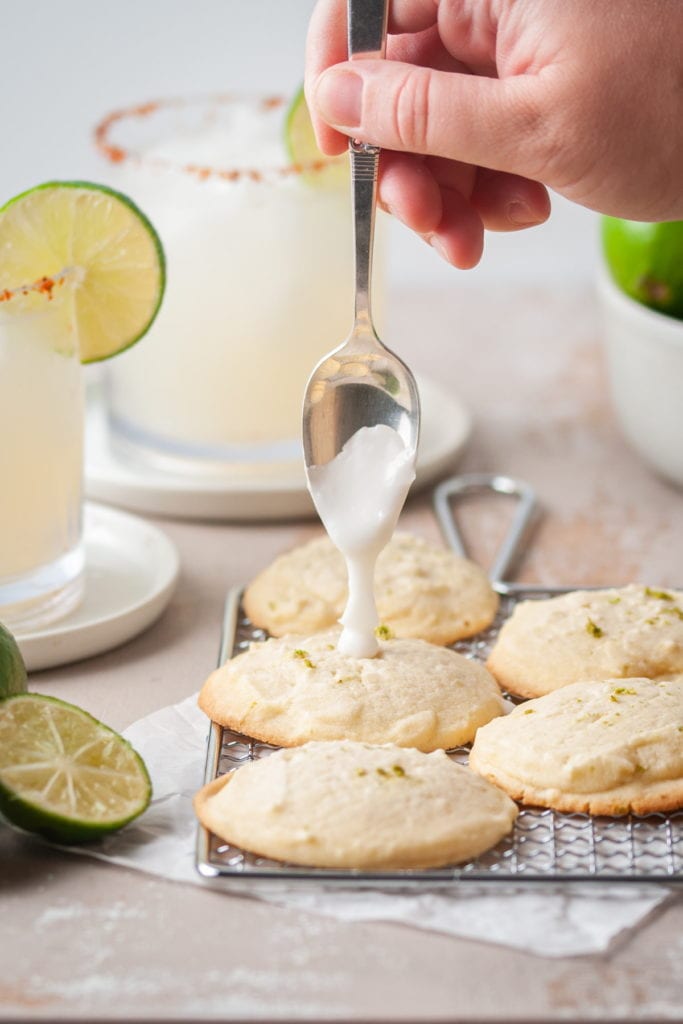 Choosing Your Tequila
This recipe calls for 1 tablespoon of tequila Blanco. It's enough to give you that tequila flavor (I can't call these Margarita cookies without bringing that tequila now, can I?), but not too much to be overpowering or give you a buzz.
Because the amount of tequila is so small, I'm confident you can use any tequila you like in this recipe and have success.
Blanco is my preference just because it tends to be a tad more citrus-y, which plays well with the fresh lime. I also prefer the bright white color the Blanco yields, as opposed to a slightly yellow glaze from a darker tequila.
That being said, if you prefer reposado, that's absolutely fine in these cookies, too!
Green tip: Consider these reusable baking mats to reduce your plastic waste! They are nonstick and easy to clean.
Storing Your Margarita Cookies
If you store these delicious cookies in an airtight container, they will last about a week at room temperature, 10 days in the refrigerator, and up to 3 months in the freezer.
Allow them to thaw naturally before enjoying out of the freezer.
You can also opt to freeze the dough for up to one month and bake them as you want to enjoy them. In this case, roll the dough into balls and store them in an airtight container in the freezer.
When you're ready to bake them, just pop them on your baking mat as usual. The tequila lime glaze will last in the freezer in its own container for about a month as well.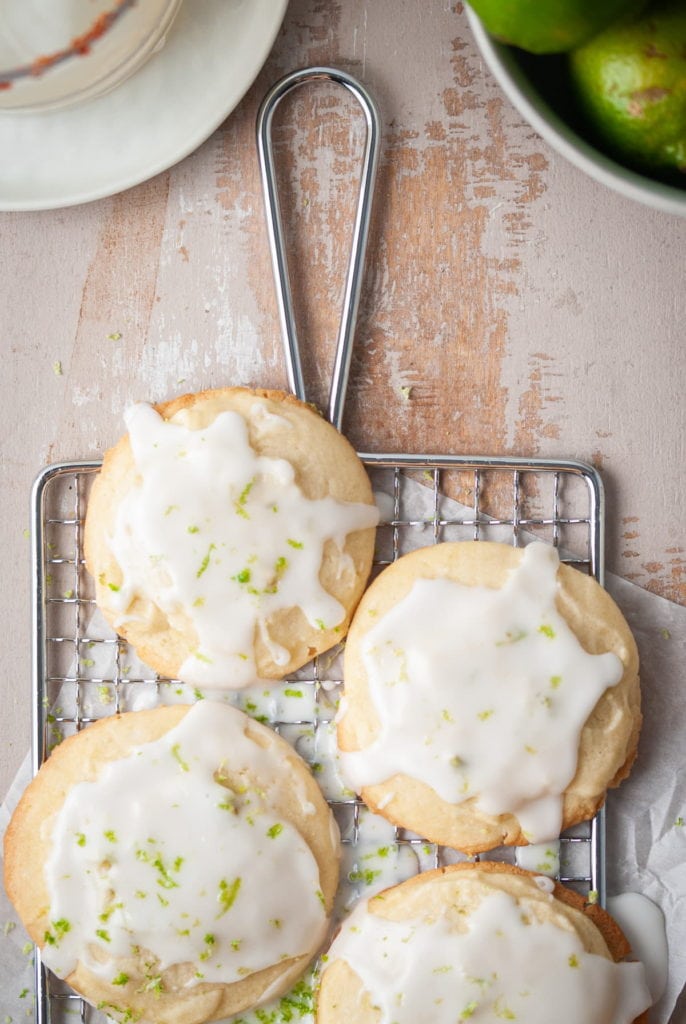 Margarita Cookies Frequently Asked Questions
---
---
How long do cookies last in the freezer?
Cookies typically last up to 3 months in the freezer once baked when kept in an airtight container. If you're freezing the unbaked dough, it will last for up to 1 month.
Do you use salted or unsalted butter for cookies?
While salted butter can be used in a pinch, unsalted butter is much preferred for baking because it allows you to have more control over how much salt you add to your cookies.
Want to sharpen your kitchen skills?
Why You Should Make These Margarita Cookies
---
---
They're fun! What's more fun than your favorite cocktail in cookie form?
They're summery. All that fresh lime brings that summery citrus flavor.
The texture! They literally melt in your mouth.
If you're loving these Margarita Cookies and are now craving a refreshing marg, peep this list of Best Margaritas. And if you're here for the shortbread cookies, check out these Rosemary Shortbread Cookies with Lemon Glaze.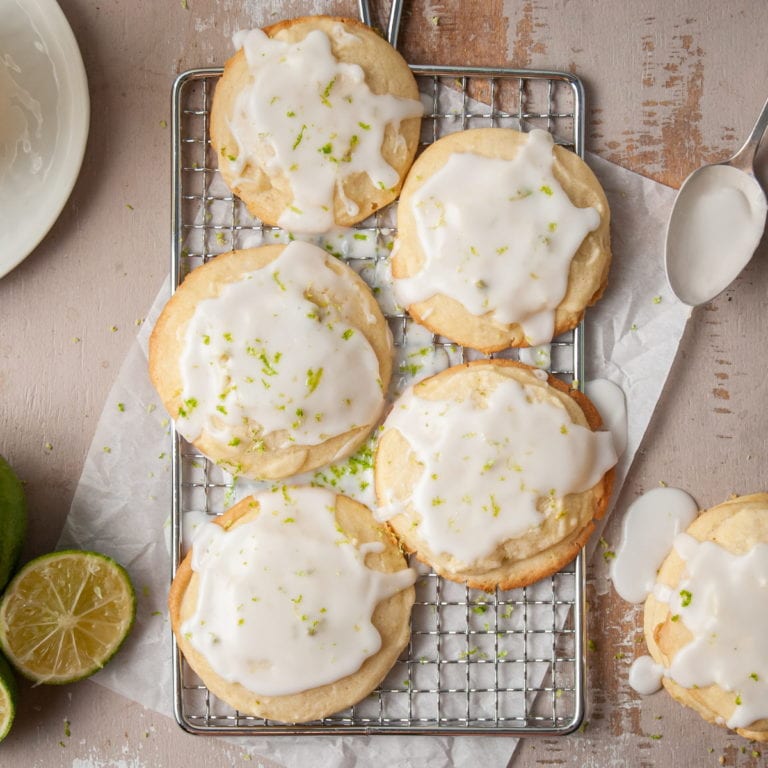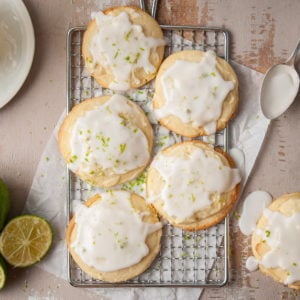 Margarita Cookies with Tequila Lime Glaze
PRINT
PIN
RATE
These fun Margarita Cookies with Tequila Lime Glaze have all the best flavors of your favorite cocktail rolled into a melt-in-your-mouth cookie!
Ingredients
Margarita Cookies
½

cup

unsalted butter, softened

(½ cup usually = 1 stick)

½

cup

powdered sugar, tightly packed

(aka confectioner's sugar)

1

cup

all-purpose flour

1

large

egg yolk

¼

teaspoon

salt

1

tablespoon

lime zest

1

tablespoon

lime juice
Tequila Lime Glaze
2

teaspoons

tequila Blanco

1

teaspoon

lime juice

¼ to ½

cup

powdered sugar

extra lime zest for garnish

(optional)
Instructions
Margarita Cookies
In a large mixing bowl, use a hand mixer on medium speed to combine butter and sugar.

Add the flour and salt and combine with your hand mixer on medium speed.

Add the egg yolk and lime juice and combine with your hand mixer on low (see tip below on how to separate egg yolks).

Fold in the lime zest.

Use a large cookie scoop or wet hands to form your dough into 8 round cookies and place them on a lined baking sheet, leaving at least an inch of space in between each cookie.

Place the cookie sheet with your cookie dough in the freezer to set for 30 minutes.

Preheat the oven to 325°F.

Bake cookies for 14-16 minutes, until the outer edges just start to brown.

Allow the cookies to cool completely before adding glaze.
Tequila Lime Glaze
Add tequila and 1 teaspoon of lime juice to a large mixing bowl.

With your hand mixer on low, add 1/4 cup powdered sugar. Keep your mixer on and continue to add more powdered sugar, about 1 tablespoon at a time, checking the consistency as you go. You will know you've added the right amount of sugar when the glaze is just thick enough to slowly drip off of a spoon.

Once your cookies have cooled, drizzle the glaze on top and add some more lime zest for a fun and fragrant finish!
Pro Tips
Separate your yolk from your egg by cracking your eggshell in half over a bowl and transferring the egg yolk back and forth between either half of the shell, allowing the egg white to fall into the bowl.
Don't waste the egg white! It can be used in these Candied Walnuts, Egg White French Toast, or Love Potion Cocktail.
If you prefer tequila Reposado, you can substitute it for tequila Blanco in this recipe.
Cookie monsters are always happy at my house with this delicious selection of my best cookie recipes to choose from! Nom nom nom!
Did you make this recipe?
Let me know by leaving a recipe rating below, or by tagging @marleysmenu on Instagram.