Love matcha and looking for more delicious ways to integrate it into your daily life? These Matcha Cookies with White Chocolate Drizzle are the perfect consistency with the right amount of sweetness and earthiness from the matcha to make them completely addictive.
The fun color and unique flavors in this recipe make these little green goodies my new favorite soft and chewy cookie recipe! Plus, they're super easy, requiring just one bowl and ready in a flash!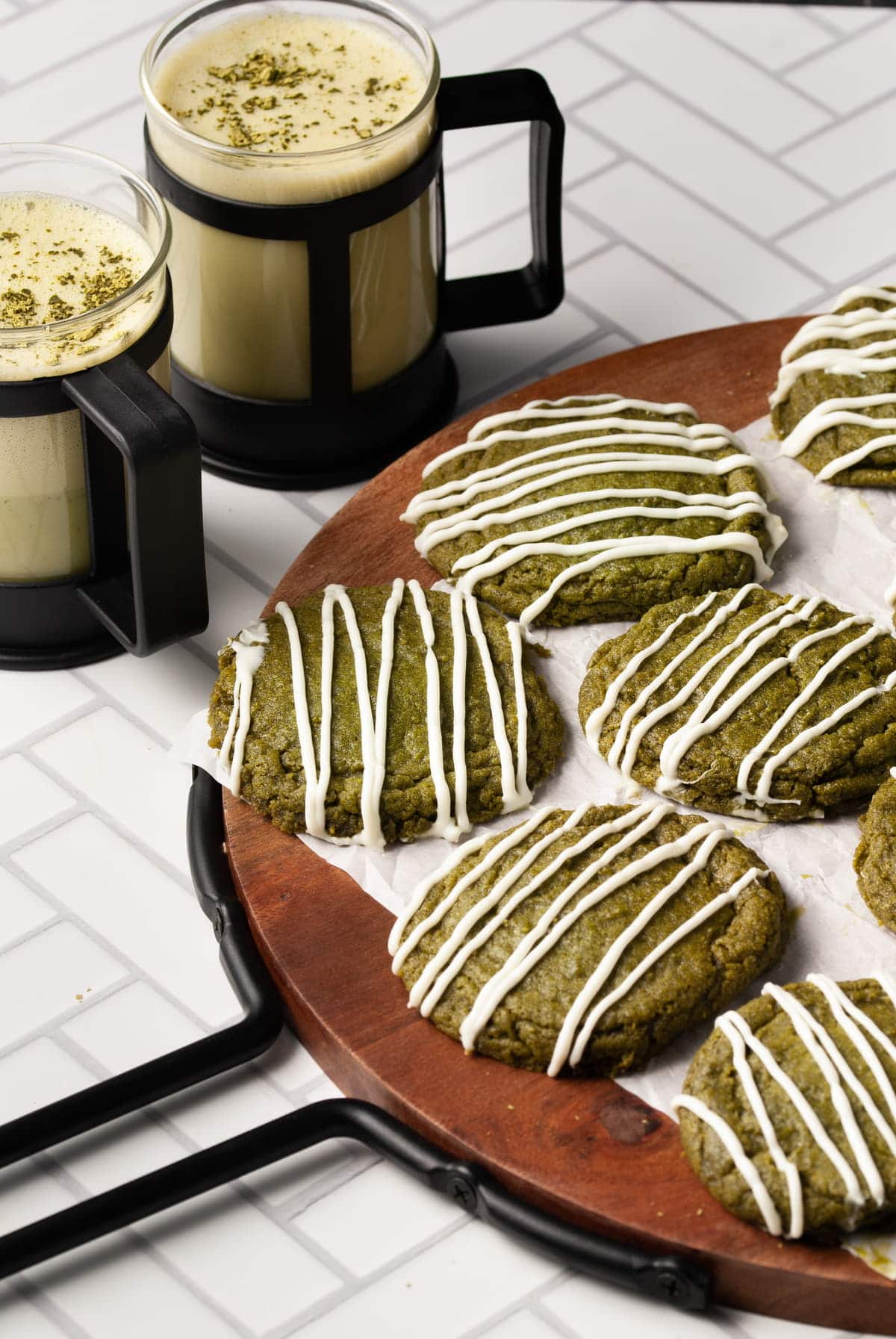 If these cookies piqued your interest, you may be matcha-obsessed like me! And I certainly can't blame you. It's earthy and refreshing, and gives you a great punch of caffeinated energy!
And as the awesomeness of this green little powder is catching on, integrating it into baked goods, healthy snacks, and even cocktails has become more and more popular!
Matcha Cookies Ingredients
---
Here's everything you'll need:
Unsalted butter. This recipe requires softened, not melted butter.
Granulated sugar. For sweetness.
Egg. For leavening and to act as a binder.
Vanilla extract. For taste.
Matcha Powder. The fun, colorful, and caffeinated addition to your new favorite cookies.
All-purpose Flour. For the base of your dough.
Baking Soda. For lift.
Baking Powder. For tenderness.
Salt. To enhance the flavor of your cookies.
Matcha Cookies Tips and Tricks
---
You'll Need A Hand Mixer
A hand mixer is the best tool to cream the sugar and butter together for the base of your cookies. It's also the easiest way to combine the rest of the ingredients.
I use this Cuisinart Hand Mixer for almost all of my baking and love it!
The Secret is in the Softening
The butter you use should be unsalted, so you can control the amount of salt you are adding to your Matcha Cookies. You will also want to make sure your butter is nice and soft.
If you take it out of the fridge before you get started, and set it near your oven while it's preheating, that should be plenty of time for it to soften. If you forget to take it out—don't worry! Just microwave it in 15-second intervals until you get the right consistency.
Remember, we are striving for softened, not melted. You'll know your butter is softened when your finger leaves an imprint when you poke it.
Green tip: Look for organic and palm oil-free butter if you can. Buying organic means you are supporting farms that do not use damaging pesticides and fertilizers, and palm oil production is a huge driver behind deforestation.
Cream Your Butter and Sugar First
Creaming your fat (in this case butter) and the sugar together doesn't just combine these ingredients together, it actually aerates them.
Adding these air pockets is a super-effective way to get that soft and chewy matcha cookie. Then you can add your egg and vanilla extract.
Use your hand mixer on high to combine the egg and vanilla with the butter and sugar. Then, use your hand mixer on low to integrate your dry ingredients.
Add Your Wet, then Your Dry
As a busy mom and sustainability advocate, I'm all for one-bowl baking recipes. Less clean-up simply means you save on both time and water.
But in order to mix everything effectively with no lumps, it's best to do so with some methodology.
Once your butter and sugar are creamed together, add your egg and vanilla extract next. Use your hand mixer to combine before adding the dry ingredients.
Green tip: Look for pasture-raised eggs (over free-range or cage-free) to support agriculture that is less reliant on chemicals and fossil fuels.
You'll be left with a nice, thick sticky dough.
Let Them Breathe
Once you form your dough, use a large cookie scoop or heaping tablespoon to form roughly round cookies.
Make sure to give them enough room to spread, leaving 1-2 inches between each cookie. The dough will make 12-14 cookies, depending on the size you make them, but don't try to cram more than 12 on a large baking sheet.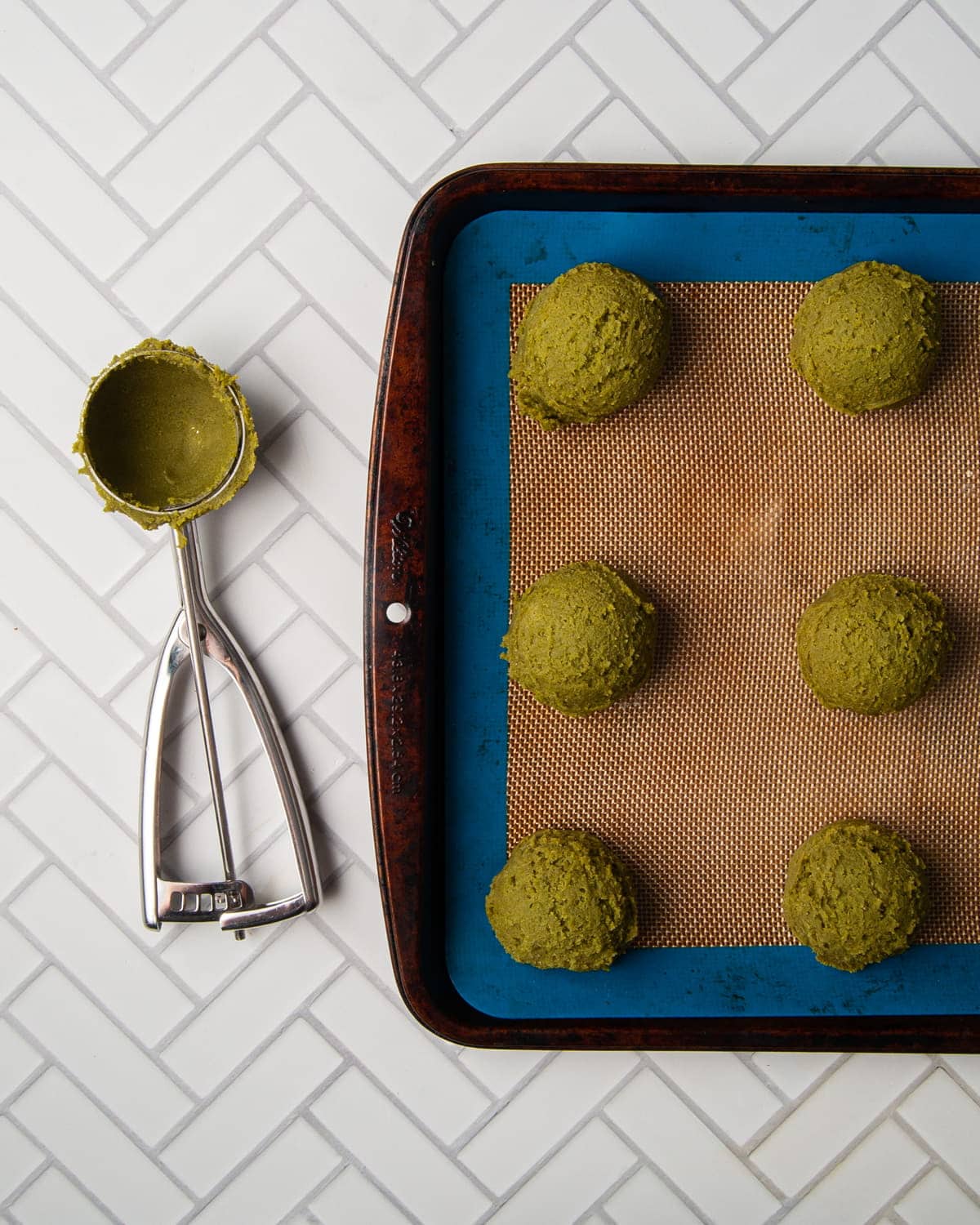 Freezing The Dough
If you don't want to bake the whole batch, simply bake the number of cookies you want, and freeze the rest. Shape them all, and store the raw cookies you want to save for later in a freezer-safe bag.
You can freeze this dough for up to 3 months and bake them fresh as you want to enjoy them. Just add two minutes to your baking time when you are making them from frozen.
Green tip: Consider these reusable baking mats to reduce your plastic waste! They are nonstick and easy to clean.
How to Store and Save Matcha Cookies
These cookies will last up to two weeks in an airtight container at room temperature.
You can also freeze the cookies that are already baked to make them last longer! They'll stay delicious in the freezer for up to 6 months.
For other soft and chewy cookie recipes, check out these Neapolitan cookies and these Pink Sugar Cookies!
Use a Piping Bag
The easiest way to get your white chocolate drizzle perfect is with a piping bag. Once you melt your white chocolate, give it a minute to cool down, so you don't burn your hands while handling your piping bag.
Slowly squeeze the melted white chocolate out of the piping bag as you move back and forth across the top of the matcha cookies.
If you don't have piping bags, you can easily use a storage bag. Just seal it and use scissors to cut the very tip of one corner off. Voila! Makeshift piping bag!
Green tip: Reduce your plastic waste by using these Reusable Piping Bags!
You can also opt to use a spoon, you'll just have to be a little more careful!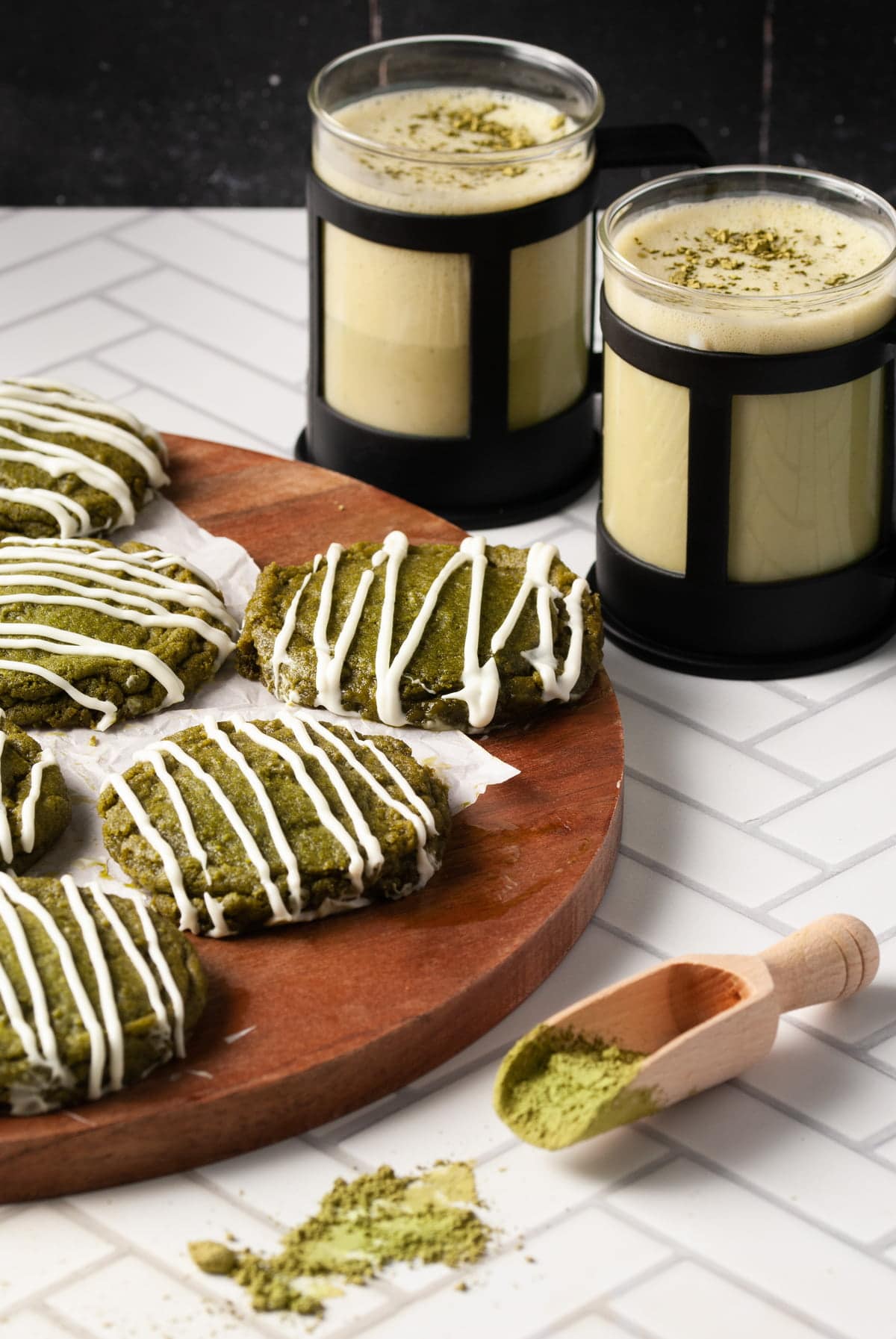 Matcha Cookies Frequently Asked Questions
---
How does matcha affect baking?
Matcha will add herbal, tea-like, earthy flavor and green color to your baked goods!
It can easily be added to your dry ingredients in most recipes without having a negative effect on the baking time, texture of your baked goods, or rise.
Do matcha cookies have caffeine?
Yes! Each cookie has about 35 mg of caffeine. For perspective, a standard 8-ounce cup of coffee contains 95 mg of caffeine on average.
So, roughly 3 of these cookies are equivalent to your morning cuppa joe caffeine-wise.
Can matcha powder be baked?
Absolutely, yes! Matcha powder does not lose any caffeine content or nutritional value when it is baked.
Why You Should Make These Matcha Cookies
---
The texture! When I say soft and chewy, I mean these will melt in your mouth!
They're unique. The earthy flavor you get from the matcha brings a unique taste to the classic sugar cookie.
They're balanced. That matcha cuts through the sugar to give you a super-balanced bite.
They are fun! Look at that color!
If you're loving these Matcha Cookies with White Chocolate Drizzle, check out these Fruity Pebbles Cookies and Margarita Cookies with Tequila Lime Glaze.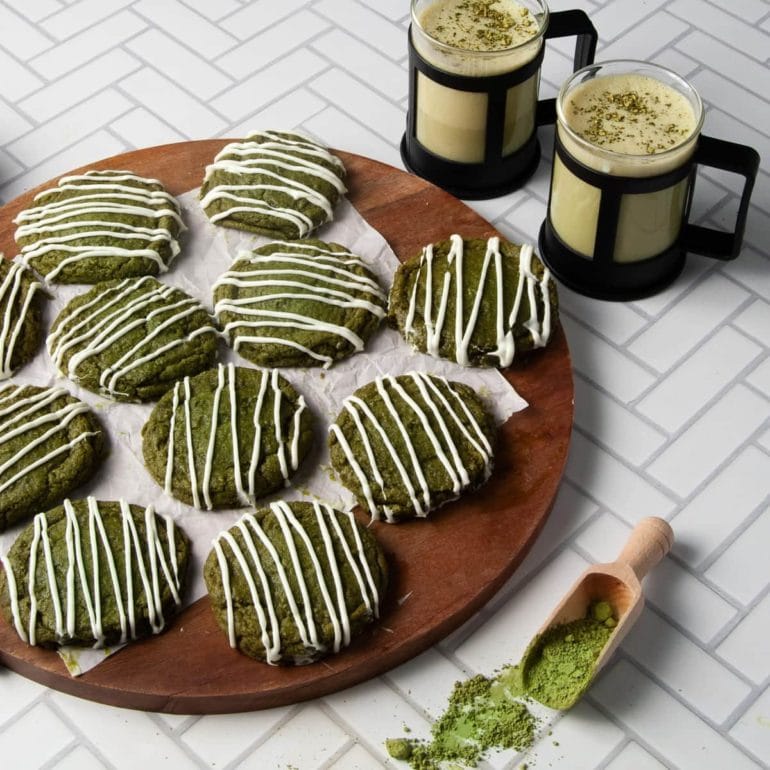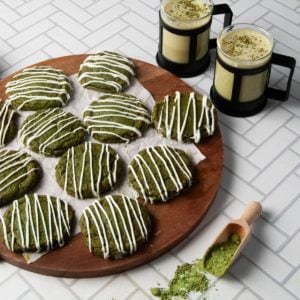 Soft and Chewy Matcha Cookies
PRINT
PIN
RATE
These soft and chewy Matcha Cookies have the perfect amount of sweetness with a hint of earthiness and pop of color from the matcha powder! And with a beautiful white chocolate drizzle, they are sure to impress.
Ingredients
Matcha Cookies
1

cup

unsalted butter, softened

(1 cup usually = 2 sticks)

1 ¼

cup

granulated sugar

1

large

egg

2

teaspoons

vanilla extract

2 ½

cups

all-purpose flour

¼

cup

matcha powder

1

teaspoon

baking soda

½

teaspoon

baking powder

½

teaspoon

salt
White Chocolate Drizzle (Optional)
¼

cup

white chocolate chips
Instructions
Matcha Cookies
In a large mixing bowl, use a hand mixer to cream together butter and sugar until well combined.

Add the egg and vanilla extract and combine with a hand mixer on low.

Add the flour, matcha, baking soda, baking powder, and salt, and use the hand mixer to combine. You should be left with thick dough.

Use a large cookie scoop or heaping tablespoon to your lined baking sheet, leaving about 1-2 inches in between each cookie.

Bake for 7-9 minutes and set aside to cool.
White Chocolate Drizzle (Optional)
Add white chocolate chips to a microwave-safe bowl and microwave on high for 30 seconds.

Stir with a fork and if need be continue to heat in 10-second intervals until completely melted.

Add melted white chocolate chips to a piping bag and drizzle over cooled matcha cookies. Enjoy!
Pro Tips
If you don't have a piping bag, you can use a storage bag! Just cut the very tip of one corner off to drip the white chocolate through.
If you enjoyed this recipe, you gotta check out the collection of my best recipes that use matcha!
Cookie monsters are always happy at my house with this delicious selection of my best cookie recipes to choose from! Nom nom nom!
Did you make this recipe?
Let me know by leaving a recipe rating below, or by tagging @marleysmenu on Instagram.