Looking for a fun new way to enjoy French Toast? Well, if you're a tea lover, this Matcha French Toast is for you!
With strong, earthy green tea and honey flavor fried into soft, pillowy bread, this fresh new take on french toast is a dream!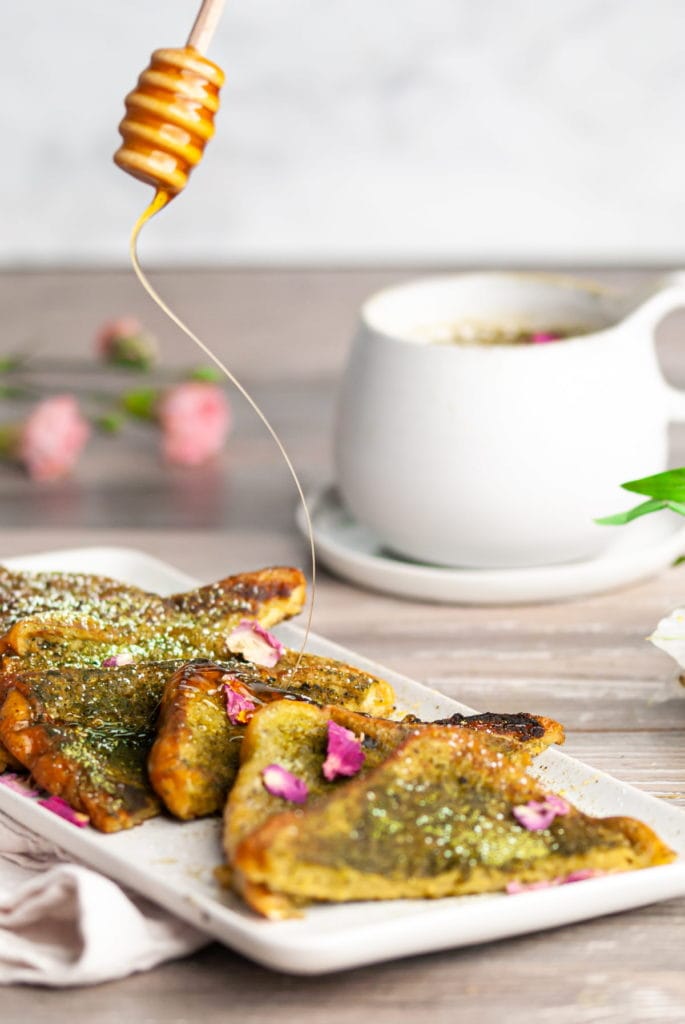 Matcha is a high-grade green tea powder with bright green color and an earthy, green tea taste. It's delicious in matcha cocktails, matcha-infused baked goods, and even French toast!
Matcha French Toast Ingredients
---
Here's everything you'll need:
Bread. Brioche or Challah prefered for the fluffiest french toast!
Eggs. Eggwash is critical to make the perfect french toast.
Milk. For moisture.
Matcha Powder. The new twist you are most excited about! I used culinary-grade matcha powder, which is a little less potent than ceremonial grade. If you are using ceremonial matcha powder, you may want to slightly reduce the amount of powder you add.
Honey. Try buying raw, locally sourced honey. Generally, smaller-scale honeybee operations harvest honey in the fall, when the bees produce it in excess.
Butter. To fry your French Toast in.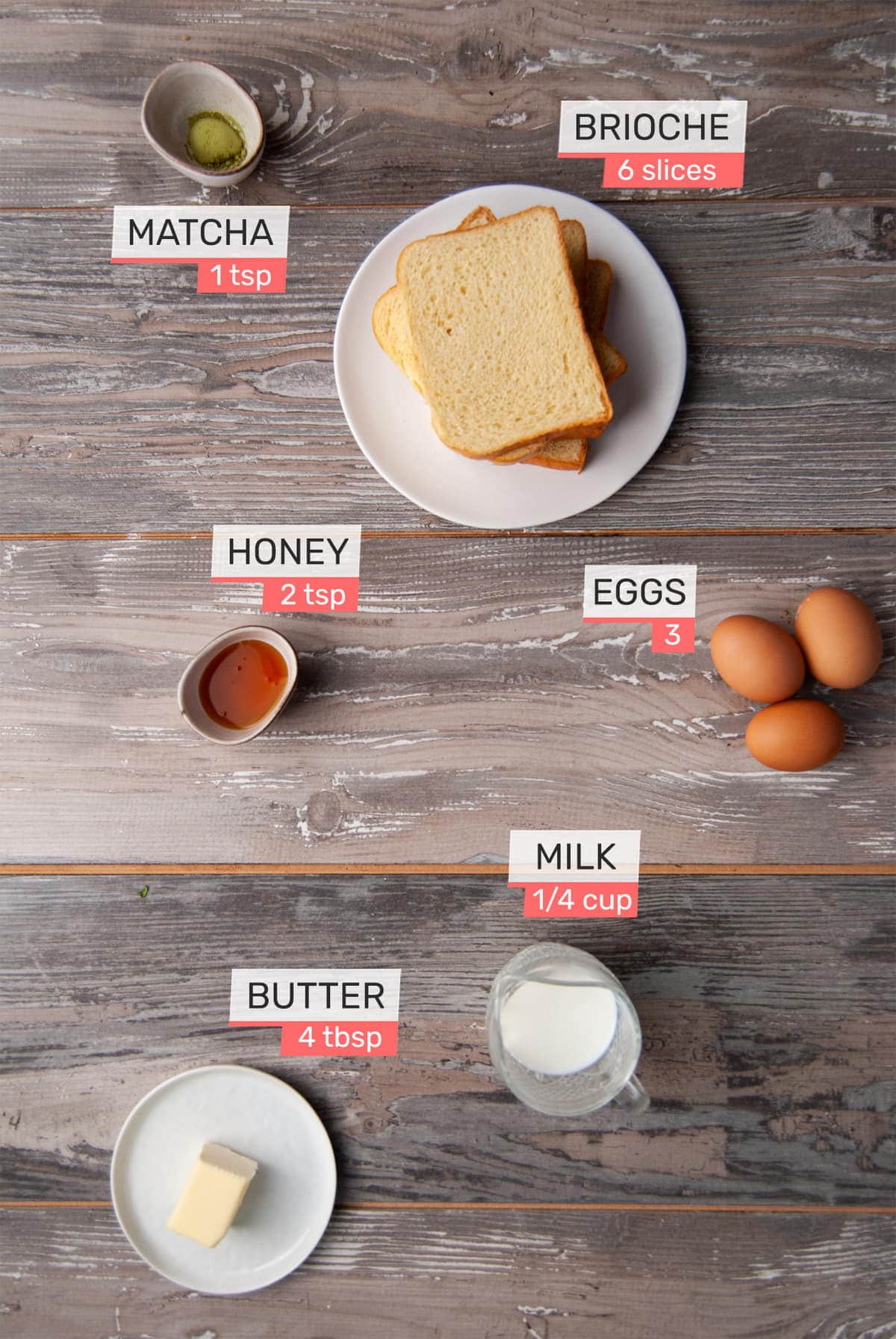 Matcha French Toast Tips and Tricks
---
Crack Your Eggs First
In this (and all recipes with eggs, really), cracking your eggs into your bowl first or in a separate bowl entirely is the best practice! It allows you to spot any bits of eggshell that may fall into your bowl and easily remove them.
It also eliminates any risk of the rare but dreadful bloody egg.
Green tip: Did you know you can compost eggshells? Read all about it in this article on composting eggshells!
Want to sharpen your kitchen skills?
Consider a Frother or Immersion Blender
It's important to emulsify the matcha and honey into the egg wash. In order to truly integrate these ingredients, you may need more than just a fork or whisk.
If you don't have a matcha whisk, you can use a frother or an immersion blender to make sure your egg wash is nice and airy, and your matcha and honey are thoroughly combined.
It also helps to sift your matcha powder in!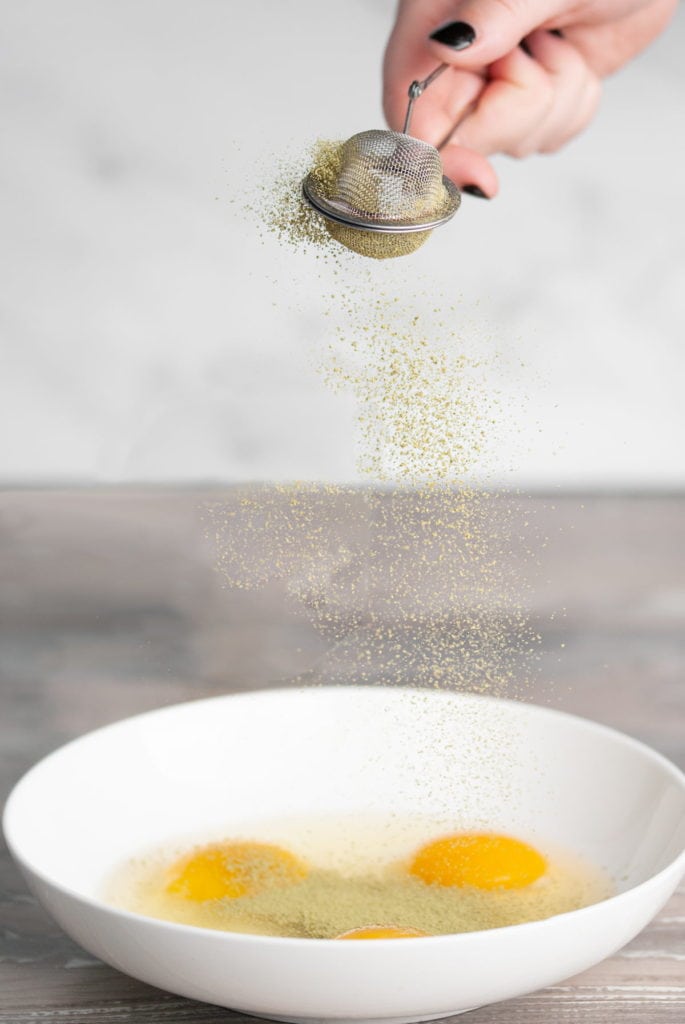 Get Your Pan Hot
It's best to get your pan hot and butter melted for the crispiest exterior.
I like to whip up my eggwash, then get my pan hot before I even start dunking my bread into the eggwash.
You want your butter to sizzle. This usually just takes a minute or two over medium heat.
Green tip: Match your pan size to your burner size to ensure you aren't wasting excess energy!
Dredge Your Bread
To avoid soggy French Toast, it's best to just dunk your bread in the egg wash rather than letting it sit.
Once your pan is nice and hot, quickly dunk your bread into your matcha eggwash, coating both sides.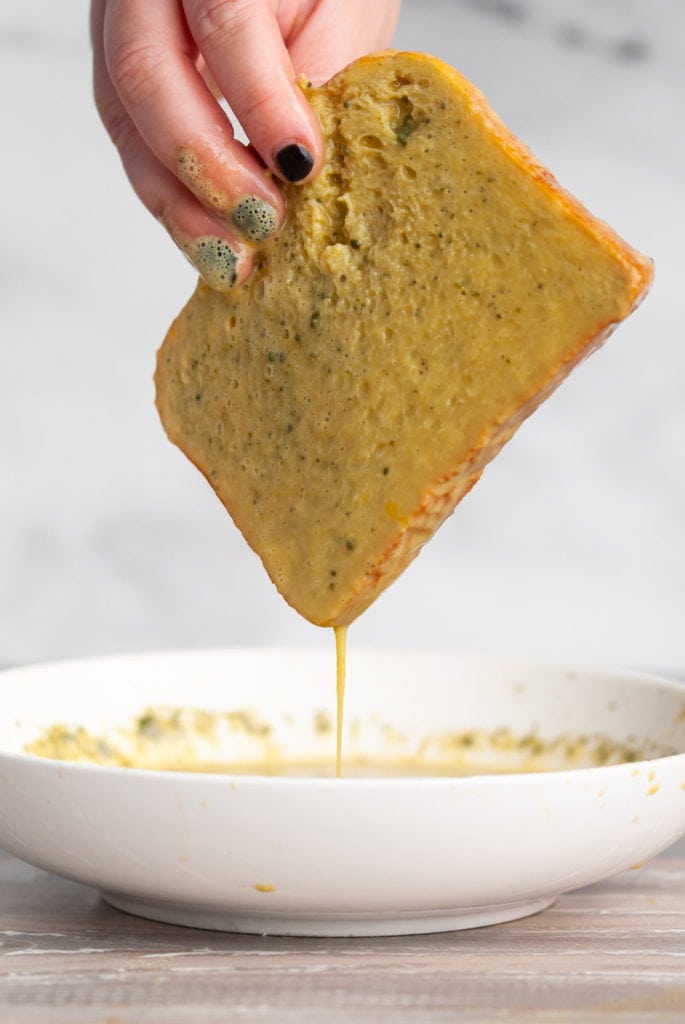 Get it Crispy
In sizzling butter over medium heat, your French Toast should be ready in just about 3 minutes. This time may vary depending on your pan, heat source, and environment, so the best indicator is the color.
You'll notice a little bit of golden brown on the surface as your French Toast starts to get crispy. Make sure you have that golden brown on both sides before removing your Matcha French Toast from the pan.
If you are not serving the French toast right away, keep it warm in the oven! Preheat your oven to 200°F and lay each slice out on a baking sheet lined with parchment paper or a reusable baking mat and keep it in the oven until you are ready to serve.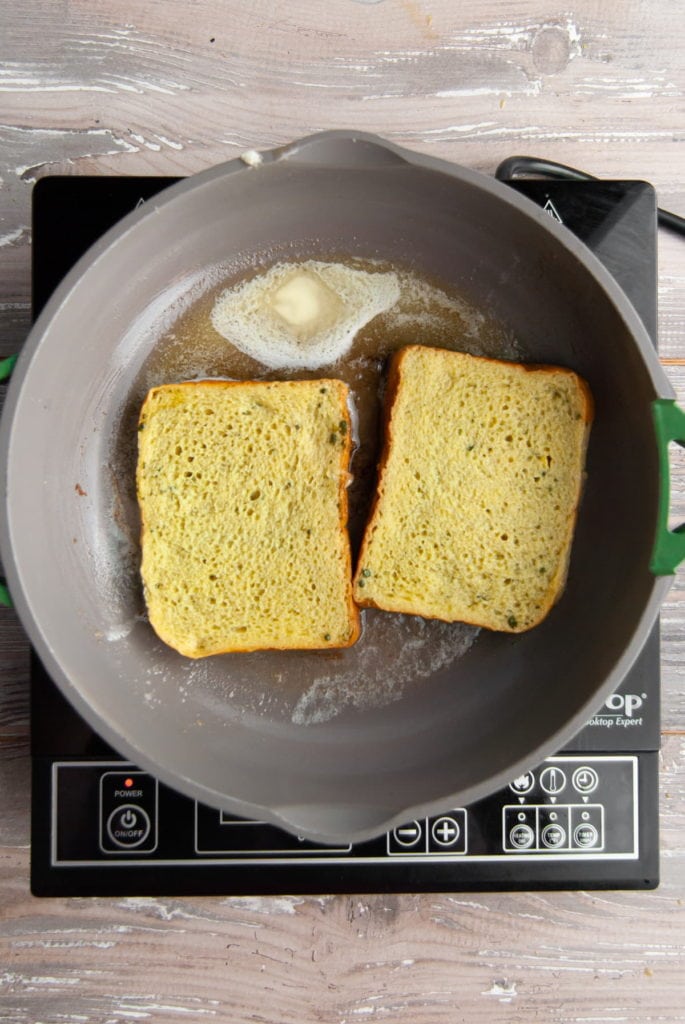 Should You Have Leftovers

French toast will stay delicious for 5-7 days in the refrigerator in an airtight container. You can also freeze it for up to 4 weeks!
From the fridge, reheat your Matcha French Toast on a frying pan for about five minutes on each side, until heated through. You can also reheat it in the oven (or toaster oven!) at 375°F for 10 minutes (or 15 minutes from frozen).
The microwave will work in a pinch, but it does tend to make French Toast a little soggy.
If you have extra egg wash, that can be saved, too. Store it in an airtight container in the refrigerator to use to make more French toast over the next 2-3 days.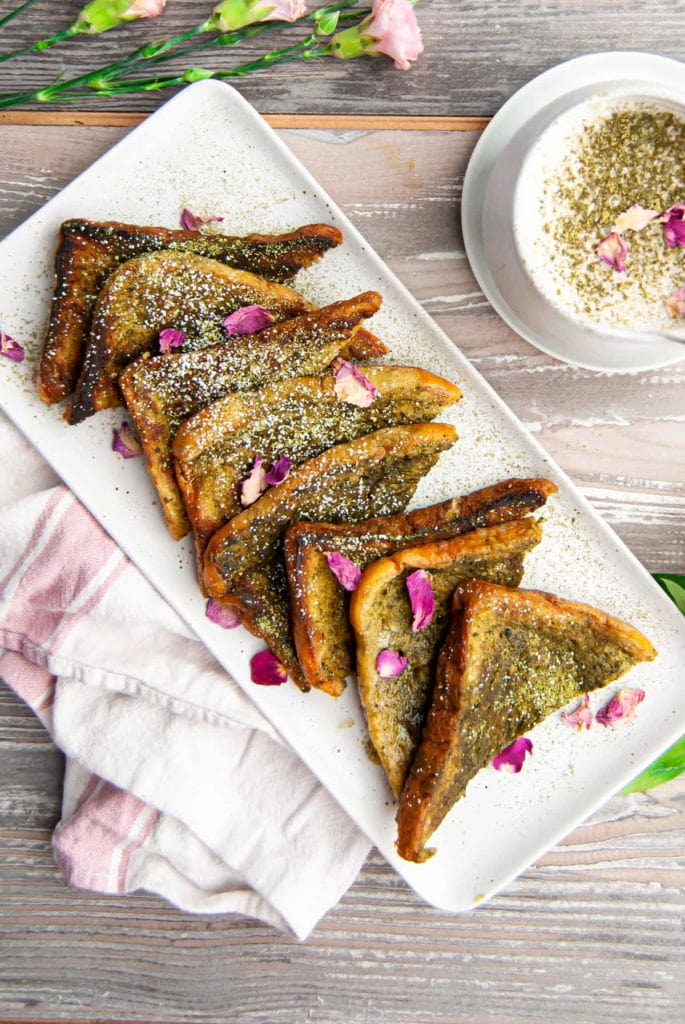 Why You Should Make This Matcha French Toast
---
It's unique. The addition of Matcha to a classic brunch dish makes it an entirely new and fun experience!
It's easy. Super quick to whip up and with just 6 ingredients.
It's packed with flavor. The matcha and honey combo gives a punch of tea-time flavor to every bite.
If you are loving this Matcha French Toast and are looking for more fun brunch ideas, check out these Cinnamon Rolls with Apple Pie Filling and Bananas Foster Pancakes.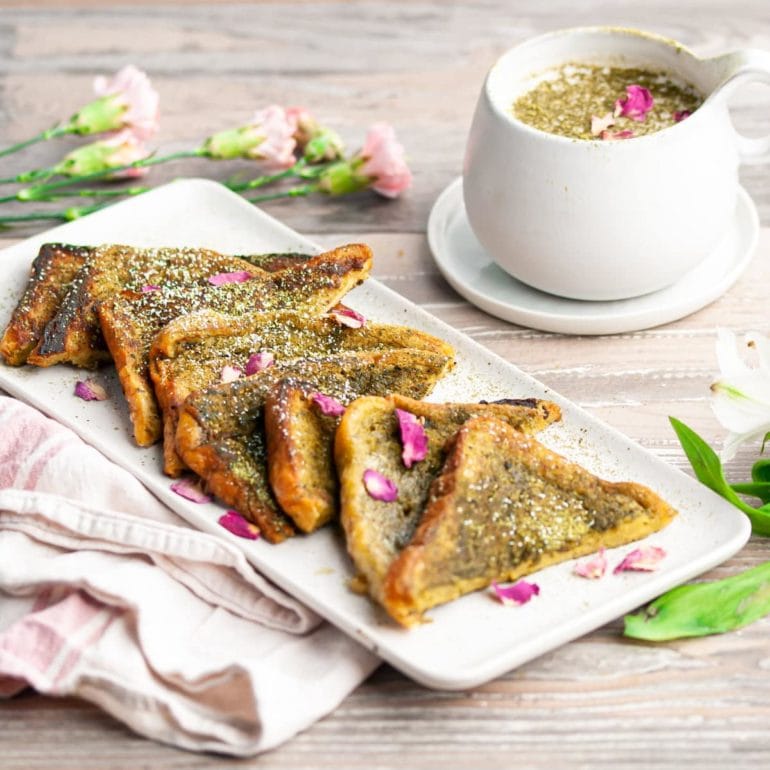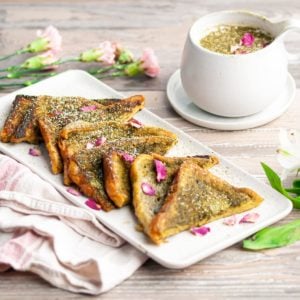 Honey Matcha French Toast
PRINT
PIN
RATE
This Matcha French Toast is fluffy on the inside and buttery and crispy on the outside, with a flavor punch of green tea and honey.
Ingredients
3

large

eggs

¼

cup

milk

(cows or unsweetened dairy)

1

teaspoon

matcha powder

2

teaspoons

honey

4

tablespoons

unsalted butter

(for frying)

6

slices

bread

(brioche or Challah preferred. Stale bread works too!)
Instructions
Crack your eggs in a large, shallow bowl and whisk in your milk.

Add about 2 tablespoons of butter to a large pan over medium heat and allow butter to melt and sizzle.

Once your pan is hot, work quickly to dip your bread in the matcha eggwash, one slice at a time, coating it on both sides. Carefully add each slice to the hot pan, leaving an inch or two in between to make it easier to flip.

Allow the bread to fry in the butter until golden brown (about 3 minutes) and then flip.

Repeat steps 4 and 5 until your bread and egg wash are used up, adding more butter to your pan as needed.

Serve immediately or keep warm in the oven at 200°F until you are ready to serve.
Pro Tips
To avoid soggy French Toast, just dunk your bread in the eggwash and immediately transfer it to the pan. Do not allow your bread to soak in the bread wash.
If you enjoyed this recipe, you gotta check out the collection of my best recipes that use matcha!
Or maybe you can't get enough French Toast? If so, you'll love this list of my best French Toast Recipes—Ouh là là!
Did you make this recipe?
Let me know by leaving a recipe rating below, or by tagging @marleysmenu on Instagram.