Looking for a hearty and filling meatless meal that's veggie-packed and delicious? This Loaded Meatless Baked Ziti is a cheesy, warm, comfort food dish that is sure to satisfy the whole family!
Packed with delicious sauteed vegetables, flavorful tomato-based sauce, and creamy ricotta and then topped with a thick layer of gooey, melty cheese, this meatless baked pasta dish recipe is the key to a wholesome dinner.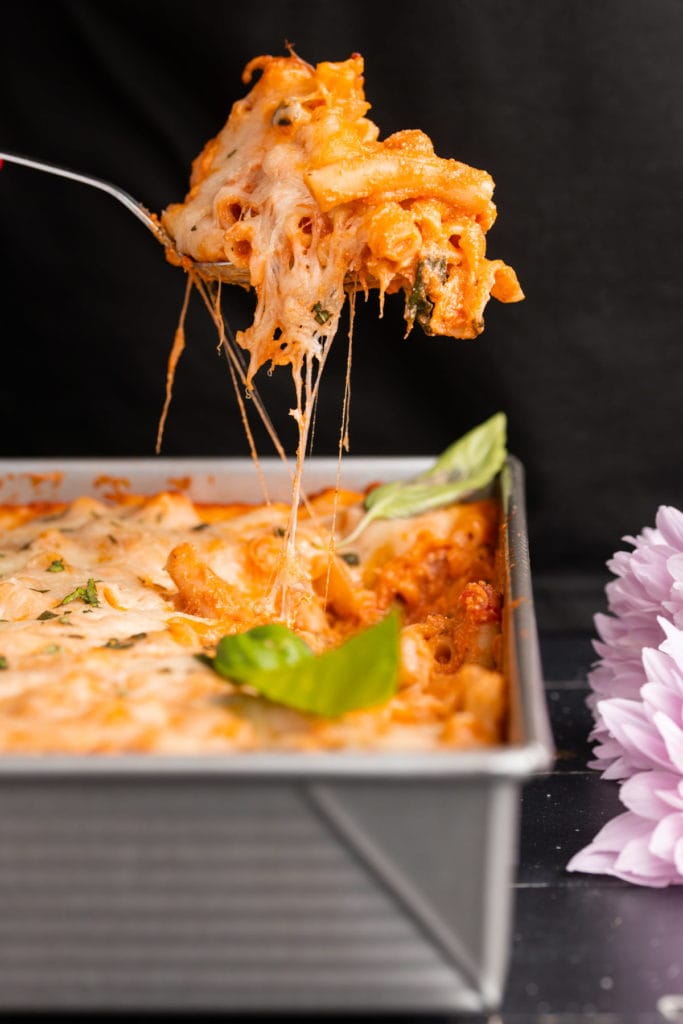 As an environmental scientist, I am always trying to make eco-conscious food choices. One great way to improve your ecological footprint is by finding ways to enjoy more meatless meals.
Green tip: Industrial meat production has a huge impact on the environment, especially because of the amount of land it takes to sustain and its high amount of greenhouse gas emissions. Reducing your meat consumption is one great way to reduce your ecological footprint.
Meatless Baked Ziti Ingredients
---
Here's everything you need:
Onion. For a boost of flavor and texture in your dish.
Mushrooms. I love mushrooms but if you're not a fan, you can easily sub in another vegetable like peppers, eggplant, or even fresh tomatoes. You can also opt to leave them out altogether.
Zucchini. Or yellow squash, butternut squash, or summer squash.
Spinach. Or any other greens of choice.
Garlic. For extra flavor.
Olive oil. To fry your veggies in.
Salt & pepper. To season your veggies.
Ziti. Really any other type of short pasta works in this dish, but ziti is classic!
Marinara Sauce. Or spaghetti sauce. Any seasoned and jarred tomato-based sauce will do.
Ricotta. For creaminess and as a thickening agent.
Shredded cheese. Arguably the very best part.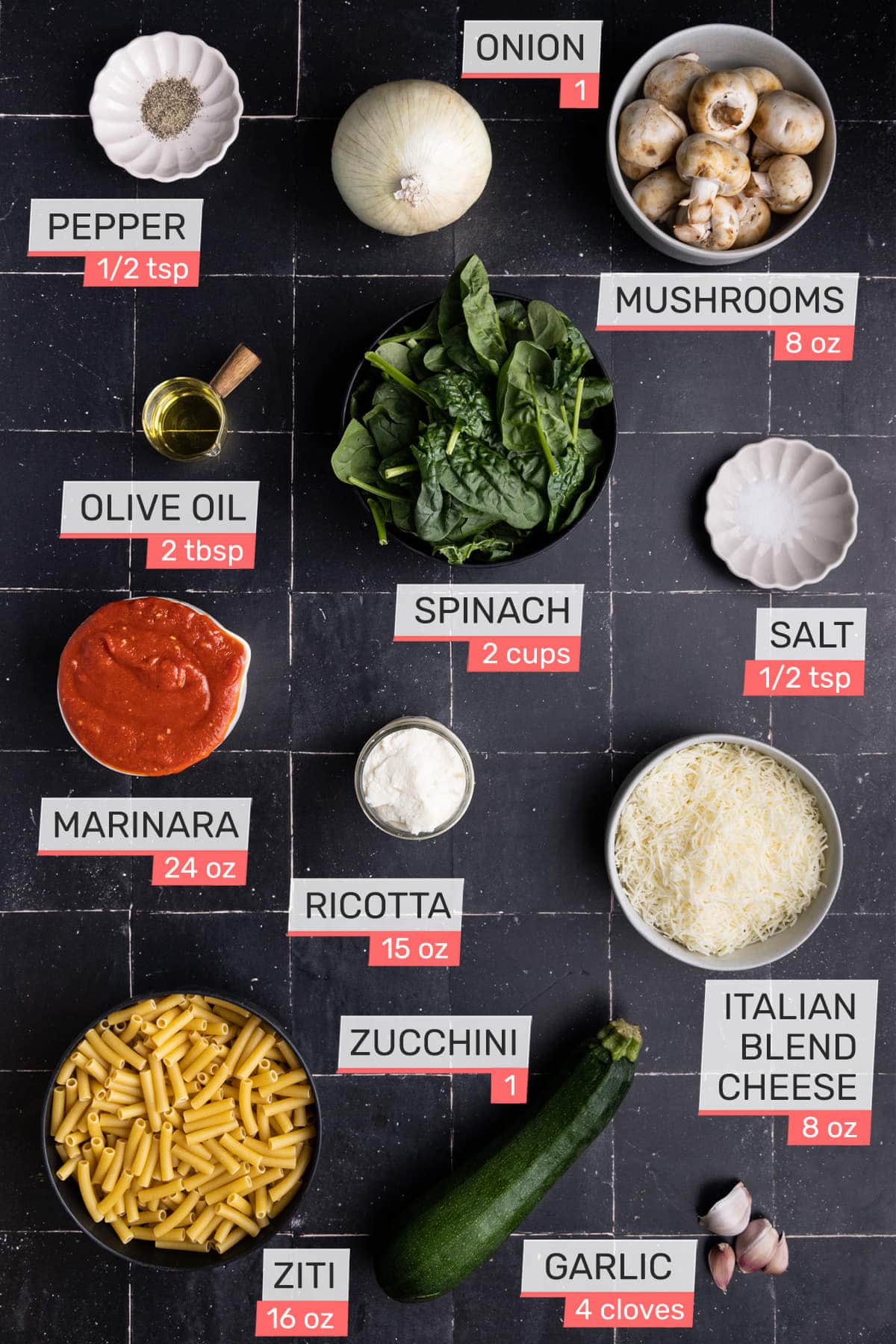 Meatless Baked Ziti Tips and Tricks
---
Cook Your Pasta First
Cook your ziti al dente according to the directions on the box. Make sure to not overcook the pasta. If anything, cook it for one less minute than you typically do, to leave some room for it to cook a little bit more in the oven.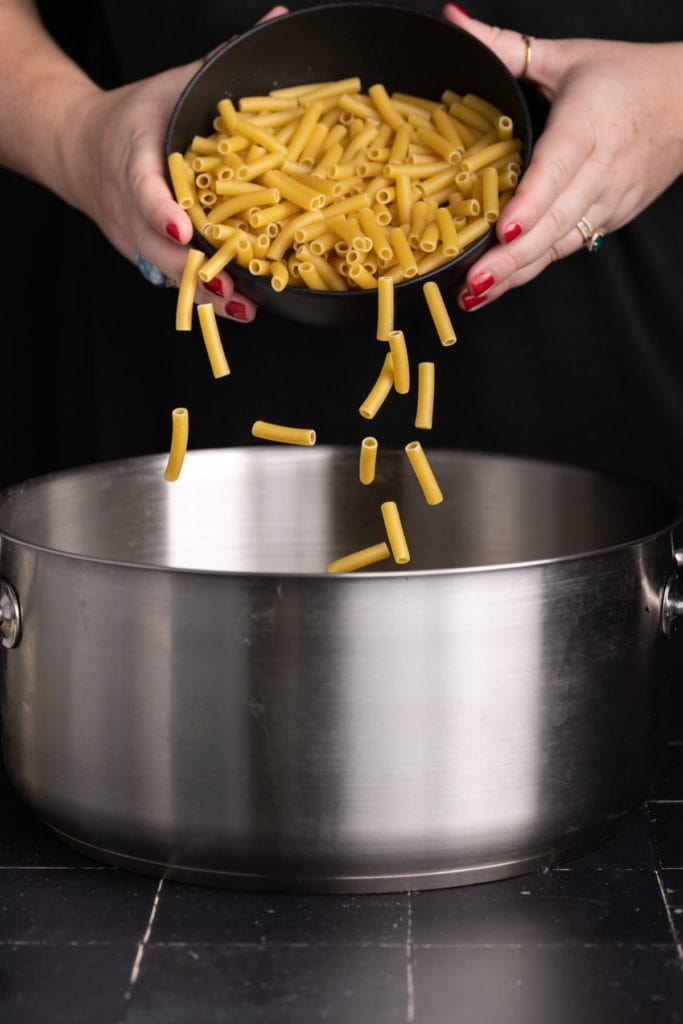 Prep Your Veggies
Meanwhile, get going on your sauce. The first step to making your delicious, veggie-packed sauce is to prep your zucchini, mushrooms, onion, and garlic. We will keep the spinach whole.
Green tip: An estimated 40% of food produced for consumption is wasted annually in the US. This dish is a great opportunity to clean out the fridge! Veggies you have to use up? Dice them up and add them in step 2!
Clean your zucchini and dice it into small chunks, roughly equal in size. I like to keep my zucchini chunks about 1/2 inch wide—the smaller the better.
Peel and mince your garlic, peel and dice your onions, and slice your mushrooms. For detailed instructions on how to dice your onions and slice your mushrooms, check out these directions for caramelized onions and mushrooms.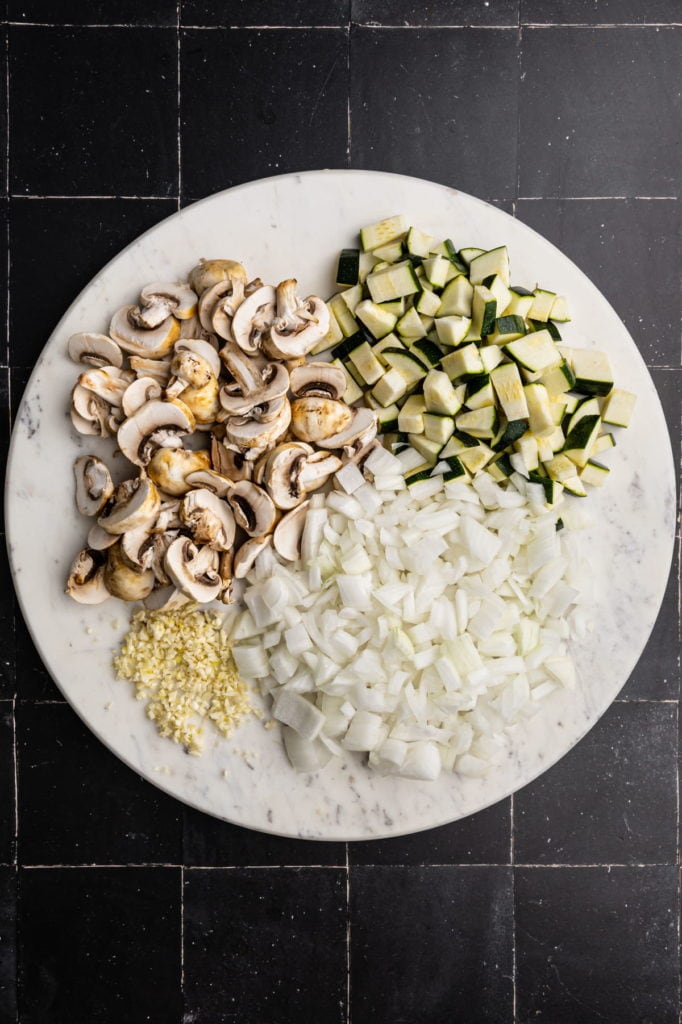 Cook them Down
Then, add the veggies to a large saucepan or pot with the olive oil, salt, and pepper. Cook for about 10-15 minutes to release the excess juice from the vegetables.
The less liquid, the better so you have a nice thick sauce for your baked ziti. This particular baked ziti recipe does not include an egg, because this process of releasing the liquid first makes it unnecessary.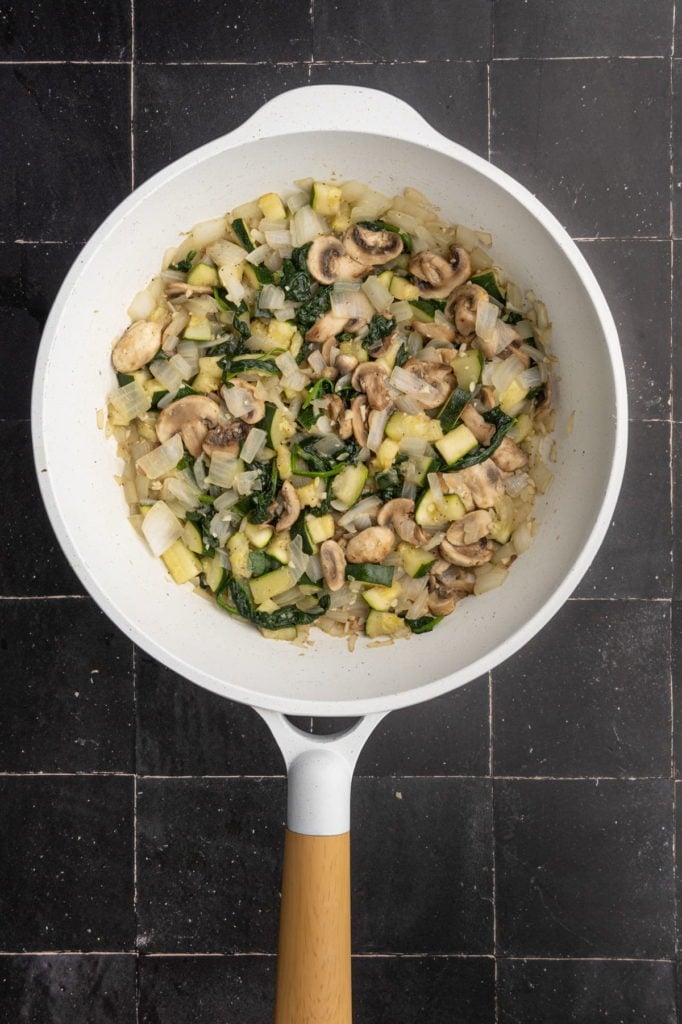 Cook Down Your Sauce
We also want to release any excess liquid from the sauce. Once you've cooked down your veggies, add your marinara or spaghetti sauce to them, cooking for another couple of minutes.
Make sure to stir frequently to avoid sauce splatter and help release the steam.
Green tip: Organic farms rely on biodiversity to generate rich soil, avoiding the use of pesticides and fertilizers, which means no toxic runoff. Consider organic veggies and sauce for this recipe!
Add the Ricotta
Once your sauce starts to thicken, you can remove it from the heat. Add your ricotta and stir to combine. Ricotta is such a delicious addition to any pasta, and is one of my favorite ingredients for appetizers, like in this Whipped Ricotta Crostini.
You should now have a thick, cheesy, vegetable-packed sauce for your meatless baked ziti.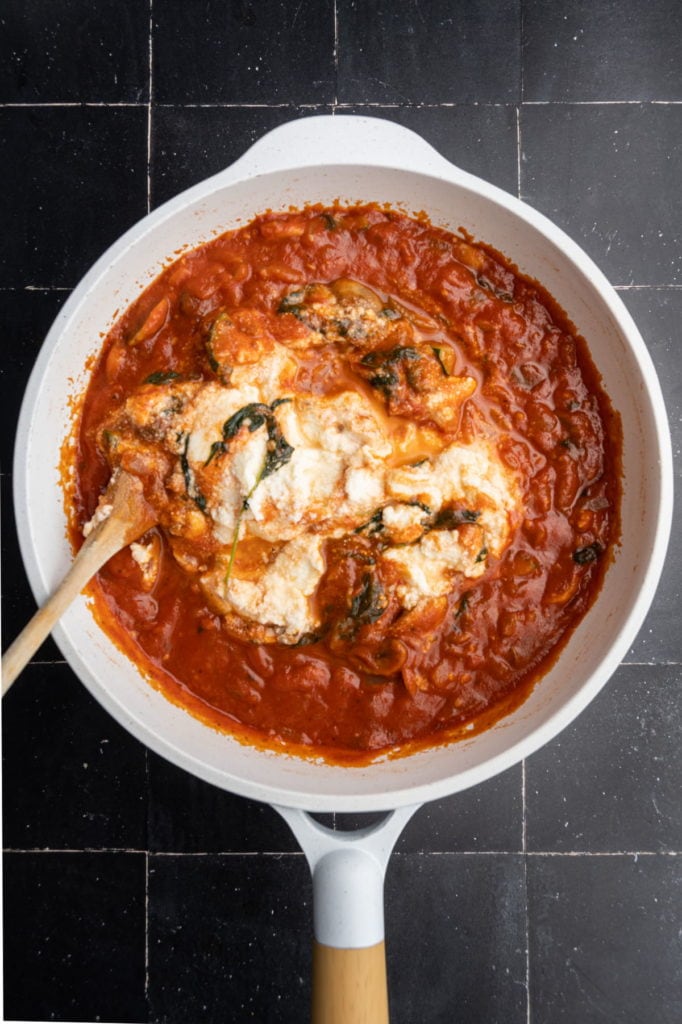 Coat the Pasta
Add the cooked and drained pasta to the sauce and stir, ensuring that the noodles are evenly coated.
I find it much easier to stir the pasta in the sauce in the saucepan rather than trying to stir them together in the casserole dish.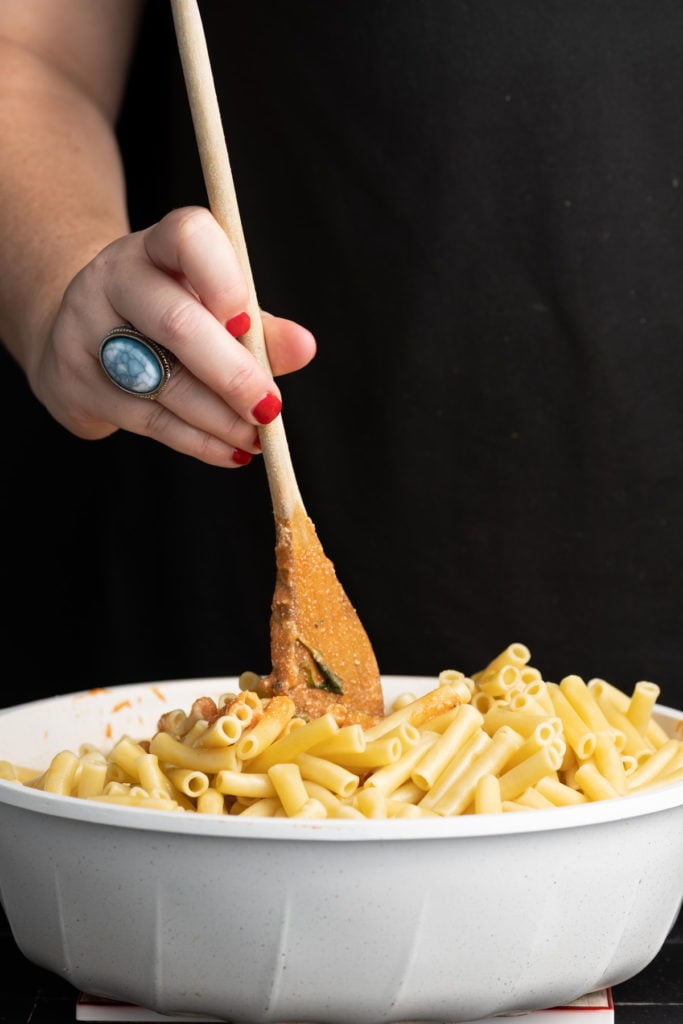 Transfer Your Ziti
Once your ziti is coated in sauce, transfer it to a large 9x 13-inch casserole dish. Use a spatula or wooden spoon to spread out the pasta so that it is evenly distributed throughout your dish.
Green tip: Pasta is a great meal option carbon footprint-wise! Manufacturing pasta is a relatively less intensive process, using less energy and other natural resources to produce than most other starches. Plus, its long shelf-life means you're less likely to waste it!
Add a Top Layer of Cheese
Use the shredded cheese blend to form a thick top layer of cheese on your casserole. This will form a gooey golden brown exterior that is arguably the best part of this dish.
But the cheesy top layer also serves a second purpose. As the cheese melts, it forms a solid top layer, trapping in heat and moisture, making for the best-textured baked ziti.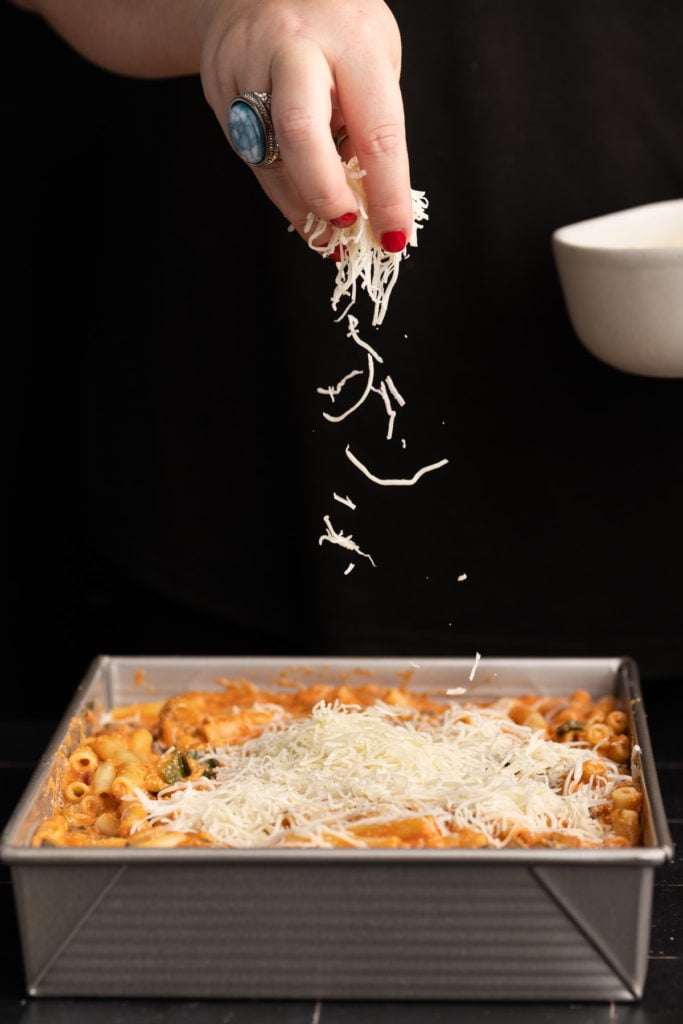 Bake it!
Bake until the edges of the cheesy top layer start to bubble and brown. This will usually take about 25-30 minutes at 400°F on the top rack of the oven.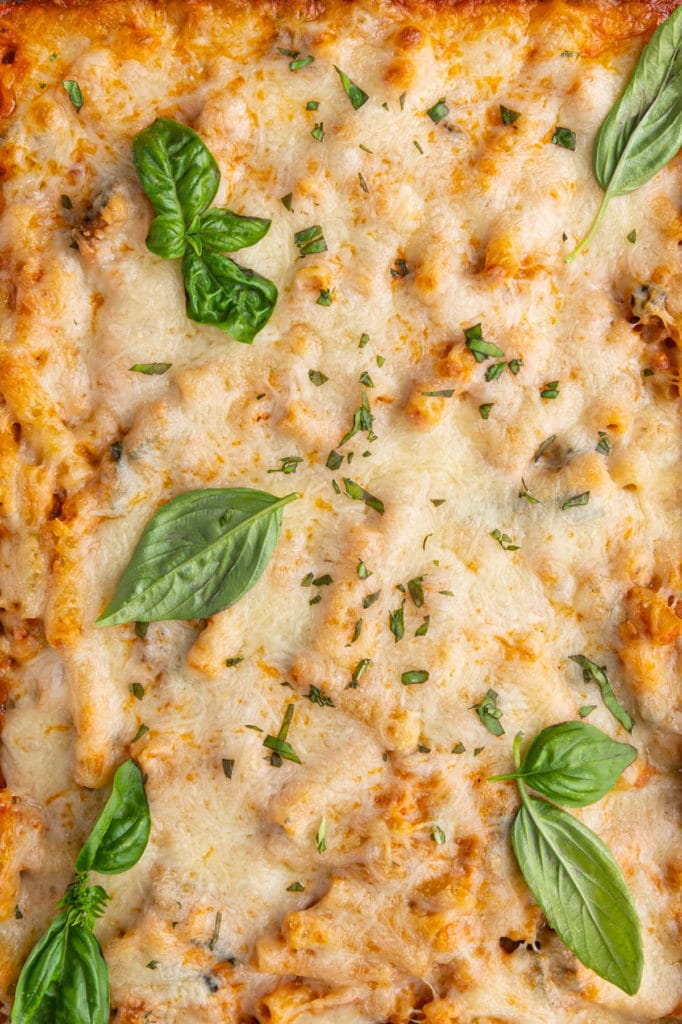 Should You Have Leftovers
This Meatless Baked Ziti is equally delicious as leftovers! This dish will last 4-5 days in an airtight container in the refrigerator.
The best way to reheat baked ziti is to cover it with aluminum foil and bake at 375°F for 25-30 minutes until heated thoroughly.
For a quicker fix, cover with saran wrap or a microwave-safe cover and microwave on high in 45-second intervals until hot all the way to the center.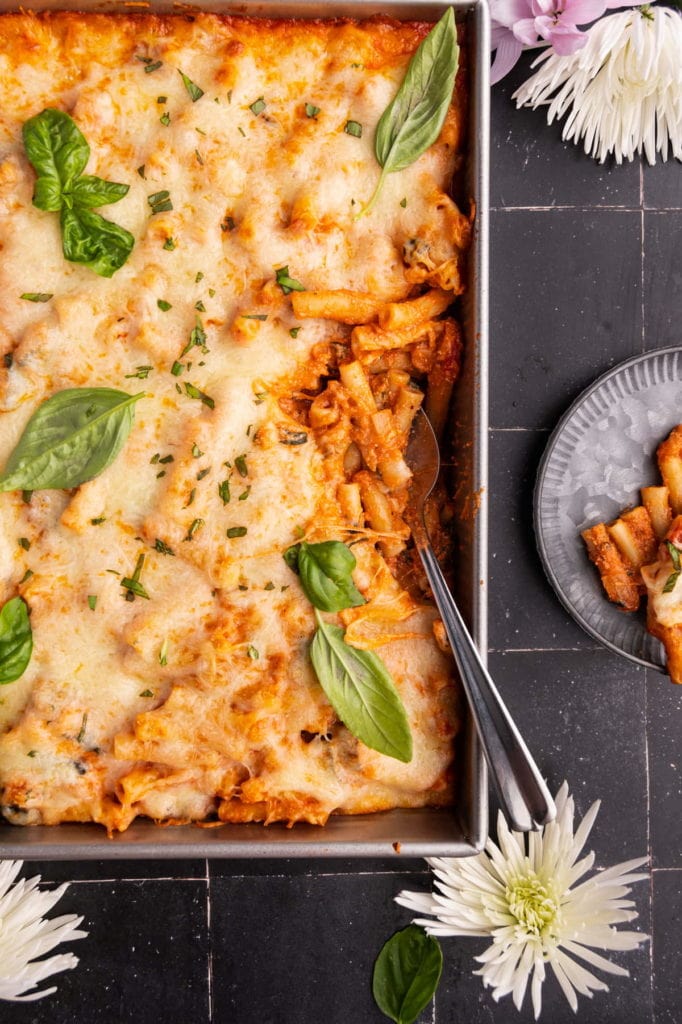 Meatless Baked Ziti Frequently Asked Questions
---
Do You Put Eggs in Ziti?
Often, recipes for baked ziti and lasagna call for an egg to be mixed into the ricotta cheese to help bind the cheese together and avoid a runny dish.
However, if you pre-cook your veggies to reduce their water content, the egg is unnecessary. You can avoid a runny pasta dish by releasing the liquids from the veggies before you put your dish in the oven.
How do you keep baked ziti from drying out?
In this baked ziti, we add a thick layer of cheese on top to lock in moisture. The cheese melts and creates a top layer that almost acts as a cover to trap moisture and ensure a deliciously moist pasta bake.
Want to sharpen your kitchen skills?
Why You Should Make this Meatless Baked Ziti
---
It's hearty. Between the filling pasta and all the vegetables in this dish, you'll feel full and satisfied.
It's packed with veggies. Extra nutrients and added flavor! Plus, this dish is a great way to sneak in extra vegetables into your diet, especially if you're not a veggie lover!
The cheesiness! Between the creamy ricotta on the inside and the layer of melted cheese on top, this recipe is a cheese lovers' dream!
If you're loving this Loaded Meatless Baked Ziti, check out this Easy Cheesy Pasta Bake, Meatless Lasagna, and Rigatoni Burrata!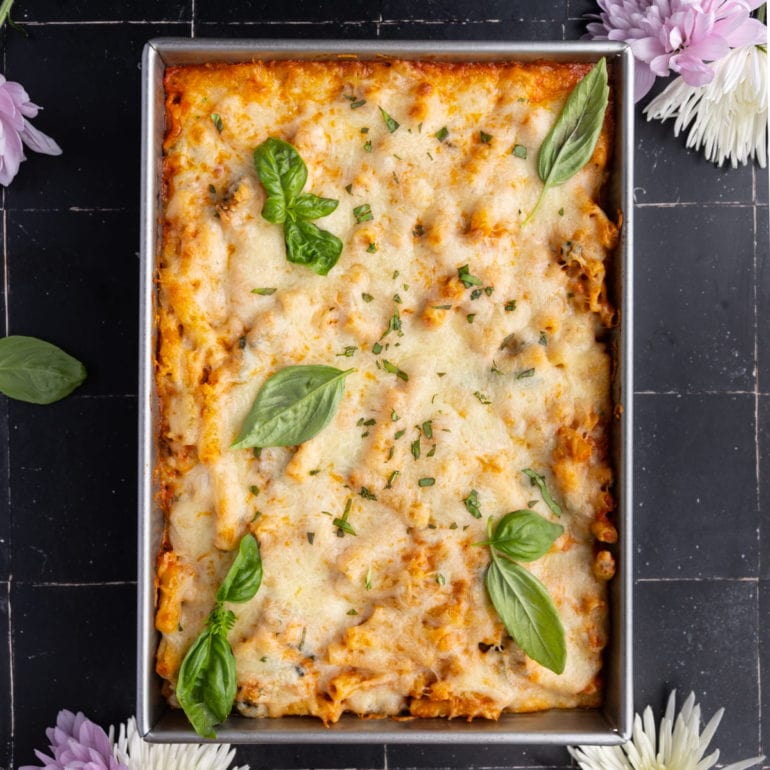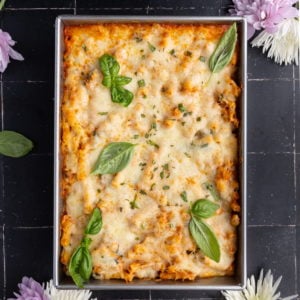 Loaded Meatless Baked Ziti
PRINT
PIN
RATE
This Loaded Meatless Baked Ziti is packed with vegetables, making it hearty and nutritious. It's easy to make and extra cheesy.
Ingredients
1

large

yellow onion

8

ounces

baby bella or white button mushrooms*

(see below for suggested alternatives)

1

large

zucchini**

4

cloves

garlic

2

cups

spinach or other greens

2

tablespoons

olive oil

½

teaspoon

salt

½

teaspoon

black pepper

16

ounces

ziti

24

ounces

marinara or spaghetti sauce

15

ounces

whole or part-skim ricotta

8

ounces

shredded Italian blend cheese
Instructions
Preheat your oven to 350°F and cook ziti al dente according to the directions on the box.

Prep your vegetables by dicing the zucchini and onion, slicing the mushrooms, and mincing the garlic.

Add the prepped veggies to a large saucepan or pot with spinach, olive oil, salt, and pepper. Cook over high heat until the liquid from the veggies releases and the onion turns translucent (10-15 minutes).

Add the marinara sauce to the saucepan and continue to cook for another 2 minutes, stirring frequently, until the sauce thickens.

Remove from heat and stir in the ricotta.

Add your cooked pasta to the veggie-packed sauce and stir to coat. Transfer the ziti and sauce to a 9 x 13-inch baking dish.

Layer the shredded Italian cheese blend on top, completely covering the ziti with cheese.

Bake for 25-30 minutes until the top layer of cheese is completely melted and starts to brown. Option to garnish with fresh basil. Enjoy!
Pro Tips
If you're not a fan of mushrooms you can easily sub in any other vegetable like peppers, eggplant, or even fresh tomatoes.
You can use yellow squash, butternut squash, or summer squash in place of zucchini. Or leave it out entirely!
Reducing your meat consumption significantly reduces your carbon footprint. Be kind to the planet (as well as your tastebuds!) with more of these delicious meatless pasta meals.
Did you make this recipe?
Let me know by leaving a recipe rating below, or by tagging @marleysmenu on Instagram.