Looking for a hearty, crowd-pleasing vegetarian dinner? This Simple Meatless Lasagna is deliciously filling, feeds the whole family, and requires no meat or eggs.
With three types of cheese and packed full of vegetables, this meatless pasta dinner is a classic family favorite. Nothing too fancy here, just a darn good classic that's sure to bring comfort with each bite.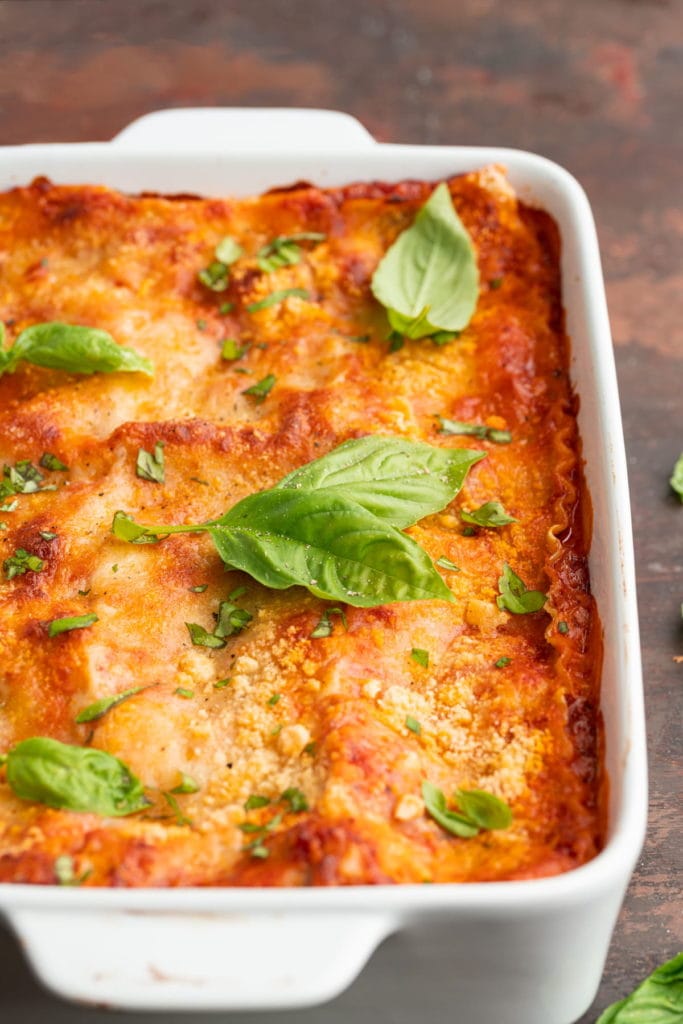 As an environmental scientist, I am always trying to make eco-conscious food choices. One easy way to improve your ecological footprint is by finding ways to enjoy more meatless meals.
Green tip: Industrial meat production has a huge impact on the environment, especially because of the amount of land it takes to sustain and its high amount of greenhouse gas emissions. Reducing your meat consumption is one great way to reduce your ecological footprint.
Meatless Lasagna Ingredients
---
Here's everything you need:
Lasagne. You'll only need 9-12 whole noodles (depending on the brand). You can opt to get the oven-ready kind!
Onion. Yellow is preferred but you can also use Vidalia, sweet onions, or red onions.
Mushrooms. White button or baby bella. If you're not a mushroom fan consider peppers or squash.
Spinach. Or any other greens.
Garlic. Fresh garlic is always best!
Olive oil. To cook your vegetables in.
Salt & pepper. To amp up the natural flavors.
Marinara or spaghetti sauce. Use your favorite!
Ricotta. Whole milk or part-skim both work.
Italian blend. Shredded cheese that's typically a blend of provolone, asiago, mozzarella, parmesan & romano.
Grated parmesan. To finish off your lasagne with a crunchy, salt top.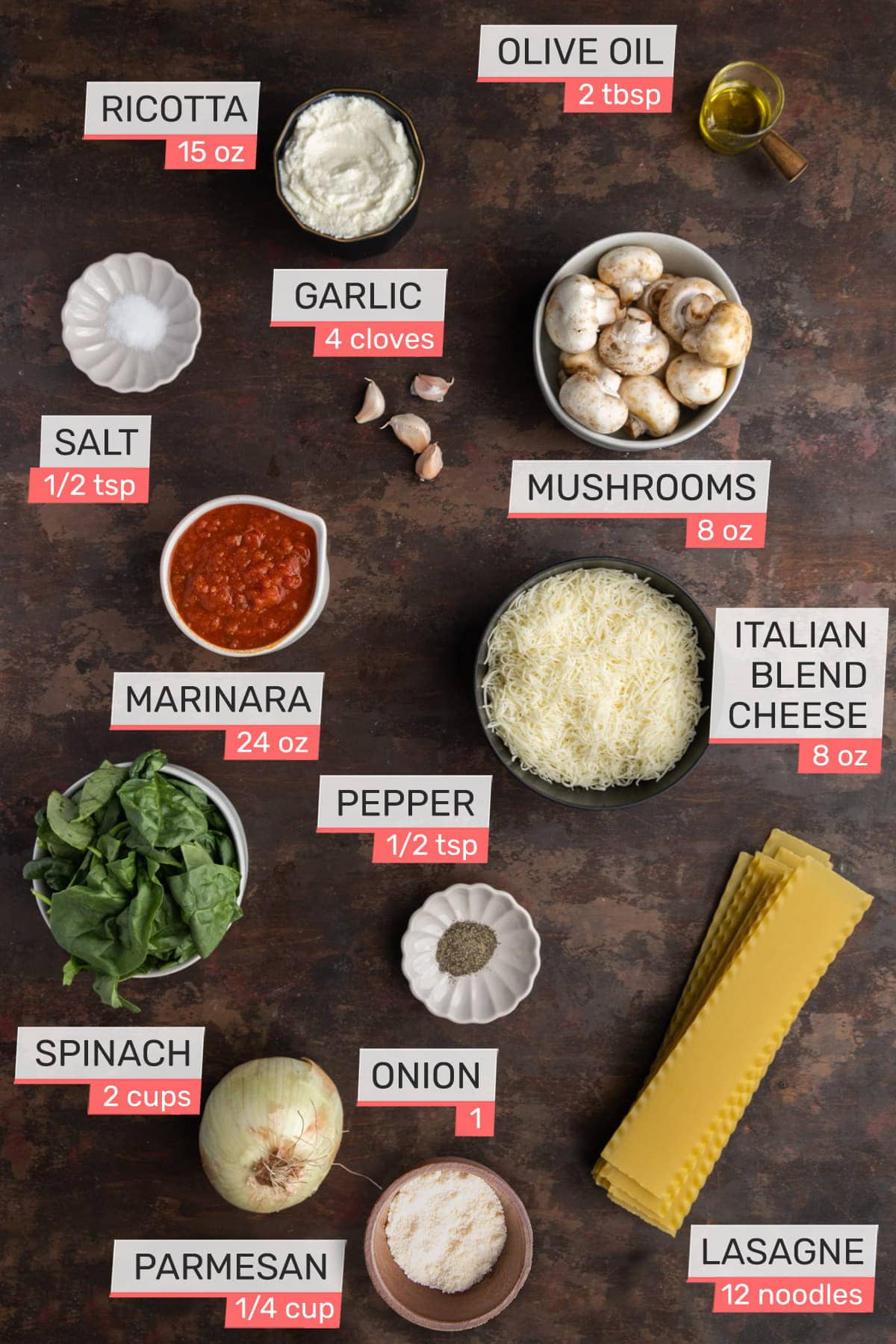 Tested Substitutions
This meatless lasagna is a great opportunity for a clean-out-the-fridge meal! I've made this same lasagna with tons of different veggies that I need to use up before they go bad.
Some of my favorite alternatives to mushrooms in this dish are red and/or green peppers, yellow squash, zucchini, and eggplant. I've also switched up spinach for kale, arugula, and Swiss chard with great success.
If you want a lighter lasagna, you can opt for part-skim ricotta or even sub in cottage cheese. Fat-free shredded cheese also works here.
Green tip: Did you know that of the billions of pounds of food wasted annually, it is estimated that 50% of it happens in our homes? It's always best to avoid food waste as much as you can!
Why No Egg?
Lasagna recipes often call for an egg to mix with the ricotta to stabilize it. While this does make more even, sturdy layers in your lasagna, I can confidently say that it brings little change to the actual taste.
I leave the egg out simply because I find it unnecessary. A rustic lasagna is still a very delicious lasagna!
Eggs have a higher associated environmental impact, so I love to save them for dishes like Smoked Salmon Eggs Benedict, or French Toast, where they have a higher impact.
Meatless Lasagna Tips and Tricks
---
Cook the Lasagne First
The first step is to cook the lasagna noodles al dente according to the directions on the box.
Alternatively, if you don't want to boil your lasagne, you can soak it in hot water for about 30 minutes. You can also opt for the "oven-ready" noodles to save on time (and water!).
Green tip: Don't waste your pasta water, use it to water your plants! So long as it's not salty, the starchy water helps fertilize plants and help them grow.
Once I strain the pasta water, I like to spread my noodles out on a baking sheet in a single layer, so they cool quickly and don't stick to one another.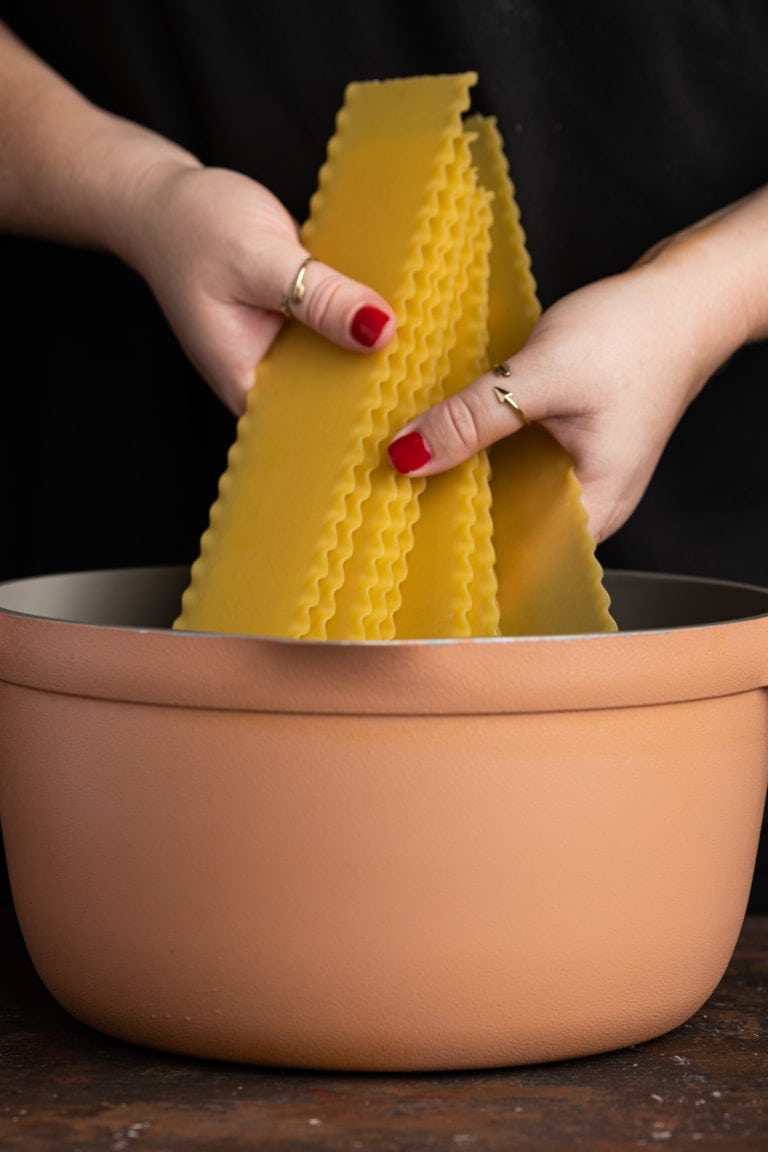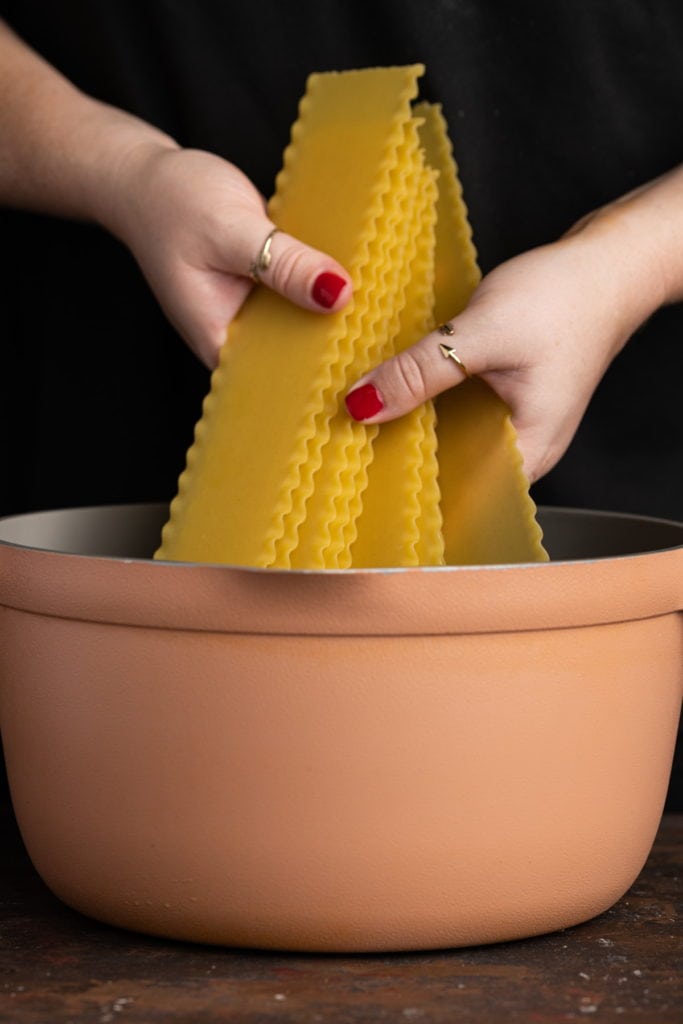 Cook Down the Veggies
This step is vital to getting a meatless lasagna that is not too watery! Add the onion, mushroom, spinach, and garlic to a large saucepan and saute in the olive oil, salt, and pepper.
Cook the vegetables over high heat, stirring frequently, until the liquids release and evaporate (about 15 minutes).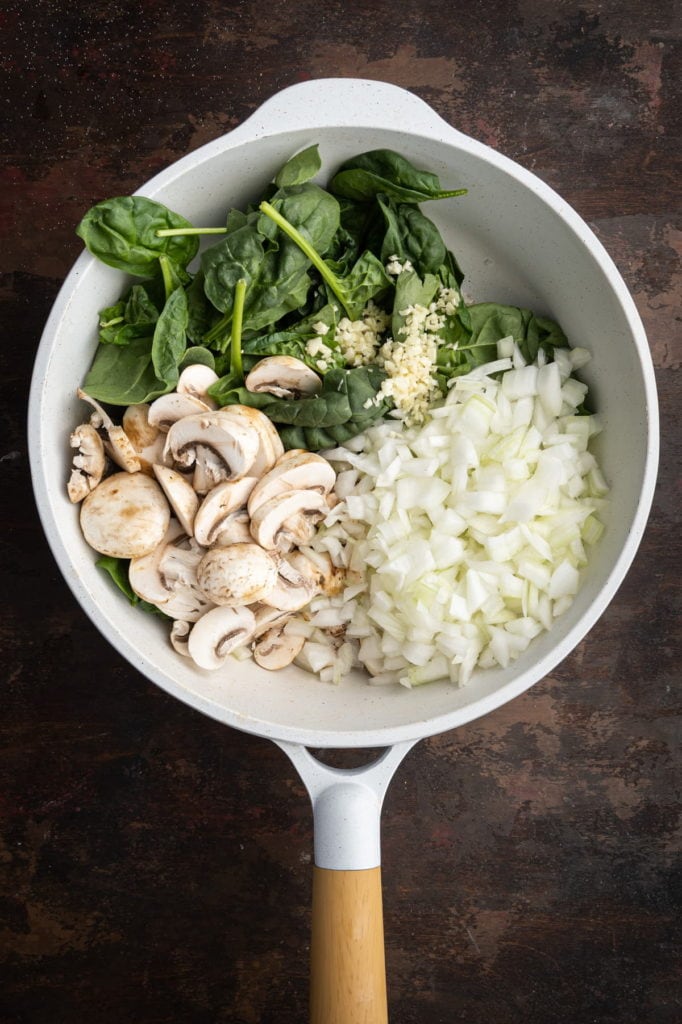 Layer the Bottom with Sauce
Start by adding a very thin layer of marinara or spaghetti sauce to the bottom of your casserole dish. This will ensure that the noodles don't overbake and get hard.
It will also make slicing and removing your lasagna from the casserole dish easier, creating a non-stick layer at the bottom.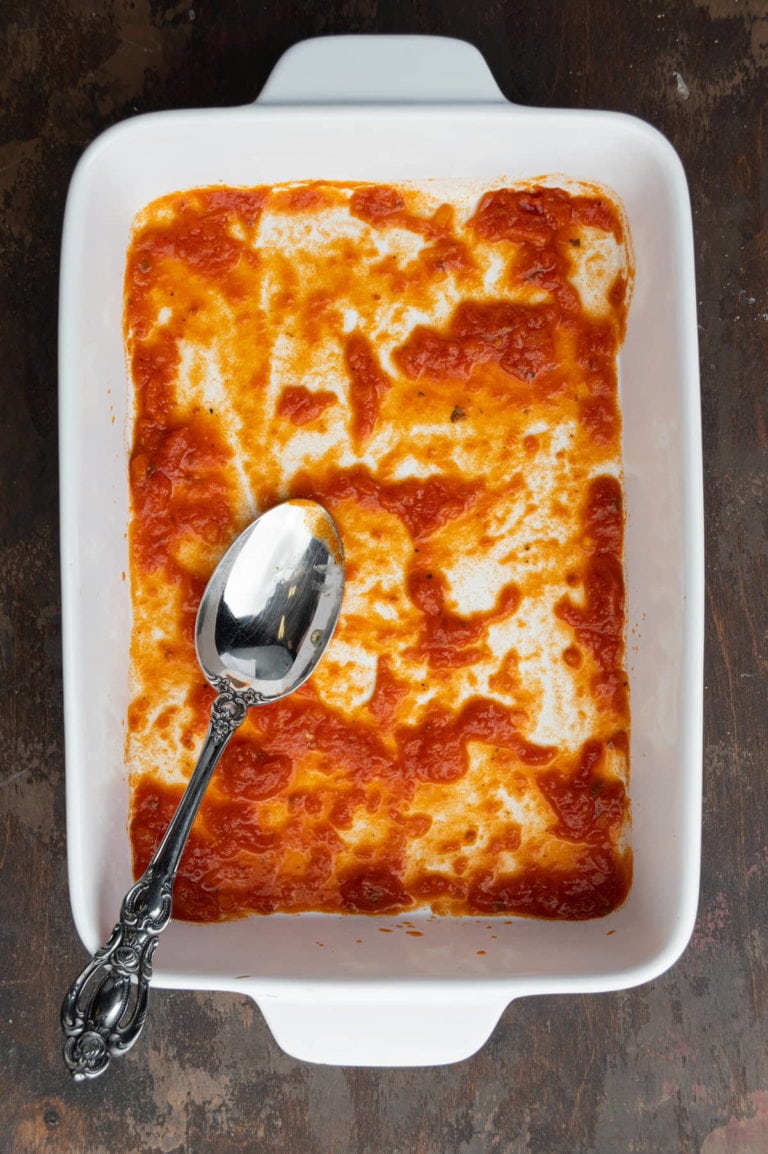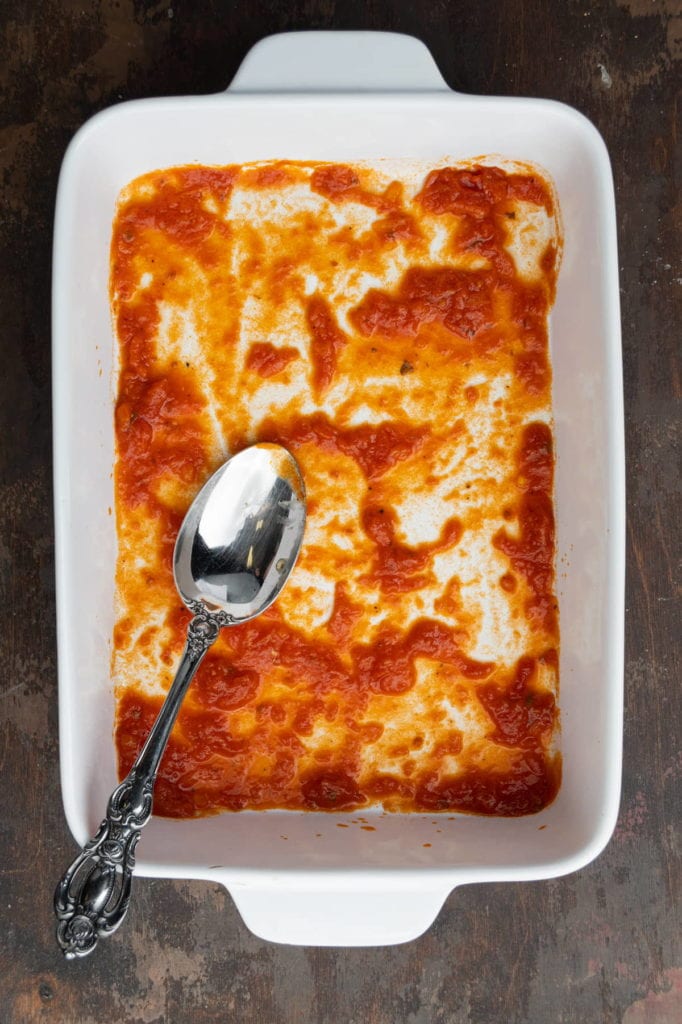 Meatless Lasagna Assembly
After your thin layer of sauce, add a layer of cooked lasagne noodles. You should be able to fit 3-4 noodles easily in your dish (depending on the pasta brand).
Next, add roughly half of the ricotta cheese. Then, add half of your cooked vegetables. Lastly, another layer of sauce.
Repeat this exact pattern twice before moving on to your top layer. You should use up all of the ricotta and veggies in your two bottom layers.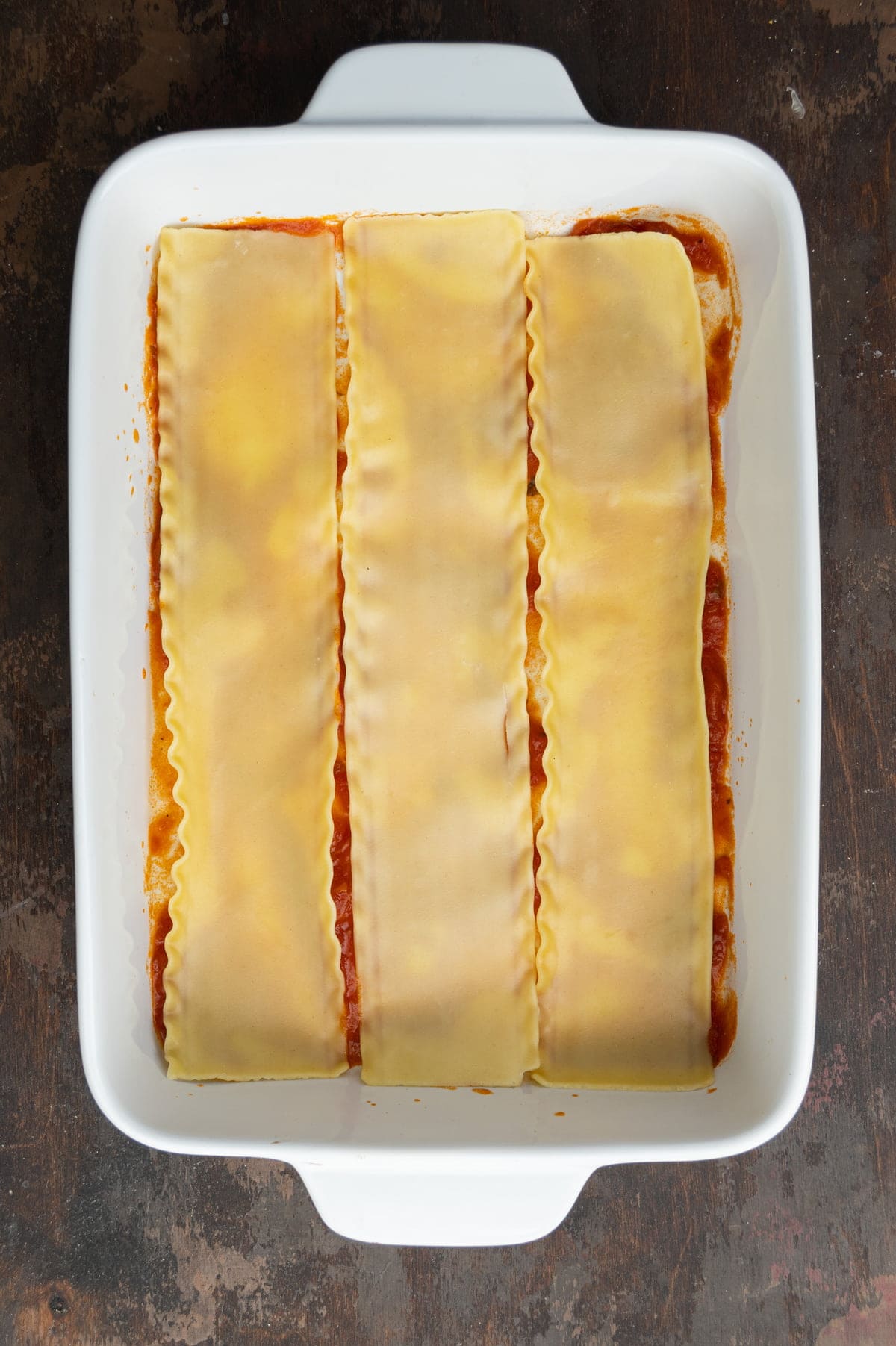 Finish Off with Parmesan
After two packed layers, finish off with a third layer of pasta, then more sauce. Now it's time to make your extra cheesy top coating.
Add the rest of the shredded cheese on top and then fill in the gaps with grated Parmesan until the top layer is completely covered with cheese.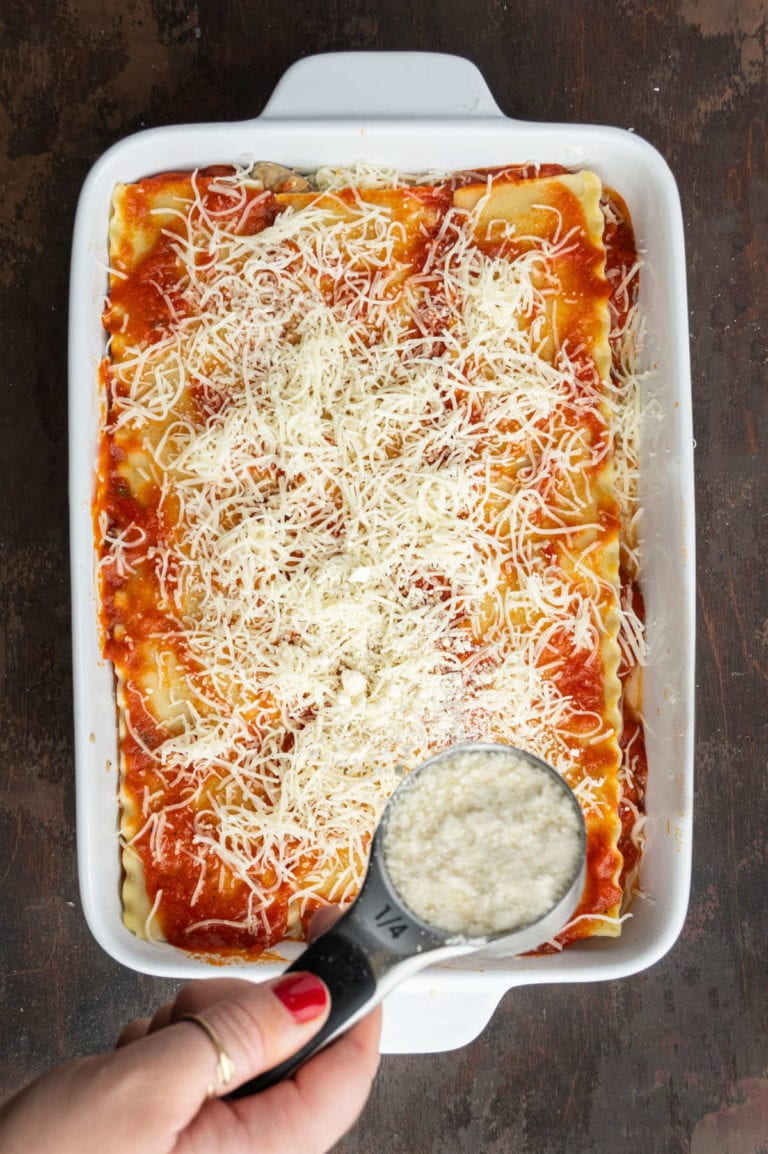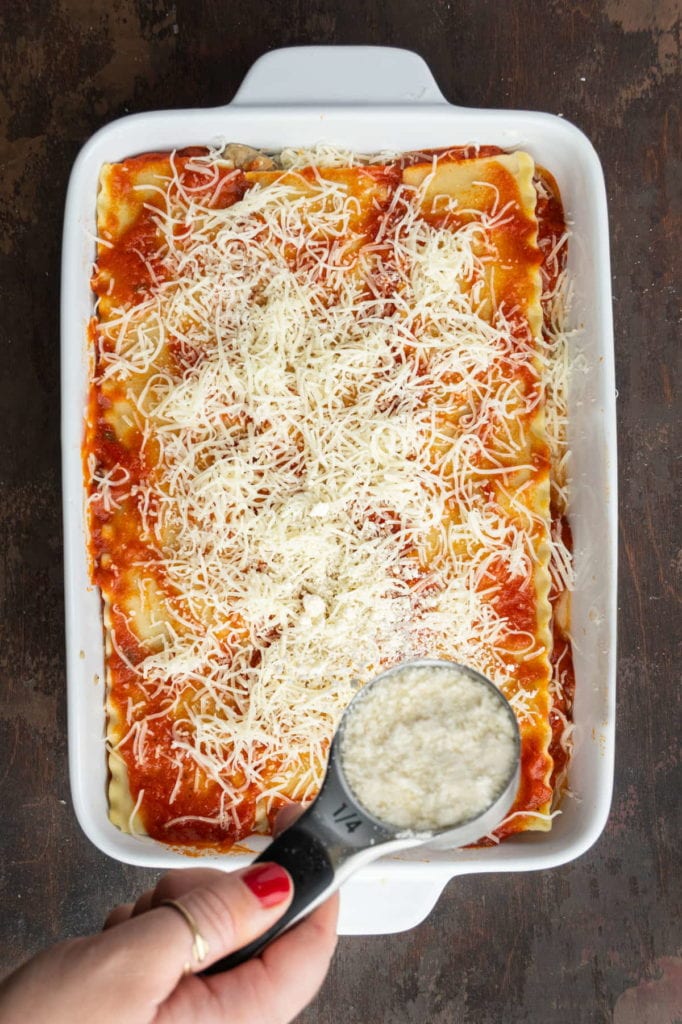 Should You Have Leftovers
This is a hearty casserole that's meant to feed a crowd, so you may find yourself with leftovers. The great news is, that this meatless lasagna will last 3-5 days in an airtight container in the refrigerator.
You can also opt to freeze the leftover lasagna for up to 3 months. Allow it to thaw overnight in the refrigerator before reheating.
To reheat, you can use the oven (preferred method) or the microwave.
The best way to reheat meatless lasagna is to preheat the oven to 350°F and cover with aluminum foil. Bake for about 30 minutes or until heated all the way through (time will vary depending on the amount).
You can also just microwave individual portions on high for about 2 minutes (make sure the very center is hot).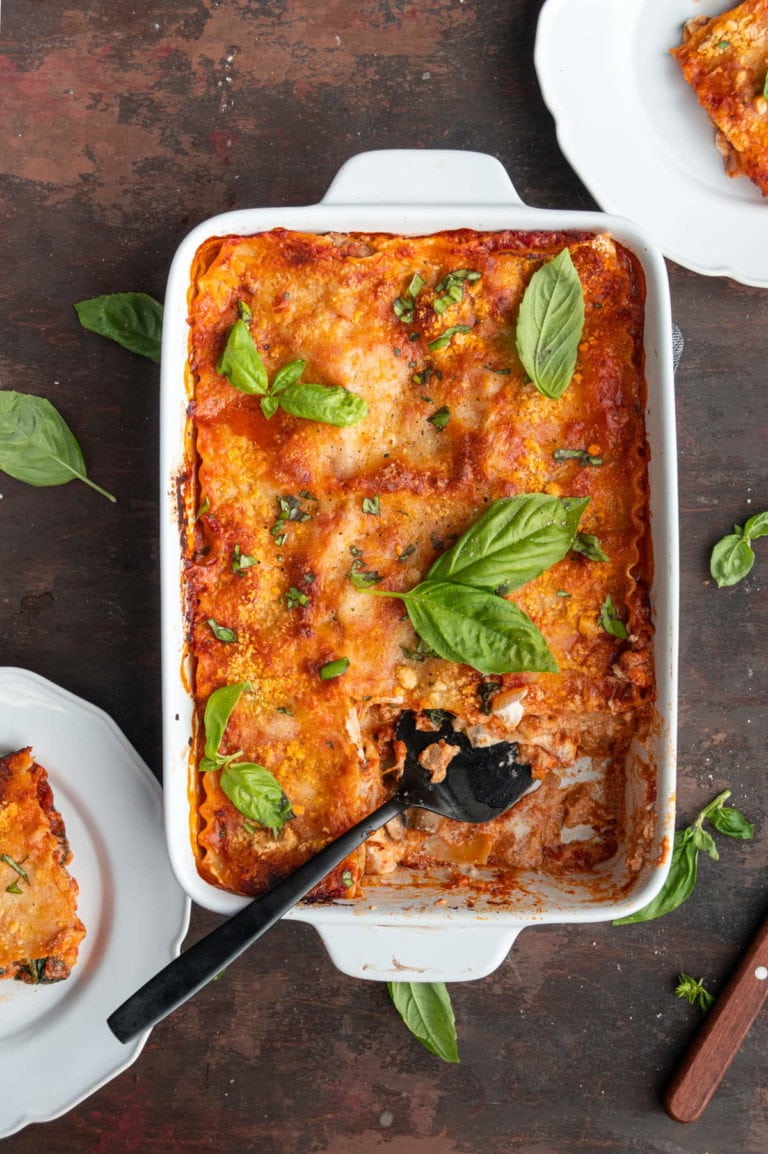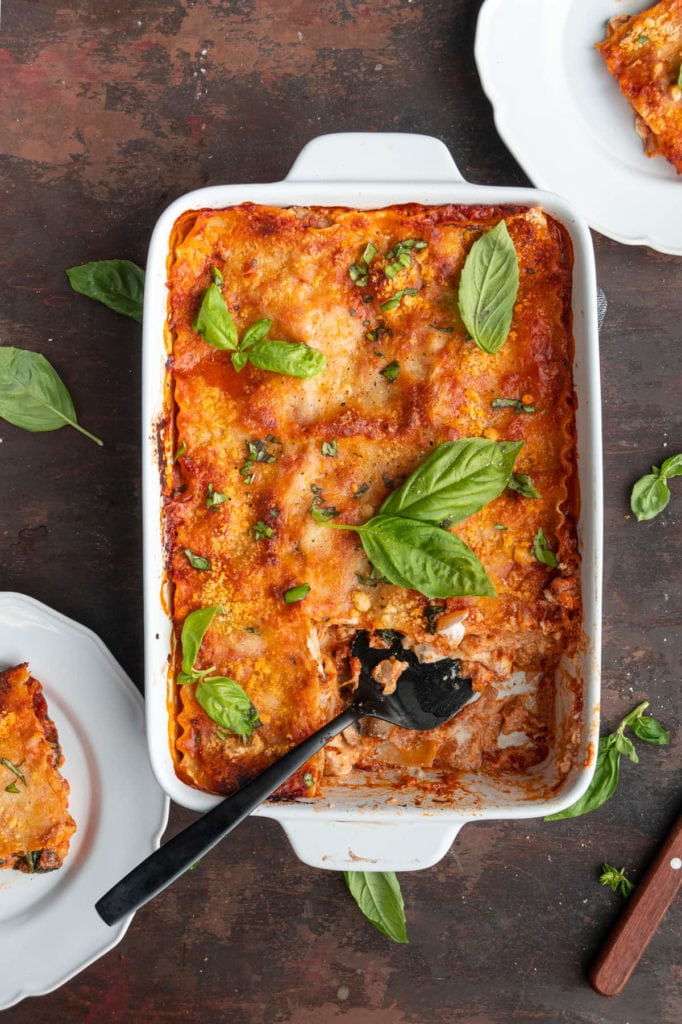 Meatless Lasagna Frequently Asked Questions
---
Why is my vegetarian lasagna watery?
It's very common for lasagna packed with vegetables to be watery when the vegetables are not properly pre-cooked. In this meatless lasagna, you are instructed to cook down your veggies in a frying pan first.
This will release the excess liquids from the vegetables beforehand, so you can add your veggies to the lasagna without them releasing too much liquid when it bakes.
Which is better for lasagna: cottage or ricotta?
Ricotta is a more traditional ingredient in lasagna. It adds a silky, creamy texture to your lasagna. If you want a lighter lasagna, you can easily sub in cottage cheese.
Can you soak lasagna noodles instead of boiling them?
Yes! I boil my lasagna noodles just because it's a little bit quicker, but if you are worried about overcooking your noodles or want to buy more time to prep your other lasagna ingredients, soak them!
Add the lasagne to a large mixing bowl and cover them with hot water, so that they are completely submerged.
Want to sharpen your kitchen skills?
Why You Should Make This Meatless Lasagna
---
It's hearty. Between the loaded layers, sauce, and cheesiness, this will be sure to satisfy your hunger.
It's packed with veggies. This makes this meatless lasagna nutrient-dense. It's a great way to sneak in extra veggies!
It's cheesy. Need I say more?
If you're loving this Meatless Lasagna, check out these other baked pasta dishes: Easy Cheesy Pasta Bake and One-Dish Baked Goat Cheese Pasta.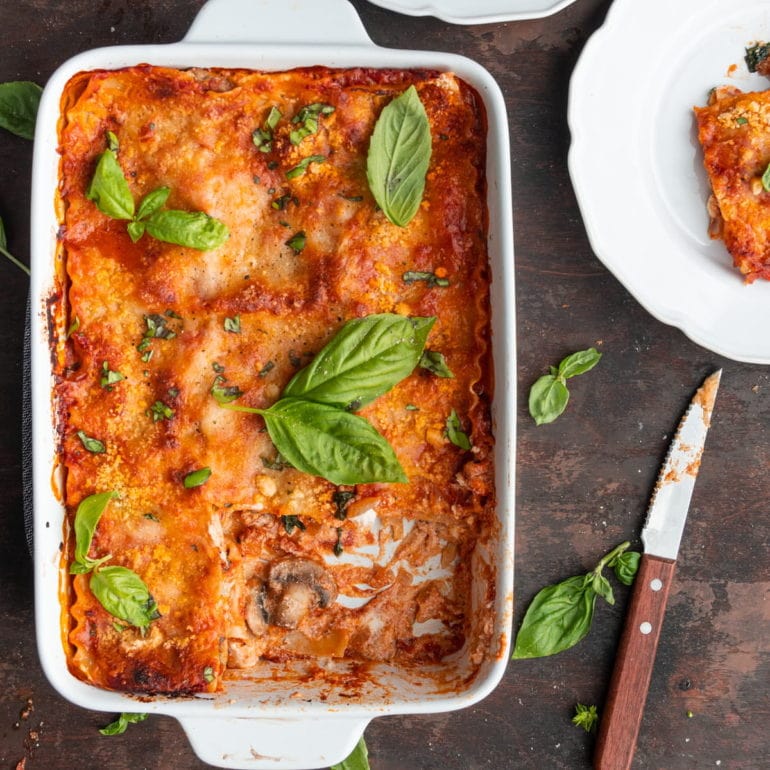 Easy Cheesy Meatless Lasagna (No Eggs)
PRINT
PIN
RATE
This Easy Cheesy Meatless Lasagna is hearty, cheesy, packed with veggies, and requires no egg. A family favorite meal that will keep you full and satisfied.
Ingredients
9

standard

lasagna noodles*

2

tablespoons

olive oil

8

ounces

baby bella or white button mushrooms

1

large

yellow onion

2

cups

fresh baby spinach

4

cloves

garlic

½

teaspoon

salt

½

teaspoon

pepper

24

ounces

marinara or spaghetti sauce

15

ounces

whole or part-skim ricotta

8

ounces

shredded Italian cheese blend

¼

cup

grated Parmesan cheese

¾

ounces

fresh basil

(optional for garnish)
Instructions
Preheat your oven to 375°F and cook lasagne noodles according to the directions on the box. Strain your pasta and set it aside to cool (see first note below).

Dice your onion, chop your mushrooms, and mince your garlic. Add them to a large saucepan with the spinach, olive oil, salt, and pepper over high heat, stirring occasionally, until all of the liquid evaporates (about 15 minutes).

Add about 2 tablespoons of sauce to a 9×13-inch casserole dish and spread it out evenly to form a thin bottom layer of sauce.

Place 3 noodles on top in a single layer.

Then, spread about 1/2 of your ricotta across the top of the noodles.

Next, add roughly 1/2 of your cooked veggies, and another thin layer of sauce.

Top with a thin layer of Italian blend shredded cheese.

Repeat steps 4 through 7, using up the ricotta and cooked vegetables.

After your second layer of shredded cheese, add a third layer of lasagna noodles, a fourth layer of sauce, and a final layer of shredded cheese. Top it off with the Parmesan cheese.

Bake for 25-30 minutes until the cheesy top starts to brown. Option to garnish with fresh basil. Enjoy!
Pro Tips
*The width of your lasagna noodles may vary slightly depending on the brand. Most brands will only require 9 noodles (three for each layer), but some are not as wide and may require 4 noodles per layer (12 total). 
I like to spread my noodles out on a baking sheet in a single layer, so they cool quickly and don't stick to one another.
Reducing your meat consumption significantly reduces your carbon footprint. Be kind to the planet (as well as your tastebuds!) with more of these delicious meatless pasta meals.
Did you make this recipe?
Let me know by leaving a recipe rating below, or by tagging @marleysmenu on Instagram.