Want something quick and easy, but a little more flavorful than the jarred stuff? This Hearty Meatless Spaghetti Sauce is made with love, elevating any pasta dish!
Packed with veggies and fresh herbs, this meatless pasta sauce will keep you full and satisfied, even without the meat. It has a thick and hearty texture and requires no sugar.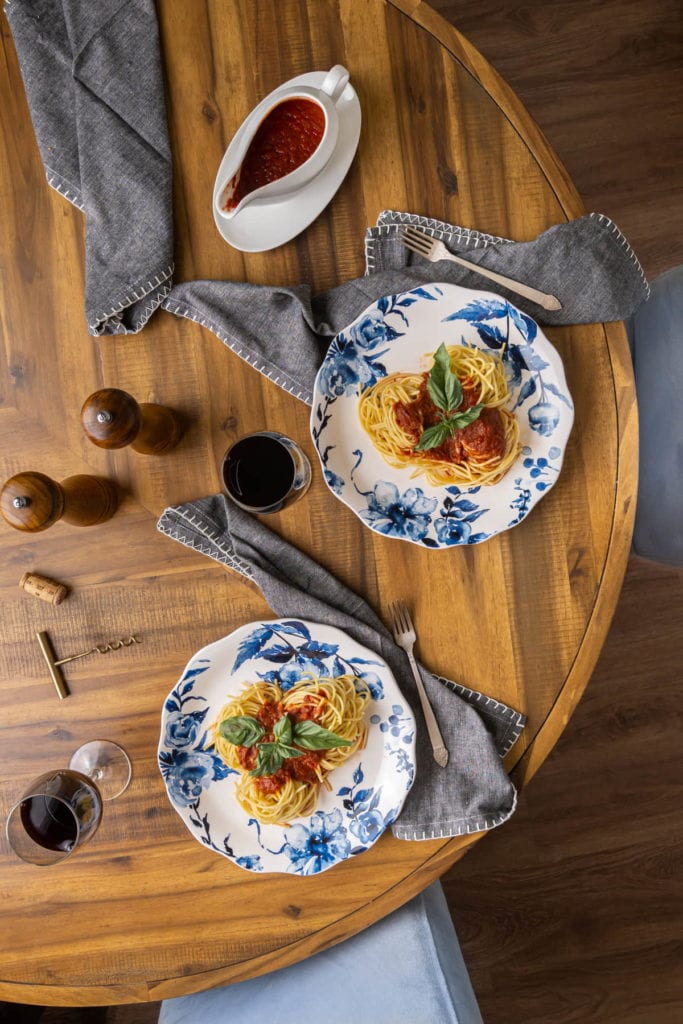 As an environmental scientist, I am always trying to make eco-conscious food choices. One great way to improve your ecological footprint is by finding ways to enjoy more meatless meals.
Green tip: Industrial meat production has a huge impact on the environment, especially because of the amount of land it takes to sustain and its high amount of greenhouse gas emissions.
Meatless Spaghetti Sauce Ingredients
---
Here's everything you need:
Olive oil. To sautee your blended vegetables.
Mushrooms. Baby Bella or white button preferred.
Onion. Yellow, sweet, or Vidalia preferred.
Garlic. Fresh garlic goes a long way in this dish.
Vegetable broth. Buy it fresh or make your own veggie broth.
Tomato paste. One small can will do.
Crushed tomatoes. One large can.
Oregano, Rosemary, Thyme, & Basil. Use some or all fresh herbs if you can.
Garlic powder. For a little extra kick of garlic goodness.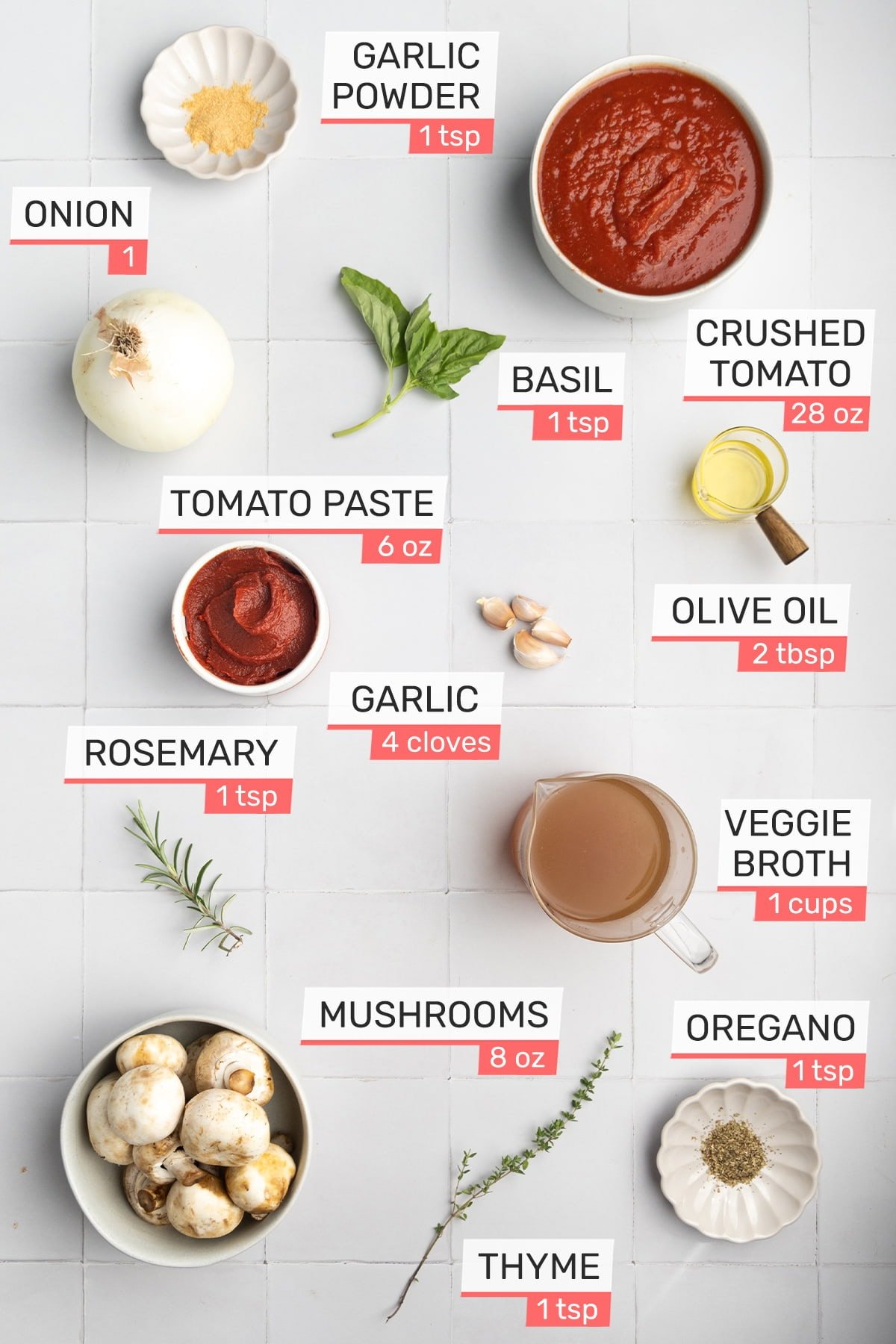 Meatless Spaghetti Sauce Tips and Tricks
---
Peel Your Onions and Mushrooms
The easiest way to integrate your veggies into this meatless pasta sauce without having it be full of chunks is to use the food processor to break them down.
First, peel and core your onion and peel your garlic. You can leave them in larger pieces, a high-powered food processor or blender should be able to break them down.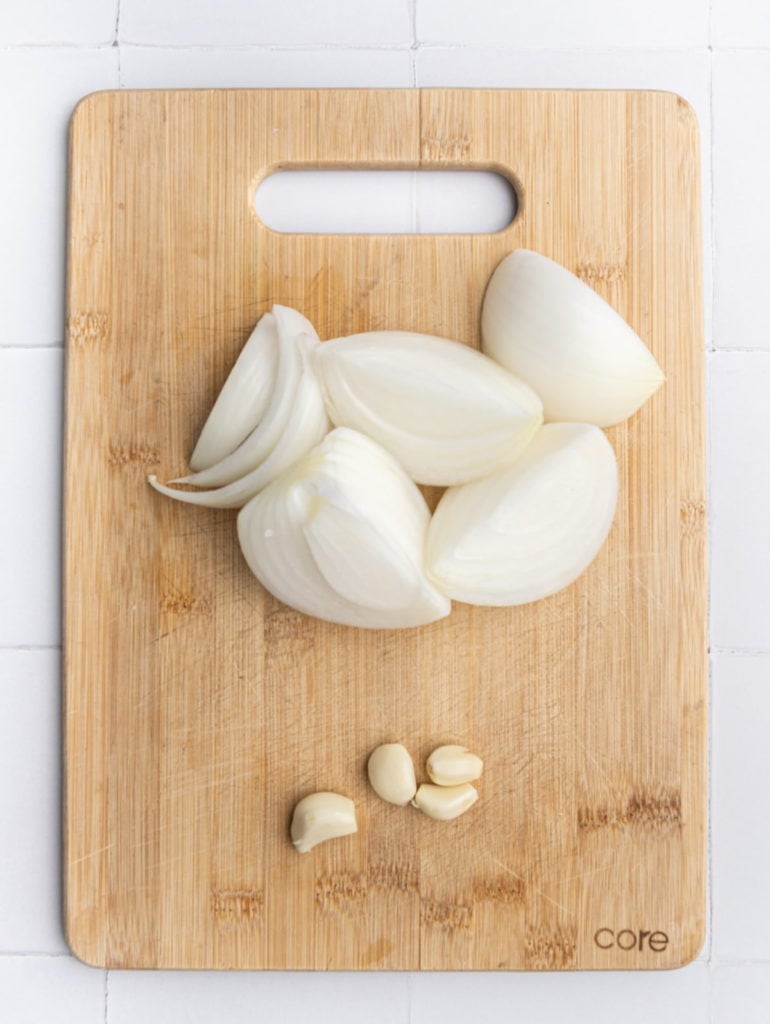 Use a Food Processor or High Powered Blender
Add your mushrooms (you can keep them whole!), peeled and cored onion, peeled garlic, rosemary, thyme, oregano, and basil to the food processor.
Process them on high until it's all completely broken down, too form almost a vegetable paste as pictured below.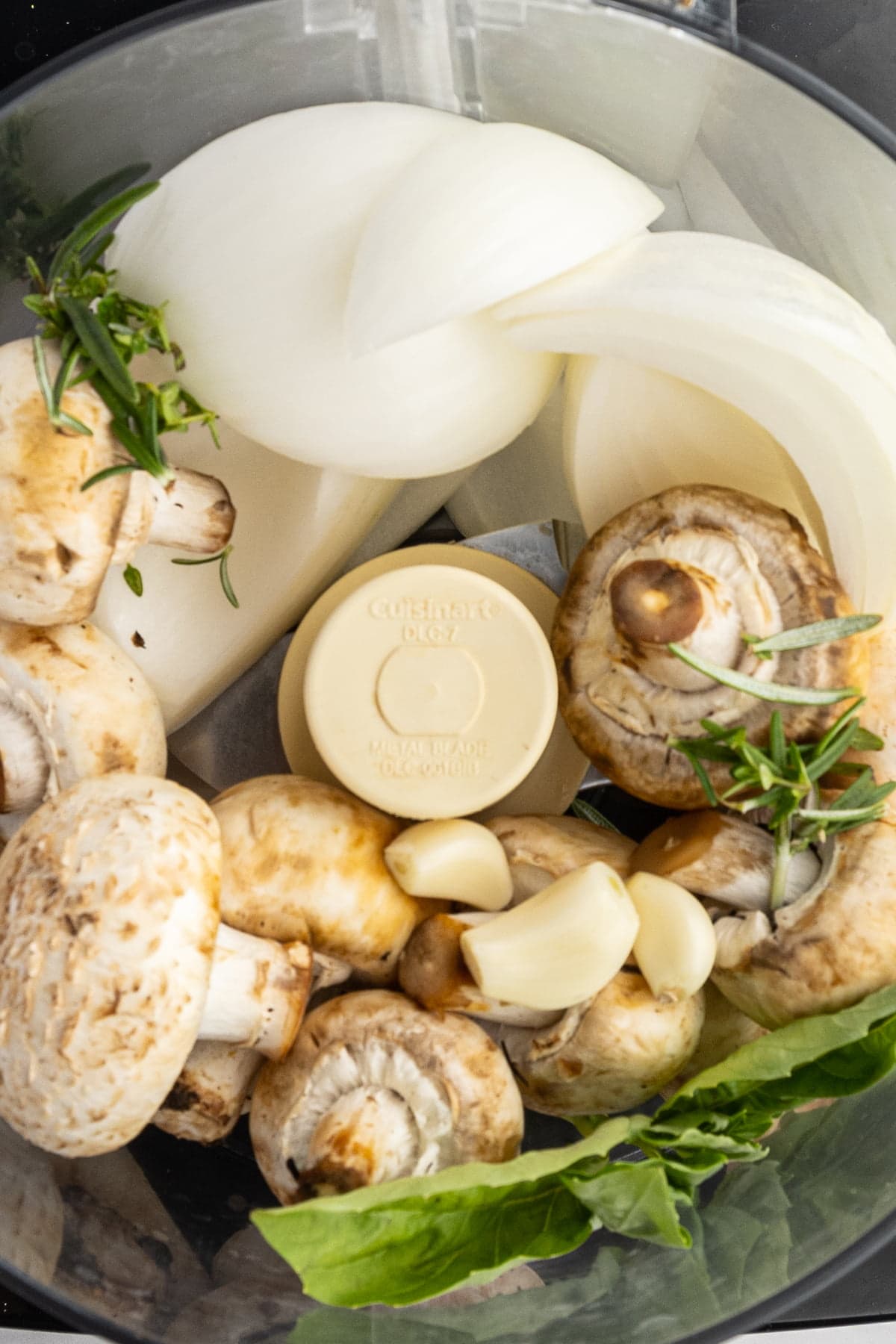 Season and Sautee the Veggies
Add your olive oil to a large saucepan and get your pan hot over high heat. Add the vegetable mixture and garlic powder, and saute over high heat to release all the excess liquid (8-10 minutes).
Stir occasionally to avoid splatter and ensure nothing is sticking to the bottom of the pan.
Add Your Tomatoes and Broth
Next, with your stovetop still set to high heat, add the crushed tomatoes, tomato paste, and vegetable broth. Use a wooden spoon to stir until all of the elements are integrated.
Turn your heat all the way down to low.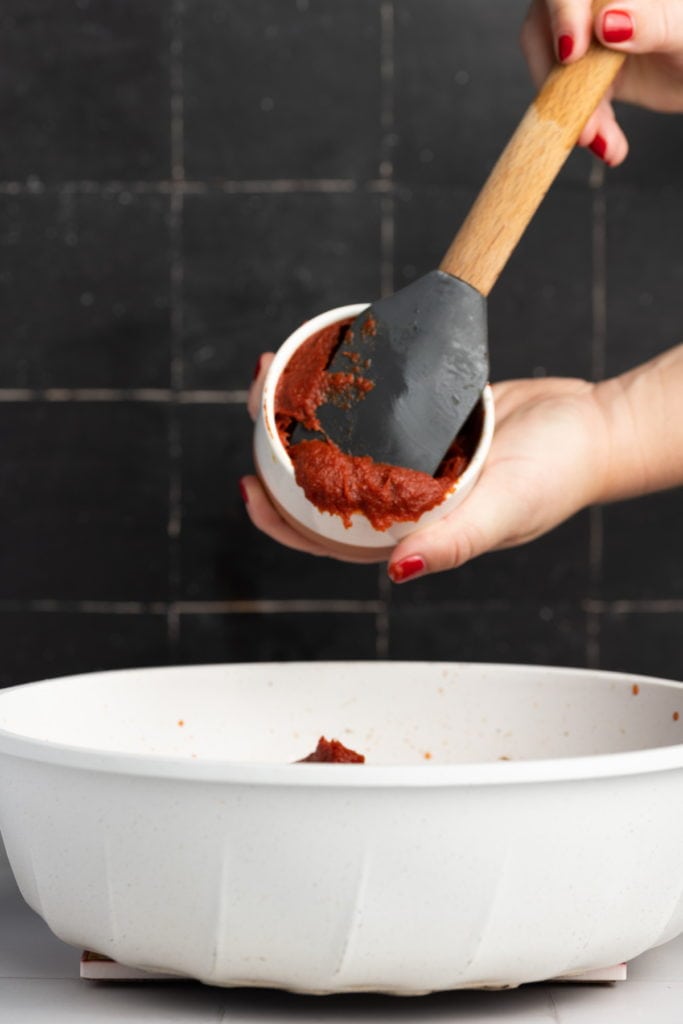 Simmer on Low
Low and slow is the name of the game for this sauce. Heat for at least 15 minutes, but the longer the better. The more time your allow your sauce to stew, the more the flavors will develop.
Make sure to stir occasionally so the sauce doesn't stick to the bottom, and consider a lid to avoid splatter.
Green tip: If you have an electric range, use a saucepan that matches the size of your burner, ensuring that it sits flat. This will help you to avoid wasting energy.
Serving Your Spaghetti Sauce
This spaghetti sauce is so versatile. It's delicious on its own over spaghetti or any other pasta. It can also be used in place of marinara in any recipe.
Make it extra protein-packed by adding these Meatless Chickpea Meatballs on top!
I love to use it for this Meatless Lasagna, Meatless Baked Ziti, and Vegan One-Pot Pasta with Tomato Sauce. This Meatless Spaghetti Sauce also makes a dynamite dipping sauce for this Texas Toast Garlic Bread.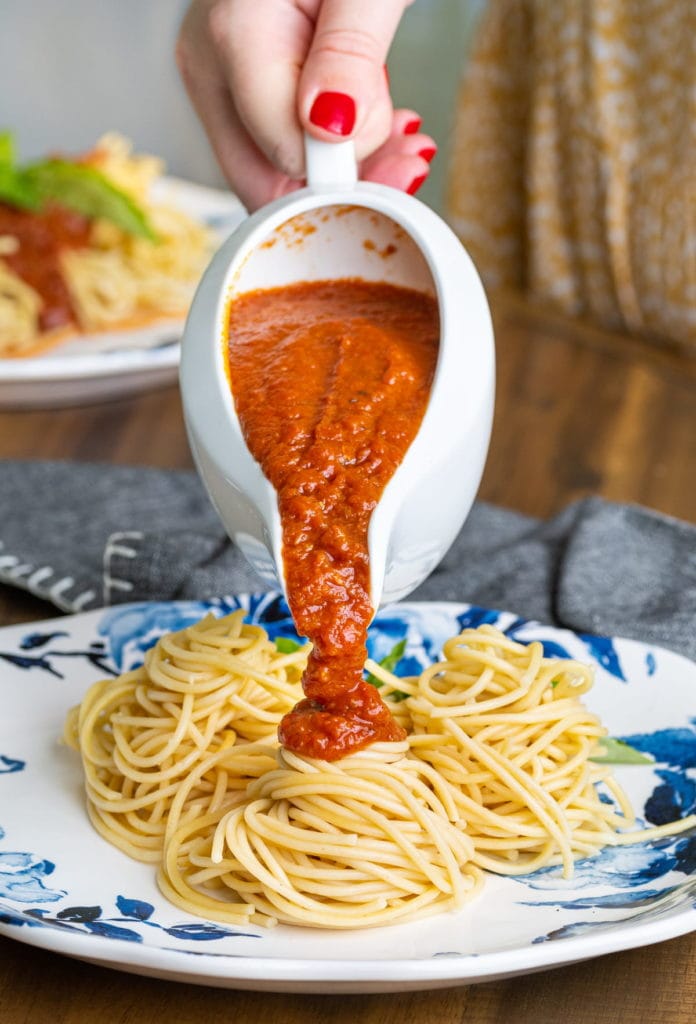 Storing and Reheating Leftover Meatless Pasta Sauce
This sauce will last in the refrigerator in an airtight container for 3-4 days. You can also opt to freeze this Meatless Spaghetti Sauce sealed for 3 months.
The best way to reheat this sauce is in a large saucepan fitted with a lid. Set your stovetop to high and occasionally stir until heated all the way through (10-15 minutes).
If your sauce is already mixed with pasta, add it to an oven-safe baking dish and cover it with aluminum foil. Bake for 10-15 minutes at 350°F. If it seems too stodgy, add 1-2 tablespoons of vegetable broth.
Of course, the microwave can be used in a pinch. Make sure to cover your serving and microwave on high in 90-second intervals, stirring in between, util thoroughly heated.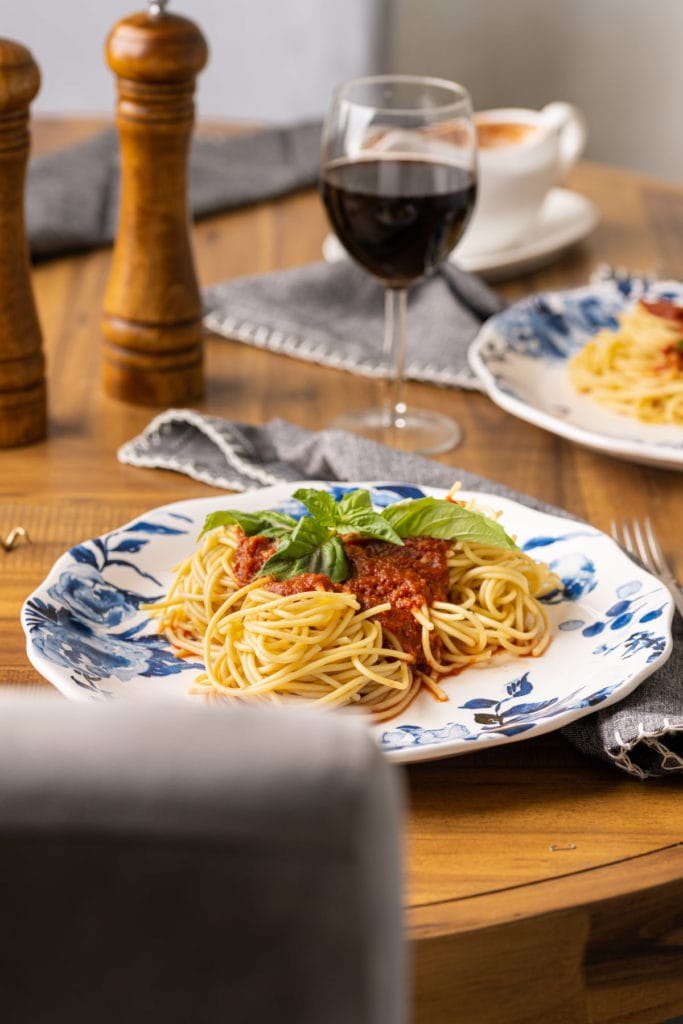 Meatless Spaghetti Sauce Frequently Asked Questions
---
How do I make good spaghetti sauce?
The trick to a good meatless spaghetti sauce is adding herbs, garlic, mushrooms, and onion. This will add to the depth of flavor.
Is marinara sauce the same as spaghetti sauce?
Marinara sauce is thinner than spaghetti sauce. Spaghetti sauce is a thicker, more robust sauce designed to serve over pasta, whereas marinara is often also used as a spread or dip.
What is the difference between pasta sauce and spaghetti sauce?
While all spaghetti sauce is pasta sauce, not all pasta sauce is spaghetti sauce. Spaghetti sauce is a type of pasta sauce that is tomato-based, rich in flavor, and thick and hearty in texture.
Pasta sauce can range from Marinara and Bolognese to pumpkin sauce, truffle cream sauce, and even pesto or alfredo.
Want to sharpen your kitchen skills?
Why You Should Make This Meatless Spaghetti Sauce
---
It's filling! With the added veggies, this Spaghetti Sauce is super hearty, even though it's meatless!
It's flavorful. Between the vegetable herbs, broth, and tomatoes, this sauce is super tasty!
It's heart-healthy. By making this meatless, you're reducing excess fat and cholesterol!
If you love this Meatless Spaghetti Sauce and want some Meatless Meatballs to accompany it, check out these Meatless Chickpea Meatballs. Plus, consider using this sauce to make this Vegan One-Pot Pasta!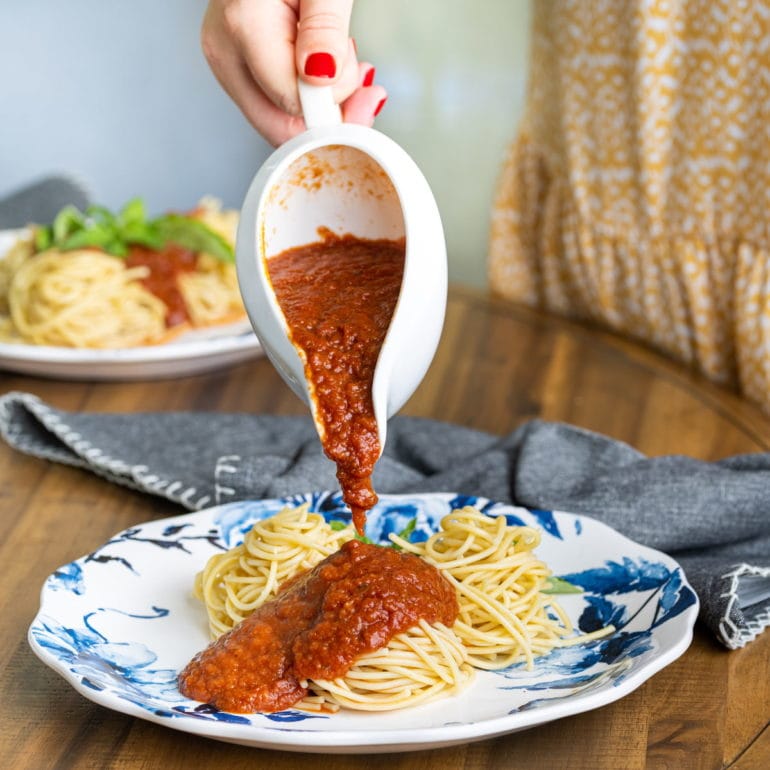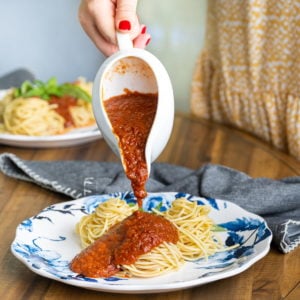 30-Minute Meatless Spaghetti Sauce
PRINT
PIN
RATE
This Meatless Spaghetti Sauce is hearty and packed with flavor, perfect to round out any Italian-inspired pasta meal!
Ingredients
1

large

yellow or sweet onion

4

cloves

garlic

8

ounces

baby bella or white button mushrooms

1

teaspoon

oregano, fresh or dried

1

teaspoon

thyme, fresh or dried

1

teaspoon

rosemary, fresh or dried

1

teaspoon

basil, fresh or dried

2

tablespoons

olive oil

1

cup

vegetable broth

6

ounces

tomato paste

(6 oz usually = 1 small can)

28

ounces

crushed tomatoes

(28 oz usually = 1 large can)

1

teaspoon

garlic powder
Instructions
Prep your onion by peeling it and disposing of the core. Peel your garlic, as well.

To a food processor or blender, add the prepped onion and garlic, mushrooms, oregano, thyme, rosemary, and basil. Process them on high until it is completely broken down, almost resembling a paste.

Add the olive oil and contents of the food processor to a large saucepan over high heat. Sautee for about 8-10 minutes, stirring occasionally to release excess liquid.

With your heat still on high, add your crushed tomatoes, tomato paste, and vegetable broth and stir to combine.

Turn your heat all the way down to low, cover, and simmer for at least 15 minutes (the longer the better) until the sauce thickens. Stir occasionally to make sure nothing sticks to the bottom of the pan.

Serve hot over pasta and enjoy!
Pro Tips
Reducing your meat consumption significantly reduces your carbon footprint. Be kind to the planet (as well as your tastebuds!) with more of these delicious meatless pasta meals.
Though this meatless spaghetti sauce is classically served with spaghetti (as the name implies!), it is equally delicious on any other pasta shape.
Did you make this recipe?
Let me know by leaving a recipe rating below, or by tagging @marleysmenu on Instagram.