Need a quick, easy, filling dinner that won't break the bank? My Famous Mushroom Fried Rice is my I-don't-feel-like-going-to-the-store, I-need-a-break-from-cooking, I'm-operating-on-autopilot dinner choice I keep in my back pocket at all times.
I learned how to make fried rice in a Culture and Cuisine class in HIGH SCHOOL and it has remained one of my favorite recipes into my thirties. It's just so easy, quick, and satisfying.
This Famous Mushroom Fried Rice recipe is the result of the addition of teriyaki mushrooms to the classic fried rice I make all the time for literally everyone.
The mushrooms give it a little more texture and heartiness. But even still, this Mushroom Fried Rice is ALL about the oil and the egg!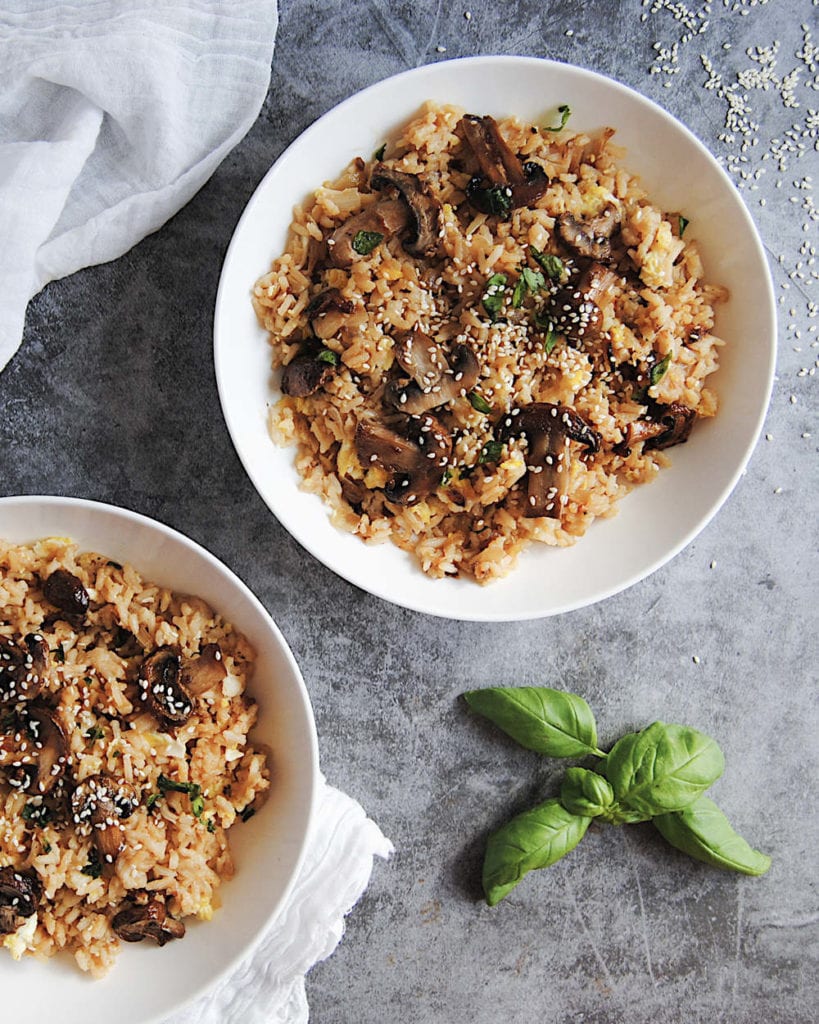 Mushroom Fried Rice Tips and Tricks
The Oil is The Secret Sauce
Frying your rice in toasted sesame oil gives it a rich, nutty taste. While you can absolutely still get delicious fried rice with olive oil, sesame oil definitely infuses more flavor.
It's often used in Asian-inspired dishes. You will find me singing its praises in some of my other recipes including these Thai Spicy Peanut Noodles and Vegetarian Ramen with Tofu.
Outside of its awesome flavor, sesame oil has some tricks up its sleeve, too. It has a higher smoke point, which means it can handle the heat. You'll be able to fry it on high for a long time before it burns, avoiding unwanted bitterness.
But enough with the technical stuff. It's tasty. That's what matters, right?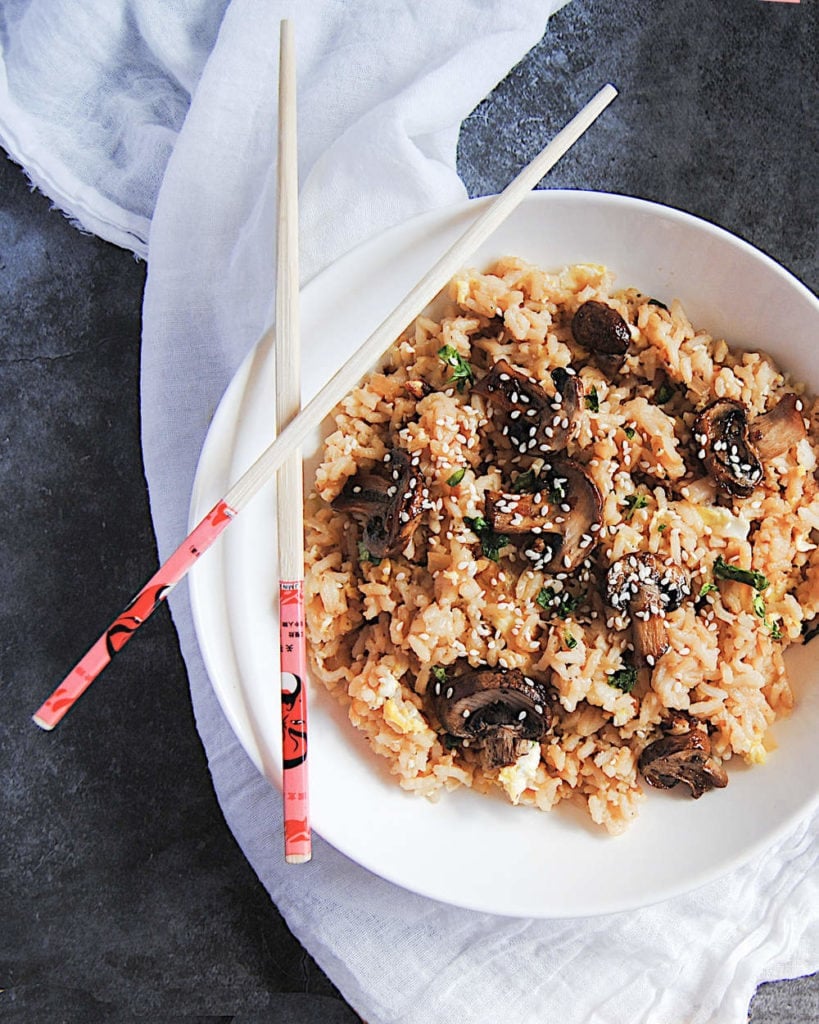 Green tip: Mushrooms are not only delicious but considered a sustainable food. They have a relatively small environmental footprint as they take little water and energy to grow and emit little CO2. Try buying organic mushrooms if they are accessible to you. Organic farms rely on biodiversity to generate rich soil, avoiding the use of pesticides and fertilizers, which means no toxic runoff.
Get Your Eggs Directly On Your Pan
Once your onion and rice are fried, two things will happen.
One, your family will start emerging from their little nooks wondering what that glorious smell is coming from the kitchen.
And two, you'll be ready to add your egg. First, you'll need to make a well in the middle of your wok, pushing the rice to either side.
The rice sops up a lot of that sesame oil, so make sure to add a little more to the bottom of your pan right where you'll be frying your egg.
Next, crack your eggs into a bowl. It's ALWAYS best to crack your eggs into a separate bowl rather than directly into your dish to avoid shells or the rare bloody egg. I'm telling you. The ONE time you don't take this precaution will be the ONE time you slip up.
I'm not saying you'll be in a panic, burning your fingers trying to fish an eggshell out of a hot pan, but you may find yourself on a sudden eggshell expedition.
And okay fine, maybe this happened to me three or four times before I learned my lesson. But now you know, so we will just call it a learning experience.
Anyway, now you can add your eggs into the well in your wok and season them with salt and pepper.
Green Tip: When sourcing ingredients for this recipe, look for pasture-raised eggs (over free-range or cage-free) to support agriculture that is less reliant on chemicals and fossil fuels.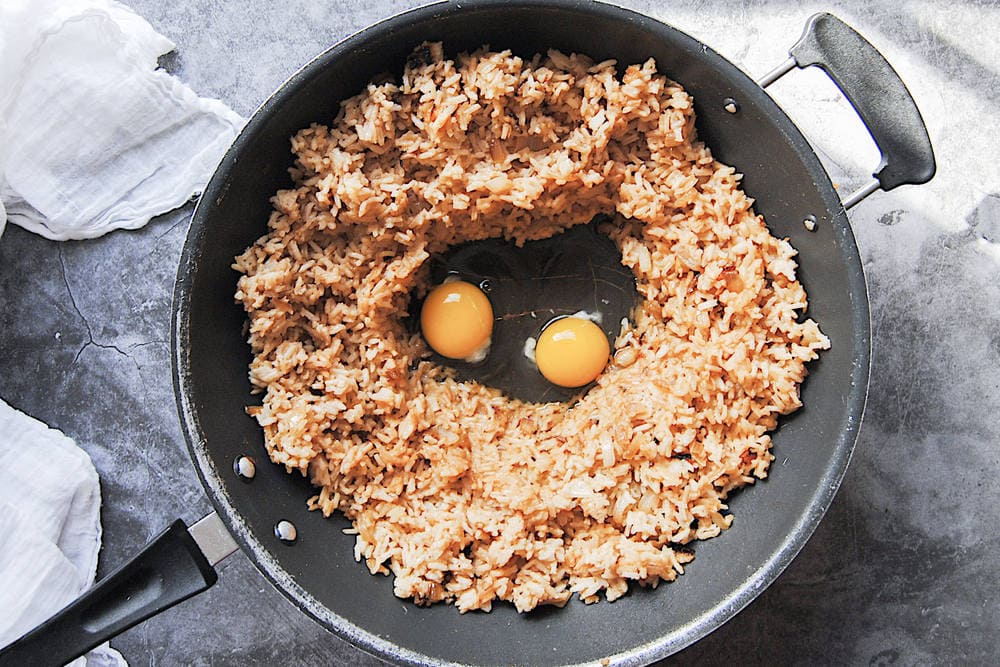 Once the eggs start to cook, scramble them by mixing them directly in your wok. I like to have just a little bit of separation between my yolks and whites, which is with I don't fully mix them before adding them to the pan.
Continue to cook the eggs in the well. Resist the urge to stir them into your rice until they are fully cooked. This will just coat the rice in egg, making it gummy.
I use this same "egg in well" technique for noodle dishes as well. It's a great way to infuse more texture and flavor.
This Mushroom Fried Rice combines saltiness from soy sauce, extra flavor and texture from a perfectly integrated egg, and added sweetness from the teriyaki mushrooms to make a delicious Asian-inspired dish.
This mushroom fried rice combines saltiness from soy sauce, extra flavor and texture from a perfectly integrated egg, and added sweetness from the teriyaki mushrooms to make a delicious Asian-inspired dish.
For another quick and easy rice recipe, check out this Aromatic Yellow Saffron Rice.