Sick of your boring old breakfast routine and looking for a new way to spruce up your eggs? This Spicy Feta Shakshuka is the answer to all your eggy prayers.
Shakshuka is a traditional Israeli dish that has been popping up on menus all over the U.S. as brunch continues to be an integral part of American culture.
This Spicy Feta Shakshuka is a flavor-packed dish comprised of eggs poached in a tomato sauce, loaded with a blend of spices, and topped with creamy Feta cheese that will make any brunch enthusiast swoon.
This vegetarian, protein packed, egg breakfast is the best way to start your day! Plus, this recipe only requires one pan.
As a busy mom and environmental scientist, one-pan recipes are my absolute favorite! Less clean-up means we save on both time and water! Win, win.
Green tip: Speaking of cleanup, if you have a dishwasher-use it! Comparing dishwashing to handwashing, using an efficient dishwasher uses 1/6th the amount of water to get your dishes clean!
Spicy Feta Shakshuka Ingredients
---
Here's everything you need:
Onion & garlic. For tons of flavor and umami.
Olive oil. To fry your onion and garlic in.
Salt & pepper. To season and ramp up the other natural flavors.
Canned plum tomatoes. Whole peeled tomatoes will give you the best flavor in this recipe.
Paprika, turmeric, & crushed red pepper flakes. For tons of vibrant flavor.
Eggs. They will be poached in the flavorful tomato-based sauce.
Feta. For tang and bright texture.
Fresh parsley. To add color and an herbaceous finish to the dish.
Spicy Feta Shakshuka Tips and Tricks
---
Should You Make Shakshuka in Cast Iron or Ceramic?
Though many traditionalists may argue that shakshuka is best made in cast iron, I'm a huge proponent of making it in a frying pan. Cooking acidic ingredients (like tomatoes) in a cast iron can easily turn their taste bitter if even the slightest bit overdone.
Especially if you're new to making shakshuka, ceramic is much more forgiving.
Green tip: Look for non-toxic cookware that is free from PFAS, PTFE, lead, cadmium, and heavy metals, for the most environmentally friendly pots and pans! There are still nonstick options that are also non-toxic.
Start with the Onions, Garlic, Salt and Pepper
First things first. You gotta caramelize those onions.
Coat the bottom of the pan with olive oil and cook over medium heat until you achieve that beautiful, browned color on those onions.
Move them around in your pan every couple of minutes or so, so you don't burn one side. This is around the time my husband comes running into the kitchen demanding to know what smells so good.
Add the Tomatoes and Spices Next
You'll add the contents of your entire can of whole peeled plum tomatoes and your spices next. We can't very well call it Spicy Feta Shakshuka without them, now can we?
Crush the Tomatoes
Once your tomatoes have had an opportunity to cook down a little bit, use a potato masher or wooden spoon to crush them completely.
Put All Your Eggs in One Basket
Alright. The part you've all been waiting for. Drumroll, please….
It's time to poach those eggs. The goal is to get that runny yolk with a fully cooked white. A challenge that is not as easy as it may seem.
The trick is to keep your heat on low, cover it, cross your fingers and toes, and watch it closely. Just kidding, no crossing neccessary—I've done all the experimenting for you.
Green tip: Look for pasture-raised eggs (over free-range or cage-free) to support agriculture that is less reliant on chemicals and fossil fuels.
Use a wooden spoon to carve out little wells in your tomato sauce, so that your eggs will sit directly on the pan and be surrounded by the sauce.
As many times as I've made this—in different kitchens, in different pans, and with different sized eggs—the perfect poach is always achieved between 5-7 minutes.
Keep your heat on low and your pan covered, resisting the urge to peek until a full 3 minutes has passed. After 3 minutes, check on them. If your egg white is firm, you're good to go. If it's still transparent and loose, close her up for another minute.
Finish Strong
Once your eggs are a go, sprinkle your Feta on top for a salty, creamy finish. Chop some parsley to garnish for some freshness and serve with crisp toasted bread. And there you have it Next-Level Spicy Feta Shakshuka. The brunch of all brunches!
If you're obsessed with poached eggs in general, check out my 5 tips on how to achieve the perfect poached egg in my Smoked Salmon Eggs Benedict recipe.
How to Store and Reheat Shakshuka
In an airtight container, leftover Spicy Feta Shakshuka will last for up to 1 week. It's best to store leftovers in the fridge and enjoy within the week rather than freeze it.
To reheat shakshuka, add the leftovers back to a frying pan and cover. Simmer over medium heat, covered until thoroughly reheated—about 6-8 minutes.
Green tip: Did you know that of the billions of pounds of food wasted annually, it is estimated that 50% of it happens in our homes? Reduce your food waste by properly storing, reheating, and enjoying leftovers!
Spicy Shakshuka with Feta Frequently Asked Questions
---
What does shakshuka taste like?
Shakshuka is loaded with savory and earthy flavor. It's made up of a tomato-based sauce with onions and garlic. This Spicy Shakshuka recipe uses crushed red pepper flakes to bring the heat.
What is shakshuka eaten with?
Shakshuka is typically served with bread. Traditionally, you may see it served with challah or pita bread. I sometimes also serve it will a toasted baguette (as pictured) or with naan bread.
Want to sharpen your kitchen skills?
Why You Should Make this Spicy Feta Shakshuka
---
It's uniquely flavorful. The best way to bring tons of flavor to your eggs!
It's filling. Between the sauce, eggs, and bread that you serve it with, this shakshuka recipe will keep you full for hours.
It's easy! Both to make and clean up, with only one pan required!
If you're loving this Spicy Feta Shakshuka and want more scrumptious eggy brunch ideas, check out this Smoked Salmon Eggs Benedict and this Naan Breakfast Pizza.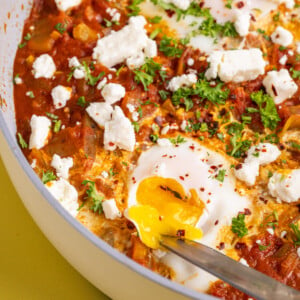 Spicy Feta Shakshuka
PRINT
PIN
RATE
This Spicy Feta Shakshuka is a flavor-packed dish comprised of eggs poached in a tomato sauce, loaded with a blend of spices and topped with creamy Feta cheese.
Ingredients
1

large

yellow onion

3

cloves

garlic

2

tablespoons

olive oil

¼

teaspoon

salt

¼

teaspoon

black pepper

28

ounces

canned peeled plum tomatoes

1

teaspoon

paprika

½

teaspoon

turmeric

¼

teaspoon

crushed red pepper

4

large

eggs

2

ounces

crumbled feta cheese

fresh parsley for garnish
Instructions
Prep your ingredients by peeling and dicing your onion and peeling and mincing your garlic. Add the olive oil to a large frying pan and get the oil how over medium heat for about 2 minutes.

Add the onions, garlic, salt, and pepper to the pan with the hot oil and sauté over medium heat until the onions are translucent (about 5-7 minutes).

Add the tomatoes and the juices from the can, the paprika, turmeric, and crushed red pepper flakes and simmer for about 5 minutes.

Use a potato masher or wooden spoon to crush the whole tomatoes, until completely crushed. Then, continue to simmer until almost all of the liquid has absorbed (about 5-7 minutes).

Crack your eggs into little ramekins to give yourself a chance to remove any eggshells and so you are able to carefully drop the eggs into the sauce without breaking the yolks.

Carve out 4 little wells in the sauce to reveal the bottom of the pan.

Carefully pour eggs from the ramekin into the sauce, adding one egg to each well and then cover the pan with a fitted lid.

Continue to cook, covered, until egg whites are opaque and yolk is cooked to your preference (about 5 minutes for over-easy and 8 minutes for over hard eggs) and egg whites are opaque.

Remove pan from heat and add feta and parsley. Serve with your favorite bread. Challah, sourdough and ciabatta all work as a great sponge for the sauce and egg yolks.
Pro Tips
If you're not a feta fan, goat cheese totally works, or you can leave the cheese out altogether.
It's hard to get the eggs just right. I overcooked them on my first try. It generally takes about five minutes for the eggs to cook through, but watch them closely!
Did you make this recipe?
Let me know by leaving a recipe rating below, or by tagging @marleysmenu on Instagram.