Always eating the dough before you've had a chance to bake the cookies? You and I both. So why not cut out all the risk of raw eggs and untreated flour and just make these pop-in-your-mouth No-Bake Cookie Dough Bites that are designed to eat raw?
They're easy to make, fun to eat, and absolutely decadent. In this recipe, you'll learn how to heat-treat all-purpose flour so that it's safe to eat, how to easily whip up cookie dough bites, and the secret to having the best ratio of chocolate chips to dough!
No-Bake Cookie Dough Bites Ingredients
---
Here's everything you need:
All-purpose flour. The base for your Cookie Dough Bites. Your flour should be heat-treated before consuming it.
Unsalted butter. Unsalted is preferred so you can control the amount of salt. The butter should be softened, not too solid, and not melted.
Both granulated and brown sugar. For the sweetness and caramel-y goodness.
Vanilla extract. For flavor.
Milk. To get the best consistency. Dairy or unsweetened non-dairy works.
Salt. If you only have salted butter, omit this extra salt.
Mini chocolate chips. You can use regular sized, but minis are preferred for such small bite-sized snacks.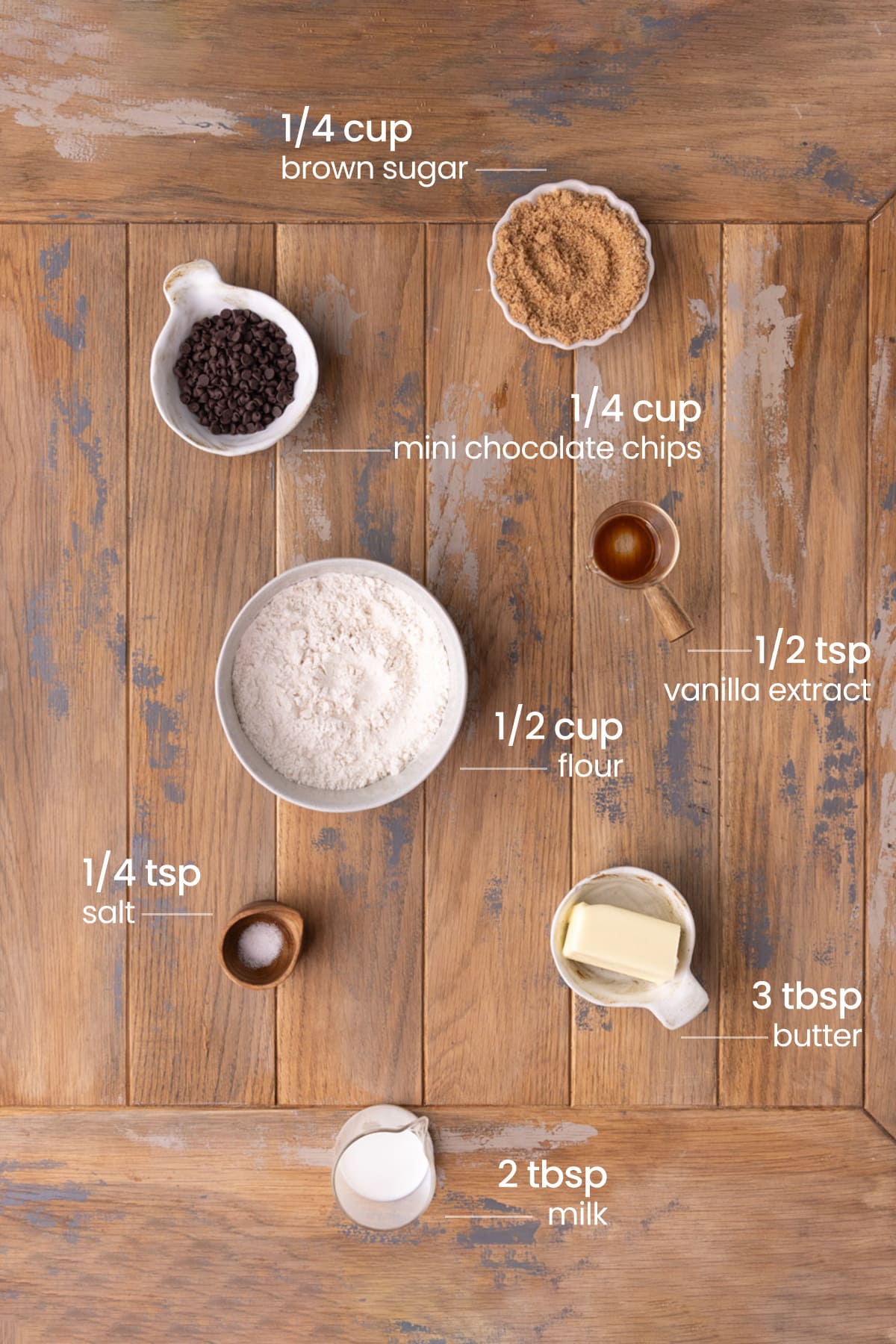 Cookie Dough Bites Tips and Tricks
---
The Secret is in The Softening
It's very important that your butter is softened instead of still ice cold or completely melted.
If you don't have time to let it sit out and come to room temperature naturally, stick it in the microwave on high for 20 seconds.
You'll know it's perfectly softened when you poke it with your finger and it leaves an imprint. If 20 seconds doesn't quite get it there, continue to microwave on high in 5-second intervals until it's ready.
Green tip: Look for organic and palm oil-free butter if you can. Buying organic means you are supporting farms that do not use damaging pesticides and fertilizers, and palm oil production is a huge driver behind deforestation.
Heat Treat Your Flour
All-purpose flour is not ready-to-eat raw. Just like raw eggs, eating flour raw puts you at risk of ingesting nasty bacteria like E. Coli. So, it's important to heat treat your flour before adding it to your edible cookie dough.
The great news is it's super quick and simple. You can opt to sanitize your flour in either the oven or the microwave.
For the oven method, just spread your flour out on a large baking tray and bake on the bottom rack at 300°F for 5 minutes. This is my preferred method because it's more hands-free.
If you'd rather use the microwave (I did promise you no-bake, after all), just put your flour in a microwave-safe bowl, and heat on high in 30-second intervals, stirring in between for a total of 3 times (or 90 seconds).
Do this first, so you can allow it to come back down to room temperature before adding it to your butter and sugar. If you add the flour to your butter and sugar mixture while it's still piping hot, you risk melting your butter.
Cream Your Butter and Sugar Together First
Use a hand mixer to combine your sugar and softened butter together first to form a base for your cookie dough balls.
This makes for a lighter, more buttery, melt-in-your-mouth cookie dough. You may notice that the hand mixer causes the butter and sugar mixture to look a little bit clumpy, but stirring once over with a spatula after creaming will fix that.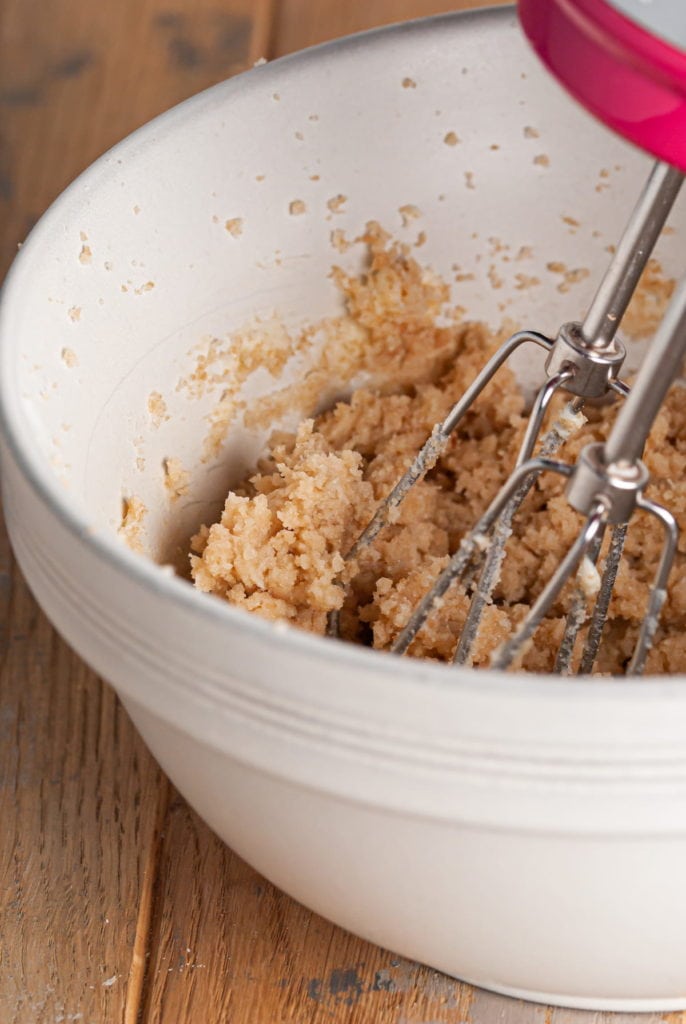 Fold Your Chocolate Chips in Last
Once you've creamed your butter and sugar together, you can put your hand mixer away. You should be able to easily mix up your cookie dough with a spatula or wooden spoon.
Make sure everything is combined and smooth, pushing the dough down between your spatula and the bowl to ensure there are no clumps.
Allow your heat-treated flour to come back to room temperature and then add it to the butter and sugar along with the vanilla extract, milk, and salt.
Green tip: Make sure your chocolate is sustainably sourced. Look for Fair Trade, Rainforest Alliance, or UTZ certifications as opposed to self-proclaimed sustainability labels that sometimes falsely advertise "sustainably sourced".
Then, you can add your chocolate chips.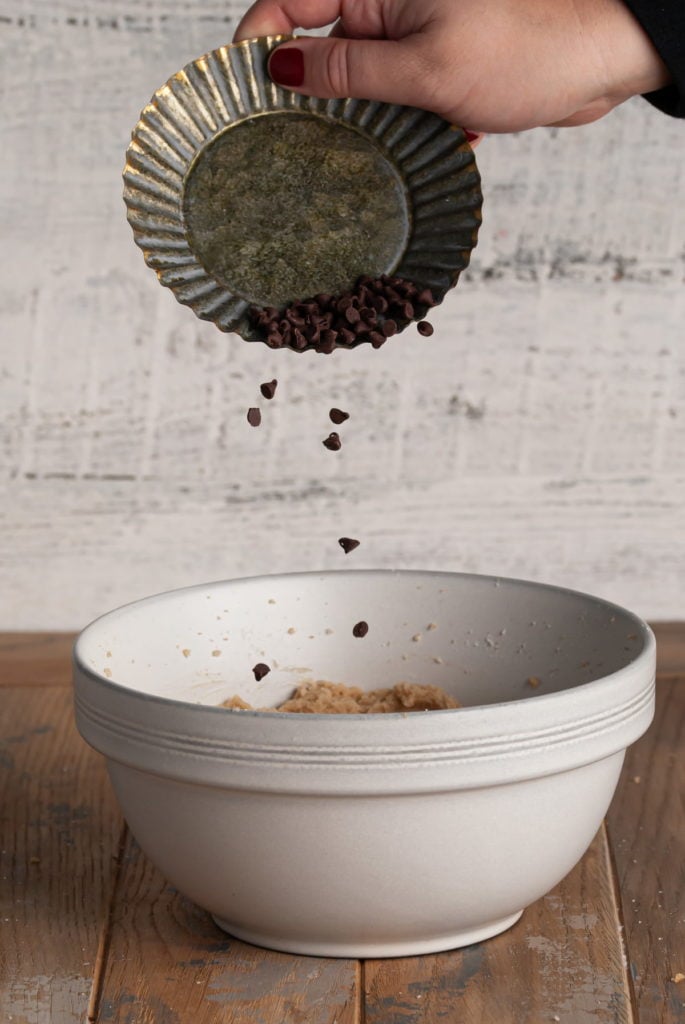 Roll Your Cookie Dough into "Bites"
Take about 1 teaspoon of the dough at a time, and roll between clean hands to form little cookie dough balls.
You can also opt to keep some extra chocolate chips on the side to roll your Cookie Dough Bites into. This will give you an extra outer layer of chocolate and well, there is no such thing as too much chocolate in my mind.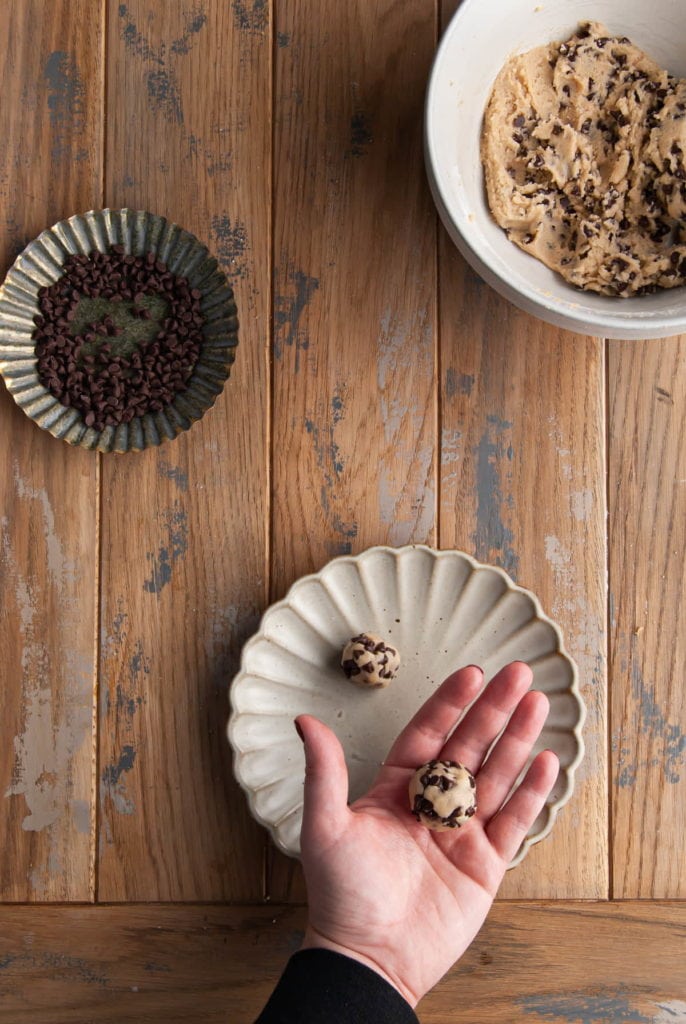 How to Properly Store Leftover Cookie Dough Bites
These sweet little No-Bake Cookie Dough Bites will last up to 10 days in the refrigerator in an airtight container.
If you prefer enjoying them at room temperature, you can take them out of the fridge a couple of hours before you plan to eat them.
You can also opt to freeze these fun snacks for a few months. Just allow them to thaw out before popping them in your mouth.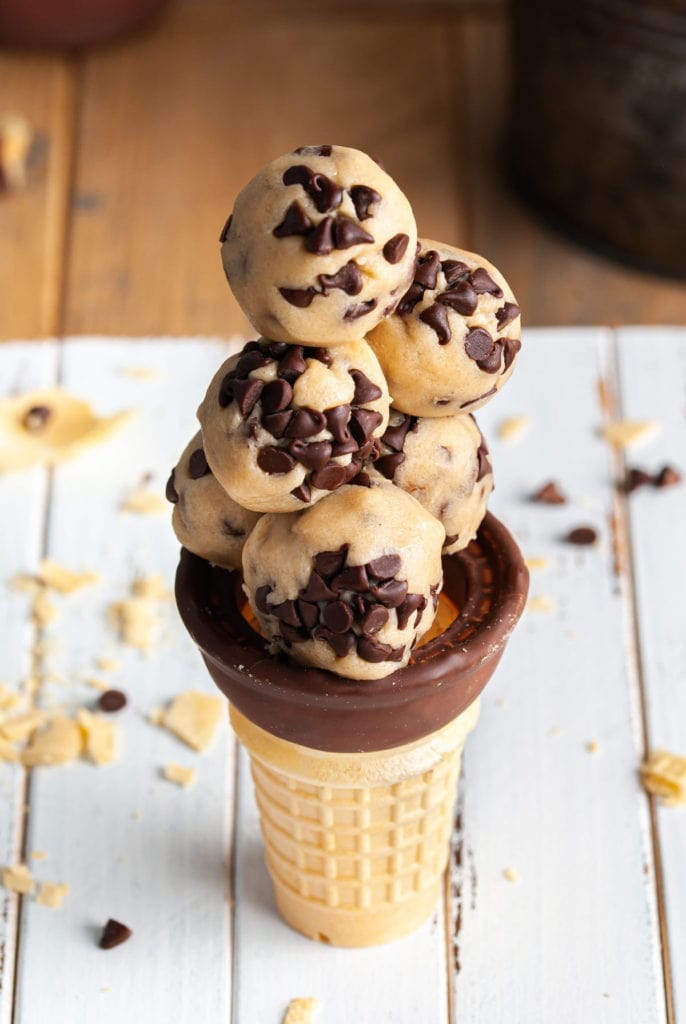 No-Bake Cookie Dough Bites Frequently Asked Questions
---
How do you make cookie dough safe to eat?
In order to ensure cookie dough is safe to eat, it must be free from raw eggs and use heat-treated flour.
Though rare, consuming raw eggs and raw flour poses a risk of bacterial illness. The great news is, this safe-to-eat cookie dough balls recipe does not have eggs.
It does, however, contain flour. In order to kill any bacteria, the flour simply has to be "heat treated" in the microwave or in the oven.
To heat treat flour in the microwave, heat on high for 90-seconds, stopping the microwave every 30 seconds to stir the flour.
To heat treat the flour in the oven, spread the flour out on a large baking sheet and bake at 300°F for 5 minutes.
Want to sharpen your kitchen skills?
Why You Should Make these No-Bake Cookie Dough Bites
---
They're fun! Perfectly bite-sized for the best snacking experience.
They're easy. No baking, just heat treating the flour and you're on your way!
They're safe. Why take the risk of consuming raw flour and raw egg like you do with cookie dough.
If you're loving these No-Bake Cookie Dough Bites, check out this Cookie Dough Milkshake and Best Ever Chocolate Cookie Dough Cake.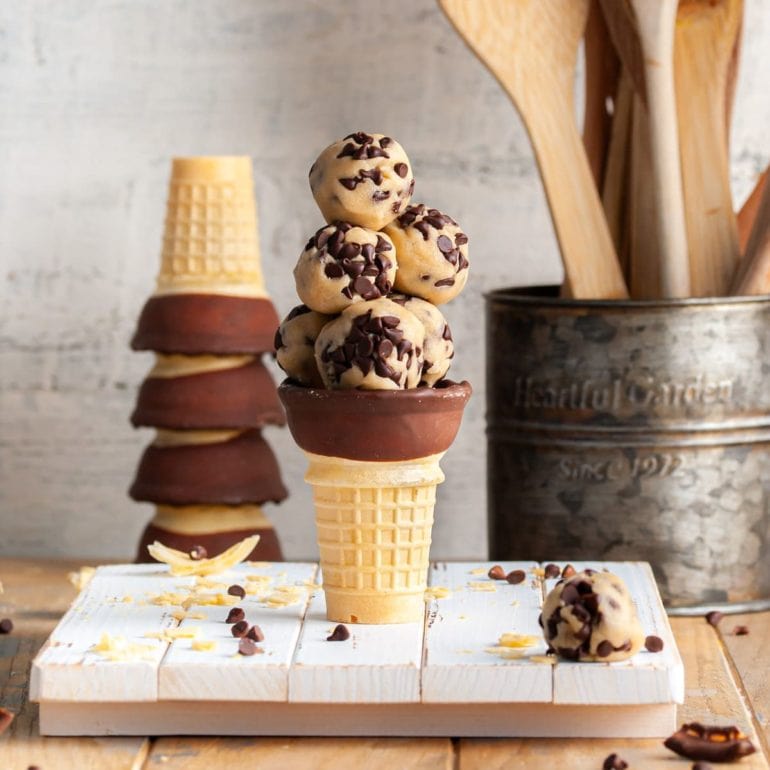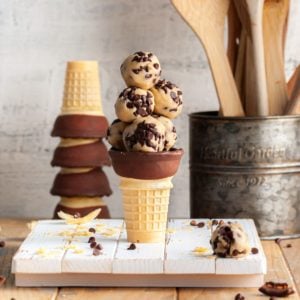 No-Bake Cookie Dough Bites
PRINT
PIN
RATE
These pop-in-your-mouth, safe-to-eat No-Bake Cookie Dough Bites are outrageously delicious and easy to make!
Ingredients
½

cup

all-purpose flour

4

tablespoons

unsalted butter, softened

(4 tbsp = ½ stick)

¼

cup

granulated sugar

¼

cup

brown sugar

½

teaspoon

vanilla extract

2

teaspoons

milk

(cows or unsweetened non-dairy)

¼

teaspoon

salt

¼

cup

mini chocolate chips
Instructions
Heat treat your flour in one of two ways. Microwave method: Add flour to a microwave-safe bowl and microwave on high for 30 seconds. Stir a couple of times. Repeat two more times for a total of 90 seconds. Oven method: Preheat oven to 300°F. Spread the flour out on a baking sheet and bake on the bottom rack for 5 minutes.

Cream butter and both sugars together with a hand mixer until combined.

Once the flour has come back down to room temperature after heat treating, add it to the butter and sugar along with the vanilla extract, milk, and salt. Use your hand mixer to combine.

Next, use a spatula to push dough against the edge of the bowl to make sure no butter lumps remain. Then, fold in your chocolate chips.

Use clean hands to roll the dough into little balls—about 1 teaspoon of dough in each. If you find that the dough is too crumbly when you are rolling it, add a little bit of extra milk (about ½ teaspoon at a time) until the desired consistency is achieved.

Option to roll the balls in extra chocolate chips for an outer layer of chocolate!
Pro Tips
Make sure your flour has cooled before adding it to your butter and sugar mixture.
You can use morsels or larger chocolate chips if you prefer, but mini are preferred for bite-sized cookie dough balls.
Cookie monsters are always happy at my house with this delicious selection of my best cookie recipes to choose from! Nom nom nom!
Did you make this recipe?
Let me know by leaving a recipe rating below, or by tagging @marleysmenu on Instagram.