In the mood for a cozy warming classic, but don't want the booze? Try this Non-Alcoholic Hot Toddy with Ritual Whiskey Alternative.
Soothing honey, vitamin-packed lemon, and comforting hot water combined with the delicious flavor of the non-alcoholic whiskey make this the perfect mocktail to cozy up with, whether or not you have the sniffles!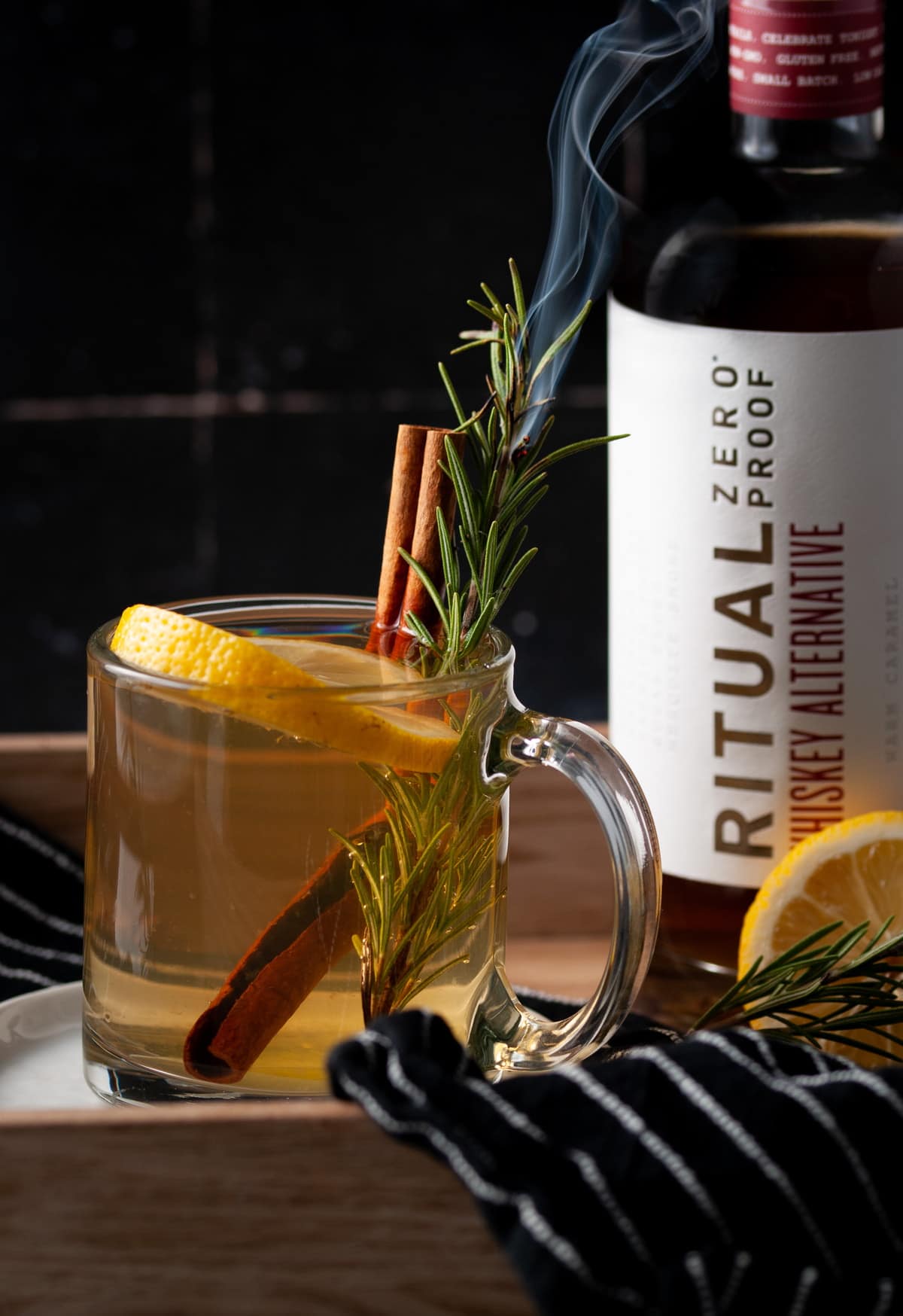 Non-Alcoholic Hot Toddy Tips and Tricks
---
---
So What Is Ritual Whiskey Alternative, Anyway?
Ritual Zero Proof is a beverage company that uses natural botanicals to create delicious tasting, non-alcoholic spirits to use in place of their alcoholic counterparts. It gives you the option to unwind with a refreshing drink, without the after-effects of drinking alcohol.
It's calorie-free, all-natural and downright delicious. The whiskey alternative uses vanilla, stone fruit, and sugar floss to capture the essence of smooth whiskey.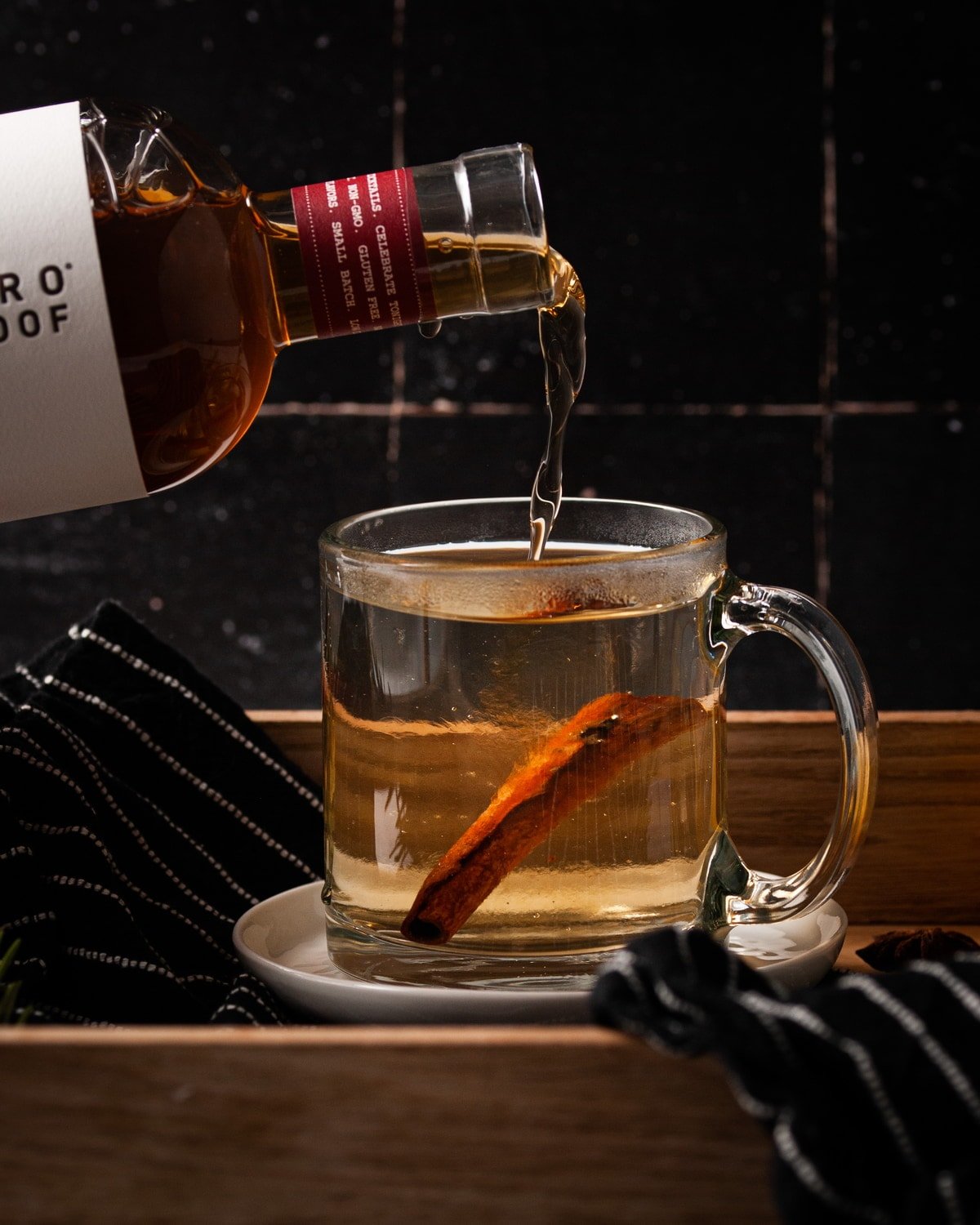 Non-Alcoholic Hot Toddy for a Cold
Lemon, honey, and hot water are all common home remedies to soothe cold symptoms, which makes a hot toddy a comforting option when you get the sniffles.
Alcohol, on the other hand, is not always the best for your immune system. Enter Ritual Whiskey Alternative. So you can have all the cozy flavors of the hot toddy without the immuno-suppressant.
Gather Your Ingredients
This is a classic hot toddy but without the booze. Here's everything you need: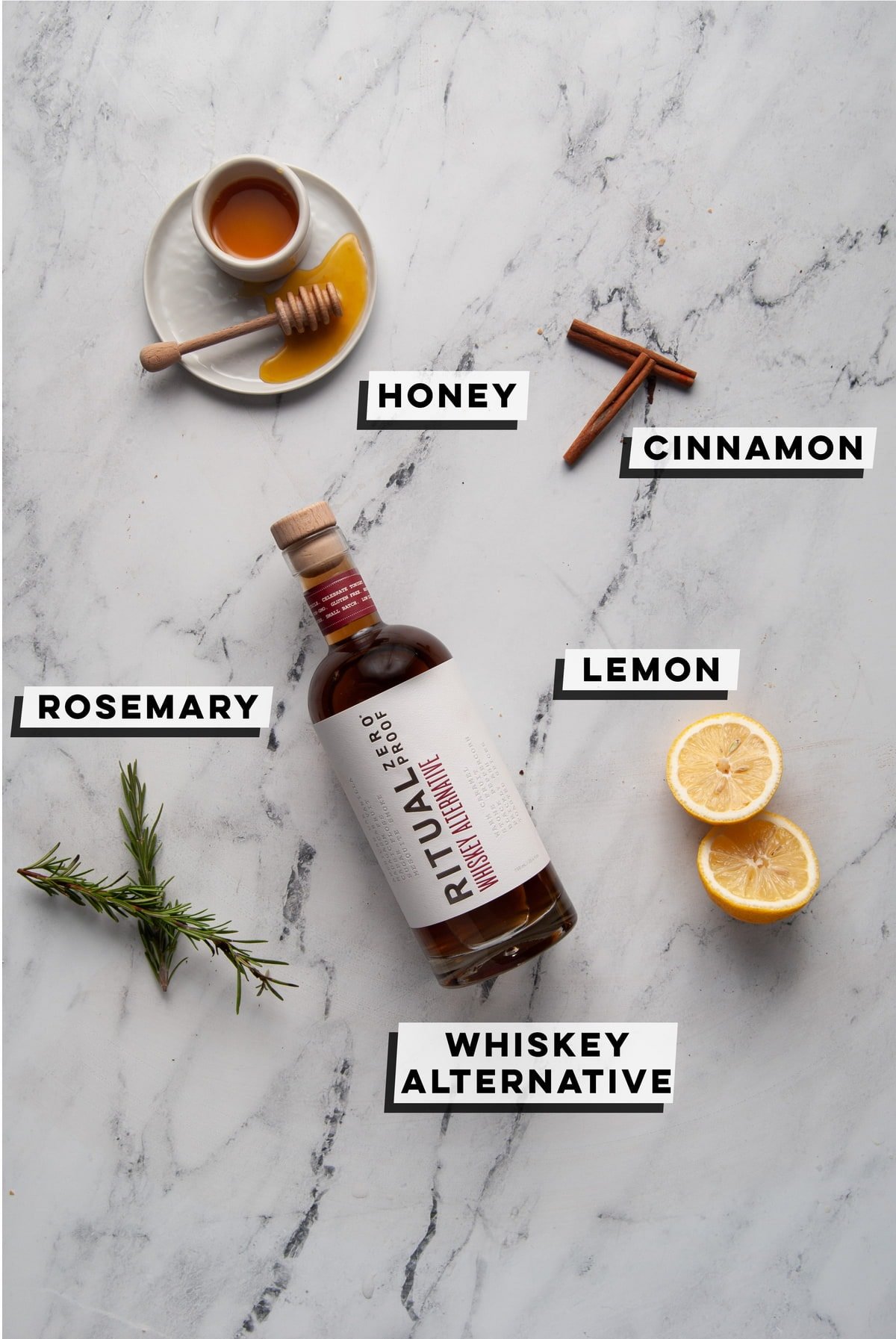 Boil Your Water First
Use a tea kettle or small pot to boil your water. Add a cinnamon stick to a heat-safe 12-ounce mug and pour the water on top.
Using a 12-ounce mug will allow enough room for all the ingredients as the recipe is written, but if you are using an 8-ounce mug, reduce the water to about 1/2 cup to ensure there is enough room for the Whiskey Alternative, lemon juice, and honey.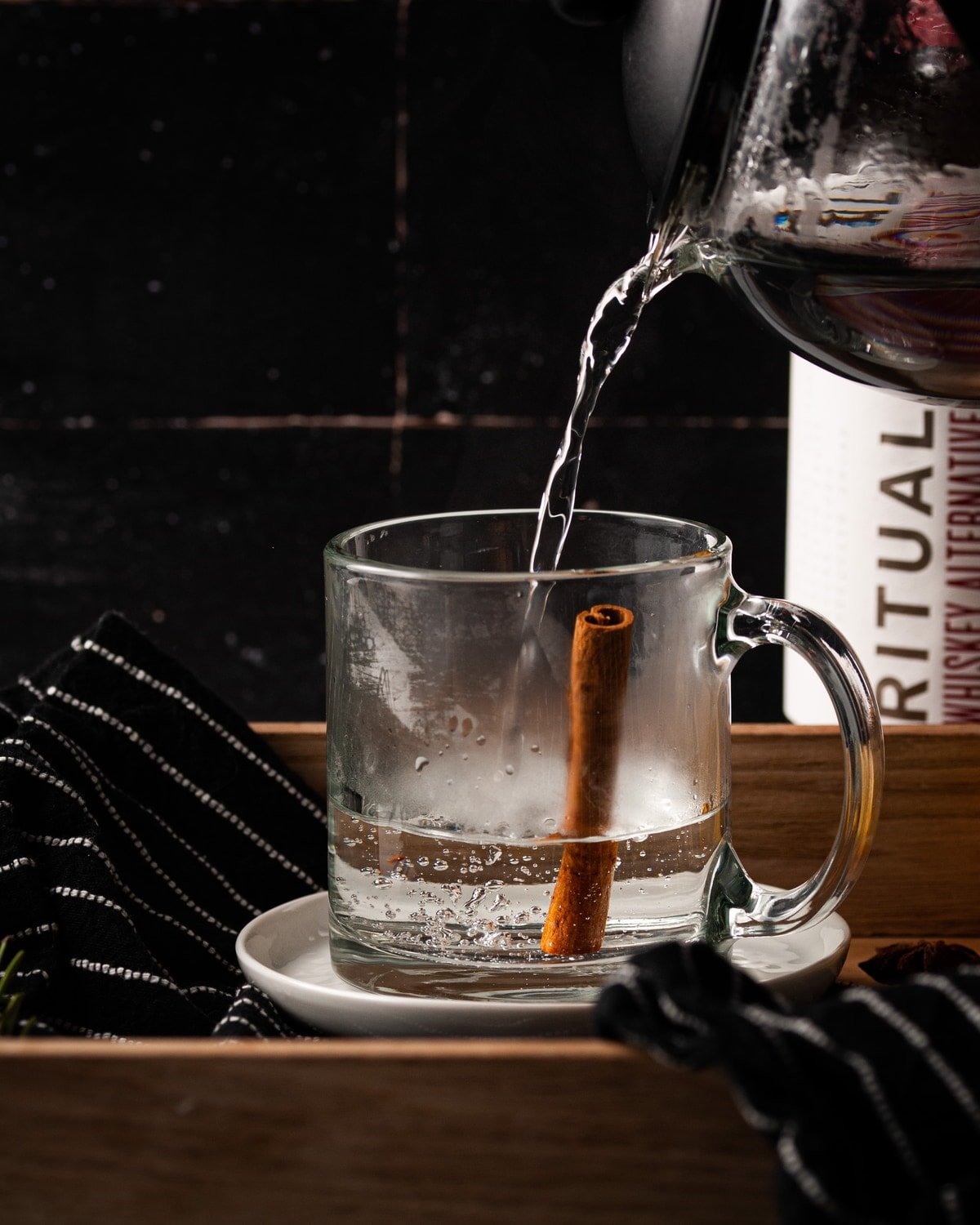 Use Fresh Lemon
As an environmental scientist, I am always trying to highlight sustainable ingredients. Lemons, when sourced locally, organically, and in season, are considered a sustainable crop.
Lemons require a relatively low amount of water and emit a very small amount of carbon.
Using a fresh lemon here goes a long way!
Green tip: Check when lemons are in season in your area with this Seasonal Food Guide.
A Note on Honey
Honey is not only the perfect sweetener for this non-alcoholic hot toddy flavor-wise, but it can also help to soothe the throat.
Try buying raw, locally sourced honey. Generally, smaller-scale honeybee operations harvest honey in the fall, when the bees produce it in excess.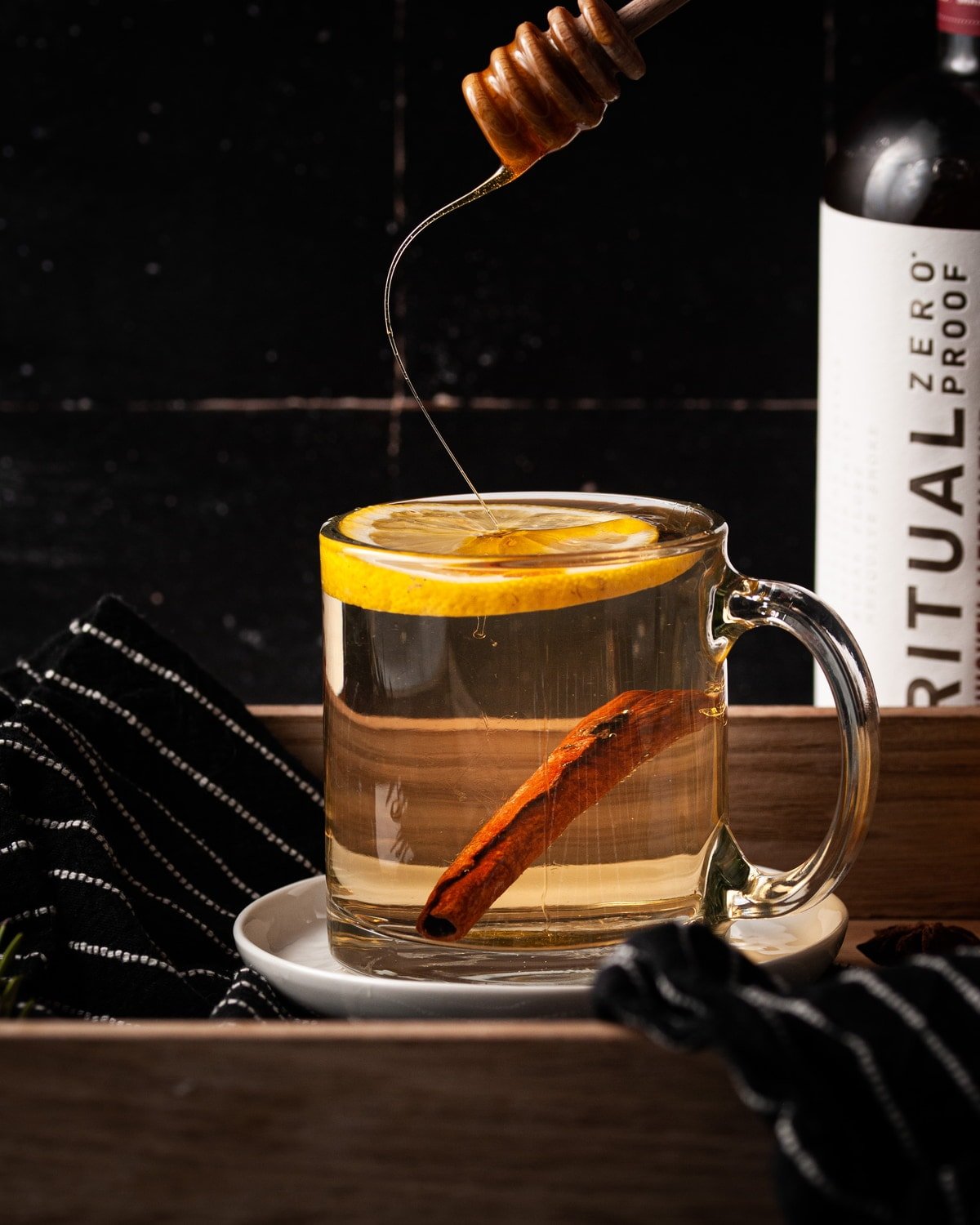 Re-use Your Cinnamon Stick
Adding the cinnamon stick to this hot mocktail adds a ton of flavor, and the great news is, you can reuse it!
After enjoying your hot toddy, simply run the cinnamon stick under hot water and allow it to dry fully before storing it in a safe place to use again.
Washed cinnamon sticks are safe to use for up to a year. When it loses its smell and doesn't seem to lend much flavor, you'll know it's time to retire it or add it to decorative potpourri.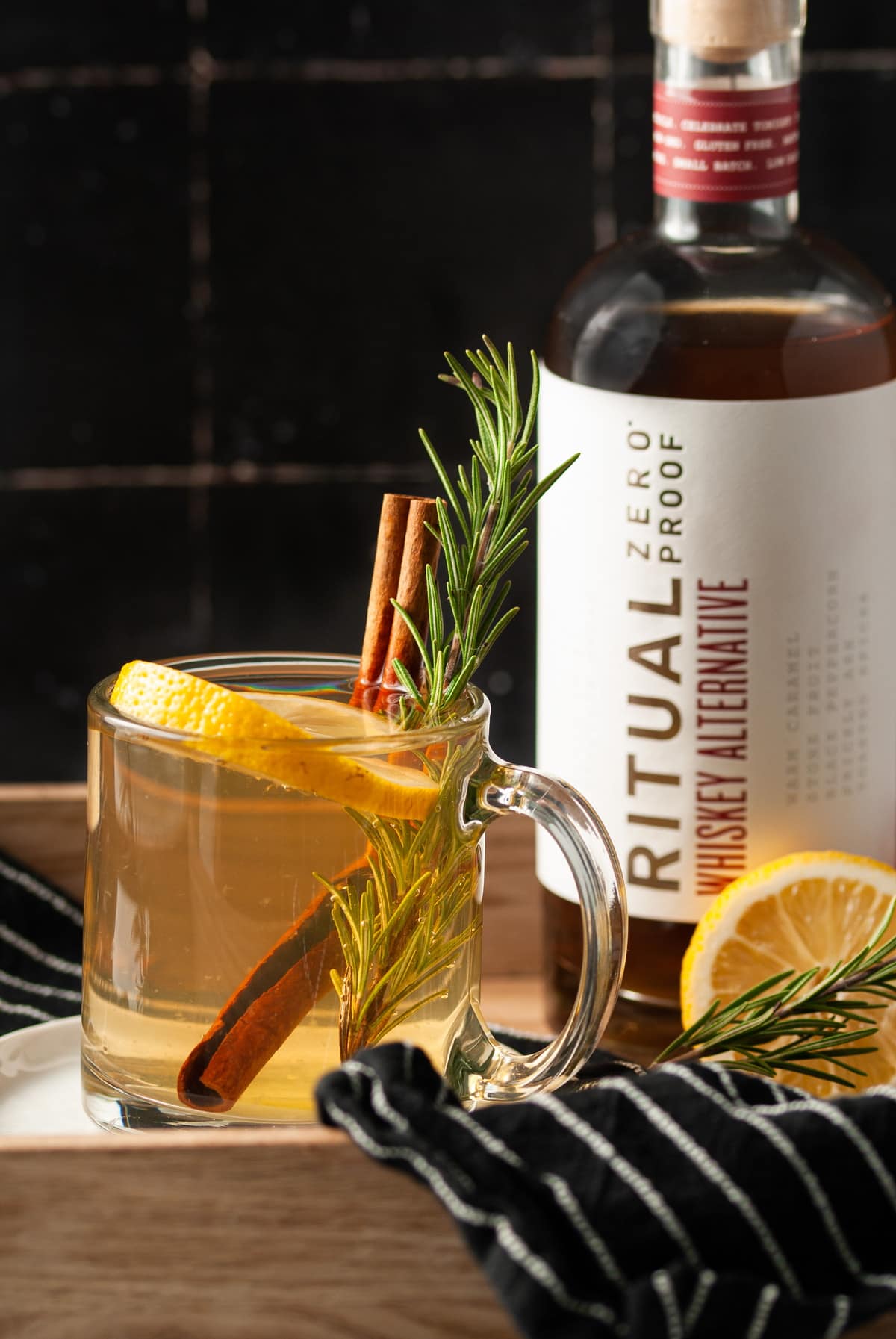 Why You Should Make This Non-Alcoholic Hot Toddy
---
---
It's soothing. Between the hot water, honey, and fresh lemon juice, it's the best home remedy for the common cold!
It's cozy. Warms you up from the inside out.
It's fun! All the benefits of your cocktail ritual without the lousy after-effects.
If you're loving this Non-Alcoholic Hot Toddy with Ritual Whiskey Alternative and looking for other mocktails using Ritual Zero Proof, check out this Strawberry Daiquiri Mocktail and Apple Cider Spiced Rum Mocktail.
This is a sponsored post by Ritual Zero Proof. Check out more recipes using their Rum Alternative.