Looking for a simple and quick recipe for baked salmon? This Old Bay Salmon comes together in 15 minutes and with just 4 ingredients!
Relying on classic seafood seasoning to bring the flavor and heat, this baked-to-perfection salmon is so flavorful! With citrus from the lemon, crispy outer edges from the olive oil, and just the right amount of spice, this easy salmon recipe proves that sometimes simple is best!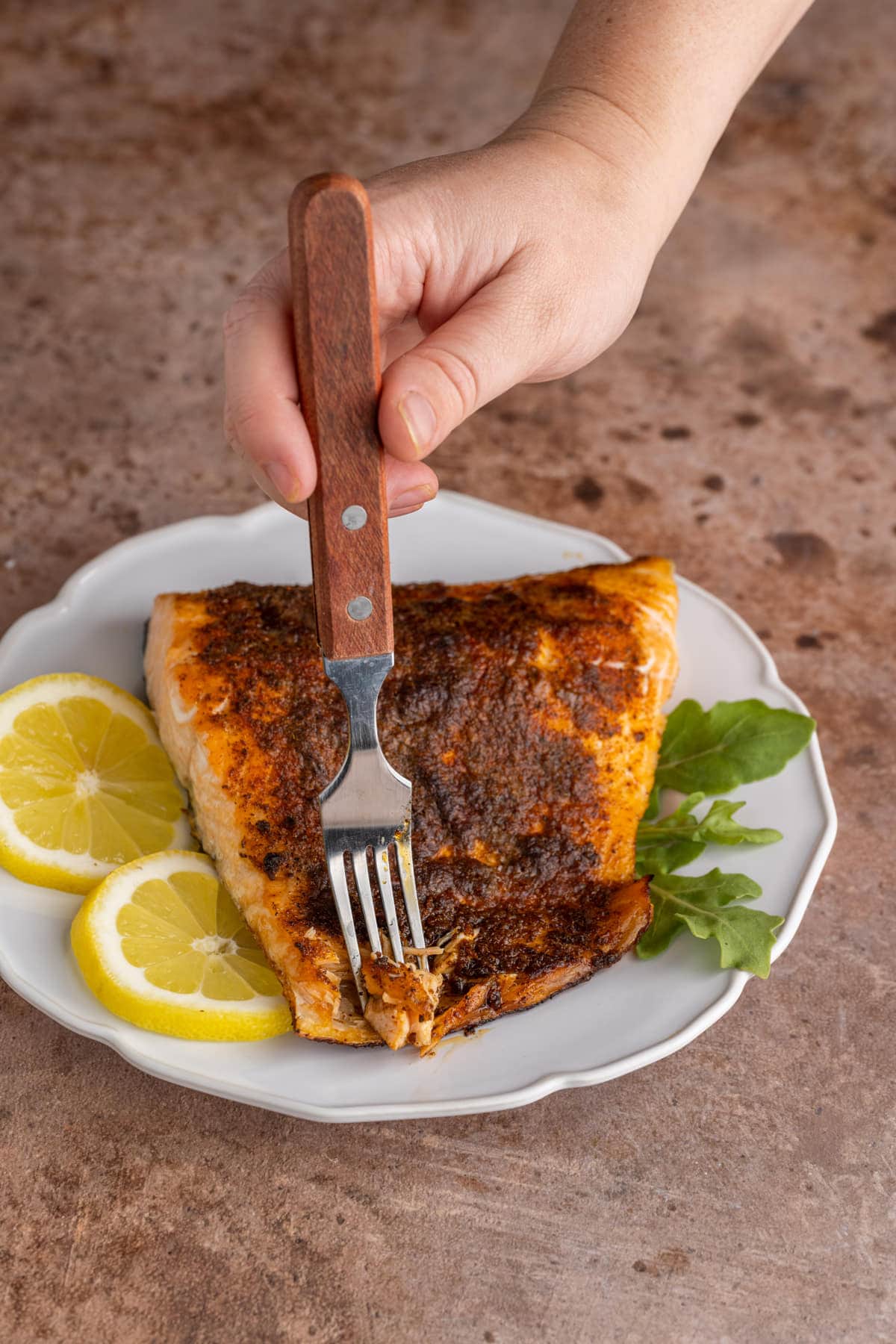 Old Bay Salmon Ingredients
---
Here's everything you need:
Salmon. This recipe was made to feed two generously, so it calls for 10 ounces of salmon. Alternatively, you can use two individual 3-5 ounce portions of salmon. Bear in mind this will reduce the cooking time.
Old Bay Seasoning. My go-to seafood seasoning! None on hand? Check out this article on Every Old Bay Seasoning Substitute.
Lemon. Citrus and seafood is a classically delicious pairing.
Olive oil. To get crispy edges on the salmon.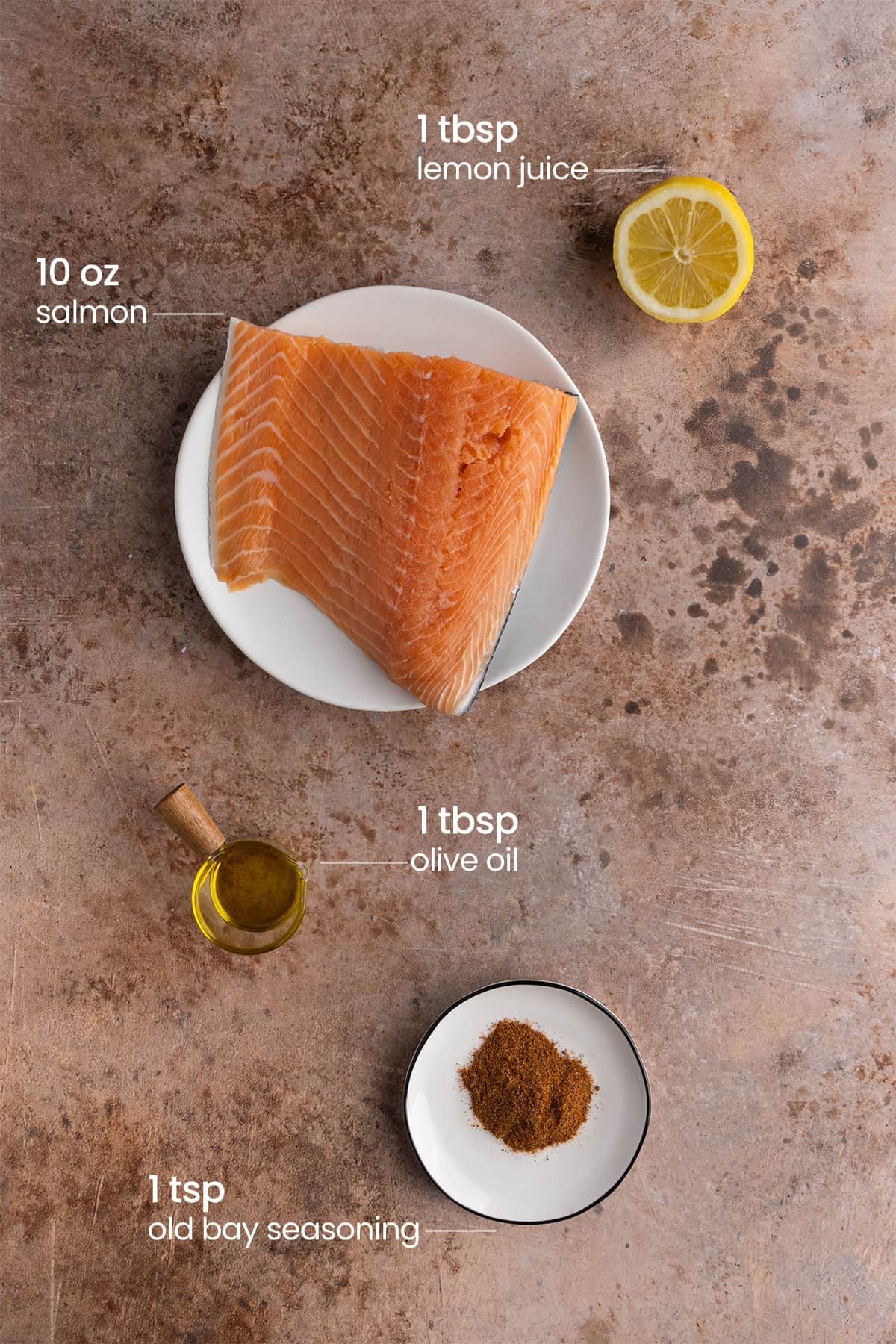 Sustainable Salmon
Salmon farming gets a bad reputation because it often poses a risk to our environment for several reasons.
This includes pollution from the antibiotics used in salmon farms that can then leach into the surrounding waters and the depletion of other wild fish harvested to feed the salmon.
However, wild-caught salmon poses alternative risks, including overfishing and bycatch. Plus, there are often issues with availability and access to wild caught salmon.
So, then… how do we source salmon sustainably?
In the U.S., we have two great choices: sustainably farmed salmon, or wild-caught Alaskan salmon.
Green tip: Look for Marine Stewardship Council and Friend of the Sea labels on your fish to ensure they were harvested sustainably.
Salmon with Old Bay Seasoning Tips and Tricks
---
Pat Your Salmon Dry First
Before we start seasoning the salmon, we have to remove excess moisture to get the best texture once it's baked.
Place your salmon filets skin-side down and use a paper towel to press down lightly on top to pat dry. Drying the fish will avoid a mushy texture. This same technique is used in making this Pesto Butter Salmon as well.
Green tip: Paper products contribute to deforestation. Consider these bamboo paper towels! Bamboo naturally regenerates every few months, whereas trees cannot regrow once harvested.
This recipe was created with fresh fish, but you can also very easily use frozen salmon! Just thaw the salmon overnight in the refrigerator or add it to a plastic or reusable storage bag and submerge the bag in cold water for about 45 minutes to defrost.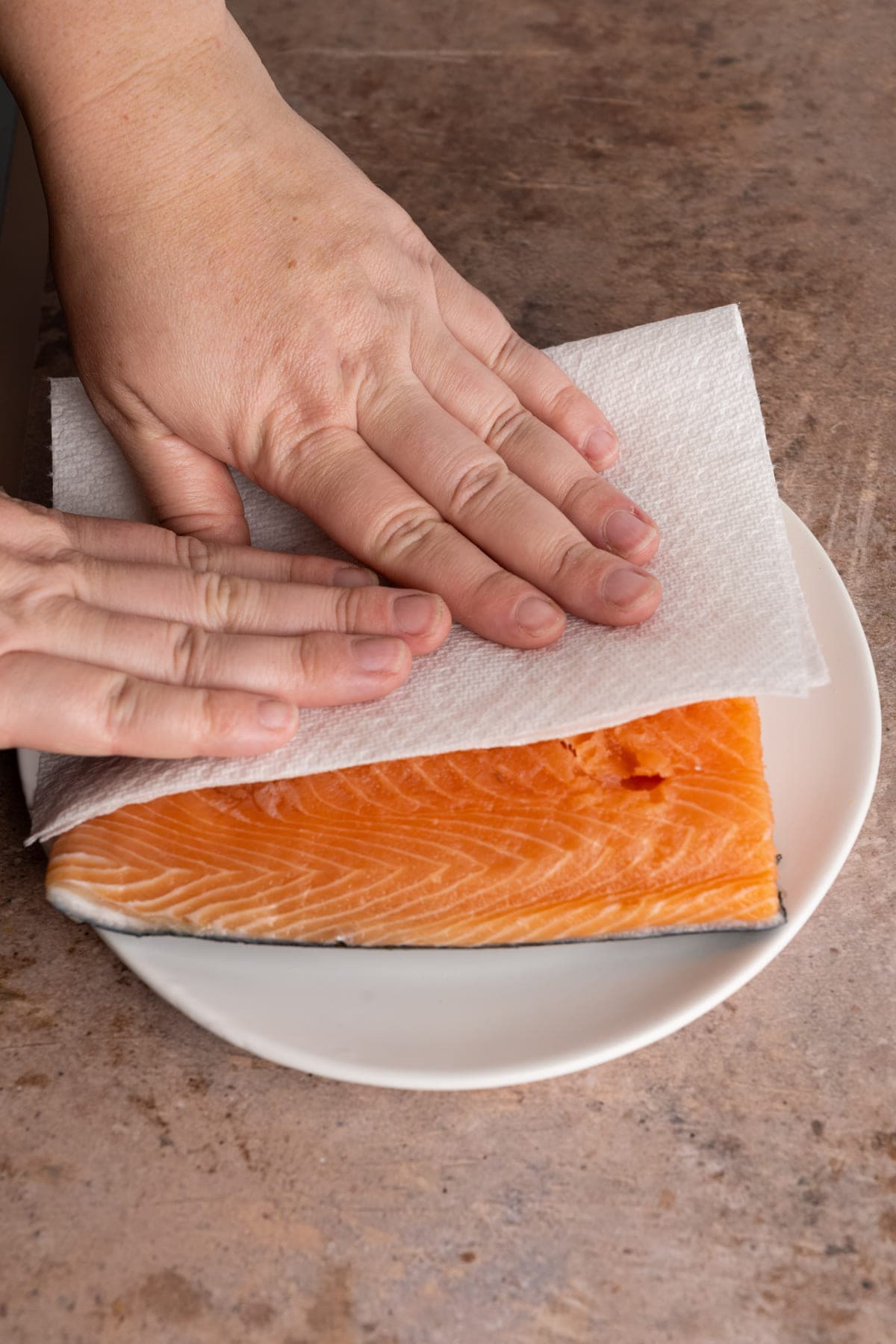 Add Fresh Lemon Juice to Your Salmon
Citrus really brightens the flavor of the fish. You'll often see seafood cooked in or served with lemon, as the acidity of the citrus balances out the naturally briny flavor of salmon.
Using fresh lemon goes a long way in this simple salmon recipe! I highly recommend using a citrus squeezer to extract your lemon juice. Otherwise, squeeze the lemon into a separate dish first so you have a chance to extract any lemon seeds that fall into the juice.
Once you've patted dry your salmon, add both the lemon juice and olive oil on top.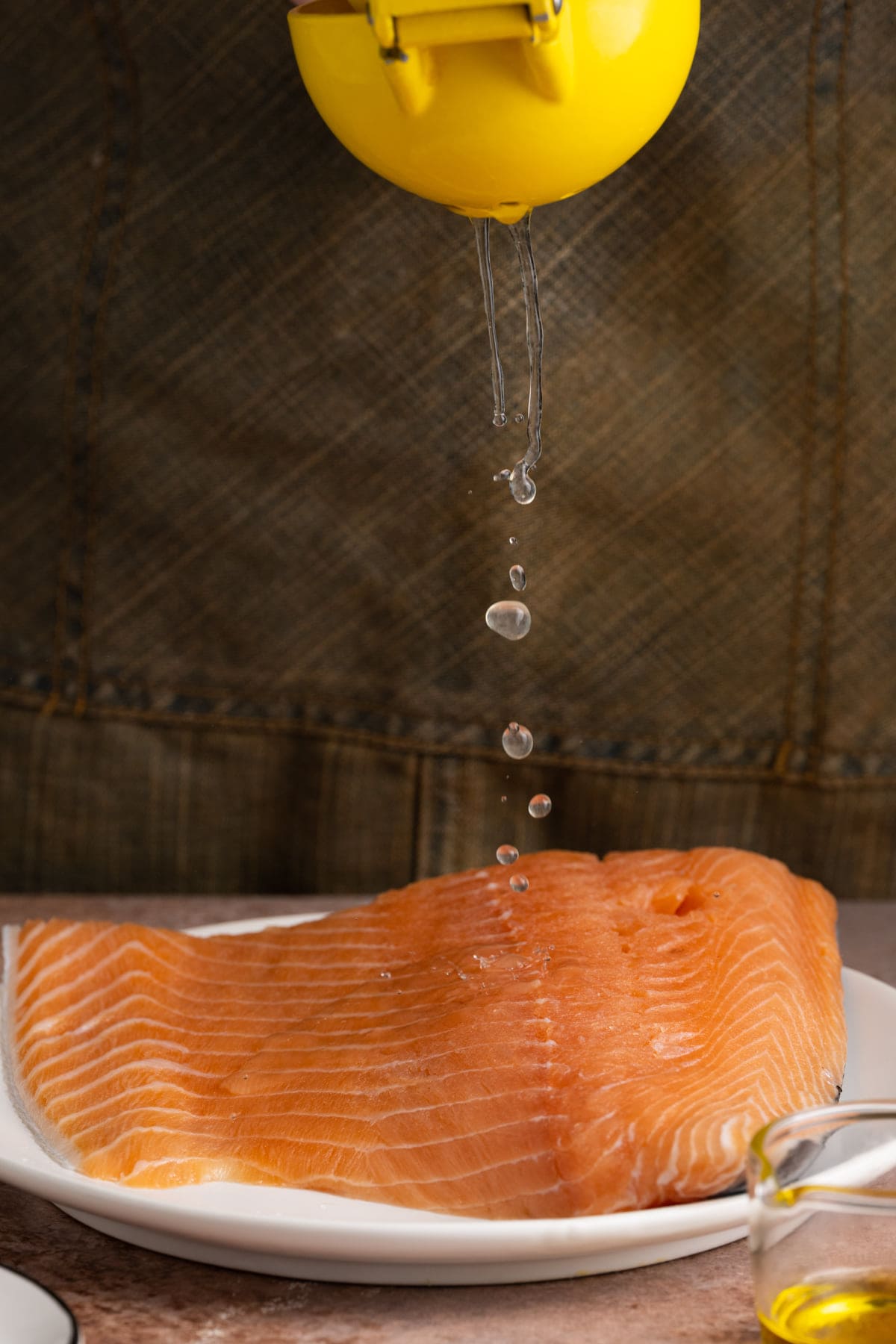 Generously Season the Salmon
Once your salmon is coated in the lemon juice and olive oil, sprinkle the Old Bay Seasoning on top in an even layer.
I like a lot of salt and spice on my food, so I typically completely coat the salmon in the seasoning. If you know you are a little more sensitive to spice, you can opt to just top it with a light dusting of Old Bay.
How to Bake Your Salmon Perfectly
The very best way to monitor your salmon is with a kitchen thermometer. I know, I know, it's an extra gadget, but it truly is so handy to have and gets you perfect fish every time!
Ideally, your salmon will be cooked to an internal temperature of 125°F. For a 10-ounce piece of fresh (or thawed from frozen) salmon, you will achieve this temperature in 10-12 minutes when baking on the top rack of the oven at 475°F.
If you don't have a thermometer and are going with a sight test, you'll know your salmon is ready when you cut into the thickest part, and it has turned from a brighter pink to a more opaque, pastel pink.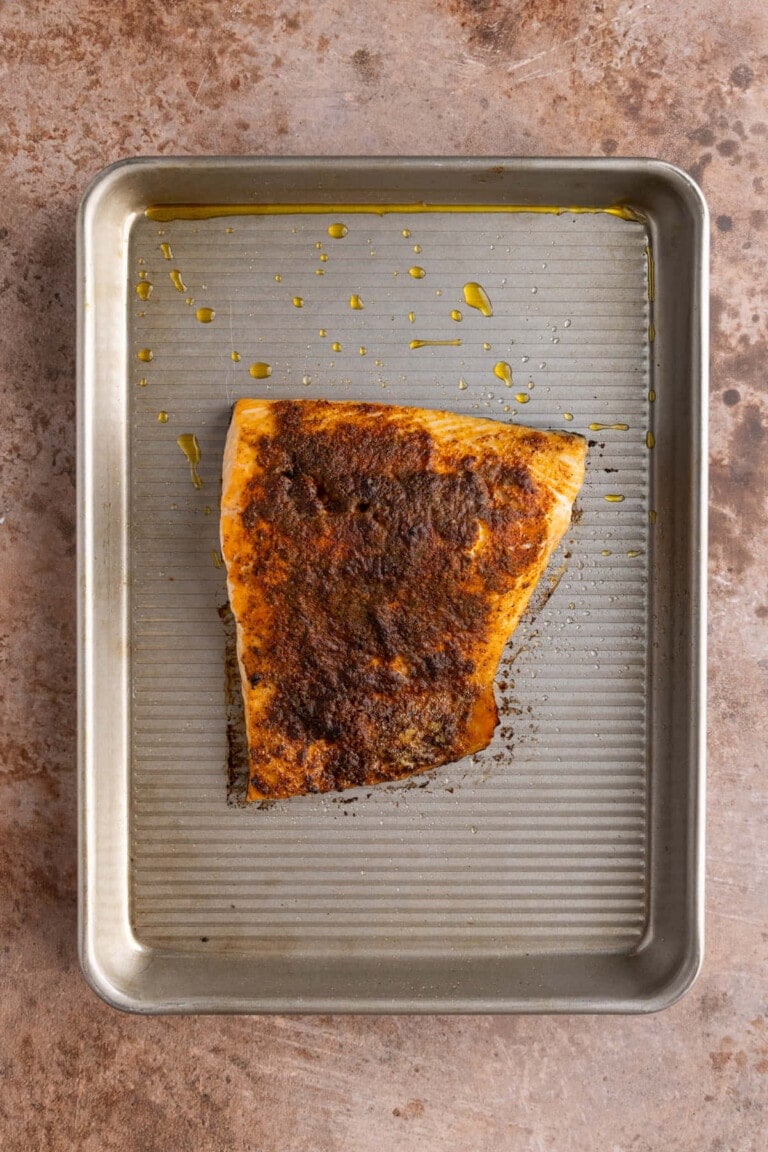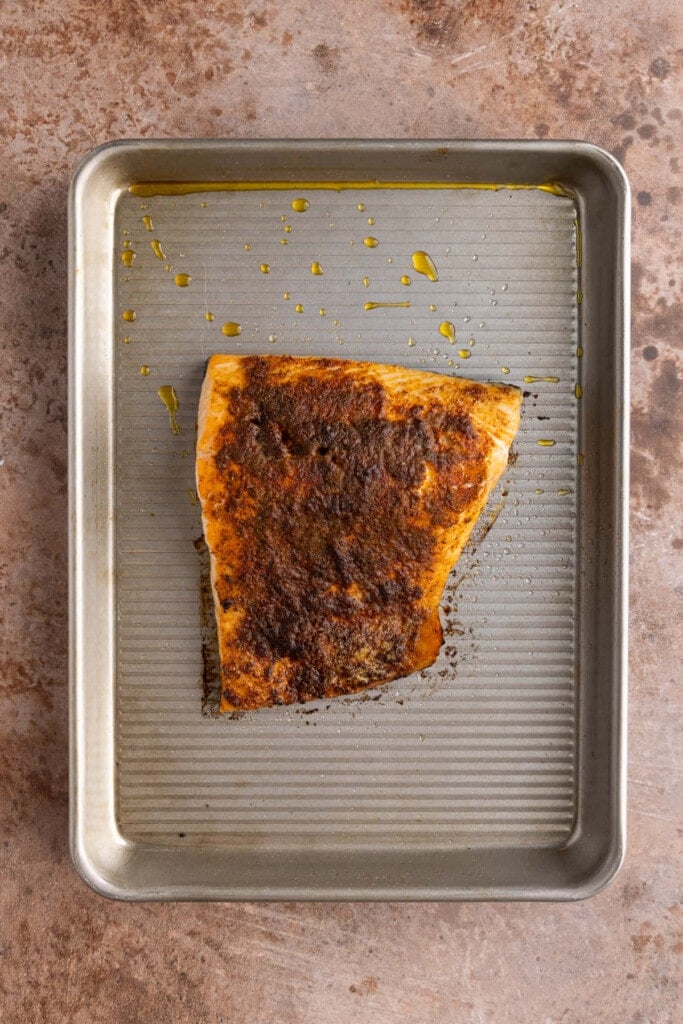 Serving Your Old Bay Salmon
This Salmon with Old Bay Seasoning is extremely versatile and makes a great main for any meal! Here are some of my favorite sides to serve this oven-baked salmon with: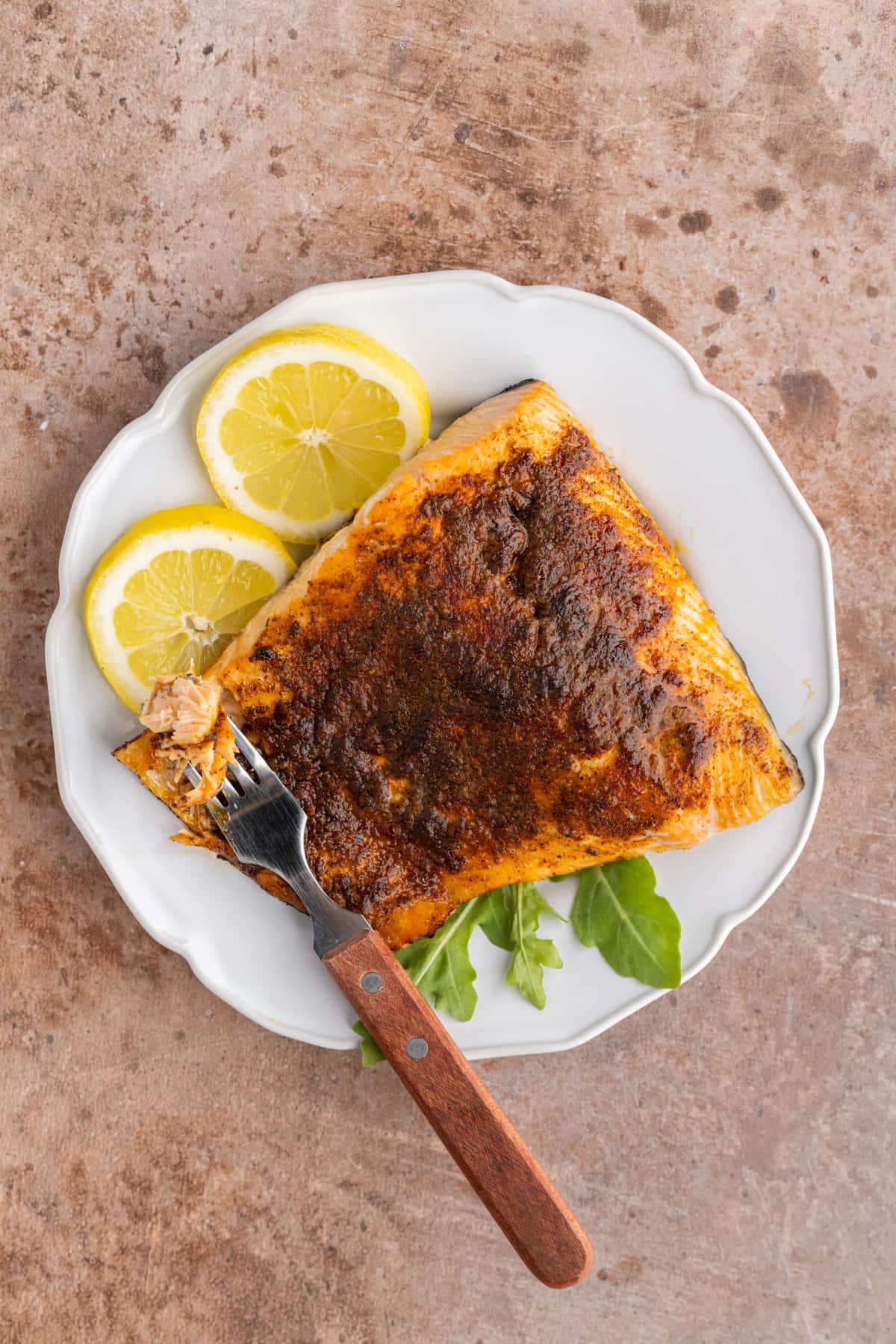 How to Properly Store and Reheat Leftover Salmon
This Baked Old Bay Salmon will last up to 4 days in the refrigerator in an airtight container.
To reheat your leftover salmon, add the salmon to a baking dish and preheat your oven to 400°F. Cover the dish with aluminum foil and bake until the internal temperature of the salmon reaches 145°F, about 15-20 minutes.
If you want it to last longer, you can freeze cooked salmon for up to 6 months. Check out these detailed instructions for re-freezing cooked salmon.
From frozen, thaw the Old Bay Salmon in the refrigerator overnight and reheat in the oven as instructed above.
Green tip: Did you know that of the billions of pounds of food wasted annually, it is estimated that 50% of it happens in our homes? It's always best to avoid food waste as much as you can!
Old Bay Salmon Frequently Asked Questions
---
How do you use Old Bay Seasoning?
Old Bay Seasoning is most widely used as a seafood seasoning, but is super versatile and can be used for much more. I love adding it to mashed potatoes, grilled corn, and even French fries!
Want to sharpen your kitchen skills?
Why You Should Make this 15-Minute Old Bay Salmon
---
It's simple. This recipe relies on simple yet high-impact ingredients to bring out the delicious flavors of your salmon.
It's quick! Comes together in just 15 minutes!
It's easy. It doesn't get easier than just one sheet pan and 4 ingredients!
If you're loving this Old Bay Salmon and want more delicious fish recipes, check out this Blackened Mahi-Mahi and Baked Cod with Panko.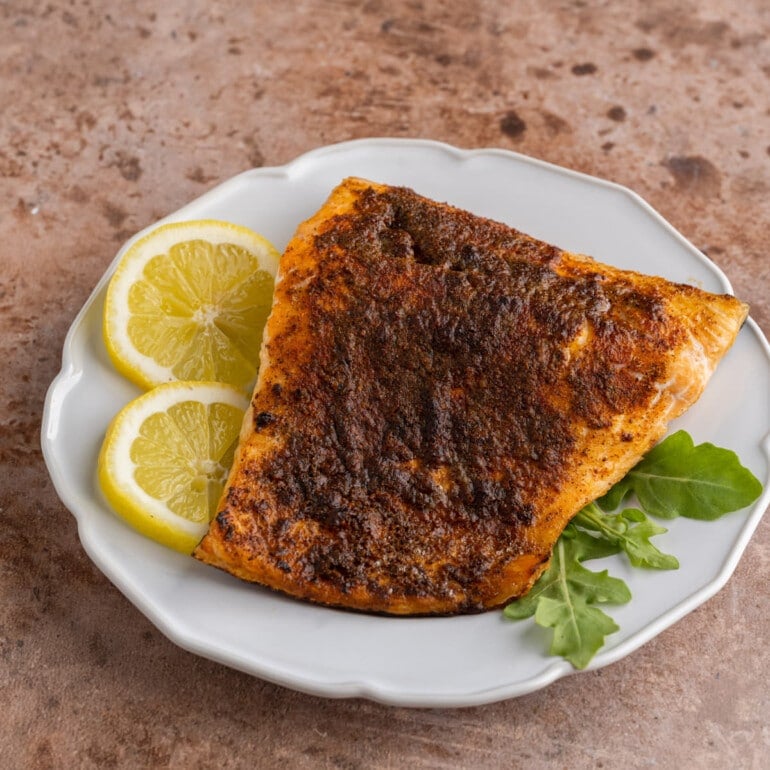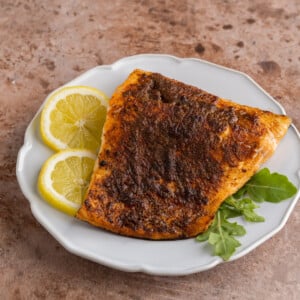 15-Minute Old Bay Salmon
PRINT
PIN
RATE
This simple yet effective recipe for Old Bay Salmon comes together in just 15 minutes in the oven and requires just 4 ingredients.
Ingredients
10

ounces

salmon

1

tablespoon

extra-virgin olive oil

1

tablespoon

lemon juice

1

teaspoon

Old Bay Seasoning
Instructions
Preheat your oven to 475°F.

Prep your salmon by patting it dry with paper towels (try these bamboo paper towels for a more sustainable option!) and placing it, skin side down, on a baking sheet.

Drizzle the lemon juice and olive oil over the salmon (some may leak onto your baking sheet, but that's okay!). Then, sprinkle the Old Bay Seasoning on top.

Bake for 10-12 minutes until the internal temperature of the salmon reaches 125°F. Serve hot and enjoy!
Pro Tips
You can easily double or even triple this recipe, just note you will need a couple of extra minutes in the oven. The best way to monitor the baking time for perfect salmon is with a kitchen thermometer. 
For more recipes like this, check out this list of Simple Salmon Recipes. 
Did you make this recipe?
Let me know by leaving a recipe rating below, or by tagging @marleysmenu on Instagram.