Craving something chocolatey for breakfast? I feel you. My favorite One-Bowl Chocolate Chip Muffins are one of those baked goods that can pass as breakfast with no judgment.
(For the record, my mom grew up eating chocolate chip cookies for breakfast, so whatever you choose to kick-start your day with is great in my book!)
These cuties only contain about 1 tablespoon of sugar per serving, which is actually way less than a serving of pancakes with maple syrup, so go for it!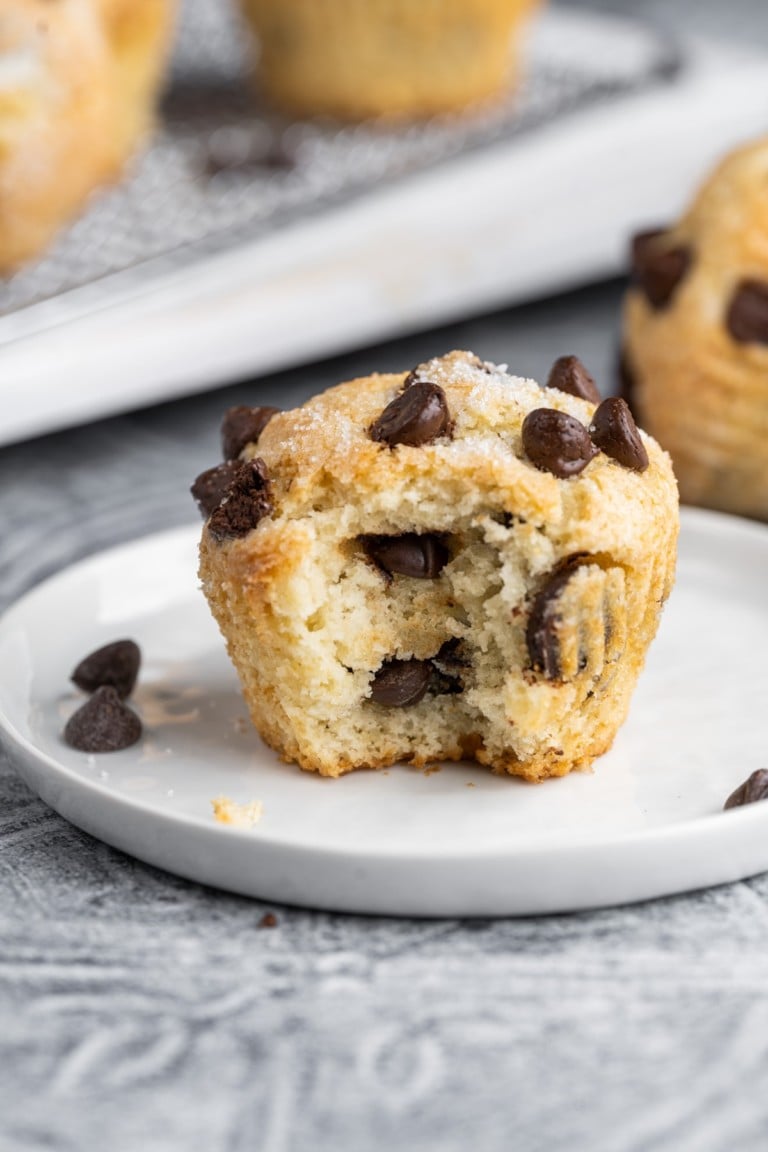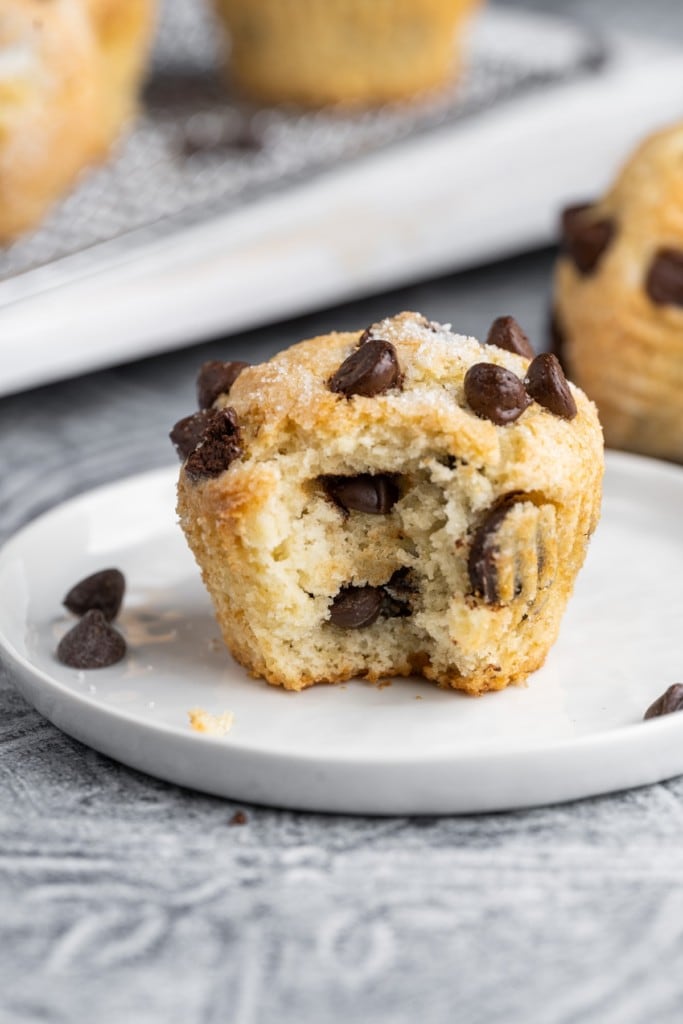 Although eating just one of these muffins is nearly impossible. Don't say I didn't warn you!
I'm telling you, the only time you'll use the word one when referring to these muffins will be when you're raving about how they only require one bowl to make them! Unless you're muttering to yourself "okay, just one more…" of course.
…Come on, I can't be the only one who absolutely loves a one-bowl baking moment!
One-Bowl Chocolate Chip Muffins Ingredients
---
Here's everything you need:
All-purpose flour. Or, for a heartier muffin, use 1 cup all-purpose flour and 1/2 cup whole wheat flour. This ratio will not compromise your muffins' consistency and adds some nutritional value.
Baking powder. This gives us that light and airy texture. If you don't have baking powder, you can substitute 1 teaspoon of baking soda in a pinch.
Granulated sugar. Or cane sugar, or even tightly packed brown sugar.
Oil. You can get away with using any oil. I usually use coconut oil because it is always in my pantry, but canola, vegetable, peanut, and grapeseed oils work, too.
Egg. You can substitute a flax egg to make these vegan.
Vanilla extract. For flavor.
Milk. You can use cow's milk or any unsweetened nondairy milk.
Chocolate chips. I love to use dark chocolate morsels because they're a little bit bigger and give you an amazing chocolatey bite!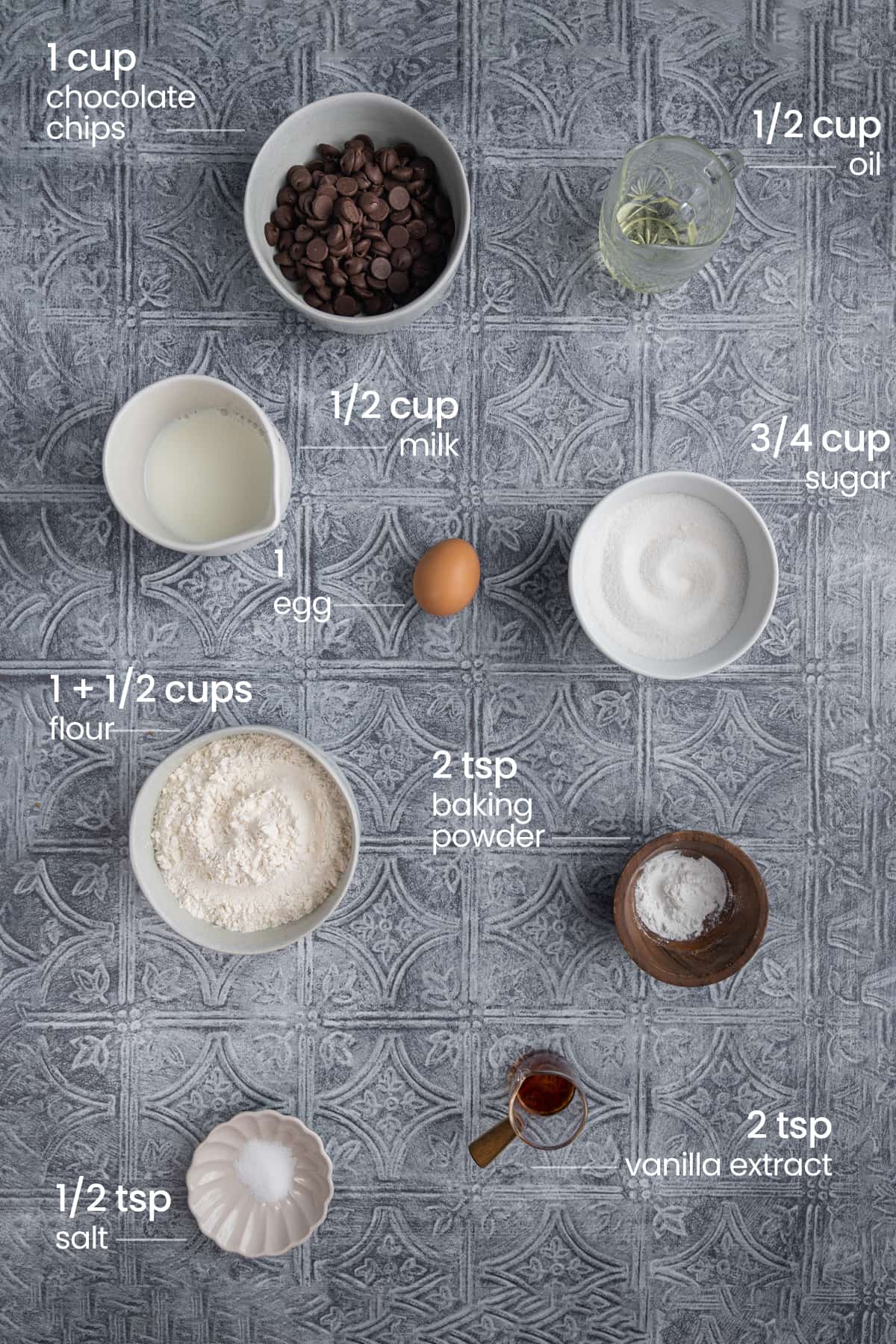 One-Bowl Chocolate Chip Muffins Tips & Tricks
---
---
Don't Sweat the Small Stuff
My favorite thing about this easy muffin recipe is it's not at all finicky. It's my go-to when I want to whip something up really quick to satisfy my baked goods craving. It's just so versatile and non-fussy (why hello one-bowl baking, I'm back again!).
This recipe also works beautifully with blueberries! Simply substitute fresh blueberries for chocolate chips. Sometimes I make the batter and do half chocolate chip, half blueberry. Or, when I can't decide, I make these Blueberry Chocolate Chip Muffins.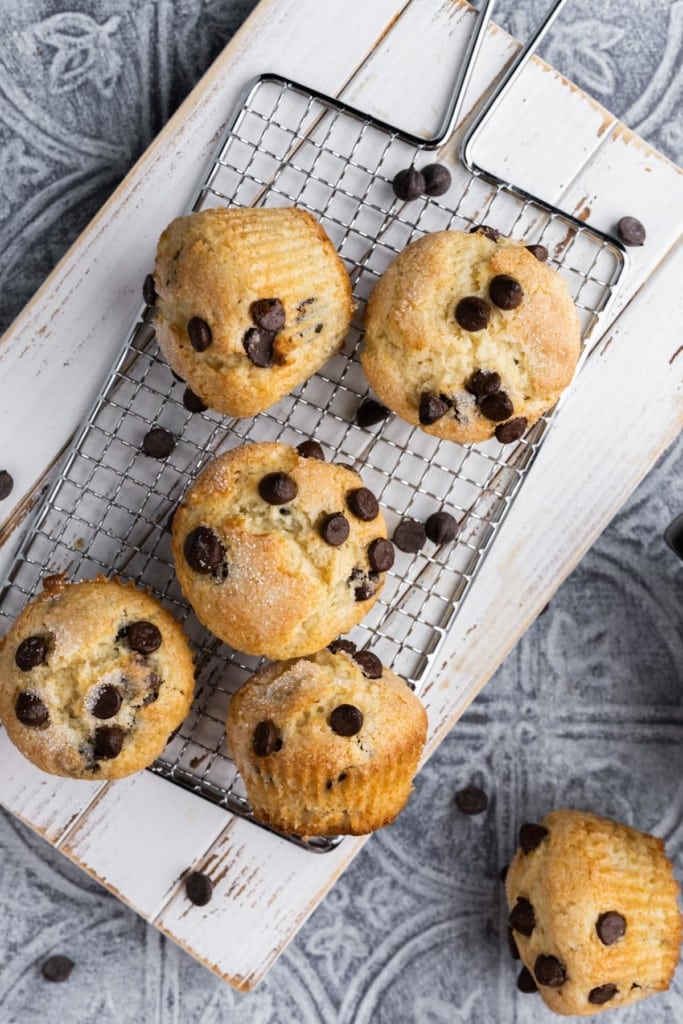 Don't Forget to Line or Grease
The last thing you want is to make this tempting batter, pour them into the tin, smell their deliciousness wafting from the oven, wait anxiously for them to cool and then NOT be able to remove them!
Always grease your muffin tin completely with butter, oil, or nonstick spray. You could also opt for muffin tin liners!
Green tip: Consider filling your own reusable oil sprayer to avoid extra pesky aerosol cans, that aren't always recyclable.
Start with Your Dry Ingredients
With a one bowl recipe, the order in which you add your ingredients matters the most. First, we will mix the dry ingredients together, then add the wet ingredients.
Mix together your flour, sugar, baking powder, and salt.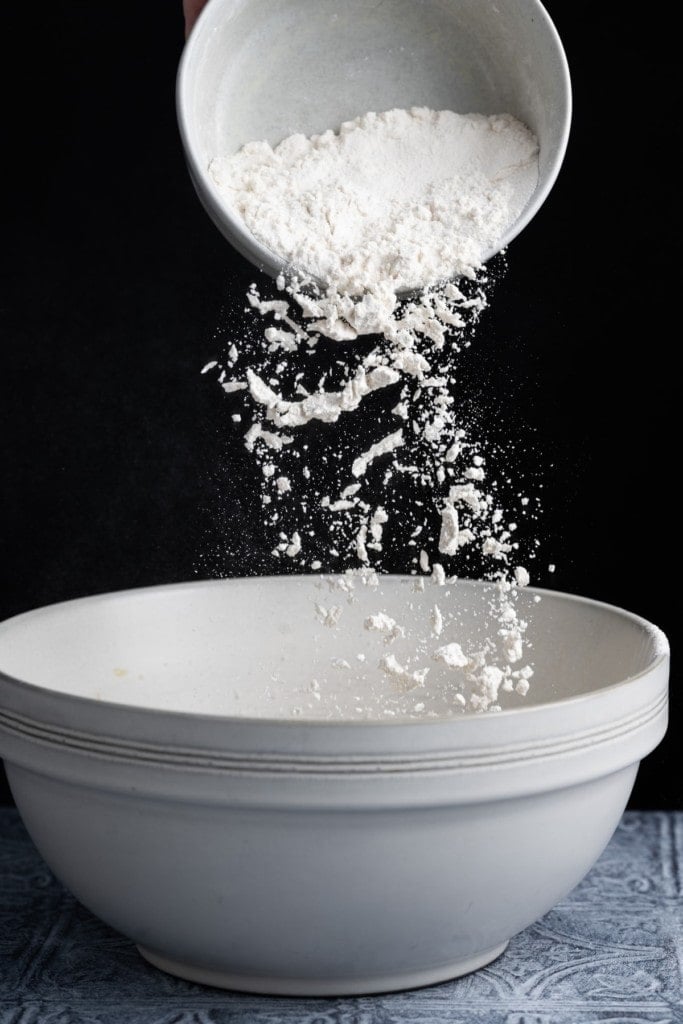 Then Add Your Wet Ingredients
Next, add your oil, egg, vanilla extract, and milk. It's best not to overbeat the egg into the batter, so use your hand mixer on a lower setting to combine the wet ingredients into the dry.
Mix just until the batter is smooth, but no longer than necessary to avoid overbeating it.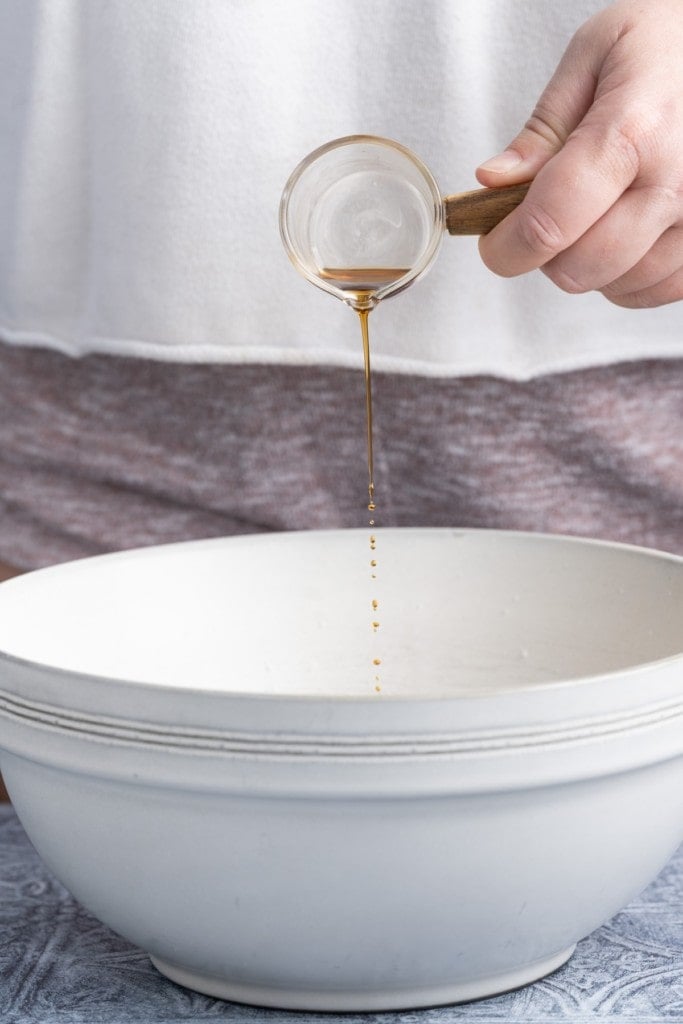 Let Your Hair Down
I can't think of a time while baking that I've measured my chocolate chips! This recipe calls for 1 cup of chocolate chips, but if you like your muffins super chocolatey, go for it! Add as much as feels right!
There's no such thing as too much chocolate in my book 😊. So, the last thing we add to the batter is the chocolate chips. Simply, fold them in with a spatula.
I like to hold back a couple of handfuls to add on top of the muffins right before they head into the oven.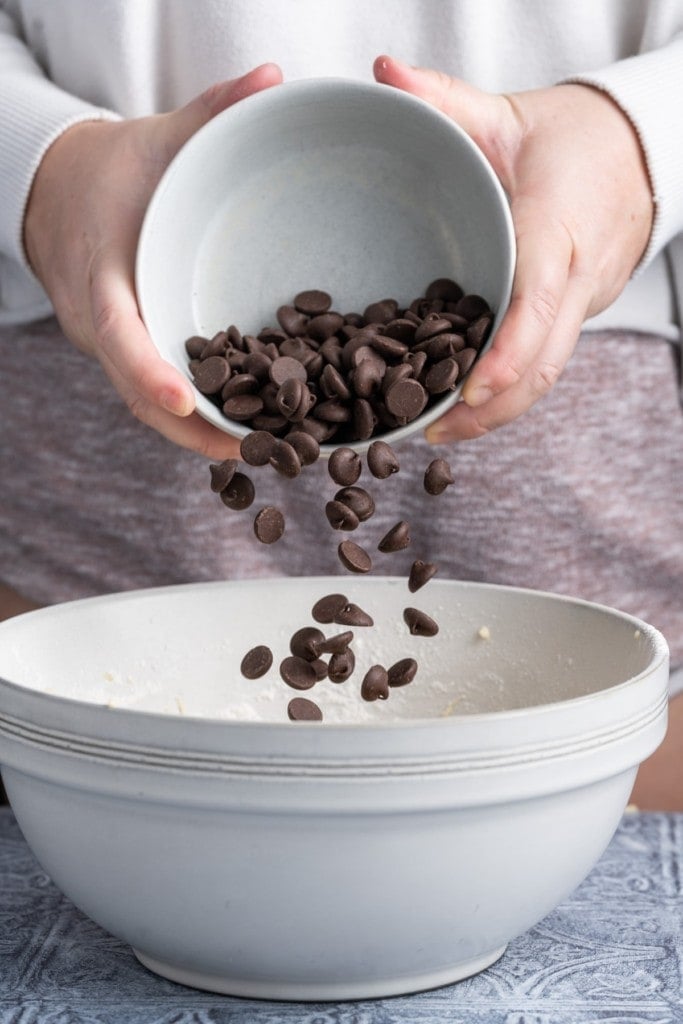 Fill 'Em Up
These muffins will rise slightly, so fill each cup most of the way. While most of your rise will happen outside the muffin tin in the form of a delicious muffin top, you don't want any batter spilling over.
Leave about 1/2-inch space in each little muffin tin cup. I love to use a cookie scoop to drop batter into my muffin cups.
Green tip: Check out these reusable silicone baking cups to reduce waste! They're easy to clean and perfectly nonstick.
The Cherry on Top
Everyone knows the muffin top is the best part, and these One-Bowl Chocolate Chip Muffins are no exception. After filling your muffin tin, use your hands to sprinkle a little bit of sugar on top.
It'll caramelize in the oven and give you the muffin top of your dreams! Forget the cherry on top, I want sugar on top!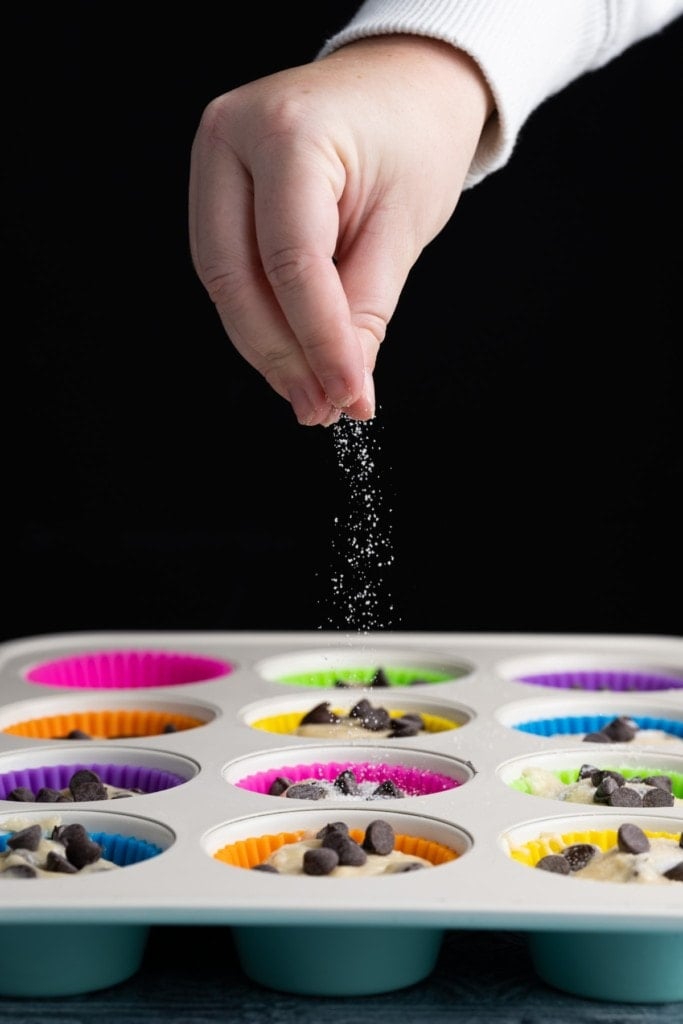 Making Them Vegan
I often make these One-Bowl Chocolate Chip Muffins vegan by using a flax egg, almond or coconut milk, and vegan dark chocolate chips. This works GREAT here. Just make sure if you're using sweetened non-dairy milk, that you reduce the amount of sugar by a teaspoon.
There is no such thing as too much chocolate, but there IS such a thing as too sweet.
Small disclaimer—you do have to mix your flax egg in a separate bowl. So, we would have to call these Two-Bowl Vegan Chocolate Chip Muffins. 😉
Green tip: Industrial dairy production has a huge impact on the environment, especially because of the amount of land it takes to sustain and its high amount of greenhouse gas emissions. Reducing your fairy consumption is one great way to improve your ecological footprint.
Storing Your One-Bowl Chocolate Chip Muffins
These One-Bowl Chocolate Chip Muffins should be covered or stored in an airtight container to keep them fresh longest. At room temperature, they will stay fresh for up to 4 days before they start to dry out.
You can also freeze these muffins for up to 6 months, allowing them to thaw overnight when you are ready to enjoy them.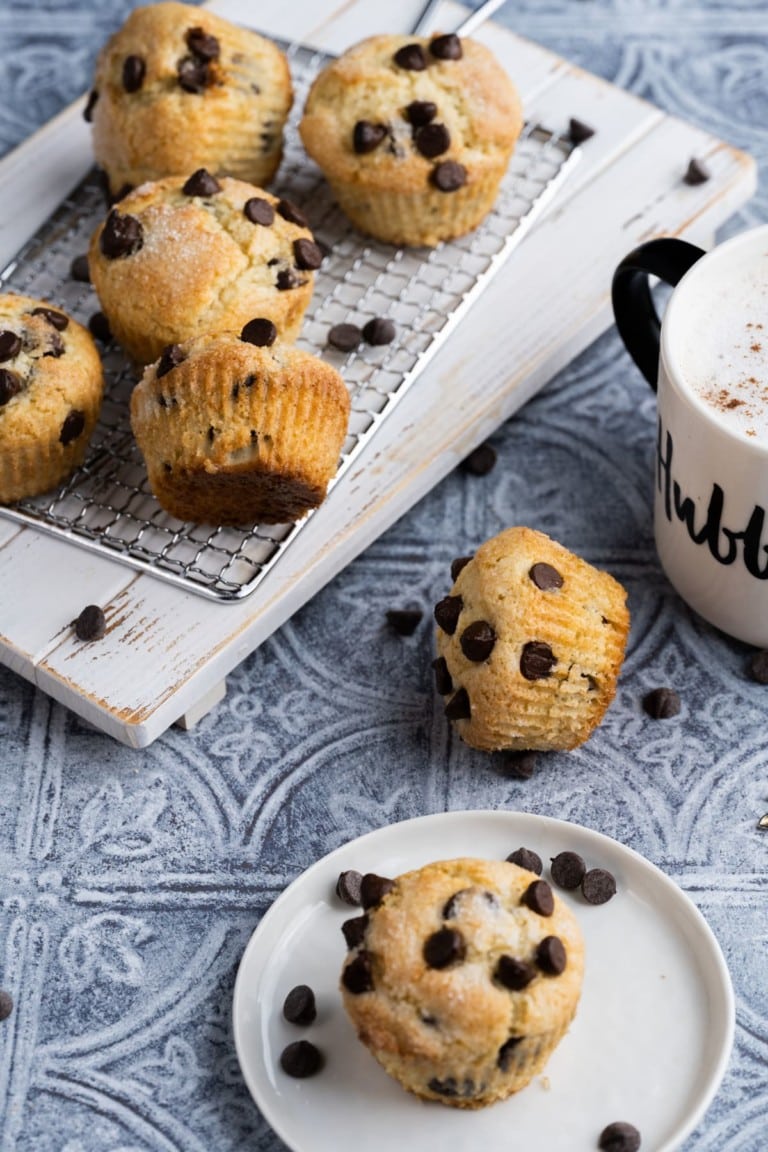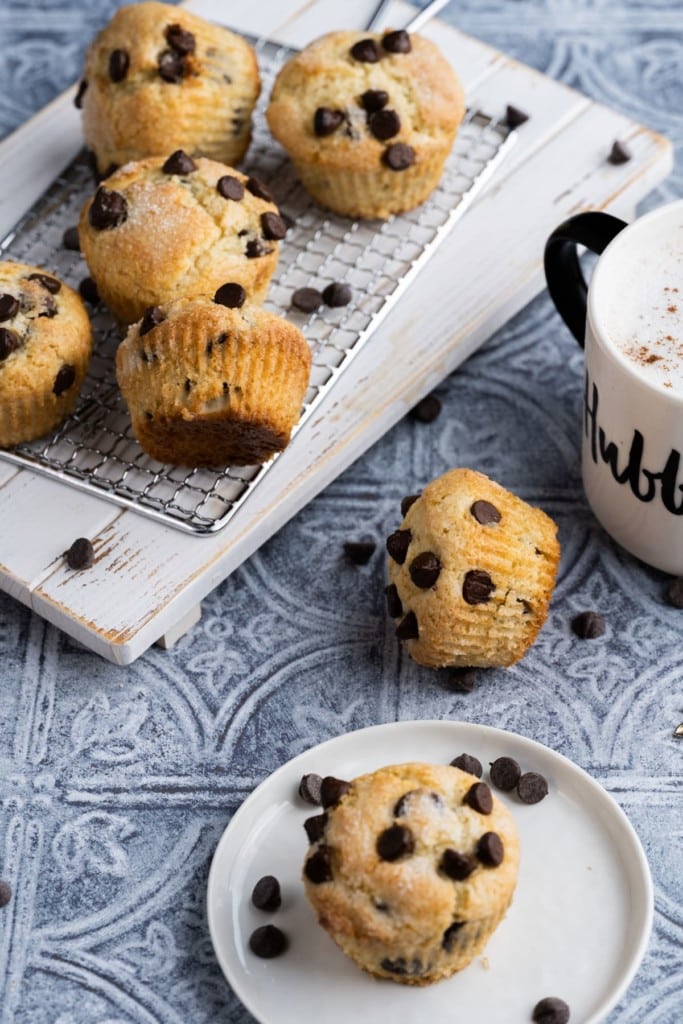 One-Bowl Chocolate Chip Muffins Frequently Asked Questions
---
---
What makes a muffin moist?
Oil helps make muffins moist. To avoid a dry muffin, cream your sugar and fat together first and be careful not to overbeat the eggs into the batter.
Is oil or butter better for muffins?
Alot of muffin recipe use butter as the main source of fat in the batter to get a buttery flavor on the muffin.
I find that oil makes muffins moister when used instead of butter.
You'll also find recipes that call for both butter and oil, but taste testing them side by side, I didn't find using both butter and oil was much better than using just oil in order to warrant adding an extra ingredient.
Sign-up for the Meatless Monday Challenge
Get access to the 4-week-long Meatless Monday Challenge, with accompanying meal plans, grocery shopping lists, and more, sent right to your inbox!
Why You Should Make These One-Bowl Chocolate Chip Muffins
---
---
They're quick and easy. One bowl and in less than 30 minutes. The quickest way to get your chocolate fix.
They're customizable. Sub blueberries, switch out the flour, and make them egg and dairy-free without compromising on flavor.
That muffin top. The caramelized sugar on top. Oof!
Minimal cleanup. One bowl to mix makes one bowl to clean. You're welcome.
For other chocolatey recipes, check out these Fudgy Chocolate Brownies, this Boozy Chocolate Mousse, and this Chocolate Chip Cookie Cake.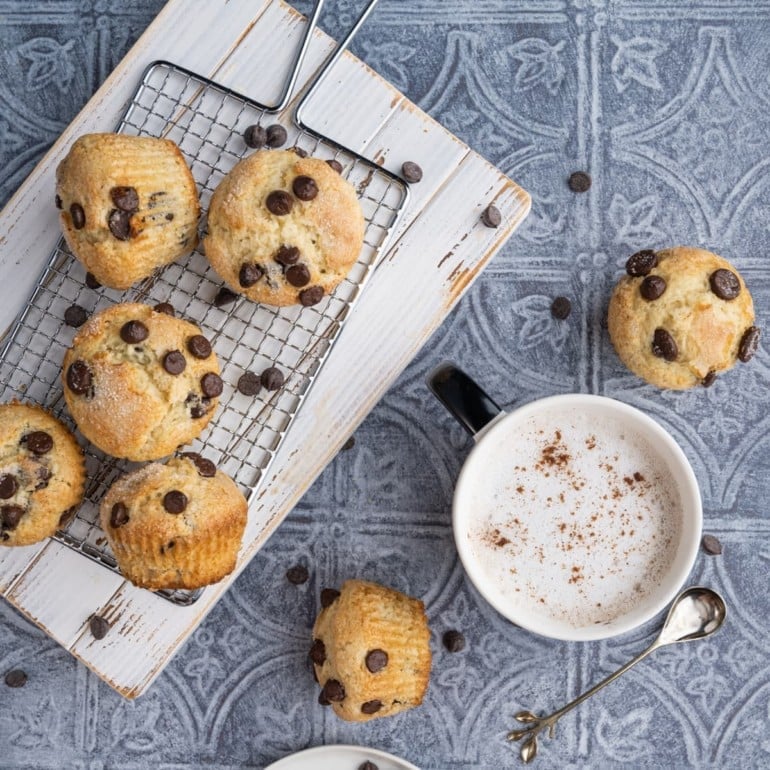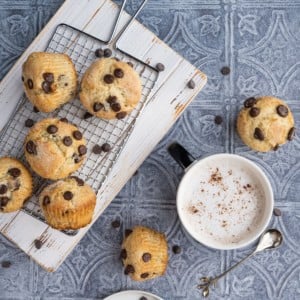 Delicious One-Bowl Chocolate Chip Muffins
PRINT
PIN
RATE
These One-Bowl Chocolate Chip Muffins give you a crispy muffin top and melty chocolatey goodness with each and every bite.
Ingredients
1 ½

cups

all-purpose flour

¾

cup

granulated sugar

2

tsp

baking powder

½

teaspoon

salt

½

cup

oil

(coconut, vegetable, canola, peanut, or grapeseed)

1

large

egg

(or flax egg for vegan)

2

teaspoon

vanilla extract

½

cup

milk

(cows or unsweetened nondairy milk)

1

cup

chocolate chips

(semi-sweet or dark)
Instructions
Preheat oven to 400°F and line or grease a muffin tin.

In a large mixing bowl, whisk together the flour, sugar, baking powder, and salt until well-combined.

Add the oil, egg, vanilla extract, and milk and use a whisk or hand mixer to mix on low, just until smooth. You should have a smooth, thick batter.

Fold in about 1 cup chocolate chips (you honestly can't have too many!).

Fill muffin tins ⅔ of the way, leaving some space for them to rise during baking.

Add the rest of the chocolate chips on top and sprinkle sugar on top for a crispy muffin top (optional).

Bake for 15-17 minutes and enjoy!
Pro Tips
You can use 1 + 1/2 cups all-purpose flour, or for a more hearty muffin, use 1 cup all-purpose flour and 1/2 cup whole wheat flour. This ratio will not compromise your muffins' consistency.
Granulated or pure cane sugar can be used for this recipe. I've also made them with brown sugar, which makes them taste slightly more earthy. My favorite is cane sugar, especially for sprinkling on top!
The chocolate chips can easily be substituted for fresh blueberries for a lighter treat.
These can easily be made vegan by substituting an egg for a "flax egg" and using any non-dairy milk. I typically use almond milk for this recipe anyway. It adds an extra little note of nuttiness.
Need more muffins to fill your basket? Check out the selection of my best muffin recipes

for every type of diet and occasion

!
Did you make this recipe?
Let me know by leaving a recipe rating below, or by tagging @marleysmenu on Instagram.