Looking for a hearty one-pot meal to whip up for the family tonight? This Pasta with Pumpkin Sauce is sure to please the whole family!
With only one pot required, and less than 10 ingredients, this pasta is easy to cook and easy to clean, which (hi, busy mom, here!), we can all appreciate!
As a busy mom and environmental scientist, One-Pot recipes are my absolute favorite! Less clean-up means we save on both time and water! Win, win.
Green tip: Speaking of cleanup, if you have a dishwasher—use it! Comparing dishwashing to handwashing, using an efficient dishwasher uses 1/6th the amount of water to get your dishes clean!
Pasta With Pumpkin Sauce Ingredients
Outside of that one pot, here's everything you'll need:
Short pasta. Like Penne, Cavatappi, Fusilli, Rotini, Farfalle, Gemelli, Rigatoni, or Ziti.
Pumpkin puree. The easiest way to get bold pumpkin flavor!
Butter. For the base of your pumpkin sauce.
Milk. For a creamy sauce.
Parmesan Cheese. For extra saltiness and a subtle nutty flavor.
Sage. For freshness, color, and herbaceousness.
Salt and Pepper. For flavor.
Pasta With Pumpkin Sauce Tips and Tricks
---
---
What Is Short Pasta?
Short pasta is, well, exactly as it sounds! Pasta that is shorter like penne rather than longer like spaghetti.
Pictured here, I used Penne, but I've made this recipe with almost every short pasta under the sun. My favorite pasta options for this recipe are: Cavatappi, Fusilli, Rotini, Farfalle, Gemelli, Rigatoni, and Ziti.
Green tip: Pasta is a great starch option carbon-footprint wise! Manufacturing is a relatively less intensive process than most other starches, and its long shelf-life means you're less likely to waste it!
Cook Your Pasta to Al Dente
I used penne here because I love that the cylinders are hollow, where the delicious pumpkin sauce slips in and bursts out with every flavorful bite. But the pumpkin sauce is so tasty that really, you can use any shape here and get a delicious, hearty meal.
Cook the pasta according to the directions on the box to al dente. We are adding it back to the pot over low heat once it's strained, so it will continue to cook a little bit more. And no one likes a limp noodle.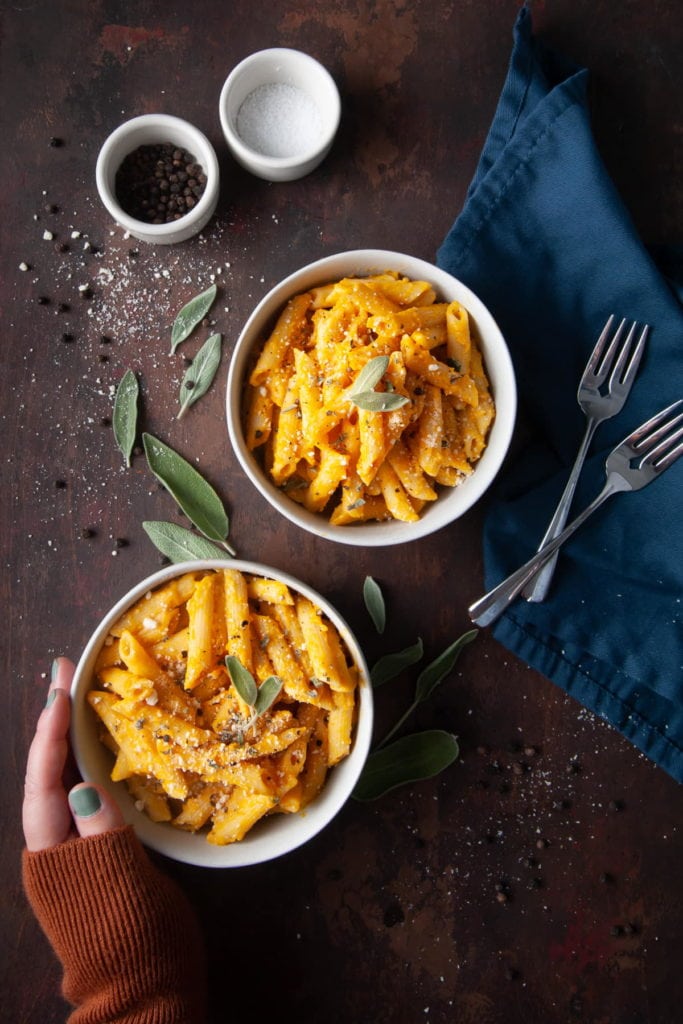 Coat Your Pasta In Pumpkin
Once your pasta is al dente, strain out the water and put your pasta back in the warm pot. Add the butter, chopped sage, and pumpkin puree and stir over low heat until the pasta is coated.
The reason we are doing it this way is that we want to get the pumpkin sauce the perfect consistency. Depending on what type of noodles you are using, the amount of milk you add may differ.
Coating the pasta in the other elements first allows you to pour the milk in slowly, and gauge how much you actually need. Start with 1/4 cup, stir, and continue to add slowly. With penne, I usually need about 3/4 cups of milk to get my pumpkin sauce just right.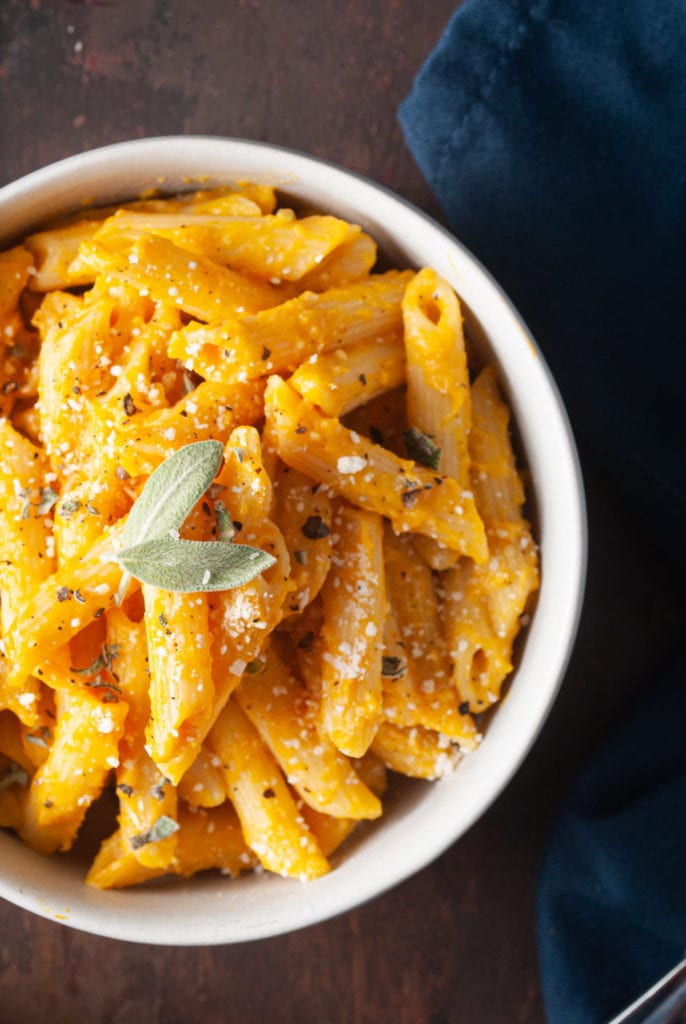 Add Parmesan Last
Once you get a creamy pumpkin sauce, remove your pot from the heat, add your Parmesan, and stir again. If the Parmesan thickens the pumpkin sauce too much, simply add another dash of milk.
Add salt and pepper to taste, and garnish with a little extra Parmesan and sage.
Green tip: Growing your own herbs is a delicious way to reduce your environmental footprint. Homegrown herbs have zero associated food miles, no pesky plastic packaging, and are free of damaging fertilizers and chemicals. Plus, they are just so fresh and flavorful. Sage will grow beautifully on the windowsill, just water it about twice per week.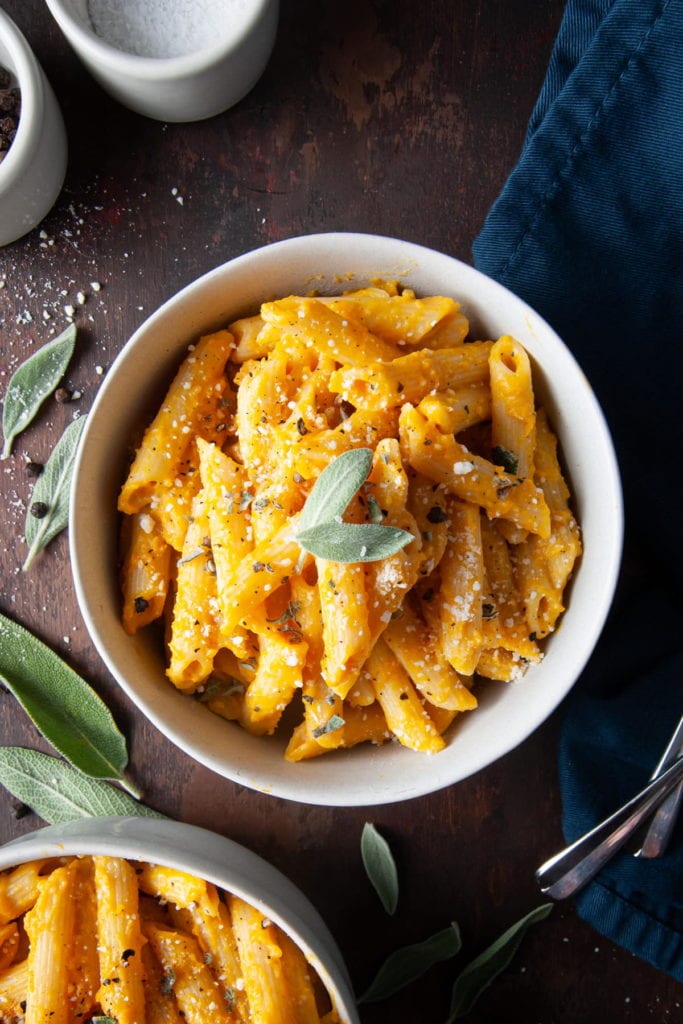 Re-heating Your Pasta
This pasta reheats really well! Just store it in an airtight container, and enjoy it within 5-7 days. You can easily reheat it in a microwave-safe bowl. Just add a touch of extra milk, salt, and pepper, cover, and microwave on high for about 2 minutes. Stir, and reheat for another 30 seconds if necessary.
If you are reheating more than one portion at once, just throw it back in the pot! Heat it, covered, over low heat, for about 20 minutes. You may need to add a little milk to loosen it and add a little extra salt and pepper.
Pasta With Pumpkin Sauce Frequently Asked Questions
---
---
What can I do with leftover pumpkin?
Pumpkin puree lasts for 5-7 days after opening the can when removed from the can and placed in an airtight container in the refrigerator.
There are so many delicious savory (like this pumpkin pasta!), sweet (like these pumpkin chocolate chip cookies), and even cocktail recipes that incorporate pumpkin puree!
Is canned pumpkin healthy?
Canned pumpkin is nutrient rich and contains potassium, iron, vitamins, and fiber.
Why You Should Make This Pasta With Pumpkin Sauce
---
---
It's easy to clean up! One pot. Enough said.
It's warm and cozy. Fall flavors and hearty pasta? Doesn't get much cozier than that.
It's less than 10 ingredients! Sometimes simple is best.
If you're loving this Pasta with Pumpkin Sauce and need more pasta in your life, check out this Smoked Salmon Pasta and Easy Cheesy Pasta Bake.