Looking for a protein-packed, heart-healthy snack to grab on the go and keep you satisfied for hours? These Peanut Butter Cheerio Bars take four simple ingredients and turn them into a yummy and healthful treat!
Eat 'em for breakfast, with lunch, or as an afternoon pick-me-up, these addicting little peanut butter bars are never a bad idea!
As an environmental scientist, I am always trying to find ways to combat food waste, and cereal is one of those things I buy on sale, thinking they'll be a great solution to busy mornings, but then forget about the box in the back of the pantry.
But when you use it to create a crunchy, nutty, salty, and sweet on-the-go snack, you can bet my family won't let these bars go to waste!
Peanut Butter Cheerio Bars Tips and Tricks
---
---
Grab Your Ingredients
Four simple ingredients is all you need! Depending on the salt content in your peanut butter and peanuts, you may want to add some flaky sea salt on top, but taste them first!
This recipe is designed for the use of Original Cheerios. Using Cheerios with flavoring such as Honey Nut Cheerios, Strawberry Cheerios, etc, will probably make your cereal bars too sweet. If you don't have Cheerios, check out these Granola Bars!
Here's what else you'll need:
Heat Things Up
Heating the peanut butter and honey together makes it easier to combine, and loosens the mixture so you're able to coat the Cheerios. Add the peanut butter and honey to a large pot over low heat, and stir until the two melt together.
Then, remove from heat, add your Cheerios and peanuts, and fold carefully to coat, trying not to crush your cereal.
Green tip: try buying raw, locally sourced honey. Generally, smaller-scale honeybee operations harvest honey in the fall, when the bees produce it in excess.
Let It Set In A Cake Pan
Line an 8-inch square cake pan with parchment paper so you can easily remove the bars once they set.
Once your ingredients are all combined, you'll add it to the cake pan and use a spatula to carefully press the mixture down, so that it solidifies and holds it's shape as it sets.
Use the backside of a small spatula, being careful not to completely crush the cereal. It's crunchiest when the Cheerio's keep their shape.
Be Patient
Your bars will go from sticky and crumbly to easy to hold in your hands in about 3 hours. Once you press your mixture down into the cake pan, stick the whole pan in the refrigerator to allow the peanut butter and honey to solidify around the peanuts and Cheerios, forming your snack bar.
In a pinch, freezing them will speed up the process, but it does change the texture a bit, so only use this hack if you need to.
Storing These Cheerio Bars
I like to individually wrap them so they're easy to grab on the go. Store them in the refrigerator in an airtight container to keep them crunchy.
They'll stay fresh and delicious for about 1 month.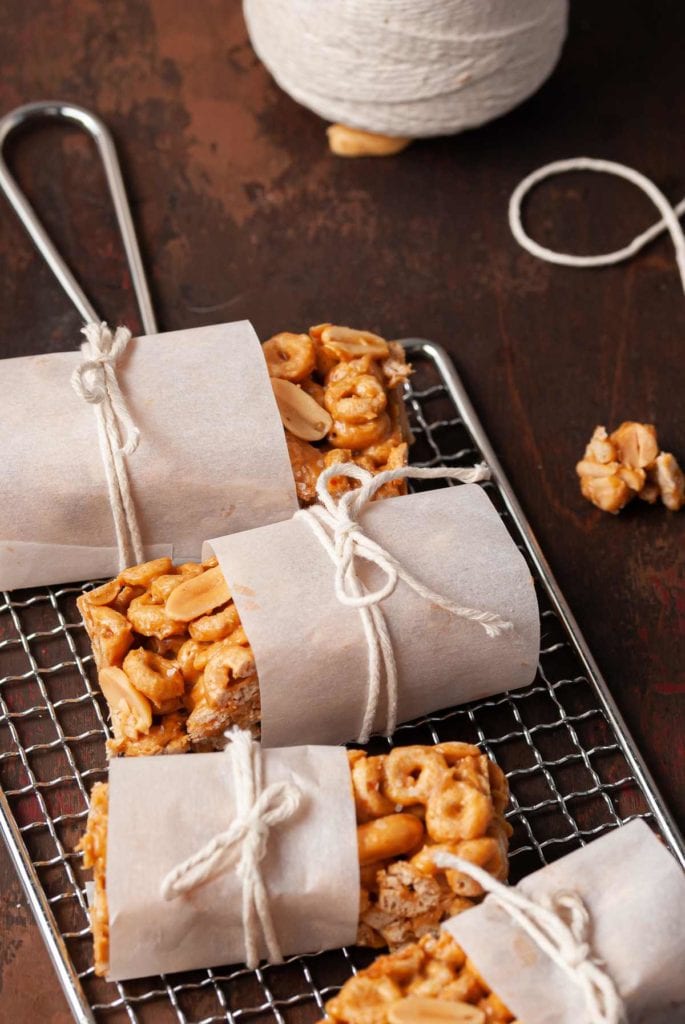 Why You Should Make These Peanut Butter Cheerio Bars
---
---
They keep you full. Protein-packed and with whole grains.
They're balanced. The perfect combo of salty, nutty, and sweet in every crunchy bite.
They last! Make them ahead of time and snack on them for a month.
If you're loving these Peanut Butter Cheerio Bars and are looking for more fun recipes with cereal, check out this Cinnamon Toast Crunch Cheesecake and Fruity Pebbles Cookies.