Looking for a quick and easy way to prepare halibut? This 20-Minute Pecan Crusted Halibut is the perfect balance of savory and sweet, with a juicy, flaky interior and crispy, crunchy exterior.
Ready in just 20 minutes and requiring only one sheet pan and 7 ingredients, not only is this easy fish dish out of this world delicious, but it's also uncomplicated.
Plus, the sweetness from the honey mustard, citrus from the lemon, and nuttiness from the pecans makes for an unforgettable flavor combination.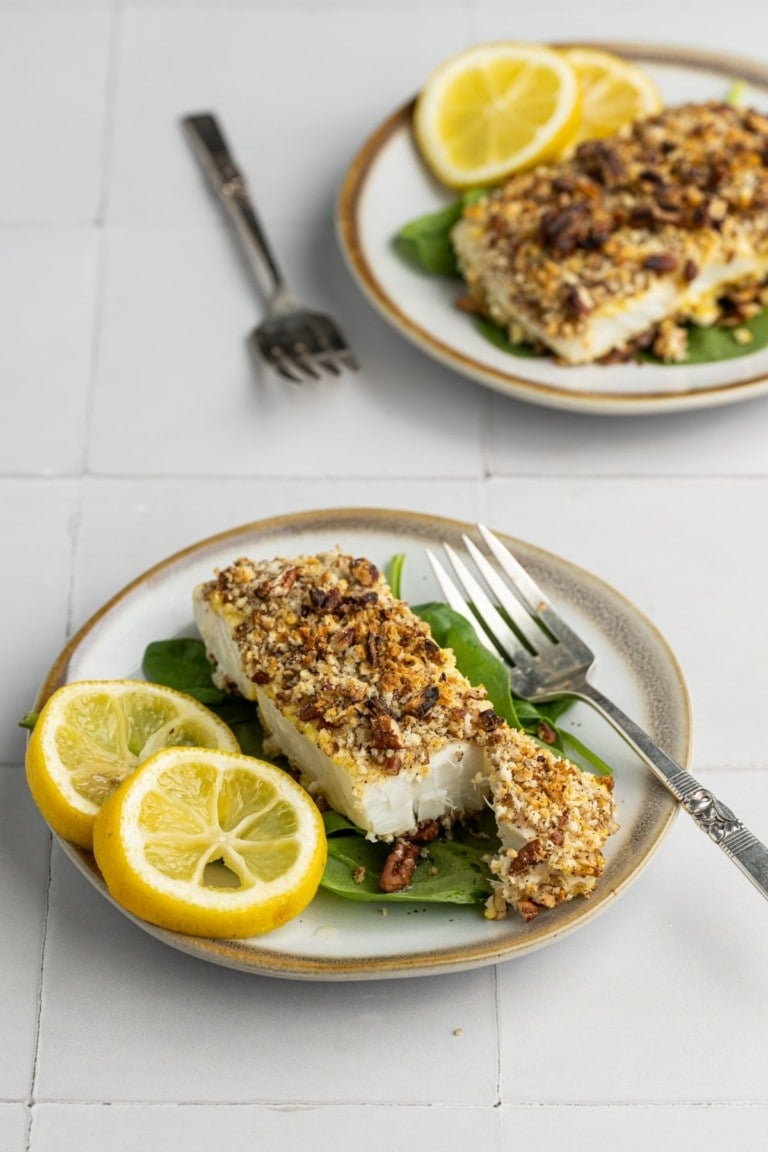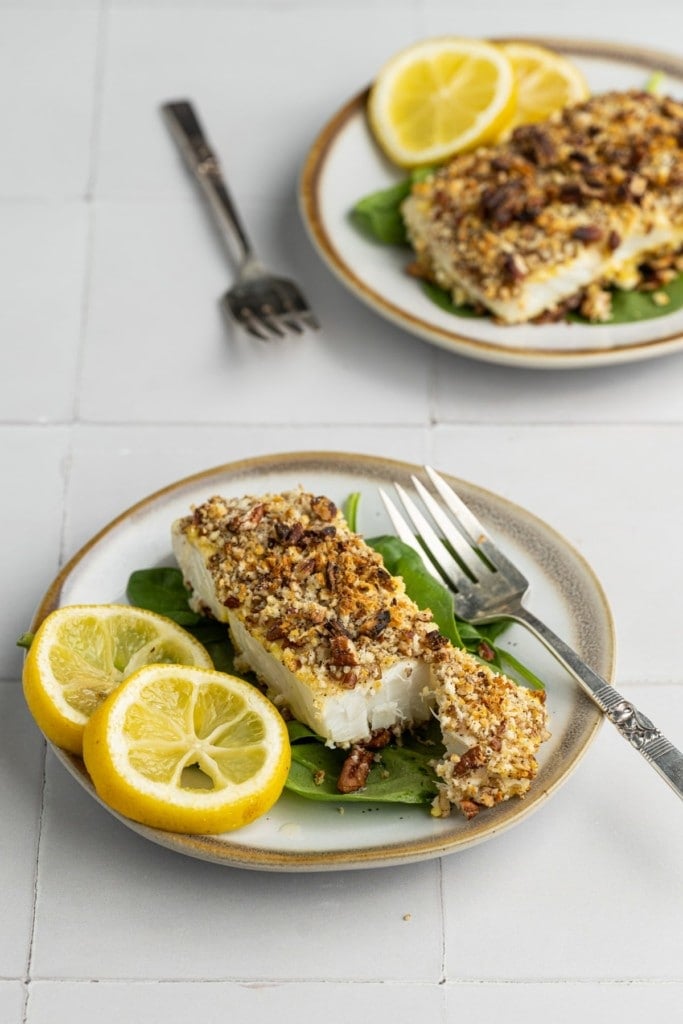 Pecan Crusted Halibut Ingredients
---
---
Here's everything you need:
Halibut.  This recipe was developed for individual portions of fresh, skinless halibut, about 4 ounces per portion. If you're using frozen halibut, make sure to thaw it before following this recipe.
Honey mustard. This adds a subtle sweetness to this dish. If you don't have honey mustard on hand, you can easily make your own by mixing 2 tablespoons Dijon mustard with 2 teaspoons honey.
Lemon. You only need 1 tablespoon of lemon juice, which is equivalent to the juice of approximately 1/4 of a large lemon.
Pecans. You can buy them crushed or use whole pecans and crush them manually.
Panko. For extra crunch. Panko gets the crispiest, but if you have other breadcrumbs on hand, you can easily use those instead.
Salt & pepper. To ramp up all the other flavors.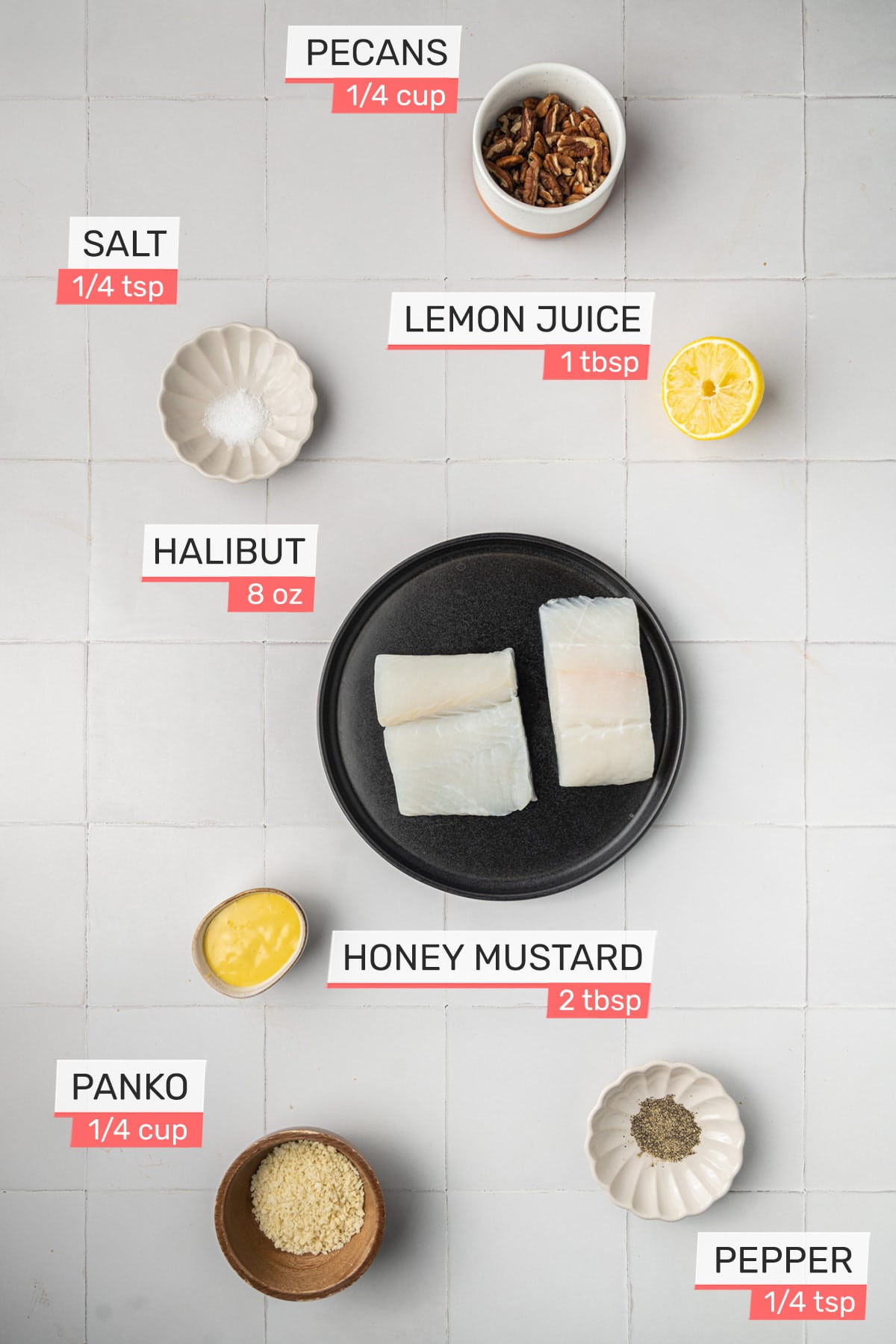 Sustainable Seafood
While this recipe is delicious with really any white fish, halibut gets deliciously tender and flaky. It has a mild taste that takes on other flavors very well. Plus, there are ways to source Halibut sustainably!
U.S. wild-caught Pacific halibut is a sustainable seafood choice as it is local and native to the Pacific Ocean and responsibly harvested under strict regulation.
Green tip: Look for Marine Stewardship Council and Friend of the Sea labels on your fish to ensure they were harvested sustainably.
Pecan Crusted Halibut Tips and Tricks
---
---
Make Your Marinade
Start by mixing your honey mustard and lemon juice together to form a quick marinade. Fresh lemon goes a long way in this recipe!
Squeeze your lemon juice into a small mixing bowl first. This will give you an opportunity to remove any lemon seeds if they fall into your bowl.
Then, add your honey mustard and stir to combine.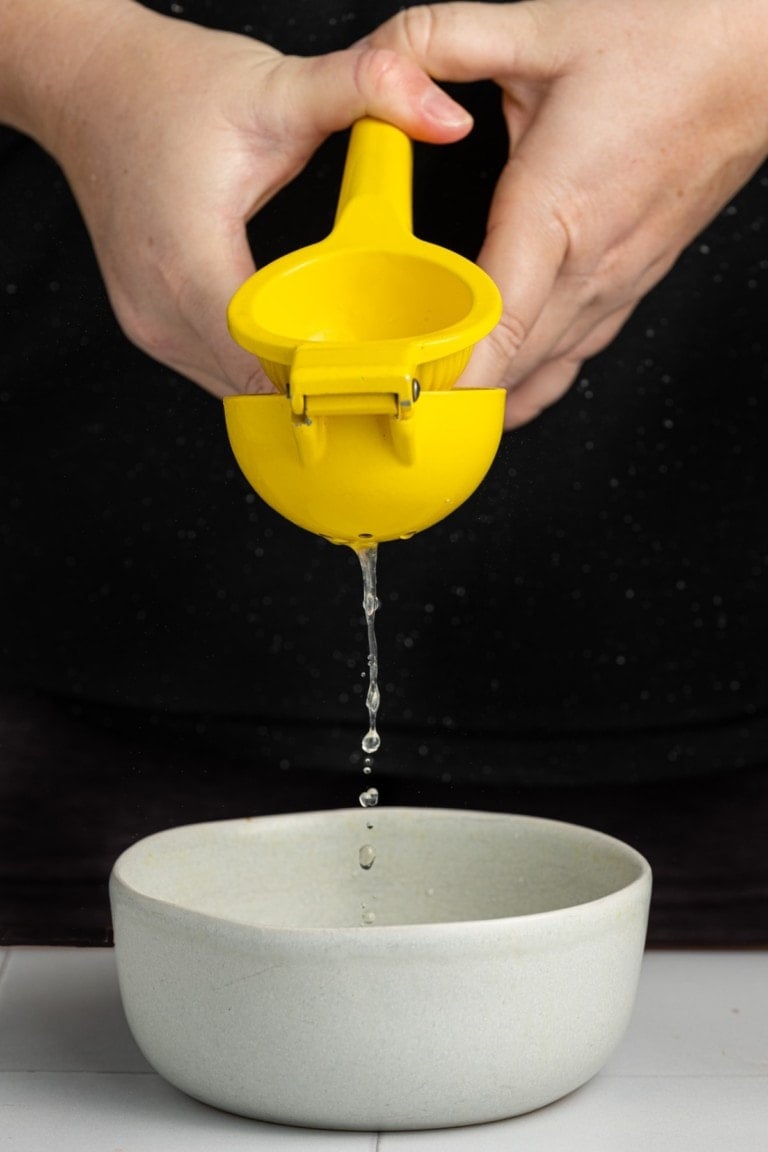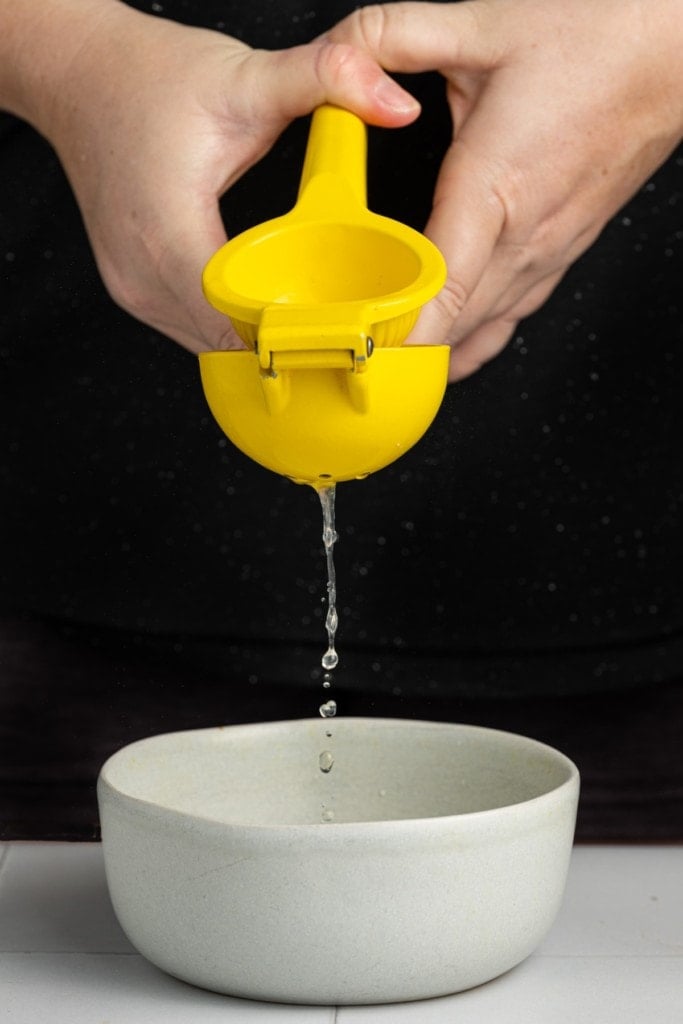 Crush Your Pecans
The pecans need to be crushed so that you can more easily form a crust for your halibut with them. Ideally, you will have some remaining larger chunks and some pieces that break down into fine dust.
I like to use my mortar and pestle to crush the pecans, but you can also add your cookies to a large storage bag and use a rolling pin to crush them.
Green tip: Reduce your plastic waste by using these Reusable Storage Bags!
You can use a blender or food processor, but you may find that all of your pecans break down completely, and it's best to keep some larger pieces!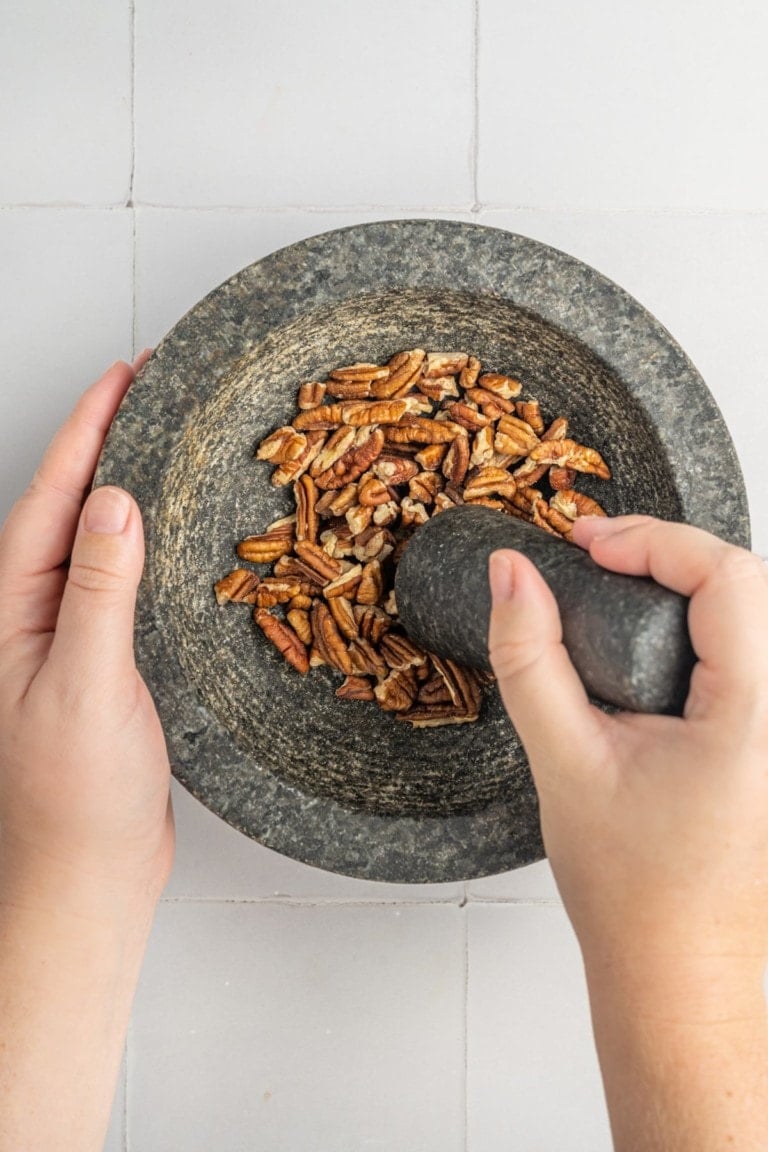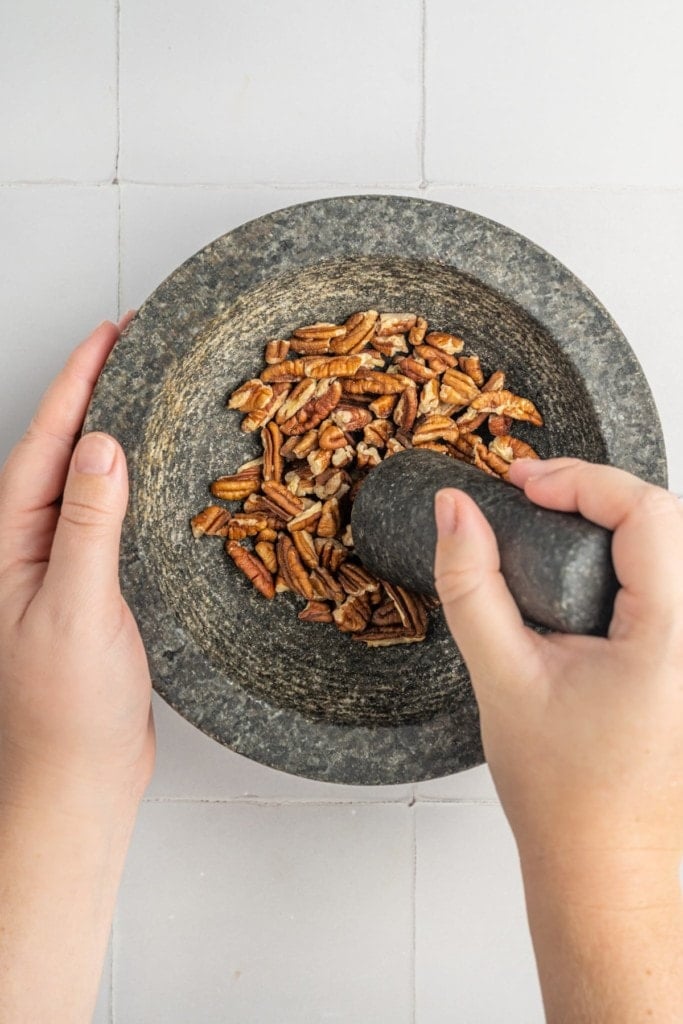 Make Your Crust
Add your crushed pecans to a bowl with the panko, salt, and pepper and mix. This mixture will act as an outer crust for your halibut.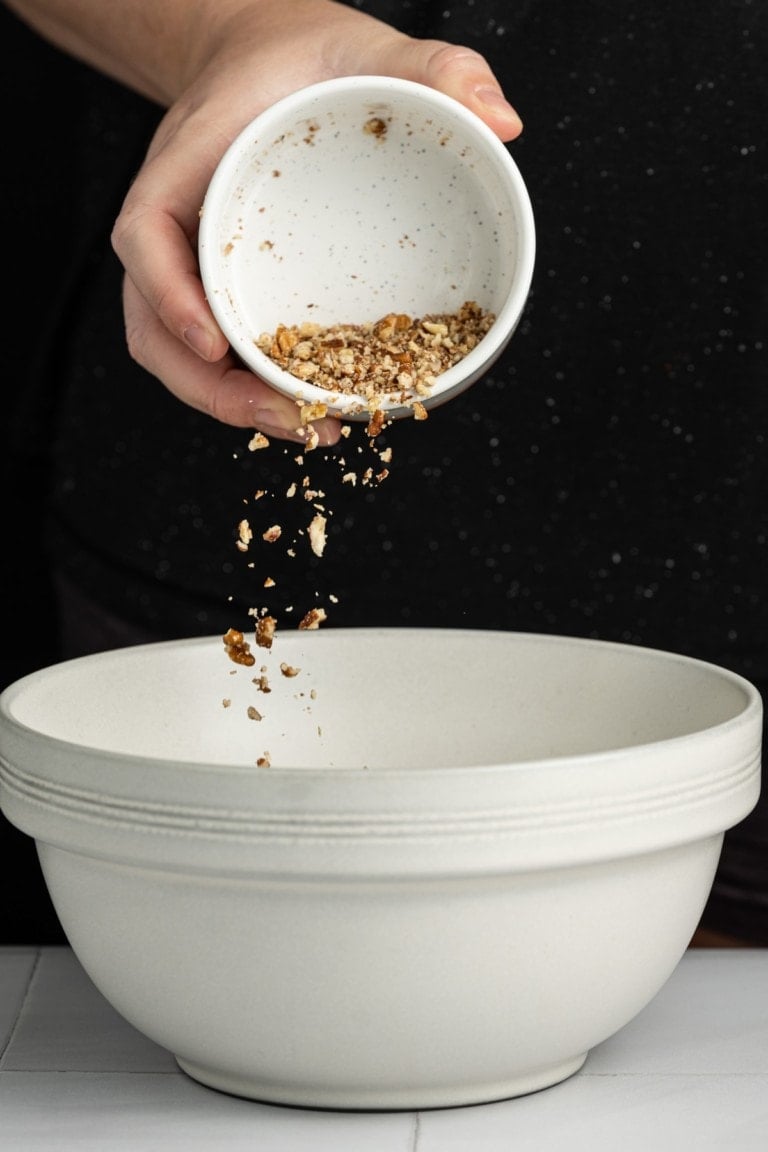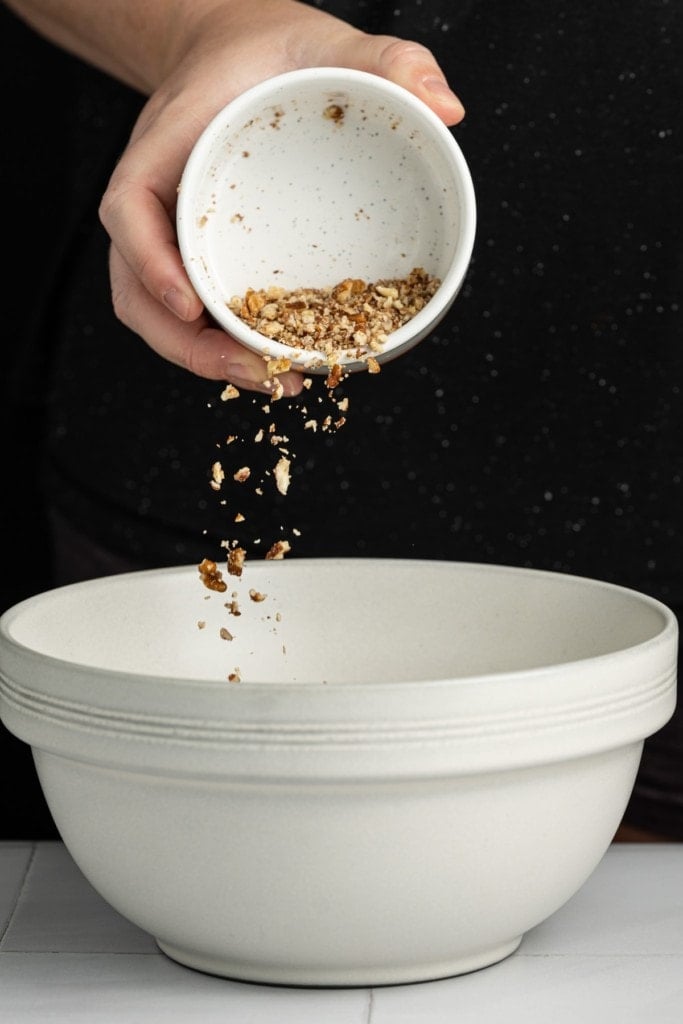 Prep Your Halibut
Before you start cooking, it's best to dry your halibut in order to get the best texture.
Green tip: Paper products contribute to deforestation. Consider these bamboo paper towels! Bamboo naturally regenerates every few months, whereas trees cannot regrow once harvested.
Place your halibut filets in between two paper towels and press down lightly to pat dry to remove excess moisture. This will avoid a mushy texture and allow for the crispiest exterior. This same pat-dry technique is used in making this Pesto Butter Salmon as well.
You can use fresh or frozen halibut! Just thaw frozen fish overnight in the refrigerator or add it to a plastic or reusable storage bag and submerge the bag in cold water for about 45 minutes to defrost.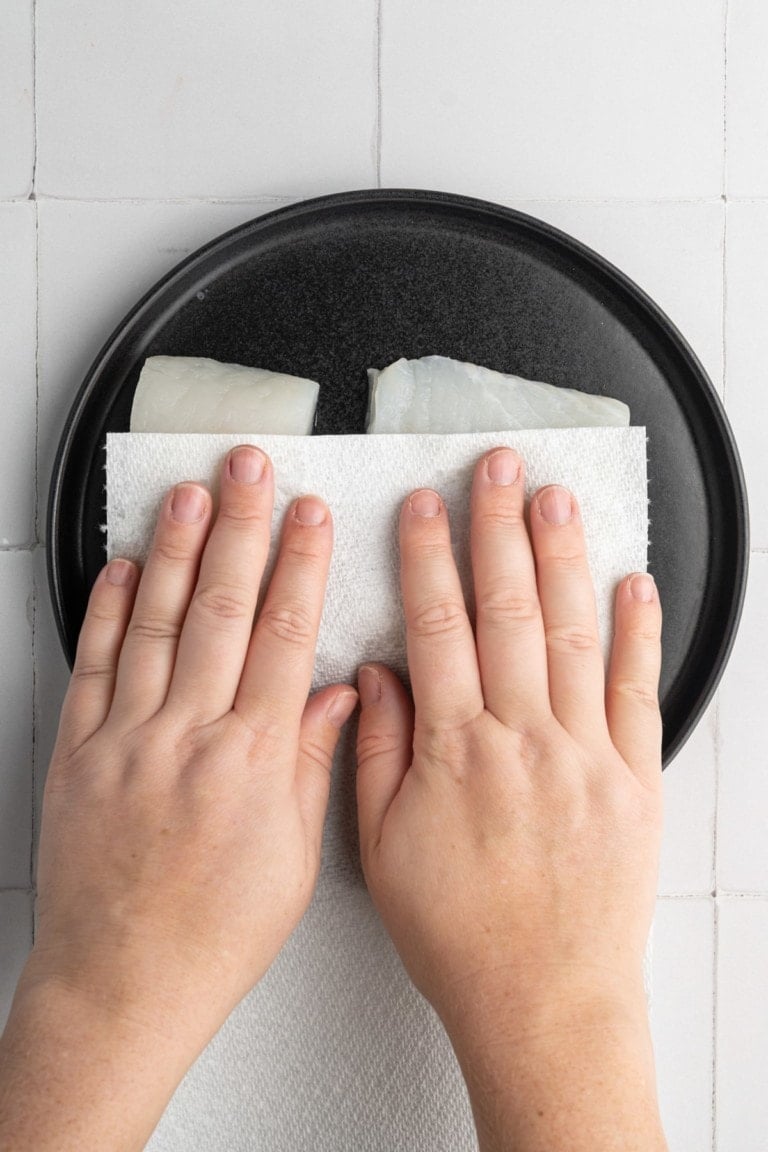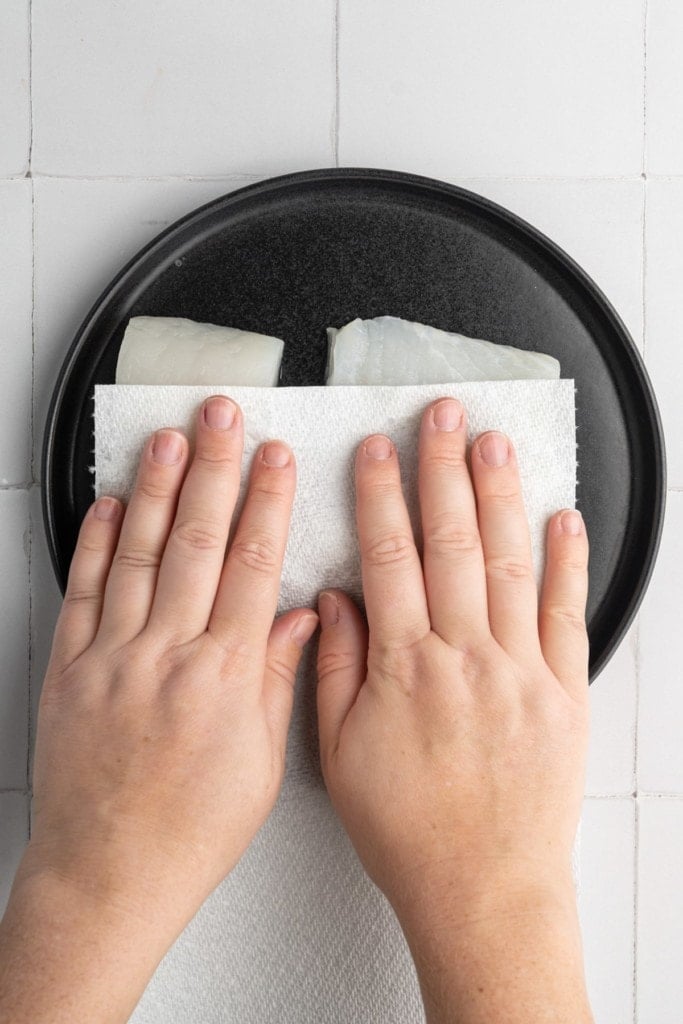 Coat Your Fish
Add your halibut to a baking sheet lined with parchment paper or a reusable baking mat. Use a spoon or pastry brush to coat both sides of the fish with a thin layer of your honey mustard and lemon marinade.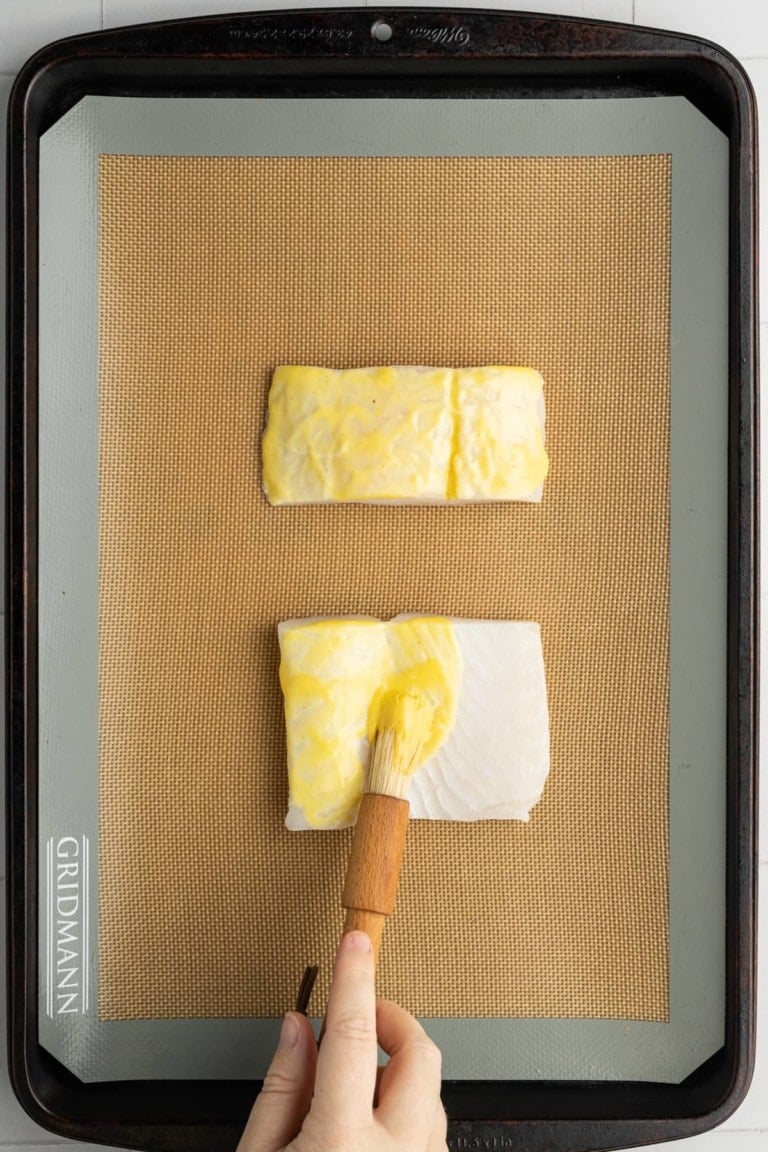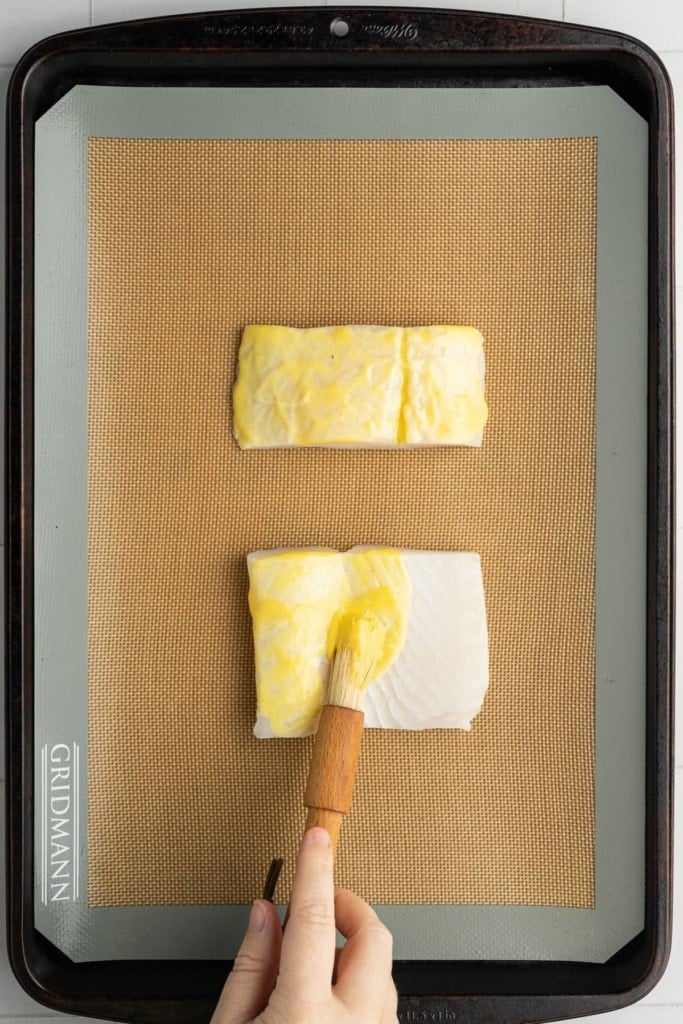 Press in the Crust
Using clean hands, grab a handful of your pecan crust mixture and lightly press it into your fish. This recipe makes enough crust to generously coat two individual 4-ounce portions of halibut.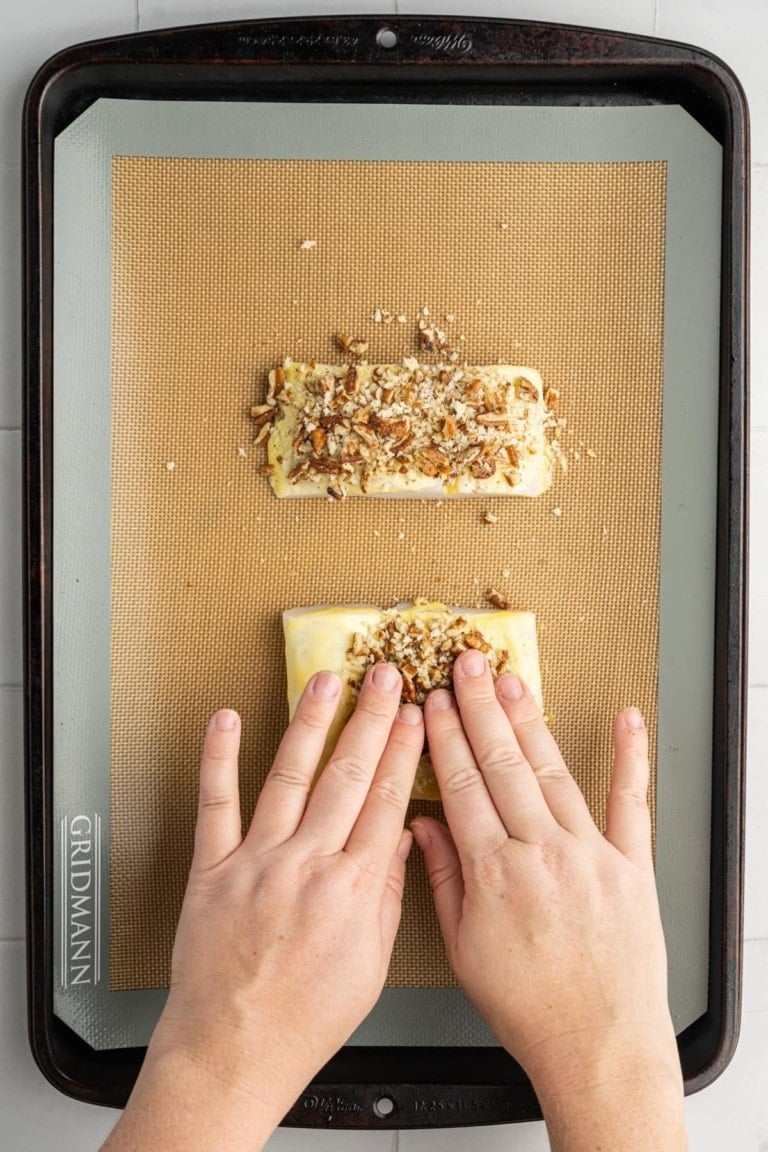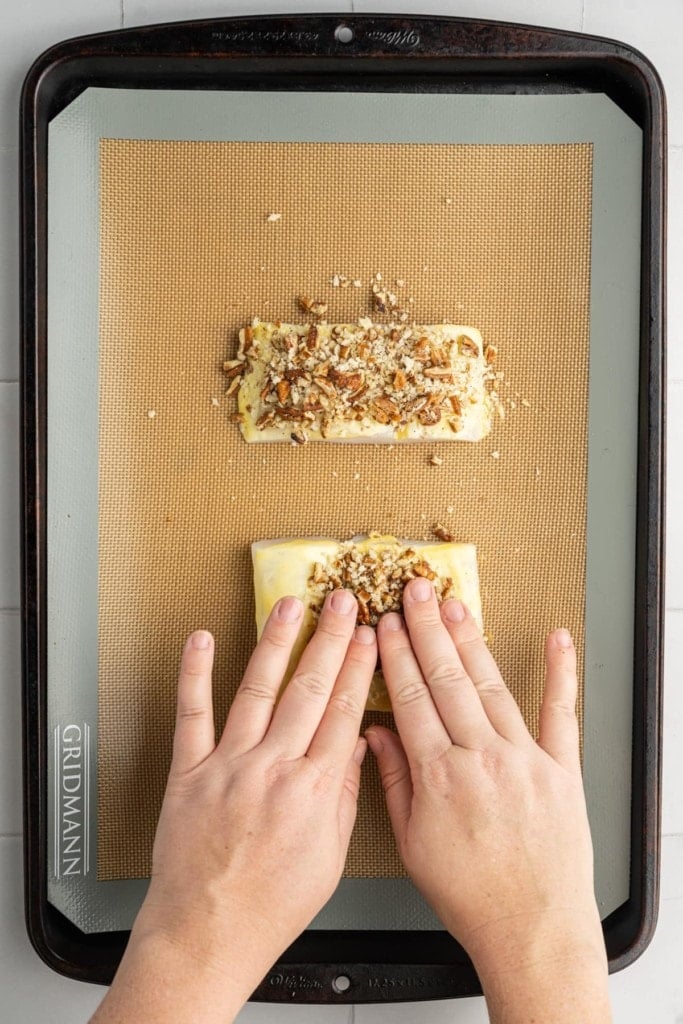 Should You Have Leftovers
Once cooked, your Pecan Crusted Halibut will last in an airtight container in the refrigerator for up to 4 days. You can also freeze your panko-crusted cod for up to 3 months.
To reheat the halibut, thaw in the refrigerator overnight if frozen, and bake your pecan crusted halibut for a second time at 275°F for about 15-20 minutes, or until the internal temperature reaches 130°F.
Green tip: Did you know that of the billions of pounds of food wasted annually, it is estimated that 50% of it happens in our homes? It's always best to avoid food waste as much as you can!
Serving Your Pecan Crusted Halibut
This halibut has a wide variety of flavor profiles including sweet, nutty, and citrusy. It pairs deliciously with a variety of sides!
Of course, like any main dish, this Pecan Crusted Halibut can be served with any vegetable like these Sweet and Salty Brussels Sprouts or Garlic Lemon Asparagus.
I also love serving this halibut over Coconut Rice or a fresh salad!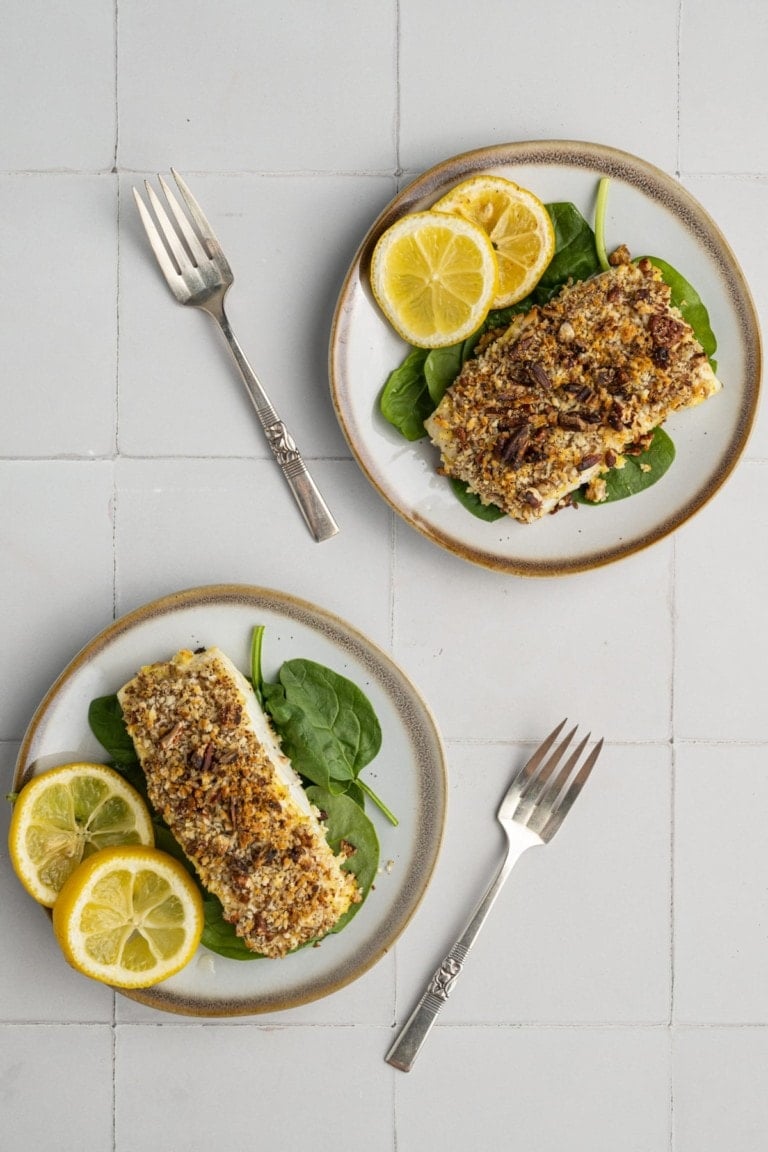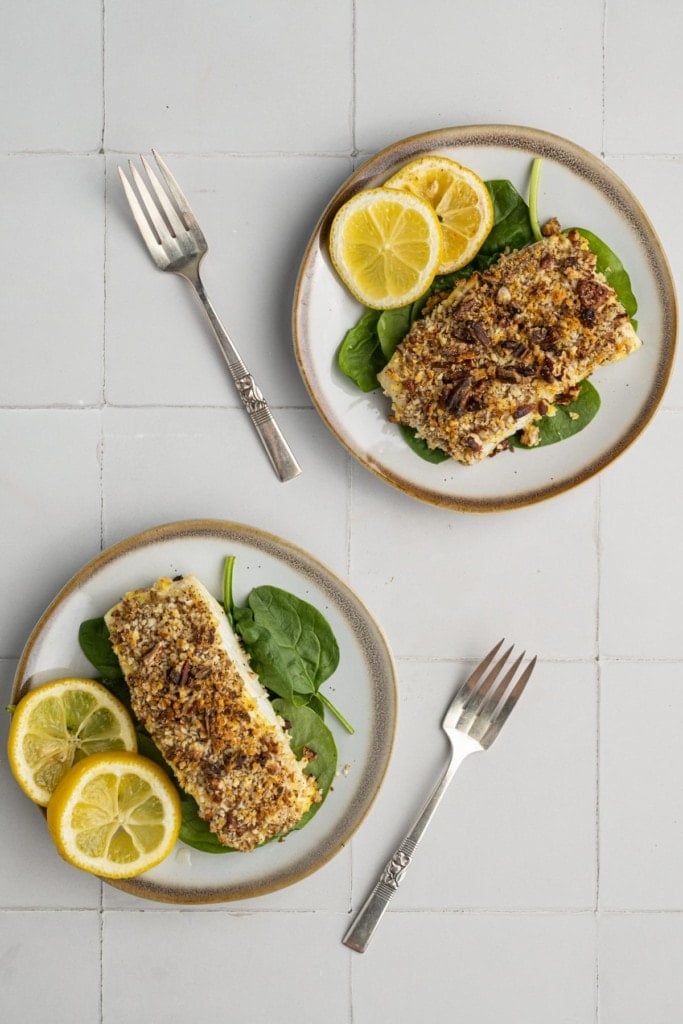 Pecan Crusted Halibut Frequently Asked Questions
---
---
How do you cook halibut without drying it out?
Halibut, when cooked correctly, is super juicy and flaky. To avoid drying it out, it's important not to overcook it. The optimal internal temperature for halibut is 130°F.
If you're worried about overcooking it, use a kitchen thermometer to monitor the temperature!
What flavors go well with halibut?
Halibut has a very mild taste, so it takes on a wide range of flavors very well. For the simplest halibut marinade, you can use lemon juice and salt and pepper.
If you want to get more intense flavors, try pan frying it with garlic and fresh herbs. And for my favorite way to bring intense flavor to halibut, try this Pecan Crusted Halibut which uses a combination of sweet honey mustard, nutty pecans, and citrusy lemon.
How long should halibut be cooked?
The cooking time for halibut depends on the method and temperature at which you're cooking it. In the oven at 425°F, fresh halibut will bake in just 10-12 minutes.
Want to sharpen your kitchen skills?
Why You Should Make this Pecan Crusted Halibut
---
---
It's balanced. Perfect combo of savory, sweet, nutty, and citrus.
The texture. Flaky and juicy on the inside, crispy and crunchy on the outside.
It's easy! 15 minutes, a sheet pan, and 7 simple ingredients is all you need.
If you're loving this 15 Minute Pecan Crusted Halibut and want more quick and easy fish dishes, check out this Blackened Mahi-Mahi and Baked Cod with Panko.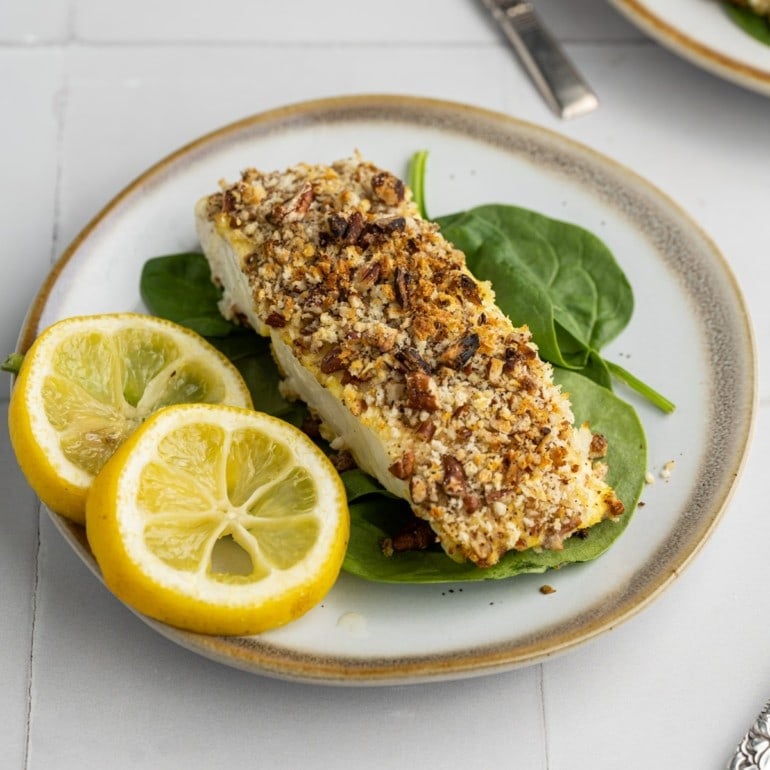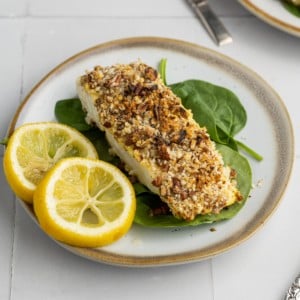 20-Minute Pecan Crusted Halibut
PRINT
PIN
RATE
This quick and easy Pecan Crusted Halibut uses a honey mustard and lemon marinade to bring sweet and citrus to the flaky fish that is then coated with a crispy pecan crust.
Ingredients
8

ounces

halibut

(individual 4-ounce portions)

1

tablespoon

lemon juice

(1 lemon = approx. 4 tablespoons juice)

2

tablespoons

honey mustard

¼

cup

pecans

(crushed)

¼

cup

Panko

¼

teaspoon

salt

¼

teaspoon

black pepper
Instructions
Preheat your oven to 425°F.

Prep your halibut by cutting into individual portions (about 4 ounces each) and removing skin if necessary and patting dry with paper towels (try these bamboo paper towels for a more sustainable option!). Place halibut on a baking sheet lined with parchment paper or a reusable baking mat and set aside.

To a small bowl, add the lemon juice and honey mustard and whisk to combine to make your marinade.

In a separate bowl, prepare your crust by adding crushed pecans, panko, salt, and pepper and stirring.

Use a pastry brush or spoon to brush an even layer of your honey mustard marinade onto both sides of the halibut.

Use clean hands to press the crust into the cod, coating it generously on both sides.

Bake for 10-12 minutes until the internal temperature of the halibut reaches 125°F.
Pro Tips
If you don't have Panko, you can replace it with any plain breadcrumbs. 
If you don't have honey mustard, you can easily make your own by mixing 2 tablespoons Dijon mustard with 2 teaspoons of honey. 
Did you make this recipe?
Let me know by leaving a recipe rating below, or by tagging @marleysmenu on Instagram.