Craving a cozy indulgence that tingles your taste buds and warms your soul? This Peppermint Hot Chocolate for Two gives you a mug of decadence and comfort, where rich cocoa meets refreshing peppermint.
This homemade hot chocolate recipe is easy to whip up with just five simple ingredients. It comes together quickly and can be made ahead and reheated.
In this recipe you'll learn how to make small-batch hot chocolate from scratch, and how to easily infuse just the right amount of peppermint flavor to tailor it to your taste.
You'll also be given the option to use a pre-made hot chocolate mix if you prefer, plus stove-top and microwave techniques to make this as easy as possible for you!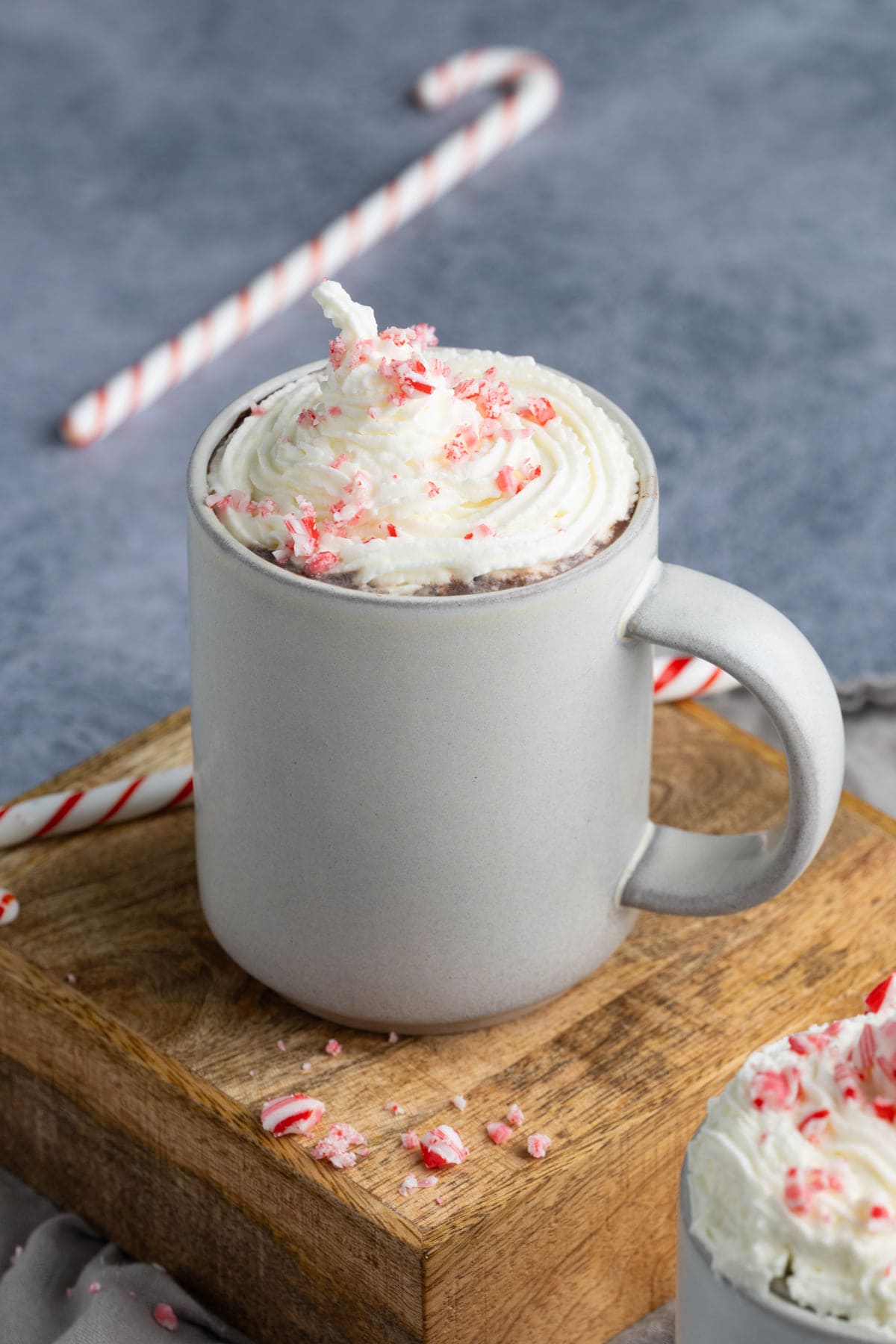 As an environmental scientist, I try to think about sustainability in the kitchen as small changes that can make a bigger impact over time. For something like hot chocolate, I like to think about how I can minimize my impact while still indulging in my cravings.
Homemade is the way to go! It allows you to control the quality of each ingredient and also of the waste you are producing with packaging.
Green tip: Making your own sauces, spice blends, and mixes is a great way to avoid extra plastic packaging, or mixed material canisters and packets that often cannot be recycled. It also allows you to avoid unnecessary food preservatives that are harmful pollutants.
Peppermint Hot Chocolate Ingredients
---
Here's everything you need:
Milk. You can use skim, reduced fat, or whole dairy milk or any unsweetened, unflavored non-dairy milk of your choice.
Chocolate chips. I highly recommend dark chocolate chips to make sure your hot chocolate doesn't turn out too sweet, but if you have semi-sweet on hand, that works, too!
Granulated sugar. Just a little bit to sweeten your hot chocolate.
Unsweetened cocoa powder. For a richer chocolate flavor.
Peppermint extract. To add that hint of magic. You'll use anywhere from 1/2 teaspoon to 1 teaspoon of extract depending on your taste.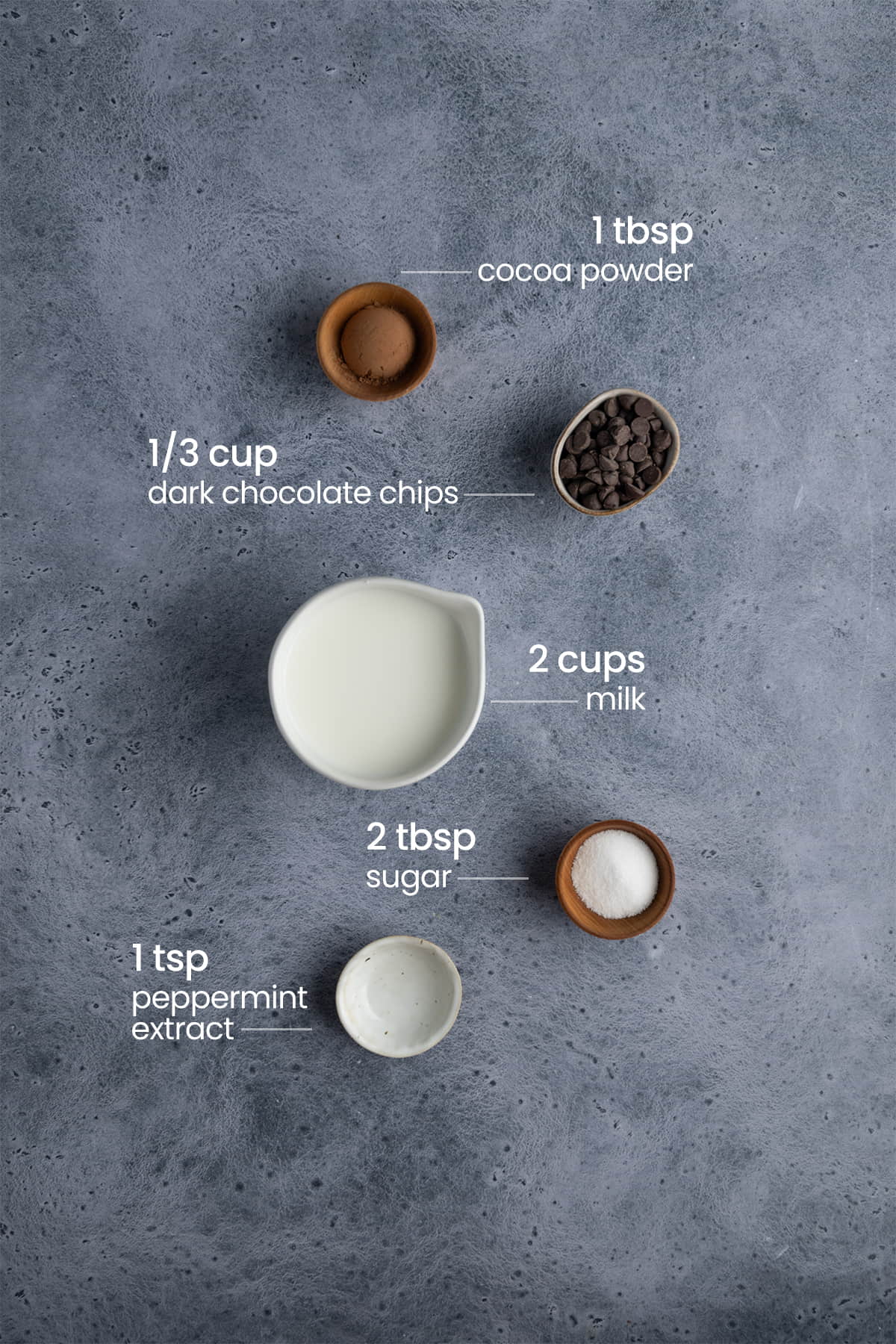 Peppermint Hot Chocolate Tips and Tricks
---
Start with the Milk and Chocolate
Add your milk of choice and chocolate chips to a pot or large saucepan over medium heat. Heat and stir continuously until the chocolate chips are melted. This usually takes about 3 minutes.
Make sure to continue to stir as you heat to avoid the milk curdling. The goal here is to simultaneously safely heat the milk and successfully melt the chocolate chips.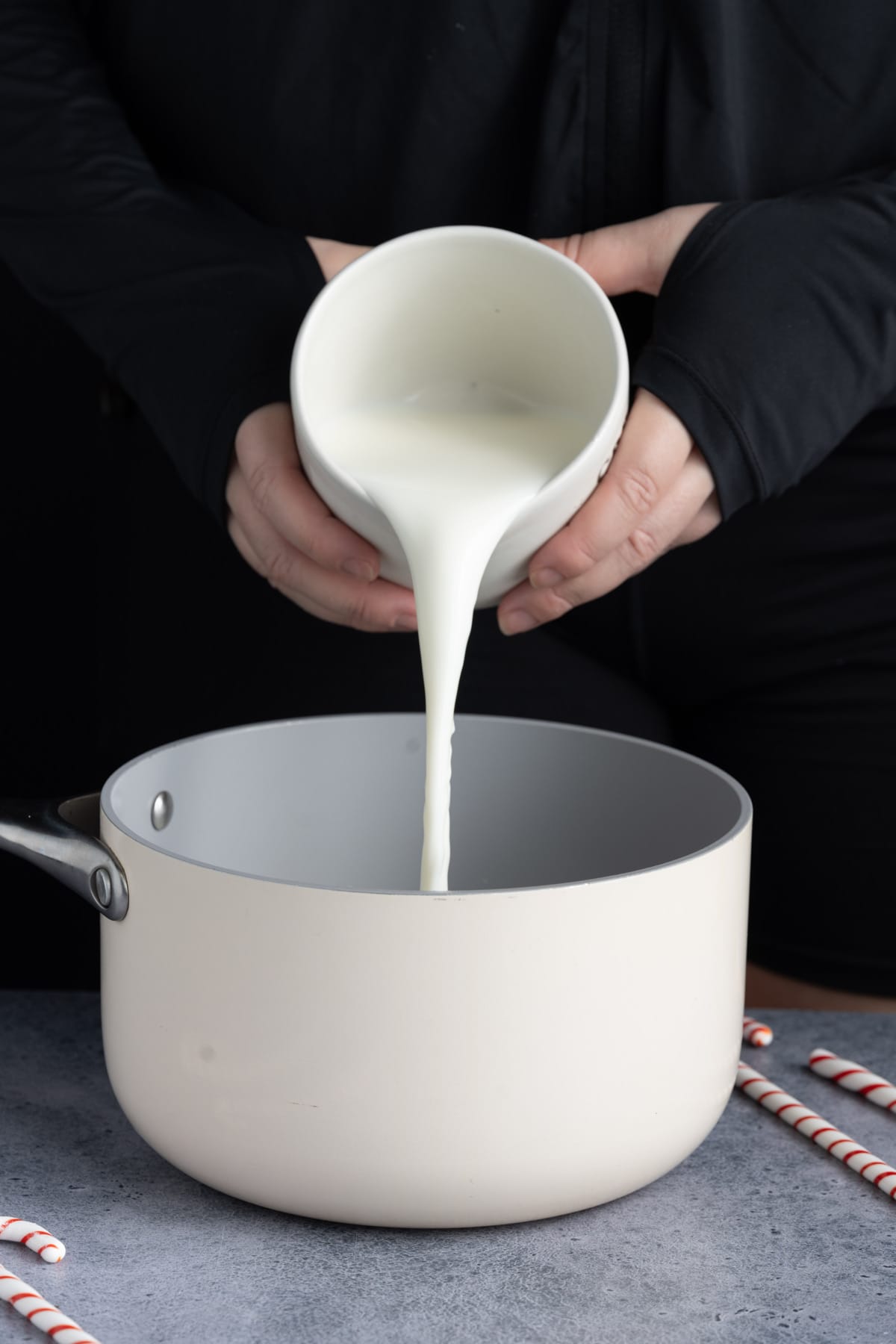 Stir in the Sugar and Cocoa Powder Next
Once your chocolate chips are melted and seamlessly combined with your milk, add the granulated sugar and the cocoa powder and continue to heat and stir to completely dissolve.
I highly recommend using a whisk to stir, to help ensure there are no lumps. Continue to heat and stir until the hot cocoa is nice and smooth.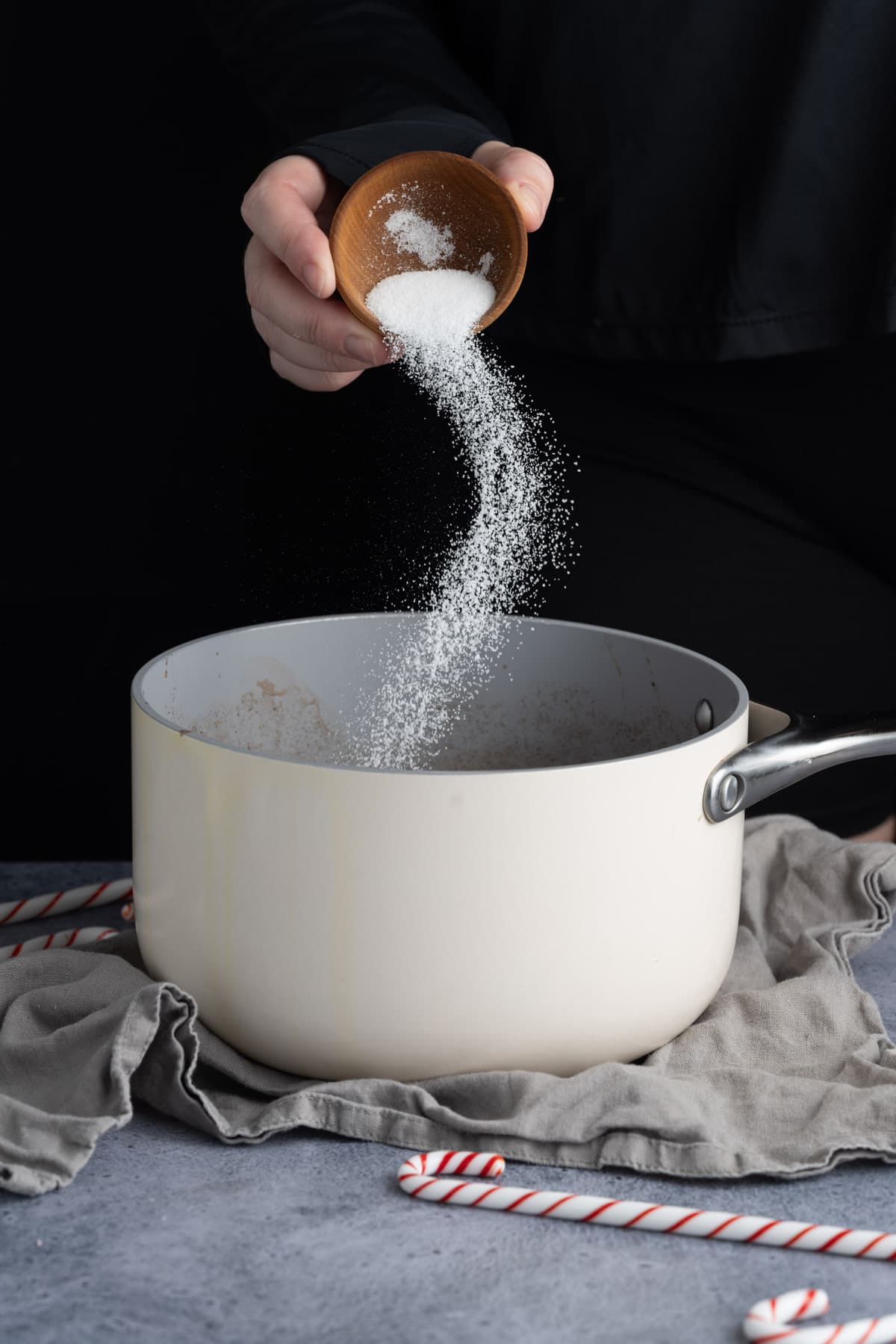 Add the Peppermint Extract Slowly
Once the chocolate chips, sugar, and cocoa powder are dissolved into your milk and your mixture is smooth, remove it from the heat.
Now it's time to stir in your peppermint extract. For a more mellow peppermint flavor add 1/2 teaspoon of extract. If you like a stronger hit of mint, you can add up to 1 teaspoon.
I recommend starting with 1/2 teaspoon, stirring it and tasting it. You can always add more if you want to. Personally, I find that any more than a teaspoon is a little overwhelming, but do you!
The best advantage to making your peppermint hot chocolate from scratch is that you can tailor it to your taste!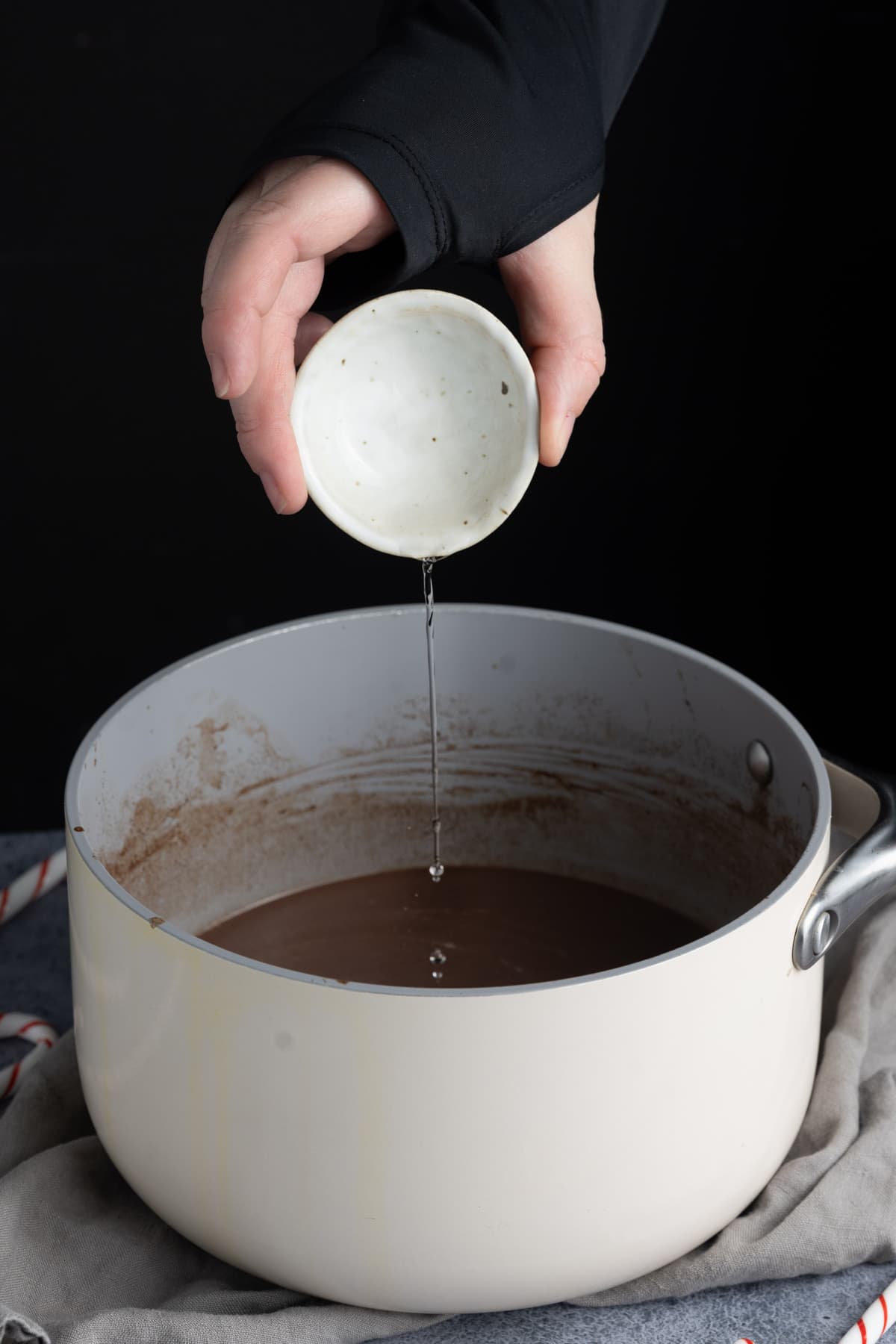 Using Hot Chocolate Mix Instead
If you have hot chocolate mix on hand and want to make Hot Chocolate with Peppermint from a mix, you absolutely can!
Just make two servings of hot cocoa according to the directions on the packets or container and add your peppermint extract.
If you're making two individual mugs of hot chocolate with one-serving packets, I recommend making the hot chocolate first and stir in about 1/8 teaspoon of peppermint extract each (or up to 1/4 teaspoon depending on your preference).
Oftentimes, hot cocoa mixes will offer options to use either water or milk. I highly recommend using milk for best results.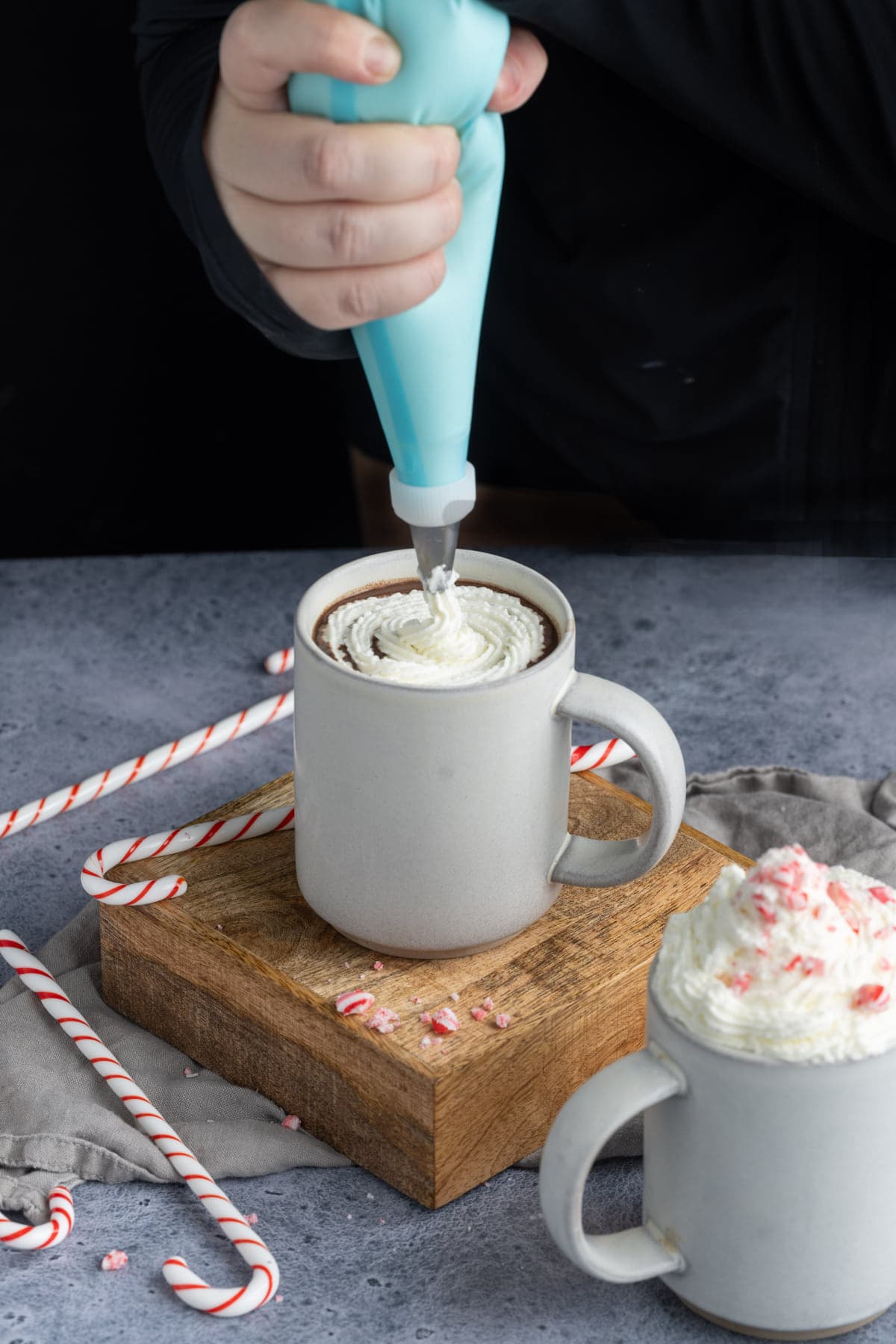 Making Hot Chocolate in the Microwave
If you don't want to dirty up a saucepan or pot, you can also opt to make this Peppermint Hot Chocolate in the microwave!
Add the milk, chocolate chips, sugar, and cocoa powder to an extra-large mug or microwave-safe cup or dish (a Pyrex measuring cup works great here!).
Microwave on high for 90 seconds and use a fork, whisk, or milk frother to mix until smooth.
If the chocolate chips are still not completely melted and integrated after 90 seconds, continue to microwave in 30-second increments, stirring in between, until your chocolate and milk are fully combined.
Then, add the peppermint extract and stir to combine while it's still hot.
Green tip: Organic farms rely on biodiversity to generate rich soil, avoiding the use of pesticides and fertilizers, which means no toxic runoff. Consider organic ingredients for this recipe if you can.
Making Homemade Hot Cocoa for One
This recipe makes enough hot cocoa to fill two standard mugs or one extra-large mug.
So, if you just want one single serving of hot cocoa, it can easily be halved. You'll need 3/4 cup milk, 2 tablespoons chocolate chips, 1/2 tablespoon each of sugar and cocoa powder, and about 1/4 teaspoon of peppermint extract.
Follow the same stovetop or microwave instructions outlined above.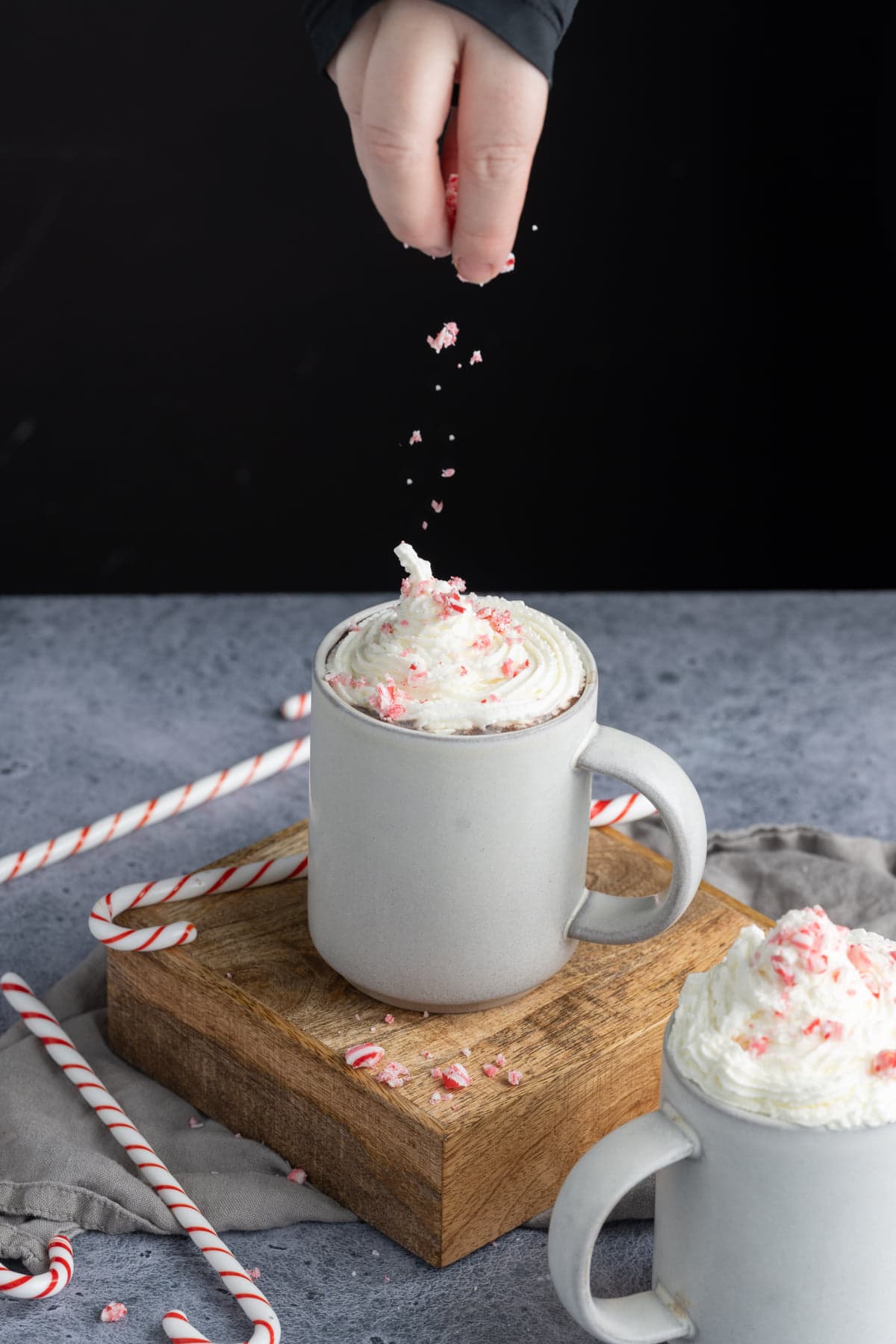 Homemade Peppermint Hot Chocolate Serving Ideas
This decadent homemade hot chocolate with peppermint is already filled with flavor as is, but if you want to add a little pizazz, here are some of my favorite topping ideas:
Crushed candy cane
Marshmallows
Chocolate syrup
Caramel sauce
Chocolate shavings or mini chocolate chips
Storing Leftover Homemade Hot Chocolate
This decadent Hot Chocolate will last in the refrigerator for up to 3 days in an airtight container.
To reheat, add to a pot over medium heat and continue to heat, stirring frequently until it just starts to simmer. You can also reheat in the microwave on high for 60-90 seconds until thoroughly heated.
Green tip: Did you know that of the billions of pounds of food wasted annually, it is estimated that 50% of it happens in our homes? It's always best to avoid food waste by properly storing, reheating, and then consuming your leftovers.
Hot Chocolate with Peppermint Frequently Asked Questions
---
What is peppermint hot chocolate made of?
Peppermint hot chocolate has a milk base with added melted chocolate, cocoa powder, sugar, and peppermint extract for a velvety smooth drinking chocolate with a hint of festive peppermint.
Want to sharpen your kitchen skills?
Why You Should Make this Peppermint Hot Chocolate for Two
---
It's chocolatey. The addition of real chocolate chips in this recipe brings that chocolate factor up a notch.
It's creamy. Velvety smooth, thick and creamy, decadent hot chocolate.
It's festive. The touch of peppermint gives it a Holiday flare when you're craving Christmas any time of year.
If you're loving this Peppermint Hot Chocolate for Two and want more chocolatey deliciousness, check out this Edible Brownie Batter and this Boozy Chocolate Mousse.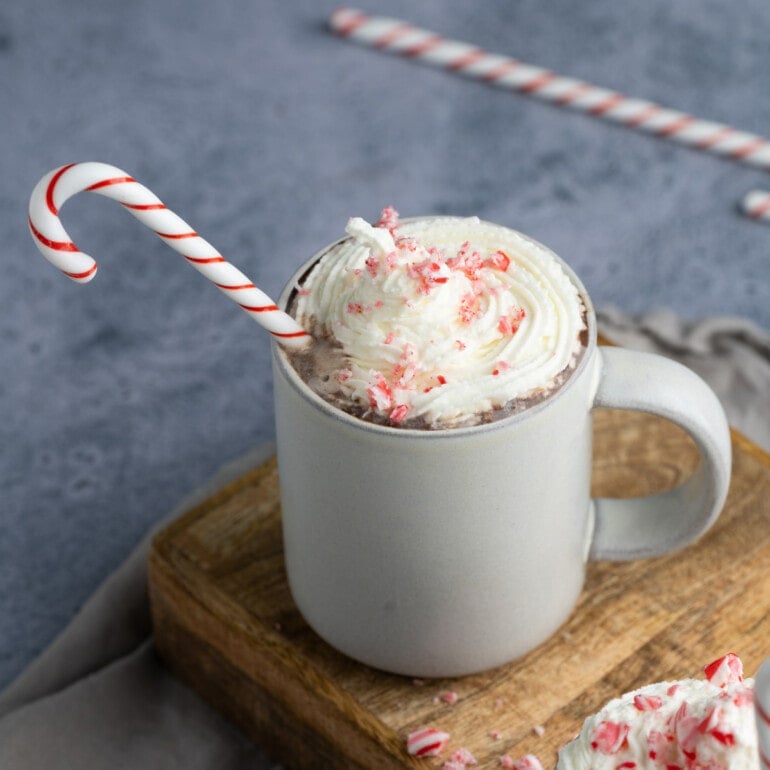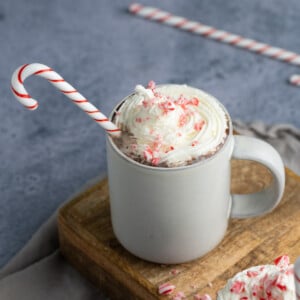 Decadent Peppermint Hot Chocolate for Two
PRINT
PIN
RATE
This Peppermint Hot Chocolate combines the rich creaminess of hot chocolate with the refreshing zing of peppermint flavor.
Ingredients
Peppermint Hot Chocolate from Scratch
2

cups

milk of choice

(dairy or unsweetened plant-based)

⅓

cup

dark chocolate chips

2

tablespoons

granulated sugar

1

tablespoon

cocoa powder

1

teaspoon

peppermint extract

(see notes)
Peppermint Hot Chocolate from Hot Chocolate Mix
6

tablespoons

hot chocolate mix

(1 packet hot chocolate mix usually = approx. 3 tablespoons)

2

cups

milk of choice

1

teaspoon

peppermint extract
Instructions
From Scratch Stovetop Method
To a pot or large saucepan, add the milk and chocolate chips over medium heat. Continue to heat, whisking frequently until chocolate chips are melted and integrated into the milk (about 3-5 minutes).

Add the granulated sugar and cocoa powder and continue to heat and whisk, until your hot chocolate is smooth with no lumps.

Remove from heat and stir in ½ teaspoon of peppermint extract. Taste to see if you want to add a little more peppermint (up to 1 teaspoon).
From Scratch Microwave Method
Add the milk, chocolate chips, cocoa powder, and sugar to an extra-large mug or heat-safe glass (a Pyrex measuring cup works great!) and stir a couple of times to distribute the ingredients throughout the milk.

Microwave on high for 2 minutes. Whisk to combine melted chocolate chips, sugar, and cocoa powder into the milk. If the chips aren't completely melted, continue to microwave in 30-second intervals, stirring in between until smooth.

Add peppermint extract to taste.
Hot Chocolate Mix Method
Make two servings of hot chocolate according to the instructions on the packet or cannister. Use milk, even if the instructions offer an option to use water.

Add the peppermint extract to taste and serve hot.
Pro Tips
Use anywhere from 1/2 to 1 whole teaspoon of peppermint extract depending on how strong you want the peppermint flavor.
Try serving it wight this Peppermint Whipped Cream!
If, like me, you've got a weakness for a cozy warm mug of hot chocolate, you *definitely* shouldn't check out all my other Hot Chocolate treats, it would be too dangerous!
Did you make this recipe?
Let me know by leaving a recipe rating below, or by tagging @marleysmenu on Instagram.