Want to recreate restaurant-quality creamy guacamole at home? This Tableside Guacamole recipe will give you flavorful, creamy, super-fresh guac with just 4 fresh ingredients plus a few powerful spices.
Plus, this easy dip recipe comes together quickly and easily, making it the best way to elevate tacos, toast, sandwiches, wraps, and of course serve with chips!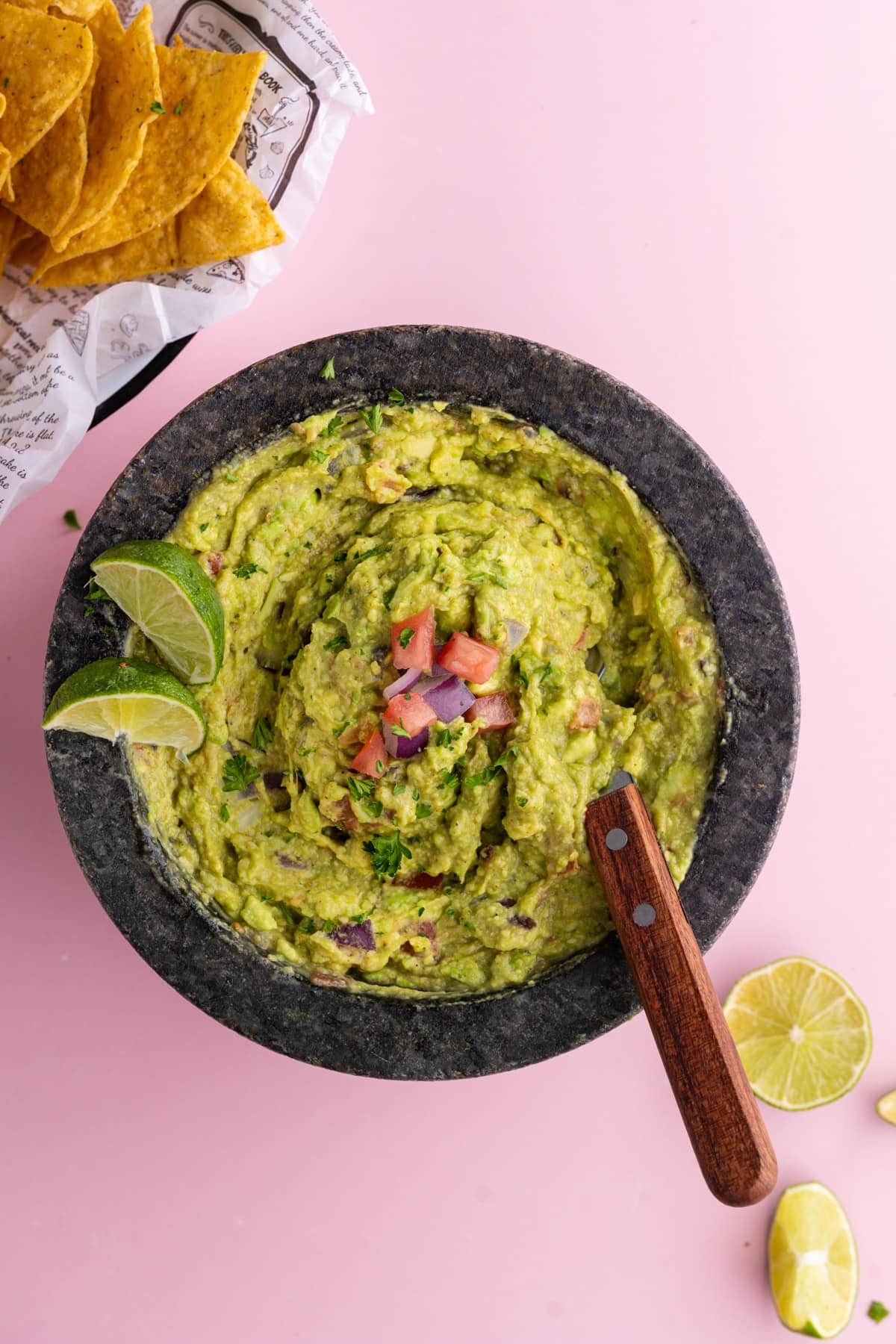 As an environmental scientist, I always prioritize being more sustainability-minded in the kitchen. Making my own dips and spreads is one of my favorite ways to lower my contribution to environmentally damaging microplastics.
Green tip: Making your own sauces, syrups, and spreads is a great way to avoid extra plastic packaging that eventually ends up in landfills or makes its way into the environment and becomes microplastics.
Tableside Guacamole Ingredients
---
Here is everything you need:
Avocados. For a more traditional guac, Haas avocados work best. Make sure they are ripe.
Tomato. This recipe calls for half of a globe, Beefsteak, or slicing tomato, but if you have smaller tomatoes on hand, those can be used, too. Just use about 3-5 Roma or grape tomatoes in place of 1/2 of the larger tomato.
Red onion. Or white onion. Both are delicious raw. Avoid more pungent onions like sweet onion or yellow onion as they are a little too overpowering in the guacamole.
Lime juice. Fresh lime juice is highly recommended! You'll only need about 1 tablespoon of lime juice which you can usually extract from just 1/2 of a lime.
Cumin and cayenne pepper. For warmth, earthy notes, and a hit of spice!
Salt and pepper. To season and elevate the other flavors.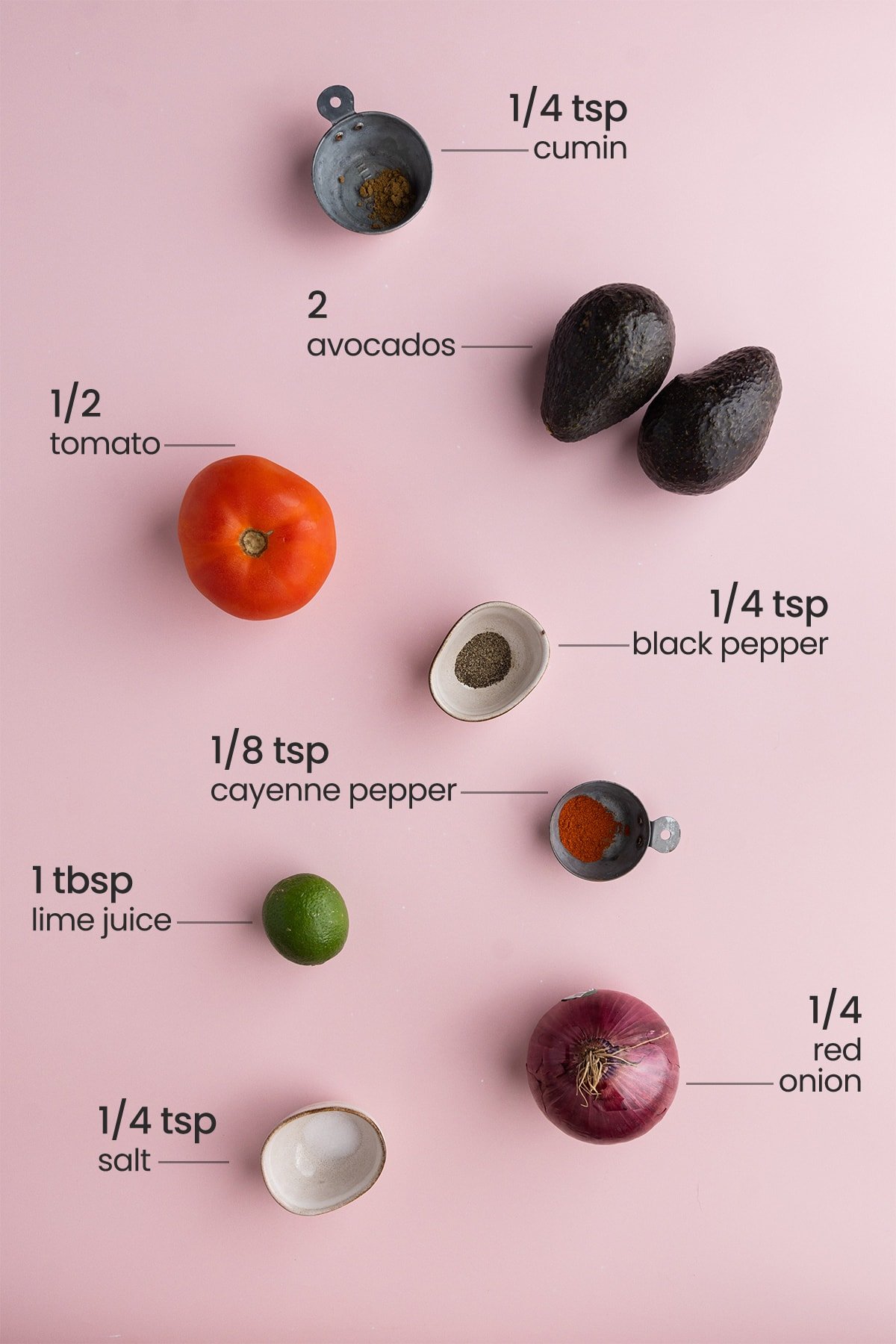 Optional flavor-boosting add-ins:
Cilantro. I love fresh cilantro in my guac, but it's common for people to have an aversion to cilantro, so adding it is totally up to you!
Jalapenos. If you want extra spice, diced and seeded jalapenos are delicious in guacamole.
Garlic. If you love garlic, consider adding a little bit of minced garlic to your guac for extra flavor!
Mangoes or pineapple. Don't knock it until you try it! A burst of fresh fruit is absolutely delicious in this guac!
Tableside Guacamole Tips and Tricks
---
How to Easily Dice and Onion for Homemade Guacamole
For the best taste and texture in your restaurant-quality guacamole, it's important to dice your onion. Onions have many thin layers, so aside from the inevitable eye-watering, they're actually pretty easy to dice!
Start by slicing the onion in half and chopping off the ends. This will make it easy to peel off the outermost layer of the onion. You can compost the ends and peels or save it with other veggie scraps to make your own vegetable broth.
Next, lay the onion flat on your cutting board and slice widthwise into thin strips. Then, rotate and dice. Finally, peel the layers apart until you're left with individual pieces of diced onion.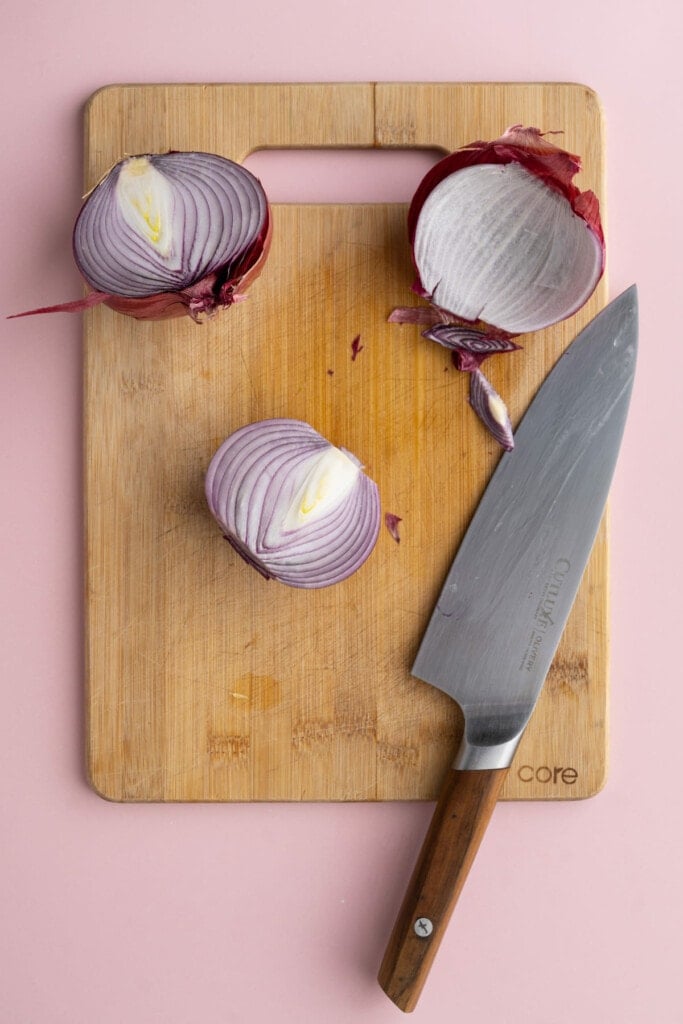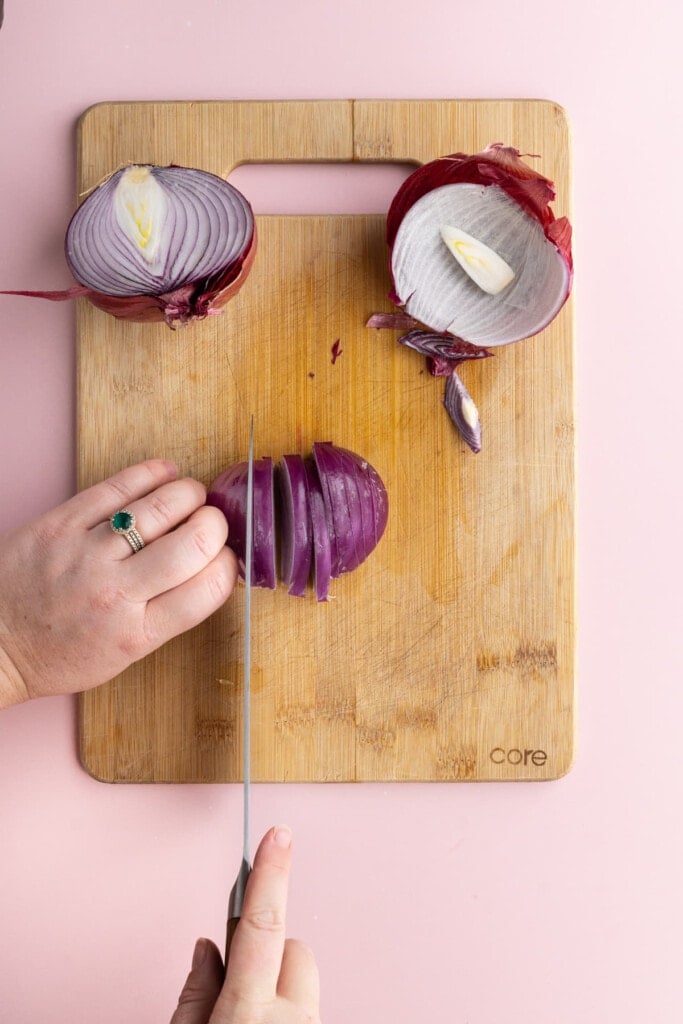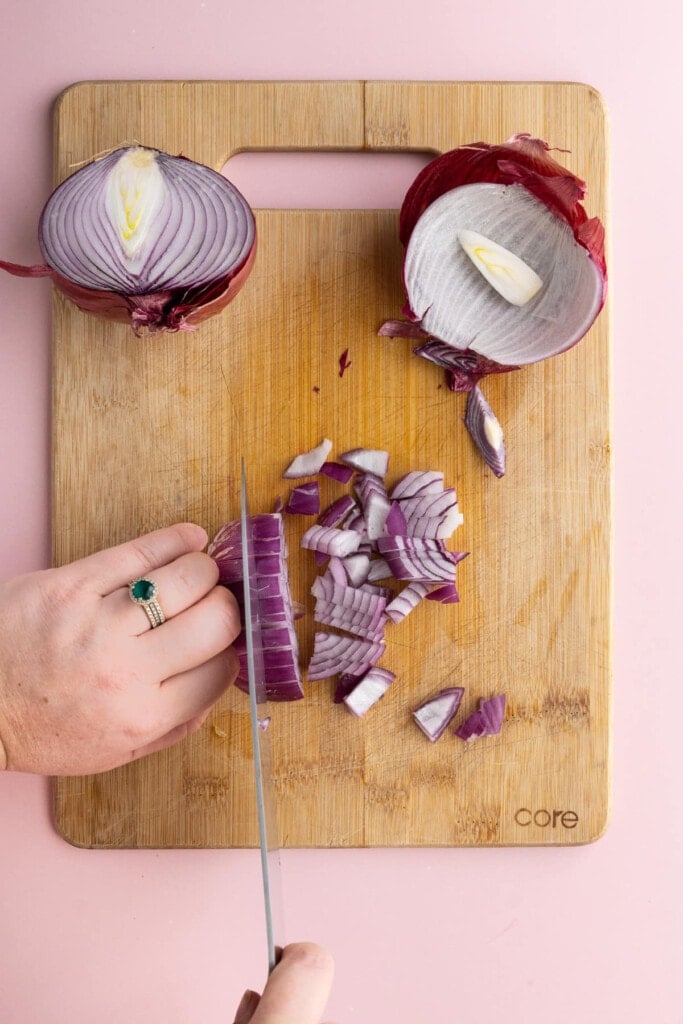 How to Dice Tomato for Tableside Guacamole
To dice the tomato, use a similar technique to the onion. Start by slicing the tomato in half next to the stem. This recipe only requires half of a tomato, so save the half with the stem for later.
Use the stemless half to dice. Lay it flat on your cutting board and slice it into thin strips first before rotating it to dice.
The tomato will more readily break down with the pestle, so the pieces don't have to be quite as small as the onion.
Tomato skin is notoriously tough to pierce, so if you don't have a super-sharp chefs knife or a specific tomato knife, you may find it easier to use a serrated knife.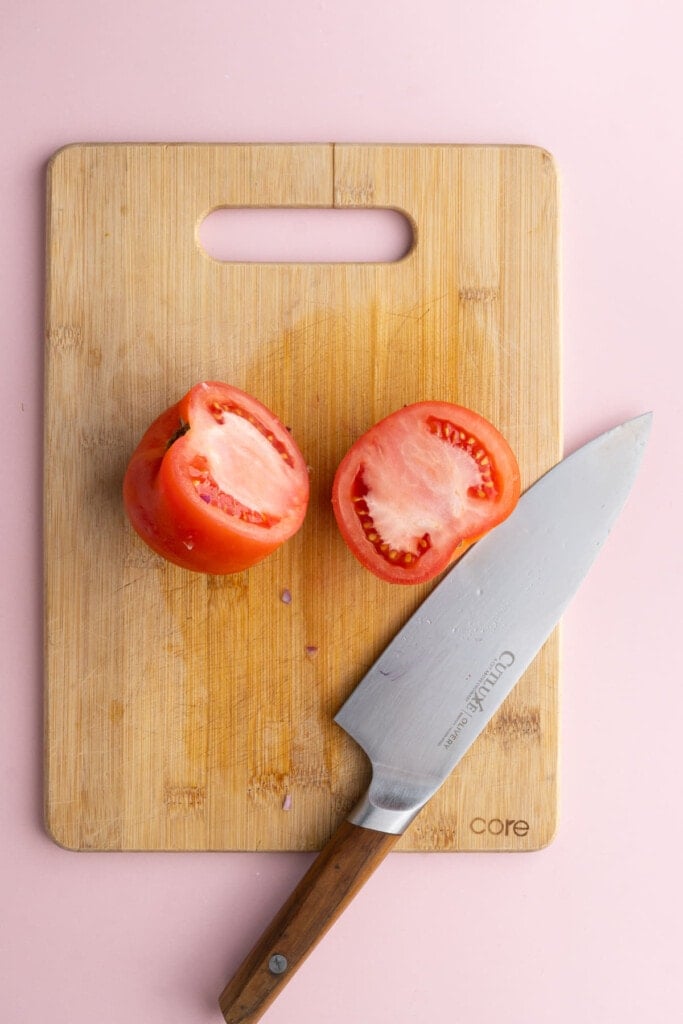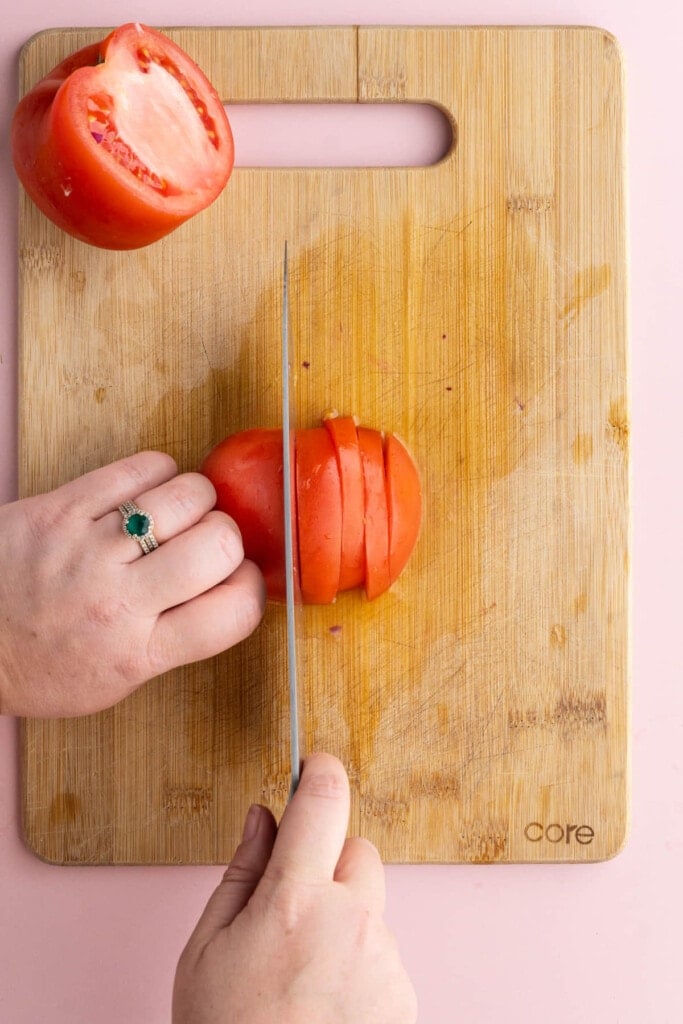 Use a Mortar and Pestle
While of course you can make guac without a mortar and pestle, if you want the true Tableside Guacamole experience, you'll find that a mortar and pestle is worth it!
This recipe is packed with vibrant, flavorful, good-for-you ingredients! Breaking them down into small, fine parts is what allows their flavors to meld together to yield that perfect, creamy guacamole.
Start by adding your diced onion, tomato, and salt to the mortar and using the pestle to crush them into the sides of the mortar, releasing their juices and breaking them down even further into small pieces.
The salt will work with the pestle to extract the liquids from the vegetables. The flavors in this juice will integrate readily into your avocados, giving the guacamole much more flavor overall.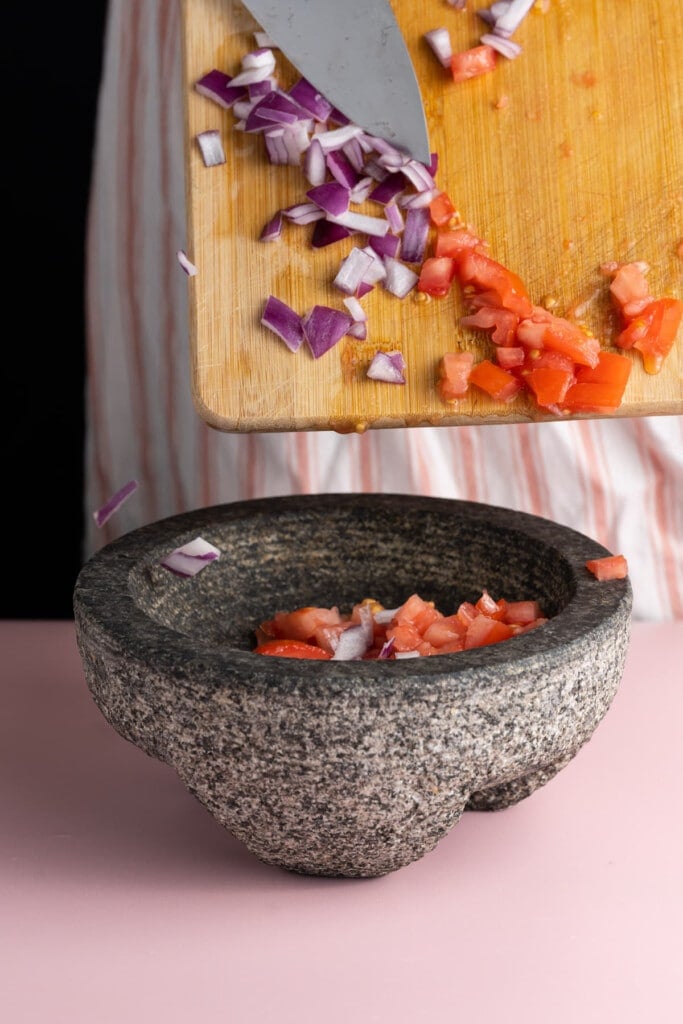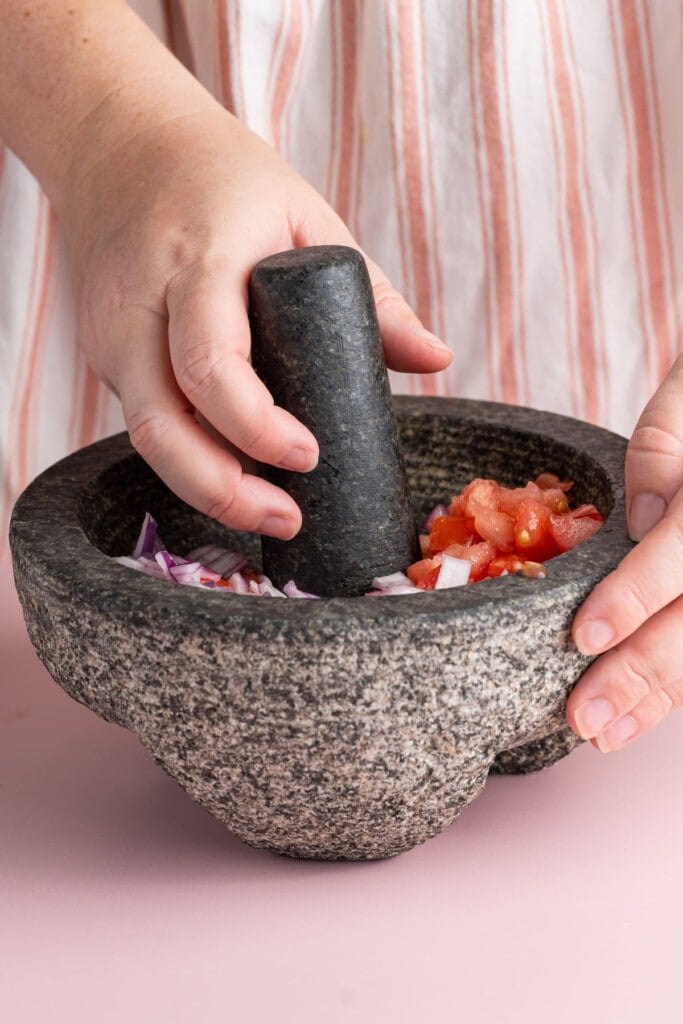 How To Know If an Avocado Is Ripe
Guacamole is only as good as the avocados you add to it, so ideally we are looking for perfectly ripe avocados.
If avocados are not yet ripe, you'll not only have a tough time smashing it into a creamy texture, but the taste will also be off. Underripe avocados are often bitter, and this bitterness will only be exacerbated by the tomato and lime juice.
in contrast, an overripe avocado often tastes sour. Overripe avocado flesh will be brown instead of green. Do not eat your avocado if it is brown. Eating brown avocado not only results in a bad taste but can also end in a stomachache.
The easiest way to tell if an avocado is ripe is by giving it a gentle squeeze. You're looking for a little bit of give when you squeeze. If it's completely solid, it's underripe. If you squeeze and quickly and readily squishes, it's likely overripe.
You can also check the ripeness of an avocado by pushing in the pit. Similar to the squeeze test, you're looking for a little bit of give when you push down on the pit.
If it's not ready, the pit will stay put. If it's overripe, likely it will sink deep into the avocado and often the skin will even tear.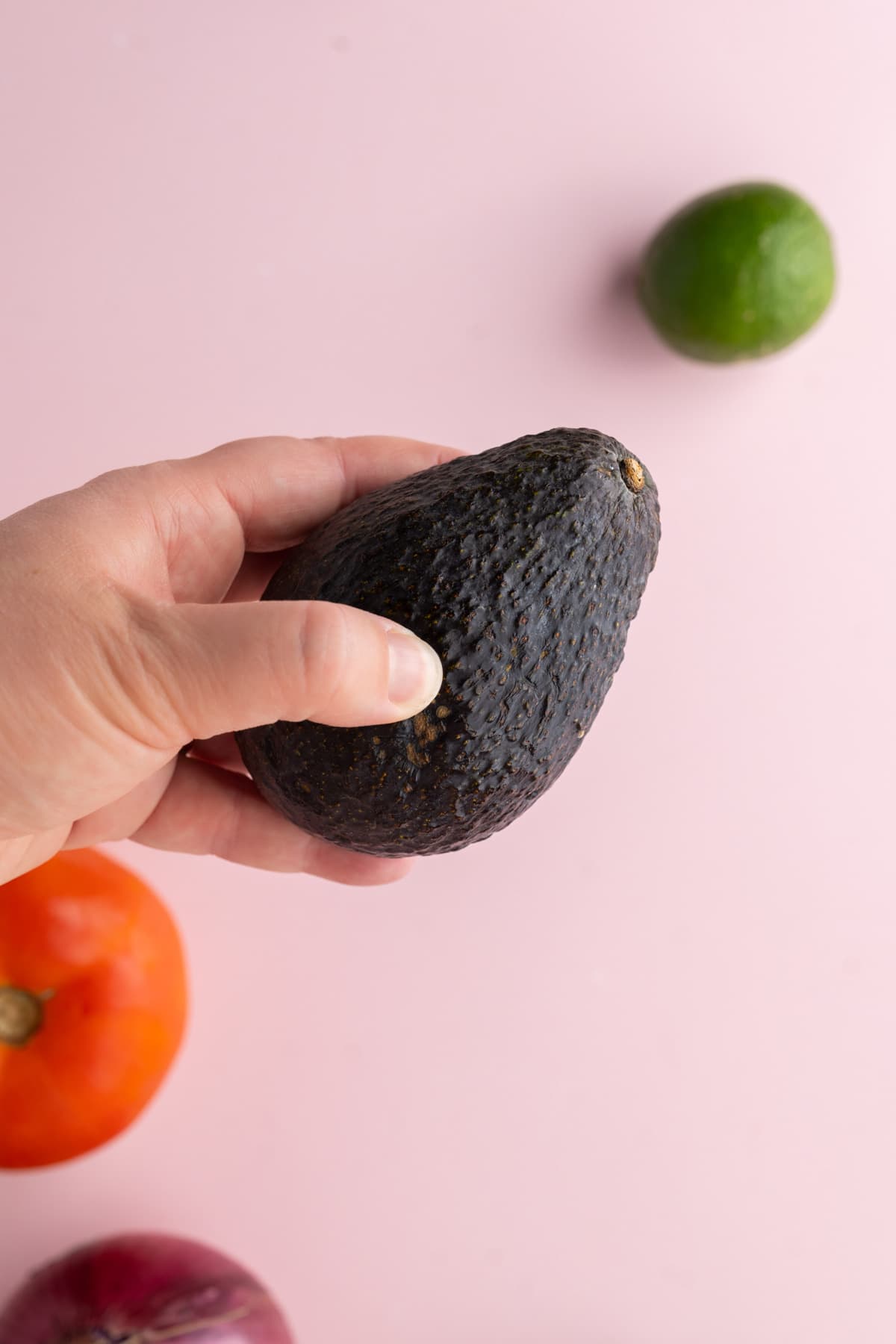 Crush the Avocado with the Pestle
Once you've determined that your avocado is ripe, slice it in half lengthwise and open it up to reveal the pit. Remove the pit and squeeze or scoop the flesh out of the skin and place it into the mortar with the crushed tomato and red onion.
Use the pestle to smash the avocado until it is integrated with the red onion and tomato.
Unfortunately, avocado pits will not break down in the compost, but you can replant the pit to grow an avocado tree! Check out these detailed instructions on how to plant an avocado pit.
You may also want to save your pit to place back inside the guacamole before serving. The pit will help to keep the guac fresh until you're ready to eat it.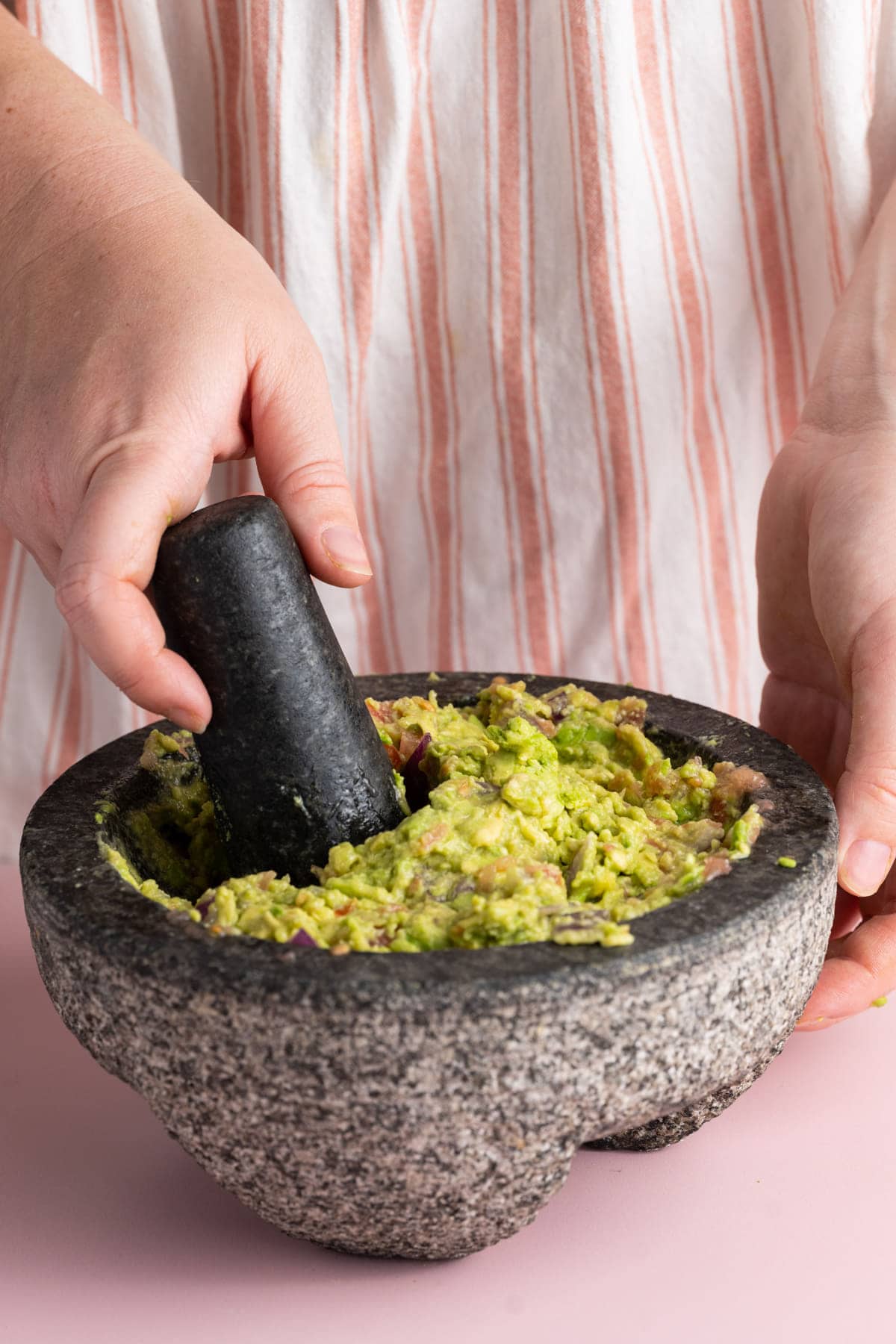 Avoid Lime Seeds in Your Guacamole
Fresh lime juice really brings a strong and vibrant citrusy flavor to your restaurant-style guacamole. This recipe calls for 1 tablespoon of lime juice, which you can typically get from just 1/2 of a lime.
I highly recommend using a citrus squeezer to add your lime juice to the guacamole. This will not only help you extract the freshest juice, but it will also catch the lime seeds as you squeeze so that they don't fall into your guac.
If you don't have a citrus squeezer, it's best to squeeze the juice into a separate bowl or ramekin instead of right into your mortar. That will allow you to fish out any seeds that fall into the juice.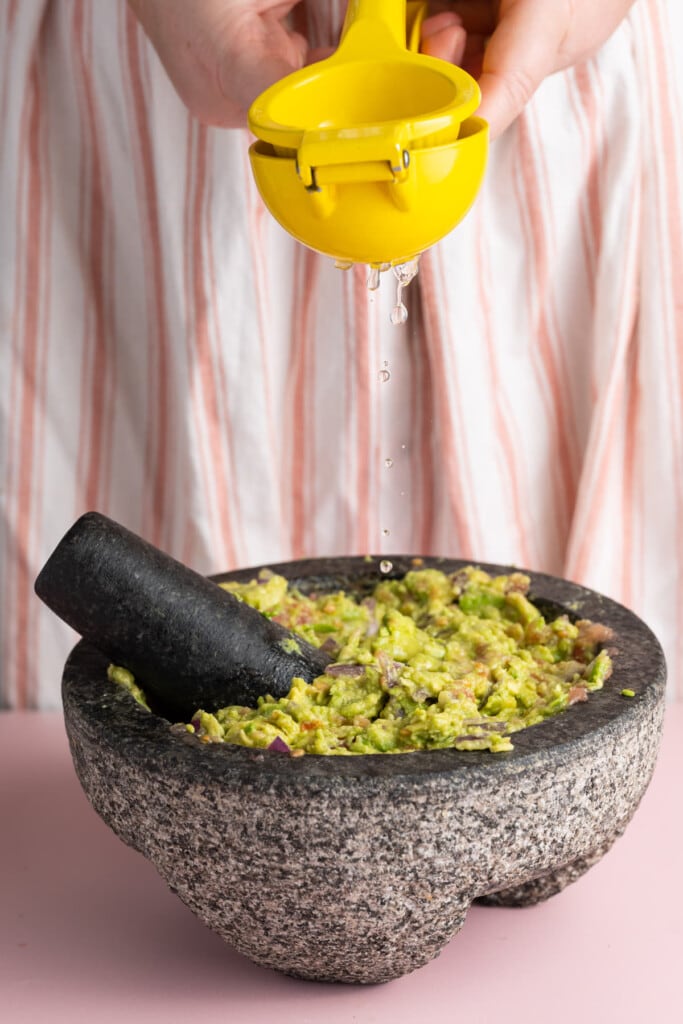 How to Integrate the Lime Juice and Seasoning
Once you add your lime juice, it's time to add the black pepper, cumin, and cayenne pepper. At this point, I find it is much easier to set your pestle aside and use a fork to integrate the juice and seasoning into your homemade guacamole.
Just use the fork to stir, until the lime juice is combined, and your seasonings are evenly distributed. If you like your guac spicy, add some extra cayenne pepper!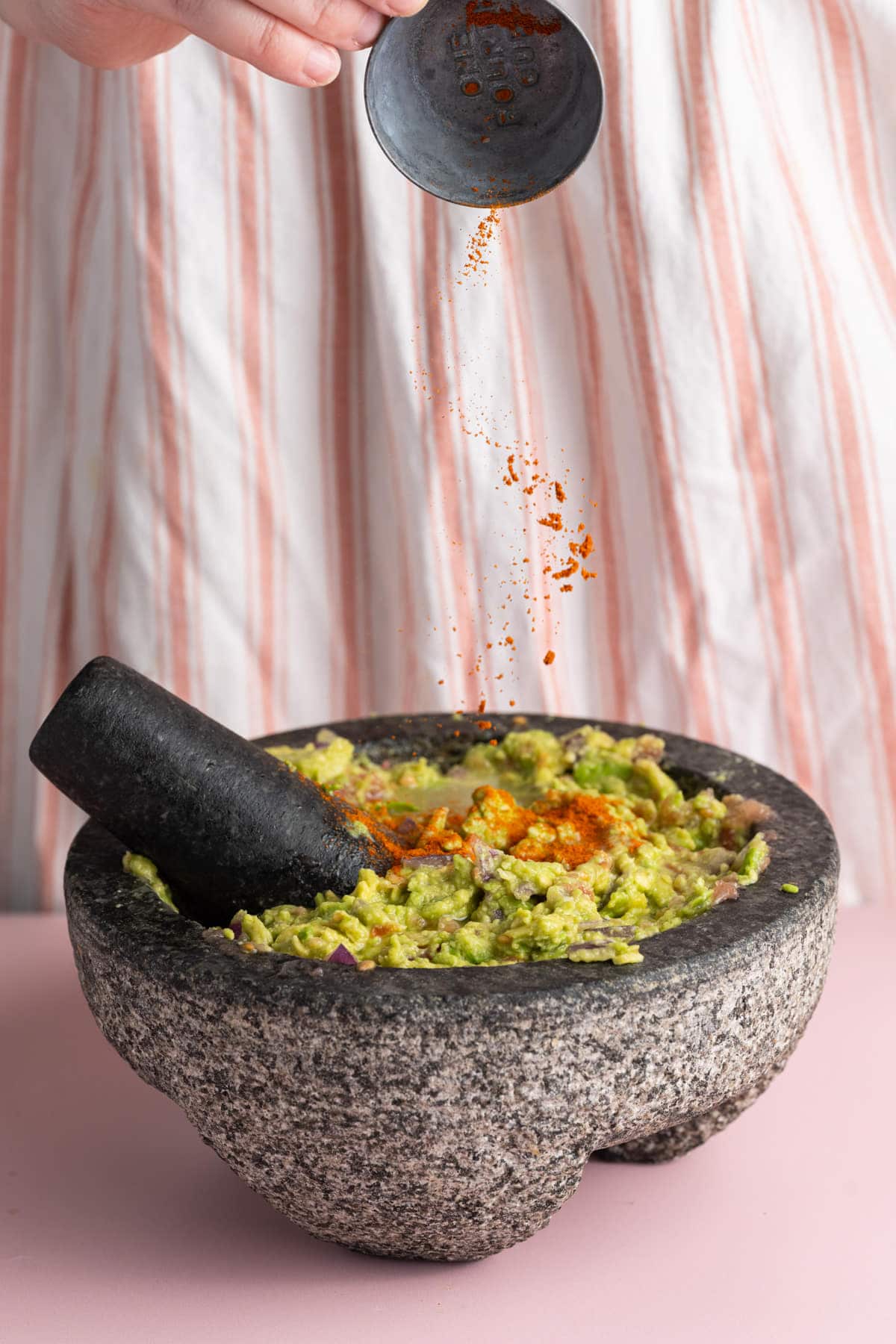 Serving Your Homemade Tableside Guacamole
This, along with my 5-Ingredient Tex-Mex Queso Blanco, is one of my favorite appetizers to serve with tacos, enchiladas, and burritos.
It's important to note that guacamole is best served immediately. While the lime juice will work to keep it fresh at room temperature for about a couple of hours, you will notice it starting to brown after about 2 hours.
If you know it will be a little while before you dig in, add the avocado pits on top of the guacamole with an extra squeeze if lime juice on top to prolong its freshness.
Here are some of my favorite mains to serve this restaurant-style guacamole with:
Storing Leftover Guacamole
Unfortunately, leftover guacamole will likely brown in the refrigerator. However, it can be frozen for up to 3 months. Do not freeze if it's already starting to brown, but if you have some still-fresh guac you want to freeze, you can!
Since frozen guacamole can only be thawed once, it's best to freeze leftovers in individual portions in a freezer-safe bag. To thaw, allow it to rest in the refrigerator overnight. Keep in mind, it cannot be refrozen.
Green tip: Of the billions of tons of food wasted annually, 50% of food waste happens at home. Reduce your contribution to food waste by properly storing and consuming leftovers.
Why Should You Make This Homemade Tableside Guacamole
---
It's healthy. Packed with nutrients, antioxidants, and "good fats".
It elevates your meal. Bring your tacos, burritos, quesadillas, or even morning eggs to life!
It's simple. Just a few fresh ingredients and some spices is all you need!
If you're loving this Tableside Guacamole at Home and want more healthful plant-based dips, check out this Sweet Potato Hummus and Vegan Spinach Artichoke Dip.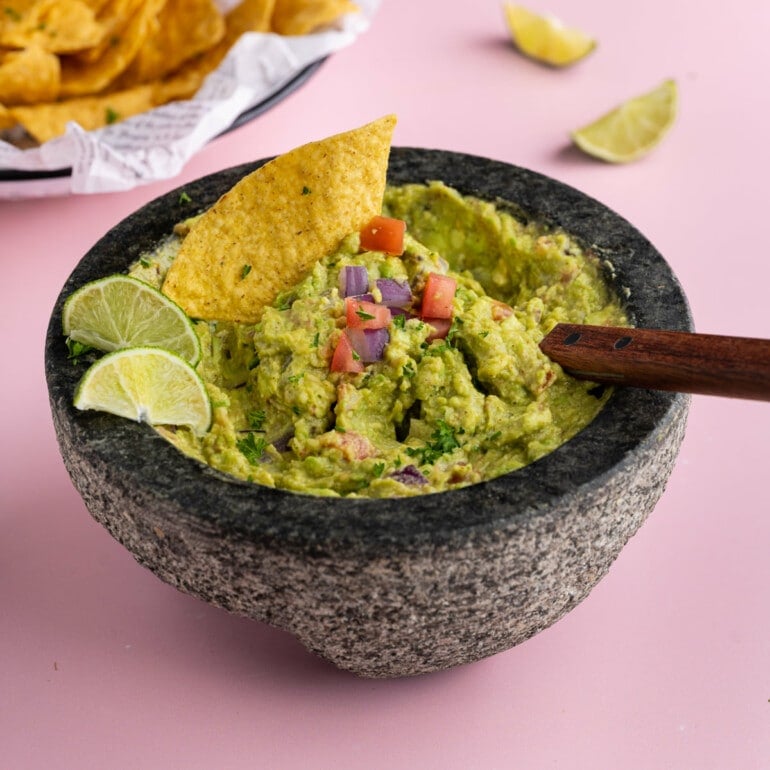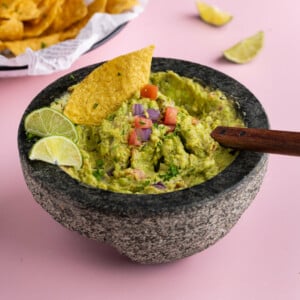 Tableside Guacamole at Home
PRINT
PIN
RATE
This recipe for Tableside Guacamole at home give you restaurant-quality guac in your own kitchen with just a few fresh ingredients and spices.
Ingredients
Tableside Guacamole
½

large

tomato

(globe, beefsteak, or slicing tomato)

¼

large

red onion

2

large

ripe haas avocados

1

tablespoon

lime juice

(½ lime = approx. 1 tablespoon juice)

¼

teaspoon

cumin

¼

teaspoon

salt

¼

teaspoon

black pepper

⅛

teaspoon

cayenne pepper

(or more depending on desired spice level)
Optional Flavor-Boosting Add-ins
½

ounce

fresh cilantro

(stems and leaves, chopped)

2

whole

jalapeno peppers

(seeded and diced)

1

clove

garlic

(minced)

¼

cup

fresh mango or pineapple

(diced)
Instructions
Start by dicing your tomato and red onion. If you're using any optional add-ins, prep them now, too.

Add the diced onion, tomato, and salt (and any optional add-ins if using) to a mortar and use a pestle to mash, extracting the liquid and crushing into small, fine pieces.

Add the avocado flesh to the mortar and use the pestle again to smash and integrate into the salted and crushed tomato and onion.

Add the lime juice, black pepper, cumin, and cayenne pepper. Use a fork to stir until creamy and smooth. Serve immediately with tortilla chips.
Pro Tips
This recipe is best with a mortar and pestle, but if you don't have one, just get a little creative! You can use a sturdy bowl with a wooden spoon to mash.
This guacamole is best enjoyed within 2 hours of preparing it, but if you need to stretch it out a little longer, place the avocado pits on top of the guac and add an extra squeeze of fresh lime juice. 
For more classic taco night dips, check out this Pineapple Salsa and Tex-Mex Queso Blanco.
Did you make this recipe?
Let me know by leaving a recipe rating below, or by tagging @marleysmenu on Instagram.