Looking to elevate your garlic bread? This 20-Minute Pesto Butter Garlic Bread brings the garlicky, buttery carb-filled favorite to the next level with the addition of fresh and herbaceous pesto.
It's quick and easy to whip up (just 20 minutes and 5 ingredients!) and is perfectly crispy with a soft and buttery center. It's the perfect appetizer for pasta night or shareable appetizer for a get together.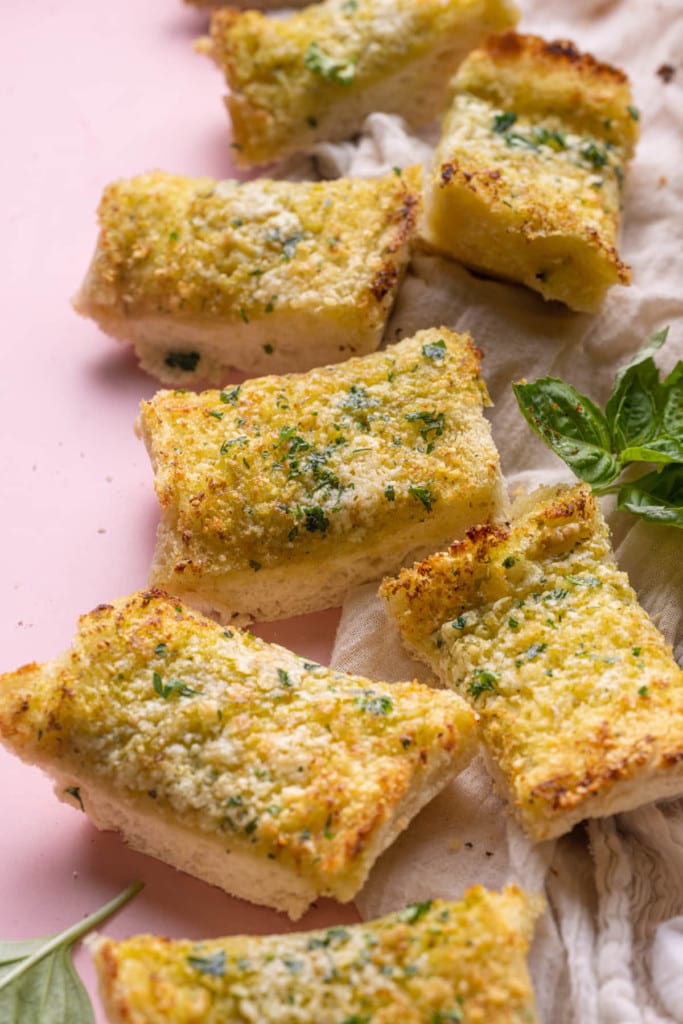 Pesto Butter Garlic Bread Ingredients
---
---
Here's everything you need:
Butter. Unsalted butter is best, as the pesto and Parmesan cheese add extras salt. Make sure your butter is softened.
Pesto. You can buy some ready-made or make your own pesto.
Parmesan cheese. You can opt to leave this off for a lighter version, but I love adding the Parmesan for extra salt and because it crisps up in the oven to enhance the texture of your bread.
French bread, baguette, or Cuban bread. My preference is French bread, but any of these three will work.
Fresh parsley (optional). For extra color and freshness.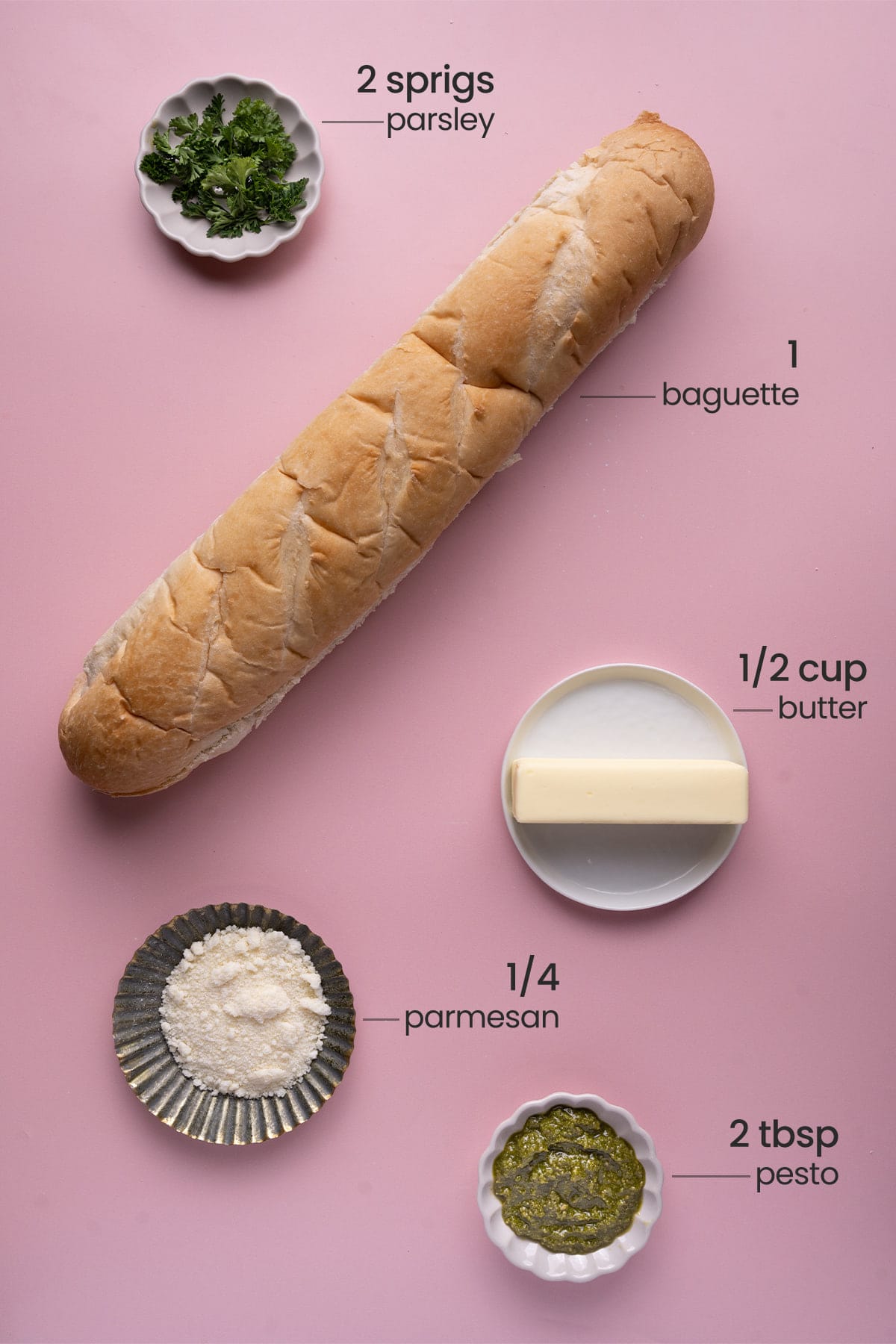 Pesto Butter Garlic Bread Tips and Tricks
---
---
Make Sure Your Butter is Softened
Softened butter is key to getting the right consistency on your pesto butter. The best way to test if your butter is softened is by poking it. If it's the right temperature your finger will leave an imprint in the butter.
The easiest way to soften butter is to allow it to come to room temperature naturally by taking it out of the refrigerator about 30-45 minutes before you're ready to start cooking.
Of course, that's easier said than done. If you don't have time to wait for your butter to soften naturally, there are many ways to soften butter quickly.
I find the quickest and easiest way is the microwave! Add your butter to a microwave-safe dish and microwave on high for ten seconds. If it still needs more time, continue to heat in 5-second increments until it's ready.
Green tip: Look for organic and palm oil-free butter if you can. Buying organic means you are supporting farms that do not use damaging pesticides and fertilizers, and palm oil production is a huge driver behind deforestation.
Use a Hand Mixer to Whip
I find that the best tool to whip your pesto butter up is a high-powered hand mixer. We want to really whip it to aerate it, creating a soft and pillowy butter for your garlic bread.
I love to make my own arugula and basil pesto for this recipe, but any pesto works! You can even use Sundried Tomato Pesto for a fun twist!
Continue to whip the softened butter and pesto together until it's smooth.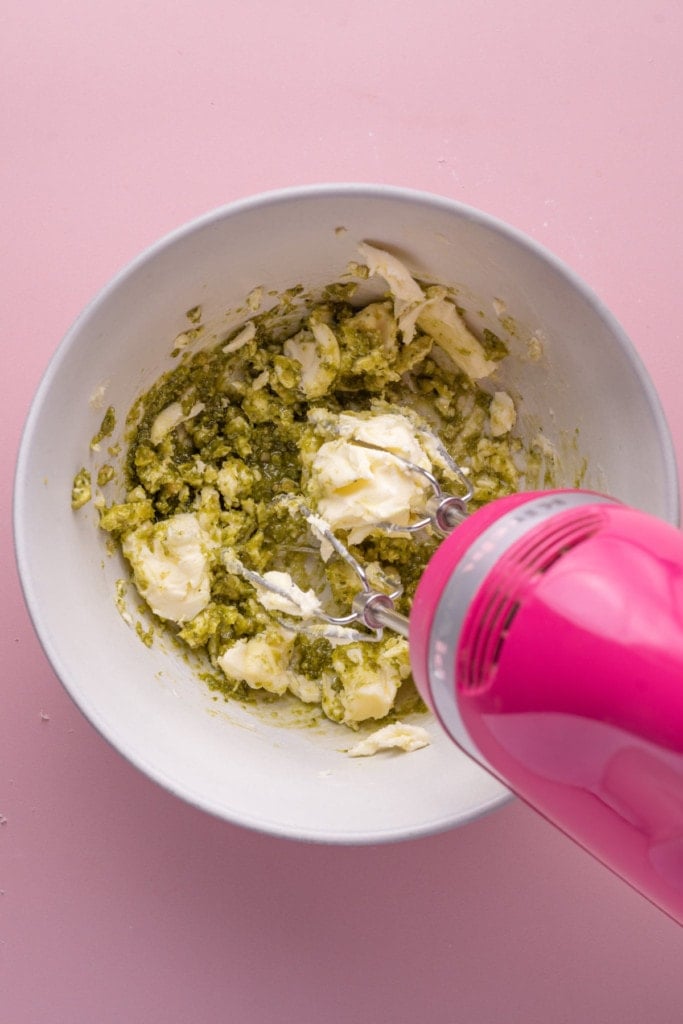 Spread Generously
Once you've formed your garlicky butter spread, smooth a generous amount over the bread in an even layer.
Try your best to get the butter all the way to the edges!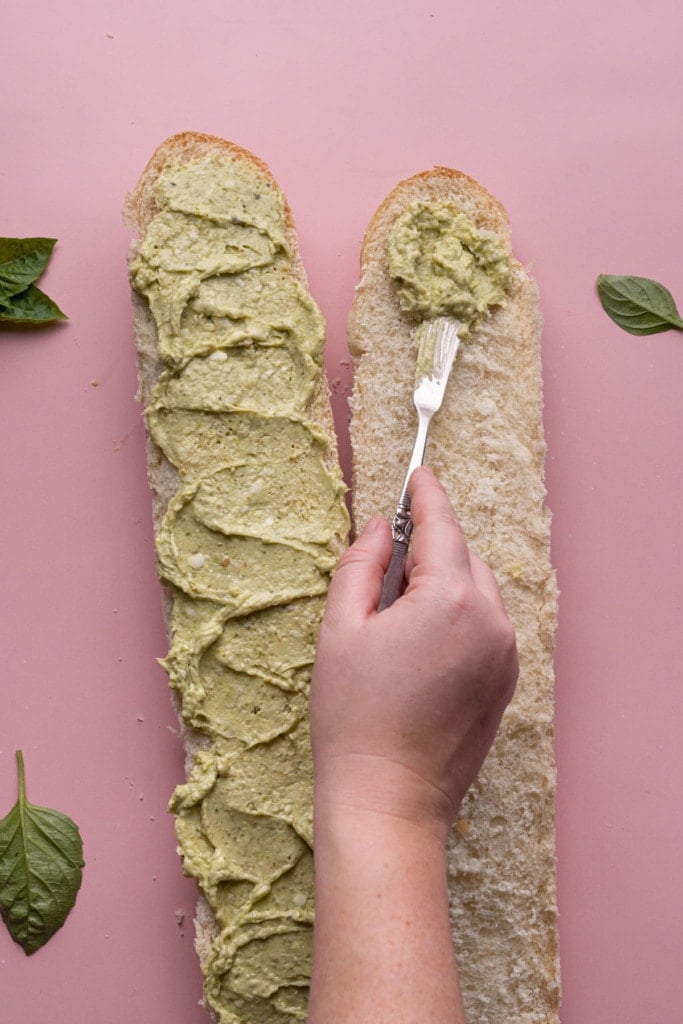 Garnish and Bake
Add your Parmesan cheese in a thin, even layer on top of the pesto butter. I love to add chopped parsley on top for extra color and freshness, but this Pesto Butter Garlic Bread is delicious with or without it.
Bake the dressed bread in the 350°F oven for 10 minutes until crispy and golden brown. If after 10 minutes, the bread is still not quite crispy enough, turn your oven up to broil and give it another minute or two.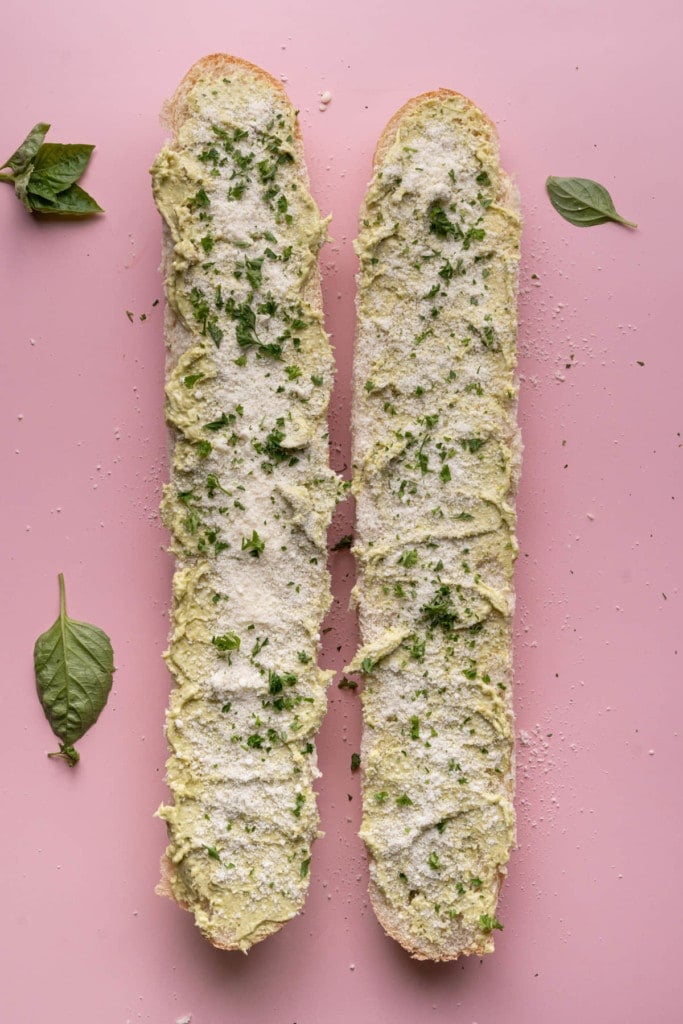 Storing and Reheating Leftover Pesto Butter Garlic Bread
Leftover garlic bread will last in the refrigerator for up to 5 days in an airtight container.
Green tip: Of the billions of tons of food wasted annually, it is estimated that 50% of waste happens at home. Lessen your contribution to food waste by properly storing and later consuming your leftovers.
You can also opt to prep your garlic bread. Spread the pesto butter on your bread, sprinkle the Parmesan cheese and parsley on top and instead of baking it, freeze it.
You can freeze the prepped bread like this for up to 3 months. From frozen, the prepped garlic bread can be heated directly in the oven. Heat it for 15 minutes instead of 10.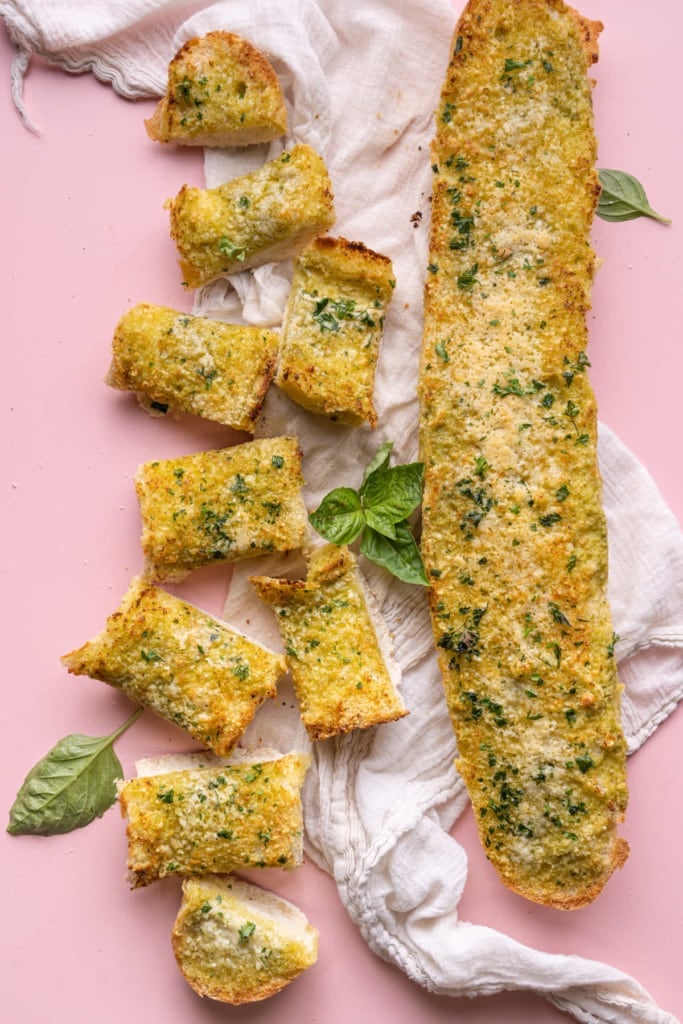 Pesto Garlic Bread Frequently Asked Questions
---
---
What goes well with pesto?
Pesto is fresh, flavorful, and versatile! It's a great way to add more flavor to a number of dishes. Frequently, you'll see pesto in pasta dishes, fish recipes, and even on garlic bread like in this Pesto Butter Garlic Bread.
Want to sharpen your kitchen skills?
Why You Should Make this Pesto Butter Garlic Bread
---
---
It's flavorful. The pesto brings your garlic bread to the next level!
The texture! Crispy around the outside, soft on the inside, and overall buttery and delicious.
It's easy! Under 20 minutes and just 5 ingredients required.
If you're loving this Pesto Butter Garlic Bread and want more delicious appetizers, check out this Whipped Ricotta Crostini and Caprese Bruschetta with Balsamic Glaze.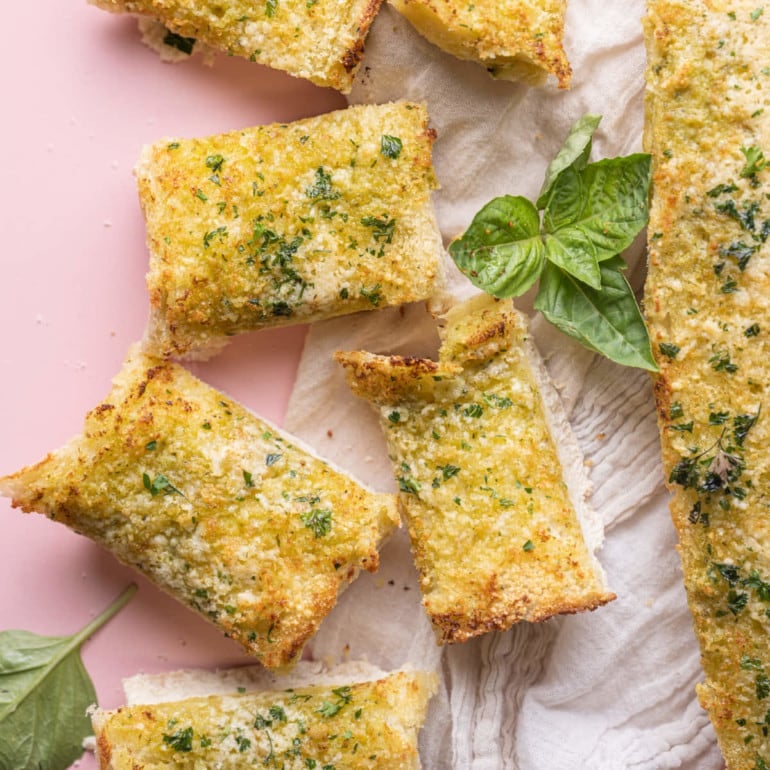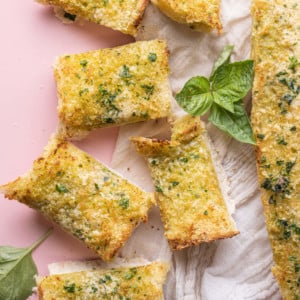 20-Minute Pesto Butter Garlic Bread
PRINT
PIN
RATE
This Pesto Butter Garlic Bread is the best buttery, garlicky crispy carb-loaded shareable appetizer or starter to any meal! Just 20 minutes and 5 ingredients required.
Ingredients
½

cup

unsalted butter

(½ cup = 1 stick)

2

tablespoons

pesto

16

ounces

French or Italian baguette, or Cuban bread

(1 large French bread = approx. 16 ounces)

¼

cup

grated Parmesan cheese

2

sprigs

parsley for garnish, chopped

(optional)
Instructions
Preheat your oven to 350°F.

Use a serrated knife to slice the bread in half longways and place both halves of the bread on a large baking sheet.

Use a spatula or butter knife to spread the pesto butter onto the bread in a thin, even later.

Sprinkle the Parmesan cheese and chopped parsley (optional) on top of the butter.

Bake for 10 minutes until crispy and golden brown. If after ten minutes the bread isn't as crispy as you'd like it, turn your oven up to broil and heat for an additional 1-2 minutes.
Did you make this recipe?
Let me know by leaving a recipe rating below, or by tagging @marleysmenu on Instagram.