Looking for a quick and easy way to make salmon without sacrificing on texture and flavor? This Pesto Butter Salmon requires only 3 ingredients and 15 minutes and is both delicious and nutritious.
With a simple mixture of pesto and butter to marinate your salmon, and a simple yet effective cooking technique, this easy salmon dinner will be your new go-to when you need a fish fix in a flash!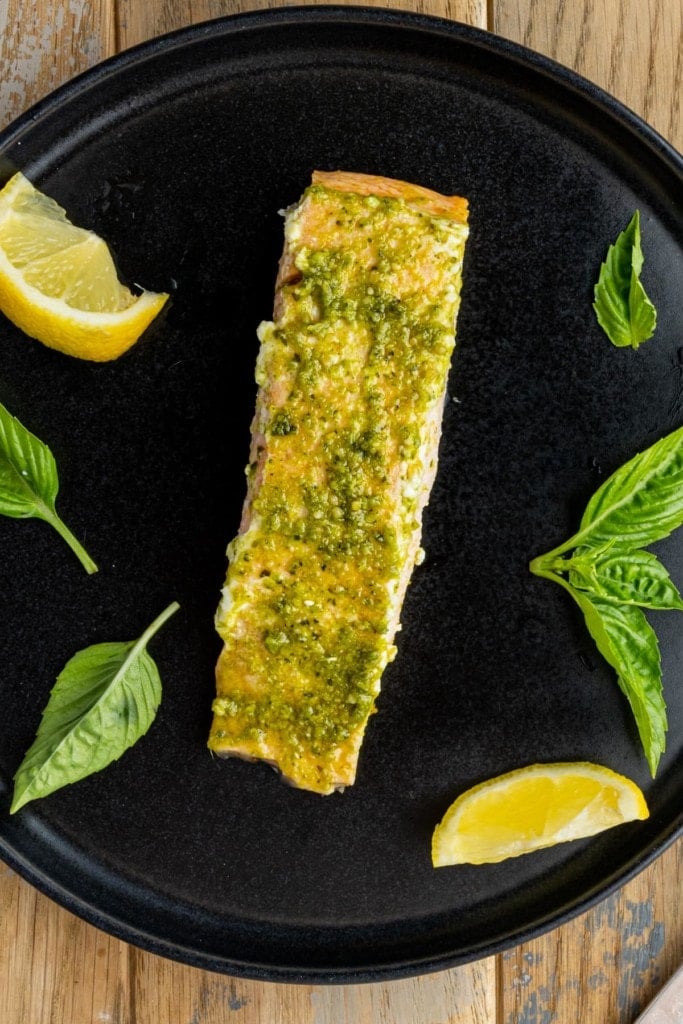 Pesto Butter Salmon Ingredients
---
Here's everything you need: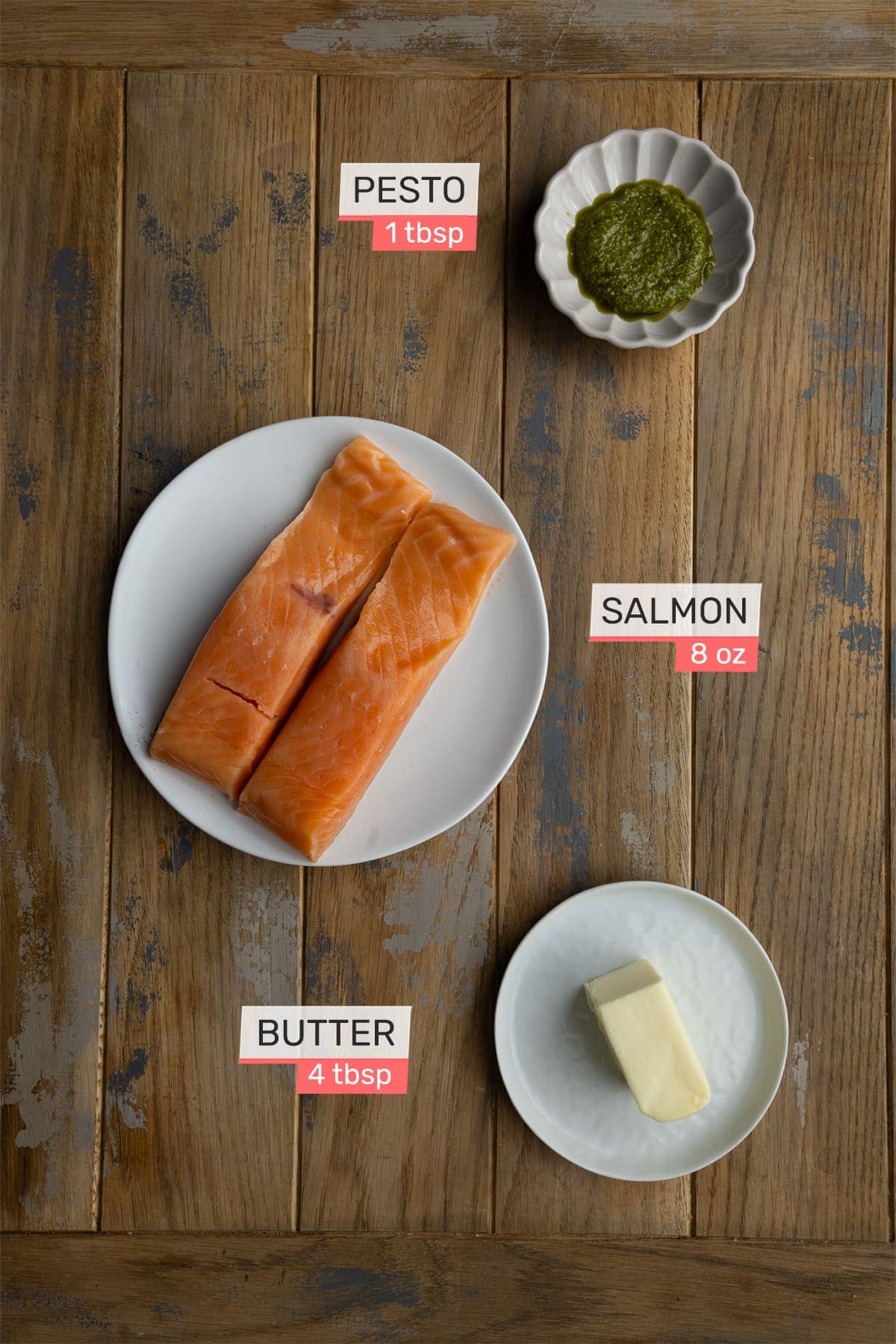 Sustainable Seafood
If not done correctly, salmon farming can pose a risk to our environment for several reasons. This includes, but is not limited to, the antibiotics used in salmon farms that can then leach into the surrounding environment and the depletion of other wild fish harvested to feed the salmon.
However, wild-caught salmon poses other risks, including overfishing and bycatch. Plus, there are often issues with availability and access to wild caught salmon.
So where does that leave us when it comes to sourcing salmon sustainably?
We have two great choices: sustainably farmed salmon, or wild-caught Alaskan salmon.
Green tip: Look for Marine Stewardship Council and Friend of the Sea labels on your fish to ensure they were harvested sustainably.
Pesto Butter Salmon Tips and Tricks
---
Prep Your Salmon
Before we get cooking, we have to prep our salmon. To get a crispy exterior on your salmon, it's best to pat it dry!
Green tip: Paper products contribute to deforestation. Consider these bamboo paper towels! Bamboo naturally regenerates every few months, whereas trees cannot regrow once harvested.
Place your fish filets in between two paper towels and press down to pat dry. Drying the fish will help avoid a mushy texture by removing excess moisture. This same technique is used to make this Almond Crusted Salmon as well.
This recipe is designed for fresh salmon, but you can also easily use frozen! Just thaw the fish overnight in the refrigerator or add it to a plastic or reusable storage bag and submerge the bag in cold water for about 45 minutes to defrost.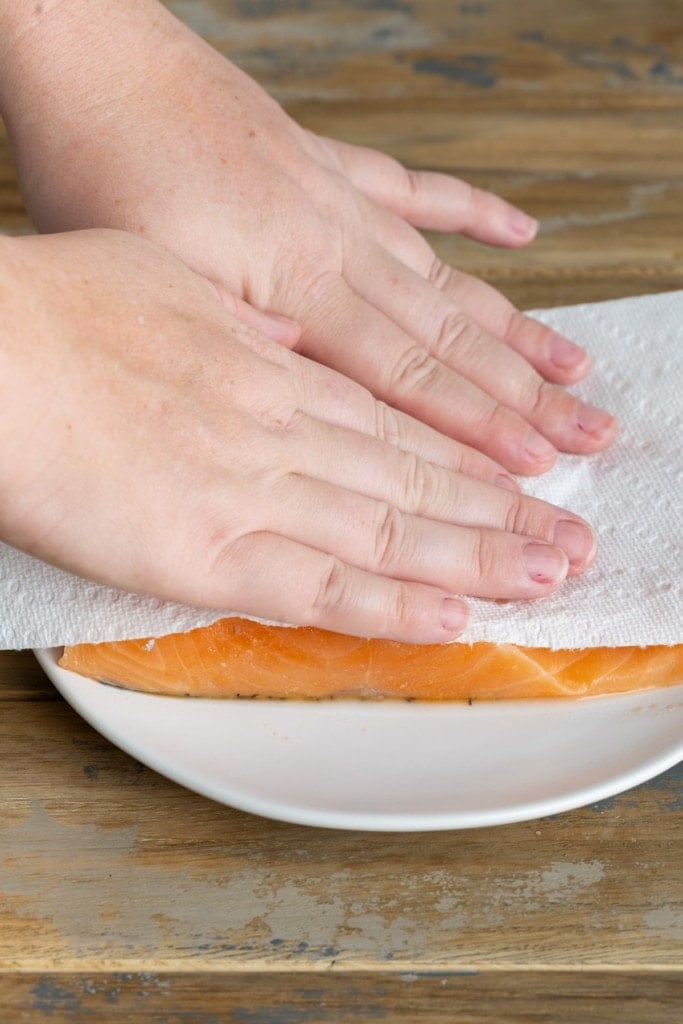 Mix Up Your Pesto Butter
It's as simple as mixing together your pesto and butter! For every 4 tablespoons of butter, you'll add 1 tablespoon of pesto. This 4:1 ratio will yield enough pesto butter for 2 portions of salmon (about 4-ounce portions).
The key to making your pesto butter is making sure your butter is softened. Not melted, and not too solid. The best way to know your butter is perfectly softened is to poke it. If your finger leaves an imprint, you're good to go!
Green tip: Look for organic and palm oil-free butter if you can. Buying organic means you are supporting farms that do not use damaging pesticides and fertilizers, and palm oil production is a huge driver behind deforestation.
The easiest way to quickly soften your butter for this recipe is to microwave your butter for 15-seconds on high. This will usually give the butter enough heat to soften it.
However, if after 15 seconds it's still solid, continue to microwave in 8-second intervals until it is softened.
Once your butter is softened, add it to a small mixing bowl with the pesto, and use a hand mixer or whisk to combine until you are left with smooth pesto butter.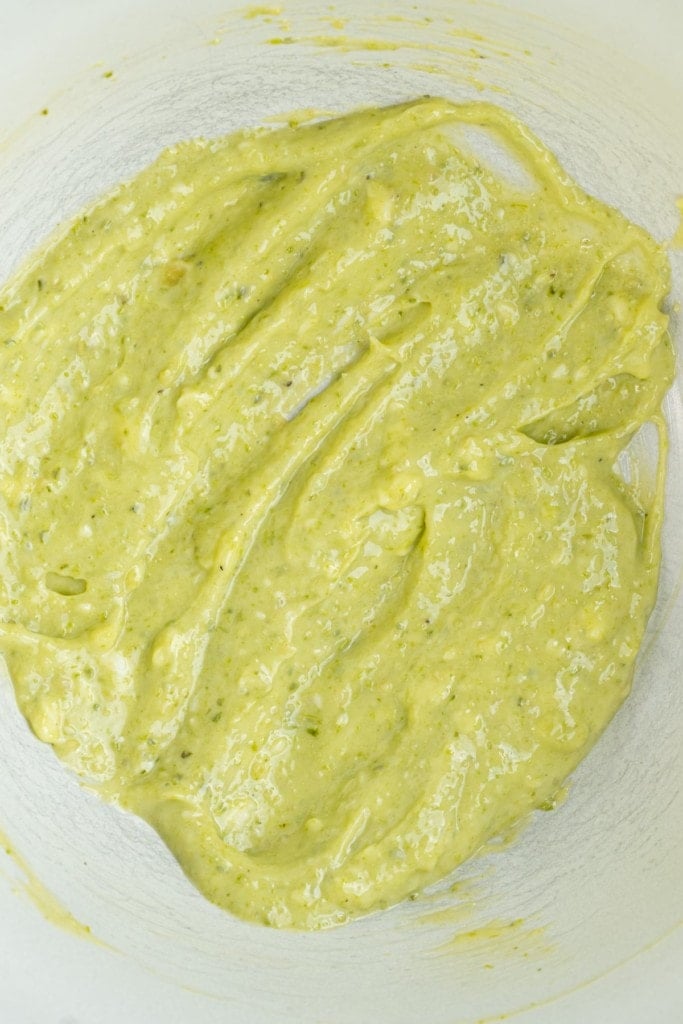 Coat Your Salmon
Use a spatula to spread a thick coat of pesto butter on top of the salmon in an even layer. Your butter will melt in the oven, but for now, we want it thick and soft so it's easy to spread onto the salmon.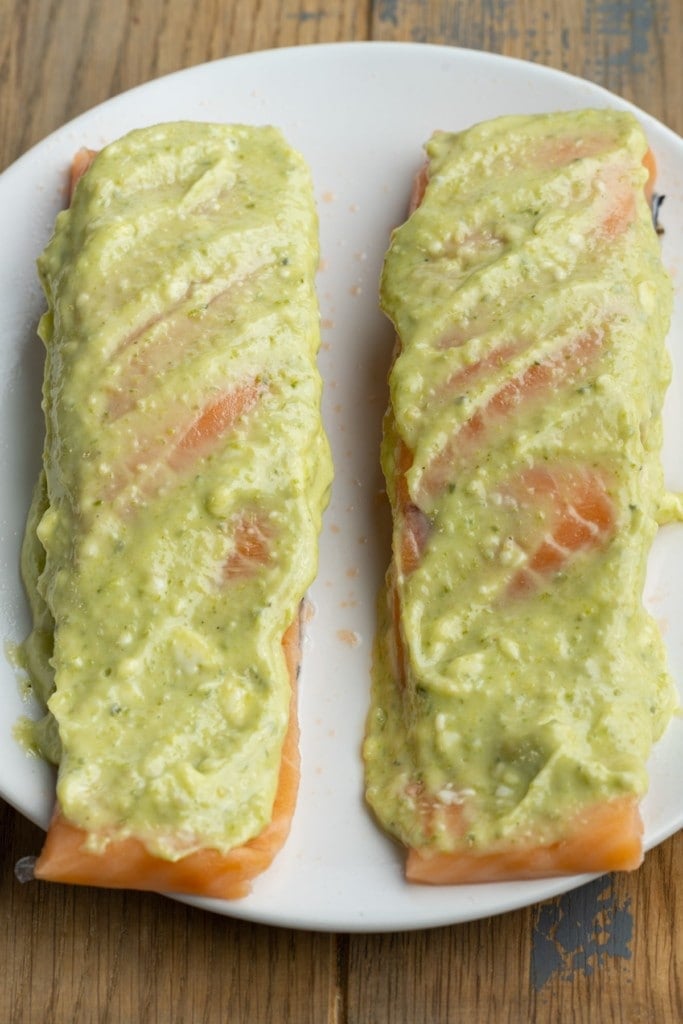 Place the Salmon Skin Side Up
Grab a small, 7 x 11-inch baking dish, and place your salmon inside, skin side up. The butter will ensure the salmon doesn't stick, so don't worry about lining your dish.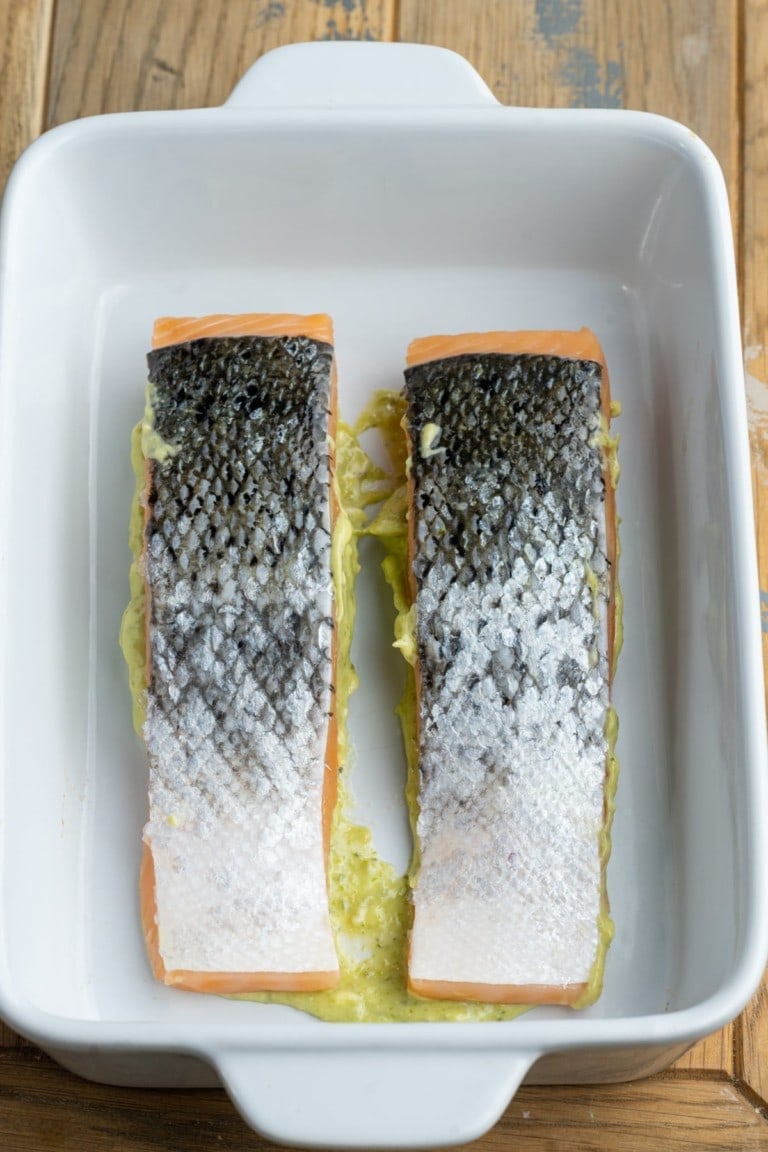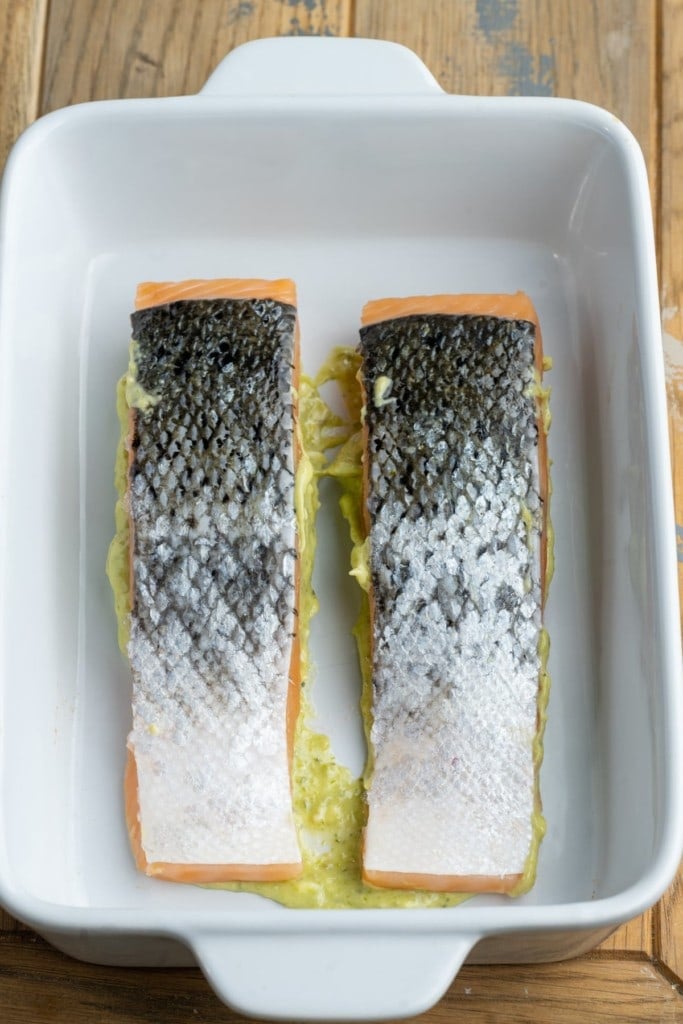 Bake and Flip
Bake the salmon, skin side up, at 475°F for just 5 minutes. Then, remove the salmon from the oven and use tongs or a fork to peel the skin off. It should come off very easily.
If you're having trouble peeling the skin off, stick it back in the oven for 2 more minutes, then try again!
Green tip: Don't waste your salmon skins! They are absolutely edible, and seriously delicious. To avoid extra waste, save your skins and try out this Crispy Salmon Skin Bowl recipe.
Once you've removed your salmon skin, flip the salmon and stick it back in the oven for an additional 3-5 minutes, until cooked through.
You'll know your salmon is ready when it becomes a pale pink color, or when the internal temperature reaches 125°F.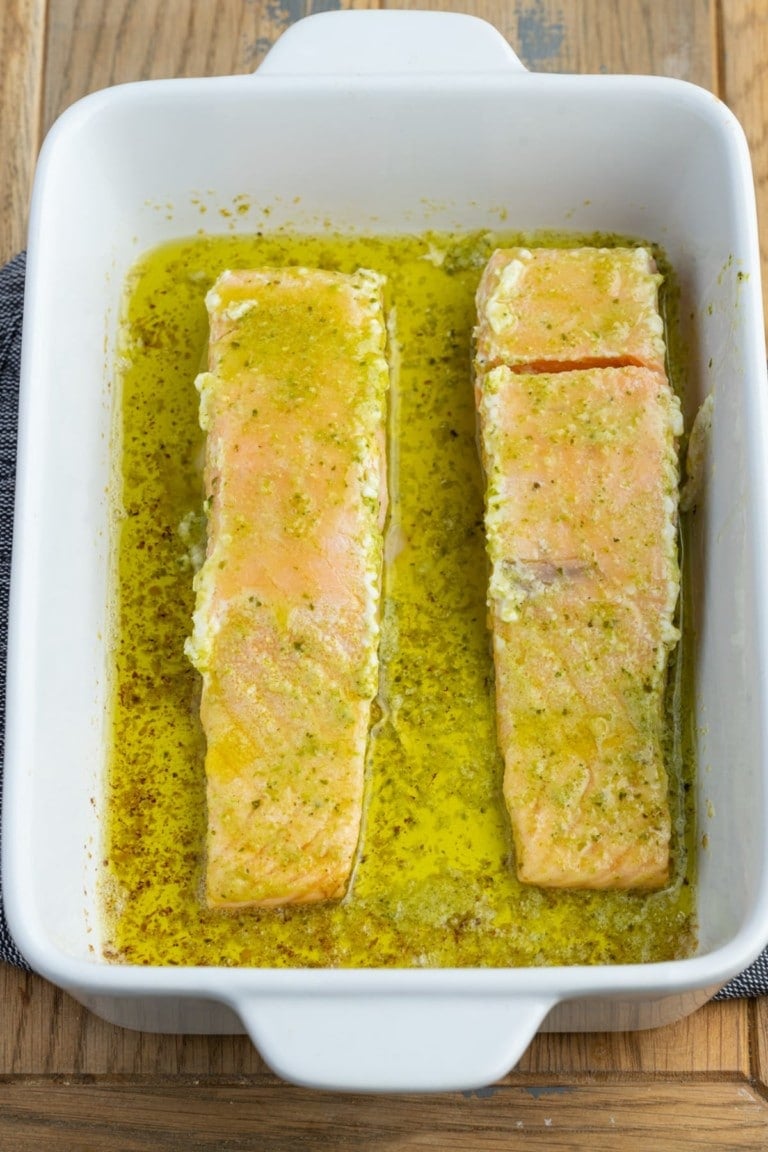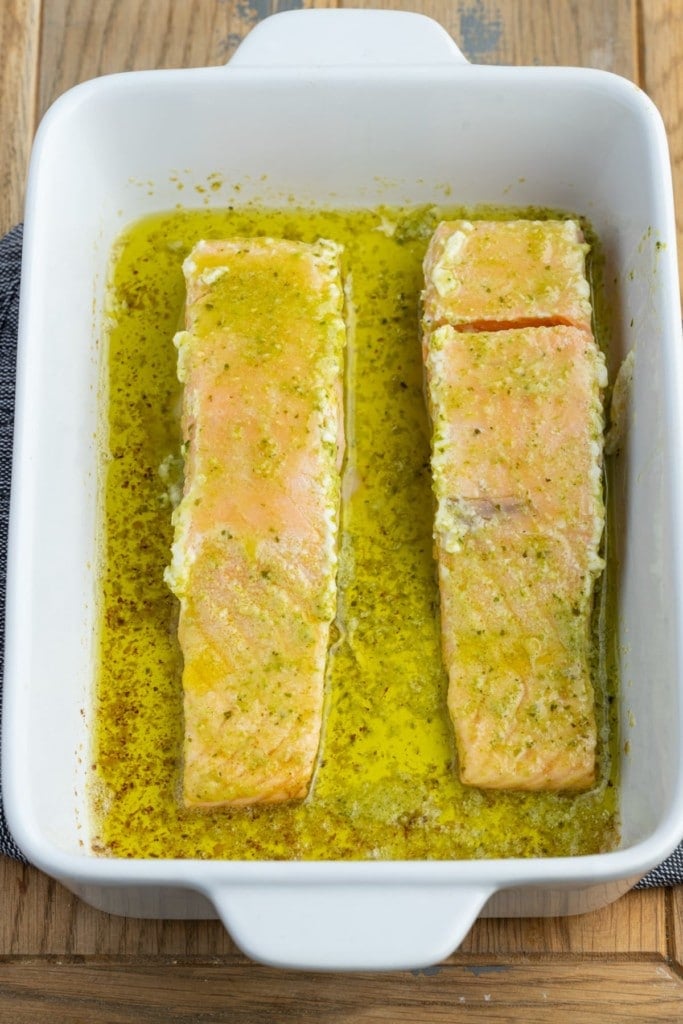 Serving Your Pesto Butter Salmon
This Pesto Butter Salmon is super flavorful and makes a great addition to any meal! I absolutely love to serve it over this One-Dish Baked Goat Cheese Pasta or Mushroom Pesto Pasta for a hearty and filling meal!
Additionally, this salmon dish also goes great over some Saffron Rice with a roasted vegetable like this Purple Asparagus or these Sweet and Salty Brussels Sprouts.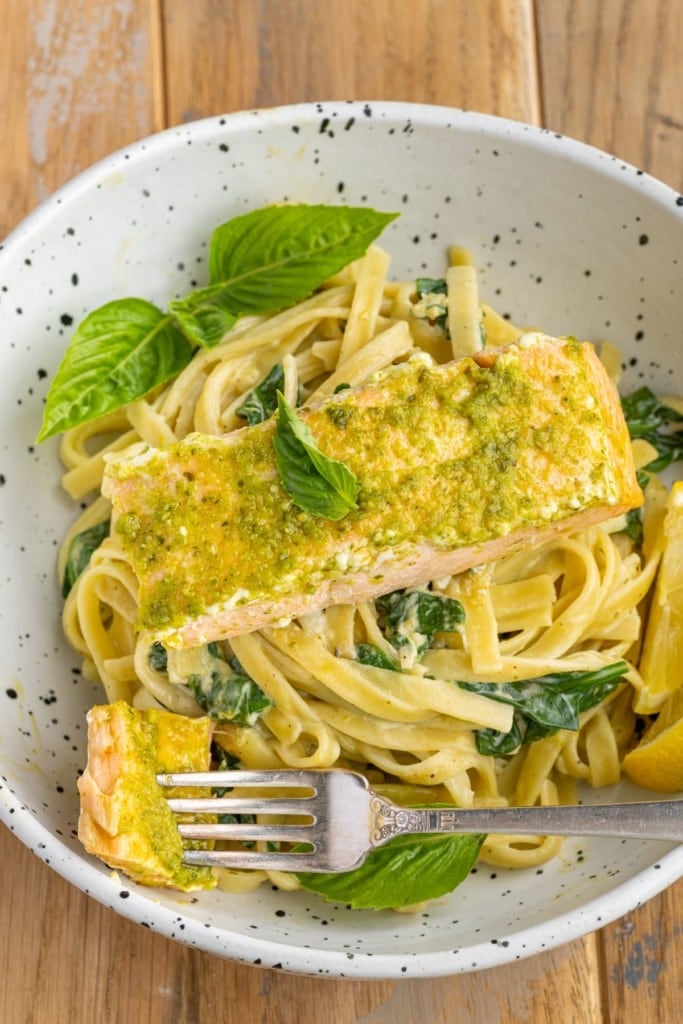 How to Store and Reheat Salmon with Pesto Butter
This Pesto Butter Salmon will last up to 4 days in a sealed, airtight container in the refrigerator. Otherwise, you can opt to freeze your pesto butter salmon for up to 6 months. Check out these detailed instructions for re-freezing cooked salmon.
To reheat your pesto butter salmon, preheat your oven to 400°F and add the salmon to a baking dish. Cover the dish with aluminum foil and bake for 15-20 minutes until internal temperature reaches 125°F.
From frozen, thaw in the refrigerator overnight and follow instructions above to reheat.
If you have leftover pesto butter, this will last for about a week in the refrigerator in an airtight container or can be frozen for up to 3 months.
Green tip: Did you know that of the billions of pounds of food wasted annually, it is estimated that 50% of it happens in our homes? It's always best to avoid food waste as much as you can!
Pesto Butter Salmon Frequently Asked Questions
---
What is pesto butter made of?
Pesto butter is simply a combination of unsalted butter and fresh pesto, in a 4:1 ratio. While pesto ingredients can vary, most all pesto's include basil, garlic, oil, and nuts, plus other ingredient variations.
Is salmon better with oil or butter?
Oil and butter can be used interchangeably as a source of fat and flavor for cooking salmon, depending on the flavor you are trying to achieve.
For a richer flavor, butter is often used. In this recipe, pesto butter is used to add rich, herbaceous, and garlicky flavor to the salmon.
Want to sharpen your kitchen skills?
Why You Should Make this 3-Ingredient Pesto Butter Salmon
---
It's quick! Roasted and ready in 15 minutes.
It's easy. Only 3 ingredients required. It doesn't get much simpler than that!
Its flaky and flavorful. The technique used to cook the salmon not only infuses tons of flavor, but also gives it a tender and flaky consistency.
If you're loving this 3-ingredient Pesto Butter Salmon and want more fish dinner ideas, check out this Blackened Mahi-Mahi and Beer Battered Halibut.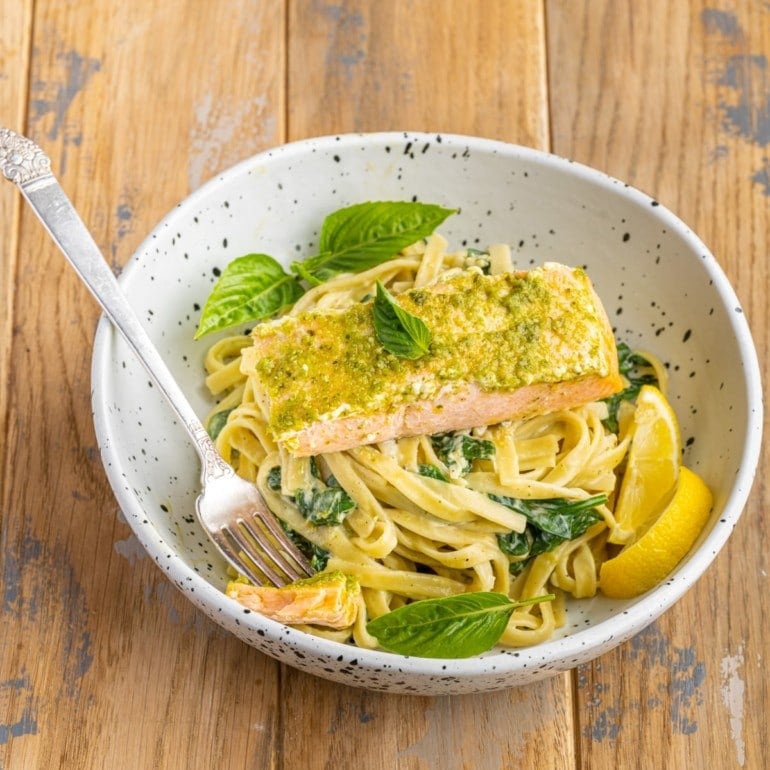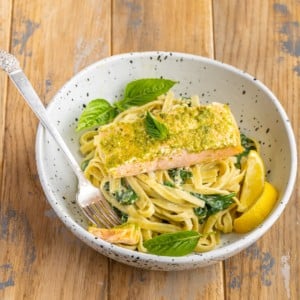 3-Ingredient Pesto Butter Salmon
PRINT
PIN
RATE
This Pesto Butter Salmon requires just 3 ingredients and 15 minutes to bring you a healthful dish that's bursting with color and flavor!
Ingredients
2

portions

salmon

(portions are usually about 3 to 5 ounces)

4

tablespoons

unsalted butter

(softened)

1

tablespoon

pesto
Instructions
Preheat your oven to 475°F.

Prep your salmon by cutting into individual portions (about 3-5 ounces each) if necessary and patting dry with paper towels (try these bamboo paper towels for a more sustainable option!).

To a small mixing bowl, add your softened butter and pesto and use a hand mixer or whisk to combine until smooth.

Use a spatula to spread a generous amount of pesto butter on each salmon filet.

To a small 7 x 11-inch baking dish, add the pesto butter salmon skin side up, leaving a little bit of space between each salmon filet.

Bake salmon skin side up for 5 minutes.

Then, remove the salmon from the oven and use kitchen tongs or a fork to peel off the salmon skin. If the skin doesn't easily peel away, stick it back in the oven at 475°F for 2 more minutes and then try again.

Once you have removed the salmon skin, flip your salmon and bake again for an additional 3-5 minutes, until internal temperature reaches 125°F.
Pro Tips
This recipe is designed for cooking individual portions of salmon, which usually come in 3–5-ounce portions. If you are cooking a larger cut, baking time will vary.
If you like salmon, you'll love this collection of my best salmon recipes!
For even more pesto, check out my best recipes using pesto.
Did you make this recipe?
Let me know by leaving a recipe rating below, or by tagging @marleysmenu on Instagram.