Looking for an easy recipe to elevate your buttery spread? This Pesto Butter comes together in just 5 minutes and with only two ingredients, giving you a velvety, flavorful spread in just minutes!
By mixing simple pesto with softened butter, you're left with a next-level condiment that brings flavor, moisture, and vibrance to any food.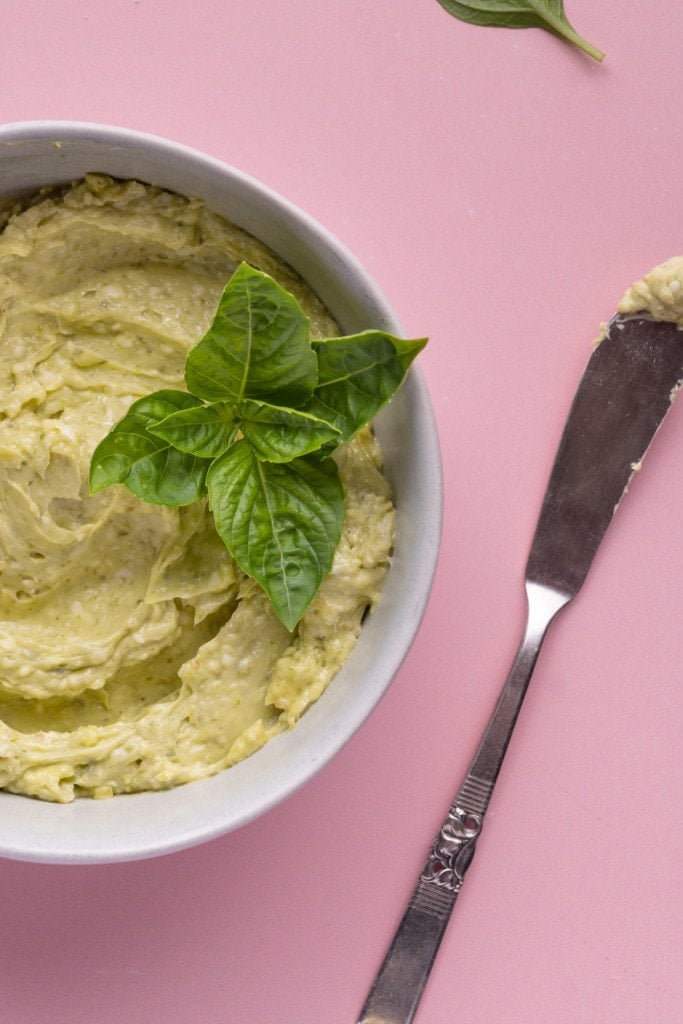 As an environmental scientist, I'm always trying to eliminate my use of plastic. Making your own sauces and spreads is a great way to do so! Plus, it guarantees freshness and allows you to avoid preservatives.
Green tip: Food preservatives, like pesticides, are harmful to the environment. They contain toxins that are harmful to plants, animals, and soil. Homemade food with all-natural ingredients that allows you to avoid preservatives lowers your ecological footprint.
Pesto Butter Ingredients
---
---
Just 2 ingredients! Here's what you need: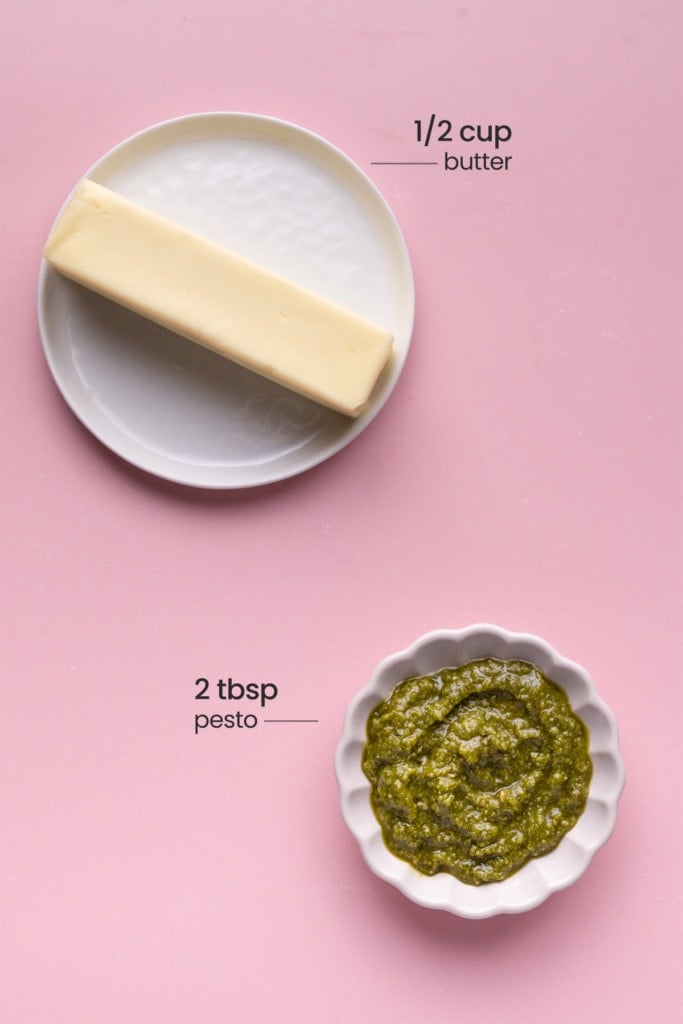 2-Ingredient Pesto Butter Tips and Tricks
---
---
Make Sure Your Butter Is Softened
This is the most important step! There are several options for softening your butter! For all 6 options, see this article on How To Soften Butter Quickly.
But for now, I'll share what I find to be the two easiest techniques.
The first and simplest way to soften your butter is to simply take it out of the refrigerator ahead of time.
Depending on the starting temperature of the butter and the air temperature in your kitchen, it will take anywhere from 30-45 minutes for your butter is softened.
Otherwise, if you don't want to wait (I did promise you a 5-minute recipe after all), add your whole stick of butter to a microwave-safe dish and microwave on high for 10 seconds. If need be, continue to heat in 5-second increments until it's nice and soft.
The best way to check if your butter is softened is actually by poking it! If it's ready, your finger will leave an indent in the butter as pictured below.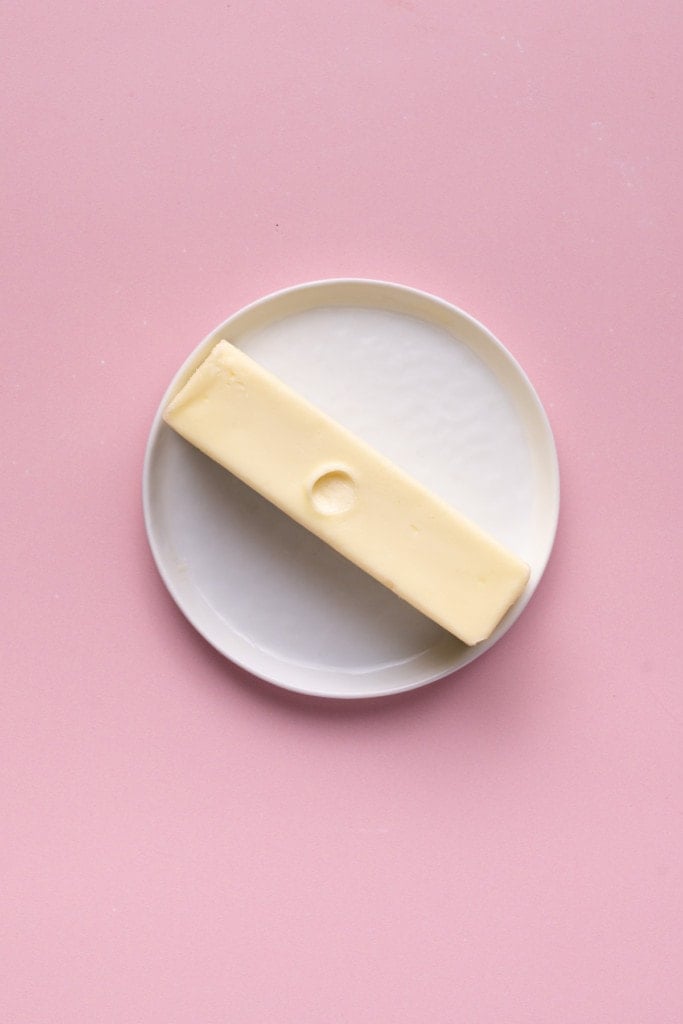 Use a Hand Mixer
A high-powered hand mixer is the best tool to get this Pesto Butter perfect! Add the softened butter and your pesto to a small mixing bowl.
Use your hand mixer on high to whip until smooth. The hand mixer should easily combine the pesto and butter. It also aerates it to make a really light and airy texture on your butter.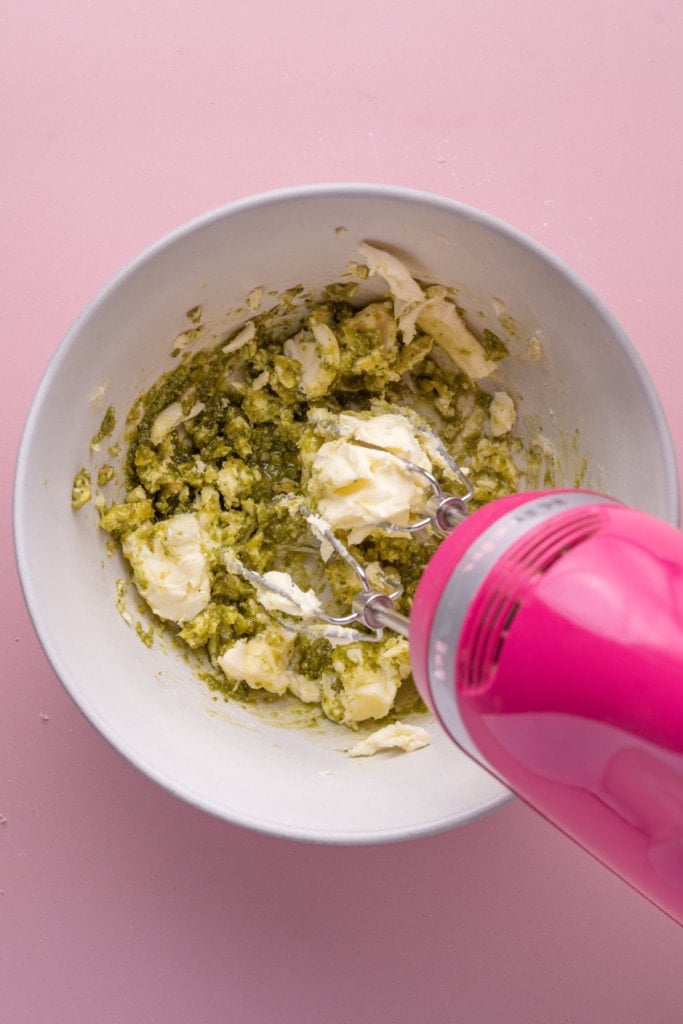 Storing Your Pesto Butter
This 5-Minute Pesto Butter will last for up to 2 months in the refrigerator if stored properly. There are two great options for storing. You can either keep it in a sealed, airtight container to use as a spread.
If you'd rather have the butter in a stick form, roll it up tightly in parchment paper so you can cut into pats of butter.
You can also freeze it in an airtight, freezer-safe container for up to 6 months. After freezing, allow it to thaw in the refrigerator overnight and use it up within 3 weeks.
Green tip: Of the billions of tons of food wasted annually, it is estimated that 50% of food waste happens at home. It's always best to properly store your leftovers and consume them to help minimize your personal contribution to waste.
Serving Your Pesto Butter
Arguably my favorite thing about this recipe (aside from how quick and easy it is) is its versatility. I enjoy Pesto Butter on all kinds of things!
Here's some ideas for making the most of your Pesto Butter:
Use it for this Pesto Butter Garlic Bread or any other toast or crostini
In this Pesto Butter Salmon or on any other fish
Toss it with hot pasta
Marinate with or slather it on roasted or grilled vegetables (my favorite is corn on the cob!)
Melt it over popcorn
Fry or scramble your eggs in it
Add it to baked or mashed potatoes
Use it for grilled cheese or to elevate other sandwiches
And honestly, the list goes on! Use it in place of regular butter for any savory recipe to ramp up the flavor!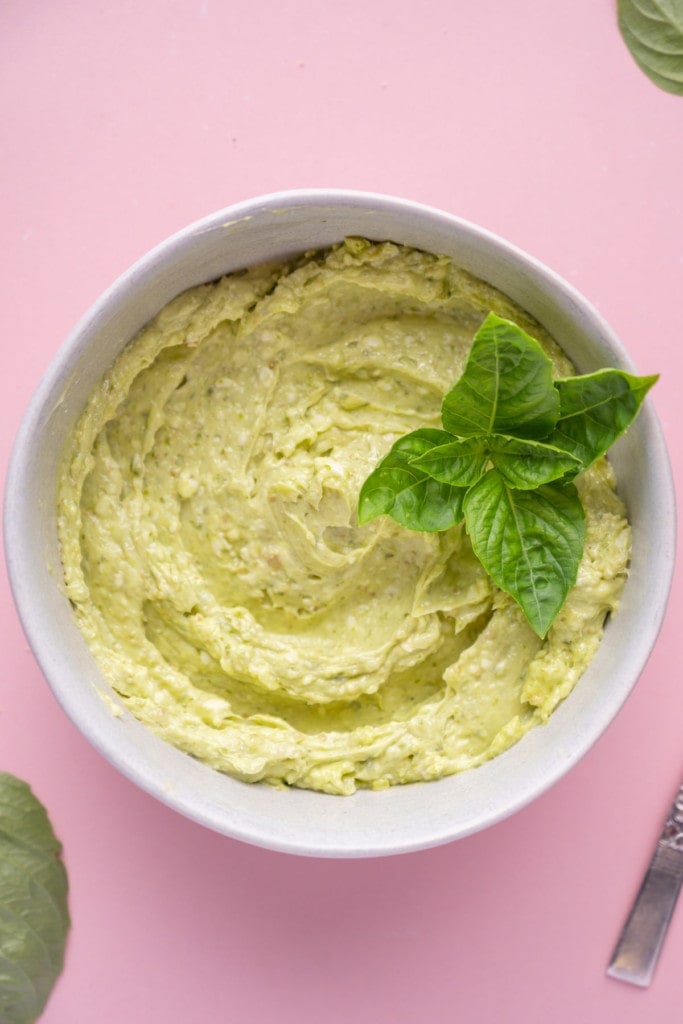 Frequently Asked Questions
---
---
What is Pesto Butter made of?
Pesto Butter is simply a mixture of pesto and butter mixed together. It can be made with any type of pesto, but should always be made with unsalted, softened butter.
How long does herb-infused butter last?
Any herb-infused butter, including pesto butter, will last up to 2 months when stored in an airtight container in the refrigerator. It can also be frozen for up to 6 months.
Want to sharpen your kitchen skills?
Why You Should Make this Pesto Butter
---
---
It's super flavorful. Just when you though butter couldn't get any better, this garlicky, herbaceous Pesto Butter comes along!
It's crazy easy. Literally two ingredients whipped together.
It's lightning fast! Ready in 5 minutes or less.
If you're loving this Pesto and want more flavorful spreads, check out this Sweet Potato Hummus and Serrano Pepper Chimichurri.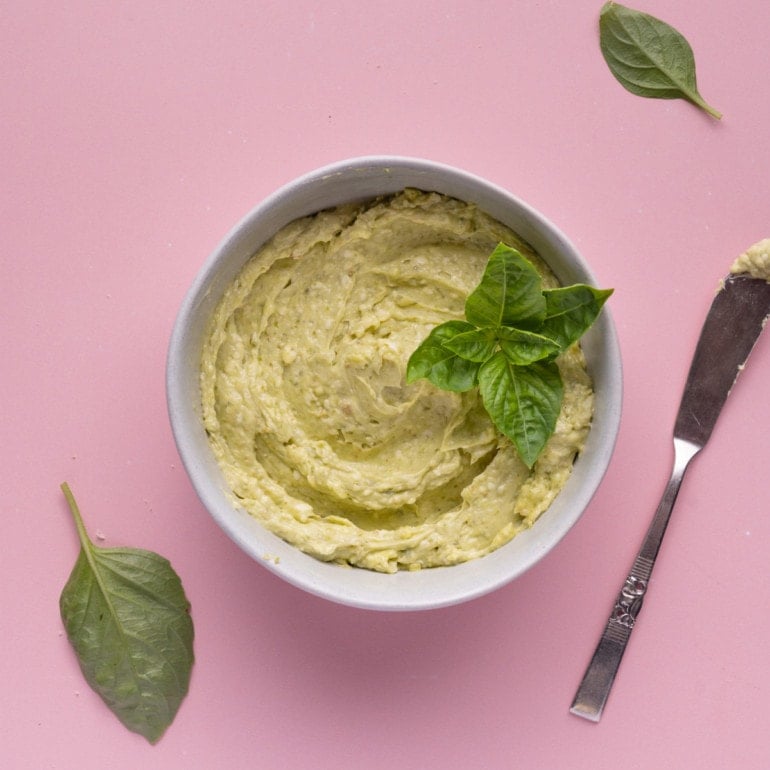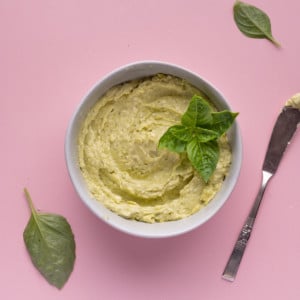 5-Minute Pesto Butter
PRINT
PIN
RATE
This versatile, easy, and over-the-top tasty 5-Minute Pesto Butter requires just two ingredients and brings a punch of flavor to any meal!
Ingredients
½

cup

unsalted butter

(½ cup = 1 stick)

2

tablespoons

pesto
Instructions
Make sure your butter is softened by poking it with a clean finger. If it's ready, your finger will leave an imprint. If it's too cold, check this out to learn how to soften butter quickly.

To a large mixing bowl, add the softened butter and pesto. Use a hand mixer on high to whip together until smooth.

Use right away (like in this Pesto Butter Salmon) or store in the refrigerator until ready to use!
Did you make this recipe?
Let me know by leaving a recipe rating below, or by tagging @marleysmenu on Instagram.