Looking for a tropical sweet treat? This Pineapple Pie with Graham Cracker Crust is like sipping a Piña colada but in pie form.
The combination of fresh pineapple and cream of coconut is the perfect filling for this buttery graham cracker crust and is the perfect pie recipe to curb your sunny vacation wanderlust.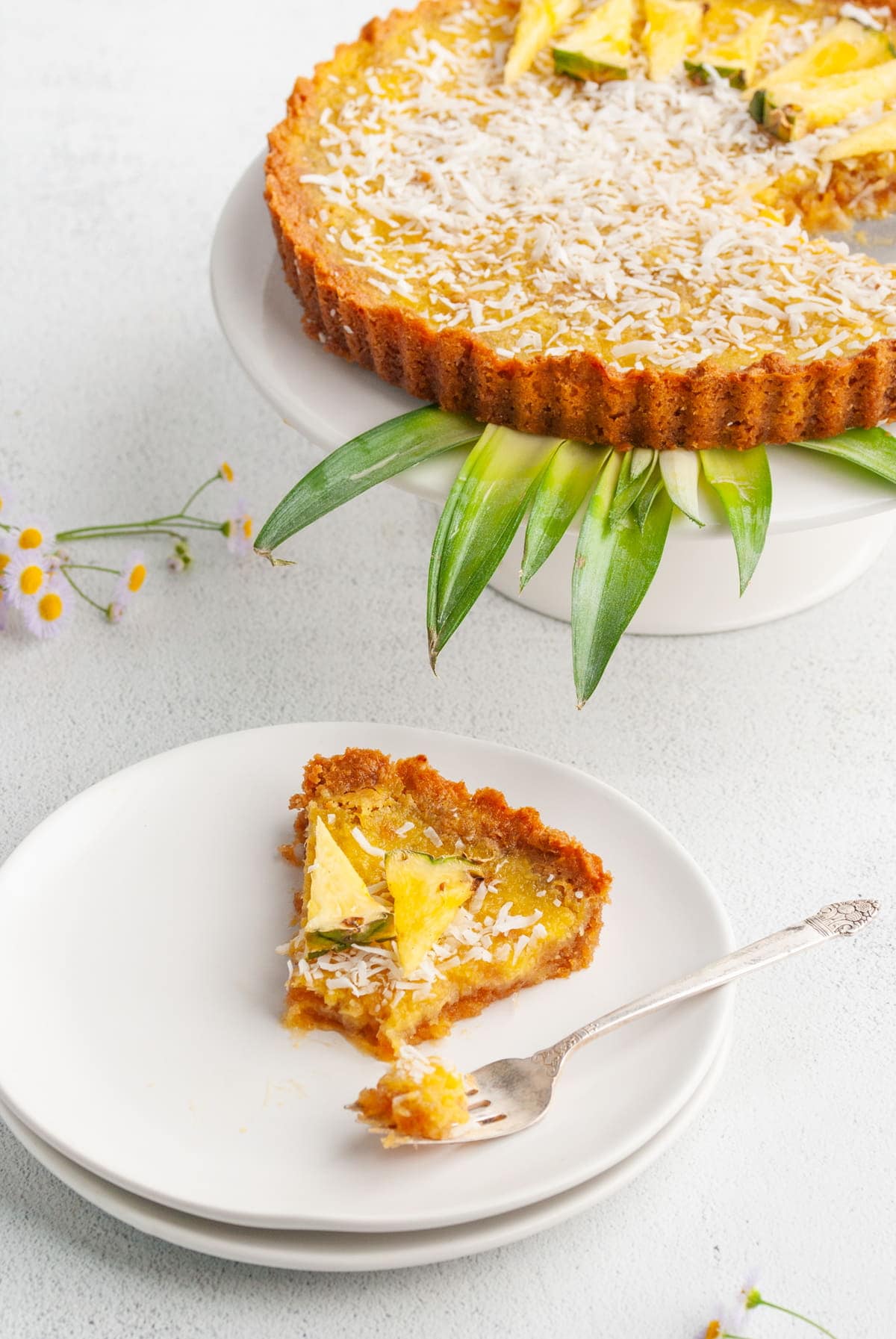 Pineapple Pie Ingredients
---
---
Here's everything you'll need:
Graham cracker crumbs. For the base of the crust. 9 crushed graham crackers should give you just the right amount.
Brown sugar. To add extra sweetness and flavor to your crust.
Salt. To amp up the other flavors.
Coconut oil. For subtle coconut flavor and to bind the crust together.
Fresh pineapple. The star of this pie!
Cream of coconut. Not to be confused with coconut cream!
Lemon. Just 2 tablespoons of juice, which you should easily get from just 1 lemon.
Eggs. For that airy texture.
Coconut flakes (optional). For decoration and a little extra texture.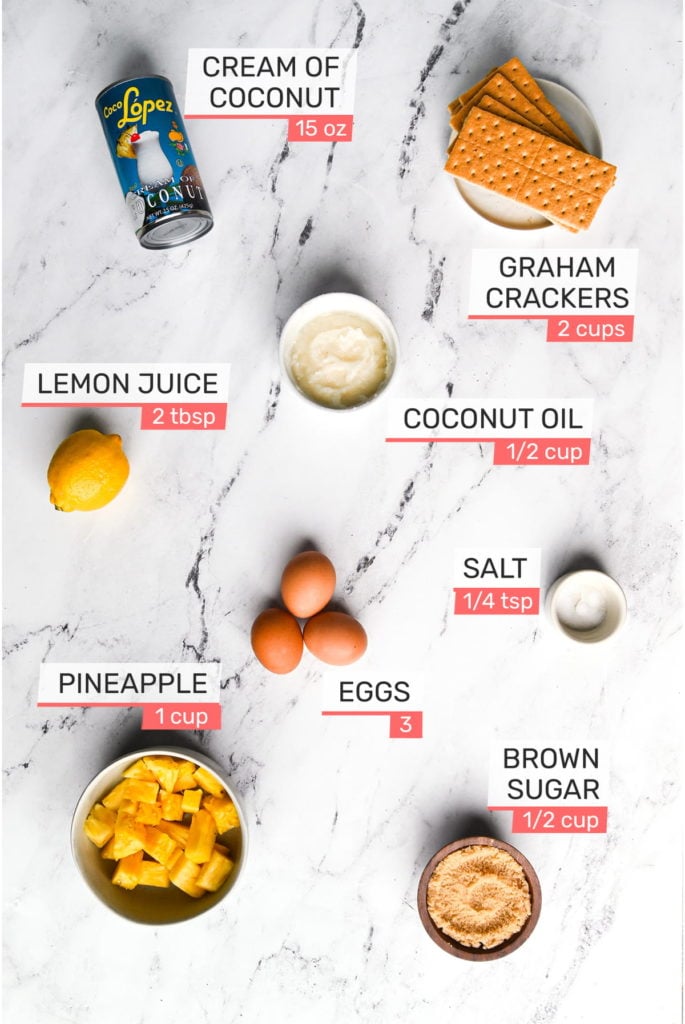 Pineapple Pie Tips and Tricks
You'll Need a Blender or Food Processor
I find the best way to integrate all the ingredients for both the crust and the filling is to use a blender or food processor.
I have a Ninja blender which is pictured here, and that works great for this recipe! I also love my Cuisinart food processor, which would be another great tool for making this pineapple pie.
For the crust, it's best to blend your graham crackers first until they become fine dust. Then, you can simply add all the rest of the crust ingredients and blend again until well combined.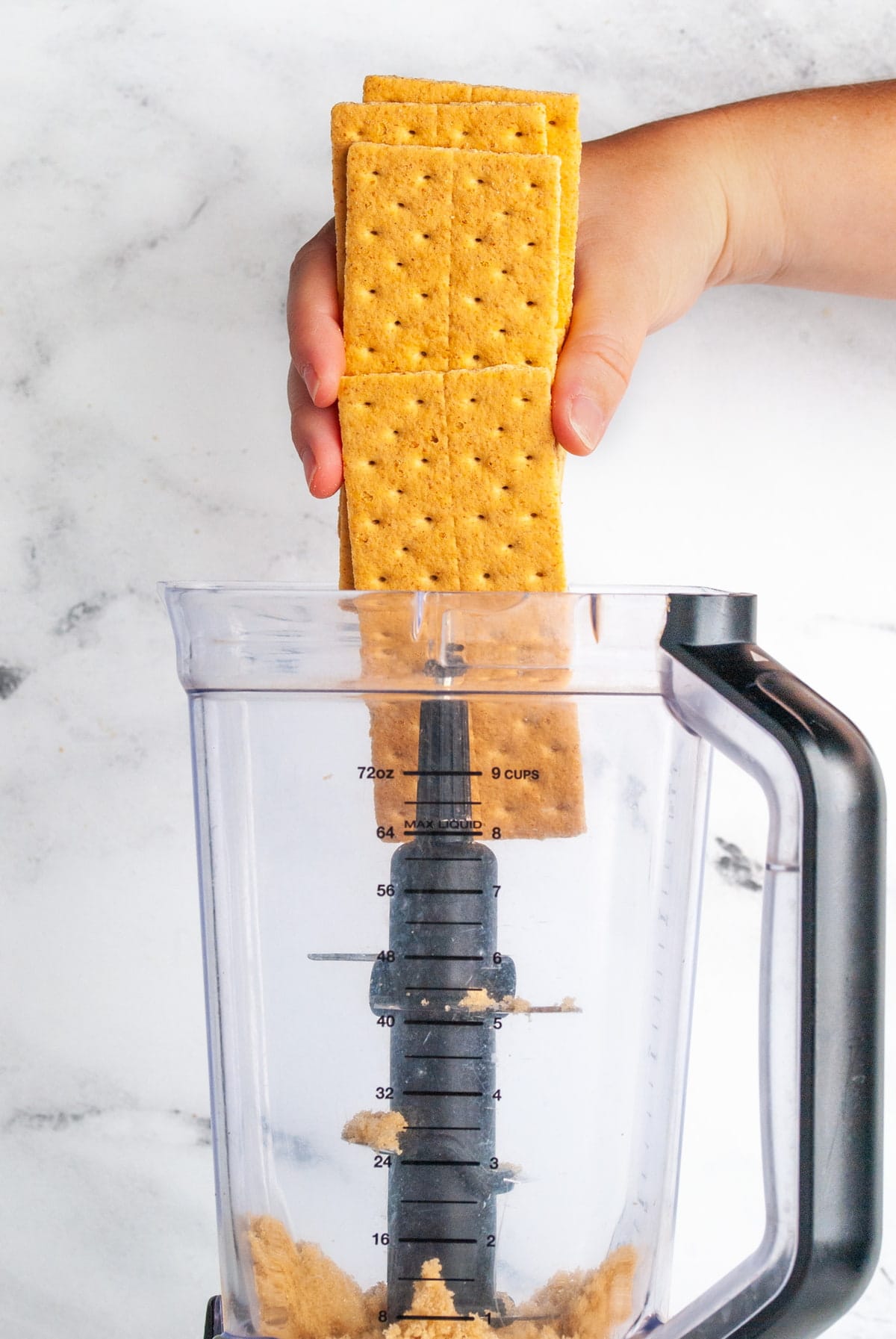 Use Your Hands
Once you've blended your graham cracker crust ingredients together, just pour them directly into your pie dish, and use your hands to press the crust mixture into the dish.
Use your pointer finger and your thumb to pinch the crust mixture up the sides of the dish and blind bake it for 10 minutes.
Quick note: Blind baking is just baking the crust without the filling to ensure that it's nice and crunchy.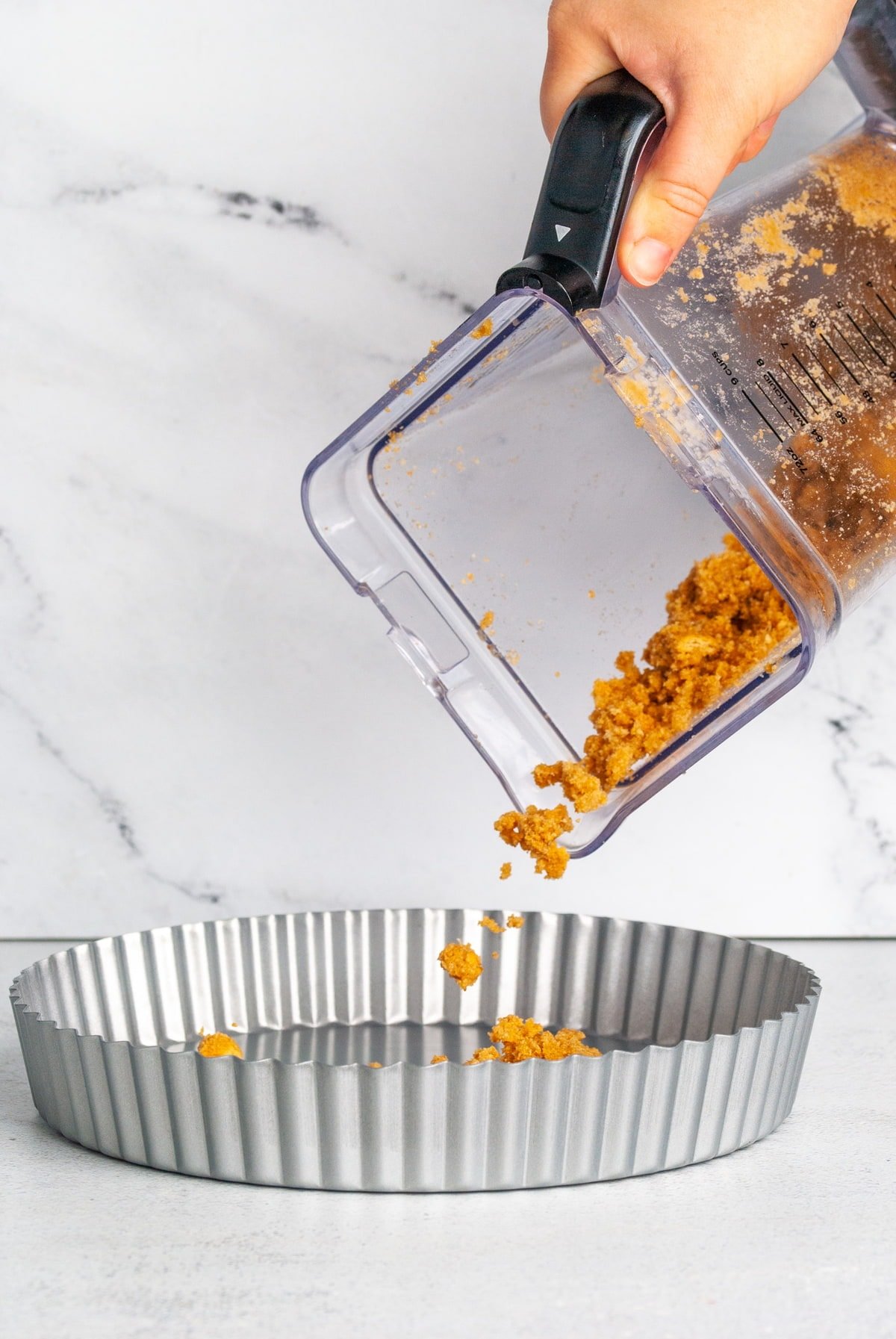 Give Your Blender a Rinse
After you use your blender to mix your crust ingredients, make sure you give your blender a quick rinse.
You want your pineapple pie filling to be nice and smooth, and devoid of any graham cracker bits. No need to use soap, just give it a quick rinse to clear out those crumbs.
Green tip: Eating seasonally is one of the best ways to support local and improve your carbon footprint. Local foods have less associated transportation costs and fuel emissions. Check when pineapples are in season in your area with this Seasonal Food Guide.
Cream of Coconut
Bear in mind that cream of coconut and coconut cream are not the same.
Cream of coconut is more syrupy and pre-sweetened whereas coconut cream is richer and thicker. The pineapple pie filling will not be set if you use coconut cream.
They also differ in color. Cream of coconut is usually an off-white or tan color, whereas coconut cream is cloudy white.
You can usually find cream of coconut in your grocery store, or you can order this cream of coconut. Unlike coconut cream, cream of coconut is usually a tan color.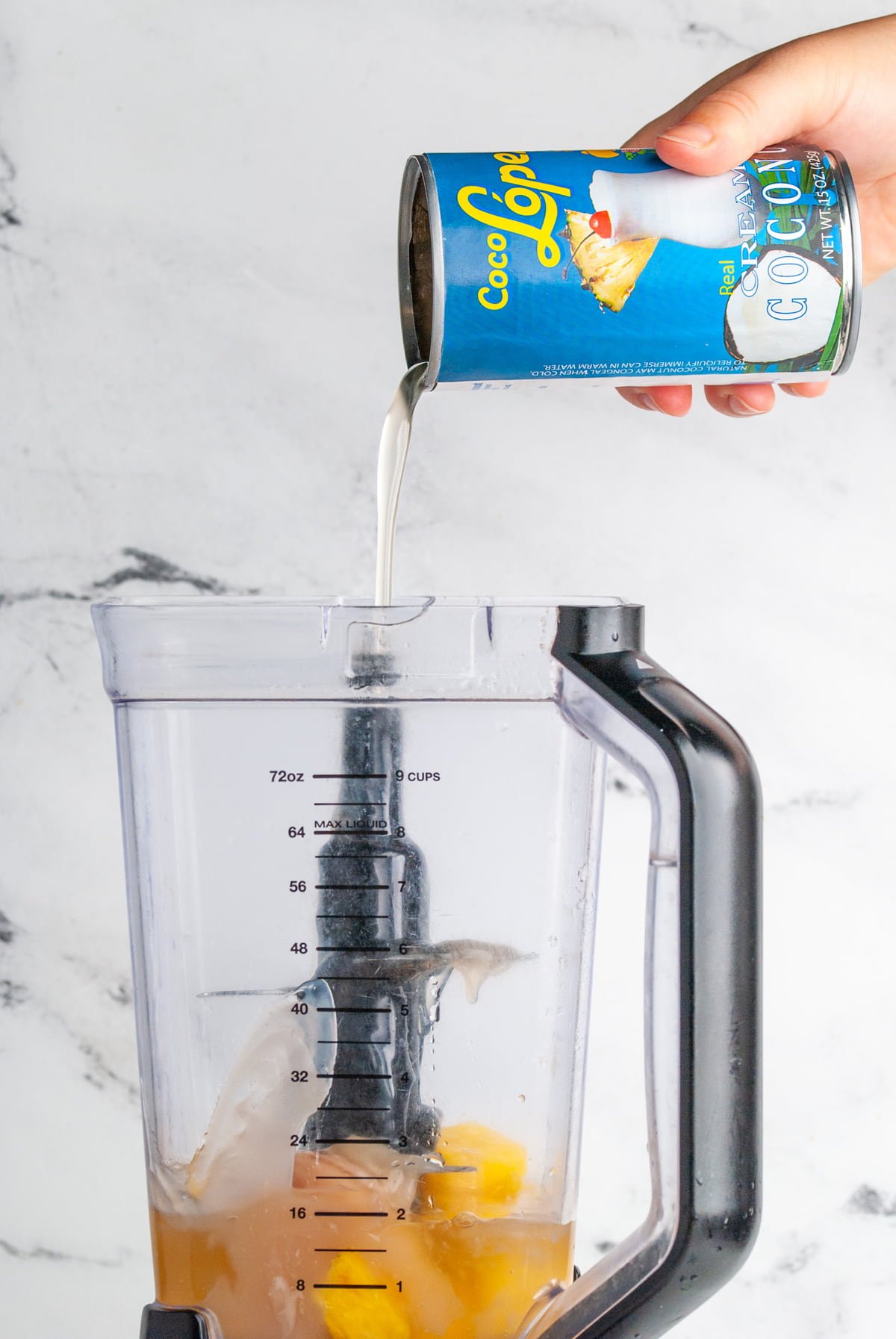 Blend the Pineapple Until Smooth
Making your filling is just as simple as making your crust! You'll use your blender again to combine the ingredients and puree the pineapple.
Add all of your pie-filling ingredients to the blender except for the egg. Blend on high until the mixture is smooth.
Then, you can add your egg and use the pulse button on your blender to integrate the egg without overbeating. You should only need to press the pulse button 3-5 times.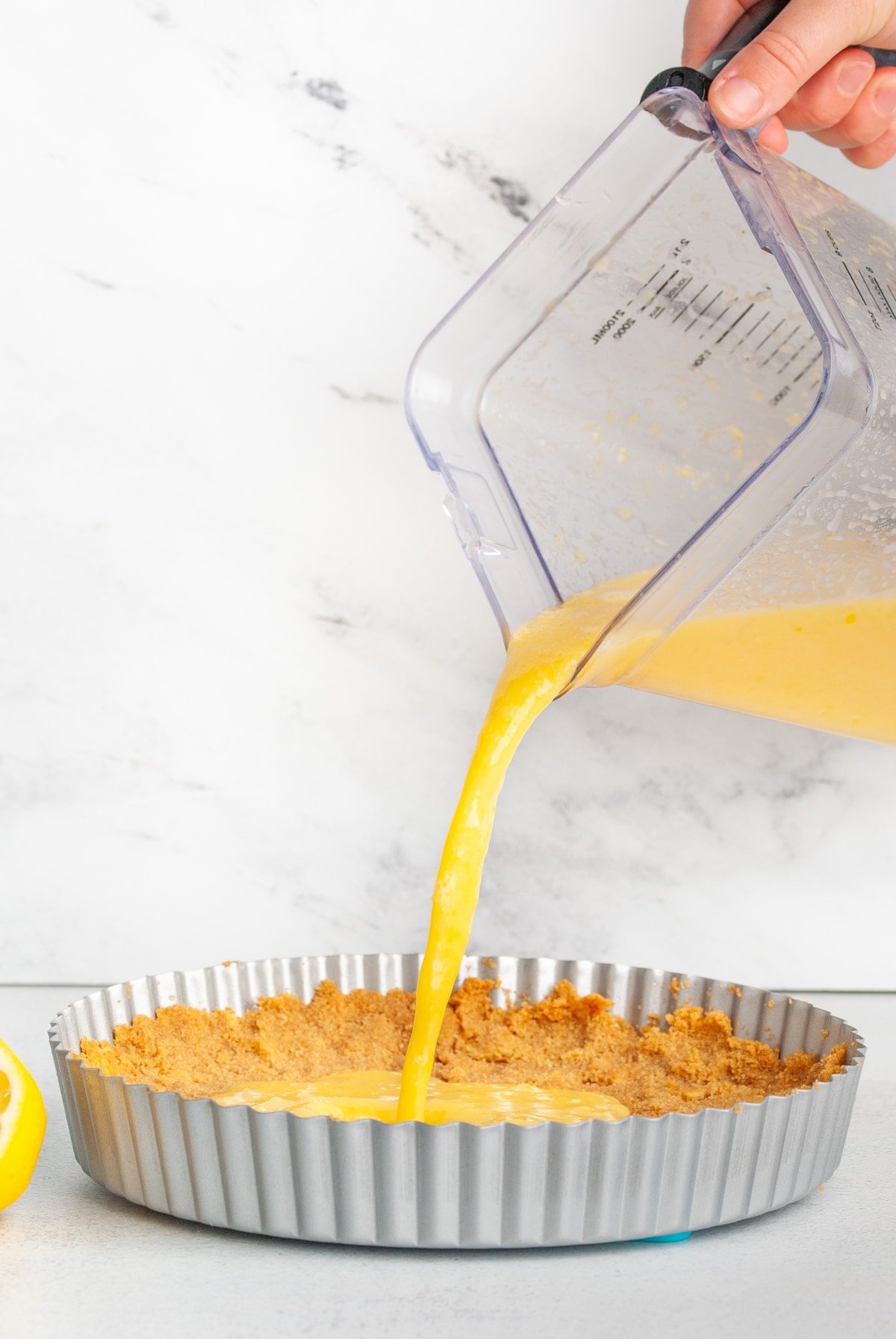 Storing Your Pie
This pie stays fresh and delicious for 3-5 days covered in the refrigerator.
This Pineapple Pie with Graham Cracker Crust can also be frozen for up to a month. Just make sure it is sealed in an airtight container and allow it to thaw before diving in!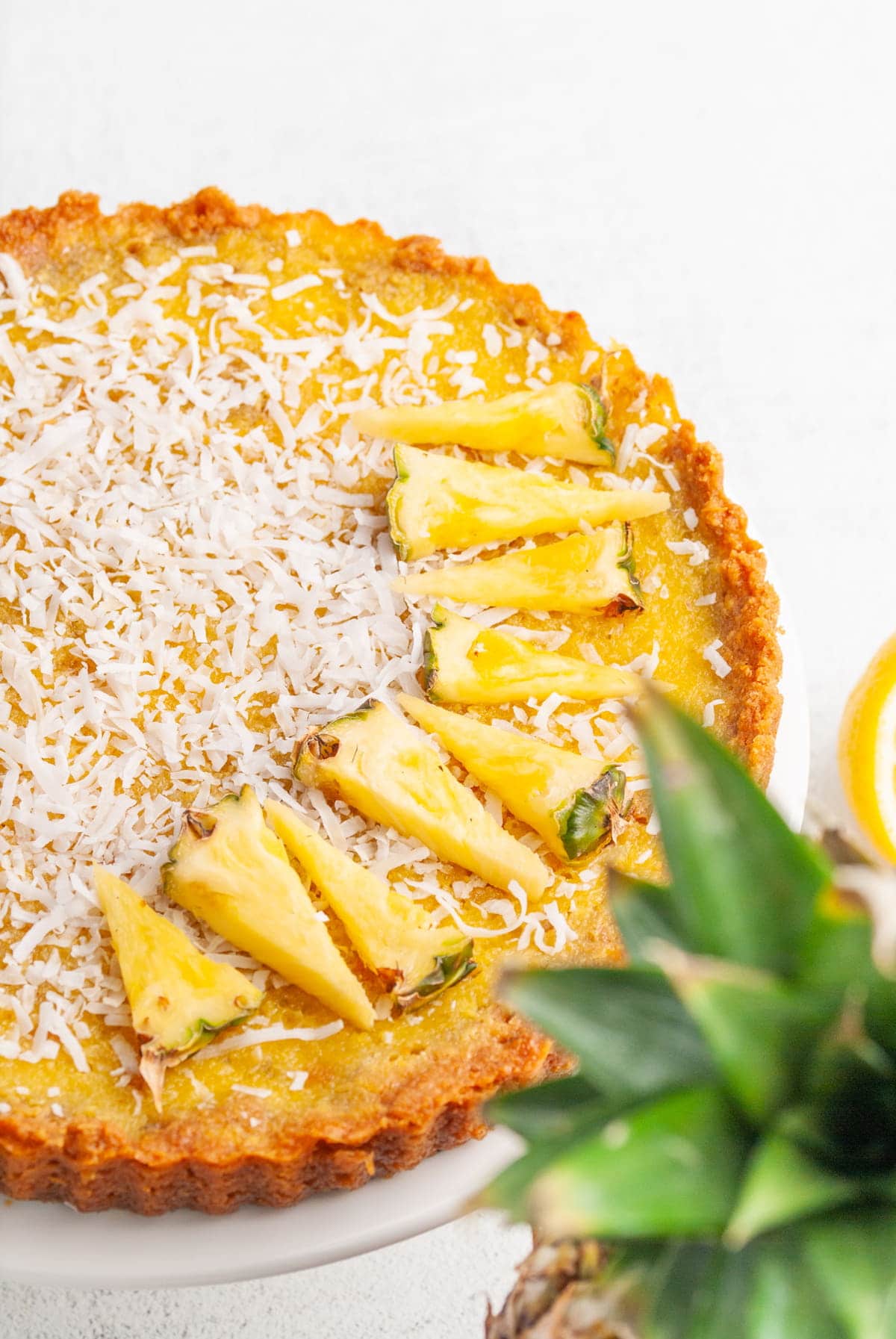 Pineapple Pie Frequently Asked Questions
---
---
What are the tools used in making pineapple pie?
For this pineapple pie, you will need a blender and a pie dish. You will also likely need a can opener for your cream of coconut and a cutting board and a sharp knife for your pineapple unless you purchase it already chopped.
Want to sharpen your kitchen skills?
---
Why You Should Make this Pineapple Pie
It's tropical. The pineapple and coconut flavor combo will make you kick back and relax.
It's unique. This pie is kinda like a non-alcoholic Piña colada but in pie form!
It's easy! All in the blender means no whisking or whipping necessary.
If you love this Pineapple Pie recipe and want more pie inspo, check out this Peach Mango Pie and this Drunken Apple Pie.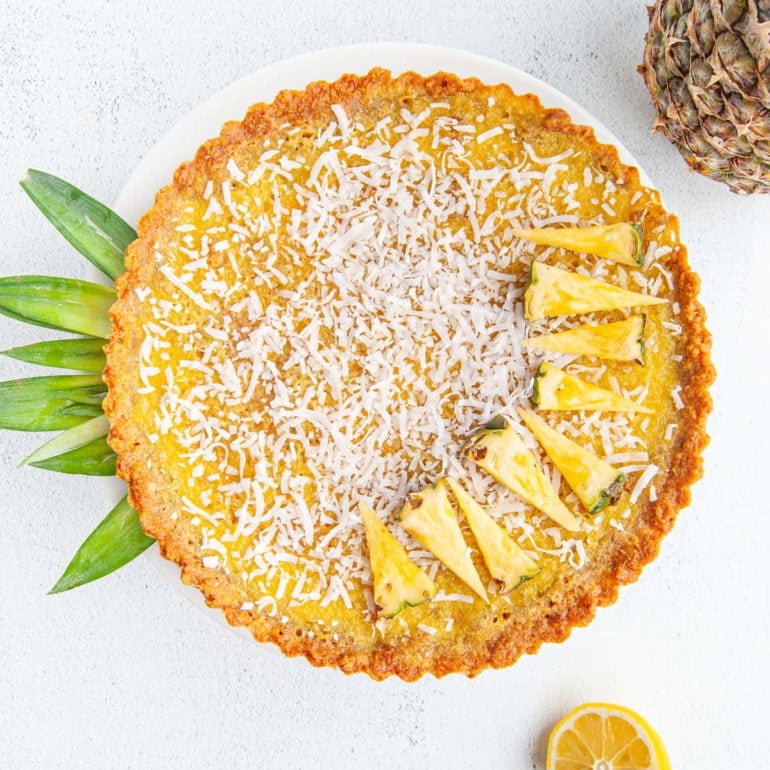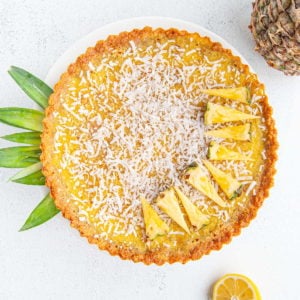 Pineapple Pie with Graham Cracker Crust
PRINT
PIN
RATE
This Pineapple Pie with Graham Cracker Crust is so fresh and flavorful, it tastes like a vacation–like a Piña colada with a graham cracker crust!
Ingredients
Graham Cracker Crust
2

cups

graham cracker crumbs

(2 cups usually = 9 graham crackers)

½

cup

brown sugar, tightly packed

¼

teaspoon

salt

½

cup

coconut oil
Pineapple Pie Filling
15

ounces

cream of coconut

(15 oz usually = 1 can)

1

cup

fresh pineapple, chopped

2

tablespoons

lemon juice

(2 tbsp usually = juice of 1/2 lemon)

3

large

eggs

1

tablespoon

coconut flakes for decoration

(optional)
Instructions
Graham Cracker Crust
Preheat the oven to 350°F.

Add graham crackers, brown sugar, salt, and coconut oil to a blender and blend on high until your mixture turns into fine dust.

Transfer to a 9-inch pie dish, and use clean hands to press down on the mixture, working up the inner sides of the pie dish.

Bake crust for 10 minutes, remove from the oven and set on a cooling rack while you make your pineapple pie filling.
Pineapple Pie Filling
Bring your oven down to 300 degrees Fahrenheit and quickly rinse out your blender.

Add cream of coconut, fresh pineapple, and lemon juice to your blender and blend on high until pineapple is pureed and the mixture is smooth.

Add the eggs to your blender and pulse a couple of times until the eggs are integrated.

Pour your pineapple pie filling into your prepared crust and bake for 50 minutes. After 50 minutes, turn your oven off, but leave the pie inside until it no longer wobbles when you move the oven rack with your oven mitt–about 30 minutes.

Allow to cool and enjoy cold or at room temperature.
Pro Tips
You can buy pre-crushed graham crackers, or even buy a pre-made graham cracker crust for a shortcut.
Love a good pie? You gotta check out this list of my best pie recipes!
Did you make this recipe?
Let me know by leaving a recipe rating below, or by tagging @marleysmenu on Instagram.