Looking for a tropical sweet treat? This Pineapple Pie with graham cracker crust is like sipping a Piña colada, but in pie form.
The combination of fresh pineapple and cream of coconut is the perfect filling for this buttery graham cracker crust and is the perfect pie recipe to curb your sunny vacation wanderlust.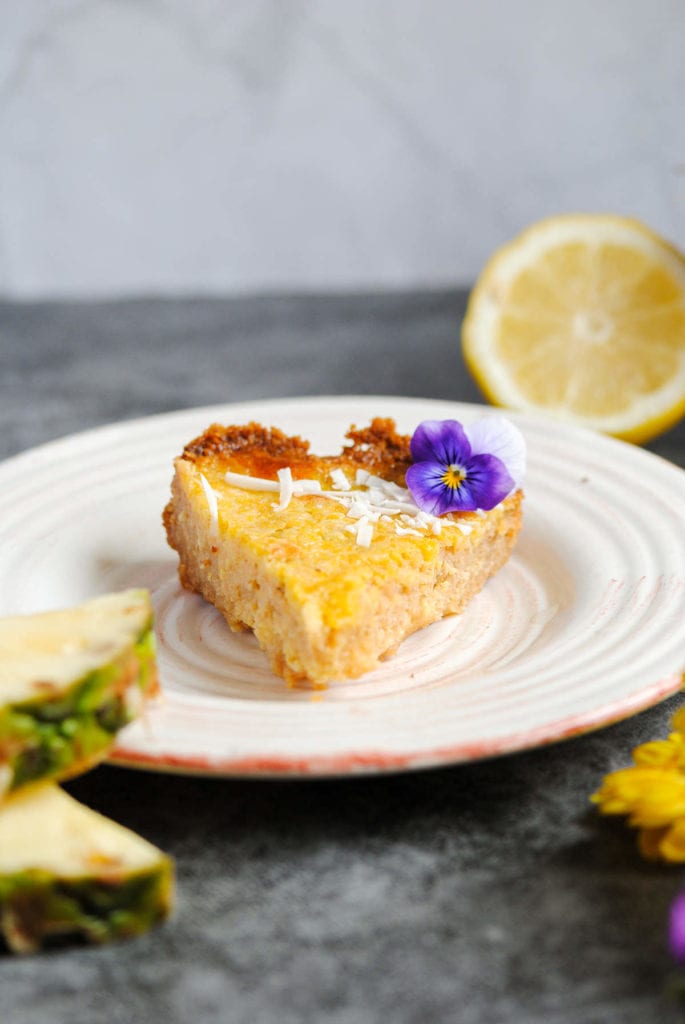 Pineapple Pie Tips and Tricks
Use Your Hands
Once you've blended your graham cracker crust ingredients together, just pour them directly into your pie dish, and use your hands to press the crust mixture into the dish.
Quick note: Blind baking is just baking the crust without the filling to ensure that it's nice and crunchy.
Use your pointer finger and your thumb to pinch the crust mixture up the sides of the dish and blind bake it for 10 minutes.
Give Your Blender a Rinse
After you use your blender to mix your crust ingredients, make sure you give your blender a quick rinse.
You want your pineapple pie filling to be nice and smooth, and devoid of any graham cracker bits. No need to use soap, just give it a quick rinse to clear out those crumbs.
Cream of Coconut
Bear in mind that cream of coconut and coconut cream are not the same.
Cream of coconut is more syrupy and pre-sweetened whereas coconut cream is richer and thicker. The pineapple pie filling will not set if you use coconut cream.
They also differ in color. Cream of coconut is usually an off-white or tan color, whereas coconut cream is cloudy white.
You can usually find cream of coconut in your grocery store, or you can order this cream of coconut (affiliate link).
Blend the Pineapple Until Smooth
Making your filling is just as simple as making your crust! You'll use your blender (affiliate link) again to combine the ingredients, and puree the pineapple.
Add all of your pie filling ingredients to the blender except for the egg. Blend on high until the mixture is smooth.
Then, you can add your egg and use the pulse button on your blender to integrate the egg without overbeating. You should only need to press the pulse button 3-5 times.
Pineapple Pie Frequently Asked Questions
Can I use a pre-made crust for pineapple pie?
Yes! There's nothing wrong with a shortcut. You can absolutely buy a pre-made graham cracker crust and just use this recipe for the filling.
Is coconut cream the same as cream of coconut?
No, coconut cream and cream of coconut are not the same. Coconut cream is thicker and richer, but generally unsweetened. Cream of Coconut is more of a syrup, and has added sweetener.
What color is cream of coconut?
Unlike coconut cream, cream of coconut is usually a tan color.
Green Tip: Eating seasonally is one of the best (and most delicious) ways to support local and decrease your carbon footprint. Local foods have less associated transportation costs and fuel emissions. Simply put, eating seasonally = less environmental impact. Check when pineapples are in season in your area with this Seasonal Food Guide.
Why You Should Make this Pineapple Pie
It's tropical. The pineapple and coconut flavor combo will make you kick back and relax.
It's unique. It's kinda like a non-alcoholic Piña colada but in pie form!
It's easy! All in the blender means no whisking or whipping necessary.
If you love this Pineapple Pie recipe and want more pie inspo, check out this Key Lime Pie and this Drunken Apple Pie.