Want a unique sauce for pasta night? This Pink Sauce Pasta uses bright and subtly sweet beets and tangy goat cheese as a base to a one-of-a-kind, delicious, and vibrant homemade veggie-based pasta sauce.
Not only is this plant-forward pasta sauce hearty and delicious, but it's easy to make. Plus, this whole meal comes together in about 30 minutes.
In this recipe, you will learn how to prep garlic and shallots for roasting. You will also learn how to use broth to turn roasted veggies into a creamy sauce in a food processor or blender.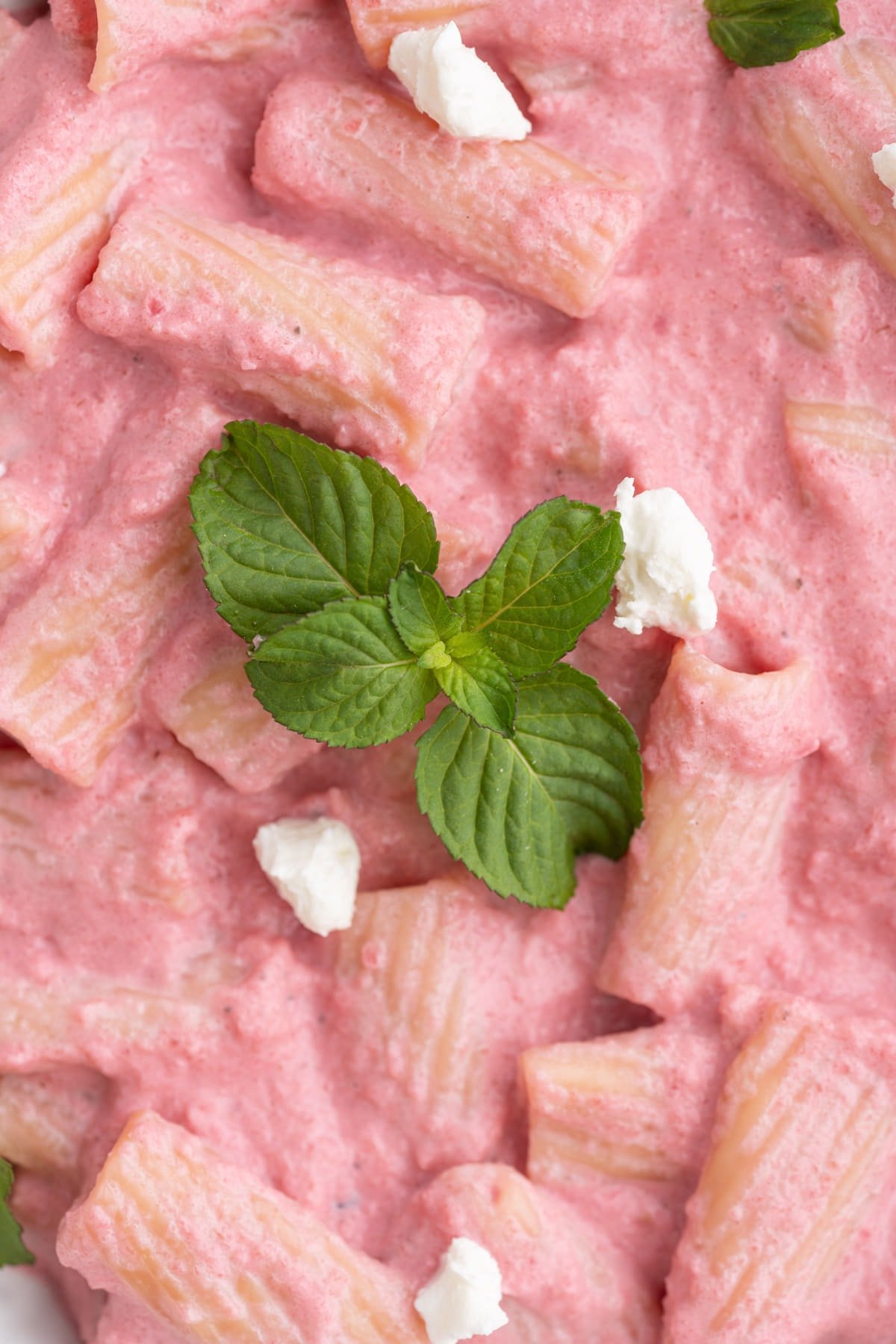 As an environmental scientist, I am always trying to make eco-conscious food choices. One great way to improve your ecological footprint is by finding ways to enjoy more meatless meals like this one!
Green tip: Industrial meat production has a huge impact on the environment, especially because of the amount of land it takes to sustain and its high amount of greenhouse gas emissions.
Pink Sauce Pasta Ingredients
---
Here's everything you need:
Pasta. This recipe works with any shape of pasta, long or short. In the dish pictured, I used Rigatoni.
Beetroot. This recipe calls for canned beetroot. You can absolutely use fresh, but you will need to peel them.
Shallots & garlic. To bring an earthy, savory taste into your sauce.
Olive oil, salt, & pepper. To roast the vegetables in.
Honey. To bring out the natural sweetness of the beats.
Lemon juice. To add citrus to balance out the sweetness of the beets and tanginess of the goat cheese.
Goat cheese. To bring creamy texture and tons of flavor to this pink sauce.
Milk. To help smooth and thin out the sauce.
Basil. Optional for garnish.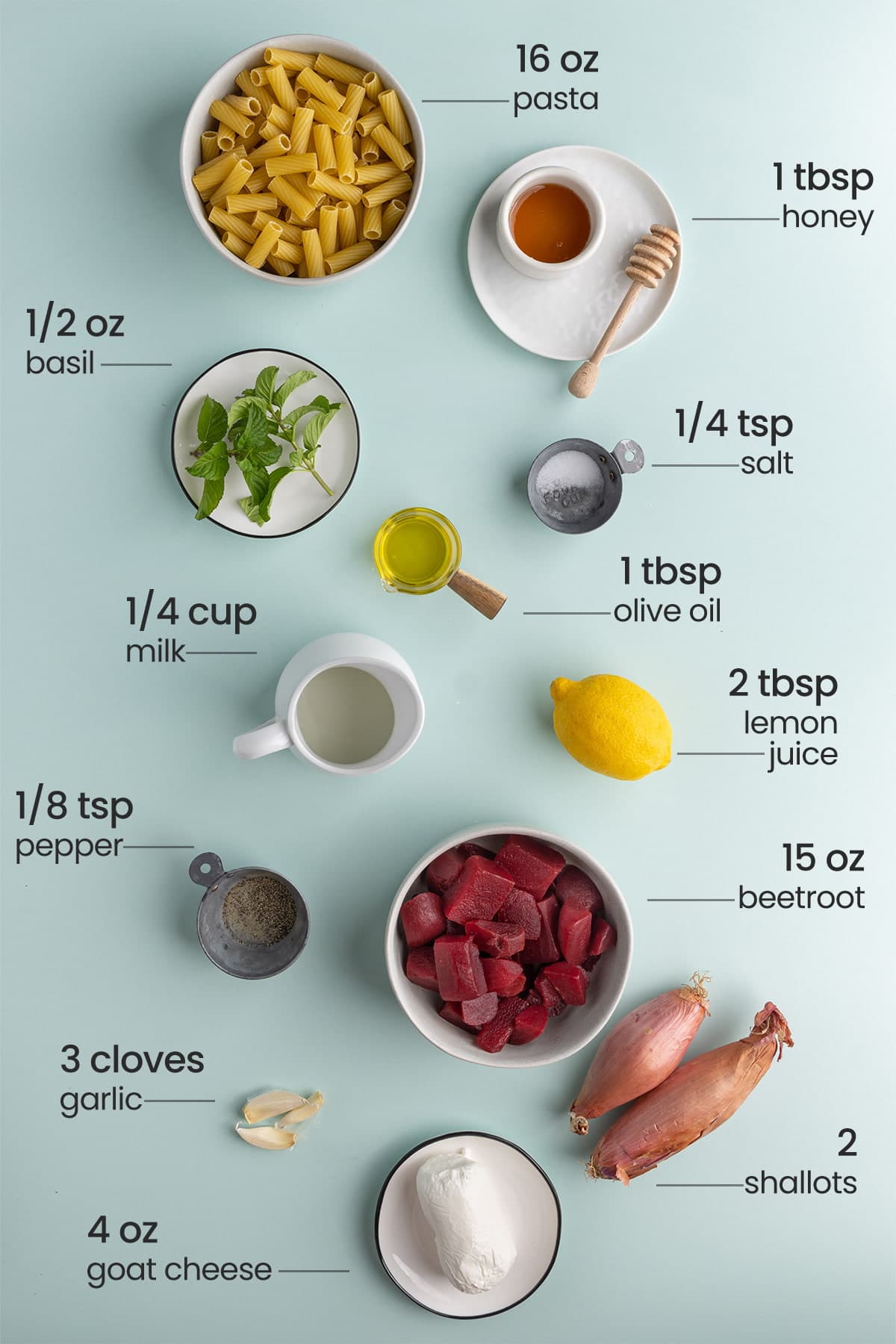 Beet and Goat Cheese Pink Sauce Pasta Tips and Tricks
---
Fresh vs Canned Beets
This recipe calls for canned beets mostly because they are easier to find, available year-round, affordable, and easier to work with.
Canned beets are pre-peeled, cooked and sliced. They can be eaten just as they are, or easily roasted. They also boast the same flavor and nutrients as fresh beets.
If you want to use fresh beets in this recipe, you absolutely can! Just cut off their greens and ends, peel them, and slice them into chunks.
Green tip: Organic farms rely on biodiversity to generate rich soil, avoiding the use of pesticides and fertilizers, which means no toxic runoff. Consider organic ingredients for this recipe if you can!
How to Prep Garlic for Roasting
Using fresh cloves of garlic goes a long way in this homemade pink pasta sauce recipe. In order to roast your garlic with the other vegetables, you have to peel it first.
My go-to technique for easily peeling off the outer layer of garlic is by crushing it first. Just place your cloves on your cutting board and use the flat end of your knife to push down on the garlic, one at a time, until you hear them crunch.
This will crack open the outer layer, making it much easier for you to peel it off. This will expose a smooth, shiny surface. Once you've completely peeled your garlic, keep the cloves whole to roast them.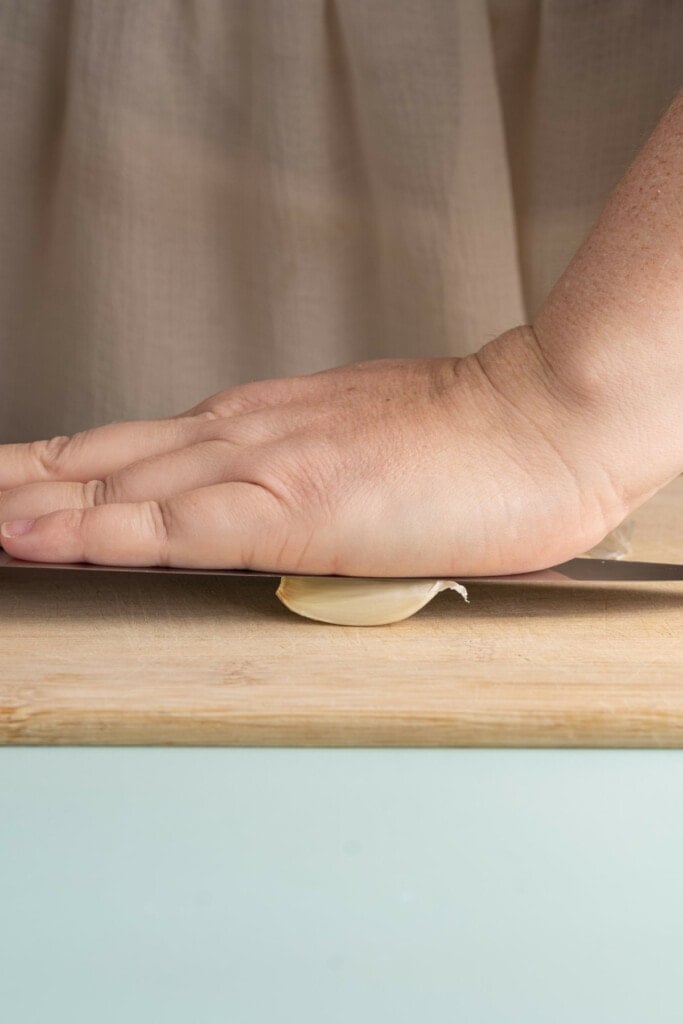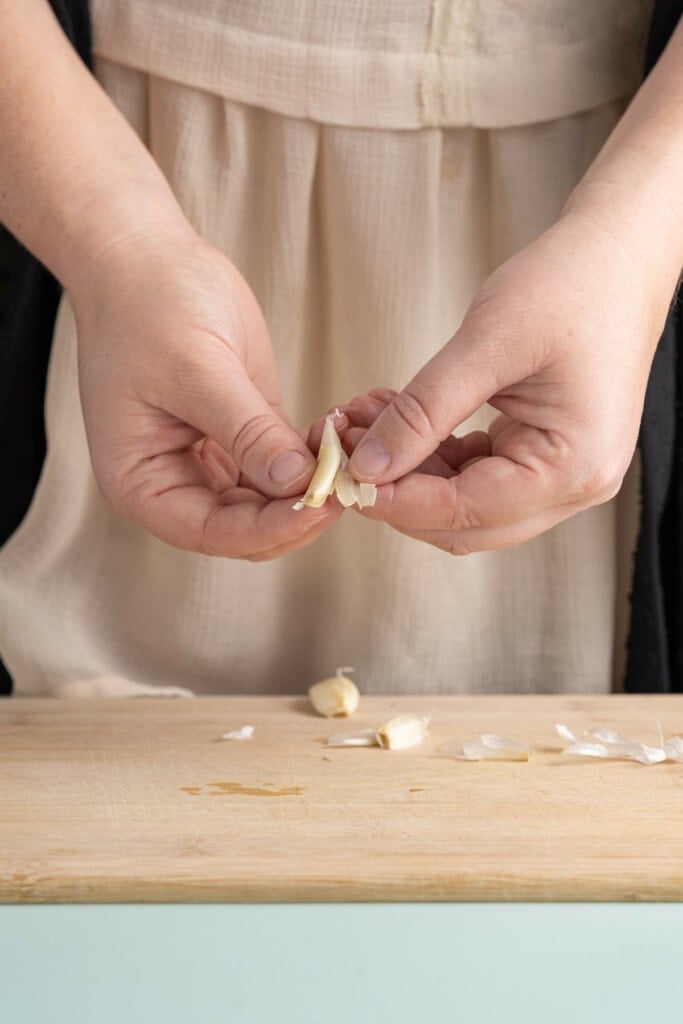 How to Prep Shallots for Roasting
Just like other onions, shallots have many layers, making them very easy to peel. Start by chopping both ends off of the shallots and slicing them in half lengthwise.
At this point, you should be able to easily peel off and discard the outer, paper-thin layer of the shallot. You can save the ends and peels to make your own veggie scrap broth or compost them!
Once you've sliced them in half and peeled the outer layer off, they're ready to roast.
Coat Your Vegetables in Oil Before Roasting
Add the prepped beets, shallots, and garlic to a baking sheet and spread them out in a single layer. For less clean up, you can opt to line your baking sheet pan with aluminum foil.
Then, drizzle the extra virgin olive oil on top and sprinkle on the salt and pepper. To get the best roast on your veggies, it's best to fully and evenly coat all of the vegetables with the olive oil.
I find the easiest way to evenly coat everything in the oil is to use clean hands to toss the beets, shallots, and garlic in the oil, salt, and pepper.
Alternatively, if you don't want to get your hands dirty, you can use kitchen tongs or two large forks to toss everything together. Then, once again, spread the vegetables out in a single layer, ensuring that nothing is overlapping.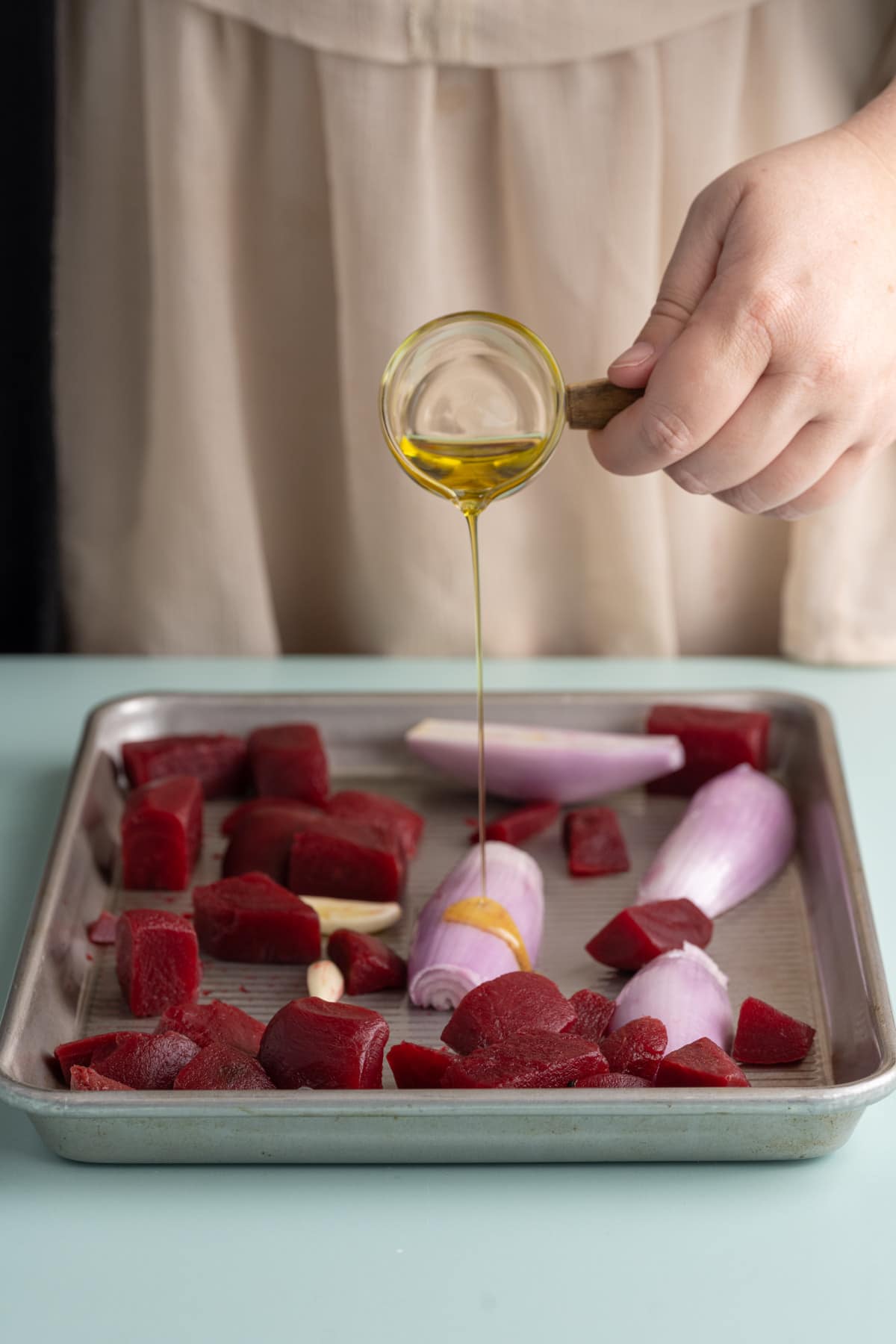 What to Look for When Sustainably Sourcing Honey
Bees are absolutely vital to our environment. They are responsible for pollinating 75% of our planets flowering plants. Without them, over 100,000 species of plants would be extinct!
Unfortunately, bees are often negatively affected by the processes used to collect honey, and the demand for honey far outweighs the supply, putting even more pressure on suppliers to cut corners and prioritize supply over the health and welfare of the bees.
So, if you're like me, and still want to consume honey (albeit in moderation), there are steps you can take to more ethically and responsibly do so.
Try buying raw, locally sourced honey. Generally, smaller-scale honeybee operations harvest honey in the fall, when the bees produce it in excess.
You can search for a farm near you that sells direct to consumer or often can find local honey at local shops and farmers markets.
Drizzle the honey on top of the seasoned and oiled beets, shallots, and garlic. Then, roast them at 425°F for about 20 minutes until tender.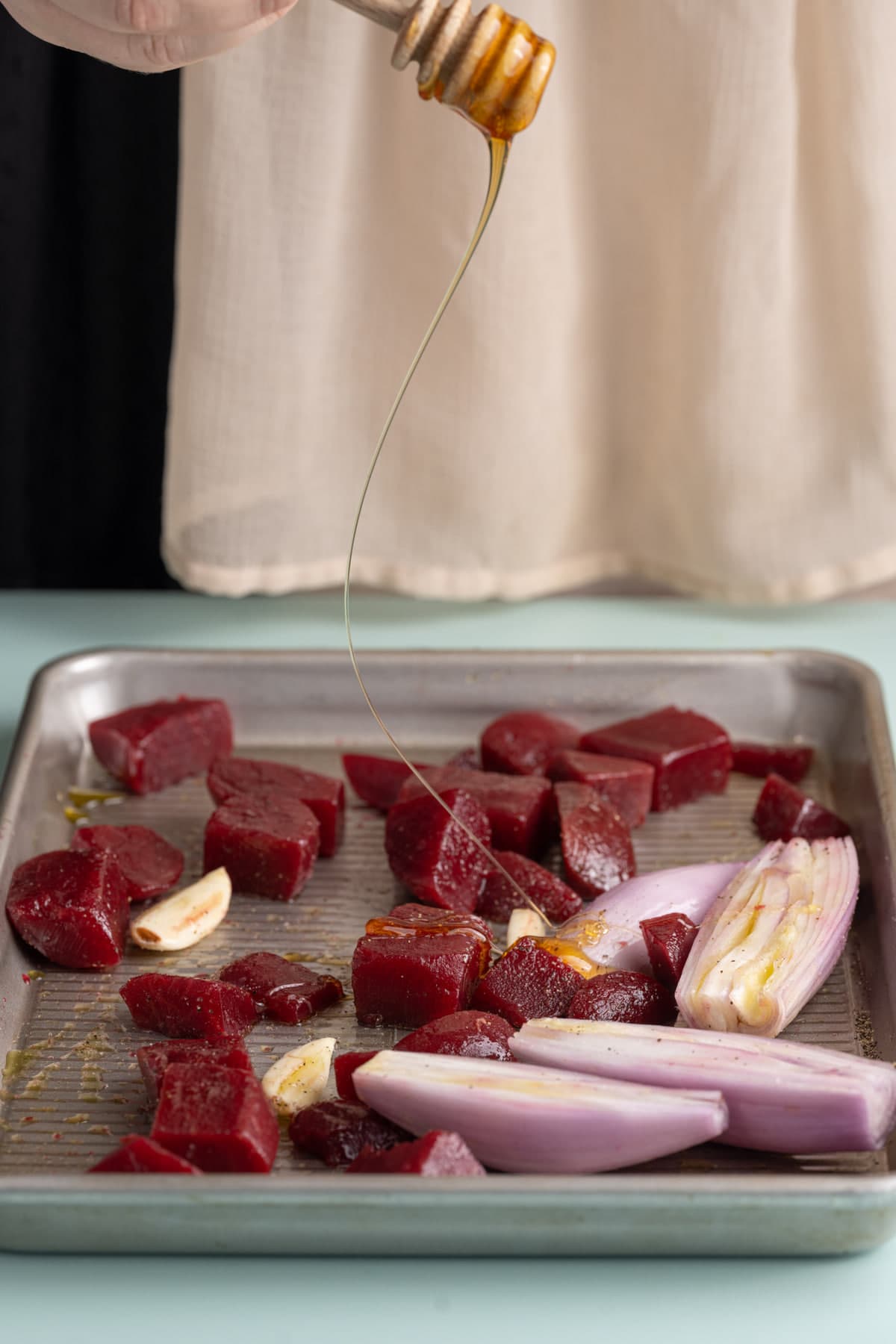 Cook the Pasta Al Dente
This recipe works with any pasta— long or short! In the pink sauce pasta pictured, I used Rigatoni, but I've enjoyed the pink sauce over a wide variety of difference pasta shapes and enjoyed them all!
Green tip: Pasta is a great meal option carbon footprint-wise! Manufacturing pasta is a relatively less intensive process, using less energy and other natural resources to produce than most other starches. Plus, its long shelf-life means you're less likely to waste it!
Regardless of which pasta shape you choose, follow the directions on the packaging to cool the pasta al dente. Over-cooked, mushy pasta will do this vibrant sauce a disservice!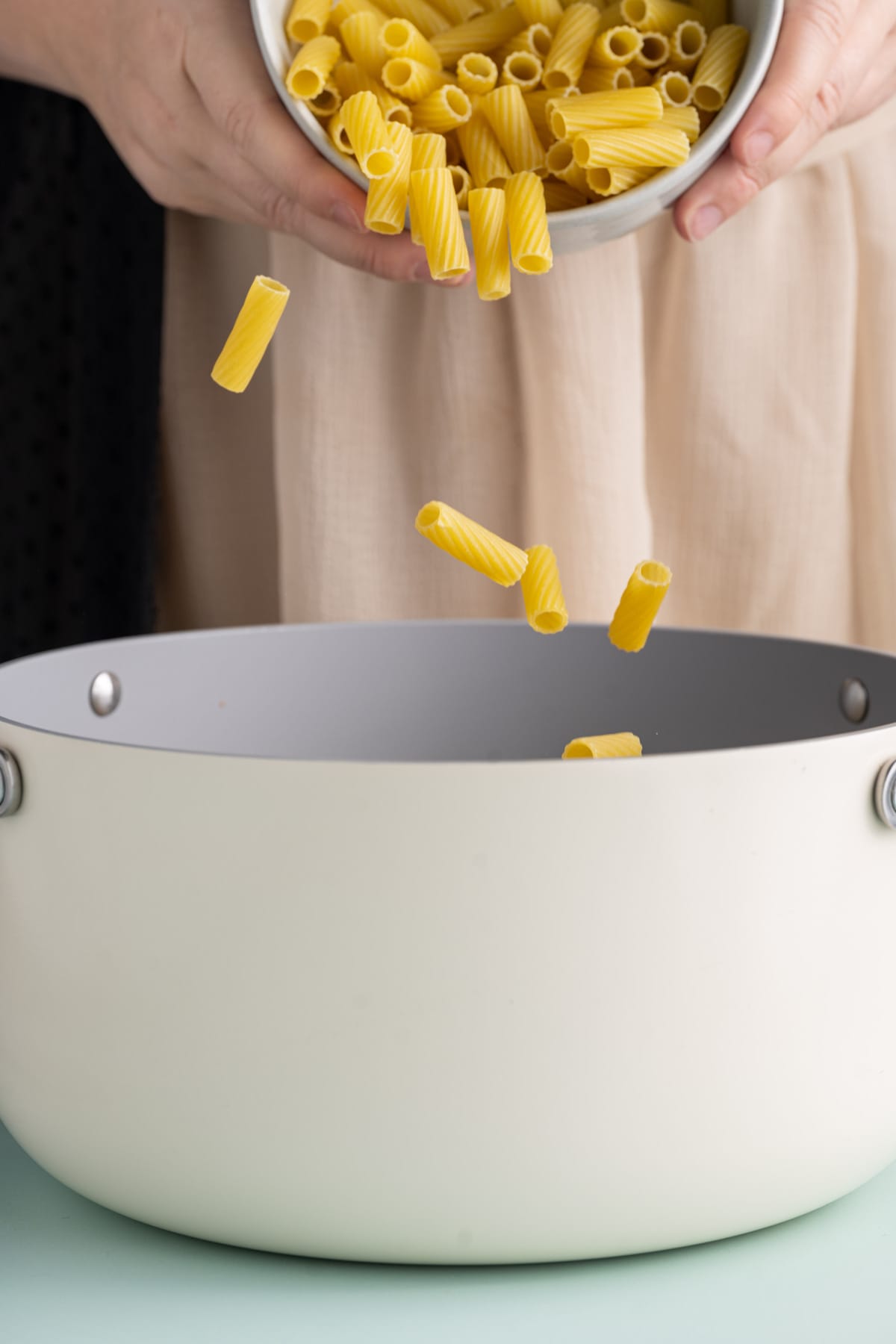 Use Fresh Lemon Juice
Once the beets, shallots, and garlic are roasted and tender, carefully add them to a food processor or high-powered blender with the lemon juice.
The flavors from the beetroot pair really beautifully with citrus, hence the lemon in this recipe! Using fresh lemon goes a long way in this fun pasta recipe.
I highly recommend using a citrus squeezer to extract your fresh lemon juice. This will get the most juice out of your lemon, and will also ensure that no lemon seeds fall into your food processor.
If you don't have a citrus squeezer, then just make sure to squeeze the lemon juice into a separate dish first so you have a chance to pick out any lemon seeds that may accidentally drop into the sauce.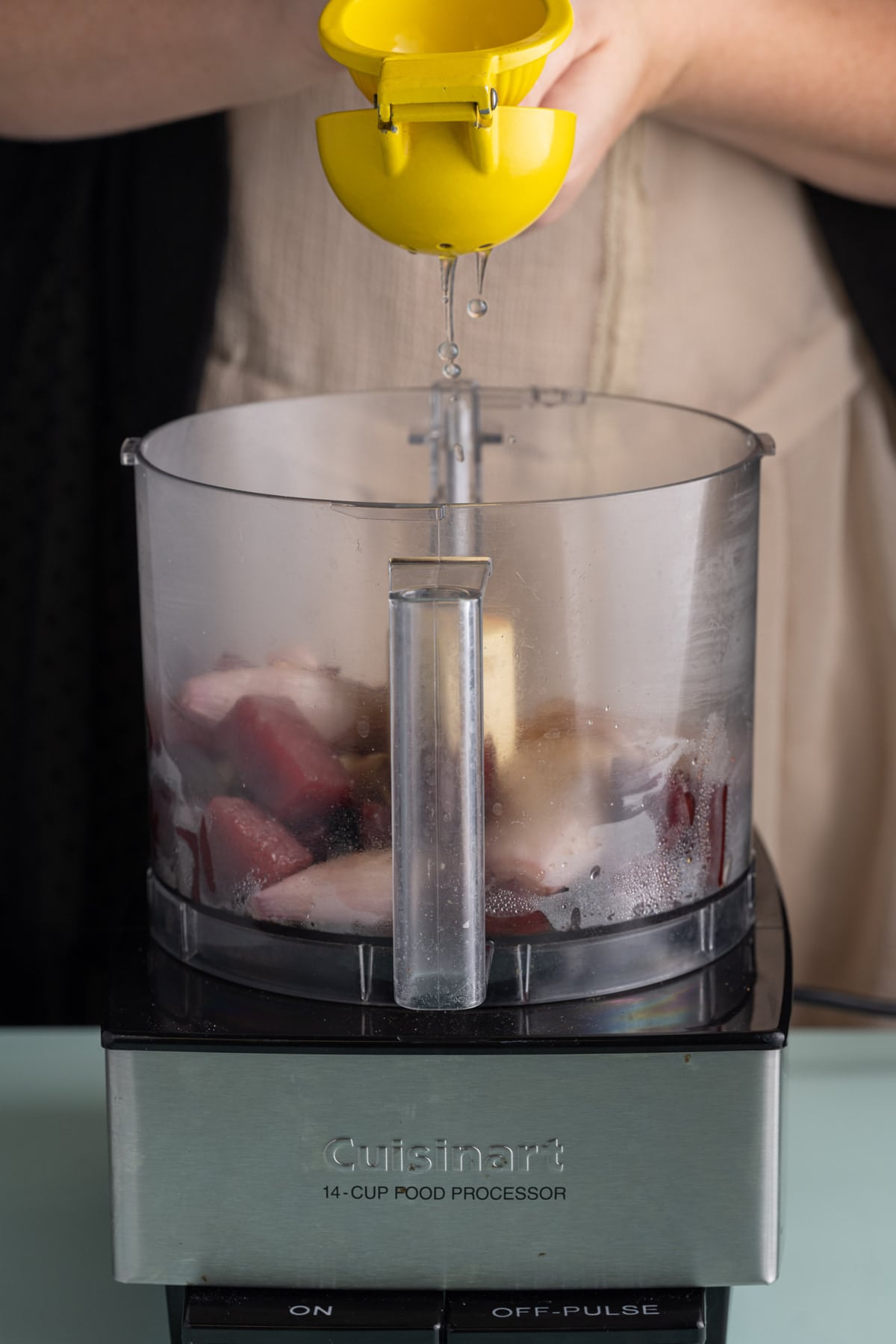 How to Blend Roasted Beets into a Sauce
Now that you've added the lemon juice, it's time to add the goat cheese and blend up your veggies into a smooth sauce!
Turn your food processor or blender on high and leave it to blend for about 3-5 minutes until the sauce is completely smooth and there are no solid chunks left.
You may need to use a spatula to scrape down any pieces of roasted vegetable or chunks of goat cheese that get stuck to the sides.
In this step, there is no such thing as too much blending, so just keep blending until your confident that it is completely smooth.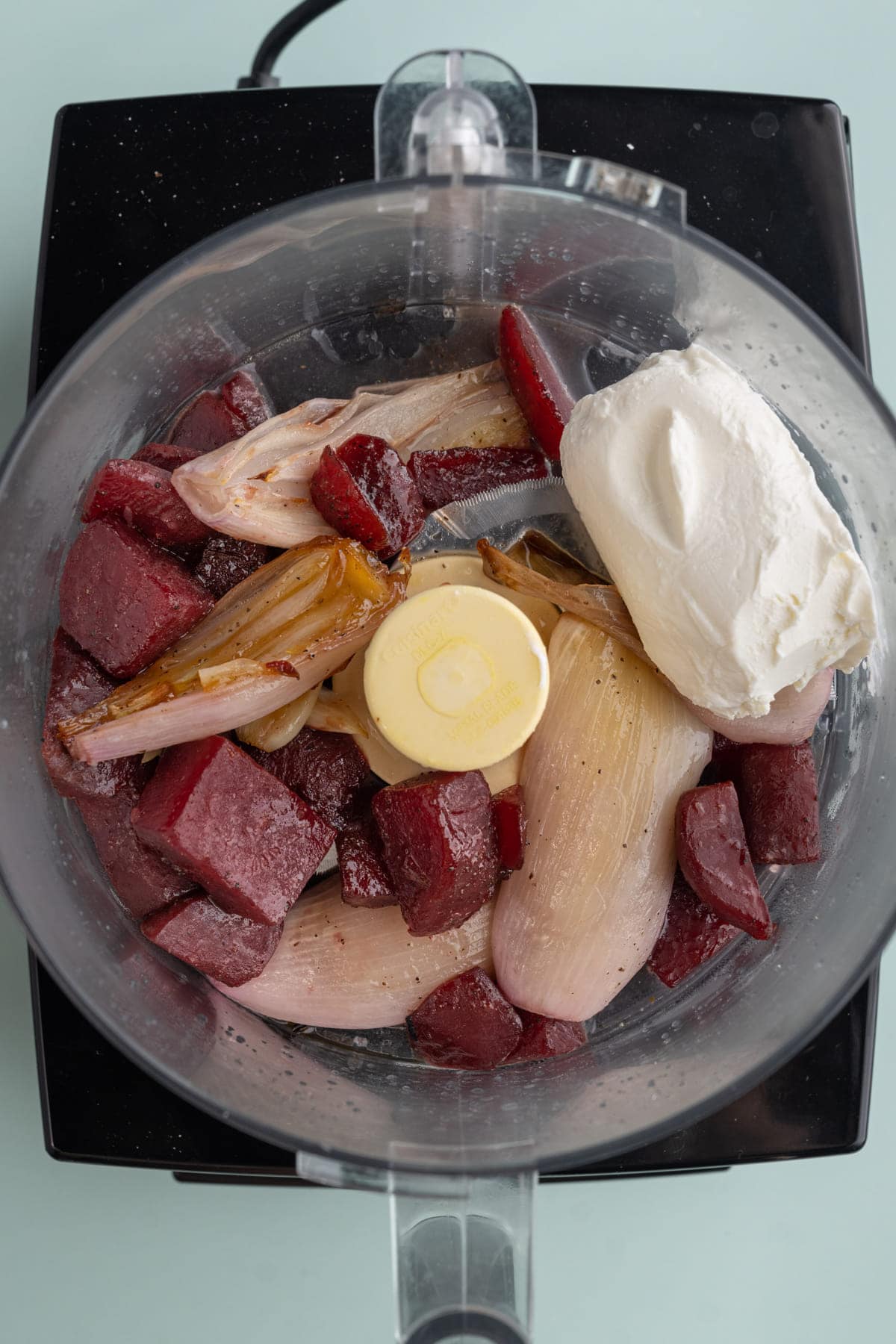 Slowly Add Milk with the Blender On
Integrating the milk makes the pink pasta sauce ultra-smooth. Make sure to add the milk slowly with the blender on to avoid the milk curdling from the heat or lemon juice.
Continue to blend as you add the milk, just until all of the milk is integrated, careful not to over-blend at this stage. You should be left with a smooth and creamy, vibrant pink sauce.
Serving Your Pink Sauce Pasta
This Pink Sauce Pasta was designed to be filling and flavorful enough to eat on its own but is also a super versatile pasta dish that works well with a number of different proteins.
My favorite fish recipes to serve this Pink Sauce Pasta with are:
My favorite side dishes to serve up with this Pink Sauce Pasta are: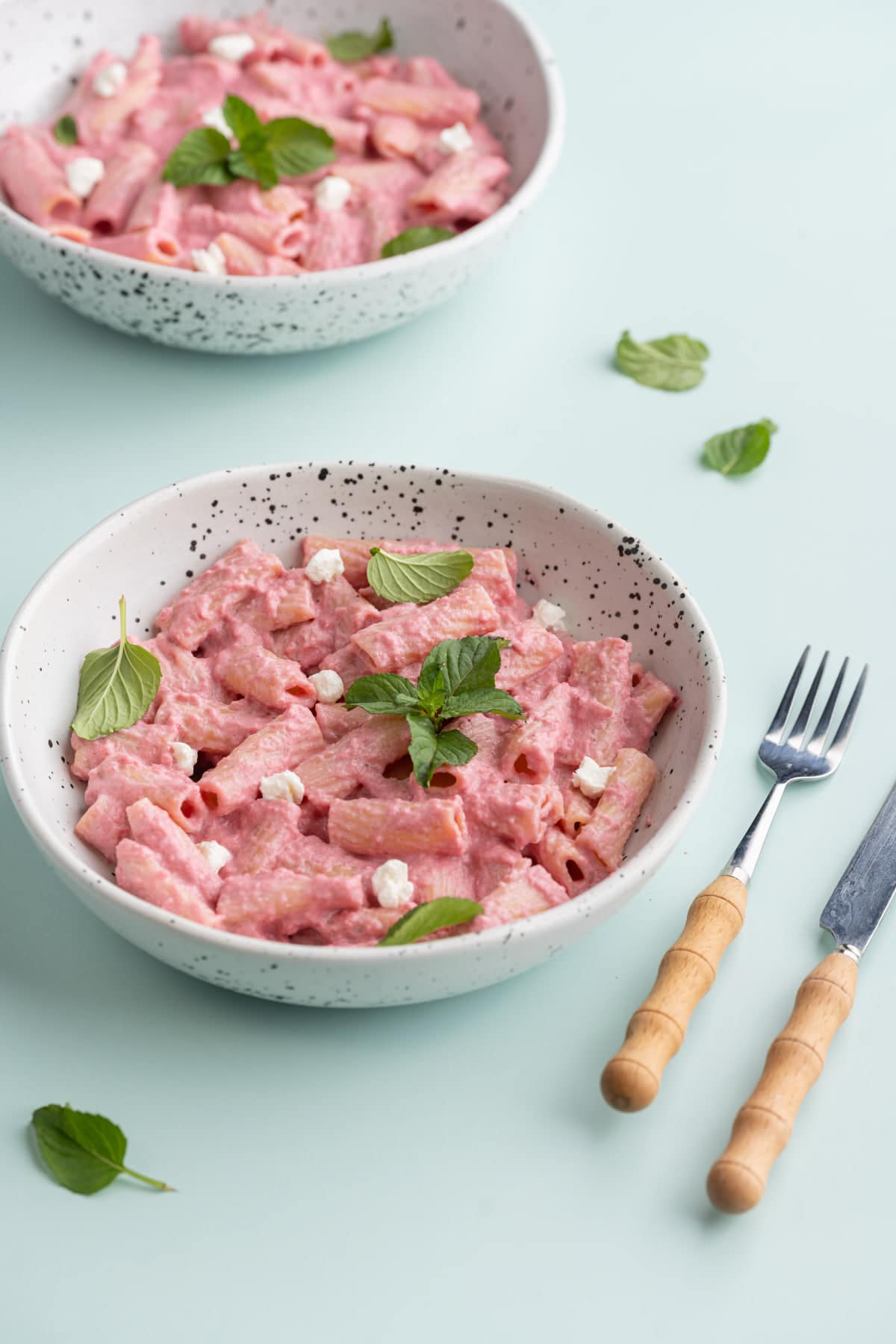 How to Store and Reheat Pink Sauce Pasta
This pink pasta will last in an airtight container when stored in the refrigerator for up to 5 days. You can also safely freeze it for up to 4 months.
The easiest way to reheat this pasta sauce pasta is in a pot or saucepan over the stove on medium heat. Cover your pot and stir frequently until thoroughly heated. Asses the consistency—you may want to add a little extra milk to loosen it.
Otherwise, you can reheat leftover carrot pasta in the microwave or oven.
For the microwave method, add about 1/4 cup of extra milk on top. Then, cover and microwave on high for 3-5 minutes, stopping and stirring every couple of minutes, until heated all the way through.
In the oven, add the pasta and beet goat cheese sauce to a baking dish, cover with aluminum foil and bake for 15-20 minutes until heated thoroughly.
Green tip: Did you know that of the billions of pounds of food wasted annually, it is estimated that 50% of food waste happens inside of our homes? Decrease your contribution to waste by properly storing and reheating leftovers.
Pink Sauce Pasta Frequently Asked Questions
---
What is pink sauce pasta made of?
The pink color in this pasta comes from roasted beets! The sauce is made up of complimentary flavors including shallots, garlic, honey, lemon juice, and goat cheese.
What does pink sauce pasta taste like?
This pink sauce pasta is absolutely bursting with flavor! The primary flavor profiles are beetroot and goat cheese. The natural sweetness of the beets is highlighted by the honey, and the lemon juice brings a hint of fresh citrus.
Want to sharpen your kitchen skills?
Why You Should Make this Pink Sauce Pasta with Beets and Goat Cheese
---
It's vibrant! Not just in color. This dish is also vibrant in flavor and personality!
It's unique. Using roasted vegetables as a base, this unique dish gets its bold color and flavor from canned beets!
It's bursting with flavor! The most prominent flavors are beets and goat cheese, with hints of honey, garlic, and lemon.
If you're loving this Pink Sauce Pasta and want more delicious pasta dishes, check out this Mushroom Spinach Pasta and Burrata Pesto Pasta.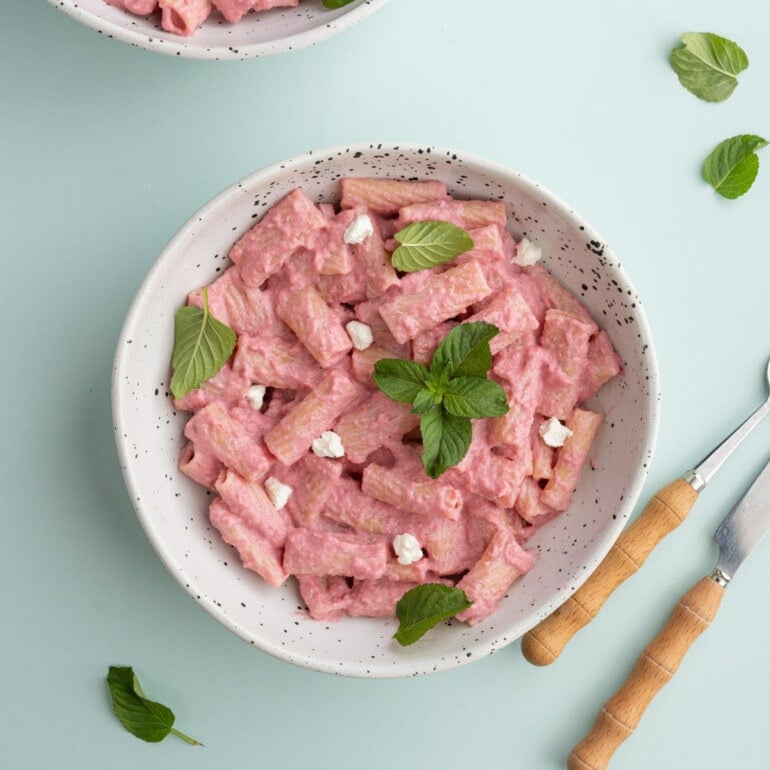 Pink Sauce Pasta with Beets and Goat Cheese
PRINT
PIN
RATE
This Pink Pasta Sauce blends beets and goat cheese into a beautiful creamy sauce that boasts dramatic flavors with balanced sweetness and tang.
Ingredients
16

ounces

pasta

(any shape works, I used Rigatoni)

15

ounces

canned beetroot

(original cut)

2

large

shallots

3

cloves

garlic

1

tablespoon

olive oil

¼

teaspoon

salt

⅛

teaspoon

black pepper

1

tablespoon

honey

2

tablespoons

lemon juice

(2 tablespoons juice = ½ lemon)

4

ounces

goat cheese

¼

cup

milk

(dairy or unsweetened nondairy)

½

ounce

fresh basil

(for garnish)
Instructions
Preheat your oven to 425°F and bring 10 cups of water to a boil for your pasta.

Prep your ingredients by draining and rinsing your canned beetroot, peeling the garlic and shallots. Slice your shallots in half lengthwise but keep your garlic cloves whole.

Add the prepped beets, garlic, and shallots to a large baking sheet and add the olive oil, salt and pepper. Use clean hands to toss, evenly coating the vegetables in the oil and seasoning.

Then, drizzle the honey on top. Roast the vegetables on the top rack for 15 minutes.

Meanwhile, cook the pasta al dente according to the directions on that package.

Blend until smooth. With your blender or food processor still on, slowly add the milk, about 1 tablespoon at a time until the milk is integrated.

Pour sauce over your al dente pasta and stir to coat. Garnish with fresh basil and serve warm.
Pro Tips
This recipe uses canned beets because they are easier to both find and work with. If you want to use fresh beets, you absolutely can! Just chop off the ends, peel them, and chop them into chunks. 
Consider saving your veggie peels and scraps to make your own vegetable broth. 
For more hearty vegetarian pasta recipes, check out this list of Meatless Pasta Meals. 
Did you make this recipe?
Let me know by leaving a recipe rating below, or by tagging @marleysmenu on Instagram.