Looking for a fun Fall version of your favorite classic cocktail? This Pumpkin Spice Old Fashioned is a fresh new take on the simple and delicious whiskey drink.
Warming pumpkin pie spice is the perfect companion to the oak and caramel notes in your whiskey, making this updated Old Fashioned recipe a well-balanced sip.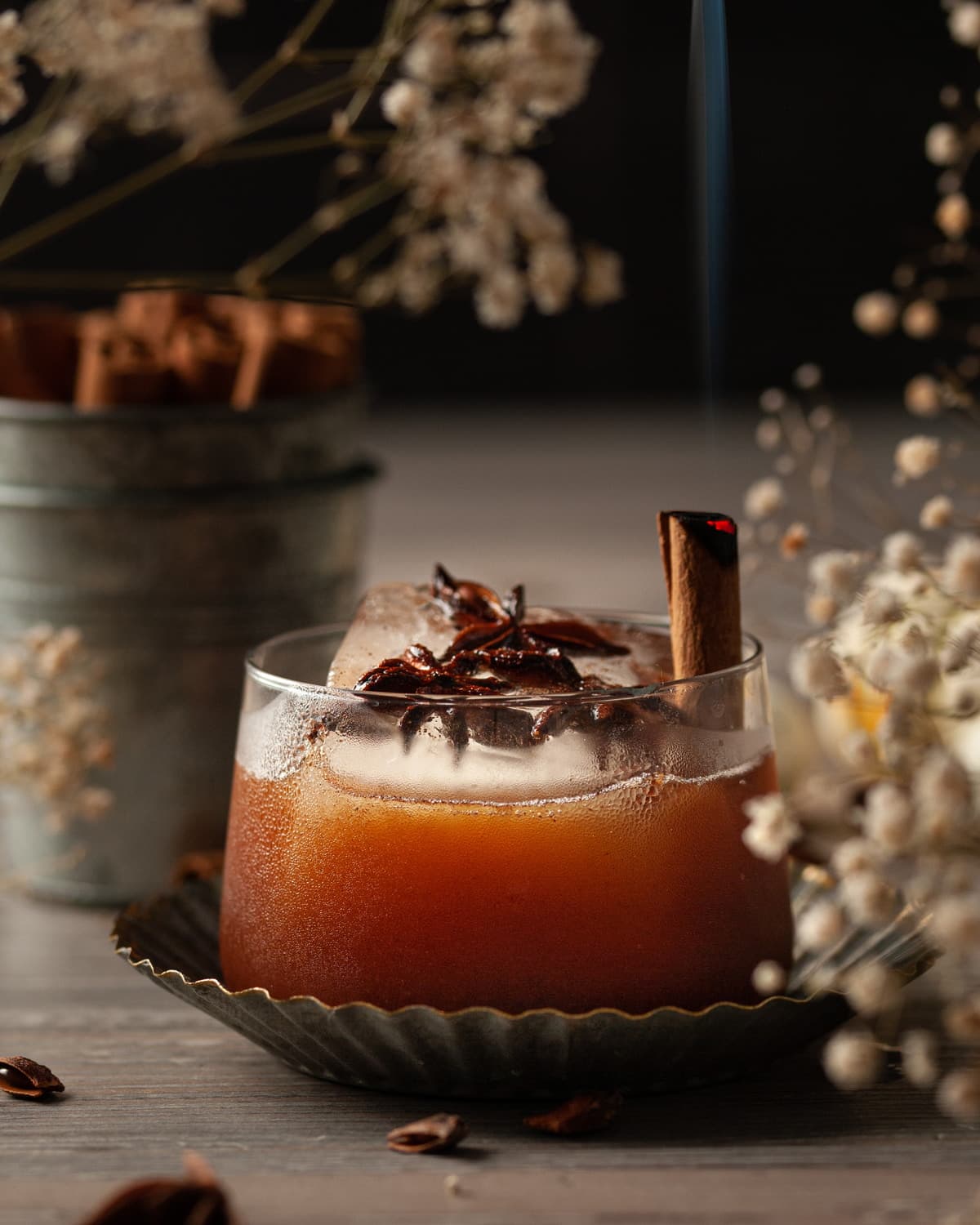 As an environmental scientist, I am always trying to find ways to make my own syrups and spice blends. Food preservatives, like pesticides, are harmful to the environment. They contain toxins that are harmful to plants, animals, and soil.
Homemade syrups and spice blends with all-natural ingredients allow you to avoid preservatives and lower your ecological footprint.
Plus, you don't have to buy any extra pesky plastic containers! That's why the star of this cocktail is my homemade pumpkin spice simple syrup!
Pumpkin Spice Old Fashioned Ingredients
---
3 ingredients and an optional garnish will do the trick! Here's everything you'll need:
Bitters. I went with classic aromatic bitters, but orange bitters work well too!
Pumpkin Spice Simple Syrup. While I highly recommend making your own, you can also buy it. Whatever works best for you!
Whiskey. I like to use Bourbon, but you can also use Irish Whiskey or Scotch.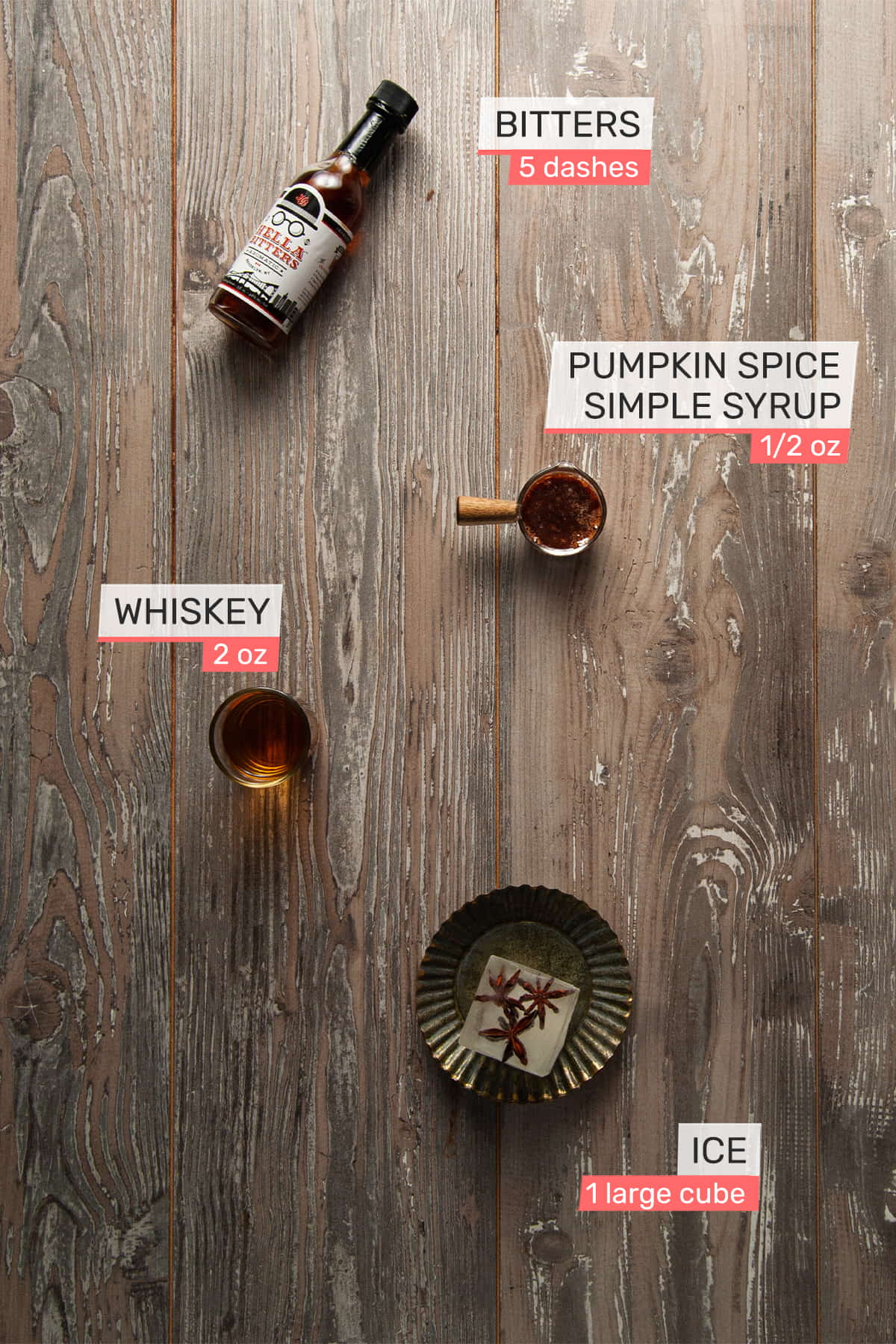 Pumpkin Spice Old Fashioned Tips and Tricks
---
Mix it Up!
Aside from your 3 ingredients, you'll need a cocktail mixer or shaker, or even a mason jar with a strainer.
Use it to mix up your ingredients with your ice to really make sure it combines together and to make it ice cold. It's the best way to seamlessly integrate your pumpkin spice simple syrup, bitters, and whiskey.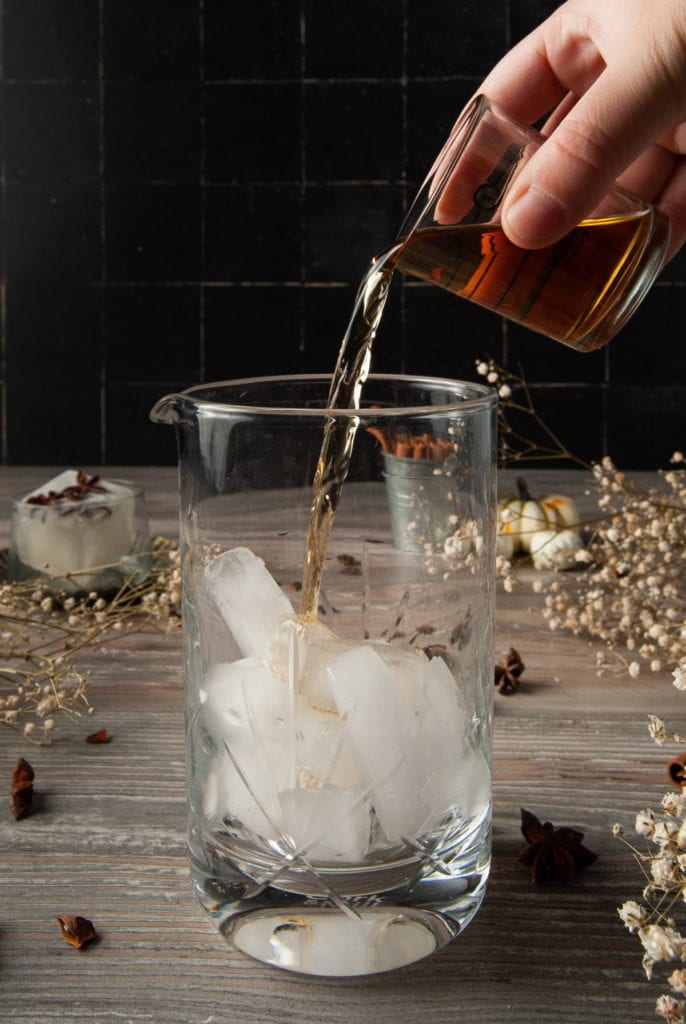 Make It Fancy!
Pouring it over the ice comes next! If you want to make your cocktail fancy like the one pictured, consider making this star anise ice!
Just place one piece of star anise in each ice mold, cover it with water, and freeze for at least 6 hours. Use this ice for your cocktails and iced coffee!
The star anise infuses that water that becomes the ice, so as the ice melts, the infused ice adds more fall flavor to your beverage!
Plus, it just looks cute. 😉
Whether you're using star anise ice or not, it's best to use whiskey ice. Having a whiskey ice mold on hand is a game-changer for your at-home bar game, especially when it comes to an Old Fashioned.
For more at-home bar must have's, check out this resource on Essentials For a Budget-Friendly Bar Cart.
The bigger the ice, the slower it melts, and the less likely your drink is to get watered down, even when you are just leisurely sipping.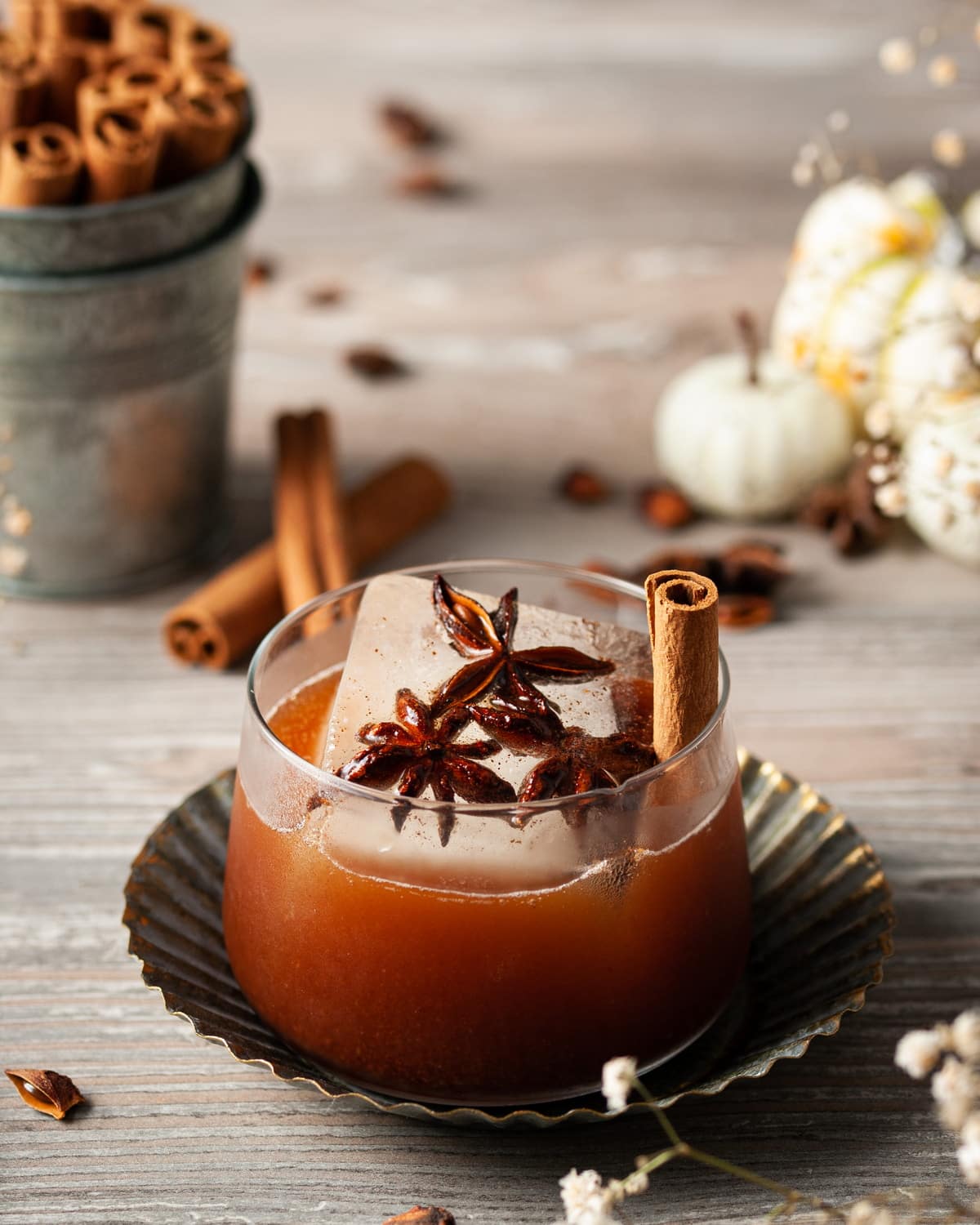 Choosing Your Whiskey and Bitters
Traditionally, an Old Fashioned is made with a nice Bourbon, but this Pumpkin Spice Old Fashioned works with Irish Whiskey and Scotch, too. Go with your favorite.
As far as the bitters, I love using aromatic bitters to cut through the strong flavors of the pumpkin spice simple syrup. Alternatively, you can use orange or herbal bitters.
Green tip: Despite recycling efforts, the sad truth is that only about 9% of plastics are recycled, leaving the rest to become microplastics. Consider buying your whiskey in glass bottles.
Don't Skip The Garnish
I love to use a cinnamon stick as both garnish and straw to elevate the cinnamon flavor in this cocktail!
It'll add a super cinnamon-y aroma and enhance the whole experience with each sip!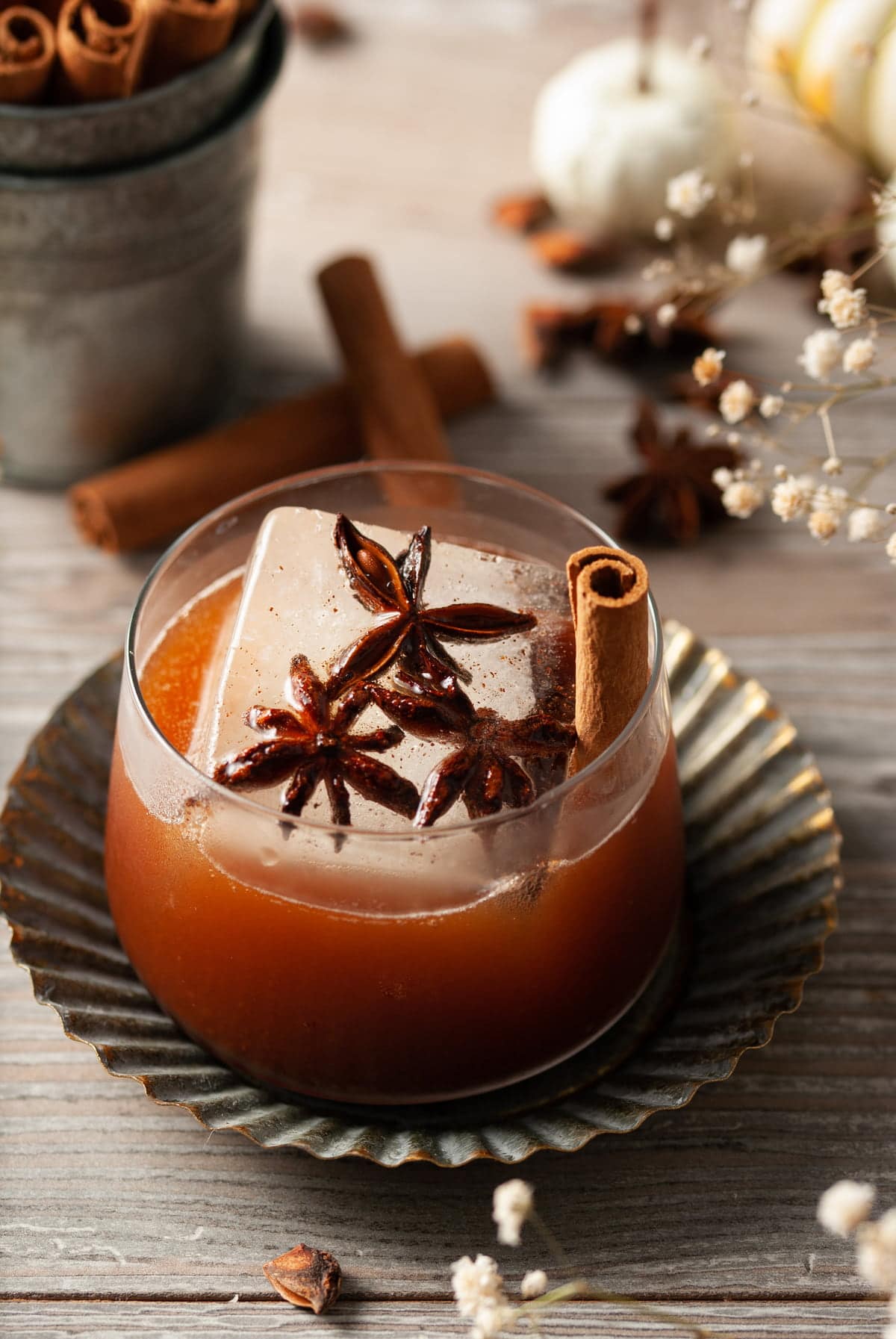 Pumpkin Spice Old Fashioned Frequently Asked Questions
---
What makes the pumpkin spice flavor?
The pumpkin spice flavor in this Pumpkin Spice Old Fashioned comes from the Pumpkin Spice Simple Syrup, which is just a mixture of water, brown sugar, cinnamon, nutmeg, ginger, cloves, and all-spice.
Why You Should Make this Pumpkin Spice Old Fashioned
---
It's festive! It's like sipping on Fall and whiskey.
It's unique! Old Fashioned, but make it new.
It enhances the flavor of your whiskey. Warming spices are the perfect complement!
If you're loving this Pumpkin Spice Old Fashioned and want more fun Fall favorites, check out this Pumpkin Spice Margarita and this Pumpkin Spice Mule, too!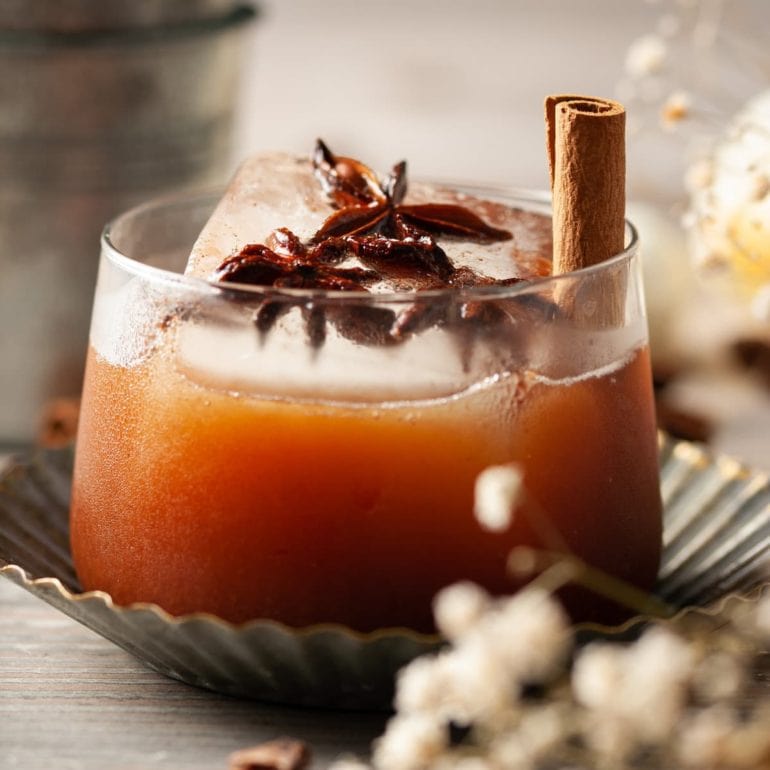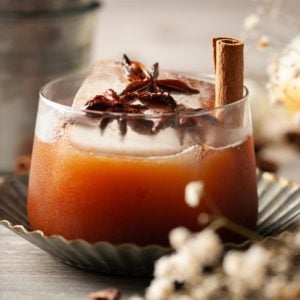 Simple Pumpkin Spice Old Fashioned
PRINT
PIN
RATE
This Pumpkin Spice Old Fashioned is a fun Fall take on a classic cocktail, bringing festive pumpkin pie spice to every sip.
Instructions
Add whiskey ice to an Old Fashioned glass and pour the mixture over top. Garnish with a cinnamon stick (optional) and enjoy!
Did you make this recipe?
Let me know by leaving a recipe rating below, or by tagging @marleysmenu on Instagram.