Is your meal missing a fresh, healthy, crunchy element? This Quick Garlic Lemon Asparagus is the answer. And the best part? Use this same recipe for any green vegetable.
Asparagus is probably my favorite vegetable (I only say probably because asking me my favorite vegetable is like asking me my favorite song. Is picking one really possible?).
Green tip: Eating seasonally is one of the best (and most delicious) ways to support local farmers and decrease your carbon footprint. Local foods have less associated transportation costs and fuel emissions.

Simply put, eating seasonally = less environmental impact. Check when asparagus is in season in your area with this Seasonal Food Guide.
It has a great texture—especially when oven-baked, a strong flavor profile, and is a great way to add beautiful, fresh color to any dish. It's packed with nutrients, antioxidants, and it's a natural diuretic.
But this is not a love letter to asparagus. It's an all-encompassing recipe for all things green. Quick Garlic Lemon Broccoli, Quick Garlic Lemon Brussels Sprouts, Quick Garlic Lemon Green Beans. It's ALL. SO. YUM.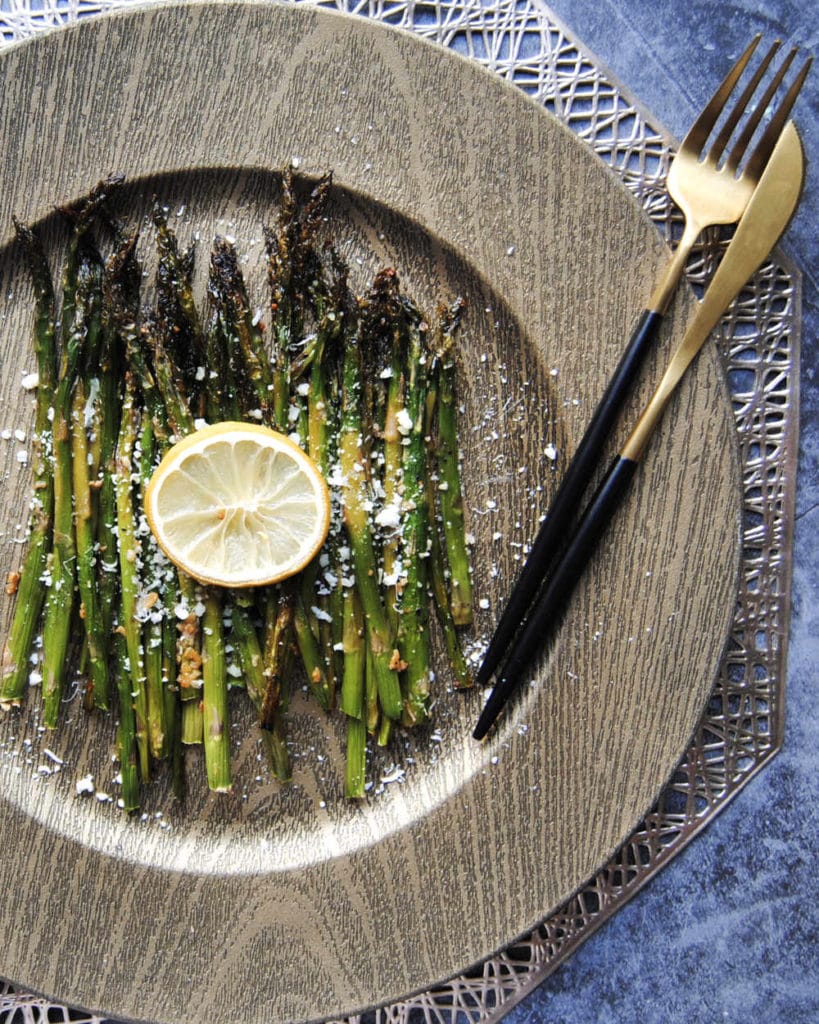 When Should I Eat Quick Garlic Lemon Asparagus?
---
---
Or, whenever your heart desires! But one thing's for sure. Whenever you eat this delicious nutritious Quick Garlic Lemon Asparagus, you are in for a fresh, earthy, cheesy, and zesty delight.
This Garlic Lemon Asparagus is fresh, earthy, cheesy, and zesty! The perfect side dish. But, don't limit this recipe just to asparagus. Use the same ingredients and technique for all your green vegetables!