Looking for a crisp, fresh and filling salad to feed a crowd? This 30-Minute Quinoa Arugula Salad hits the spot with the perfect balance of sweet and savory.
Vibrant in both flavor and color, this refreshing yet hearty salad tops a leafy green and nutty quinoa base with fruit, nuts, and a quick and easy homemade vinaigrette to bring a variety of flavors and textures to each bite.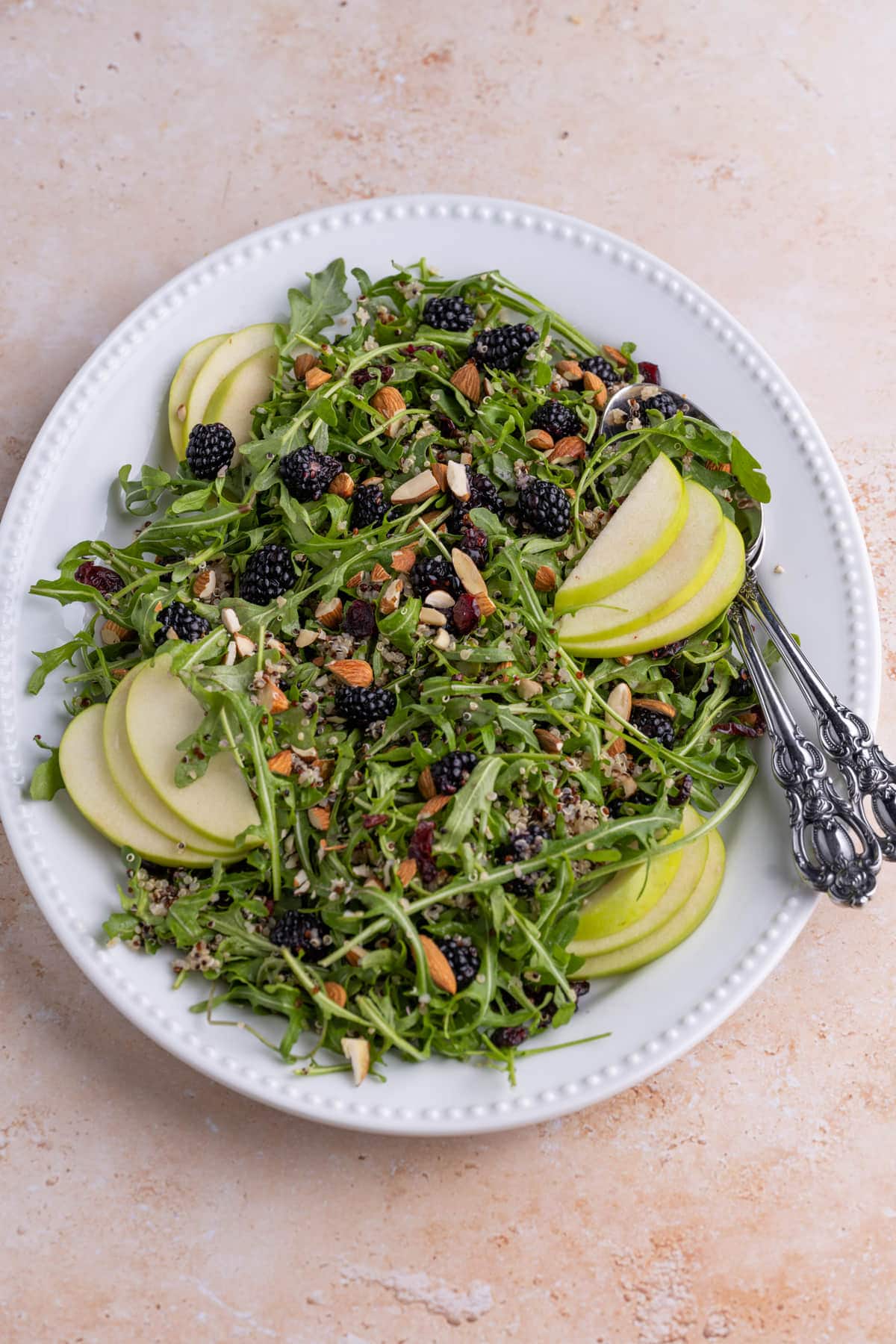 As an environmental scientist, I always try to stick to seasonal eating! It's one of the easiest (and most delicious!) ways to support local farmers and improve your carbon footprint.
Green tip: Seasonal and local foods have less associated transportation costs and fuel emissions. Check which berries are in season in your area with this Seasonal Food Guide.
Arugula Quinoa Salad Ingredients
---
Here's everything you need:
Quinoa. You can use leftover or pre-made cold quinoa or you can make the quinoa fresh for this dish and use it hot! Using hot quinoa will give you a warmer, comfort meal while using cold quinoa will give you a crisper, more refreshing salad.
Arugula. Other leafy greens work here too, but arugula (aka rocket) has a distinct peppery flavor that makes it especially delicious in this salad.
Craisins, raisins, or golden raisins. Or any other dried fruit.
Apple. Any variety of apple works. I recommend an extra crispy apple like Granny Smith, Fuji, or Ambrosia.
Berries. Choose what's in season! Blackberries, raspberries, strawberries, and blueberries are all delicious in this salad.
Nuts. My favorites for this salad are walnuts, almonds, and pecans, but truly any nuts will do. It adds extra texture to your bite.
Apple cider vinegar. Or champagne vinegar, white wine vinegar, or sherry vinegar to act as the base for your quick vinaigrette.
Dijon mustard. It can be grainy or smooth, up to you!
Honey. Or maple syrup or agave nectar. Just a little sweetness to cut the acidity of the vinegar.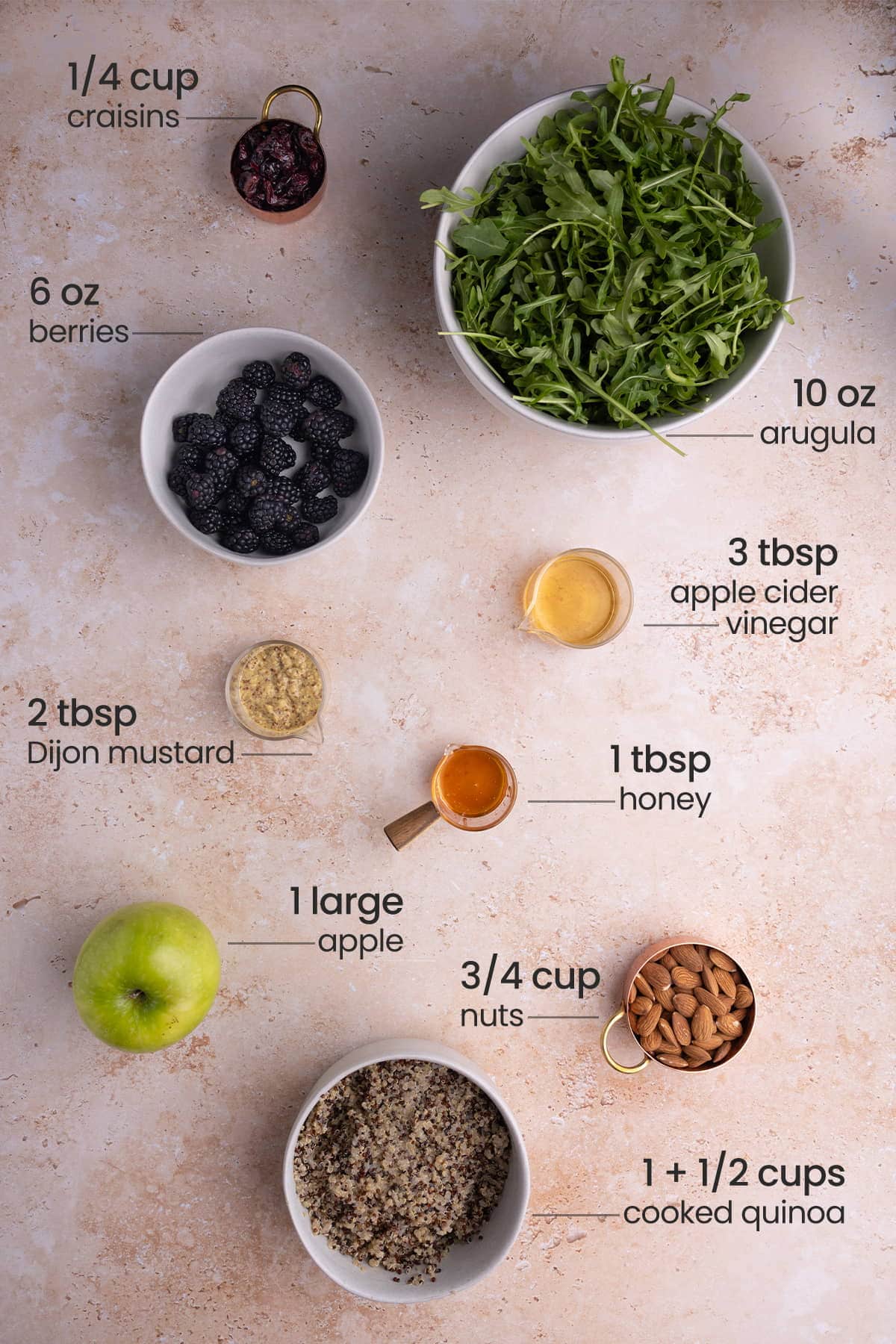 Additional Optional Add-in Ideas:
Bell peppers
Snow peas
Goat Cheese or Feta Cheese
Avocado
Red onion
Grapes
Chickpeas
Hemp seeds or Chia seeds
Capers or Olives
Quinoa Arugula Salad Tips and Tricks
---
Prep Your Ingredients
Chop your nuts and your berries (unless you are using blueberries) and core and slice your apple thin. You can leave the apple slices as is (this makes for a gorgeous presentation!) or you can cut the slices in half.
The idea is for each element to be bite-sized, making your salad easy to eat and giving you a better chance to get a little bit of everything in every forkful.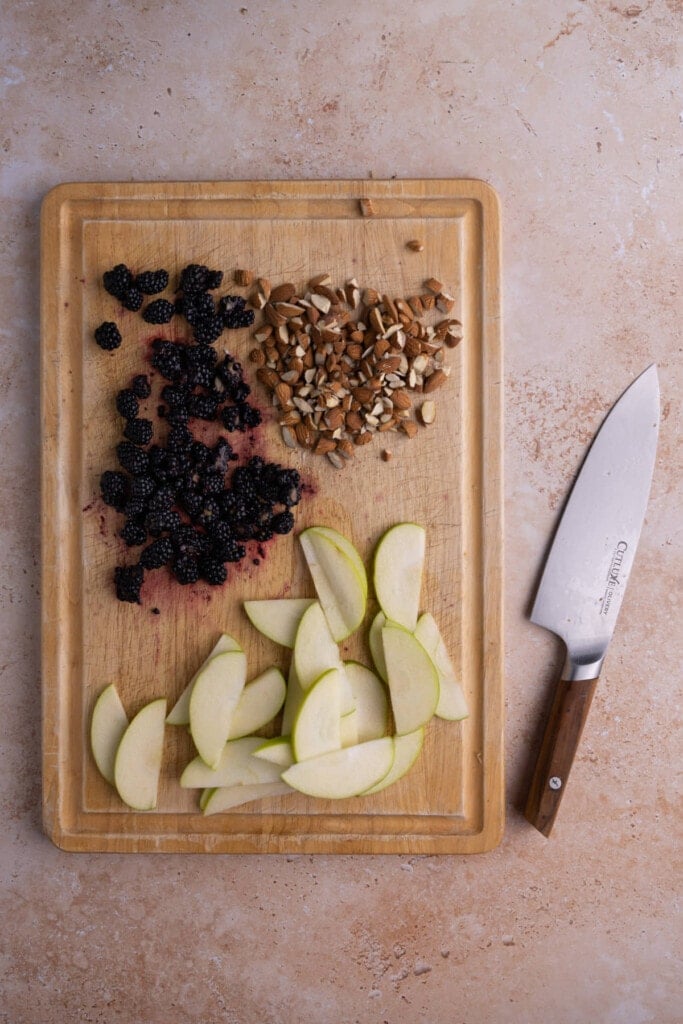 Toss the Quinoa and Arugula Together
You can either make your quinoa ahead of time and add it to your arugula cold, or you want a warm salad, you can use the freshly cooked hot quinoa.
Using cold quinoa makes for a crisper, more refreshing salad. Using warm quinoa slightly wilts the arugula, leaving you with a cozier dish.
Add the quinoa and arugula to a large bowl and toss together to evenly distribute the grains and greens. This step is especially important if you are using warm quinoa. It will allow the quinoa to wilt the arugula.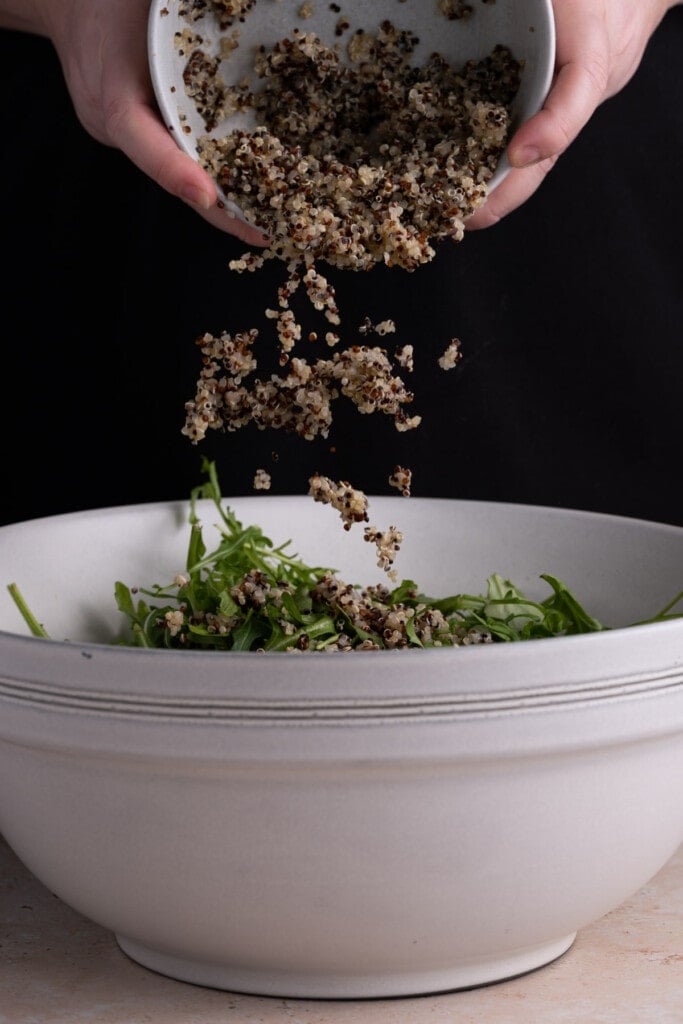 Add All Your Ingredients
Once your quinoa and arugula are mixed together, add the nuts, apple, and berries.
Use salad tongs or two large spoons to toss all the ingredients together, so that the fruit and nuts are evenly distributed throughout the quinoa and arugula mixture.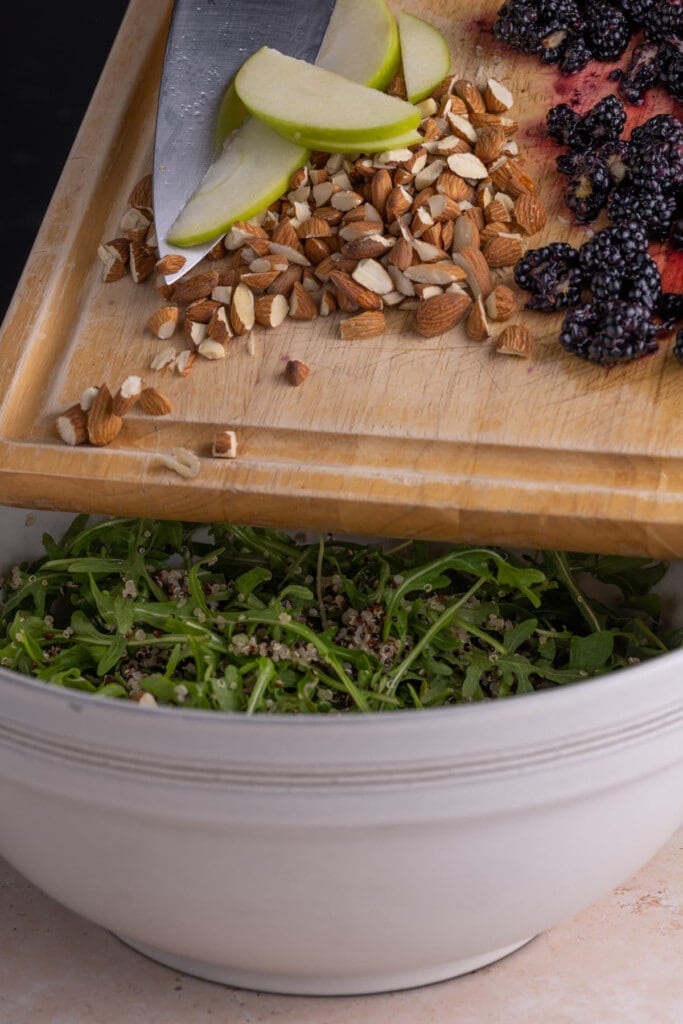 Whip Up Your Honey Dijon Vinaigrette
My favorite way to whip up this quick vinaigrette is by adding the apple cider vinaigrette, Dijon mustard, and honey (or maple syrup or agave nectar) to a a jar with a lid.
Tightly secure the lid on the jar and shake vigorously to combine.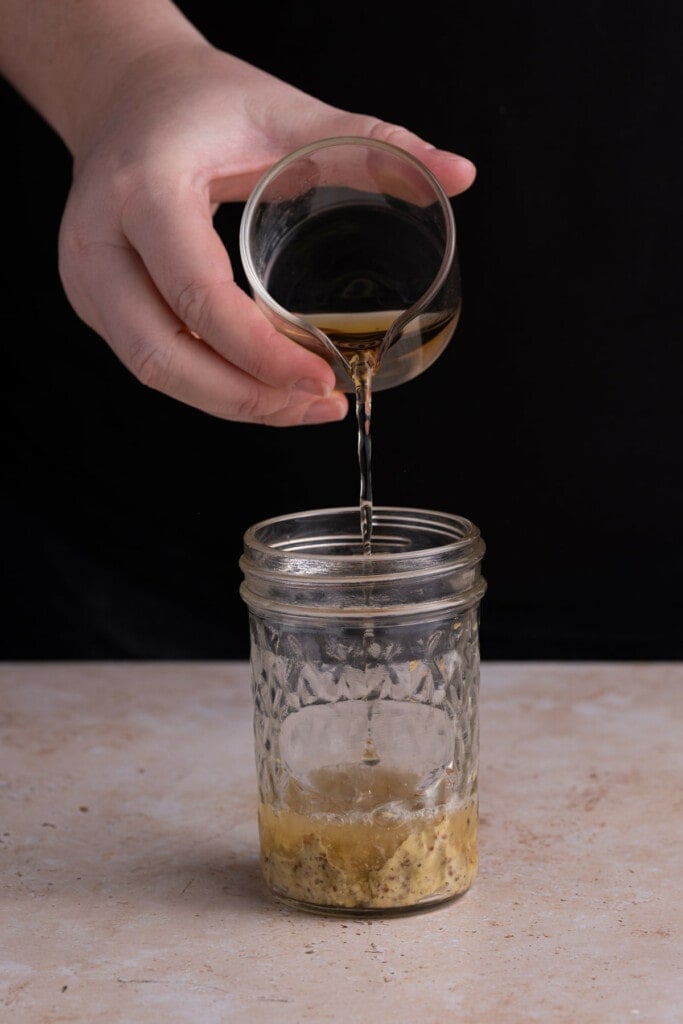 Dress Right Before Serving
I highly recommend serving the vinaigrette on the side and allowing everyone to dress their own individual salad. For starters, some people may like more dressing than others.
Additionally, the longer the salad sits with the vinaigrette on it, the more chance it has to get soggy.
And lastly, leftover salad without the dressing will last much longer in the fridge.
If you do wish to dress the entire salad, you can use up all of the vinaigrette. This recipe is designed to make just the right amount for this salad.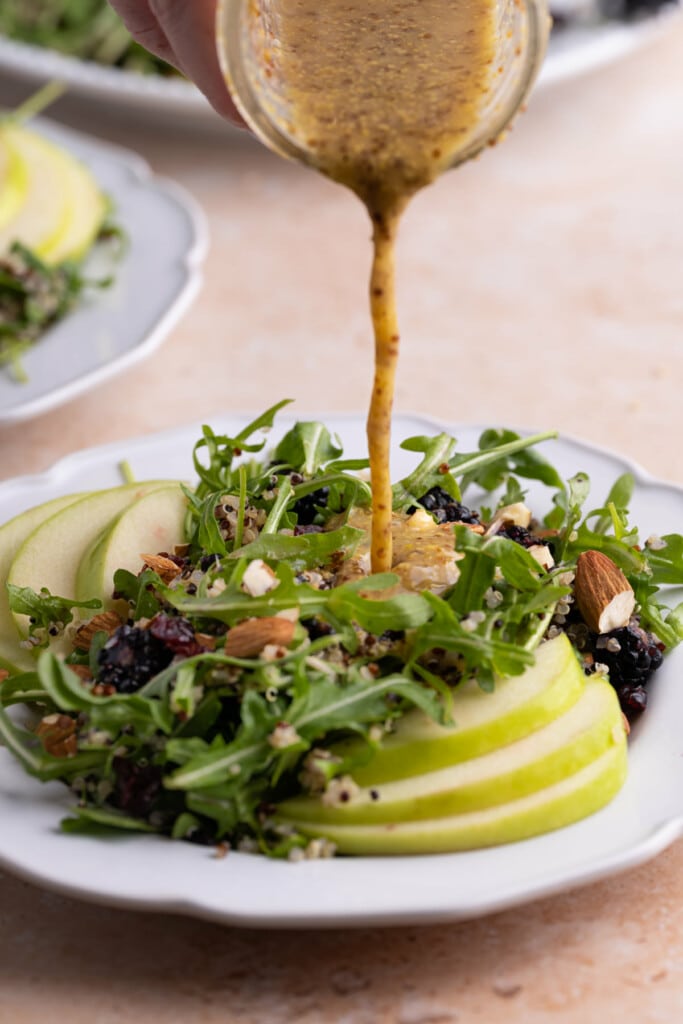 Storing Leftover Quinoa Arugula Salad
This salad without the vinaigrette will last on the counter at room temperature for about four hours. In an airtight container, it will last for up to 3 days in the refrigerator.
If you have leftover vinaigrette, it can last in a sealed jar for up to 3 months.
If your salad is already dressed with vinaigrette on it, it's best to enjoy it within a couple of hours. Otherwise, it tends to get too soggy.
Green tip: Did you know that of the billions of pounds of food wasted annually, it is estimated that 50% of it happens in our homes? Reduce your contribution to food waste by properly storing and enjoying your leftovers!
How to Serve Arugula Salad with Quinoa
If you want this Quinoa Arugula Salad to be elevated to a main dish status, consider adding an additional hot and extra-filling element.
My favorite ways to make this salad a main is by adding either roasted vegetables or fish (or even both!).
A couple of favorites include these Roasted Honey Gold Potatoes and these Roasted Asparagus and Carrots.
For fish, I love adding this Blackened Cod or Almond Crusted Salmon with Parmesan.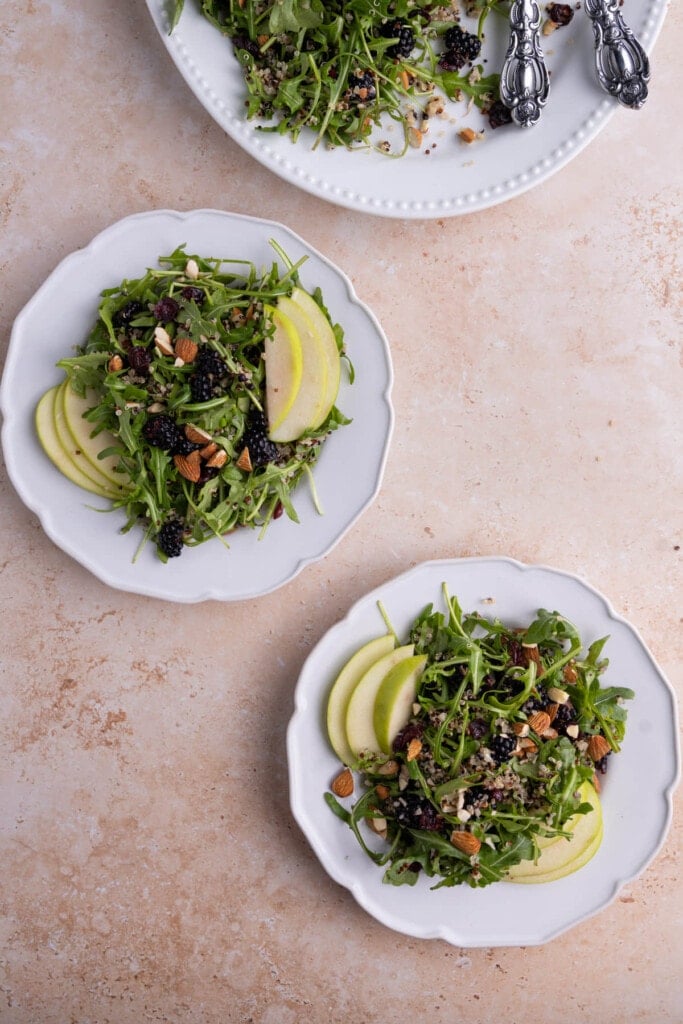 Arugula Quinoa Salad Frequently Asked Questions
---
What does arugula go well with?
Arugula has a subtly peppery taste and crisp, fresh mouthfeel. It goes really well with grains like farro, couscous, wild rice, and of course quinoa like in this Quinoa Arugula Salad!
It also pairs really well with fresh fruit like grapes, apples, and berries.
What is the healthiest way to eat quinoa?
The healthiest way to enjoy quinoa is in a salad. It adds protein, heartiness, and texture to any salad!
Want to sharpen your kitchen skills?
Why You Should Make this Quinoa Arugula Salad
---
The textures! Crisp apple, fresh leafy arugula, and crunchy quinoa make for the perfect bite!
It's nutrient-dense. Packed with a variety of fruits, veggies, and grains to bring you protein, nutrients, and fiber.
It's quick. Ready in 30 minutes, or even less if you use pre-made quinoa!
If you're loving this Arugula Quinoa Salad and want more quick and healthful meals, check out these Salmon Tacos with Greek Yogurt Sauce and Vegan Orzo Soup with Seasonal Veggies.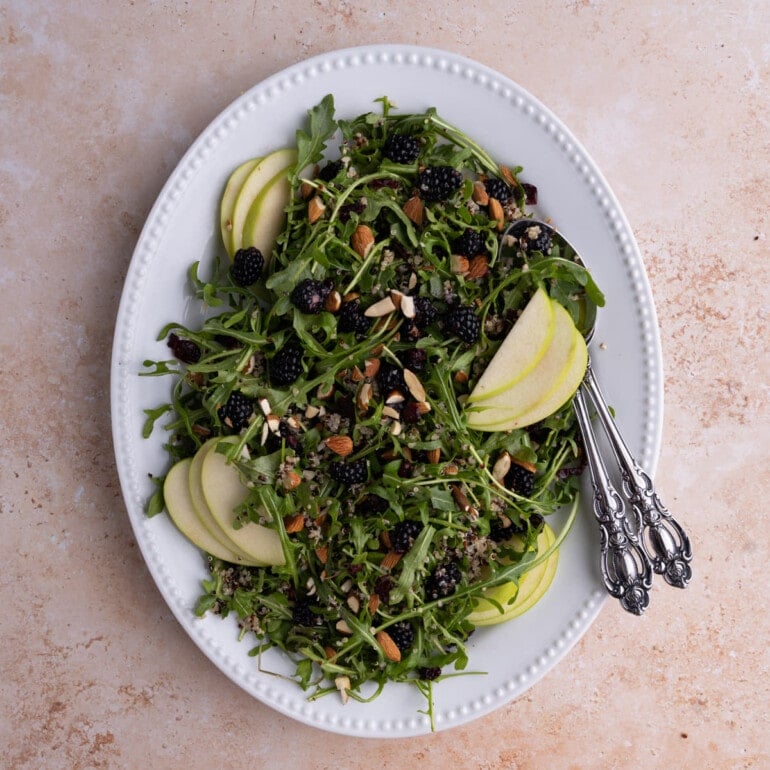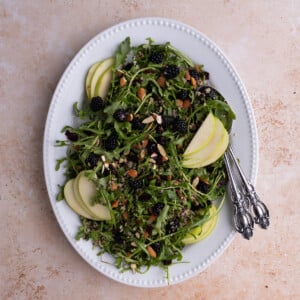 30-Minute Quinoa Arugula Salad
PRINT
PIN
RATE
This delicious and fresh Quinoa Arugula Salad is packed with flavor and nutrients and comes together in 30 minutes or less!
Ingredients
Arugula Quinoa Salad
1 ½

cups

cooked quinoa

10

ounces

arugula

¼

cup

Craisins, raisins, or golden raisins

1

large

apple of any variety

(like Granny Smith, Fuji, or Ambrosia)

¾

cup

nuts of choice

(like walnuts, pecans, or almonds)

6

ounces

berries of choice

(like blackberries, blueberries, or raspberries)
Quick Small-Batch Honey Dijon Vinaigrette
3

tablespoons

apple cider vinegar

(or white wine or sherry vinegar)

2

tablespoons

Dijon mustard

(grainy or smooth)

1

tablespoon

honey, agave nectar, or maple syrup
Instructions
Simple Honey Dijon Vinaigrette
Add the vinegar, mustard, and honey (or agave nectar or maple syrup) to a jar fit with a lid. Close the lid tight and shake vigorously until well-combined.
Arugula Quinoa Salad
Cook quinoa according to instructions on the packaging to yield 1 ½ cups of cooked quinoa. You can cook the quinoa ahead of time or use leftover quinoa. This salad is delicious with the quinoa hot or cold! In a large bowl, toss the quinoa and arugula together.

Chop the nuts, core and slice the apple, and chop the berries into bite-sized pieces if necessary. Add them to the bowl with the quinoa and arugula and toss to evenly distribute.

Add the Simple Honey Dijon Vinaigrette to the salad just before serving or serve the vinaigrette on the side. Enjoy!
Did you make this recipe?
Let me know by leaving a recipe rating below, or by tagging @marleysmenu on Instagram.