When life gives you lemons, you make lemonade. And when your neighbor brings you homemade limoncello, you make a Refreshing But Strong Limoncello Cocktail. What makes this cocktail great? It's sweet but strong, citrusy and fresh, and dangerously easy to drink. All thanks to the limoncello, basil, and sugar rim.
I am generally a dark liquor kinda gal (you'll see a lot of Bourbon recipes sprinkled throughout my blog, including a Bourbon Smash, a New Fashioned, and even a Bourbon Apple Pie). I was even briefly part of a band called Whiskey For Blood. So the dark liquor love is real. But I've been really trying to branch out lately!
I started experimenting with more clear liquors including gin (try my Gin Smash recipe, too!) and now Limoncello. And guys. I think I'm in love. There's three elements that will make you fall in love with this cocktail, too.
Refreshing But Strong Limoncello Cocktail Elements
---
---
Limoncello
Limoncello is an Italian spirit comprised of lemons, sugar, water, and alcohol. It's fairly simple to make, but requires super fresh lemons and time to age for the flavors to all meld together.
My parent's neighbor has a lemon tree and plucks the most beautiful, fresh, organic lemons every year to make homemade Limoncello for the whole neighborhood.
It can be (and often is in our house) drunken as is, but it's rather tart. Which makes it the PERFECT base for a refreshing cocktail.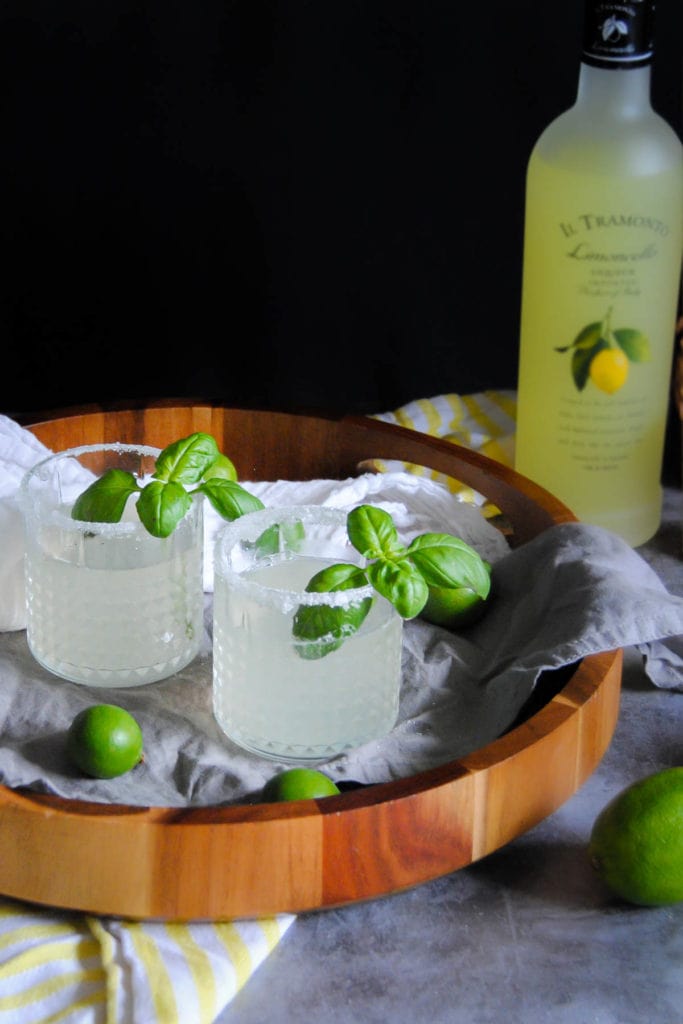 Basil
If you've tried my Two-Step Pesto recipe, you know that I'm always looking for ways to use the abundance of basil I harvest from my basil plant.
It is PERFECT in cocktails.
In this one, it teams up with the simple syrup to add extra sweetness and contrasts beautifully with the tartness of the lemon and limoncello. It gives you an element of freshness that no refreshing cocktail can be without.
Green tip: Growing your own herbs is a delicious way to reduce your environmental footprint if it is an option for you. Homegrown herbs have zero associated food miles, no pesky plastic packaging, and are free of damaging fertilizers and chemicals. Plus, they are just so fresh and flavorful.
The Sugar Rim
A sugar rim is the best compliment to any tart drink. Plus, it looks great (we drink with our eyes first!) and it adds a little texture. It's what steps this cocktail up and makes you feel like you are sipping in paradise.
For recipe ideas for great Happy Hour food to enjoy with your cocktail, check out these Homemade Baked Soft Pretzels and this Perfect Creamy Guacamole. Cheers!