Looking for a refreshing Sangria to sip on? Why not this Sangria Moscato?
The two staples of sangria are wine and fruit, but it often contains other ingredients and spirits. In this white wine sangria, the sweet Moscato is perfectly balanced by the tart apple and citrus, and that sparkling water? The perfect bubbly finish.
Sangria Moscato Tips and Tricks
---
---
Muddle Your Fruit and Rum
Quarter your apple and citrus and throw it into a pitcher with the rum. Then use a large wooden spoon to stir and push down on your citrus, to release some of the juice into the rum.
I love how the dark rum mellows out the sweetness of the Moscato, but you can absolutely use light rum if you prefer.
Easy As 1,2,3!
Once you've muddled your rum and fruit, all that's left to do is add the rest of your ingredients and stir! It's best to add the ice last— once it starts to melt, your Sangria will start to water down.
Should You Have Leftovers
If you don't plan on having the full pitcher in one sitting (the pitcher should give you 4 full glasses), it's best to add ice to each individual serving rather than adding it straight to the pitcher.
This way, you can cover and store your Sangria Moscato in the refrigerator for up to 5 days, without the ice melting and watering it down.
Green tip: Did you know that of the billions of pounds of food wasted annually, it is estimated that 50% of it happens in our homes. It's always best to avoid food waste as much as you can!
Bear in mind the sparkling water may lose some of its bubbles in that time. You can always keep a little extra on hand and pour in a little more fizz before enjoying your leftovers.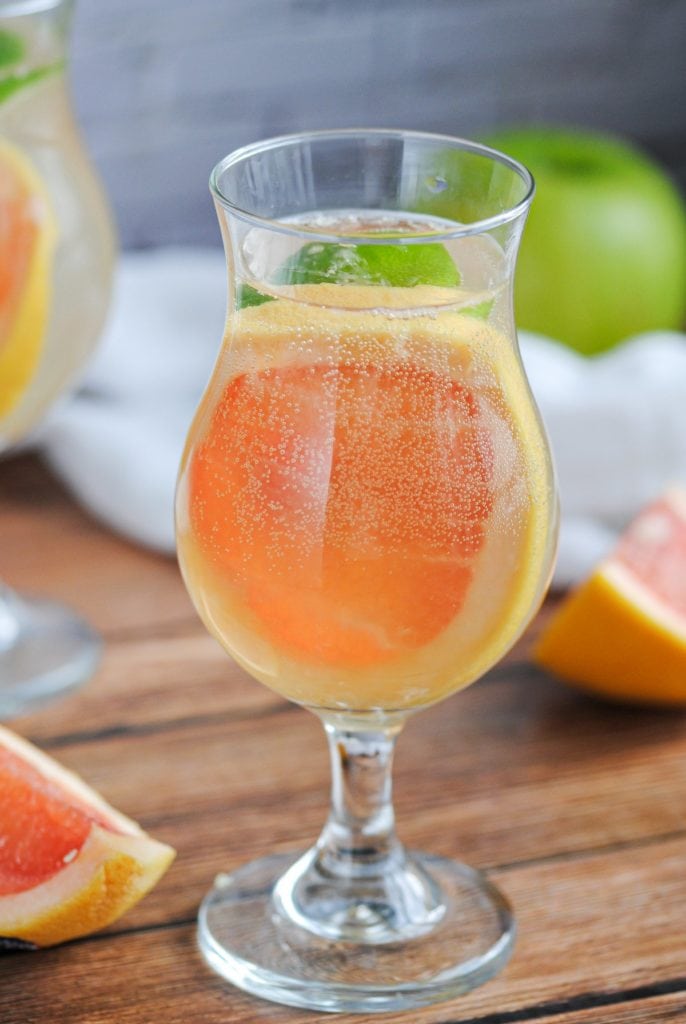 Why You Should Make this Sangria Moscato
It's fresh! The refreshing citrus and sparkling bubbles make this the perfect summer sip.
It's balanced. The sweet Moscato is balanced out by the tartness of the green apple and citrus.
It's boozy. Wine and rum. What more is there to say?
If you're loving this Sangria Moscato recipe, and need more fresh Sangria ideas, check out this roundup of 9+ Best Sangria recipes.