Ready to try something new? This Reinvented Classic: New Fashioned uses the basics from a classic Old Fashioned, but gives it a modern and refreshing twist.
Yes, yes I know the rule. If it's not broken don't fix it. And while I respect the Classic Old Fashioned as much as any other fellow whiskey-lover, I also think cocktails are a great opportunity to experiment.
This New Fashioned is an incredible way to mix it up because, well, you deserve a little surprise and delight every now and then. It'll soon be your new favorite go-to whiskey cocktail.
What Makes This New Fashioned Special?
Well, the first and most obvious reason is: because BOURBON. This drink is all about making that bourbon shine. Bourbon naturally has strong hints of vanilla and caramel.
Honey and vanilla is actually a really common pairing. You'll find it in cereal, ice cream, yogurt, lattes, tea… the list goes on. The honey in this cocktail compliments the bourbon perfectly.
Adding rosemary gives it a strong, earthy note that provides much needed freshness in contrast to the sweet honey and bourbon.
While most herbs can be substituted successfully in this cocktail, rosemary is a great choice because it has almost a piney flavor. The piney fragrance feels warm, another compliment to the natural feel of the bourbon.
And if you're worried because you're not bourbon-obsessed like me, have no fear! This cocktail, while very bourbon-forward, has enough elements of fresh, sweet, and floral to please any and everyone.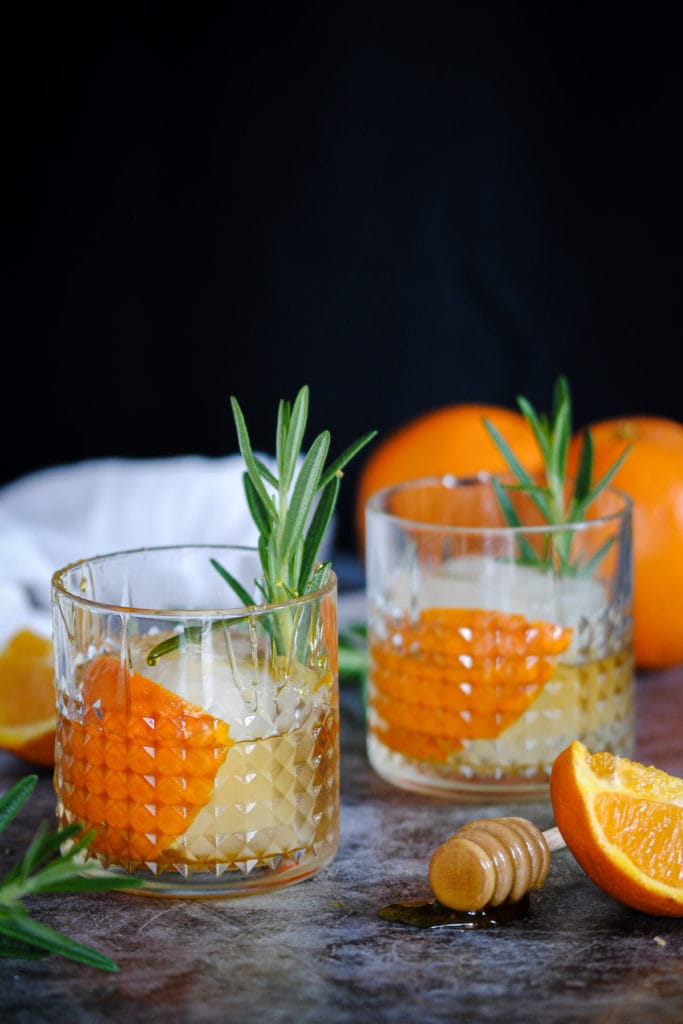 Reinvented Classic: New Fashioned Tips and Tricks
---
---
Ice, Ice Baby
Like most cocktails, the New Fashioned taste may be compromised when it's ice melts. If you really enjoy your cocktails, special ice trays are a great investment! We have these ice trays (affiliate link) and absolutely love them! (P.s. this is an awesome gift idea 😊)
Shake It Up!
The honey is really sticky, so make sure you are shaking extra for this recipe, as it can sometimes stick to the bottom of your cocktail mixer!
Don't Forget The Garnish
A lot of people skip the garnish when they are making drinks at home, but I highly recommend that one extra step! It adds to the flavor by lending a strong smell while you sip, and anyway, you deserve it!
Green tip: Growing your own herbs is a delicious way to reduce your environmental footprint. Homegrown herbs have zero associated food miles, no pesky plastic packaging, and are free of damaging fertilizers and chemicals. Plus, they are just so fresh and flavorful. Rosemary is very resilient and can be grown in your windowsill.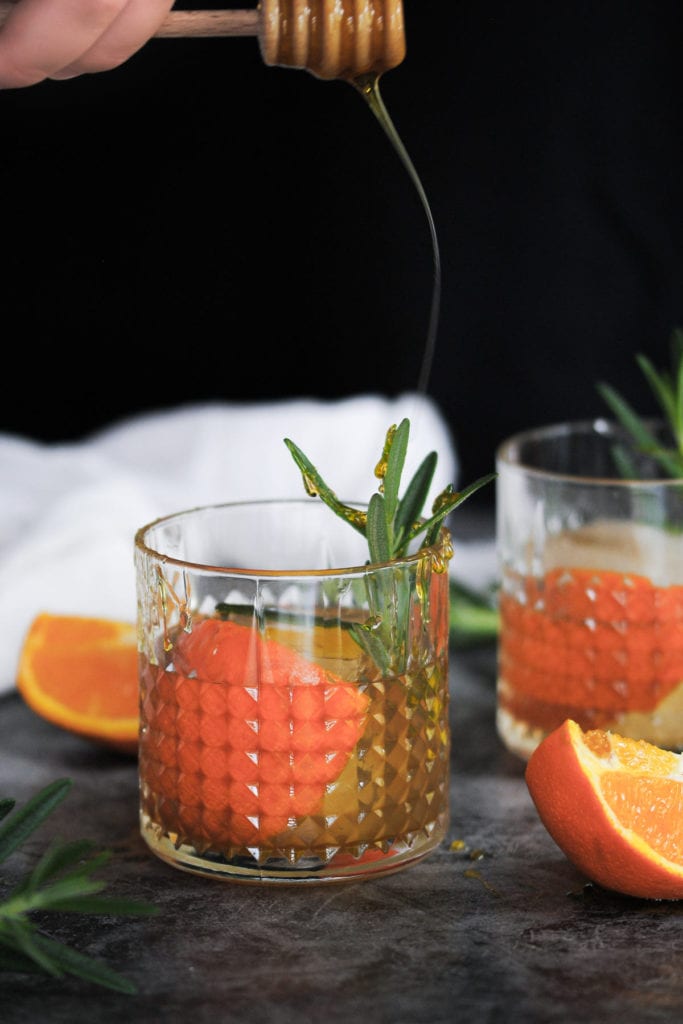 Why You Should Make This Cocktail
It's unique! It's in the name! Reinvented and new means creative flavors!
It's aromatic. Between the rosemary and honey, you get a gorgeous flavor before you even sip.
It's simple. Four ingredients make a big impact in this simple cocktail.
Bourbon-obsessed? (Hi friend 👋😂) Try these other bourbon-based recipes: Fresh & Minty Bourbon Smash and Drunken Apple Pie with Bourbon Drizzle.