Looking for a super flavorful and creamy pasta dish? This Ricotta Pesto Pasta is bursting with flavor from the ultra-creamy, but not-so-heavy sauce.
Between the nuttiness from pine nuts, herbaceous notes from basil, peppery flavor from the arugula and zesty tang from the lemon, the only thing that can bring this homemade pesto to the next level is the creamy ricotta. Plus, this delicious meatless pasta dish comes together in less than 30 minutes!
As an environmental scientist, I am always trying to make more eco-conscious food choices. One simple way to improve your ecological footprint is by finding ways to enjoy more meatless meals.
Green tip: Industrial meat production has a huge impact on the environment, especially because of the amount of land it takes to sustain and its high amount of greenhouse gas emissions.
Ricotta Pesto Pasta Ingredients
---
Here's everything you need:
Pasta of choice. Truly any pasta shape works in this recipe! Choose your favorite or use what you have in the house.
Arugula. Adding arugula to the ricotta pesto gives it a delicious peppery flavor.
Basil. Truly the star of any pesto-based dish!
Lemon juice. You will need 3 tablespoons of lemon juice, so one fresh lemon will be more than enough!
Pine nuts. I love using pine nuts because they are super buttery and lend a creamier texture to your pesto, but you can also use almonds, walnuts, or macadamia nuts with a similar outcome.
Garlic. Fresh garlic goes a long way in this recipe. You can keep the cloves whole, but make sure to peel them.
Olive oil. For the perfect texture.
Parmesan cheese. To thicken and add flavor.
Ricotta. For an ultra-creamy sauce and to cut the intense taste of the raw garlic and tang from the lemon juice.
Salt & pepper. To season and ramp up the other flavors.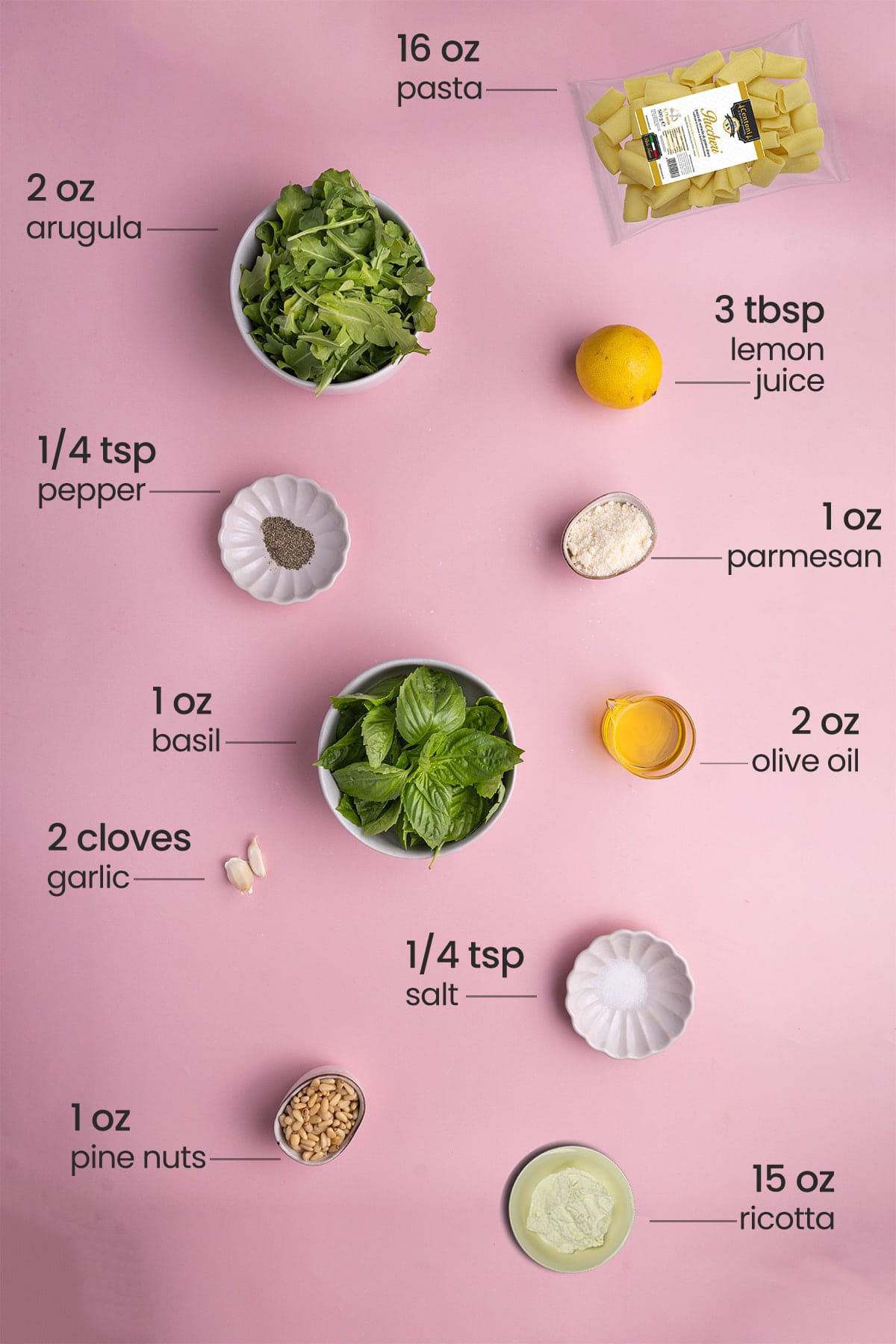 Pasta with Ricotta Pesto Tips and Tricks
---
Start with the Pasta First
Bring ten cups of water to a rolling boil and cook the pasta al dente according to the instructions on the box.
This recipe works with any pasta, short or long. Pictured here, I used Paccheri, but I've also made this with anything from angel hair pasta to macaroni.
Whatever you have on hand!
Green tip: Pasta is a great meal option carbon footprint-wise! Manufacturing pasta is a relatively less intensive process, using less energy and other natural resources to produce than most other starches. Plus, its long shelf-life means you're less likely to waste it!
Use Fresh Ingredients
Fresh arugula, basil, garlic, and lemon juice go a long way in this recipe!
You can (and should!) use both the leaves and stems of your basil in this recipe for two simple reasons. One, it avoids food waste. And two, the stems actually pack a lot of flavor!
Green tip: Growing your own herbs at home is easy! Try picking up a basil plant at the grocery store instead of the plastic packages of pre-harvested basil. Set it on your windowsill so it gets plenty of natural light and water it once a week, or plant it in your garden!
Prep your garlic by simply peeling it—no need to mince or dice your garlic, you can add it to your food processor whole.
I like to use a citrus squeezer to extract the lemon juice and avoid any seeds falling into my food processor.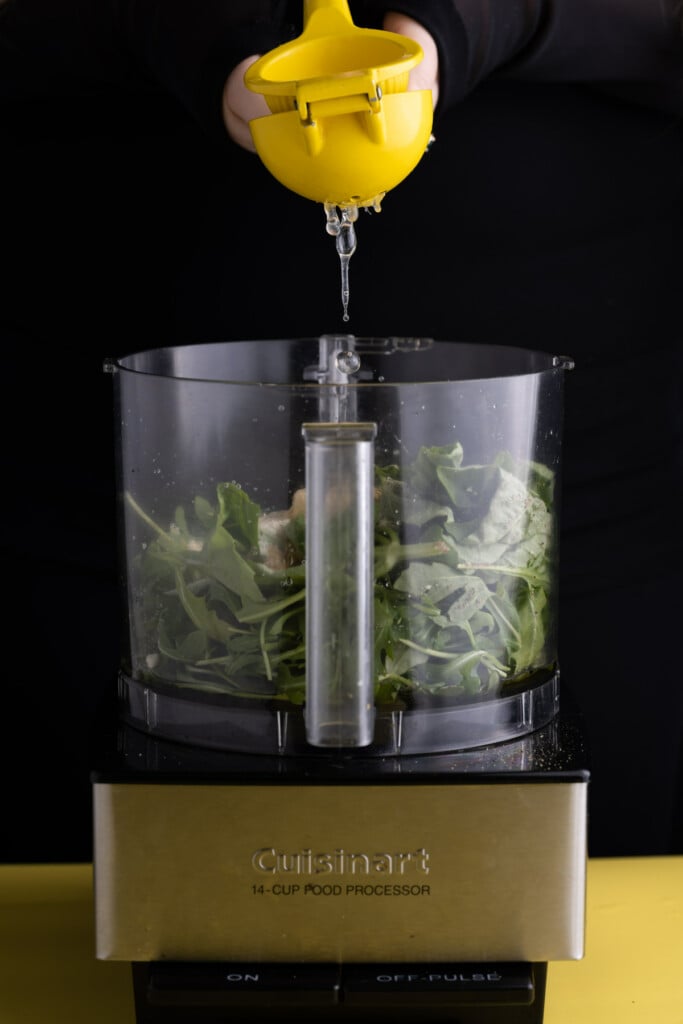 Blend Until Smooth
Add all of your pesto ingredients plus the ricotta to a food processor or high-powered blender and blend until smooth. Simple as that!
Make sure the garlic and pine nuts completely break down. Check for lumps before removing the pesto with ricotta from the food processor.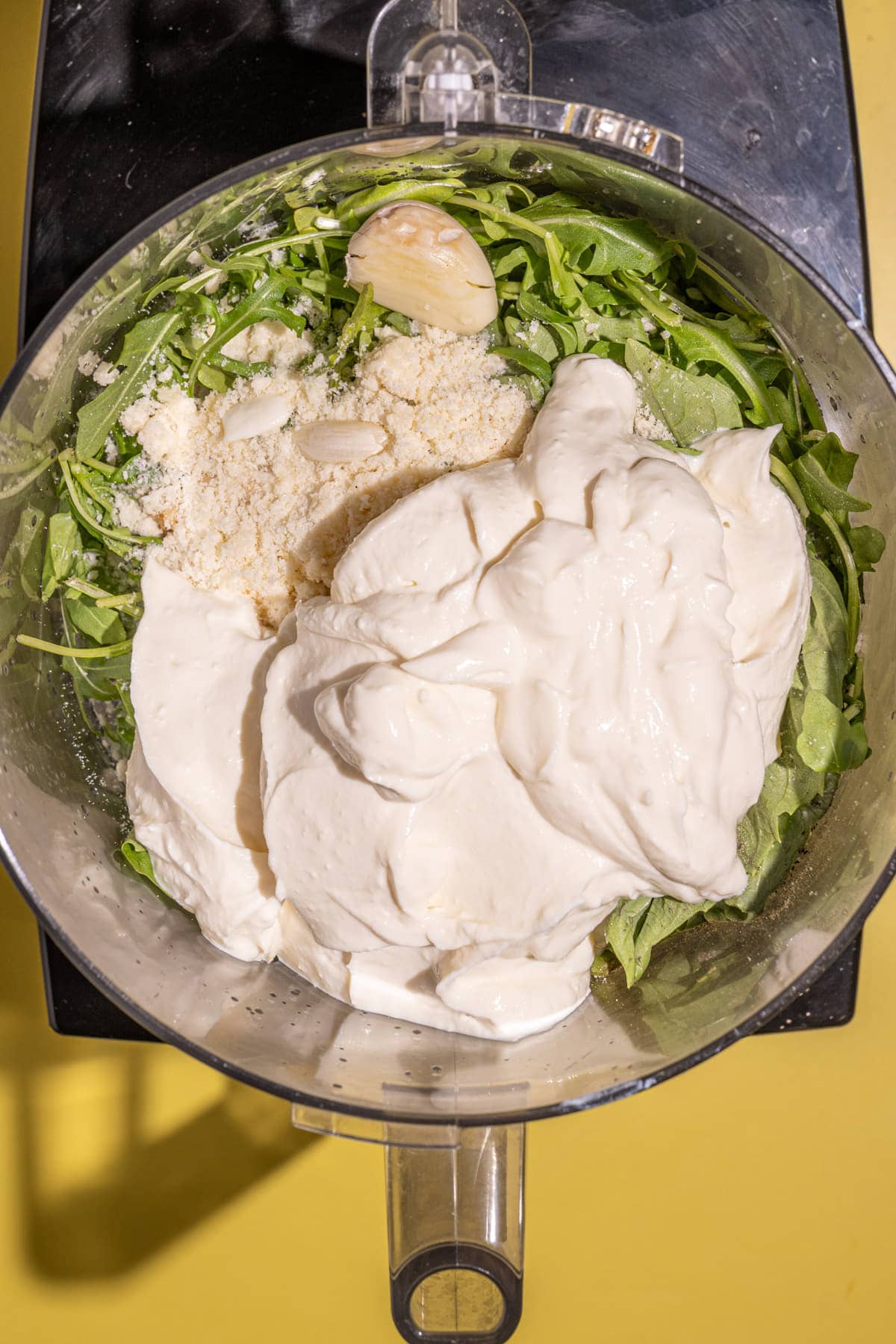 Conserve Some Pasta Water
Before draining your pasta, use a Pyrex measuring cup or other heat-safe jar with a handle to carefully extract at least 1/2 cup of the water that you cooked the pasta in.
Keep this starchy water on hand. You may need to use it to add back to the pesto pasta. If the ricotta pesto seems too thick or stodgy, you can add some of this water to your pasta without compromising the creamy texture.
After reserving the pasta water, strain the water from the pasta.
Green tip: Don't waste your pasta water, use it to water your plants! So long as it's not salty, the starchy water helps fertilize plants and help them grow.
Serving Your Ricotta Pesto Pasta
I find that the amount of sauce in this recipe is the perfect amount for 16 ounces of pasta, so if you want, you can mix the entire box of cooked pasta to the sauce.
If you think you may want your pasta not-so-saucy, serve up the sauce on each individual portion.
This Pasta with Ricotta Pesto is beyond delicious on its own, but if you want to add extra protein to this dish, I highly recommend this Pesto Butter Salmon.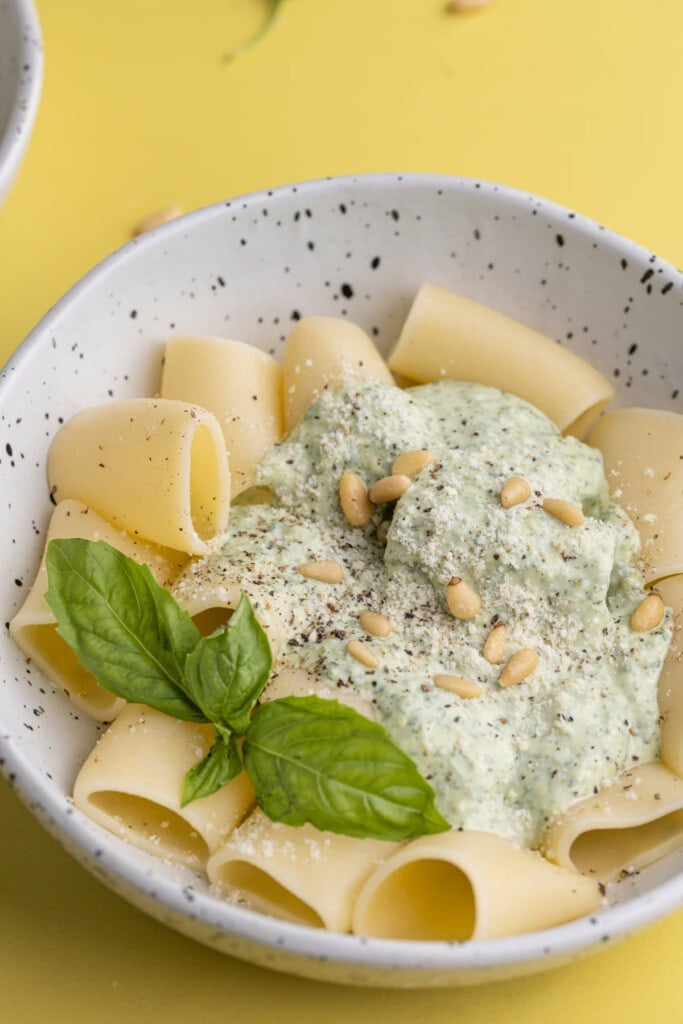 Storing and Reheating Ricotta Pesto Pasta
If you have extra sauce, it will last in an airtight container in the refrigerator for up to 7 days. You can save extra sauce to eat over roasted veggies, spread on a sandwich, or to dip bread in!
If you have extra pasta with the sauce, store it in an airtight container in the refrigerator for up to a week. You can reheat it over low heat, covered in a pot on the stove or in the oven in a baking sheet covered with aluminum foil at 350°F for 15-20 minutes.
In a pinch, you can reheat it in the microwave on high in 30-second intervals, stirring in between, until thoroughly heated.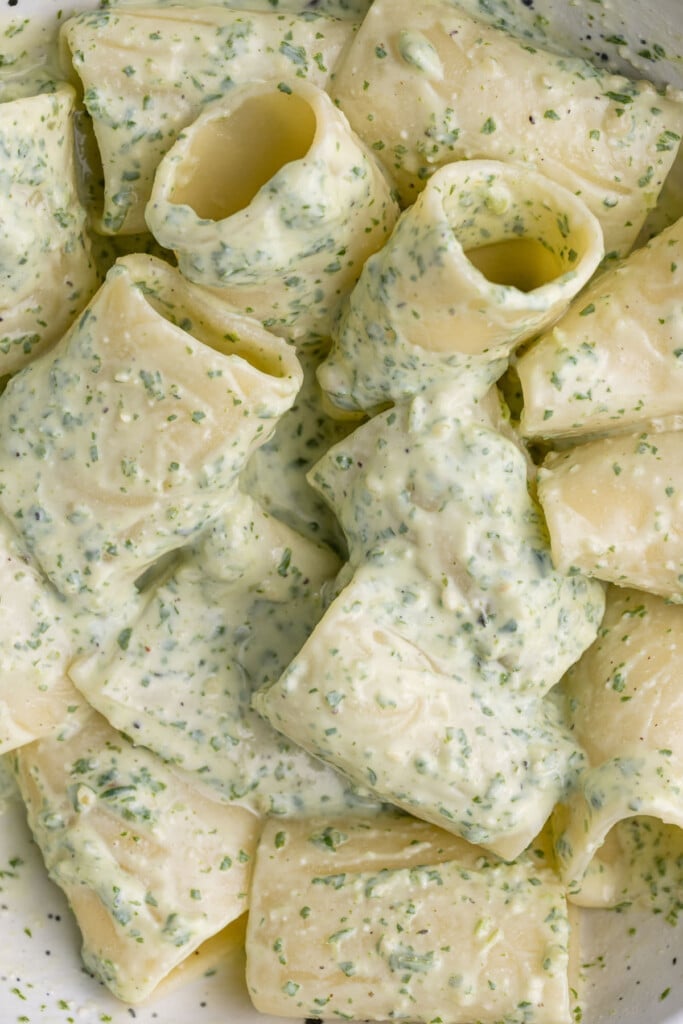 Pesto Pasta with Ricotta Frequently Asked Questions
---
What cheese goes well with pesto?
A lot of pesto's, this one included, contain Parmesan cheese to both thicken the texture and ramp up the flavor. But a more unexpected choice of cheese to add to pesto is ricotta.
The addition of ricotta to the pesto makes it super creamy, and also cuts some of the tang from the lemon juice and strong flavor of raw garlic.
Will ricotta melt into sauce?
Ricotta actually does not melt when heated, which makes it a great cheese to use on a raw sauce like in this ricotta pesto. Ricotta does however react very well to being aerated in a blender or food processor.
Whipped ricotta is light, airy, and extra creamy. Whipping it with pesto in this Ricotta Pesto Pasta brings the sauce to the next level!
Want to sharpen your kitchen skills?
Why You Should Make this 30-Minute Ricotta Pesto Pasta
---
It's bold. The bold flavors from the fresh basil, arugula, garlic, and lemon really shine over any pasta.
The textures. Whipping the ricotta in the food processor with the pesto makes it so creamy!
It's quick and easy. Just throw all your sauce ingredients into a food processor and blend! This whole dish comes together in under 30 minutes.
If you're loving this Ricotta Pesto Pasta and want more unique and flavorful pasta dishes, check out One-Pot Tahini Pasta with Toasted Walnuts and this One-Dish Baked Goat Cheese Pasta.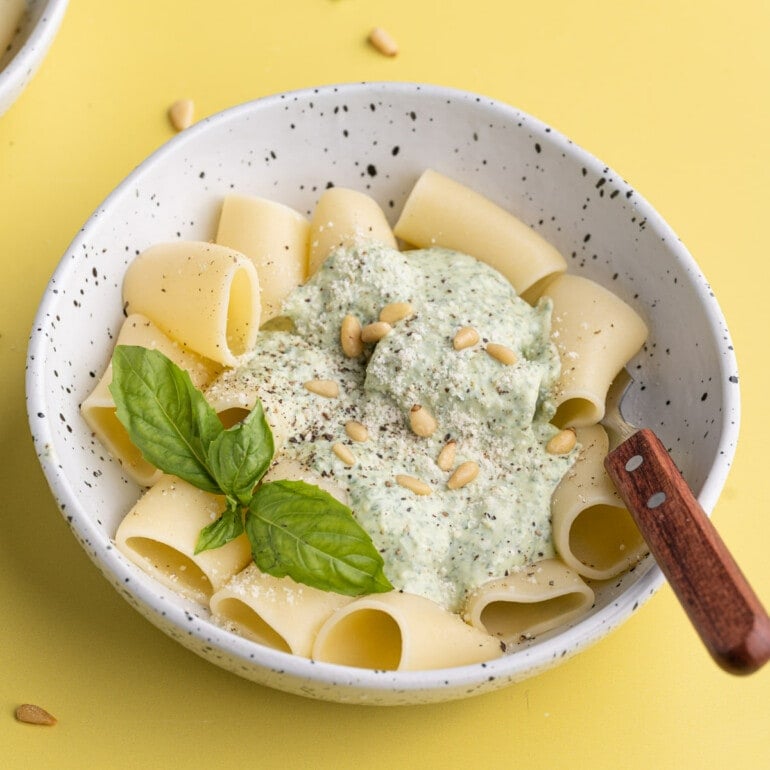 20-Minute Ricotta Pesto Pasta
PRINT
PIN
RATE
This Ricotta Pesto Pasta blends bold and fresh flavors with creamy, but not-too-rich ricotta to bring you succulent and zesty pasta in just 20 minutes.
Ingredients
16

ounces

pasta of choice

1

ounce

fresh basil

(1 oz basil = approx. 1 cup)

2

ounces

arugula

(1 oz arugula = approx. 2 cups)

3

tablespoons

lemon juice

(1 lemon = approx. 4 tablespoons juice)

1

ounce

pine nuts

(1 oz pine nuts = approx. ¼ cup)

2

cloves

garlic

2

ounces

extra virgin olive oil

(2 oz EVOO = approx. ⅓ cup)

1

ounce

grated Parmesan cheese

(1 oz Parmesan = approx. ¼ cup)

15

ounces

Ricotta cheese

(15 oz Ricotta = approx. 1 ¾ cups)

¼

teaspoon

salt

¼

teaspoon

pepper
Instructions
Cook the pasta al dente according to the directions on the packaging. Before straining the pasta, conserve some of the past water just in case you want to add some to your sauce to thin it out.

Add the basil, arugula, lemon juice, pine nuts, garlic, olive oil, Parmesan, ricotta, salt, and pepper to a food processor or high-powered blender and blend on high until smooth.

Asses the consistency of the sauce. If it seems too thick, you can add some of the conserved pasta water, 1 tablespoon at a time until you reach the desired consistency. Serve over the cooked pasta and enjoy!
Pro Tips
If you have ready-made pesto, you can easily use that in place of all of the other pesto ingredients. Just blend 1 cup of pesto with 15 ounces of ricotta to make the sauce.
For more recipes like this, check out this list of Meatless Pasta Meals.
For even more pesto, check out my best recipes using pesto.
Did you make this recipe?
Let me know by leaving a recipe rating below, or by tagging @marleysmenu on Instagram.